Some of the best Autumn treats can be healthy too. This vegan pumpkin pie ice cream has all the lusciousness you want in ice cream. But, without all the dairy!
Homemade Pumpkin Ice Cream
Nothing is better than homemade. Ice cream may sound like a major feat to make on your own. But, it is actually very easy! You do not even need to purchase an ice cream maker. All you need are a couple of staple kitchen appliances and, of course, some delicious ingredients.
For this recipe, I could not help but make it all about Fall flavor. Pumpkin puree and pumpkin pie spice are plentiful this time of year. You might as well enjoy it! Yet, I wanted to make something that was not only delicious but healthy and belly-friendly too.
The base of this ice cream features nutrient-dense ingredients that will fool you. I am not joking! It only takes a couple of steps to create this smooth and creamy ice cream. In no time, you will have a container full of pumpkin pie ice cream. This makes it great for any party or just yourself. There are no requirements to share!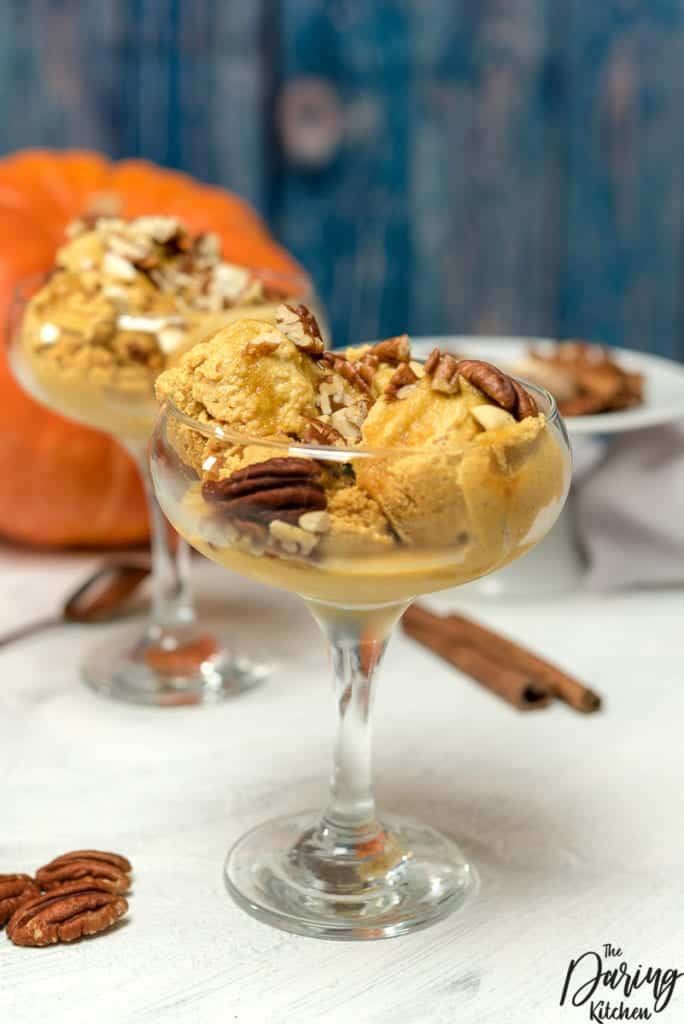 All the Pumpkin Spice
The leaves falling on the ground means it's time to load up on the pumpkin spice. It is incredibly hard to resist this spice combination. With clove, cinnamon, nutmeg, and ginger, your senses explode with Fall excitement. I can't get enough of it.
Admittedly, I love cinnamon. Its flavor is oh so classic. It really compliments pumpkin, both in flavor and in color. Just a little bit of extra cinnamon boosts the color of this ice cream. In this recipe, I included a little extra cinnamon. You can add more or less as you please, but I think it's always necessary to keep the Fall spice flavors forward. Plus, the added cinnamon makes the ice cream look more like Fall too!
If you do not have pumpkin pie spice on hand, you can easily use separate ground spices as well. All you need to do is add a dash of clove, nutmeg, cinnamon, and ginger. This will do just the trick!
Simple and Vegan Ingredients
The simplicity of this recipe is unbeatable. It requires very straightforward ingredients and kitchen tools. You do not need to buy any fancy ice cream maker or rare spices. You probably already have most if not all the ingredients already at home.
To make this recipe, all you need is a handy food processor and freezer-safe container. That is it! Once you got these, you can go about gathering all your ingredients.
Every ingredient in this recipe is vegan. There is no hidden dairy, anywhere! The secret is cashews. These versatile tree nuts create a creamy base just like milk-based ice cream. Cashews have less sugar than milk too. This recipe is only sweetened with just a bit of raw cane sugar and maple syrup. This makes helps to make this pumpkin ice cream a much more nutritious than your store-bought version.
The cashew base is pretty mild, making it work with all the other ingredients. This way, all the Fall flavors can shine. This recipe includes not only pumpkin pie spice but maple syrup too. This adds extra toasty flavors we all love, especially this time of year. 
How to Make Vegan Pumpkin Ice Cream
This vegan pumpkin ice cream has 3 steps only. Yes, I said it. There are no crazy requirements for making this absolutely delicious treat. I always suggest organizing all your ingredients beforehand to assure you have everything you need. Once that's done, you are ready to conquer this recipe.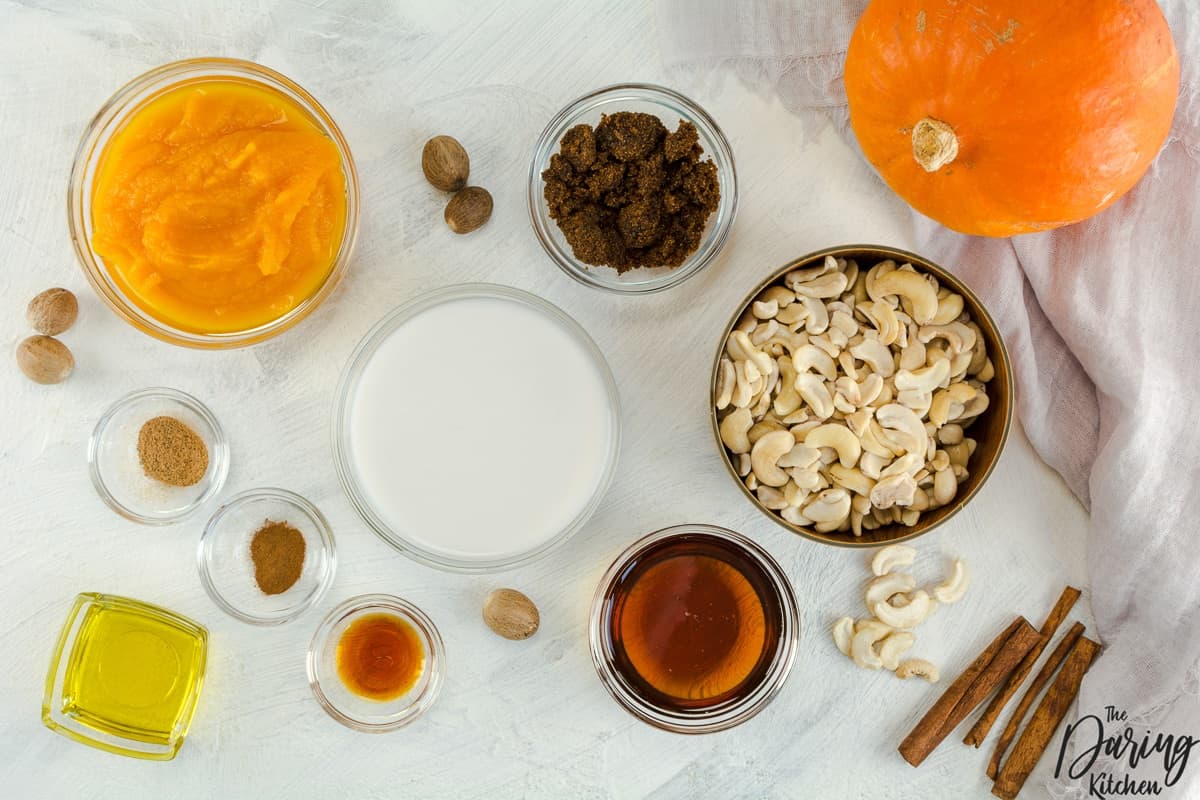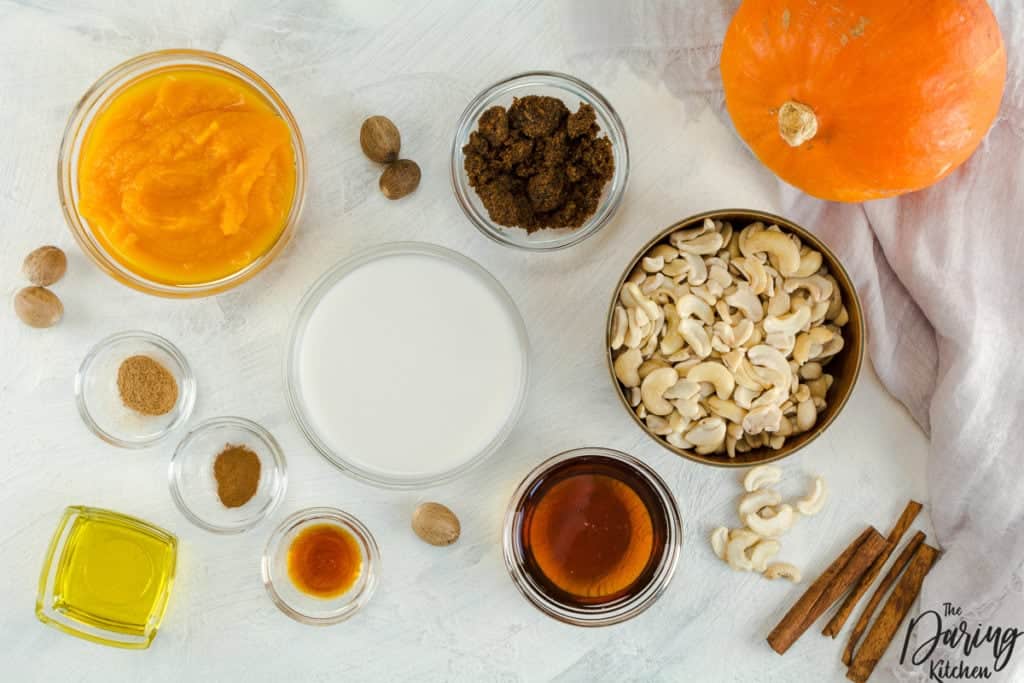 First, you need to soak your cashews by covering them completely with water. You can use any container. The soaking process can be done the night before. This will provide the best and more creamy results. But, if you are short on time, you can also soak the cashews in boiled water for an hour.
Once your cashews are well-soaked, the next two steps are as simple as pie. Make sure that you completely drain your cashews before adding them to your food processor. Then, you can add all your other ingredients. Blend all the ingredients until completely smooth. I always suggest taste testing along the way, to ensure your ice cream has all the flavor you want.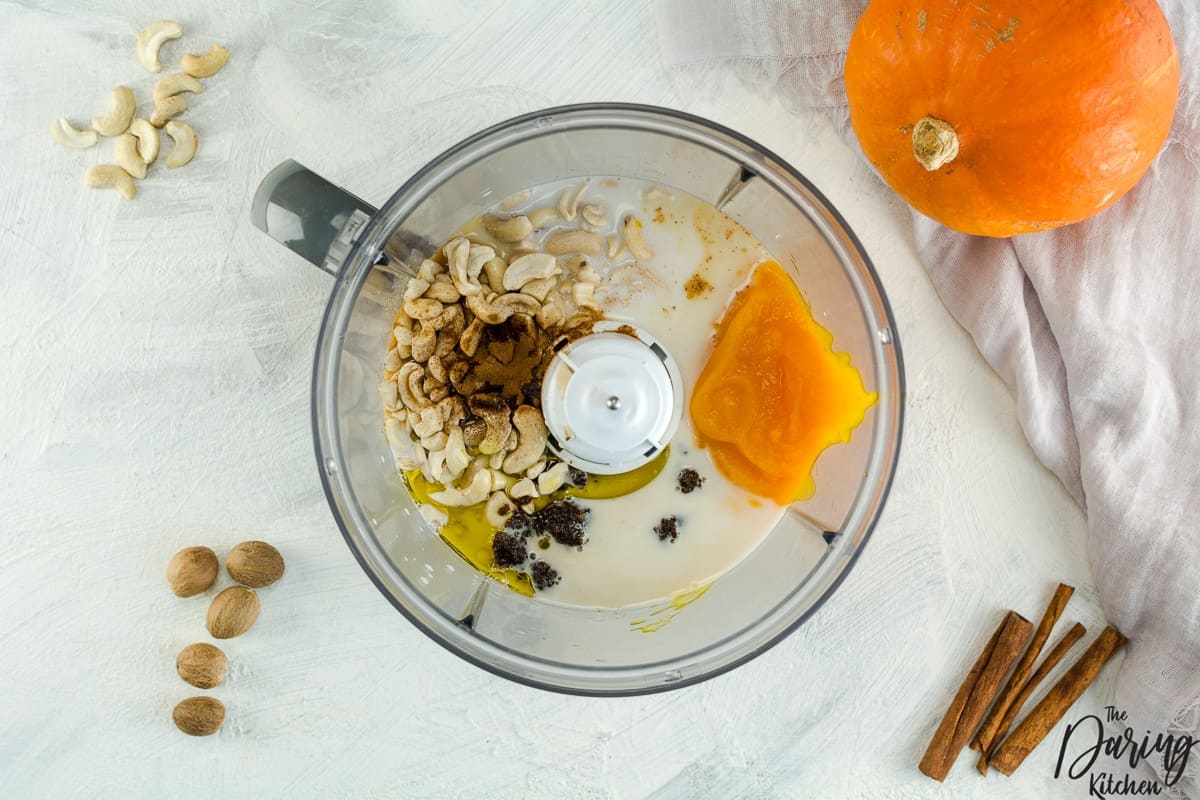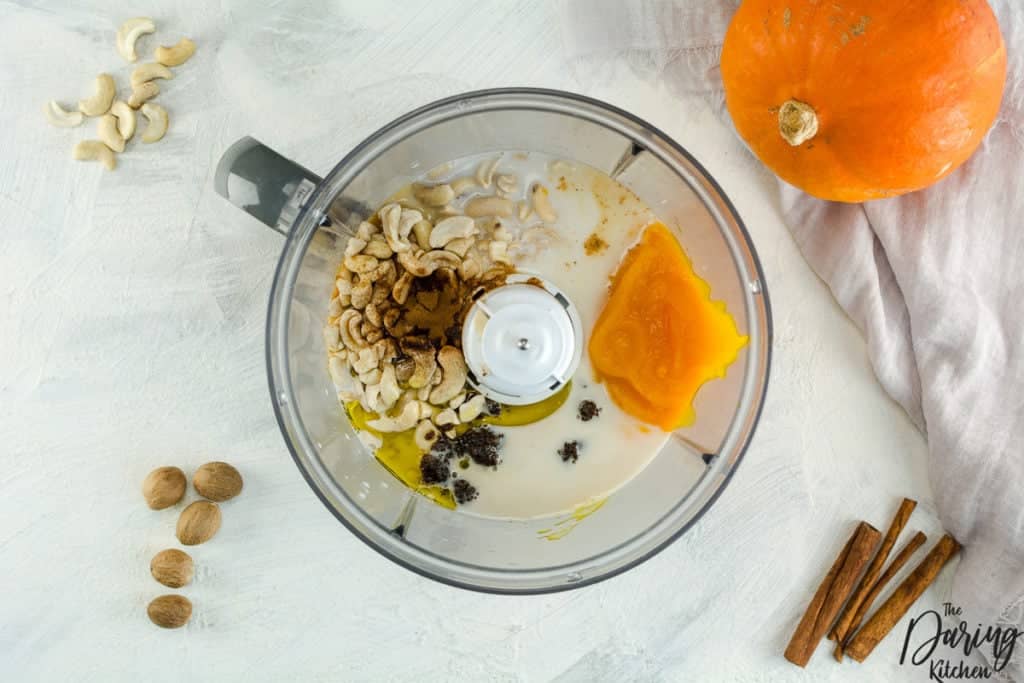 When can confidently confirm your ice cream is delicious and smooth, pour the mixture into a freezer-safe container. Cover it and place it in the freezer for at least 4 hours. In the meantime, you can brainstorm all your topping ideas! I love an agave nectar drizzle and some chopped pecans. This adds a nice sweetness and some extra festive flavors.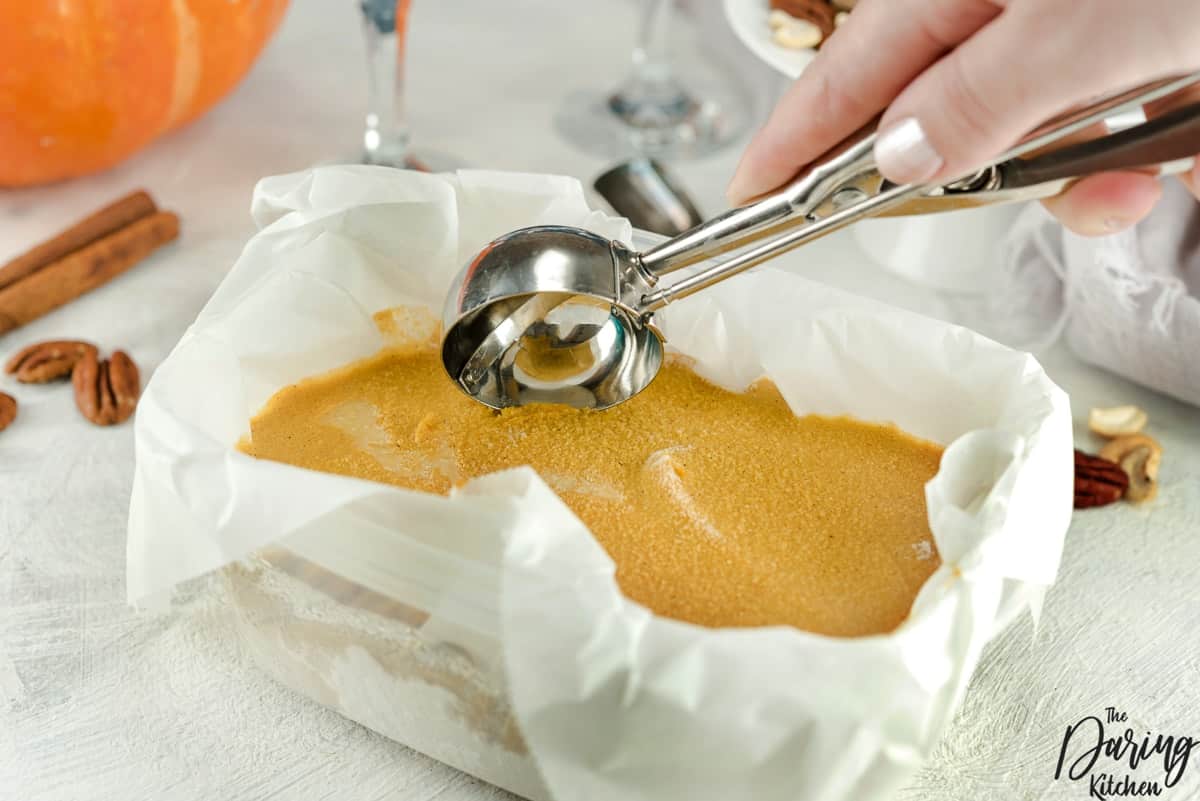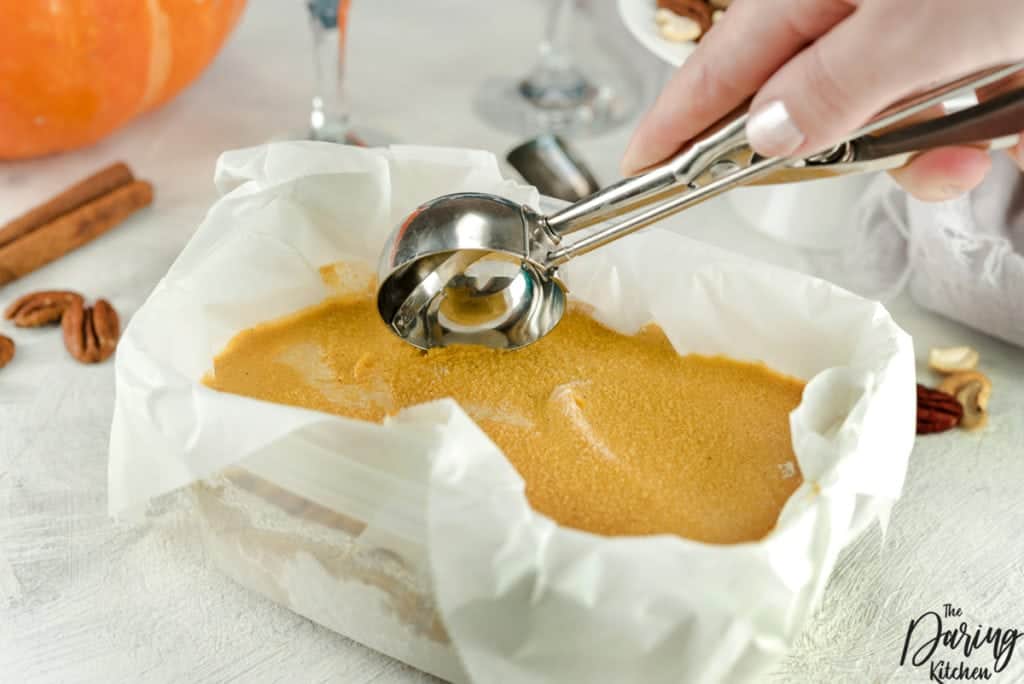 Once you know what toppings you're craving, it's time to get scooping! You can play around with your ice cream presentation too. You can keep it classic with regular ice cream bowls. Or you can use some unique glassware. I personally love using coupe glasses. They add a nice stylish touch, especially for dinner parties (Thanksgiving is just around the corner!)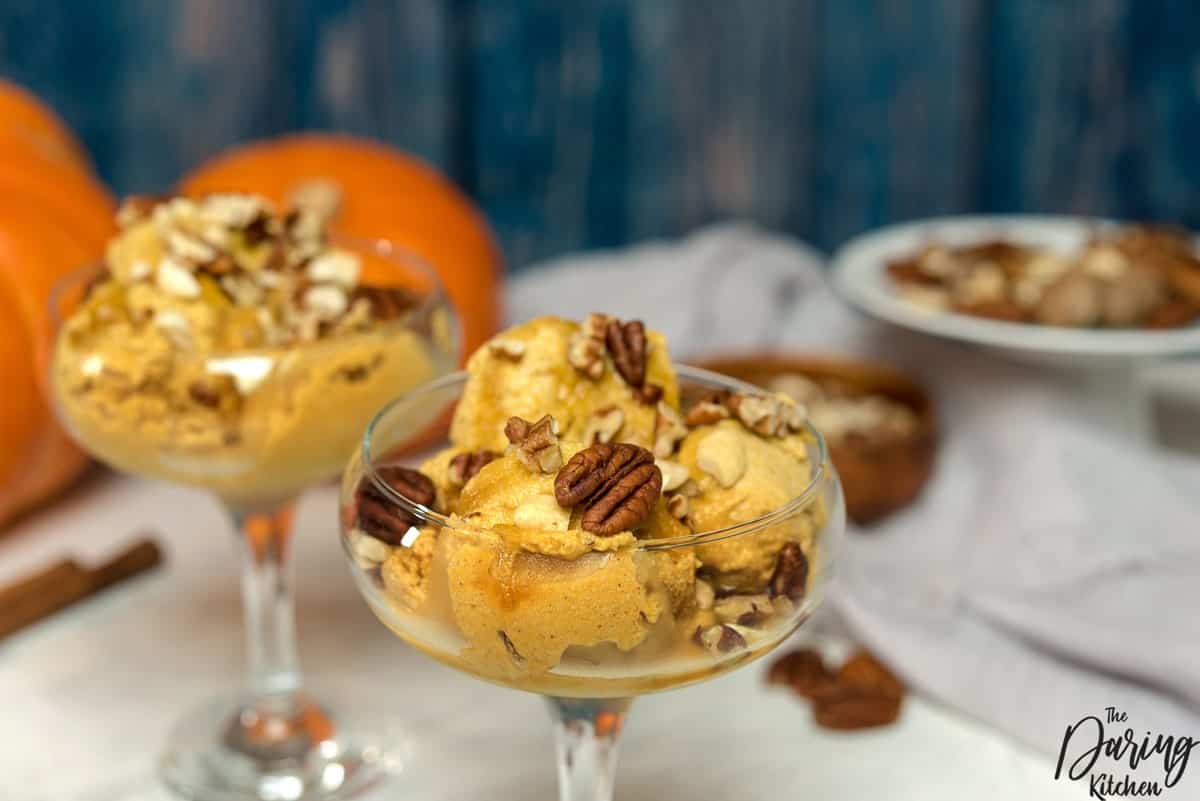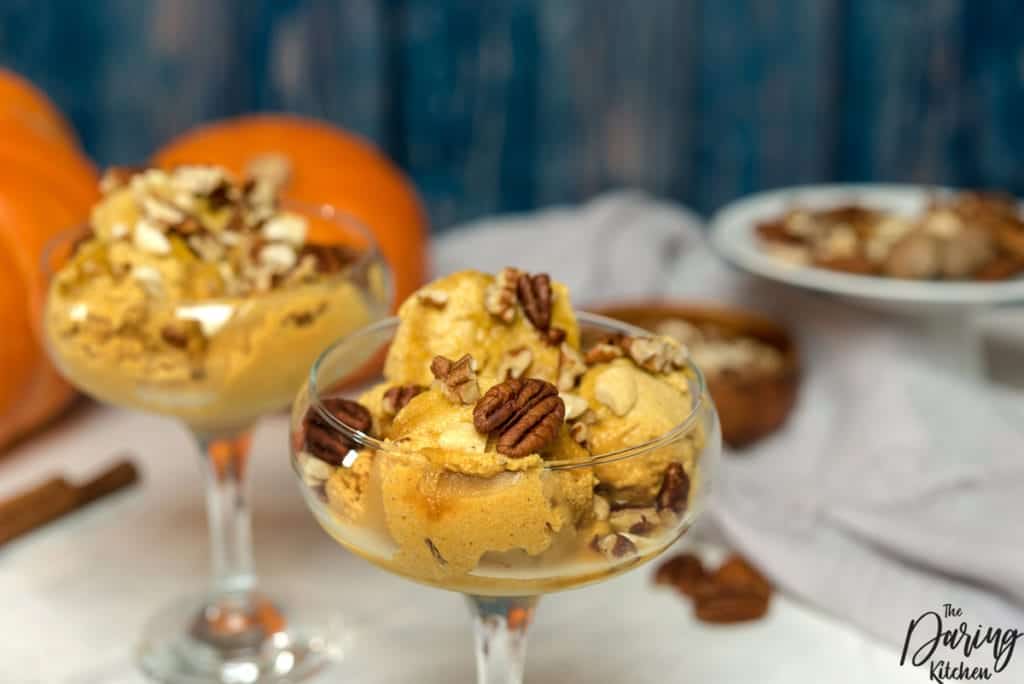 I would love to see how you made your vegan pumpkin ice cream and the toppings you chose! Decorations are always fun. Don't forget to leave a comment below with all your pumpkin ice cream thoughts.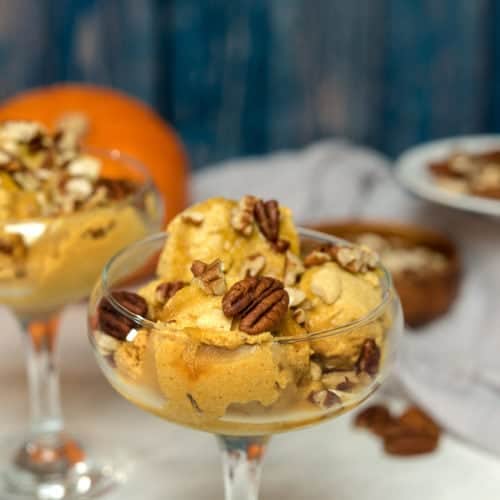 Vegan Pumpkin Pie Ice Cream
A vegan and seasonal treat to enjoy all Fall long
Print
Pin
Ingredients
2

cups

Cashews

soaked overnight

1

cup

Pumpkin Puree

Unsweetened

⅓

cup

Raw Cane Sugar

1

cup

Almond Milk

Unsweetened

¼

cup

Maple Syrup

3

tbsp

Olive Oil

1

tsp

Pumpkin Pie Spice

1

tsp

Vanilla Extract

¾

tsp

Cinnamon Powder
Instructions
Soak the cashews the night before. Optionally, soak in boiling water for 1 hour. Drain and transfer to a food processor along with the remaining ingredients

Process until completely smooth. Transfer the mixture to a container and freeze for 4 hours.

When ready to serve, drizzle with agave nectar and sprinkle with chopped pecans.
Nutrition
Calories:
397
kcal
|
Carbohydrates:
37
g
|
Protein:
9
g
|
Fat:
27
g
|
Saturated Fat:
4
g
|
Sodium:
63
mg
|
Potassium:
398
mg
|
Fiber:
3
g
|
Sugar:
23
g
|
Vitamin A:
6355
IU
|
Vitamin C:
2
mg
|
Calcium:
97
mg
|
Iron:
4
mg