Simple to make and even easier to eat, this vegan pumpkin pizza will have everyone reaching for a second slice before they even finish the first!
The Best Vegan Pumpkin Pizza
Pumpkin on pizza? It may sound bizarre, but trust me you will be amazed by this vegan pizza flavor combination.
The pizza has an easy-to-make crust that is soft and crispy. On top rests a plethora of bright and abundantly healthy toppings. These give the pizza an amazing flavor and a beautiful presentation. Slices of gorgeously orange Hokkaido pumpkin and vegan pesto make a delicious salty-sweet base layer. Dollops of cashew cheese add additional creaminess, that might be better than traditional ricotta! Then, the pizza is garnished with more veggies, seeds, and spices to bring everything all together.
Did I mention this pizza takes under an hour to make? Yes, including dough proof time, you can have hot and homemade pizza fast. If you proof your dough early, this time is cut in half!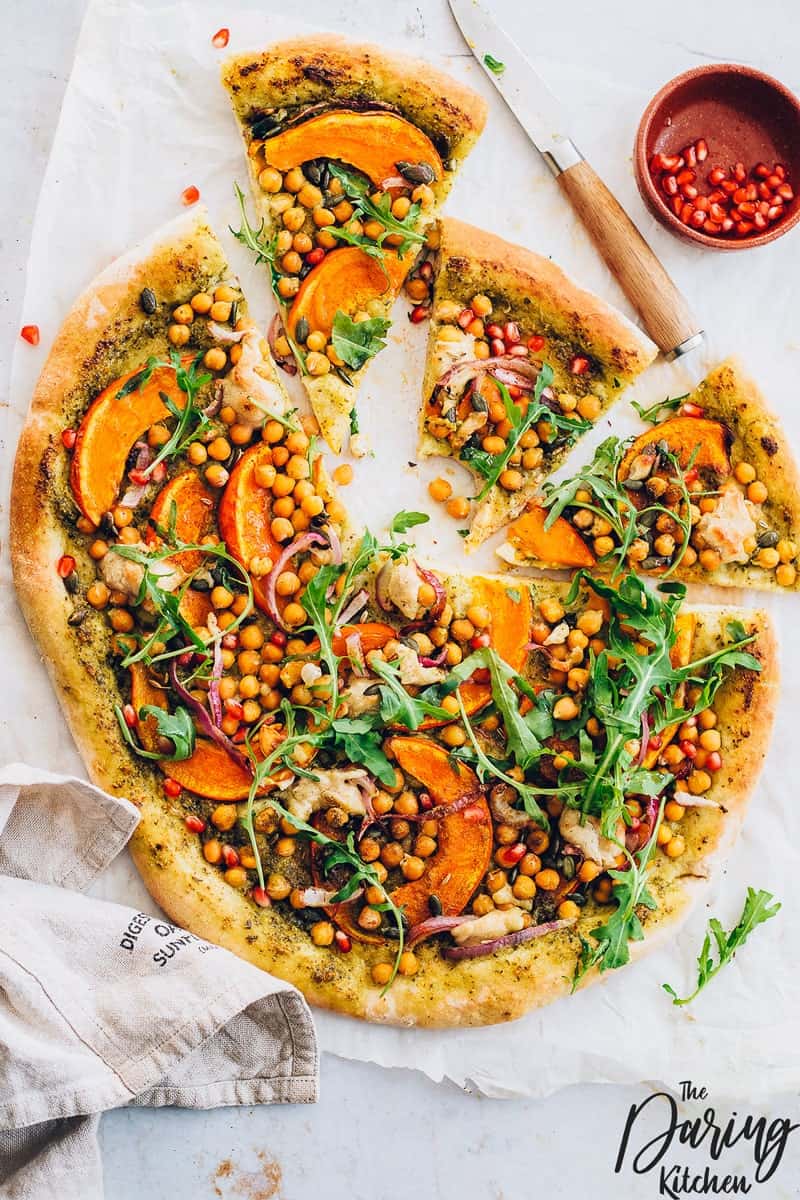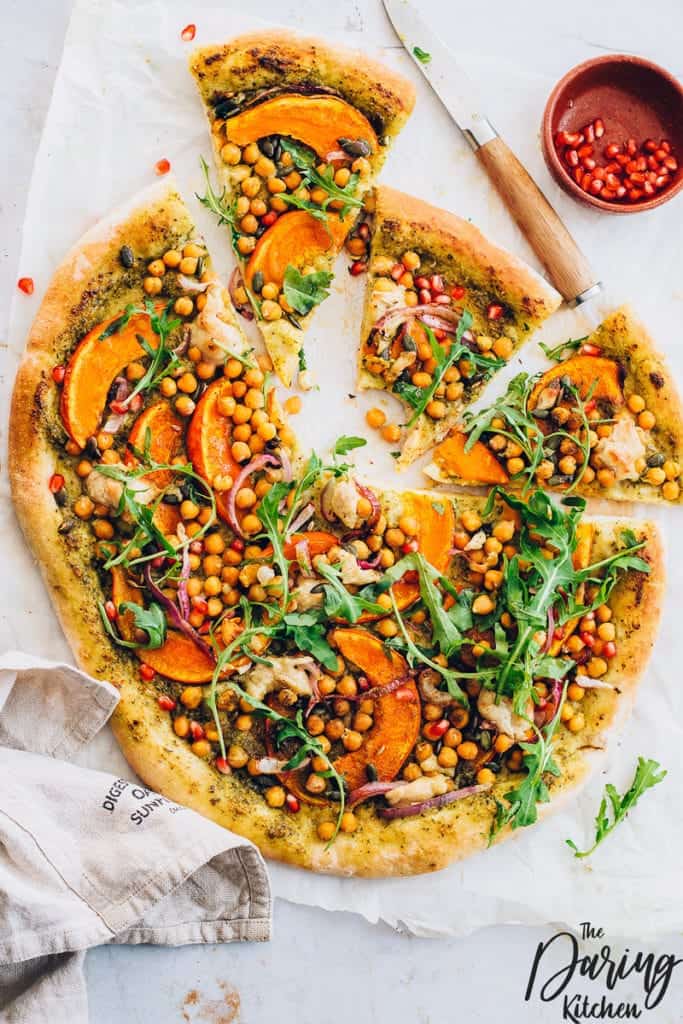 What is Hokkaido Pumpkin?
What makes this dish super seasonal is primarily the Hokkaido pumpkin. Also known as Red Kuri squash, this winter squash is said to be native to Japan (hence the Hokkaido!) It is delicious and plentiful thighs time of year. It has a stunning orange-pink exterior that just makes a nice decoration on its own. And, it has a long list of nutritional benefits.
With my preference for seasonal ingredients, I thought I'd debut this pumpkin on a pizza! Its soft and nutty flesh cooks easily in the oven. Its sugars lightly caramelize, lending a mild sweetness to each bite of pizza.
Pizza Dough Made Simple
Pizza dough sometimes sounds like a hassle to make. But, trust me it is not. I had to share this vegan pumpkin pizza recipe not just because of its seasonality, but how straightforward it is to make!
This dough requires 5 simple ingredients:
Whole wheat flour

Brown sugar

Active dry yeast

Salt

Warm water
Making the dough is that simple. The greatest part is that you do not need to buy at least two of these ingredients. And, you may even have all the ingredients already! I much prefer to use whole wheat flour. It gives the crust a more depth of color and flavor. Whole wheat has a more dominant flavor than regular white flour. Plus, it has much more nutritional benefits.
Once you form your dough, it will only need around 5 to 10 minutes of kneading. You do not need to work it too hard. The dough's resting period will take care of most of the work! That way, you can get to prepping all the fabulous toppings.
Easy Homemade Cashew Cheese
What's pizza without cheese? This pizza has something better than store-bought vegan cheese. This homemade cashew cheese only takes a few ingredients and a few seconds to make.
I love homemade cashew cheese because it's versatile. You can make a ton and save it for sandwiches, pasta, or whatever you like.
Raw cashews, hot almond milk, and seasoning are all the ingredients you will need for this cheese recipe. When it comes to seasonings, I love garlic powder in this recipe. I usually have it on hand and it goes so well on pizza. Whichever you choose, everything needs to be added to a blender or food processor. Blend until smooth - that's it!
How to Make Vegan Pumpkin Pizza
First, you need to make your dough. This can be done a few hours ahead of time if you like if you have time for meal prep.
Simply add all your dry dough ingredients into a large mixing bowl. While you mix the ingredients, slowly pour in the warm water. Everything will soon form into a sticky dough ball. Continue to knead the dough, either in the bowl or on a floured surface, until the dough is pretty elastic. This will take around 5-10 minutes. Then, with the dough in your mixing bowl, cover with a damp cloth and allow it to rest for no less than 30 minutes.
You can now preheat your oven!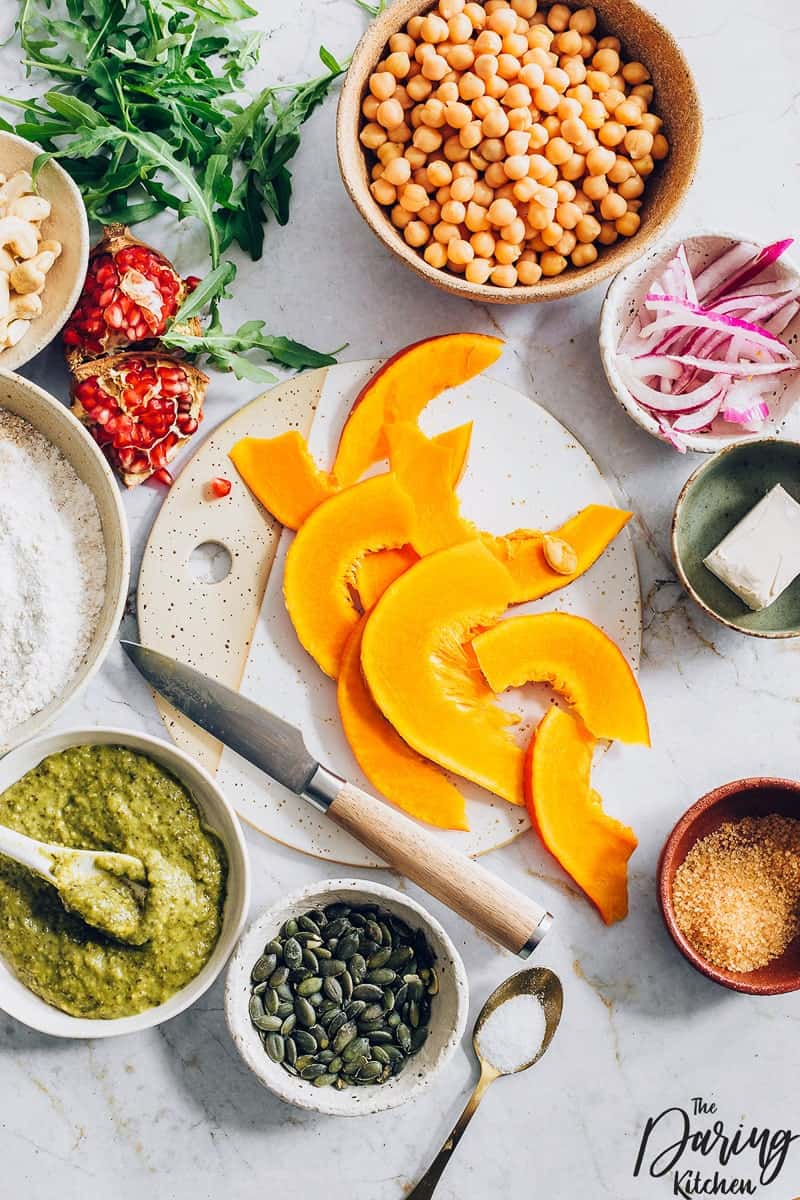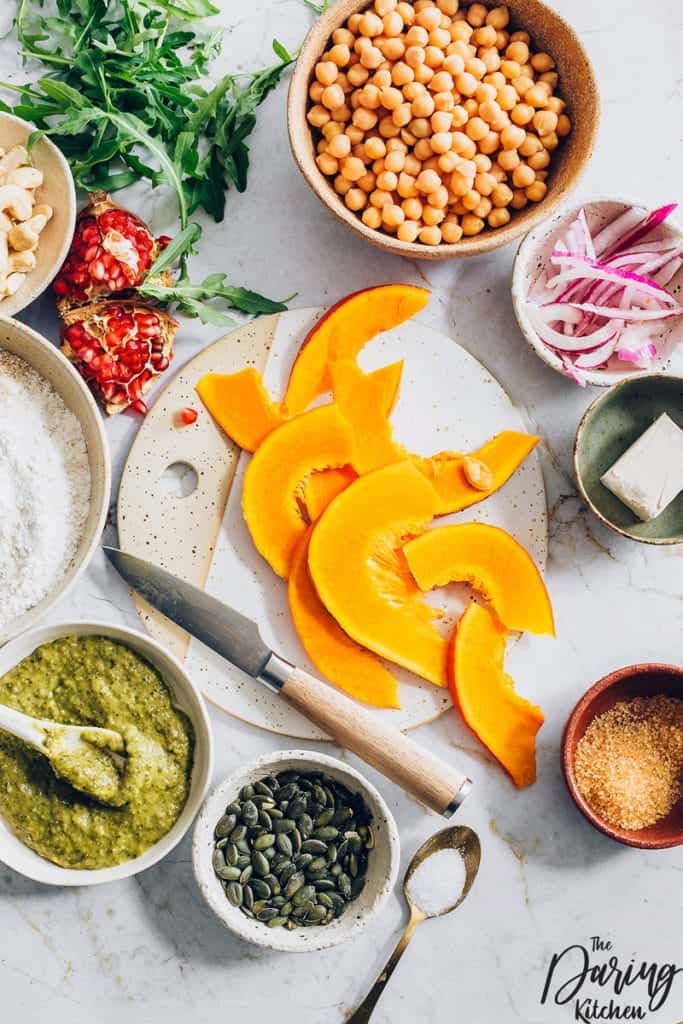 Next, get your toppings ready. Start with your cashew cheese. You must add hot almond milk to adequately soften the cashews. Add all your ingredients to a blender or food processor. Blend them until even and smooth. Taste your cashew cheese to make sure it is properly seasoned.
Make sure to organize all your toppings. Once you have this done, your dough will be well-rested. By well-rested, I mean doubled in size! If it is, it's time to roll the dough out into a classic oval shape. You can use a rolling pin or even a wine bottle! When ready, you can place the dough on a parchment-lined baking sheet.
For the toppings, start with a generous and even layer of pesto. Then, layer the bright pumpkin slices on top along with the chickpeas and red onions. Sprinkle your cumin powder and pumpkin seeds all around the pizza. Using a teaspoon, dollop your cashew cheese all around the pizza. To finish, drizzle the pizza with extra virgin olive oil. This will give extra crispiness to the pizza pie.
Throw it in the oven for just 15 minutes. When the dough edges are golden brown and the pizza is cooked throughout, remove from the oven. For added color and seasonal flavor, garnish the pizza with pomegranate seeds and arugula.
Don't forget to snap a photo of your pizza creation!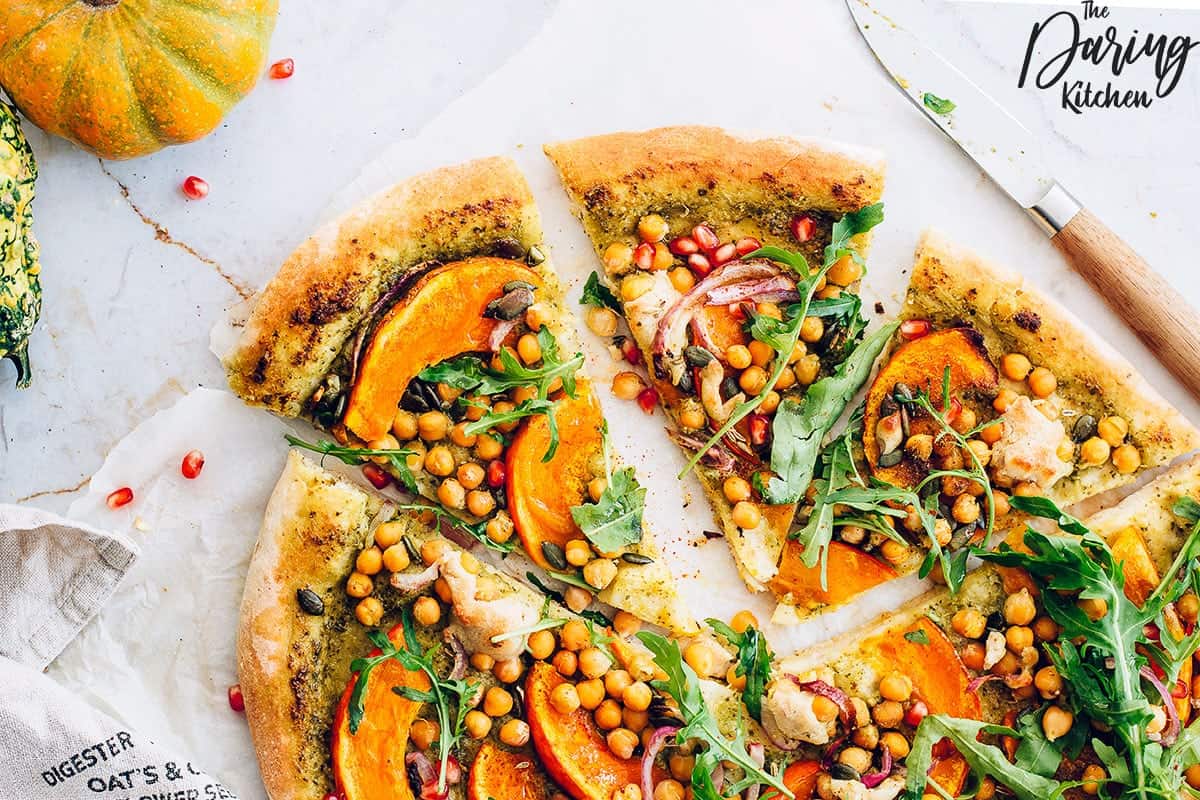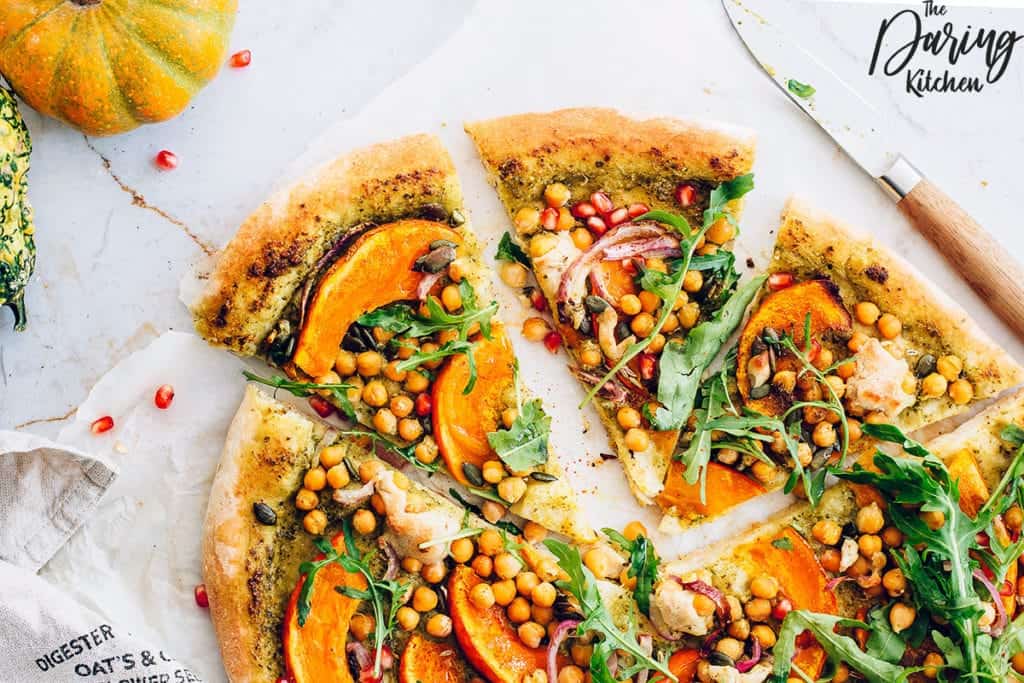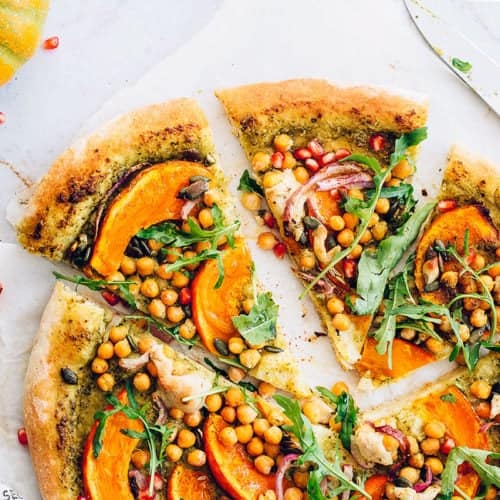 Vegan Pumpkin Pizza
Loaded with fresh toppings on a crispy-chewy crust, this vegan pumpkin pizza will surprise you by how easy it is to make!
Print
Pin
Ingredients
For The Pizza Dough
2

cups

Whole Wheat Flour

2

tsp

Brown Sugar

1

tsp

Active Yeast

½

tsp

Salt

⅔

cup

Water

Warm
For The Vegan Cashew Cheese
1

cup

Raw Cashews

⅓

cup

Unsweetened Almond Milk

hot

½

tsp

Garlic Powder

½

tsp

Salt
To Assemble The Pizza
½

medium

Hokkaido pumpkin

cut into ⅓ inch slices

4

tbsp

Pesto

vegan, of choice

1

Red Onion

diced

1

cup

Chickpeas

from can, rinsed

½

Pomegranate

seeds only

½

cup

Raw Pumpkin Seeds

½

cup

Fresh Arugula

2

tsp

Extra Virgin Olive Oil

2

tsp

Cumin Powder
Instructions
Start by making the the dough – in a large bowl combine the flour with sugar, salt and yeast, then pour the warm water. Mix to incorporate.

Knead with your hands for at least 5 minutes, until an elastic dough is formed.

Cover with a clean cloth and let rise for at least 30 minutes, until the dough almost doubled its volume.

While the dough is rising, prepare the cashew cheese.

Add the cashews, garlic powder and salt into a blender, pour the hot almond milk and blend to get a creamy, thick mixture. Transfer into a bowl and set aside

Preheat the oven to 400F.

Check the dough to see if it doubled its volume, then transfer onto a surface lined with parchment paper.

Roll the dough into a 15x12' length oval shape.

Spread the vegan pesto all over the pizza, about 1 inch clean space all-round.

Arrange the pumpkin slices into a single layer, add the chickpeas and diced red onion.

Season with cumin powder, sprinkle with pumpkin seeds and drizzle the extra virgin olive oil.

Bake for 15 minutes, then remove from the oven and garnish with pomegranate seeds and fresh arugula

Cut into slices and serve warm.
Nutrition
Calories:
1400
kcal
|
Carbohydrates:
189
g
|
Protein:
50
g
|
Fat:
60
g
|
Saturated Fat:
10
g
|
Cholesterol:
2
mg
|
Sodium:
1550
mg
|
Potassium:
2830
mg
|
Fiber:
34
g
|
Sugar:
32
g
|
Vitamin A:
5434
IU
|
Vitamin C:
55
mg
|
Calcium:
379
mg
|
Iron:
18
mg