Plant based, dairy free, and packed with powerful veggies - this might be the best spinach pesto pasta recipe yet. It's flavorful, nutritious, and ultra-creamy, without all the dairy!
The Best Vegan Spinach Pesto Pasta
Raise your hand if you love pesto! It is one of my favorite pasta sauce recipes maybe ever. It is the perfect balance of flavor. Pesto typically has green basil, pine nuts, and delicious extra virgin olive oil.
Traditionally speaking, pesto is not vegan. It has parmesan cheese in it. But, that doesn't mean that vegan pesto pasta can't exist. This vegan spinach pasta is just as yummy as the original. In fact, it is a lot creamier than the classic pesto recipe too.
This spinach pesto dish was birthed out of my love for vegan recipes (along with my stomach struggles with dairy.) This vegan pesto recipe is actually super simple. That's because pesto doesn't always need cheese in it! Lucky, nuts, spinach, and a few other ingredients carry the sauce deliciously.
Using a few vegan cooking tricks, I created a pesto recipe that I now make on a weekly basis. It tastes great with all kinds of pasta types. Spaghetti, penne, you name it - this pesto is a pair. All you need to do is adjust the cooking time.
So, follow this spinach pesto pasta recipe and, trust me, you will never need to buy premade pesto sauce and follow package instructions ever again.
Ingredients in Vegan Spinach Pesto
I bet you are curious - if this pesto is vegan, then what did you change in the recipe? Well, clearly, I am very eager to tell you!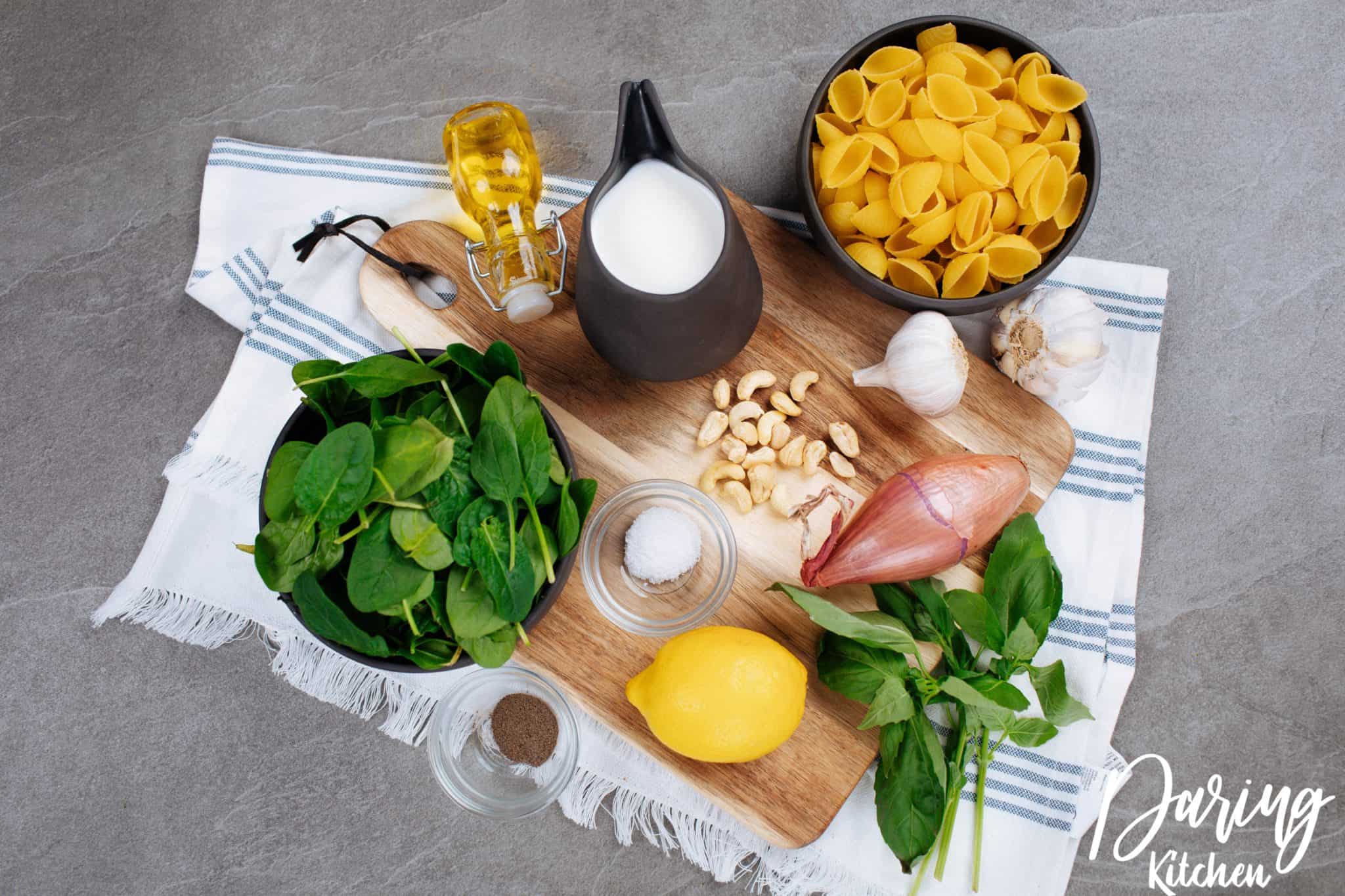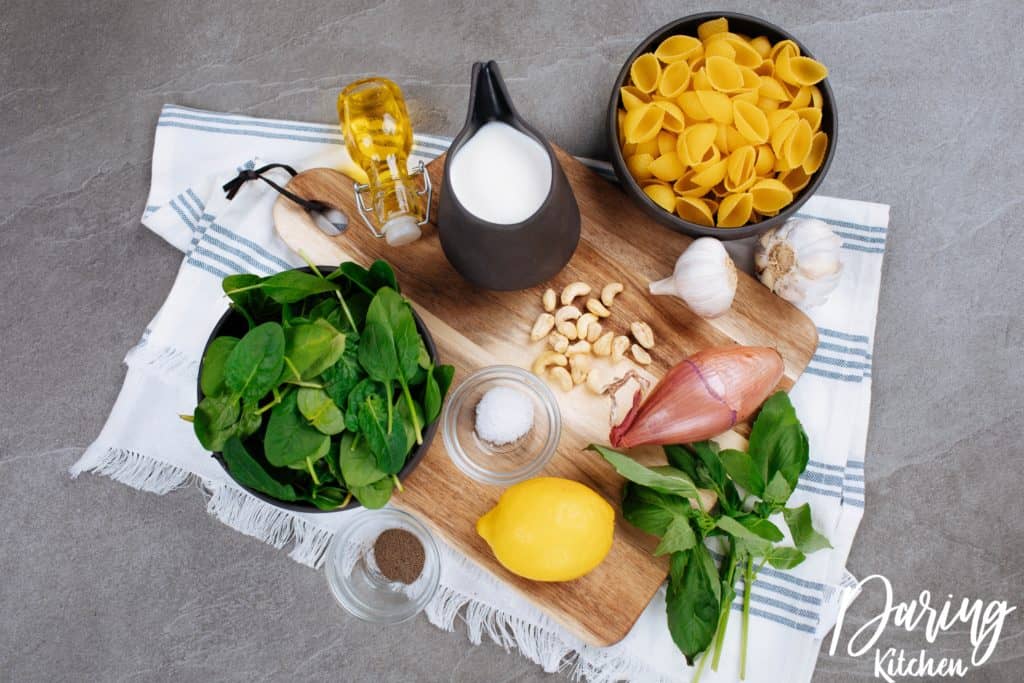 Ingredients you will need to make this vegan pesto:
Cashews
Spinach
Basil
Plant based milk
Lemon juice
Onion
Garlic cloves
Salt and pepper
Now, this pesto ingredients list may seem a little longer than traditional pesto. Remember, we have to boost the flavor intensity, since there isn't cheese in there to do that. That's why I add onion, garlic, lemon juice, salt, and pepper. These work together to make this spinach pesto recipe a little bolder.
Instead of pine nuts, I chose cashews for this recipe. Cashews give this pesto sauce more body and creaminess, that you also would get from cheese or cream. I wouldn't suggest subbing the cashews. If you do, this vegan pesto will have a much less creamy sauce.
For greens, I chose to go with more than basil. Spinach adds more nutrients and color to this recipe. I love how the additional spinach also makes this pesto pasta look so bright on the plate. Plus, it is a great way to sneak veggies into your kids' diets too!
When it comes to plant based milk, I say go as mild as possible. I usually use almond milk as it adds extra nuttiness to this vegan spinach pesto pasta recipe. I wouldn't use coconut milk unless you are ok with a mild coconut flavor. For me, it makes this taste like curry more than pesto.
I am still so proud that this recipe doesn't need any parmesan cheese, cream, or any dairy whatsoever. If you want a little more cheese-like flavor, you can always add nutritional yeast if you like to.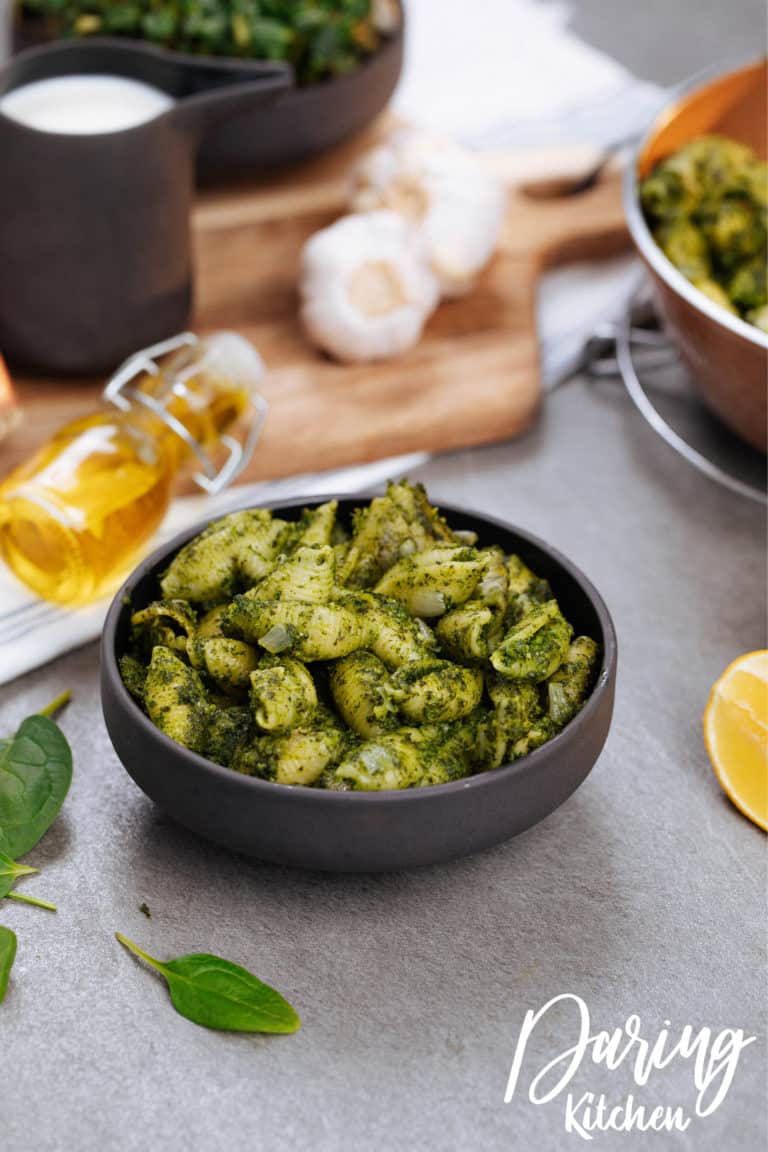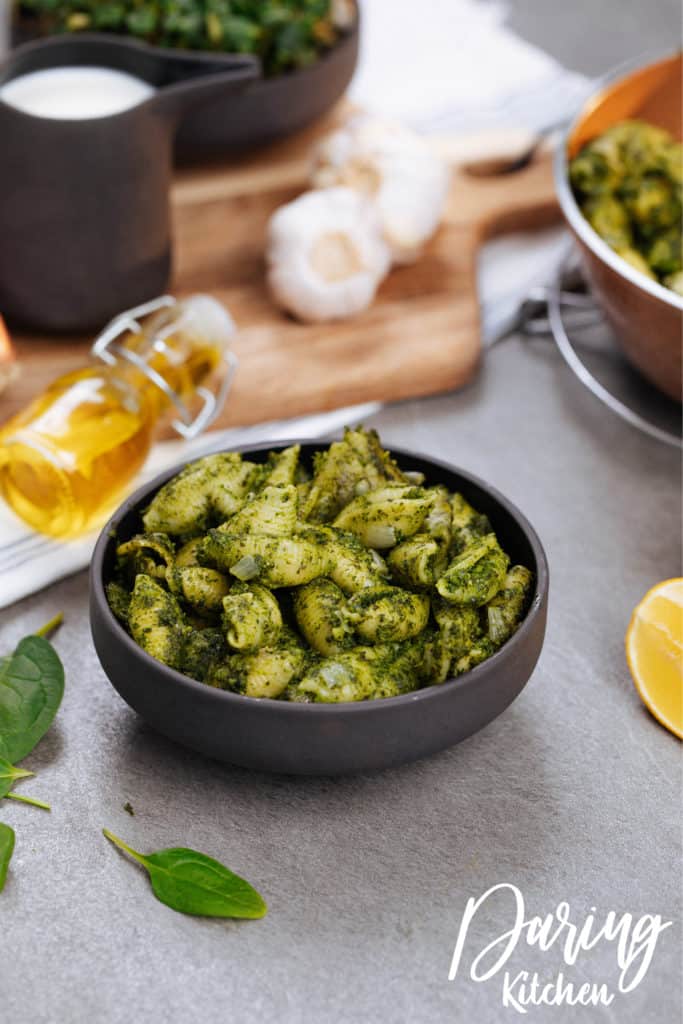 What Makes Vegan Spinach Pesto Pasta So Creamy
The secrets out, cashews are in this recipe. These mighty nuts are so important for obtaining the perfect creaminess in a pesto pasta dish.
Gosh, I love cashews. As someone who cooks vegan often, cashews have saved my life. When added to the food processor, cashews do something magical. They create a paste that adds the body you need to a vegan cream sauce.
If you aren't in the mood for pesto, adding in some nutritional yeast to a cashew cream sauce makes a delicious base for mac and cheese. But, I digress...
A pro tip: if you have time, pre-soak your cashews for a few hours. This will soften them and allow them to be more easily blended in a food processor.
How to Make Vegan Spinach Pesto Pasta
I hope you are hungry because I am! This vegan pesto pasta recipe only takes 30 minutes to make. I may say this way too often, but getting your ingredients measured and prepared ahead will save you tons of time. Consider that your pre-recipe step!
Anyways, I am super excited to share this recipe with you. It makes enough for 3 servings of delicious pasta.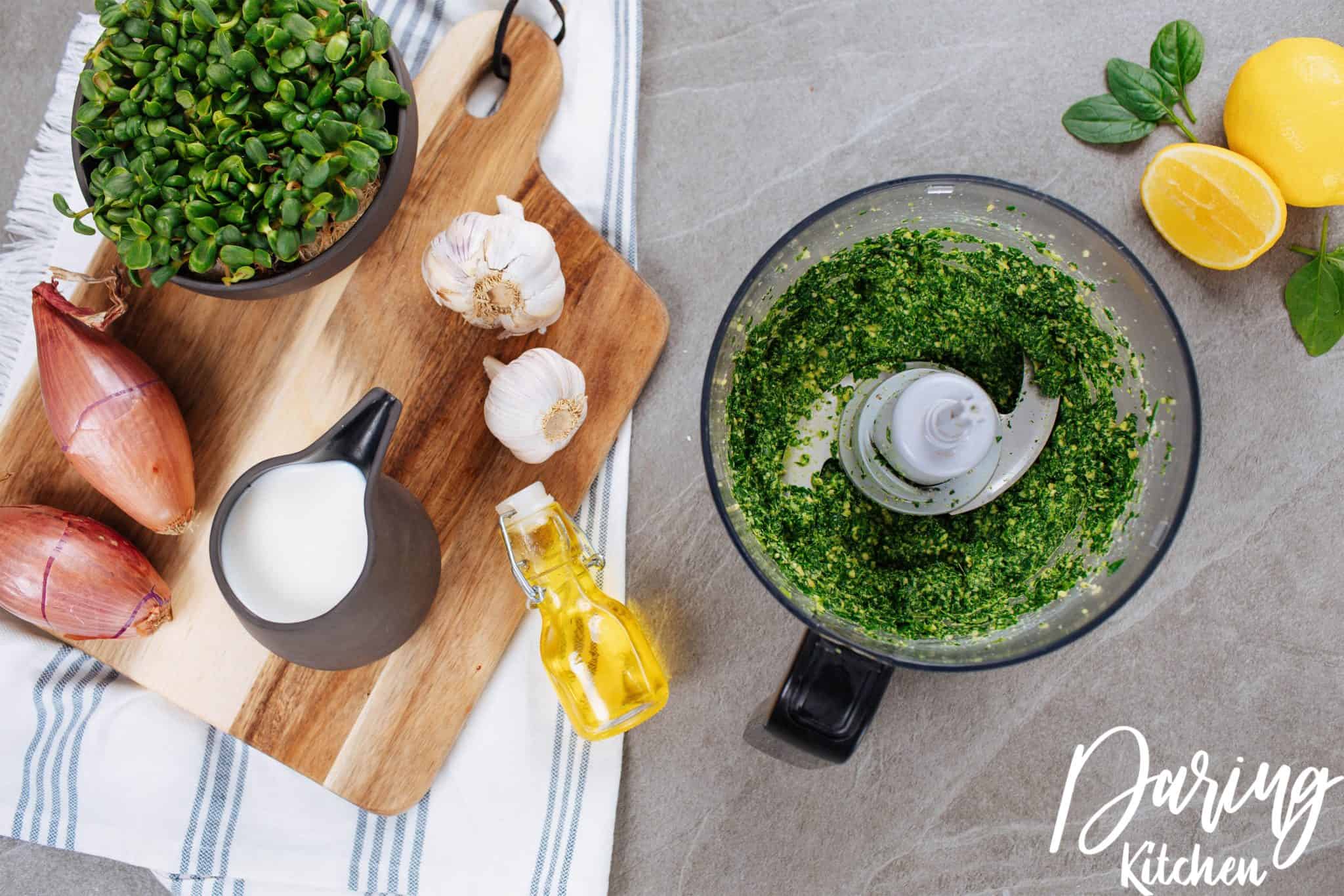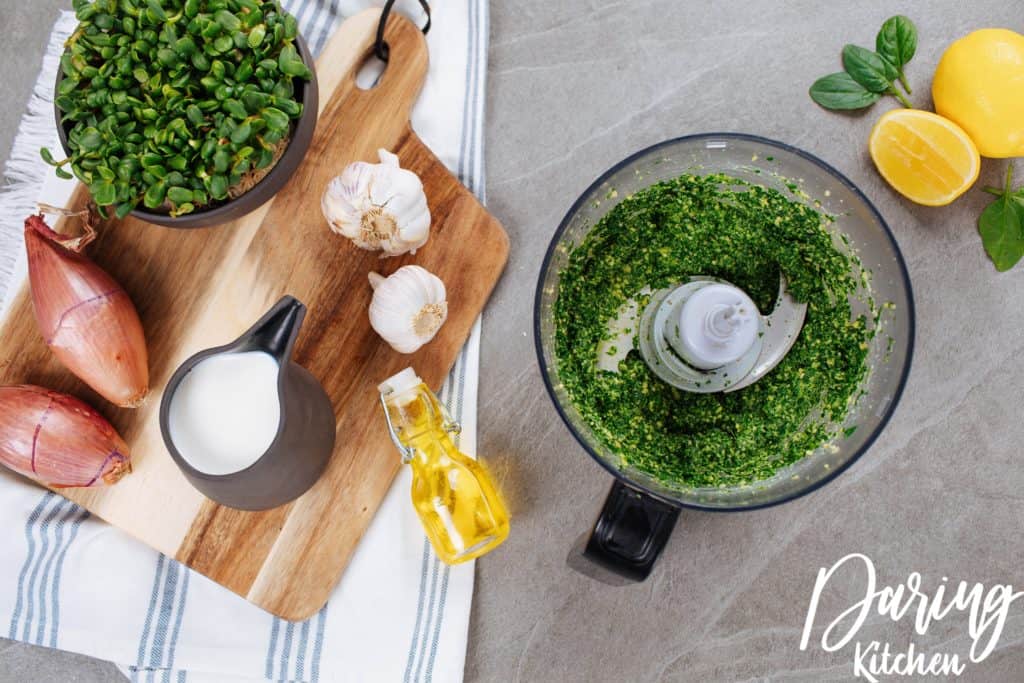 The first step is to make your pesto. Using your food processor, pulse your cashews until they become crumbles. Then, add in your spinach leaves, basil, milk of choice, lemon juice, salt, and pepper. Continue to pulse it all until everything is finely chopped.
Now, it is time to boil your pasta water. Following the package instructions, cook your pasta. While your pasta cooks, grab a pan. Add in your olive oil and shallot. Cook until the shallot is soft. Then, add in your chopped garlic.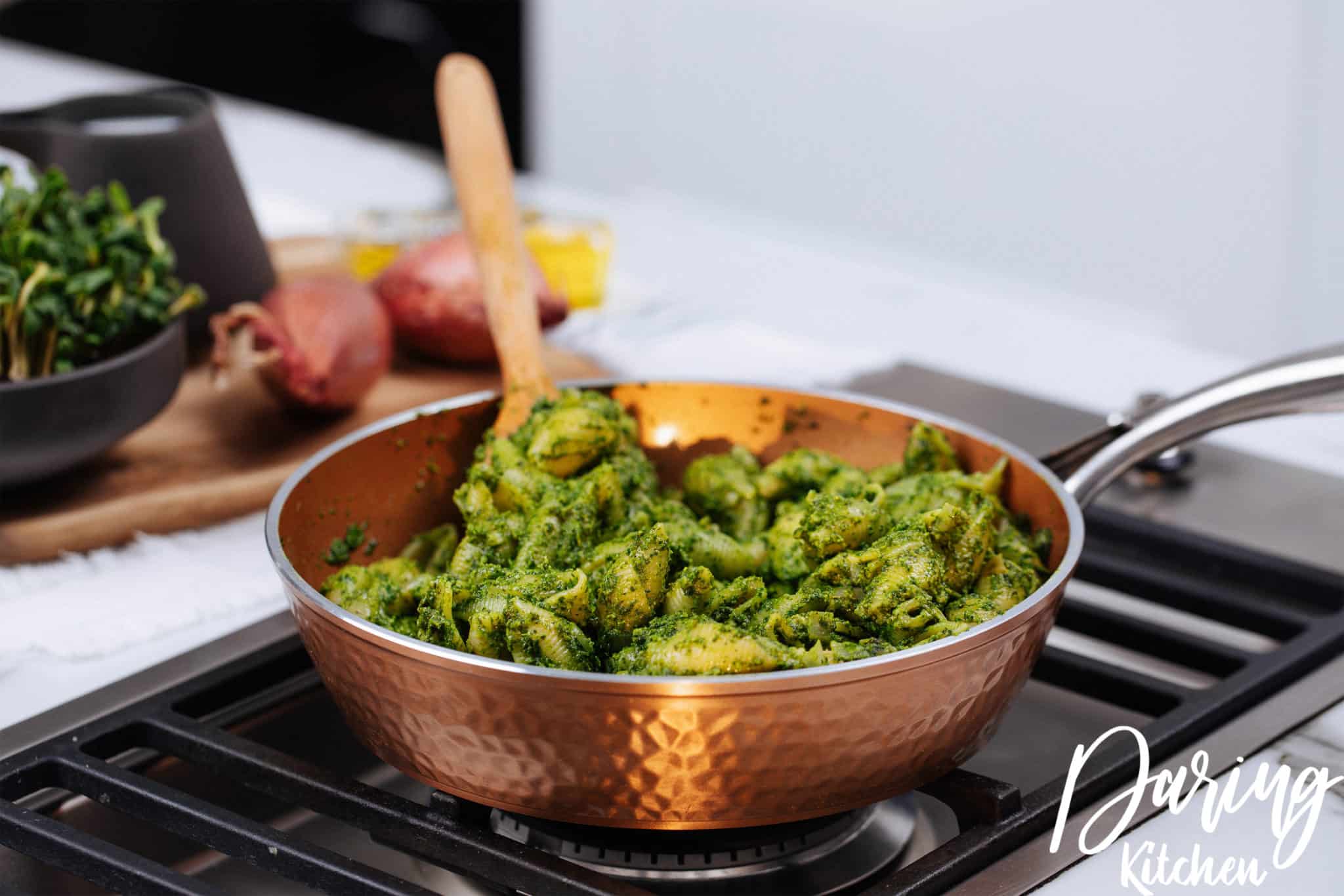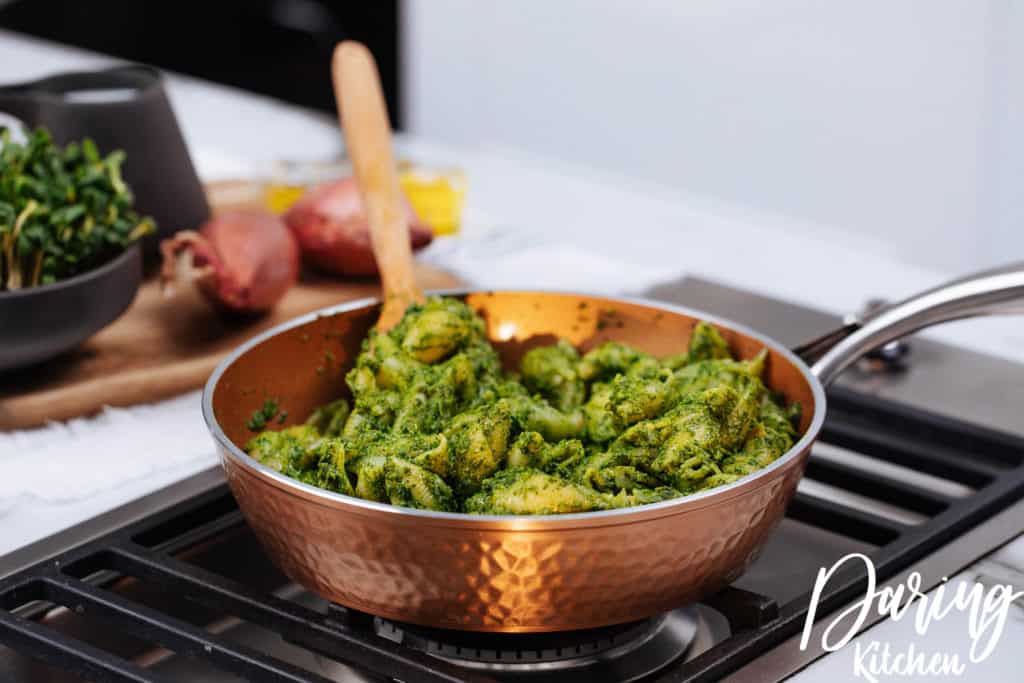 When the garlic is aromatic, it's time to combine everything. Add your cooked pasta straight into the pan (it should still be on the flame.) Pour in your ½ cup of pasta water, along with your pesto sauce.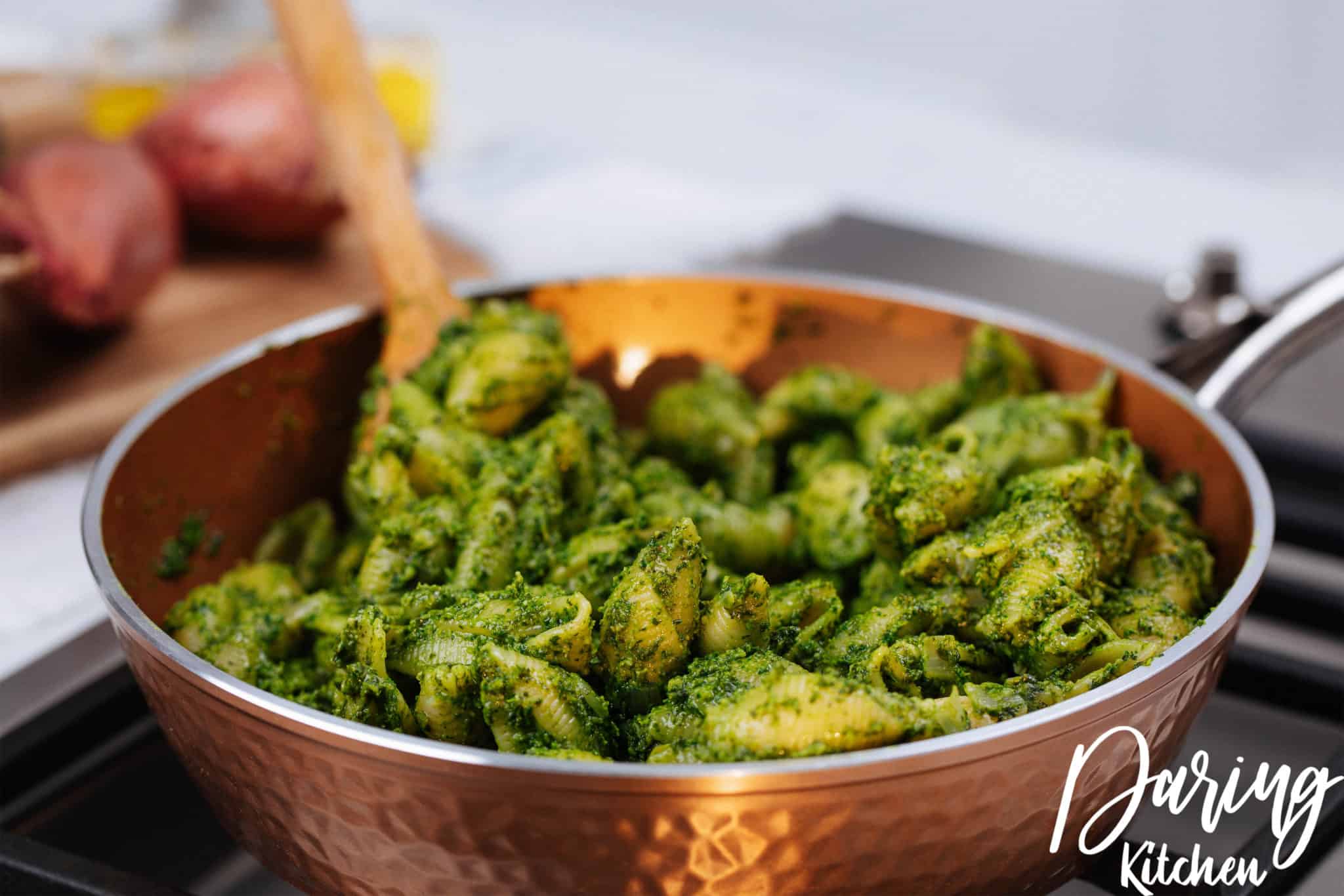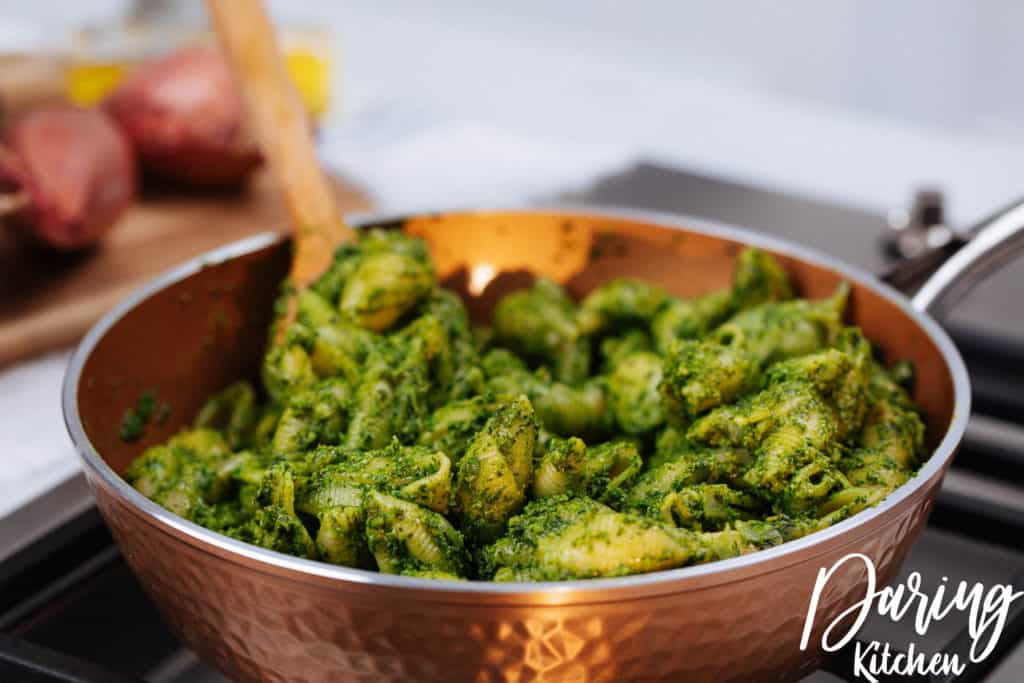 Reduce the heat to low and allow the sauce to thicken with the pasta. This should only take a couple of minutes. When done, immediately remove from the heat. You do not want to overcook your pasta.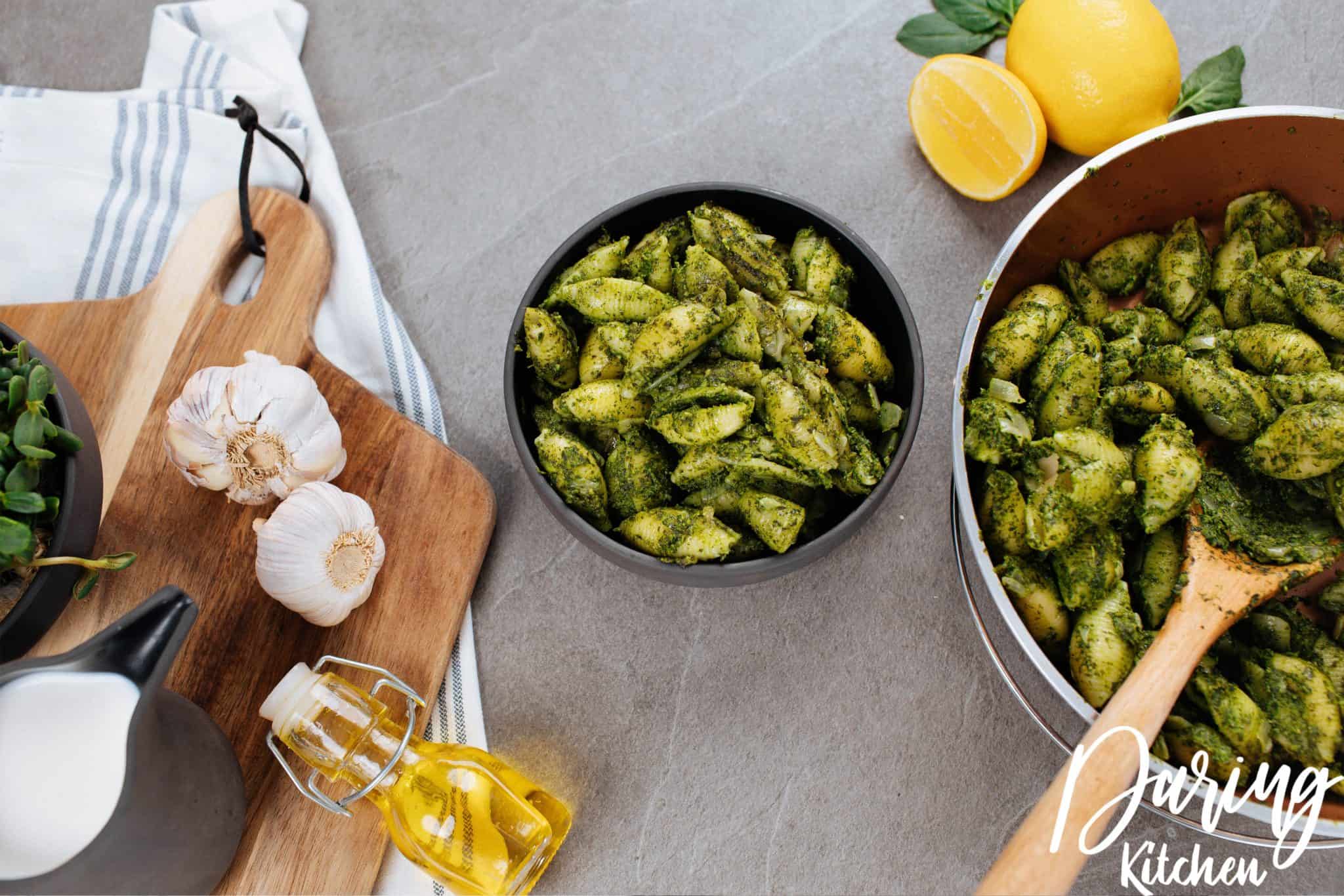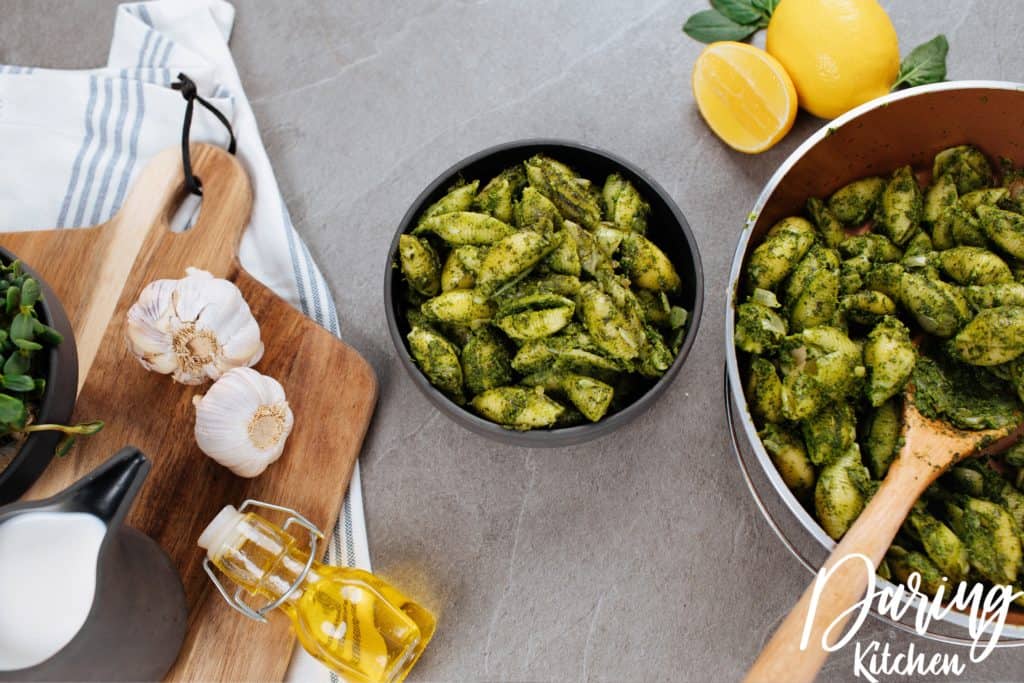 Serve in bowls with a spinach or basil garnish. It even looks pretty with some cherry tomatoes cut up as a decoration. If you even want some extra cheesy flavor, sprinkle some nutritional yeast on top for an extra vegan kick!
This is one of my favorite pesto recipes. I hope you enjoy it as much as I do!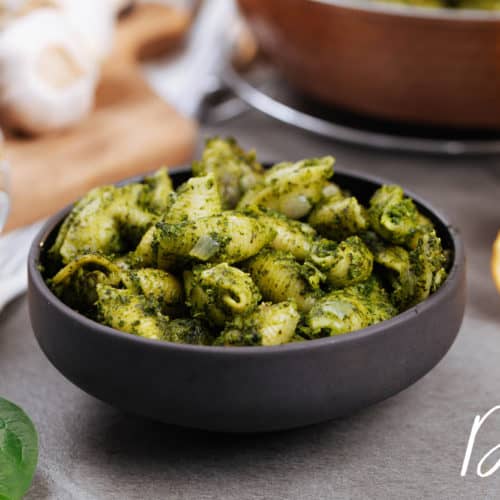 Vegan Spinach Pesto Pasta
No one will be able to resist this creamy and veggie-packed vegan pesto dish!
Print
Pin
Rate
Ingredients
½

cup

raw cashews

6

cups

loosely packed spinach leaves (6 oz.)

1

small bunch basil (0.75 oz.)

thick stems removed

¼

cup

plain

unsweetened non-dairy milk

½

lemon juice

½

tsp

salt

½

tsp

pepper

8

oz

pasta of choice

1

tsp

olive oil

1

shallot onion,

diced

2

cloves garlic minced

½

cup

reserved pasta water
Instructions
Add the cashews to the food processor and pulse a few times until crumbled. Add in spinach leaves, basil leaves, milk, lemon juice, and species, continue to pulse until leaves are finely chopped and everything is mixed.

In a pot with boiling and salted water cook pasta according to package instructions. Drain it and  reserve½ cup of pasta water.

In a large pan over the medium heat add olive oil and shallot, stirring occasionally until onion is softened. Add the garlic and cook until the garlic is fragrant. Add in the cooked pasta with reserved pasta water and prepared pesto. Reduce the heat to medium-low and cook, stirring frequently, until the sauce has thickened slightly and is warm throughout.
Nutrition
Calories:
171
kcal
|
Carbohydrates:
15
g
|
Protein:
5
g
|
Fat:
11
g
|
Saturated Fat:
2
g
|
Sodium:
391
mg
|
Potassium:
163
mg
|
Fiber:
1
g
|
Sugar:
1
g
|
Vitamin A:
2
IU
|
Vitamin C:
2
mg
|
Calcium:
12
mg
|
Iron:
2
mg