A vegan twist on the classic - this vanilla ice cream recipe will blow your taste buds away with its pure vanilla flavor and plant based ingredients. With luscious coconut milk and cashew base, everyone will be shocked to discover that this ice cream is vegan and gluten free!
The Best Homemade Vanilla Ice Cream Recipe
You can never go wrong with vanilla ice cream. Whether it's regular, vanilla bean, or vanilla bourbon flavor, it's always a good go-to. I mean, vanilla ice cream literally goes with everything. You can eat it alone, with sprinkles, with brownies...you really can't beat its versatility!
With a major love for ice cream, I wanted to make an easy-to-make vegan version of the classic. Taking all my ice cream making and eating experience, I concocted a recipe for homemade vanilla ice cream that I am super proud of. That's because it features only top-quality ingredients and no refined sugars whatsoever.
Plus, this creamy vanilla ice cream can fool anyone. To this day, no one has guessed that this recipe is vegan! Isn't that crazy? I feel really proud, as it's hard to recreate a mega creamy ice cream without egg yolks and heavy cream. But, I did it and I'm keeping this recipe for life!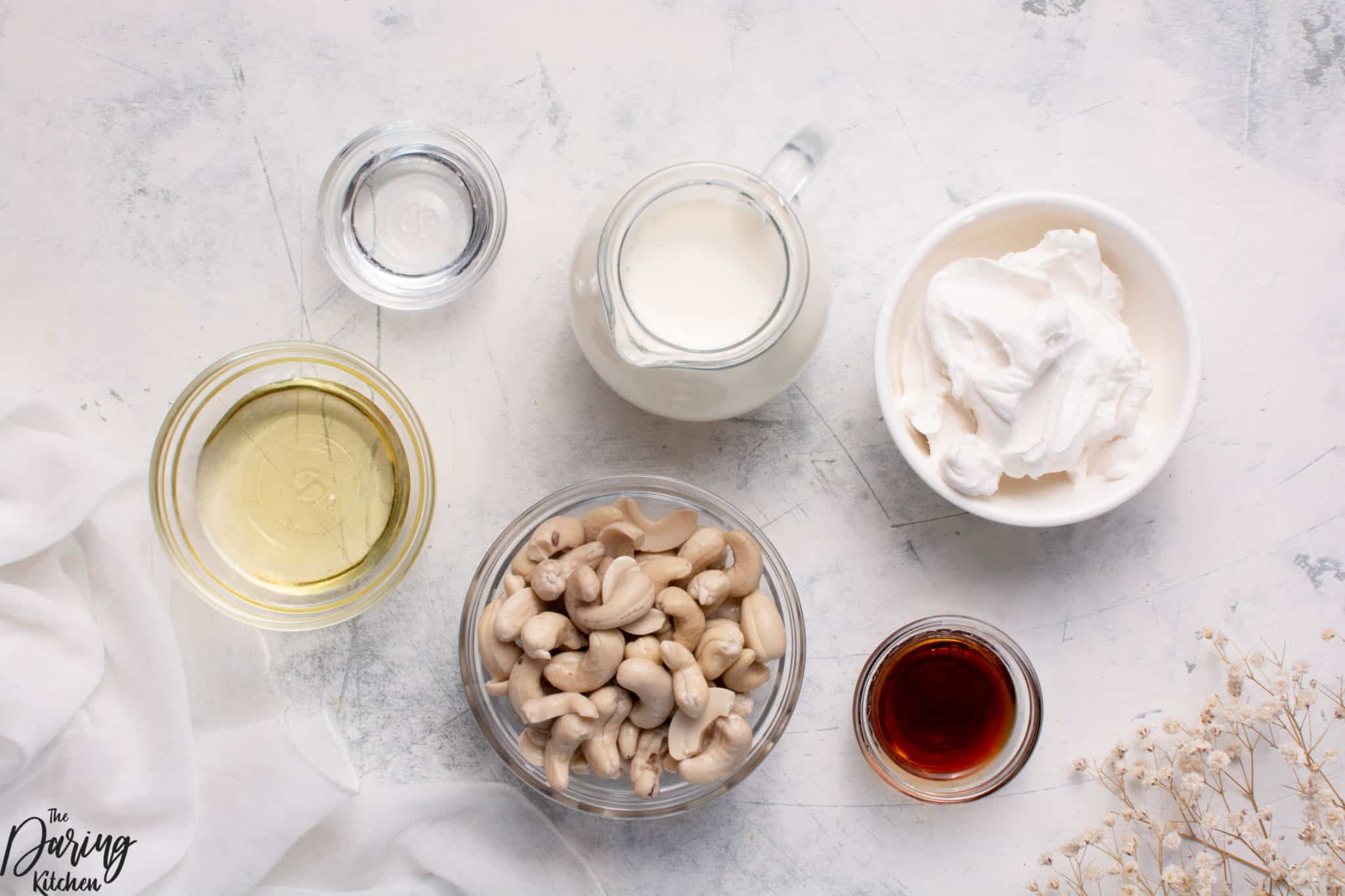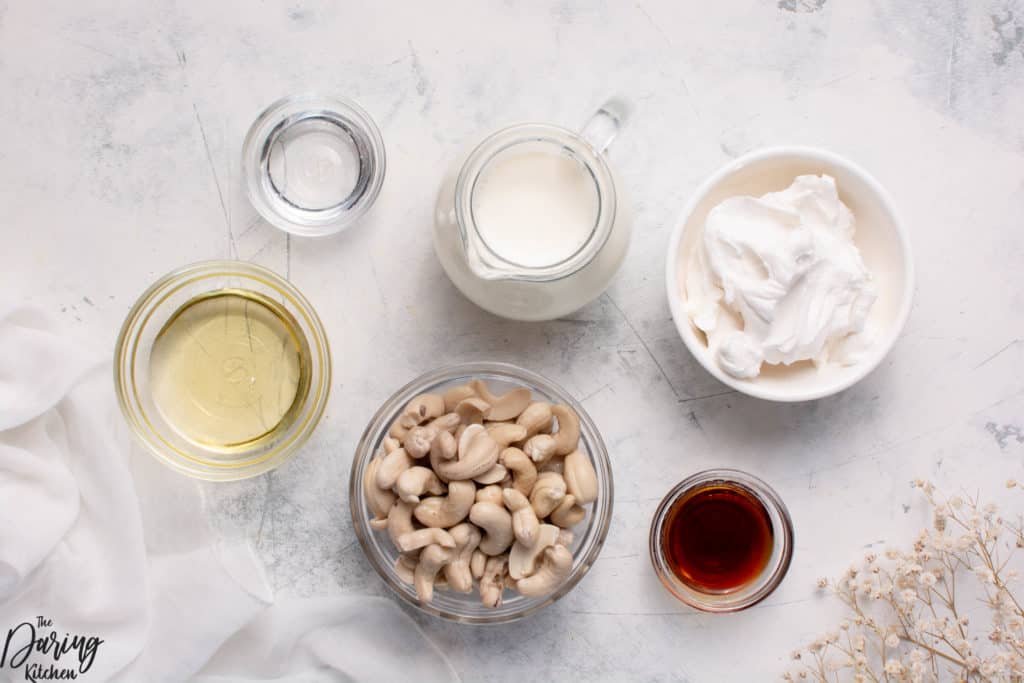 What's in Vegan Vanilla Ice Cream?
This vanilla ice cream is a reliable base for most of my vegan ice creams. I often include vanilla in many of my other ice cream recipes as it's a reliable and complementary flavor.
You don't need a bunch of crazy ingredients for this recipe. They are all really quite simple! So, what are they?
Coconut milk - This is a foundational part of this recipe as it is the perfect substitute for whole milk. Coconut milk gives this recipe the milky character we seek out in any ice cream. It doesn't impart a ton of coconut flavor - it's a lot milder than you'd think!
Cashews - What we love most about ice cream is its density. Cashews are what give this ice cream its thickness and structure, making it more of hard ice cream rather than a soft-serve ice cream.
Coconut cream - You can easily find this in a can at any supermarket. Coconut cream works very similarly to heavy cream, adding that richness and luxurious creaminess we seek in ice cream. Without it (and the cashews,) this recipe could turn out too liquidy.
Agave syrup - This is my sweetener of choice. It's mild and healthy. You can also go for honey, maple syrup, or coconut sugar too. Just remember certain sweeteners may add other flavors to your recipe.
Coconut oil - Many do not know that oil is essential in most ice cream recipes. It helps maintain temperature and prevent any elements from oxidizing!
Vanilla extract - What makes this ice cream what it is - classic vanilla! You have the option to use vanilla extract, vanilla bean, or vanilla bean paste. All are suitable and depend on how bold of a vanilla flavor you want.
Do I Need an Ice Cream Maker for this Recipe?
Not at all. This easy homemade ice cream recipe is meant for any home cook (and not everyone wants to invest in an ice cream maker!) A blender or food processor and a freezer-friendly bowl work just fine. You are welcome to use an ice cream machine if you'd like - I have a Cuisinart ice cream maker at home that I absolutely adore.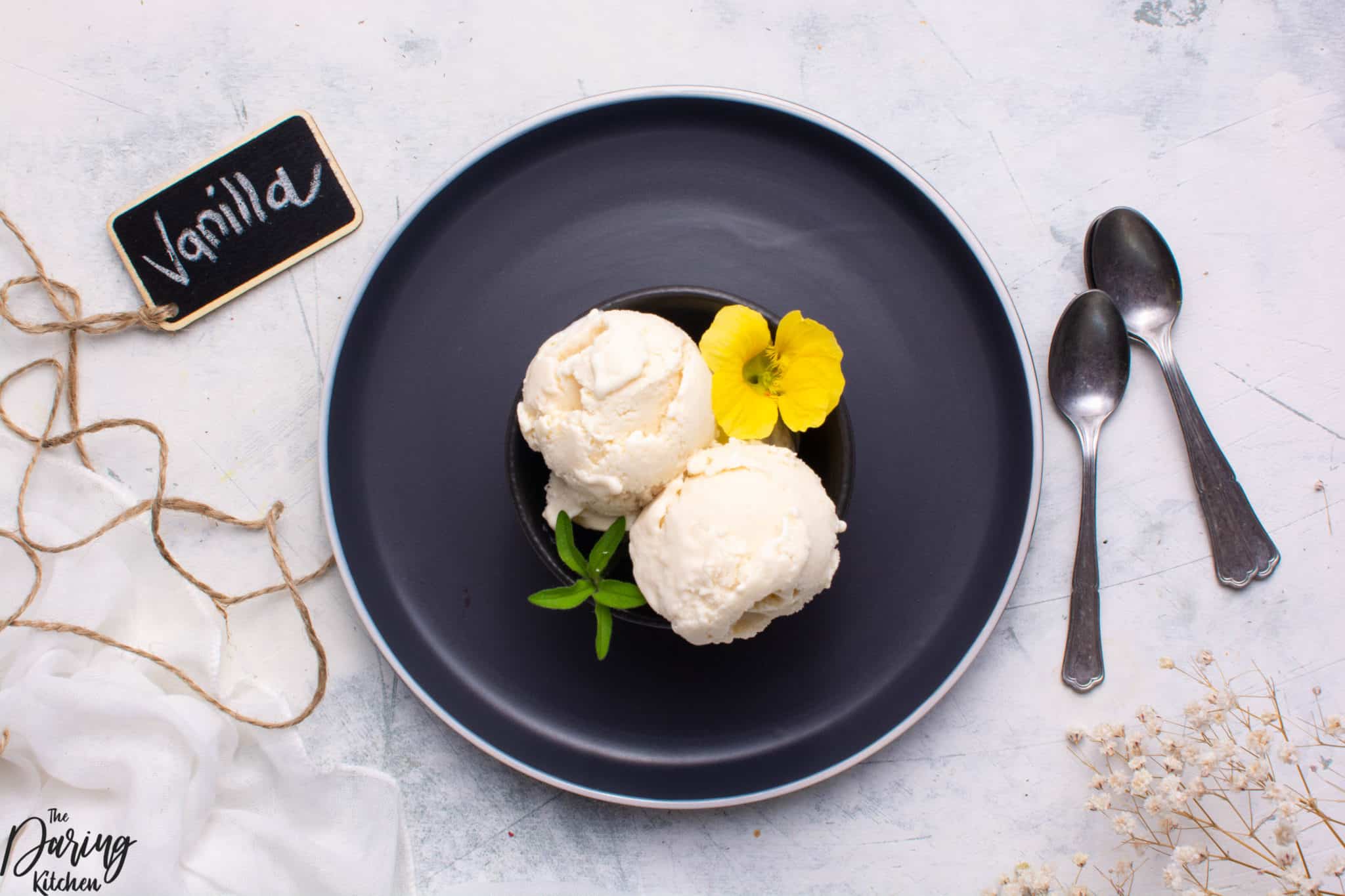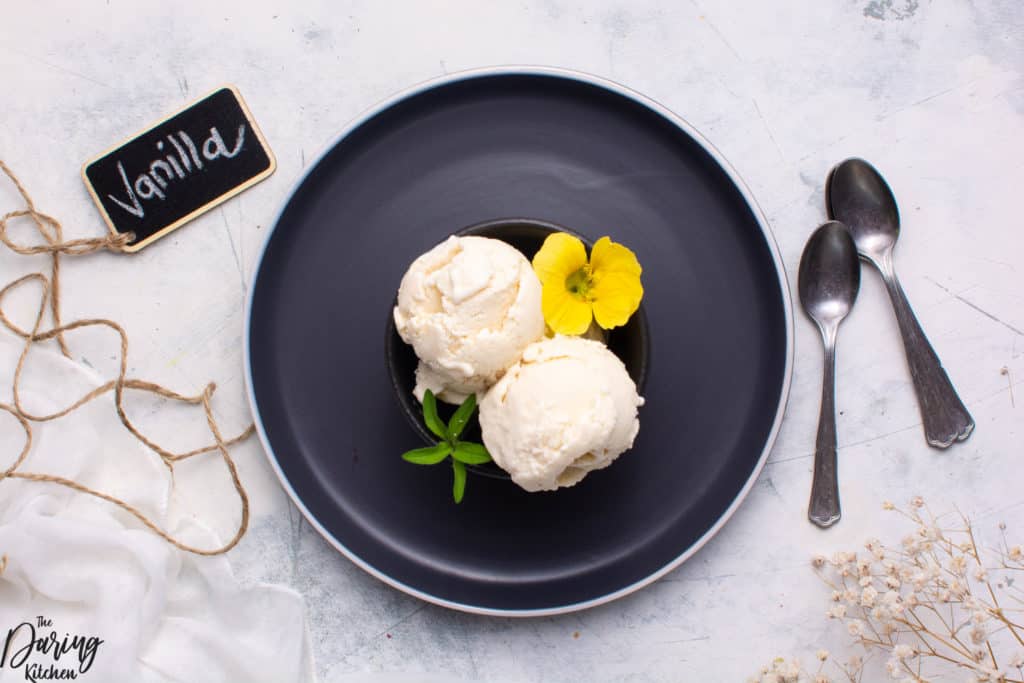 Ideas for Serve Vegan Vanilla Ice Cream
Gosh, there are so many ways to savor this delicious ice cream! I have to share my go-to ways as there's nothing I love more than serving homemade ice cream with my favorite ice cream toppings.
Brownie Sundae - Add two scoops of vanilla ice cream on top of a delicious vegan brownie. Drizzle hot fudge and dark chocolate sprinkles on top. Garnish your sundae with a cherry.
Strawberry Shortcake Sundae - Place two scoops of ice cream on a slice of sponge cake or angel food cake. Drizzle strawberry preserves, then garnish your Sundae with mint.
Bananas foster sundae - Top your vanilla ice cream with pan fried bananas. Serve with whipped cream.
Chocolate chip ice cream sandwich - Scoop ice cream on top of a chocolate chip cookie. Add another one on top, squeezing them together to form a sandwich. Roll the sandwich in chocolate chips for an extra chocolatey crunch!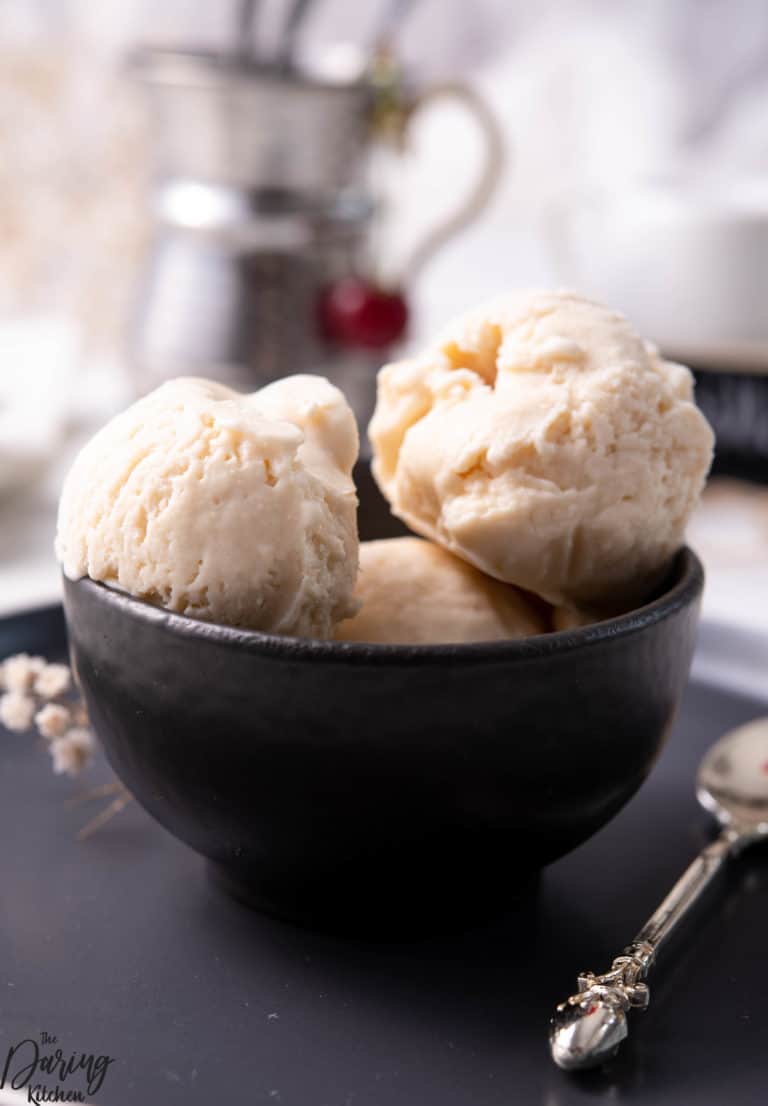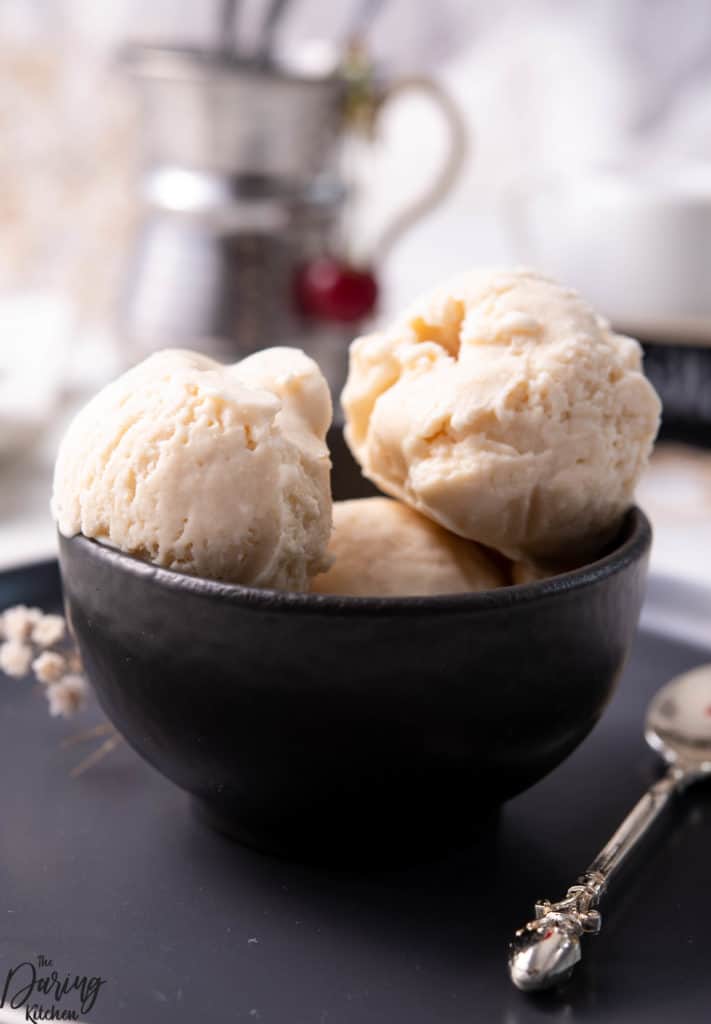 How to Make Homemade Vanilla Ice Cream
Making this homemade cream recipe is simple. The method only requires a few steps. In no time, you'll have the best vanilla ice cream!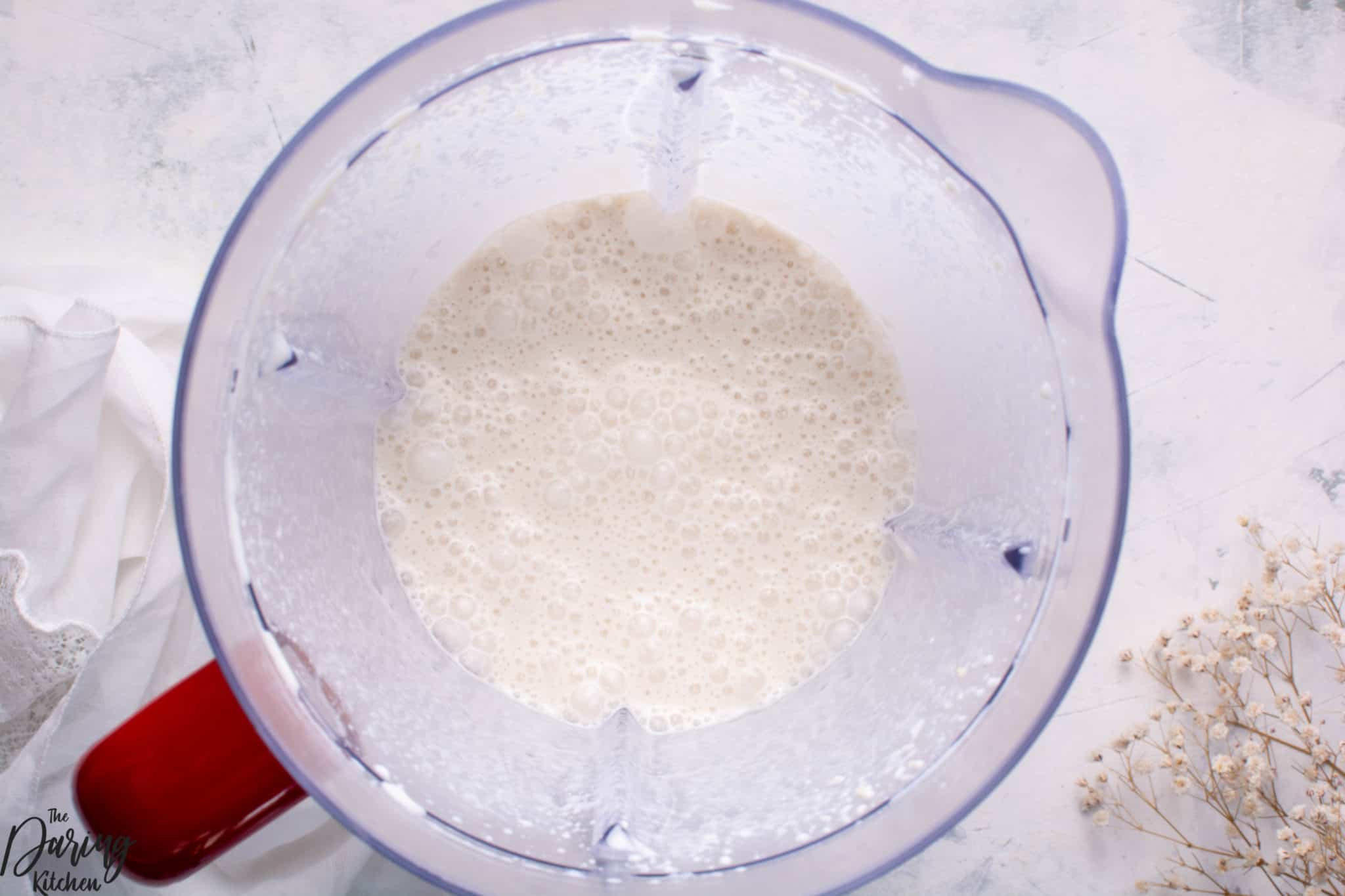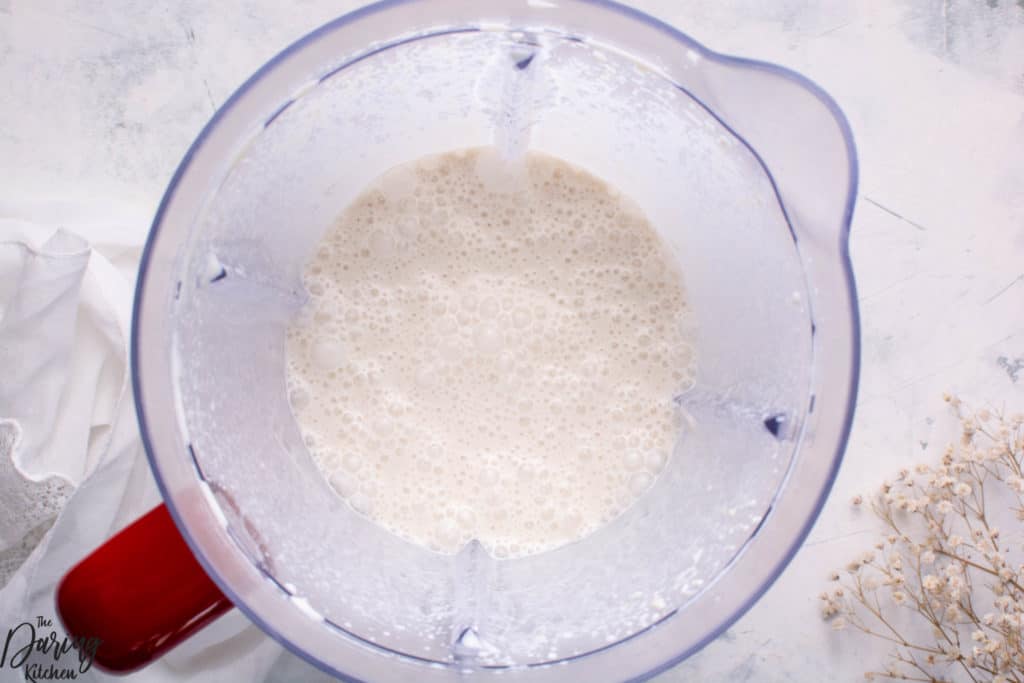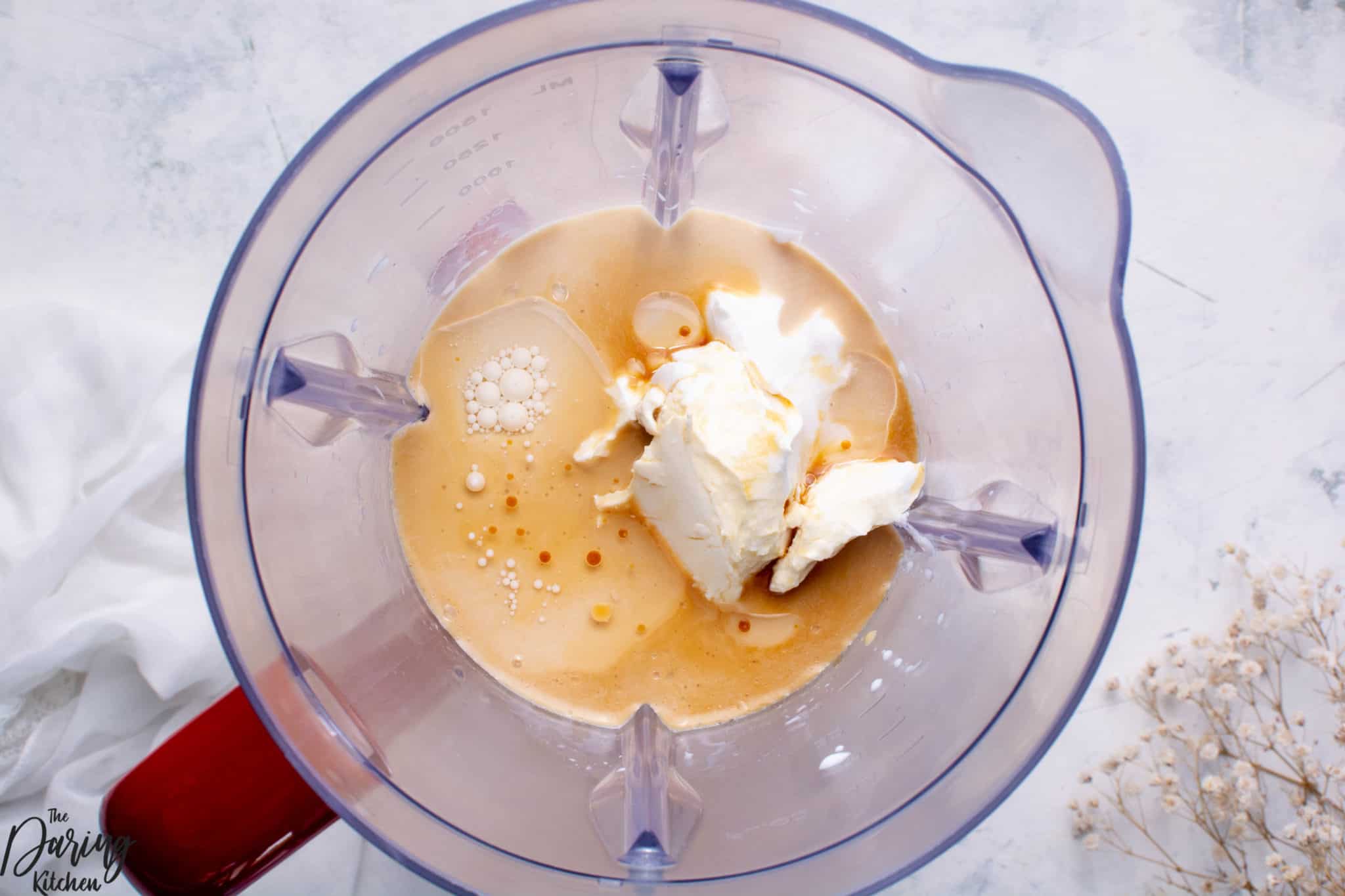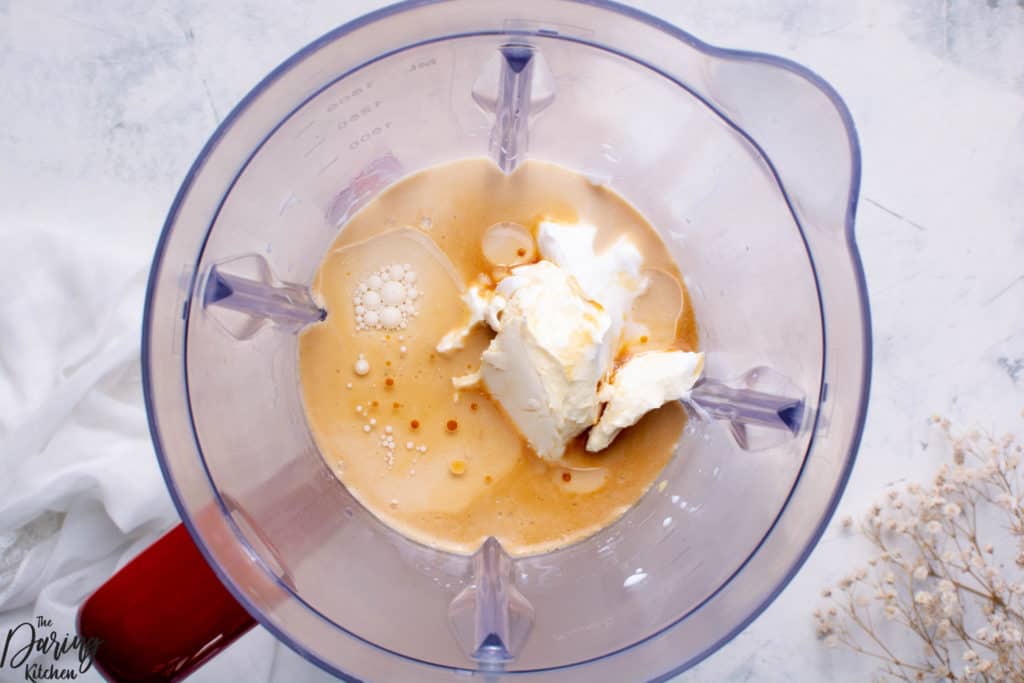 First, assemble your blender or food processor. Add in all your ingredients carefully. I typically start with cashews as they are heavier and will make a splash if added later. No one wants likes stains while in the kitchen!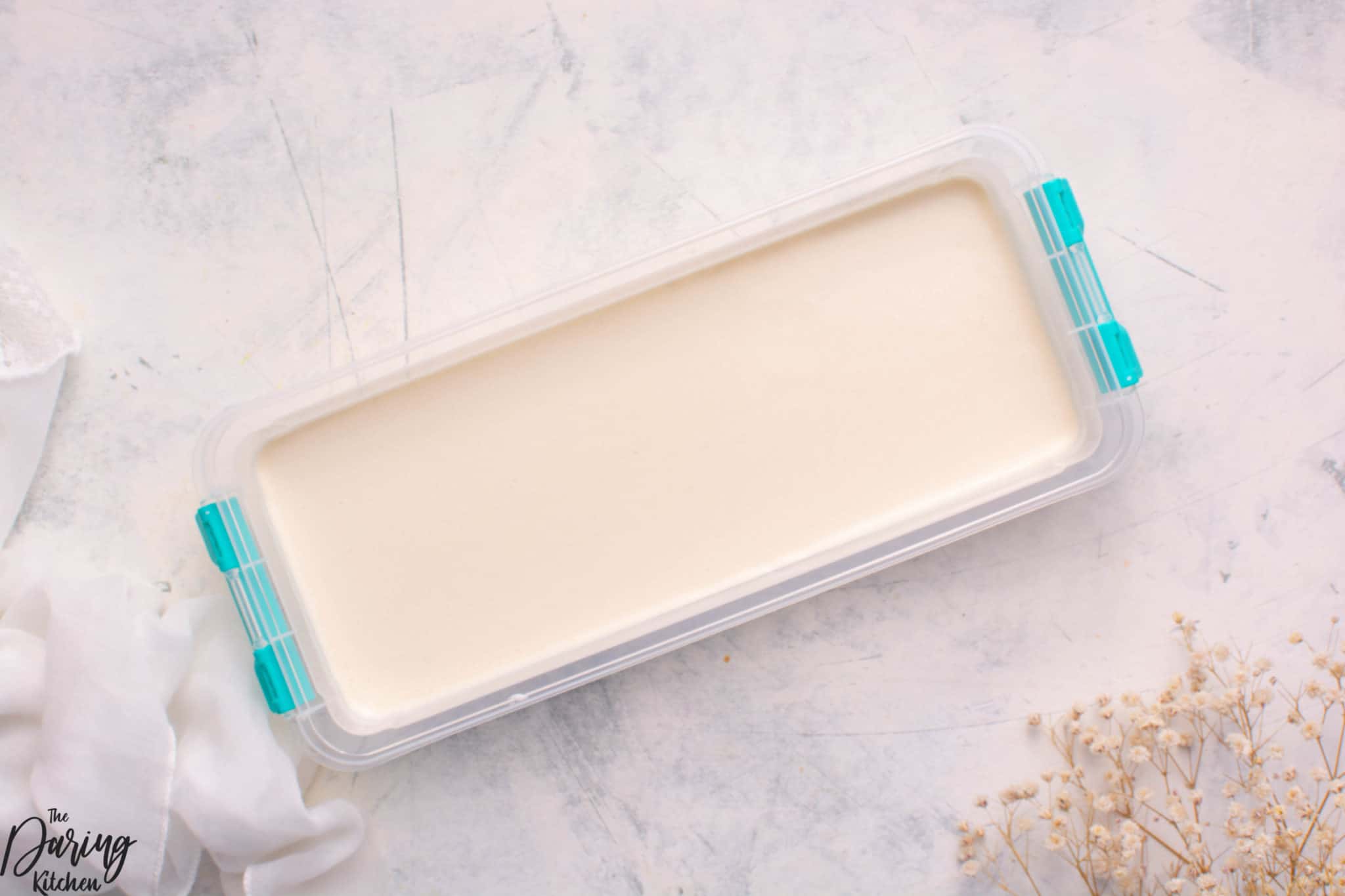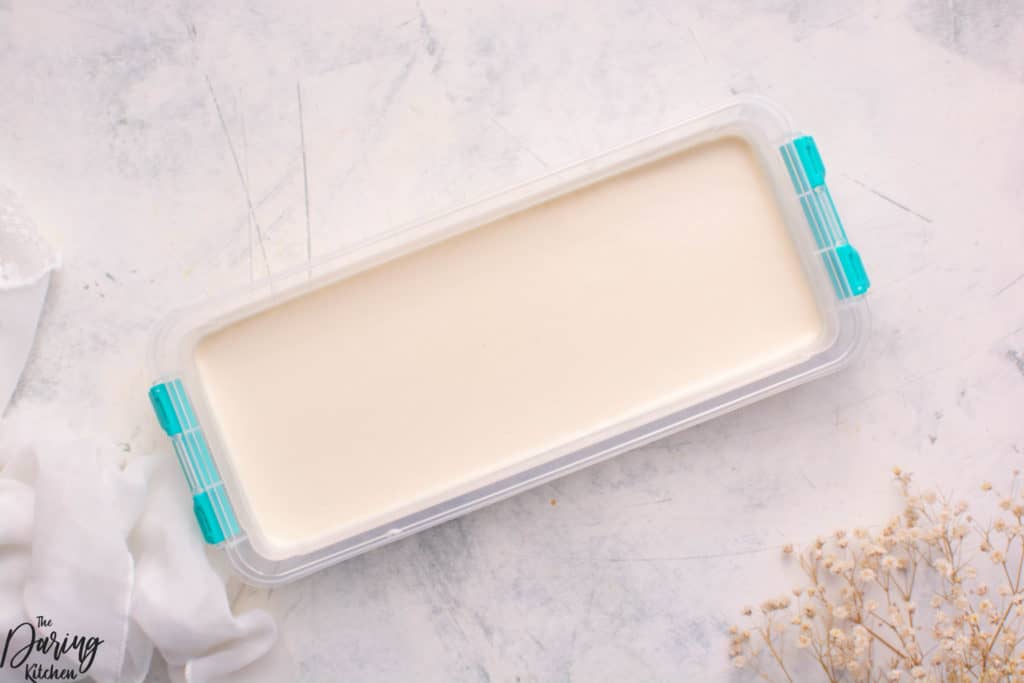 (If using an ice cream maker, you can skip the next steps and follow your machine's instructions!) Pour your newly formed ice cream mixture into your freezer friendly container. Then, place a sheet of parchment paper on top of the mixture. This container will go into the freezer for 4 hours.
Every hour, check your ice cream, stirring it to prevent any ice crystals from forming. Once your ice cream is solid, remove it from the freezer.
Allow your ice cream to rest for about 10 minutes prior to serving. This will make it easier to scoop and enjoy.
Scoop and serve your ice cream in an adorable ice cream bowl with any of your favorite toppings.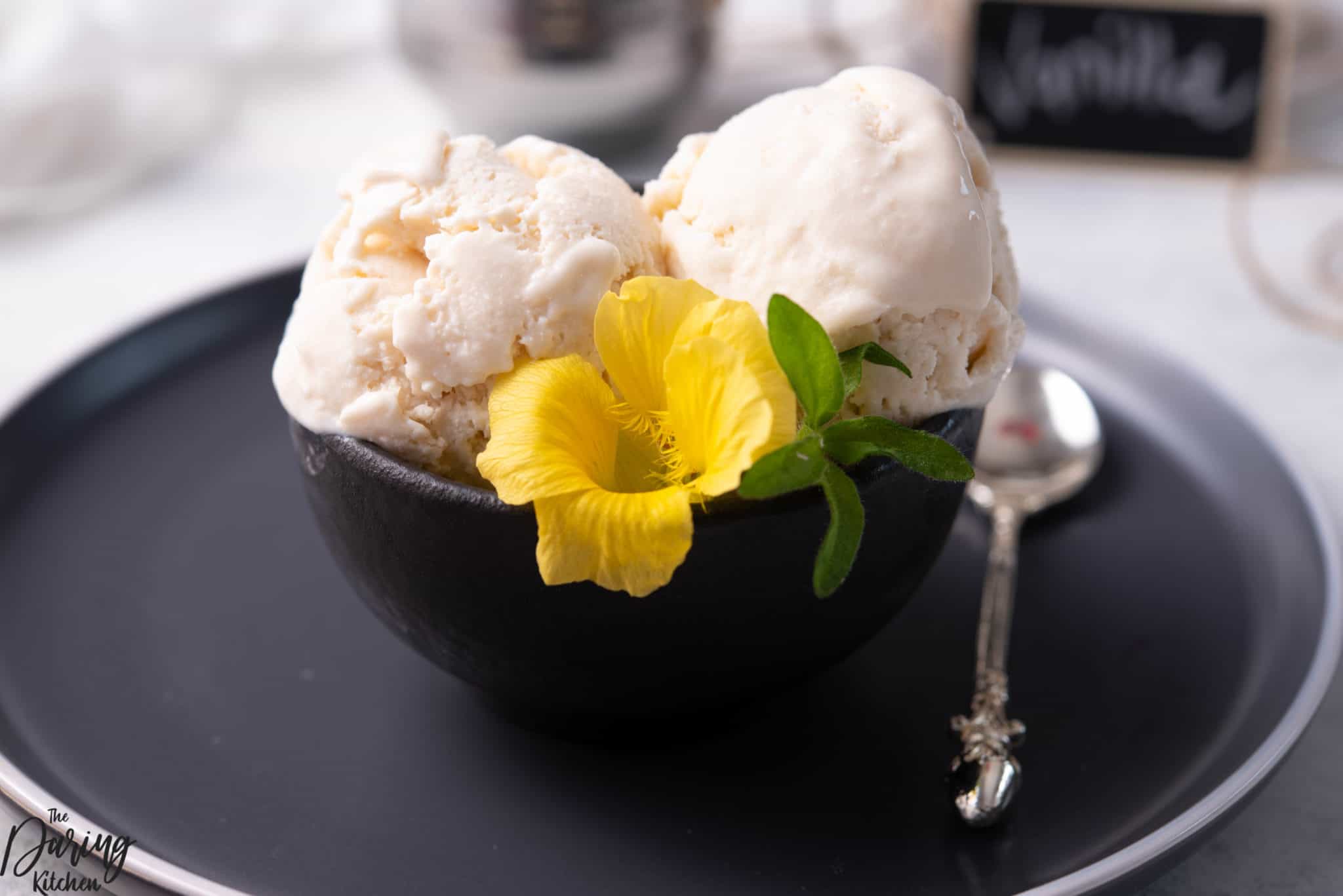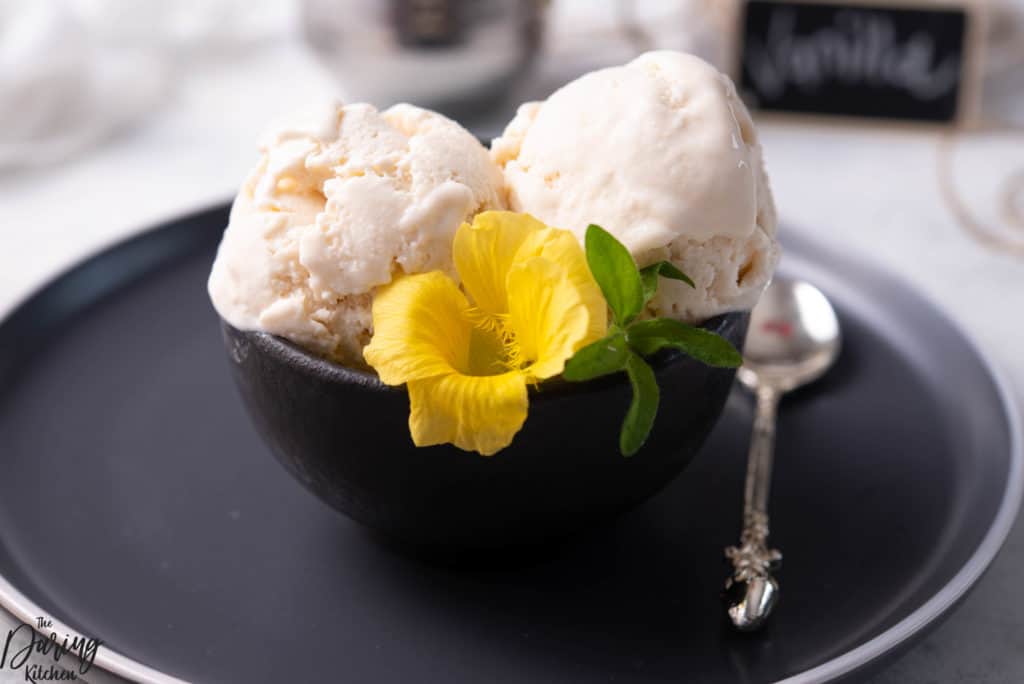 I'd love to hear all of your thoughts on this vanilla ice cream recipe. It is my go-to vegan ice cream recipe and can be used to make many ice cream flavors. I'd love to hear how you got creative with it!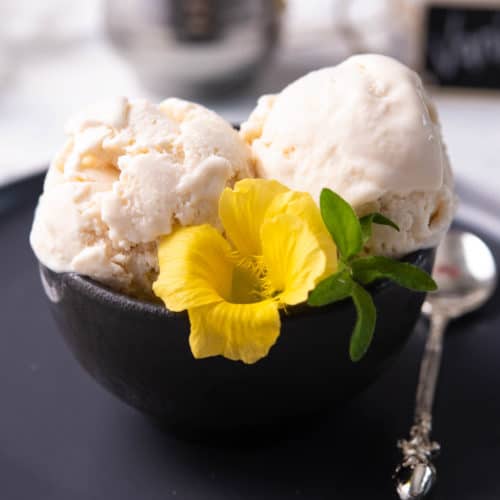 Vegan Vanilla Ice Cream
With only two steps and a handful of ingredients, you can have the creamiest vegan vanilla ice cream ever!
Print
Pin
Rate
Equipment
food blender or food processor

freezer-friendly container
Ingredients
2

cups

coconut milk

1

cup

cashews

soaked overnight, rinsed and drained

½

cup

coconut cream

½

cup

agave syrup

1

tbsp

coconut oil

2

tbsp

vanilla
Instructions
In a food blender, combine all ingredients.

Blend on high speed until smooth.

Pour the mixture into a freezer-friendly container. Tap gently on the kitchen counter to remove air bubbles.

Freezing method:

-freezer-friendly container, pour the mixture into the container, cover with a piece of parchment paper and freeze for 4 hours. Stir the ice cream every hour to prevent large ice crystals from forming.

-ice cream machine, freeze the ice cream according to manufacturer's directions.

Remove ice cream from the freezer 10 minutes before serving, if using a freezer-friendly container.
Nutrition
Calories:
634
kcal
|
Carbohydrates:
37
g
|
Protein:
9
g
|
Fat:
52
g
|
Saturated Fat:
36
g
|
Polyunsaturated Fat:
3
g
|
Monounsaturated Fat:
9
g
|
Sodium:
21
mg
|
Potassium:
570
mg
|
Fiber:
2
g
|
Sugar:
21
g
|
Vitamin C:
2
mg
|
Calcium:
37
mg
|
Iron:
7
mg