This stunning vegetable pie will look brilliant on any holiday table. With layers of fresh veggies, easy-to-make basil pesto, and a super buttery-flaky crust, it will be hard for everyone to just stop at one slice.
A Beautiful Colorful Vegetable Pie
When it comes to parties, presentation is key. Of course, we want delicious food, but it's always great when it looks pretty too. That's how I ended up crafting this delicious recipe. I wanted something that was not only homemade with the freshest ingredients but looked fabulous on the table too.
This vegetable pie tastes as pretty as it looks, I swear! Each layer adds flavor and texture to each bite. First, you have your elegant veggie layers. This is where you can really feel like an artist. Vegetables are just so colorful! I used different kinds of squash to add some fun color contrast to the tart. Different kinds of zucchini, yellow squash, and carrot work together to create vibrant contrasting layers that bake beautifully together. 
Each vegetable can be conveniently cut with a vegetable peeler. Make sure yours is food-grade stainless steel and sharpened. This helps to ensure clean and even slices! More uniform slices make it a lot easier to decorate your pie. I also placed a bright red tomato in the middle to bring everything together. This tomato not only brings more color, but it just roasts so perfectly in the oven. And, it tastes delicious with the pesto layer below all the veggies!
Admittedly, one of my favorite parts of this pie is its crust. Who doesn't love a good crust? It is flaky, buttery, and holds everything together perfectly. Plus, I used whole wheat instead of regular flour. Whole wheat gives the crust this mildly nutty flavor I just adore. Plus, whole wheat is full of many more nutrients than your average all-purpose flour.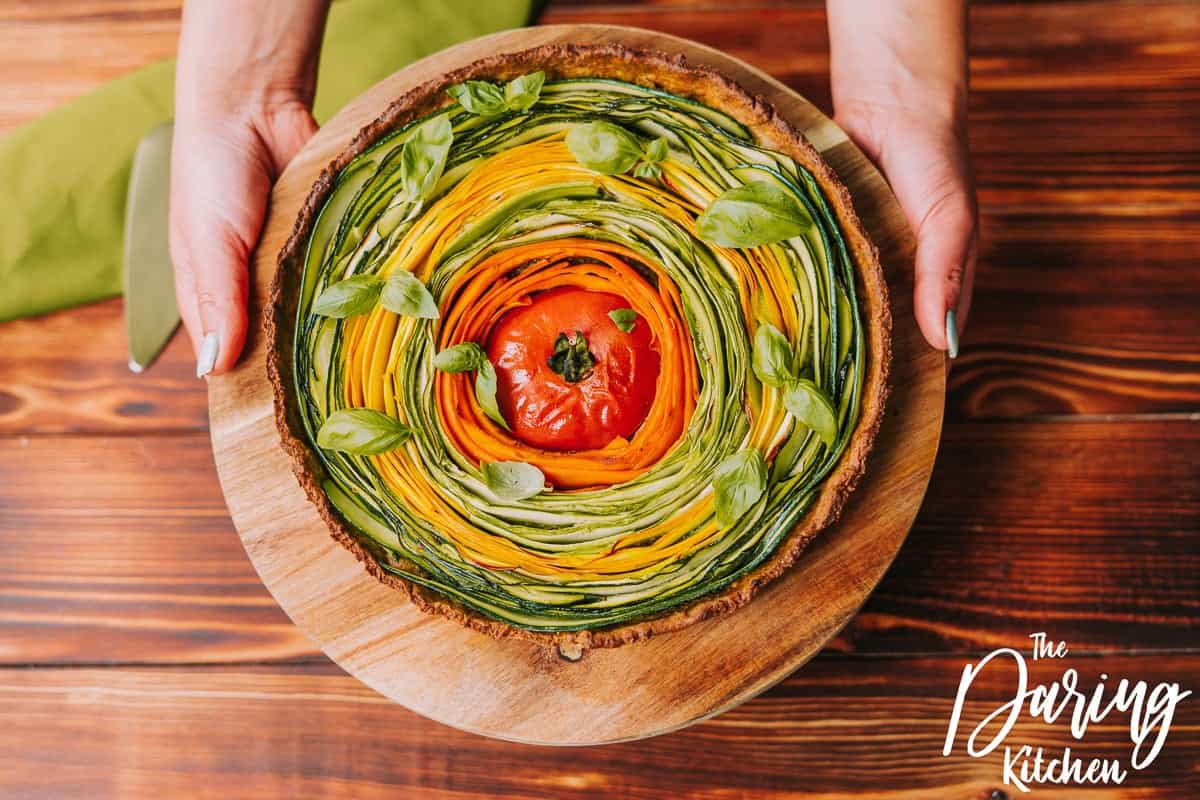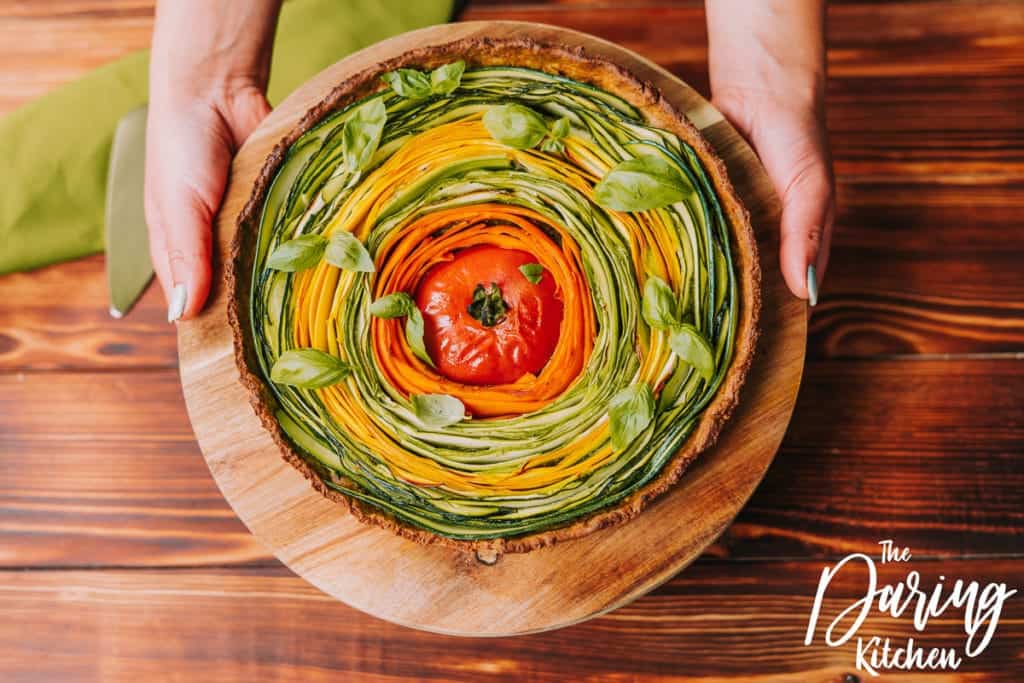 Absolutely Fresh Basil Pesto
I am thankful to whoever first created pesto. This Italian condiment has everything - its nutty, zesty, creamy, and beautifully green. What I love about pesto is how versatile it is. Traditionally, pesto is made with pine nuts. But, while those are delicious, they are often pretty expensive and sometimes hard to find. You can easily sub in all sorts of nuts, and adjust for flavor. In this recipe I used cashews. These nuts have a natural creaminess that just enhances pesto. 
Fresh pesto makes all the difference. Of course, store-bought is easy. But, fresh pesto is so much more flavorful. Plus, making pesto fresh lets you have more quality control over the ingredients. A lot of times I find store-bought pestos use strange oils, other than olive oil. Olive oil is a fabulous source of healthy fats and antioxidants. By making pesto yourself, you can ensure every ingredient is approved by yourself.
Also, fresh pesto is easy to make. You can, of course, keep it authentic and use the mortar and pestle method. But a reliable food processor or blender will do the job just fine (and save you a ton of time too!)
How to Make a Colorful Vegetable Pie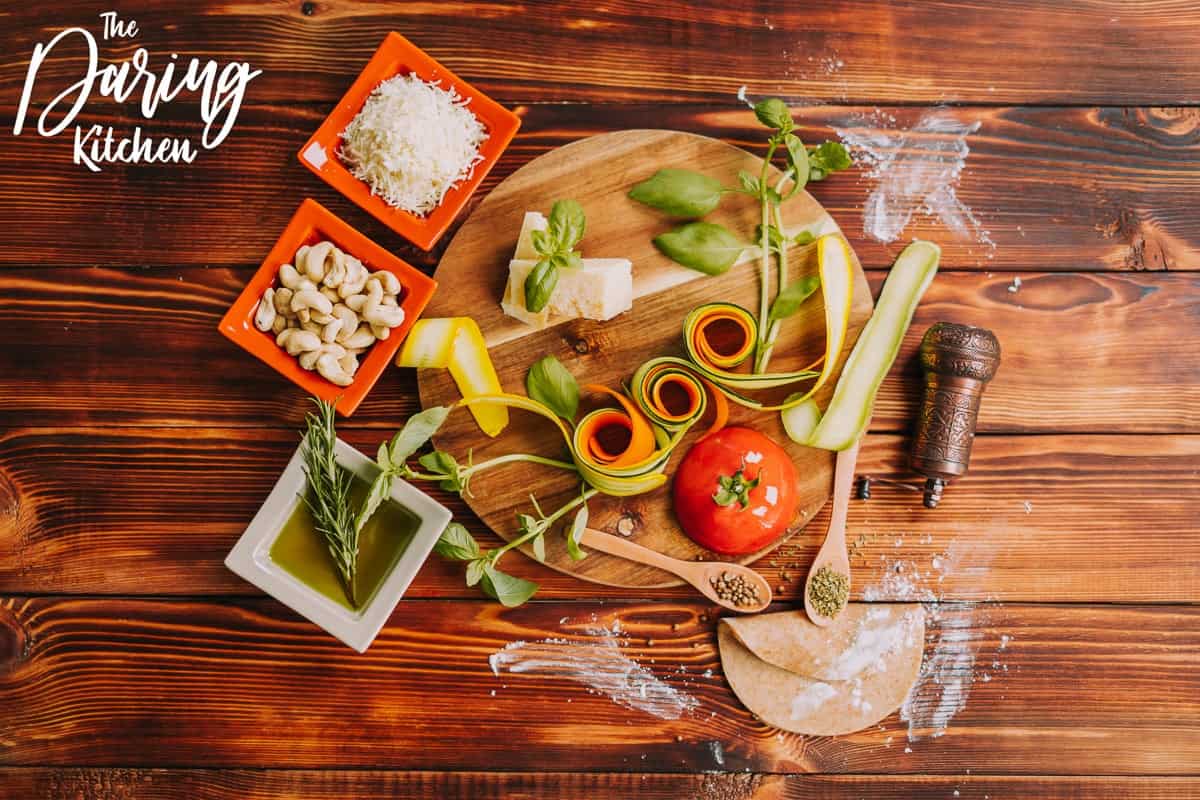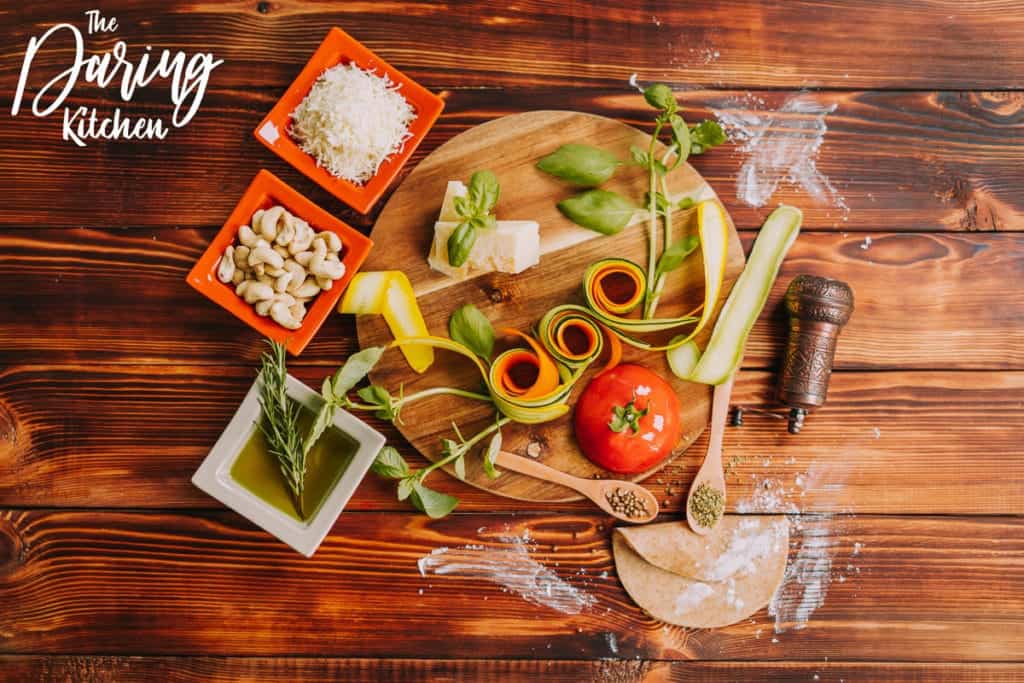 This pie may be gorgeous but does not mean it is hard to make. It only takes a few steps to make this delicious pie.
First things first - preheat your oven. You need to have it at 375 degrees F (around 190 degrees Celsius.)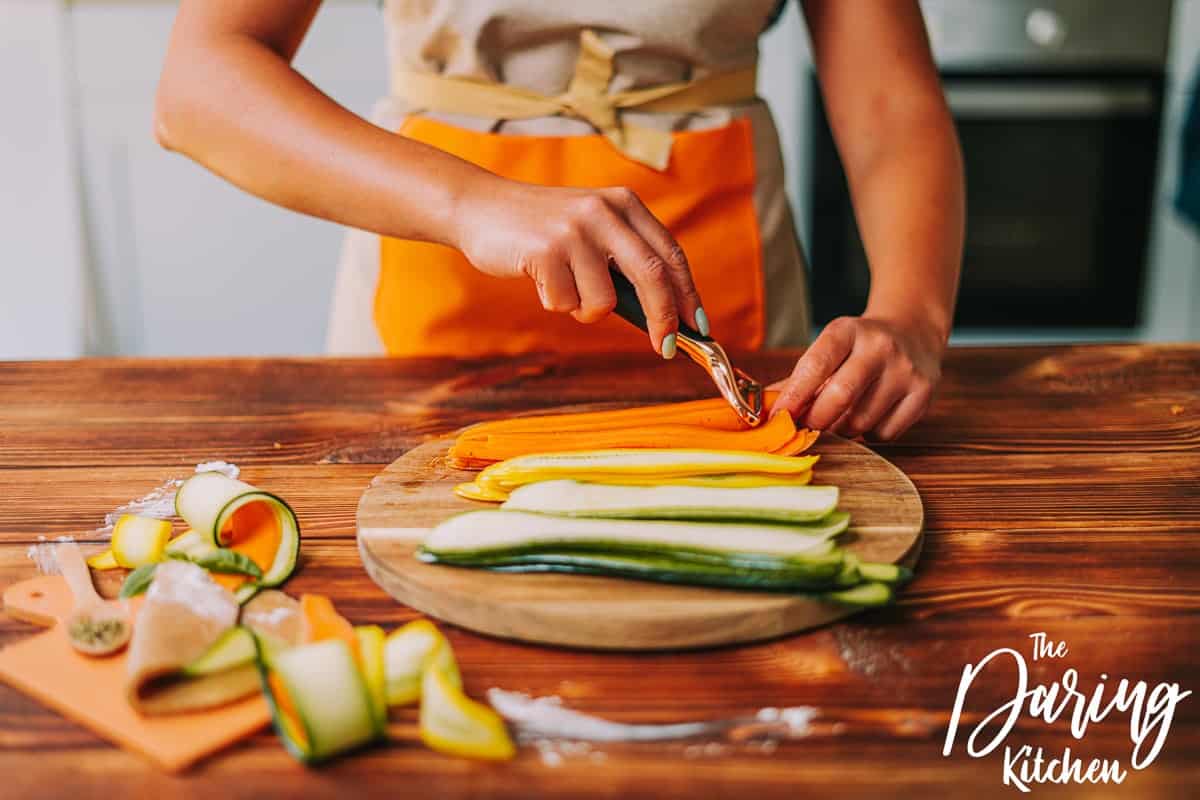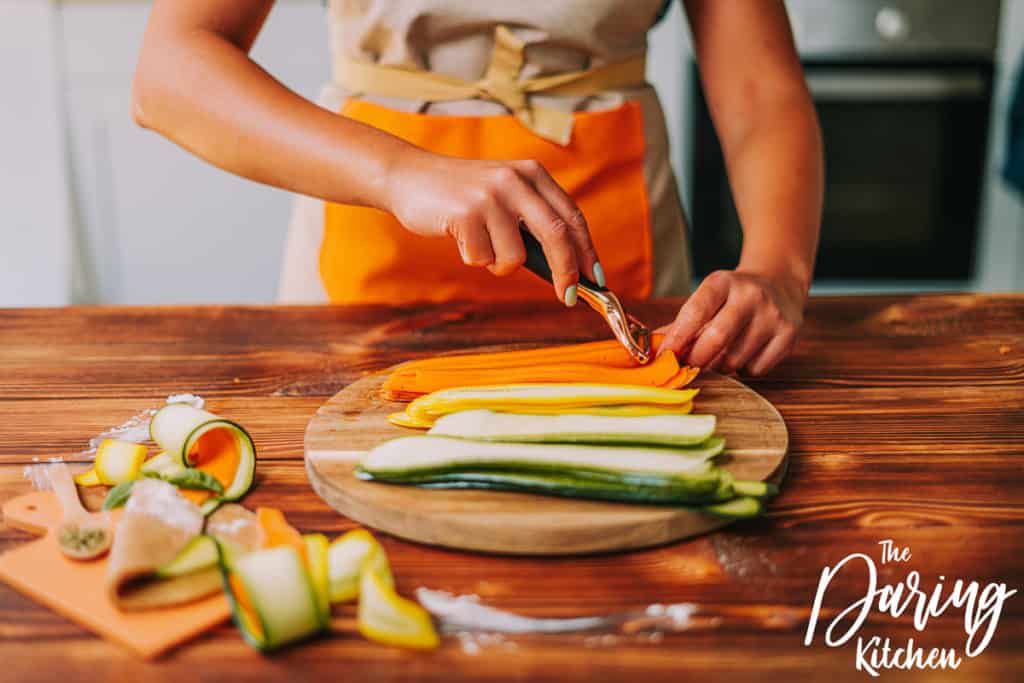 Now, it's time to prep your veggies. Using a vegetable peeler, peel your zucchini, yellow squash, and carrots lengthwise. You want to try your best to create even and long strips. If you mess up, don't throw any pieces away! These can still be used to create your vegetable design. Or can be used to cook with later.
Once your veggies are done, it's time to make pesto. With a food processor, combine all your pesto ingredients. Puree everything, until it becomes creamy. Then, give it a taste and adjust the salt if necessary.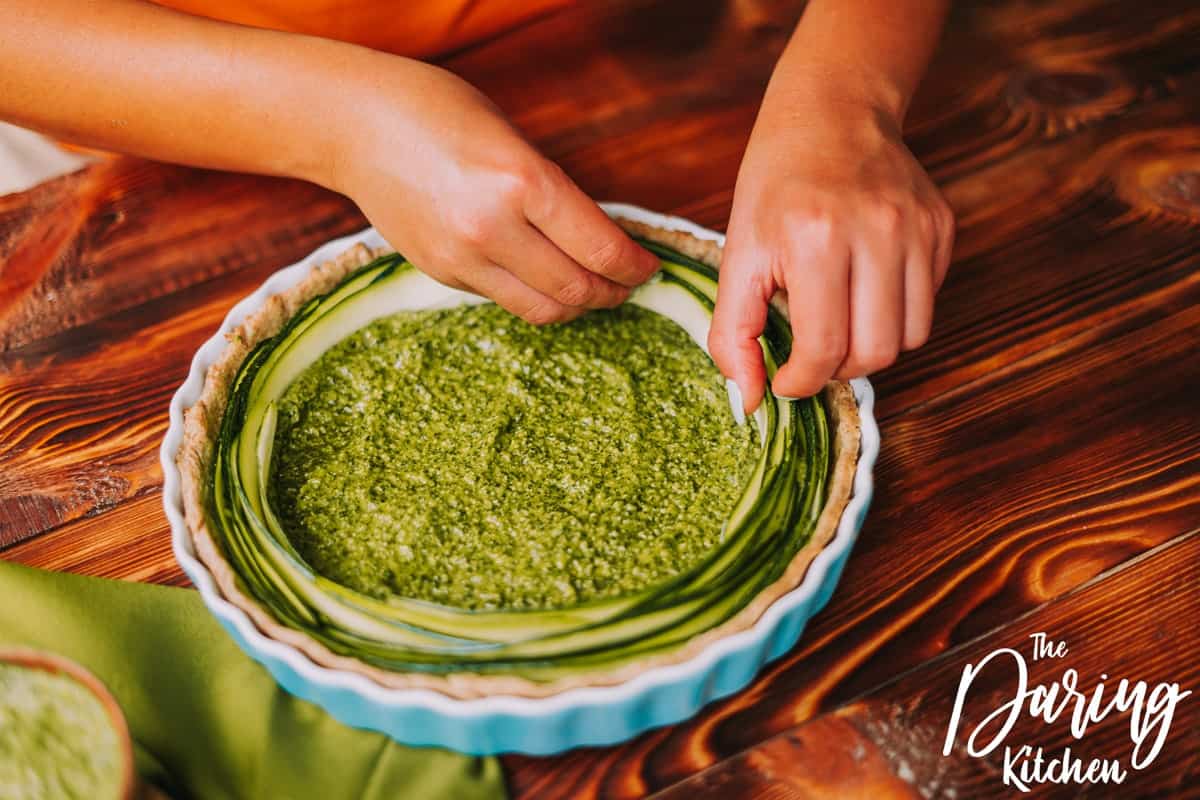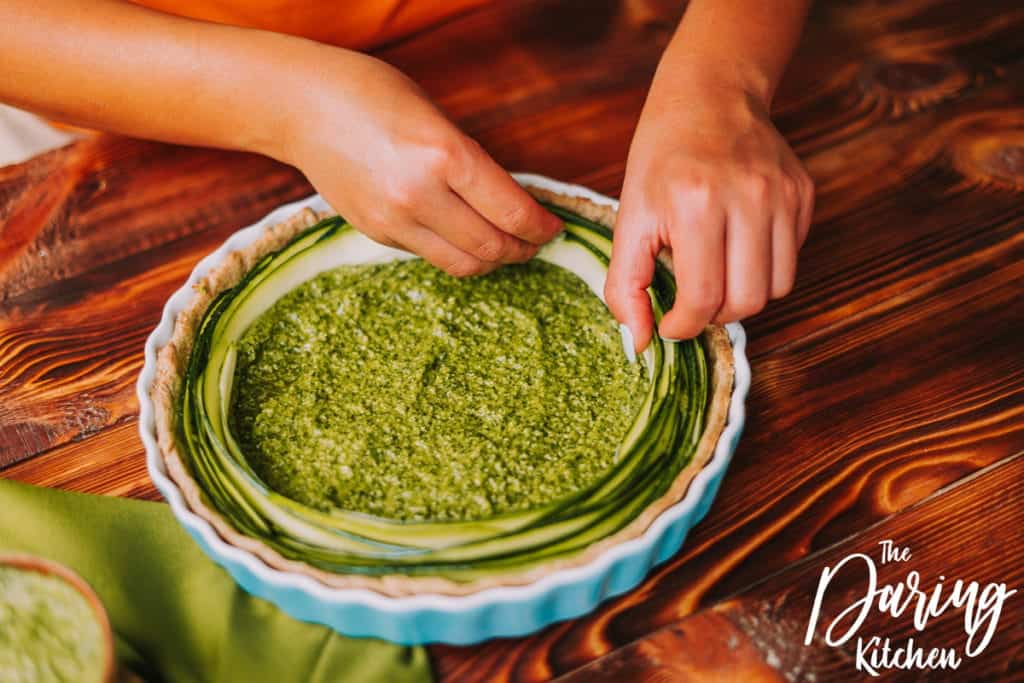 Time to assemble! Roll out your whole wheat dough so that it is just larger than your tart pan. Then, press it in and cut off all the extra dough. Next, spoon in all your pesto and spread it evenly throughout the bottom of the pan. Now it's time to layer!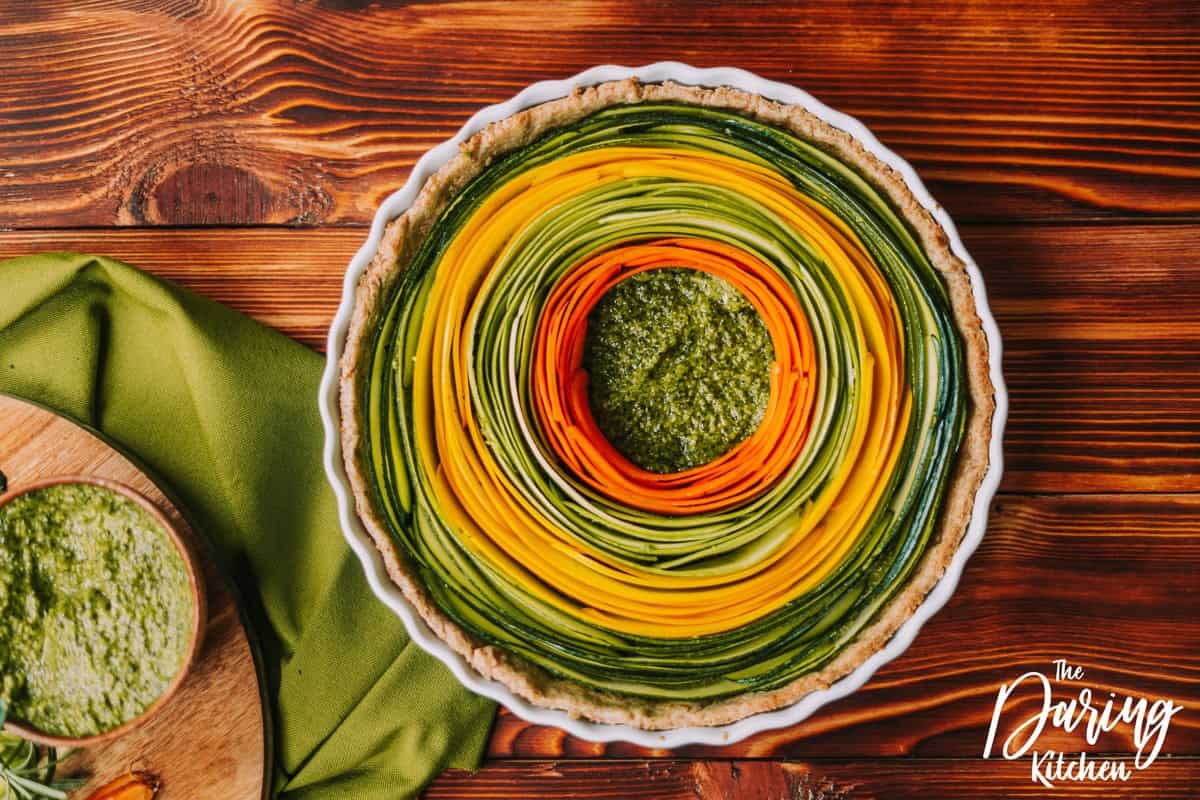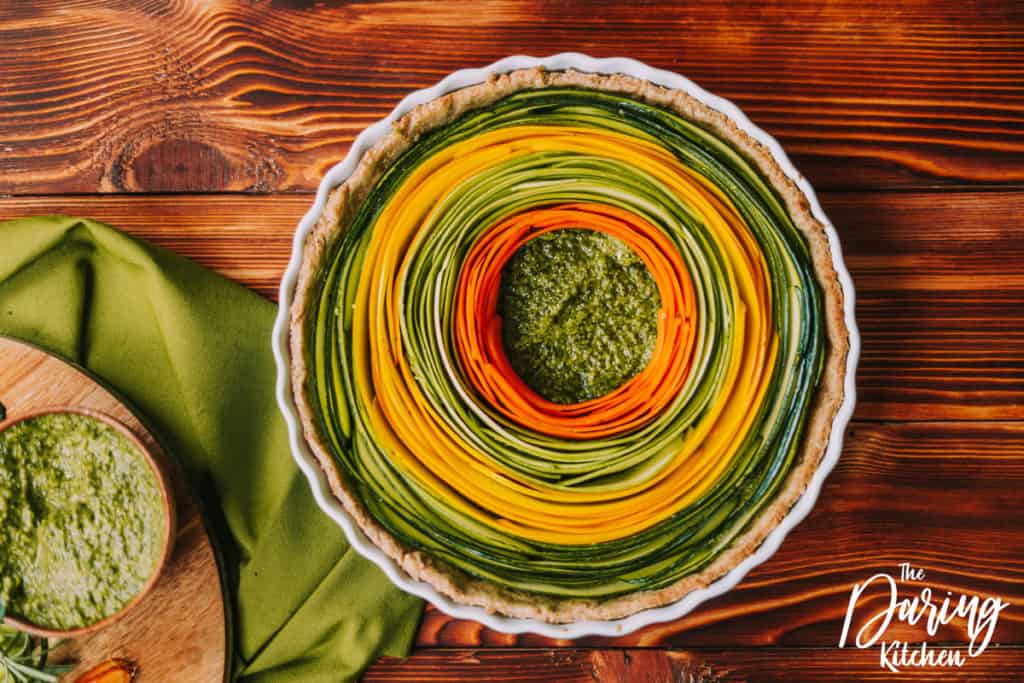 This part is not as tricky as it seems so be confident! Starting with your darker zucchini, round the strips around the edges. Then, begin layering with your yellow squash. Once you are out of yellow squash, use your lighter zucchini. Finish the layers off with your carrot. To complete the decoration, place a plump tomato right in the center. Don't forget to drizzle your beautiful design generously with olive oil.
Place your vegetable pie in the oven for just 15-20 minutes. As you wait, rinse some fresh basil leaves. When the pie is cooled, garnish with these leaves. 
Before you slice, don't forget to take a photo of your creation (and then a generous bite!)
I'd love to hear how beautiful your vegetable pies came out for your holiday celebrations in the comments below!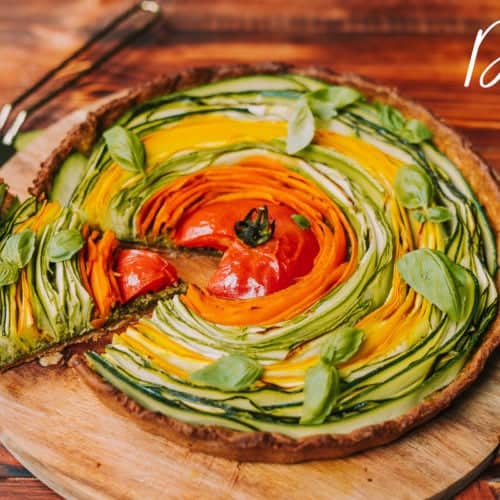 Colorful Vegetable Pie
A colorful and veggie-filled pie perfect for any party
Print
Pin
Ingredients
Ingredients
Whole Wheat Pie Dough

1

Eggplant

1

Zucchini

2

Carrot

large

Fresh Basil

a few small leaves
Pesto Ingredients
100

gr

Fresh Basil

50

gr

Raw Cashews

50

ml

Olive Oil

50

gr

Parmesan Cheese

2

cloves

Garlic

½

tsp

Salt
Instructions
Cut the vegetables into long strips using a peeler.

Puree the ingredients for the basil pesto in a blender.

Spread the whole wheat pie dough in a tart form.

Pour the pesto and arrange the vegetable strips in a spiral on it.

Spread the vegetables with olive oil.

Bake at 375 degrees F for 15-20 minutes.

Sprinkle with fresh basil leaves.
Nutrition
Calories:
1144
kcal
|
Carbohydrates:
66
g
|
Protein:
39
g
|
Fat:
87
g
|
Saturated Fat:
19
g
|
Cholesterol:
34
mg
|
Sodium:
2085
mg
|
Potassium:
2622
mg
|
Fiber:
22
g
|
Sugar:
31
g
|
Vitamin A:
26544
IU
|
Vitamin C:
72
mg
|
Calcium:
911
mg
|
Iron:
9
mg