With just one pot or skillet, this gluten free vegetarian chili recipe comes together quick and easy. All you need is just a half-hour and you will have several steamy hot bowls of chili to share.
One-Pot Vegetarian Chili
Developing recipes that require only one pot, pan, or skillet is a miracle. Cooking is fun and therapeutic, but cleaning-up later is not, at least for me! Especially after a crazy hectic day, I want to have a delicious meal that is seamless to make and to clean-up after!
This vegetarian chili is one of those marvelous recipes. Once you got all your ingredients together, you just need one pot. A dutch oven, large cast-iron skillet, or even a slow cooker will work. In particular, I love a well-seasoned cast-iron skillet. It adds some flavor to the dish. And, it makes for a cool presentation.
What makes this vegetarian chili hearty are beans. Typically chili features ground meat such as turkey or beef. Instead, I diversified the beans in the recipe. Using kidney beans and chickpeas, this veggie chili becomes a rich and filling dish. Both beans are plentiful in healthy fiber and plant based protein. They fill you up, without weighing you down as beef does.
If you do prefer your chili with meat, you can definitely incorporate it into this recipe. Just make sure you brown your meat evenly in the pan and season it prior to adding in all the other ingredients!
We cannot forget about veggies. I kept it traditional in this recipe with bell pepper, onions, and corn. I also added celery too for more texture. You can add more vegetables if you like - carrots and zucchini are fabulous additions as well!
All these ingredients meld together with just the right spices. To me, you cannot have chili without cumin. This warm and aromatic spice is one of my all-time favorites. And, it pairs perfectly with garlic, another must-need ingredient in chili. Smoked paprika, black pepper, and a little lemon juice are added as well to make this vegetarian chili very abundant in flavor.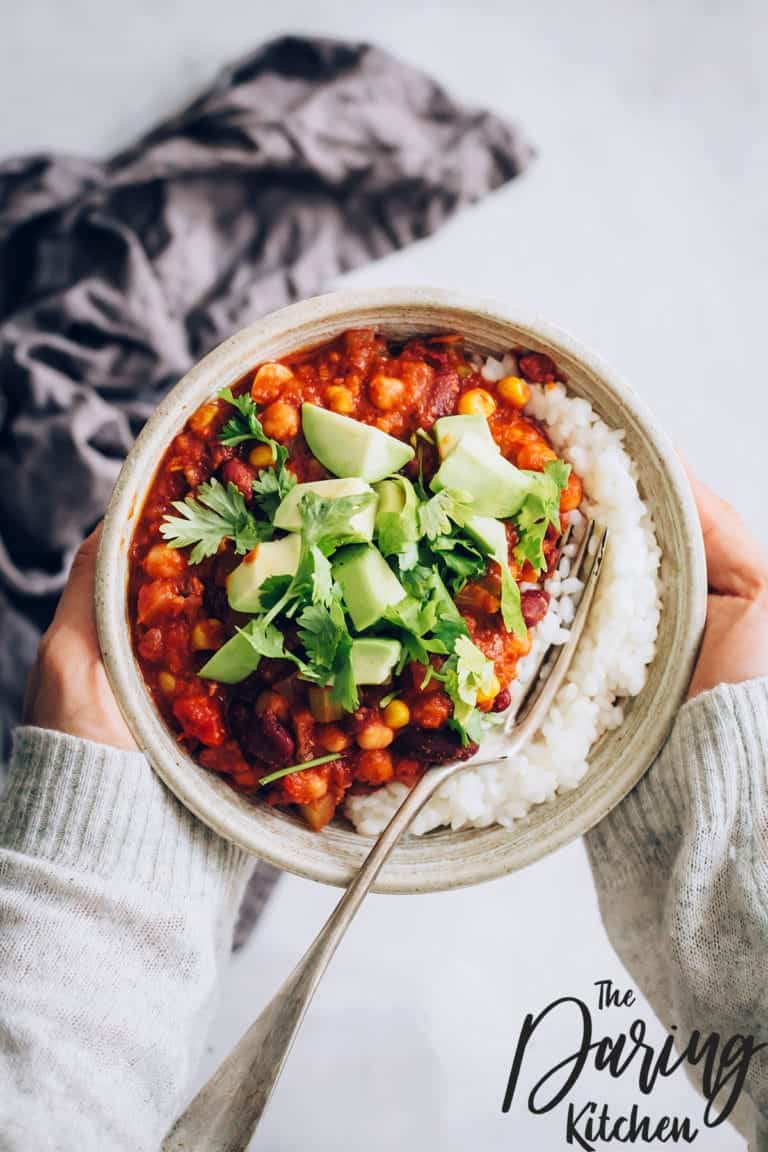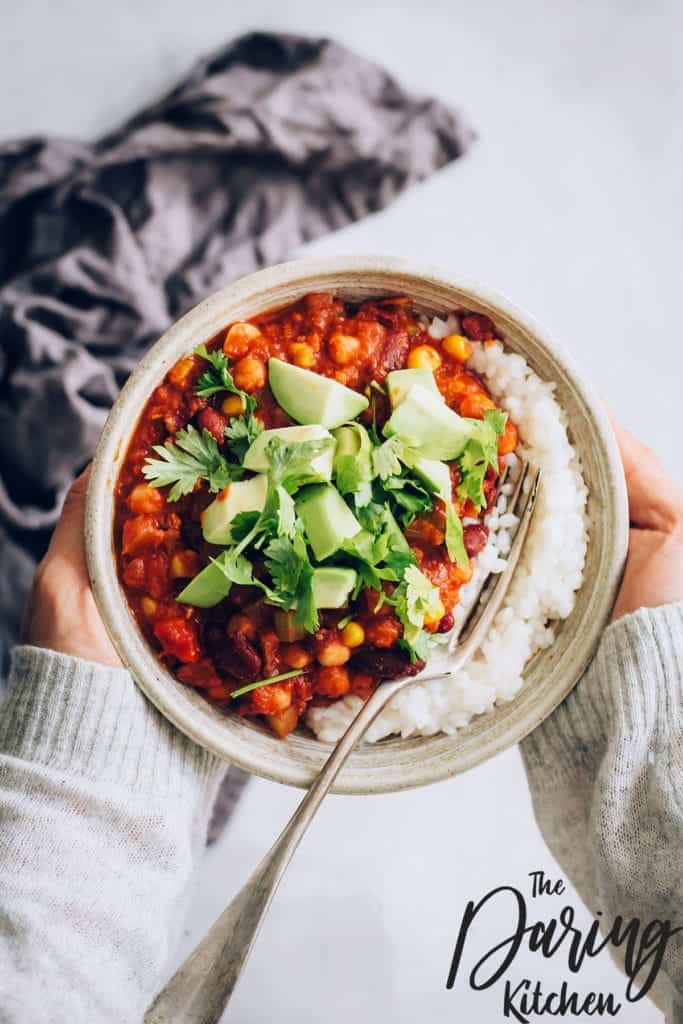 The Best Ways to Serve Vegetarian Chili
What is great about chili is you can serve it in many ways. This vegetarian chili can easily be eaten by itself. But, it does taste even better with certain sides and garnishes.
What to Serve with Vegetarian Chili:
Rice - This affordable grain is a simple side dish for chili. Especially if you like your chili spicy, rice is a nice and mild pairing to cool your mouth down.

Quinoa - If you are looking for an extra protein kick, quinoa is a superfood grain to enjoy with your vegetarian chili. It also quite filling, with tons of natural fiber too.

Cornbread - If you are going the comfort food route, this is an absolute staple. Cornbread is a treat with chili. You can enjoy it as a side, or even crumble it on top of your chili as a garnish.
There is lots of fun to be had with garnishes too. Not only do they add flavor, but let you have fun decorating your bowl of veggie chili. You will adore how photogenic your meal will look. Just don't forget to take a photo (and share it with me!)
Best Garnishes for Vegetarian Chili:
Cilantro

Green onions

Avocado

Shredded sharp cheese

Tortilla chips

Crispy onions

Hot sauce
How to Make Vegetarian Chili
The directions for this one-pot vegetarian chili recipe all ridiculously simple. But, it doesn't hurt to have a step by step recipe guide!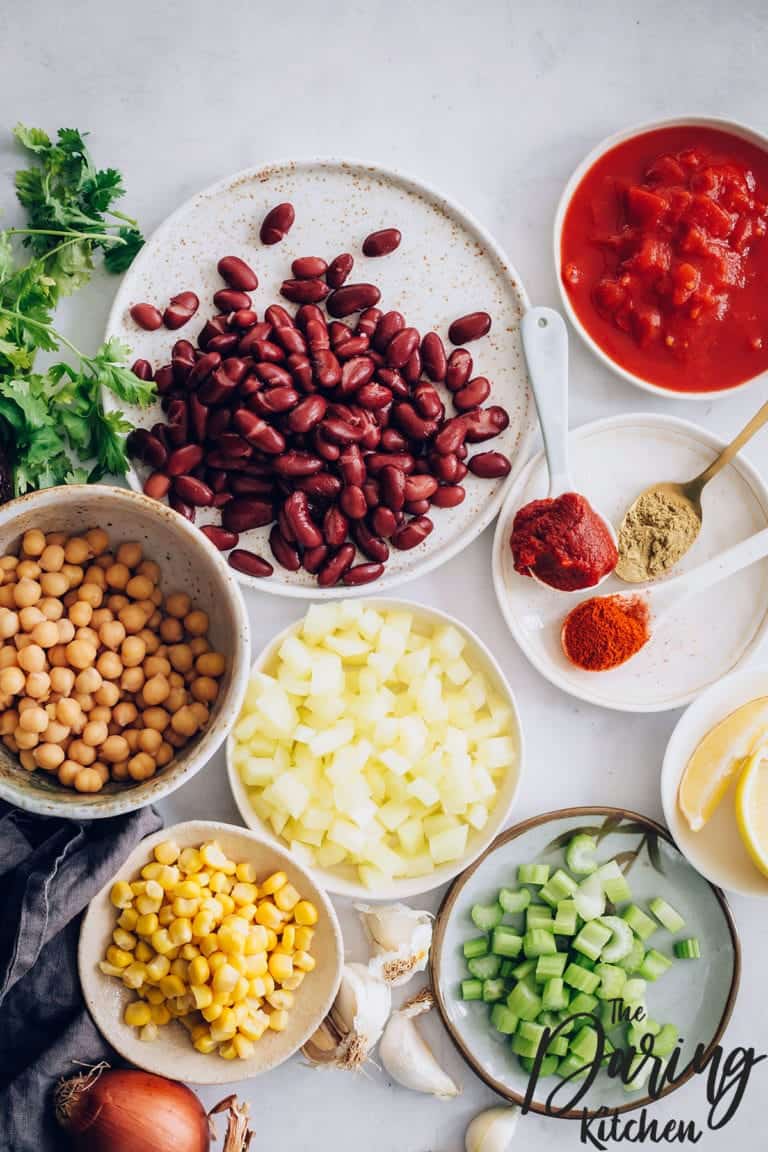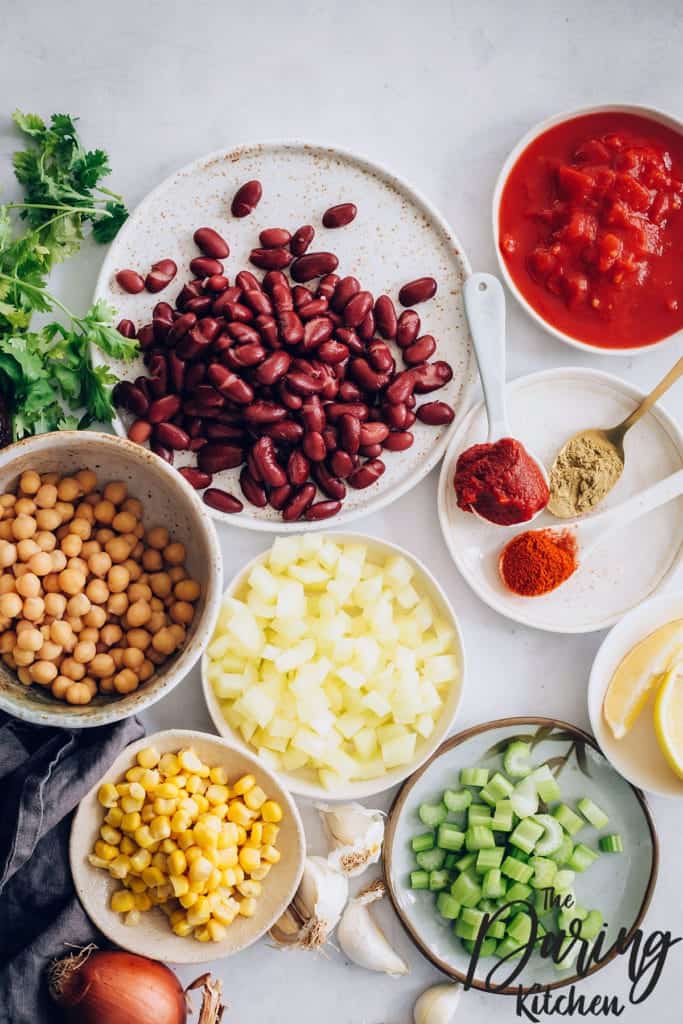 First, prep all your veggies. Make sure everything that needs to be diced or chopped is ready. This will really simplify the cooking process.
Now, choose which pot you will be using. If you use a skillet or dutch oven, heat it on the stove over medium heat. If you use a slow cooker, turn it to the saute option. Then, in your pot of choice, saute your garlic and onion until aromatic and translucent.
Throw in your bell pepper and celery. Give everything a generous stir. You want everything to soften together for just a few minutes. After, you can add in your spices (smoked paprika and ground cumin.) Make sure they coat all the veggies.
Add in all your beans, corn, diced tomatoes, and tomato paste. Then, pour in your vegetable broth while gently stirring everything together. You want the tomato paste to evenly dissolve. Now, bring everything to a boil and reduce to simmer for around 20 minutes. You want your chili to be thick and porridge-like. If you are using a slow cooker, simply cover and cook with a timer.
As the chili comes together, prepare your garnishes and sides of choice. This way, everything will be ready when your chili is done.
When the chili reaches a proper thickness, add the lemon juice, and give it a good stir. Now, time to taste! With your salt and black pepper ready, season according to your own taste.
Serve your chili in bowls with whatever sides and garnishes you choose!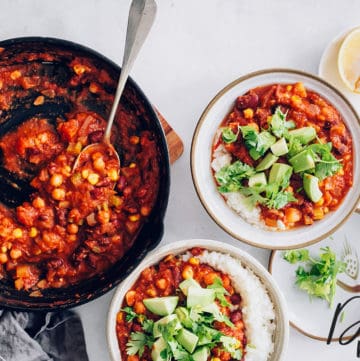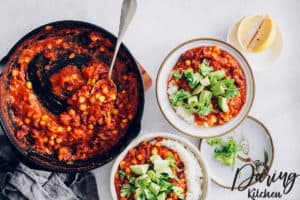 Vegetarian Chili Recipe
Chock full of beans and veggies, just one bowl of this rich plant based chili will warm you up, even on the coldest winter days!
Print
Pin
Rate
Ingredients
1

cup

Kidney Beans

cooked

1

cup

Chickpeas

cooked

2

cloves

Garlic

diced

2

stalks

Celery

diced

1

Yellow Bell Pepper

finely diced

1

Yellow Onion

finely diced

½

cup

Sweet Corn Kernels

cooked

¾

cup

Vegetable Broth

1

tbsp

Tomato Paste

1

can

Diced Tomato

wit their juices

1

tsp

Smoked Paprika

1

tsp

Ground Cumin

1

tbsp

Lemon Juice

freshly squeezed

Salt and freshly Ground Pepper

to taste
Garnishing
Avocado

chopped

Cilantro

fresh
Instructions
Heat up a non-stick pot or skillet and fry the garlic and onion over medium-high heat until translucent, stirring frequently.

Add the bell pepper, the celery and cook for a few minutes, stirring frequently.

Add the smoked paprika and cumin, stir to combine.

Add the sweet corn, chickpeas, kidney beans, the tomato paste and diced tomatoes, the vegetable broth and stir to combine.

Bring to boil over medium heat, then simmer uncovered over low heat for 20 minutes, until it thickens.

Season with salt to taste, add the lemon juice and stir to combine.

Serve warm, topped with avocado and fresh cilantro, on its own or with rice or quinoa.
Nutrition
Calories:
387
kcal
|
Carbohydrates:
74
g
|
Protein:
20
g
|
Fat:
4
g
|
Saturated Fat:
1
g
|
Sodium:
756
mg
|
Potassium:
1498
mg
|
Fiber:
19
g
|
Sugar:
16
g
|
Vitamin A:
1443
IU
|
Vitamin C:
143
mg
|
Calcium:
179
mg
|
Iron:
9
mg