Vegetarian Samosa Pie With Puff Pastry & Veggies - warm flakey golden puff pastry filled with creamy mashed potatoes and peas seasoned with fragrant cumin, curry, turmeric, and garlic make this samosa pie a satisfying main course that you won't want to live without!
Who doesn't love samosas? I know that we do! Around here we're always looking for new ways to enjoy them. This recipe is a vegetarian take on the traditional Indian dish, and it's baked in a delicious puff pastry shell! It's so good, you'll want to make sure you have plenty of napkins handy when you dig in!
This samosa pie recipe features a savory filling of fresh vegetables paired with a warm flaky, light and airy puff pastry crust that truly makes this a dish your family will be begging for time and time again. Enhanced with spices and served with creamy Greek yogurt, this innovative take on samosas is a must-try for any occasion!
Why You'll Love This Vegetarian Samosa Pie
This samosa pie contains unique & traditional flavors and spices

It can be made for any occasion and is a healthy and delicious way to eat your veggies (meat-eaters won't even miss the meat!)

It requires simple ingredients and is an easy pie recipe for beginners as the crust does not take a lot of work
Equipment Needed To Make samosa pie with puff pastry
8-inch pie pan
Skillet with a lid
Skillet safe stirring spoon or spatula
A large bowl
Knife
Pastry brush or similar spreading tool
Ingredients For Your Samosa Pie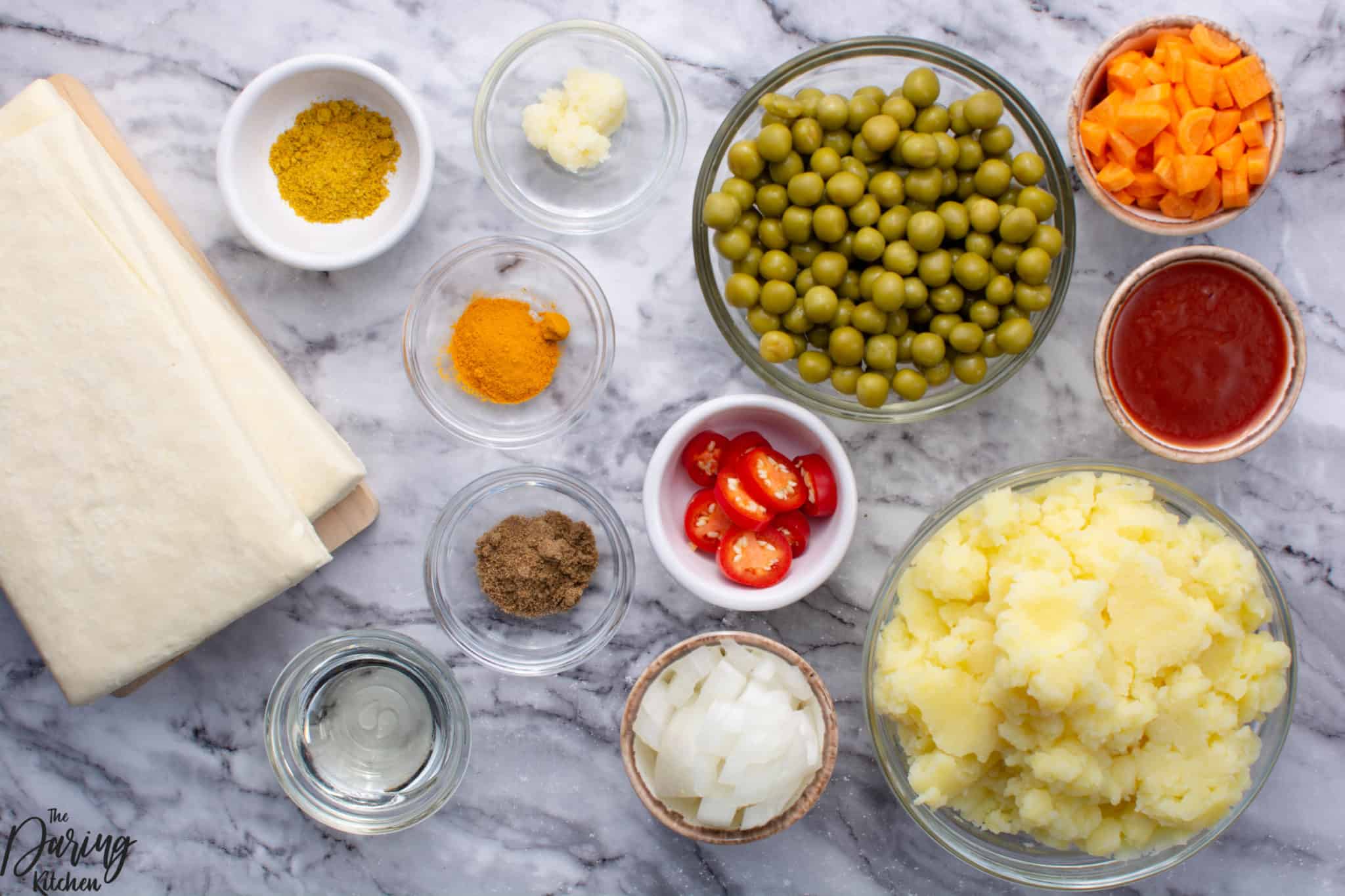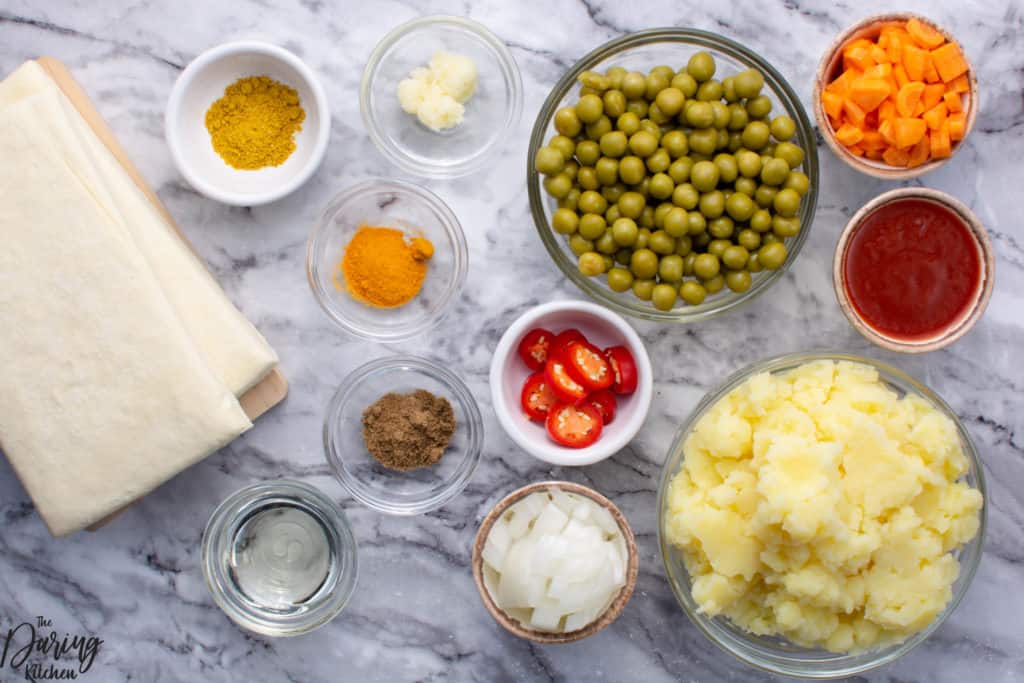 1 tbsp vegetable oil
1 onion, chopped
1 carrot, chopped
1 tsp garlic paste
1 tsp curry powder
1 tsp turmeric powder
1 tsp cumin powder
¼ cup tomato sauce
1 chilli pepper, sliced
½ cup water
2 cups mashed potatoes
1 cup can green peas, drained
2 sheets puff pastry
1 egg beaten, for egg wash
Salt and pepper, to taste
Greek yogurt for serving
What to Serve/Pair with Your baked samosa pie
Sides
If you are looking for additional sides to serve with this vegetarian samosa pie other than, or in addition to, the suggested Greek yogurt, then you can follow it with other creamy options. Because the spices can be very flavorful, you want a side dish that highlights those flavors and does not try to outcompete your dish.
A great option includes a nice cucumber raita, this is essentially a condiment but is similar to the Greek yogurt side, just with better flavors. It is made with finely chopped or grated cucumbers, mint, salt, garlic, yogurt, and cumin. This is a beautiful contrast to the spices in this popular Indian dish, and really tones down the heat of the dish so even those apprehensive of spice can enjoy it to the fullest.
Other options include fresh cucumber salads, or even white rice if you want to go for a simple yet suitable pairing.
Desserts
This vegetable samosa pie provides you with a lot of fresh vegetables and spices, so why not keep up the trend and use fresh fruits for your desserts! You can enjoy flavors like mango, pineapple, or kiwi as the tangy sweetness of these will help to balance out the spice-filled and hearty main meal of the evening.
You can also go a step further and serve or make a sorbet with any fresh fruit flavors you enjoy such as mango, raspberry, or even classic vanilla to fully reset your taste buds and allow you to appreciate these subtly sweet fruit flavors.
Drinks/Cocktails
If you're looking for a cocktail or other drink option to pair with your samosa pie then a nice dry red wine such as a Merlot. The flavors of dark-rich fruits and a slightly sweet note make this a great wine to pair with the spices and earthy vegetables of this samosa pie.
If you're looking for more of a cocktail then a classic mojito or a citrus-flavored mule would be great options. The mint and lime of the mojito will help balance out the spice and add a new freshness to the dish as you enjoy it. While the citrus mule will make for a crisp and tangy pairing to the pie.
Popular Substitutions & Additions
Additions – Add a vegetarien-friendly protein of your choice. If you're looking to add a little bit of protein to this recipe then you can add tofu, or even beans in with your spices and other ingredients to keep it vegetarian.
Substitution – Make it less spicy. If you are worried your family will be averse to the spiciness of this recipe then you can absolutely substitute out the sliced chili pepper. You can either omit the sliced chili pepper entirely or replace it with a milder pepper such as a Poblano. This will give you a smaller amount of heat but still maintain that spicy flavor or the chili pepper family.
How To Reheat & Store samosa pie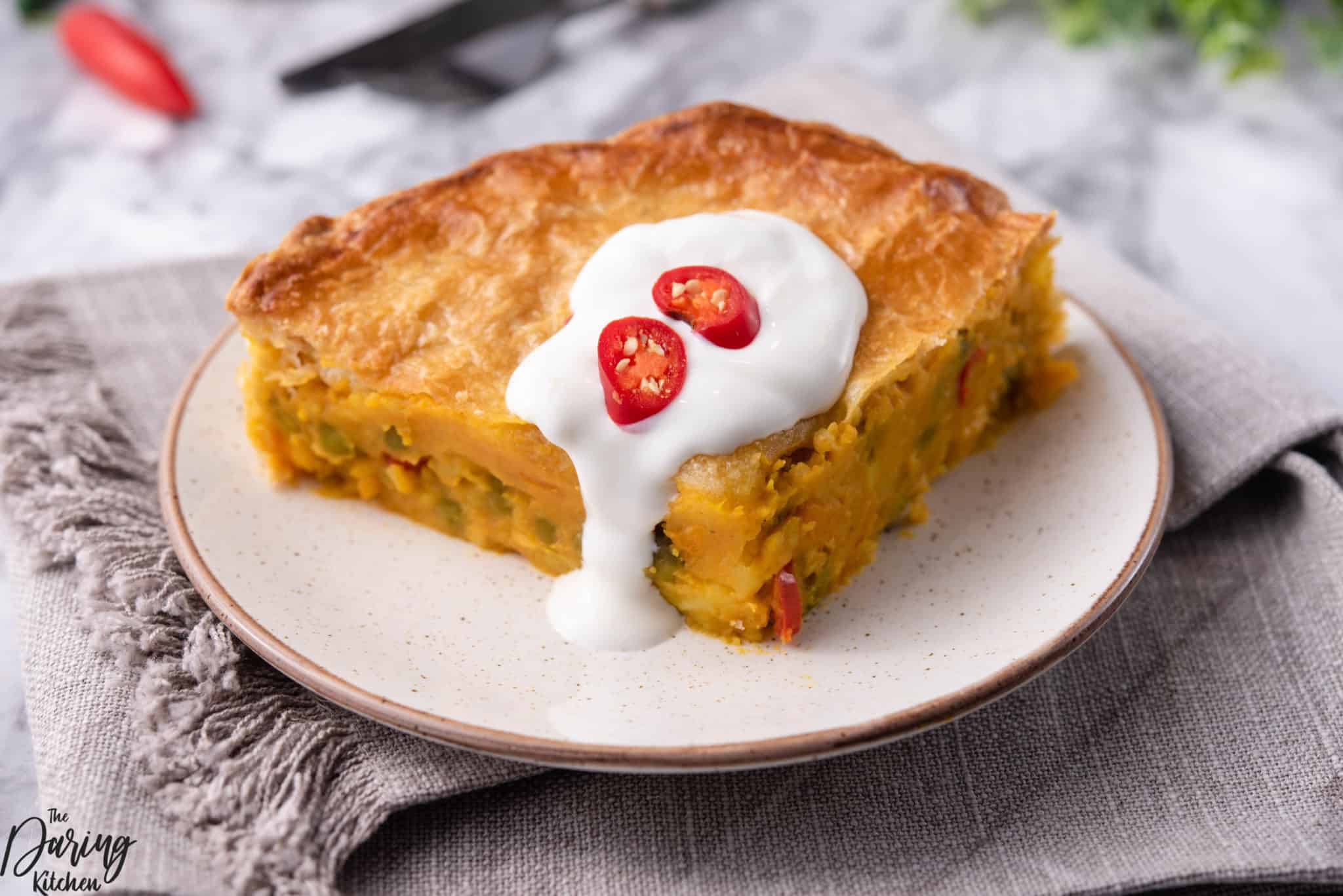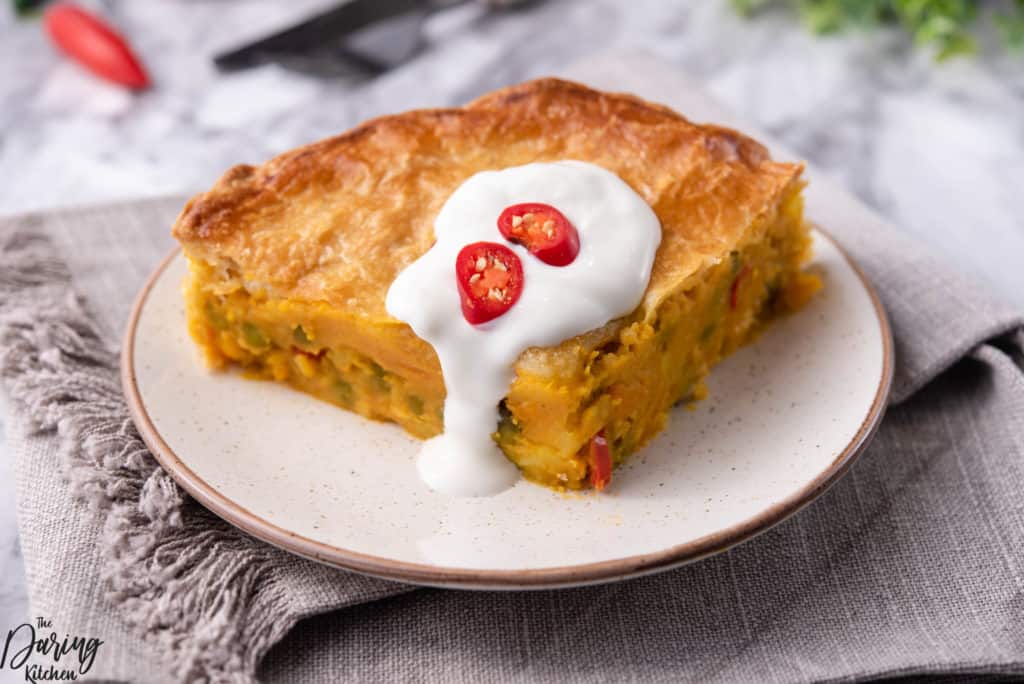 Best Way To Store vegetable samosa pie Leftovers
If you are planning to enjoy your leftover samosa pie within the next few days of you making it, then storing it in the fridge in an airtight container is a great option. This will keep the dish fresh for a few days and you can easily reheat the pie for yourself and others. If you are planning to eat the pie past a few days' time then you should think about storing it in the freezer to ensure it does not go bad before you can eat the leftovers.
How Long Will

Vegetarian Samosa Pie

Last In the Fridge?

Your samosa pie will last for a few days in the fridge, since it does not contain any dairy or meats it should be safe to eat for up to 4 or 5 days but any longer than that is not advisable.
Can I Freeze B
aked Samosa Pie?
Yes, you can freeze a baked samosa pie just be aware that freezing prolongs the life of the pie for only 1 to 2 months, and may change the textures of the pie, especially the puff pastry crust.
How To Reheat a Samosa Pie With A Puff Pastry Crust
Reheating a samosa pie is best done in a conventional oven or toaster oven. For both cases, you should set the ovens to 350 degrees Fahrenheit. Both take about the same amount of time to preheat and to heat up the pie, the only difference being that the toaster oven is better for single pie slices and the conventional oven is better for the whole pie.
The heating time should be between 10 to 30 minutes, with you periodically checking to make sure the puff pastry crust is not being burnt. Once the inside of the pie is warm, or hot depending on your preference, you can serve and enjoy and your puff pastry should still be crispy and flaky!
Vegetarian Samosa Pie FAQs
Can I make this vegan?
Yes, to make this dish vegan you simply need to replace the egg for the egg wash with an egg substitute. If you cannot find an egg substitute, you can also use any vegan oils, such as coconut oil. Coconut oil is a great substitute in this recipe because coconut is a nice compliment to curry.
Can I make this Samosa Pie gluten-free?
Yes, you can make this recipe gluten-free but it will require a bit more work. You can either replace the puff pastry with a gluten-free store-bought option, or you can replace it with a gluten-free pie mix such as this one. If you cannot find any store-bought options there are some wonderful and easy puff pastry recipes that you can use to create the gluten-free sheets for yourself! This also adds a more personal touch to the dish and shows those around you with dietary restrictions that you care.
Are Samosas Indian cuisine?
Yes, samosas are a classic South Asian pastry and are a popular facet of Indian cuisine. Traditional samosas are similar to crab Rangoon and are small deep-fried, savory vegetable and meat appetizers. This food can be eaten as a main course, however, and this innovative take of the classic is a great way to introduce it as a main course.
Do I have to serve it with Greek yogurt?
No, if you are not a fan of Greek yogurt, or if you are vegan and would like to make or buy another option to pair with this dish then feel free! Greek yogurt is just recommended to serve in addition to the recipe because the creamy flavors help to neutralize spice and bring together all of the lovely spices that are included.
Other
Recipes You'll Love
Don't Forget To Come Back And Let Me Know How Your samosa pie Turned Out!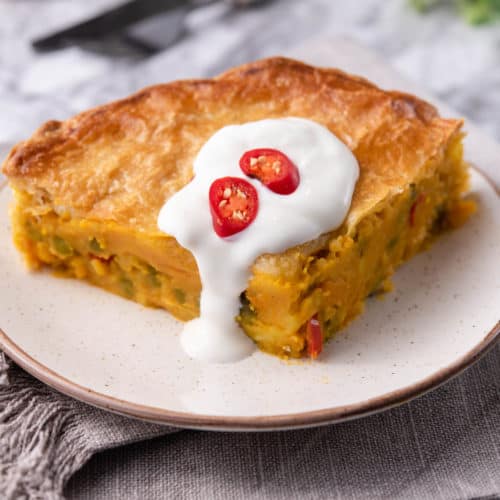 Vegetable Samosa Pie With Puff Pastry!
This Samosa pie is full of vegetables and the perfect dinner for vegetarian guests! It's baked in a puff pastry crust for that perfect flaky dough we all love!
Print
Pin
Rate
Equipment
Pie pan

Skillet

Bowl

Spatula
Ingredients
1

tbsp

vegetable oil

1

onion

chopped

1

carrot

chopped

1

tsp

garlic paste

1

tsp

curry powder

1

tsp

turmeric powder

1

tsp

cumin powder

¼

cup

tomato sauce

1

chilli pepper

sliced

½

cup

water

2

cups

mashed potatoes

1

cup

can green peas

drained

2

sheets puff pastry

1

egg beaten

for egg wash

Salt and pepper

to taste

Greek yogurt for serving
Instructions
Heat olive oil in a skillet over medium-high heat.

Add onion, carrot, and garlic paste.

Cook stirring for 5 minutes.

Add spices and chilli pepper, and cook for 1 minute.

Add tomato sauce and give it a good stir.

Add water and cover with the lid. Simmer for 15 minutes.

In a large bowl, combine mashed potatoes with spice mix and green peas. Stir to combine. Season to taste with salt and pepper.

Roll out the puff pastry to ⅛-inch thick rectangle.

Place the puff pastry in an 8-inch buttered pie pan. Trim the edges with a kitchen knife. Press around the edges so it fits nicely.

Fill it with the prepared filling. Place the second piece of the rolled puff pastry on the top. Trim the edges and pinch to seal.

Make a "Y" incision in the top pastry to release the steam during the cooking.

Brush the pie with an egg. Bake the pie for 40 minutes.

Serve warm with some Greek yogurt.
Nutrition
Calories:
542
kcal
|
Carbohydrates:
58
g
|
Protein:
8
g
|
Fat:
31
g
|
Saturated Fat:
8
g
|
Polyunsaturated Fat:
4
g
|
Monounsaturated Fat:
18
g
|
Sodium:
288
mg
|
Potassium:
410
mg
|
Fiber:
4
g
|
Sugar:
3
g
|
Vitamin A:
1825
IU
|
Vitamin C:
30
mg
|
Calcium:
31
mg
|
Iron:
3
mg