This gluten-free taco recipe is incredibly simple and quick to make. With just one-pan, you can make the most delicious quinoa taco filling ever!
The Best Vegetarian Tacos with Quinoa
I love tacos. Do you know anyone who doesn't? Because I don't. I love hosting a taco night - everyone gets to fill and decorate their own tacos. But, often I find that the vegetarian and vegan options are seriously lacking. I love beans and cheese, but I don't want to have to eat that every time!
With a little inspiration and a lot of love for tacos, I decided to create a recipe full of veggie flavor. With a quinoa filling, each taco is hearty, vegetarian, and gluten free. And, each is decorated with delicious and vibrant garnishes!
While traditional tacos typically have minimal garnish, I like to have a little fun. There are all kinds of ways to play with the flavors of tacos. Above all, tacos always need to have something fresh and crunchy. Traditionally, it's just onions and cilantro on top. But, these tacos needed something special to match the quinoa filling.
I decided to reverse the toppings on this taco. With bright red cabbage and romaine, I added it to the bottom of the taco. This gives a nice 'salad' base to the taco.
Here is where these tacos really stray from authentic. I drizzled curry sauce on top to give extra flavor to each bite. The sauce tastes fantastic with the quinoa, beans, and tomatoes. It is light and creamy, with a bold burst of flavor. With just a little fresh chopped parsley, every bite is better than the last. Also, you cannot forget that perfect avocado slice on top!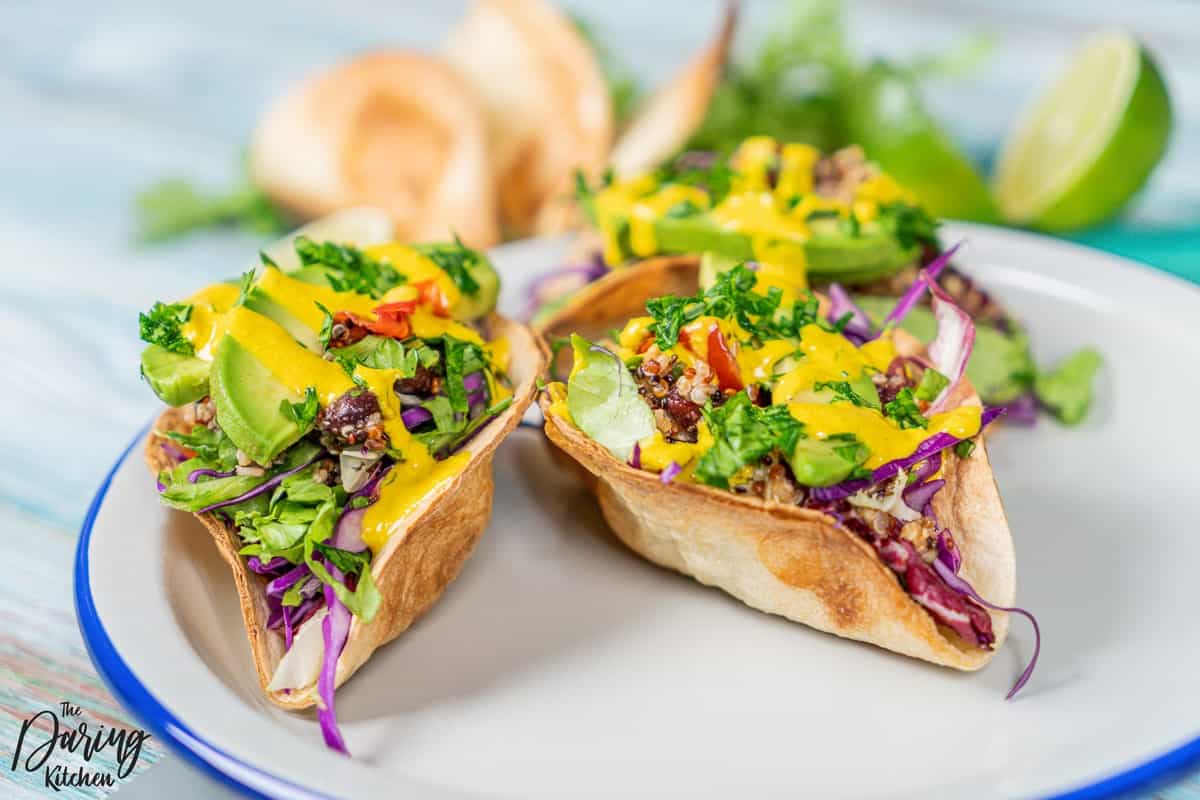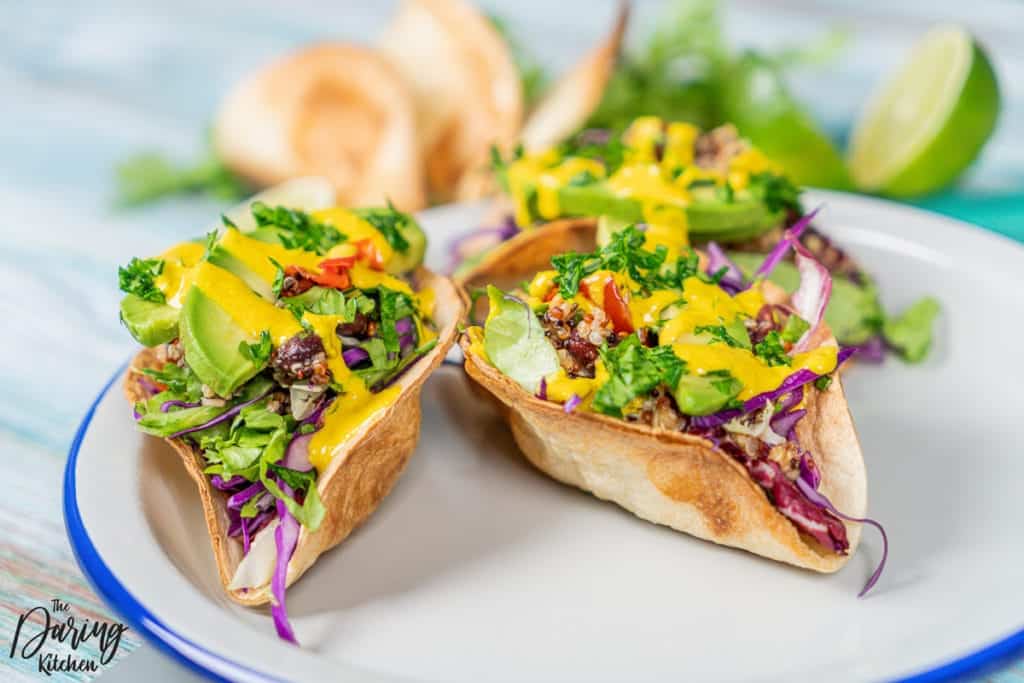 One-Pan Quinoa Filling
The most brilliant aspect of this recipe is its one-pan only filling. Yes - that means you only have to clean one pan for this whole recipe! Isn't that relieving?
The secret is that the quinoa can cook right in the pan. You do not need to do it separately! With just olive oil, water, and a lid, you can make the fluffiest quinoa around. Once the quinoa absorbs all the water, it is done! Then, you can add in all the seasonings along with other main ingredients.
This trick is a lifesaver when you need a quick meal, especially after work. Just don't forget to use a reliable pan so that everything cooks evenly!
My Favorite Taco Shell Trick!
When it comes to hard taco shells, you don't need to buy them pre-made at the store. They are very easy to make at home. And, I am sharing my little trick!
Do you have a muffin pan at home? If so, you are in absolute luck. This pan lets you make hard taco shells. By turning the pan over, you have nooks to rest your folded tortillas. All you need to do is lightly butter them first, to get a pretty golden brown color. After baking for just 5 minutes, you will have all equal-sized hard taco shells.
I chose to use corn tortillas, as they are traditional and gluten-free. This makes them more allergy-friendly and stomach sensitive. Also, if you want to make this recipe completely vegan, sub coconut oil for the butter!
Step by Step: How to Make Vegetarian Tacos with Quinoa
This recipe is downright simple! One serving makes around 6 tacos, which is great for 2 people. With the following few steps, you will be in taco heaven in no time.
As many recipes begin, preheat your oven (to 395 degrees Fahrenheit!)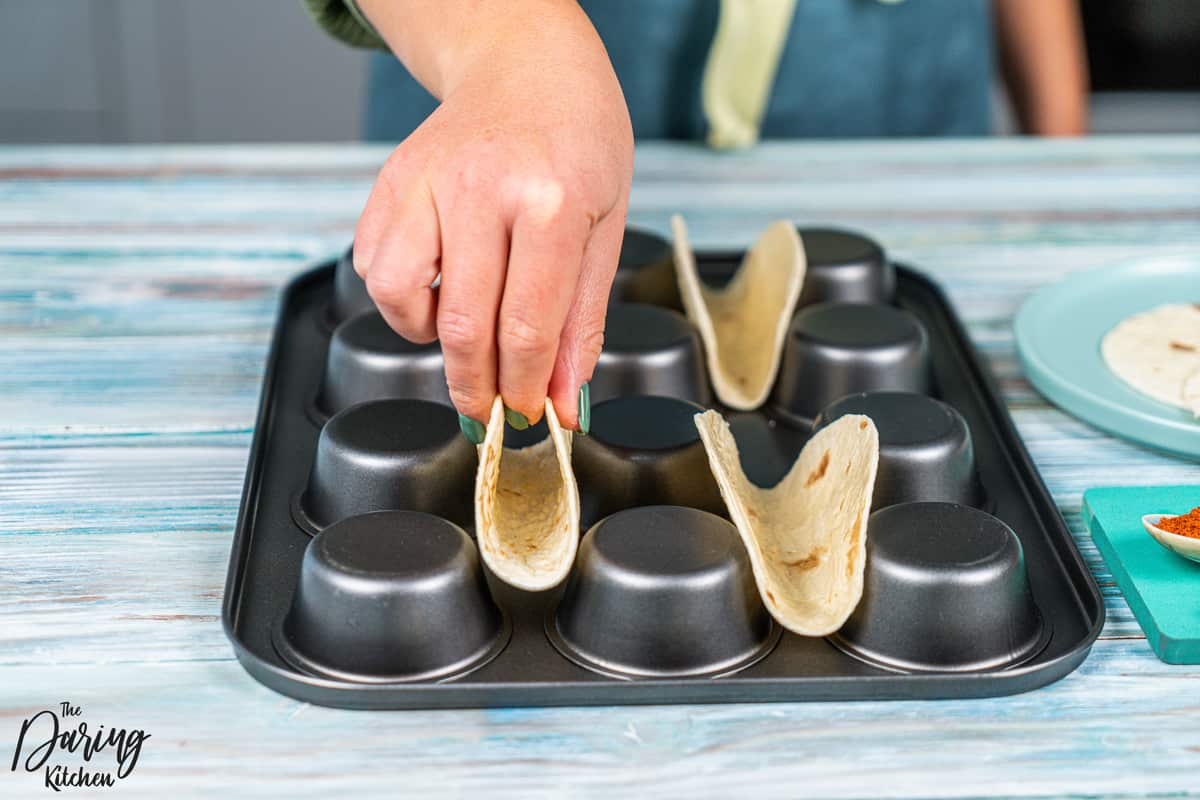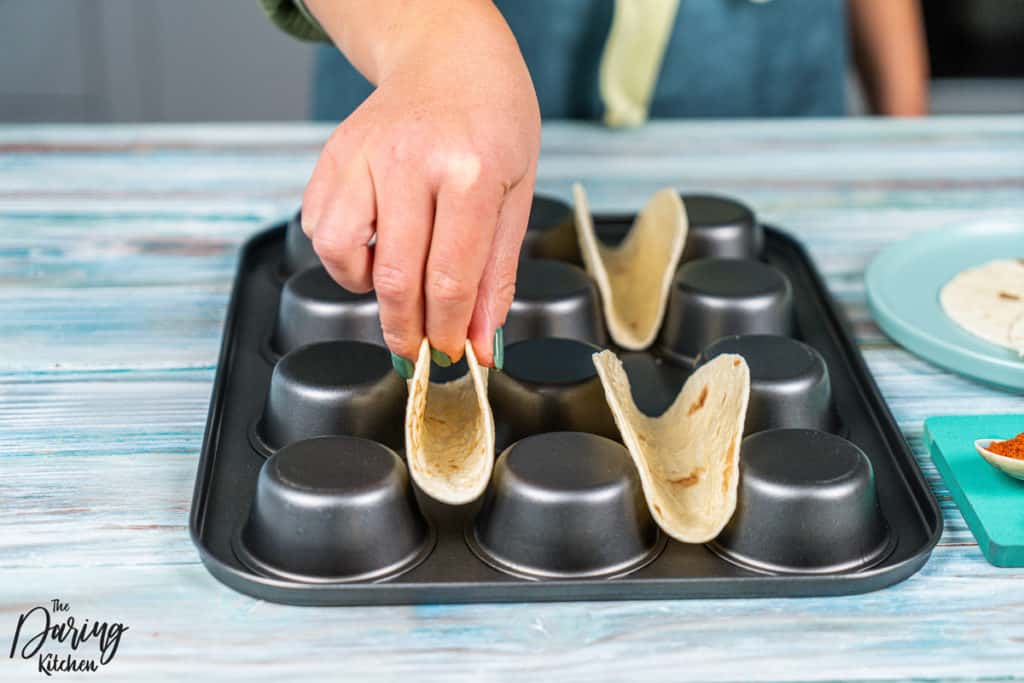 To start, prep your taco shells. Brush melted butter on both sides of each tortilla. Then, with the muffin pan, fold each tortilla and rest it in between each elevated muffin 'bottom.' Then, place them in the oven for 5 minutes, or until hard and golden brown.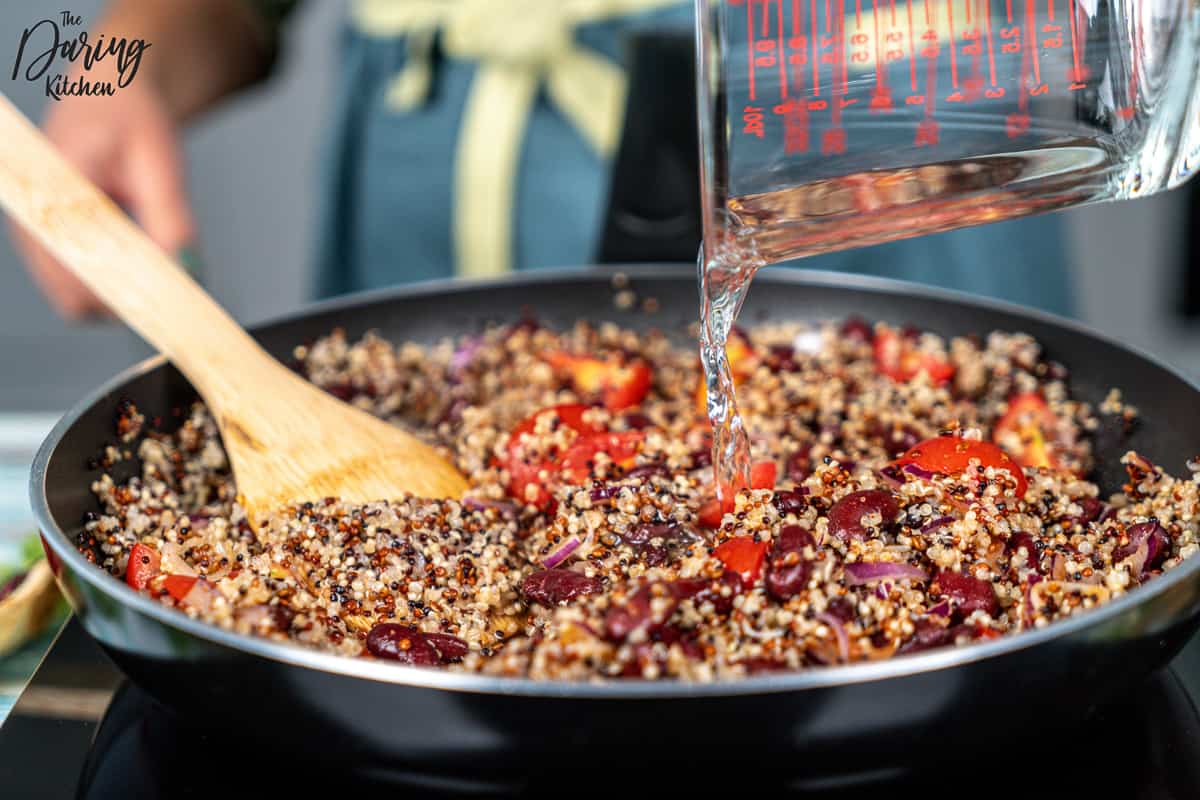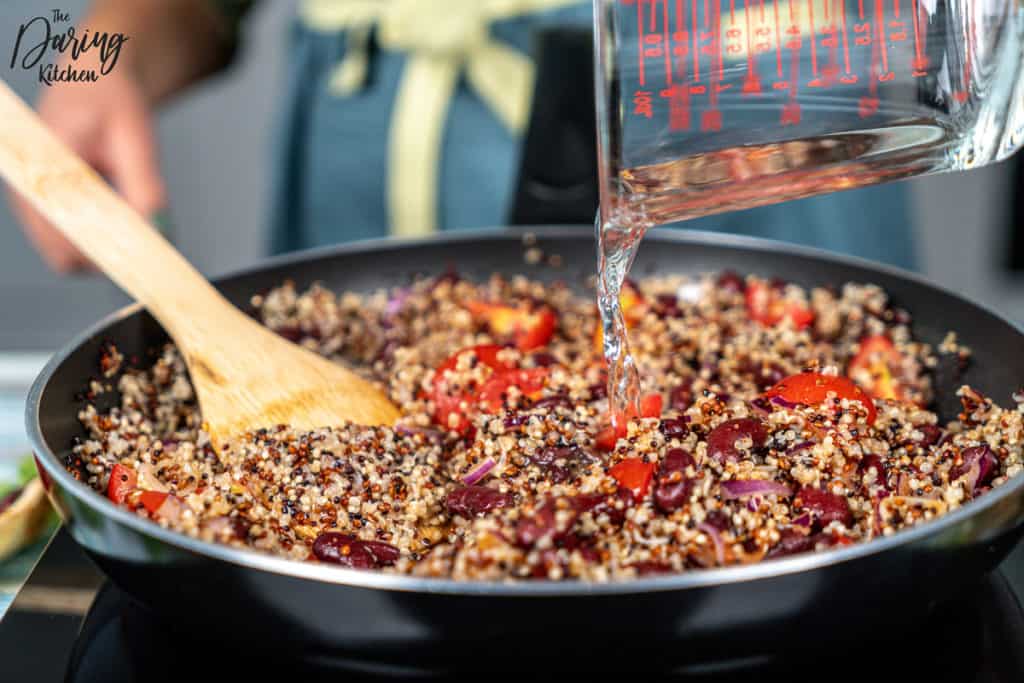 It's time to make your filling! In a reliable pan, heat olive oil over medium heat. Pour in your quinoa and mix with the oil. Then, add in a bit of salt and cover with your 1 ⅔ cup of water. Continue to mix the quinoa as the water comes to a boil. Using a tight-fitted lid, cover and lower the heat. Once the quinoa absorbs all the liquid, it is done.
By pushing quinoa to the edges of the pan, create some open space in the middle of your pan. Add your red onion, garlic, cumin, and red pepper flakes to that newly freed space. Mix well as you add in the cherry tomatoes and beans. Now, mix everything together with the quinoa. Garnish with fresh cilantro.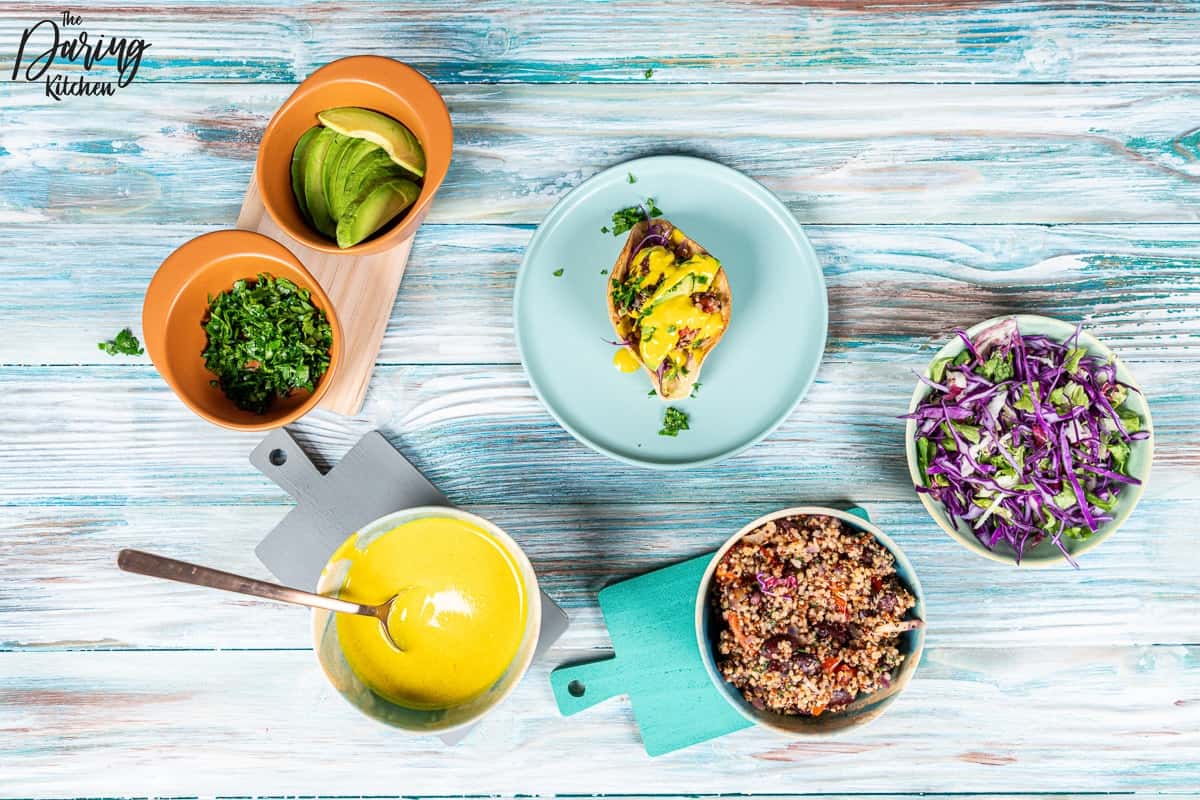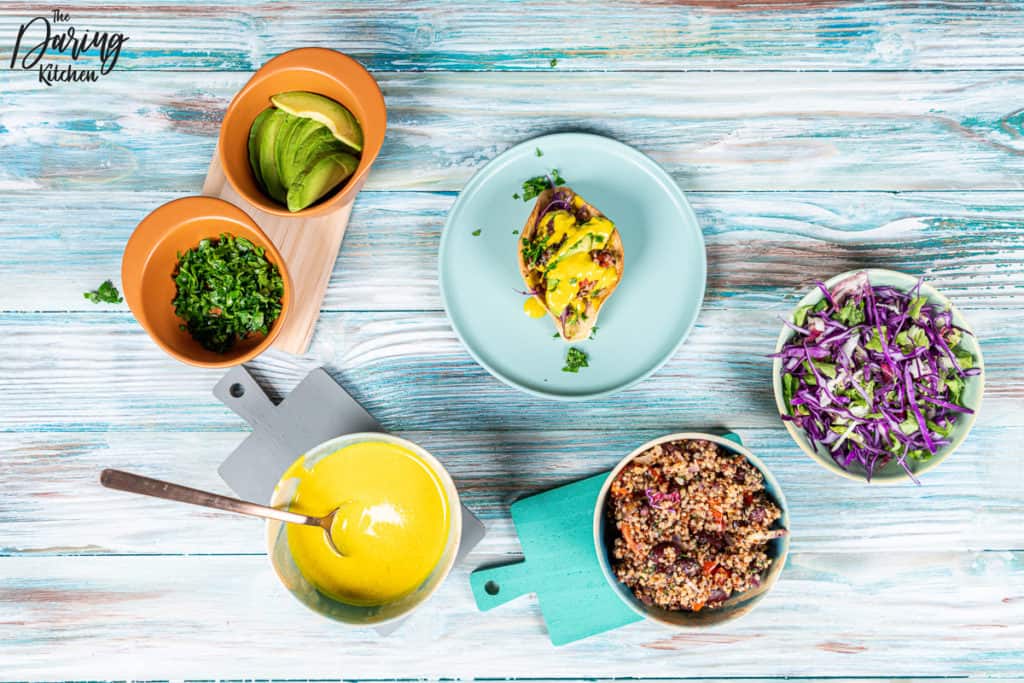 To assemble your tacos, begin with a little bit of shredded red cabbage and romaine. Then spoon in your quinoa filling. Top it off with a pretty slice of avocado and plenty of chopped fresh parsley. Drizzle each taco with as much curry sauce as you like!
Time to eat! Trust me these will go fast!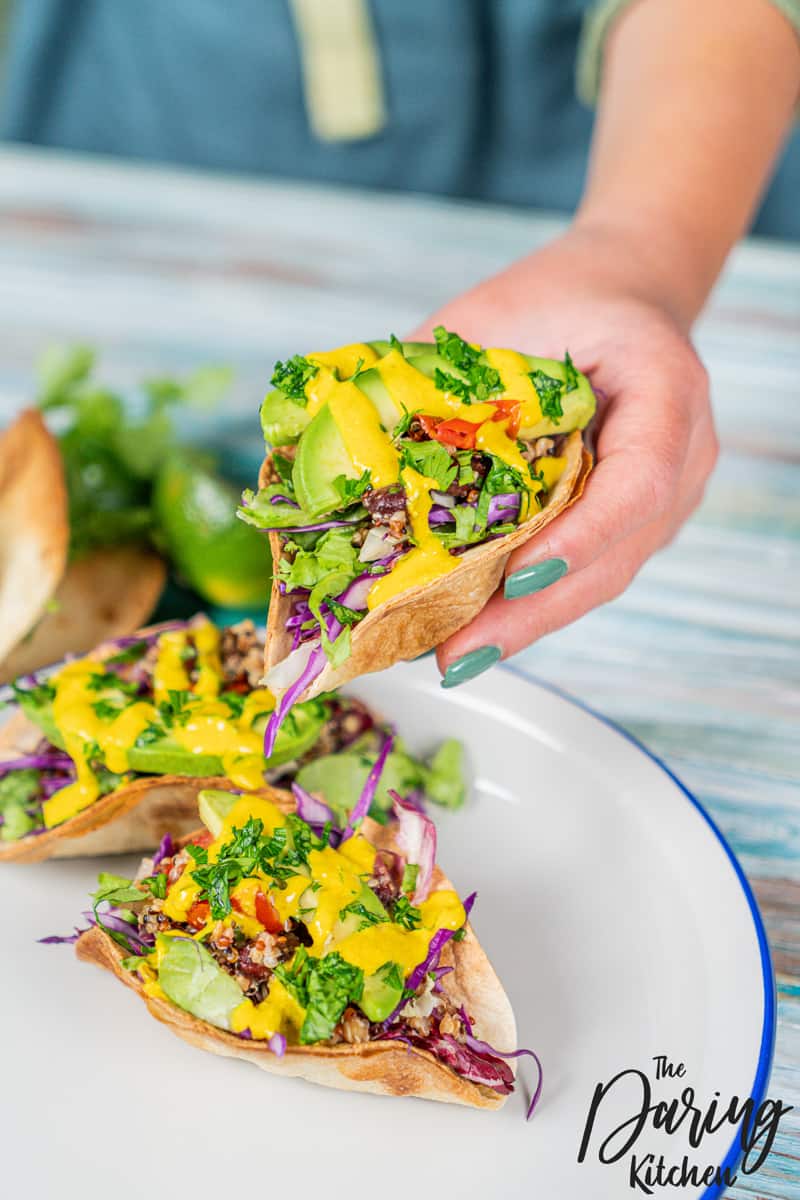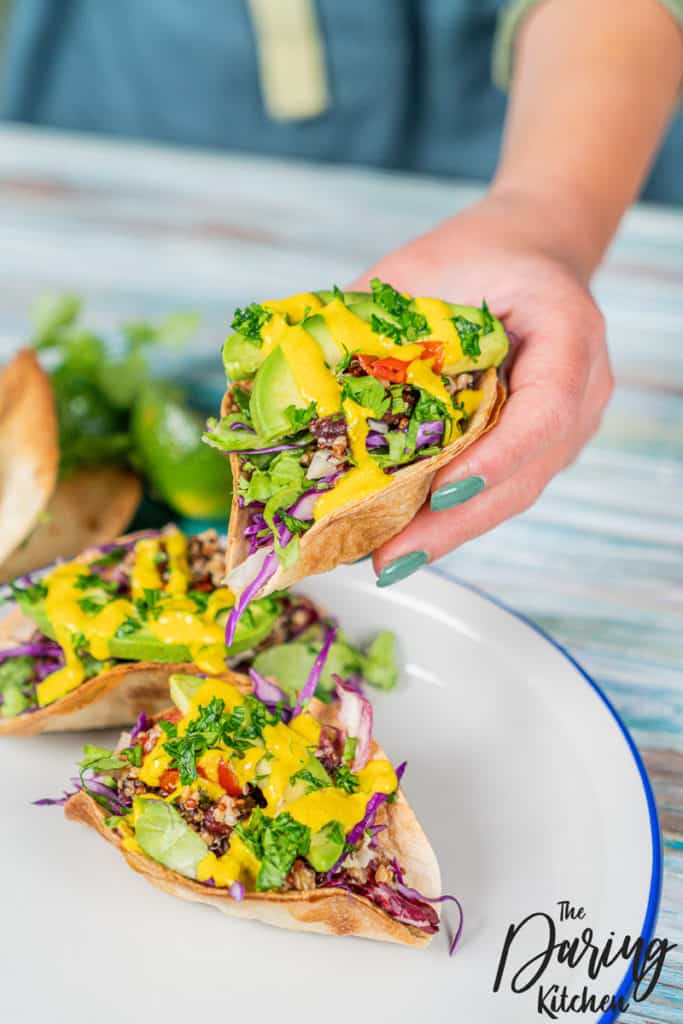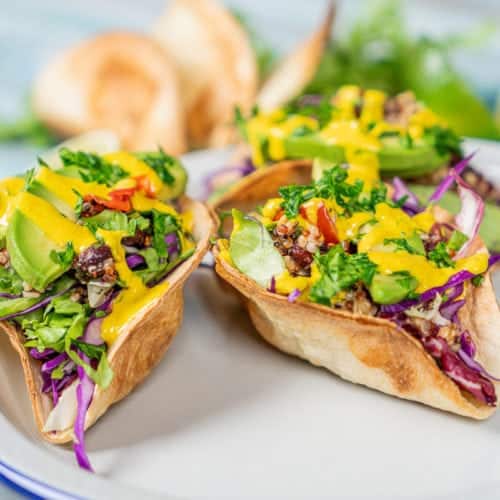 Vegetarian Tacos with Quinoa
With tons of fresh veggies and fiber-rich quinoa, these tacos are a fabulous and healthy meal for any time of day!
Print
Pin
Ingredients
6

Tortillas

gluten free

melted butter

1

tbsp

Olive Oil

1

cup

Mixed Quinoa

½

tsp

Salt

1 ⅔

cup

Water

1

Red Onion

2

cloves

Garlic

1

tsp

Cumin

1

tsp

Red Pepper Flakes

1

cup

Cherry Tomatoes

1

cup

Red Beans

½

bunch

Coriander

Fresh

Mixed Green Salad

Avocado

slices

Parsley

fresh

Curry Sauce
Nutrition
Calories:
402
kcal
|
Carbohydrates:
65
g
|
Protein:
14
g
|
Fat:
10
g
|
Saturated Fat:
2
g
|
Polyunsaturated Fat:
3
g
|
Monounsaturated Fat:
5
g
|
Sodium:
622
mg
|
Potassium:
638
mg
|
Fiber:
8
g
|
Sugar:
4
g
|
Vitamin A:
411
IU
|
Vitamin C:
12
mg
|
Calcium:
103
mg
|
Iron:
6
mg