Quinoa tacos offer a unique dinner experience packed with vibrant flavors, colors, and textures. Perfect for your next Taco Tuesday, they balance healthiness with deliciousness. You'll forget it's quinoa, not meat!
Why You'll Love This Quinoa Tacos Recipe
Wholesome Ingredients- These quinoa tacos are filled with nutrient-rich ingredients like quinoa, onions, red beans, tomatoes, mixed greens, and avocados.
Easily Customizable- You can customize the tacos by adding different toppings such as cheese, salsa, sour cream, jalapeño peppers, and more.
Incredibly Delicious- The combination of all the flavors and textures is simply amazing – spicy, creamy, crunchy, and savory.
What Are Quinoa Tacos?
Quinoa tacos are a delicious and nutritious meal that consists of quinoa, vegetables, and other toppings. The quinoa is cooked in a spicy blend of chili powder and taco spices and then stuffed into tortillas with the toppings of your choice. This healthy taco recipe is low-calorie, gluten-free, vegetarian, or vegan, depending on the toppings you choose, and absolutely delicious.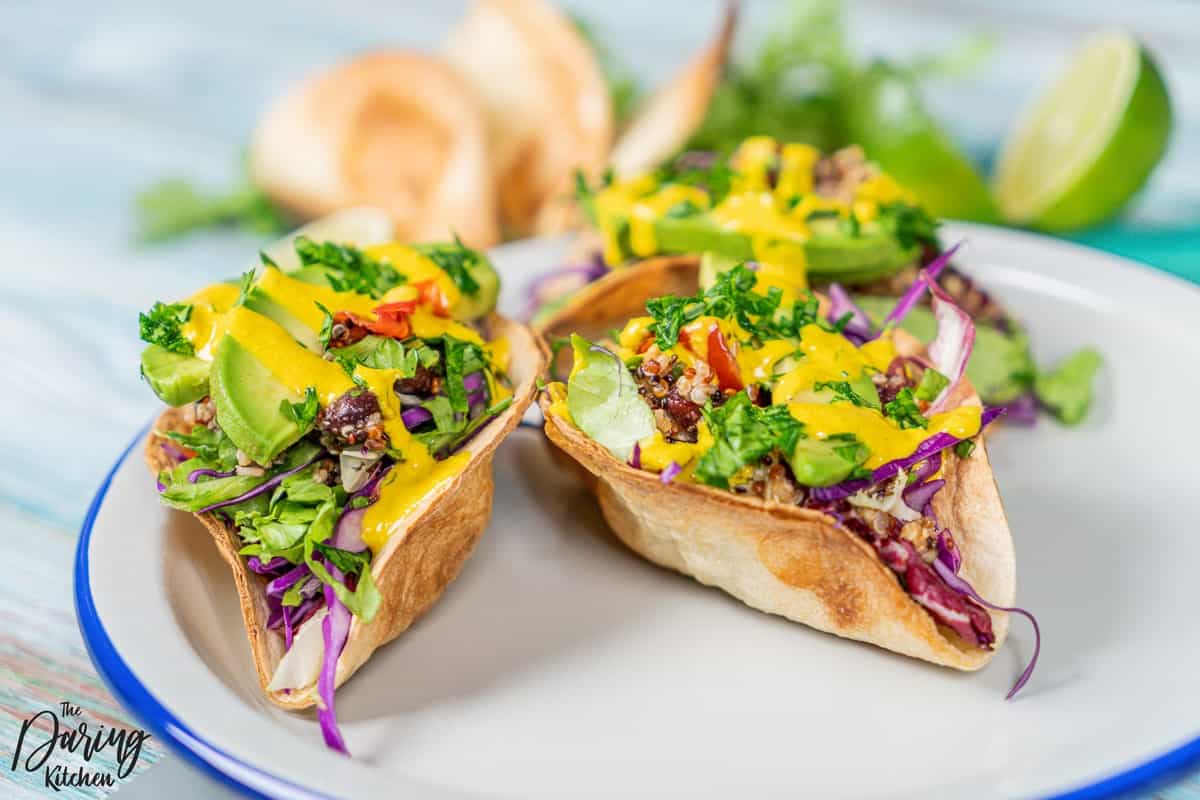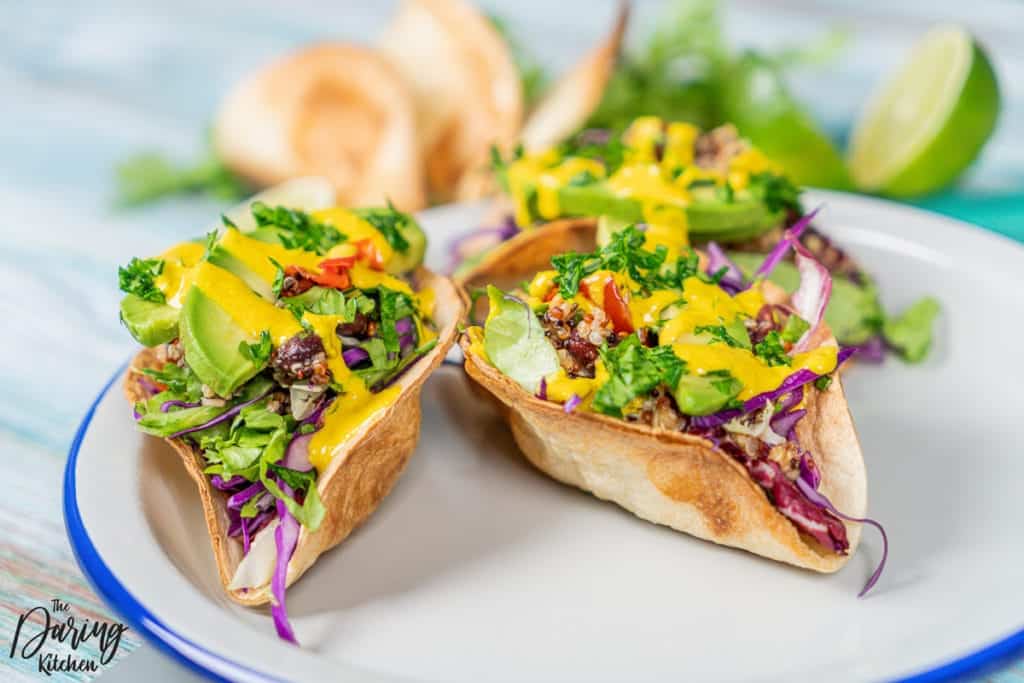 Equipment Needed
Muffin Pan
Skillet With Tight Fitting Lid
Spoon For Stirring
Cutting Board
Knife
Measuring Cups and Spoons
Ingredients
Gluten-Free Flour Tortillas or Corn Tortillas- The base of your quinoa taco.
Butter- Helps to brown your tortillas in the oven.
Olive Oil- Adds a light flavor that is absorbed in the cooked quinoa.
Mixed Quinoa- A nutrient-dense grain that adds texture, substance, and a delicious flavor to the taco filling.
Salt- Enhances the flavor.
Water- Used for cooking the quinoa.
Red Onion- Adds a mild onion flavor and crunch.
Garlic- Enhances the flavors of the quinoa tacos.
Cumin- Adds a warming, earthy flavor to the quinoa taco filling.
Red Pepper Flakes- Adds a bit of heat.
Cherry Tomatoes- A juicy addition that adds color, freshness, and texture.
Red Beans- Adds extra protein, flavor, and heartiness to the quinoa tacos.
Coriander- A fragrant herb that adds a bright and citrusy flavor.
Mixed Green Salad- Lightens up the tacos with added freshness.
Avocado- Sliced avocado adds a creamy texture and nutty flavor.
Parsley- Used as a fresh, crunchy garnish.
Curry Sauce- For serving, add a bit of tanginess.
How To Make Quinoa Tacos
Begin by preparing the taco shells. Brush melted butter on both sides of each tortilla. Then, fold each tortilla and place it in between each elevated muffin 'bottom' in a muffin pan. Bake the tortillas in the oven for approximately 5 minutes or until they become hard and golden brown.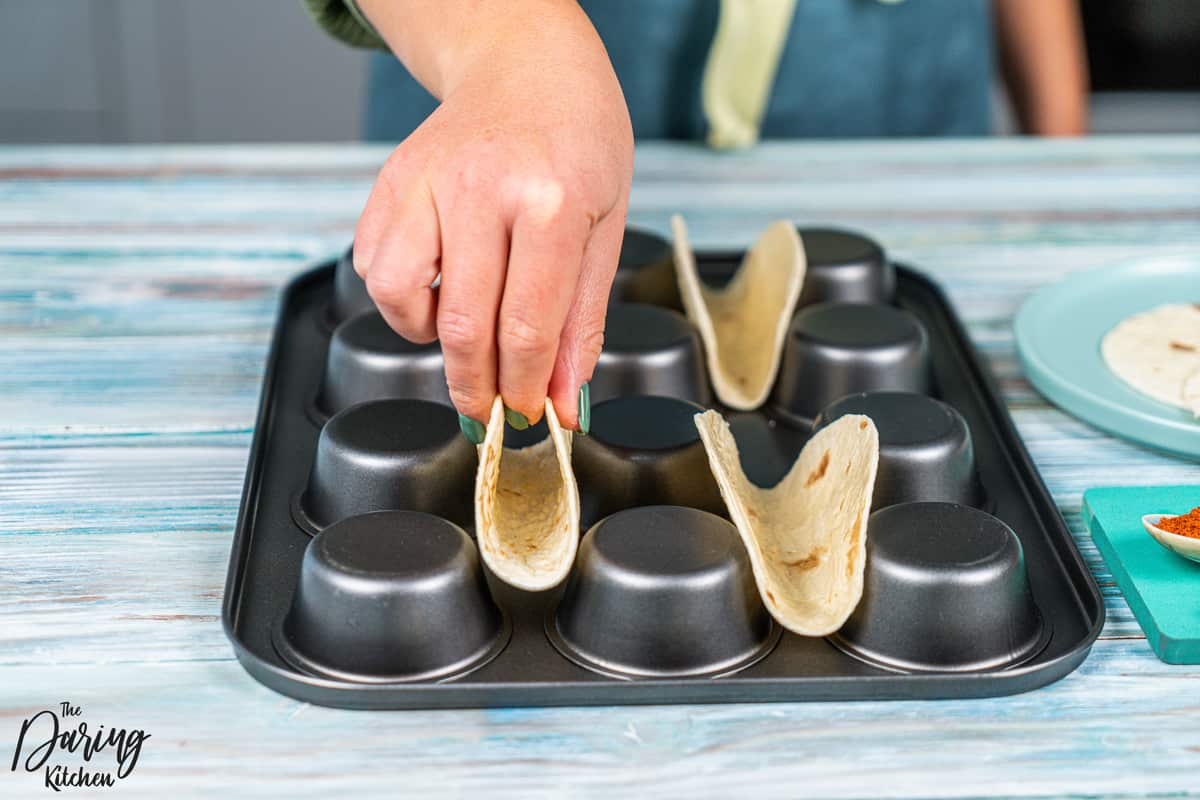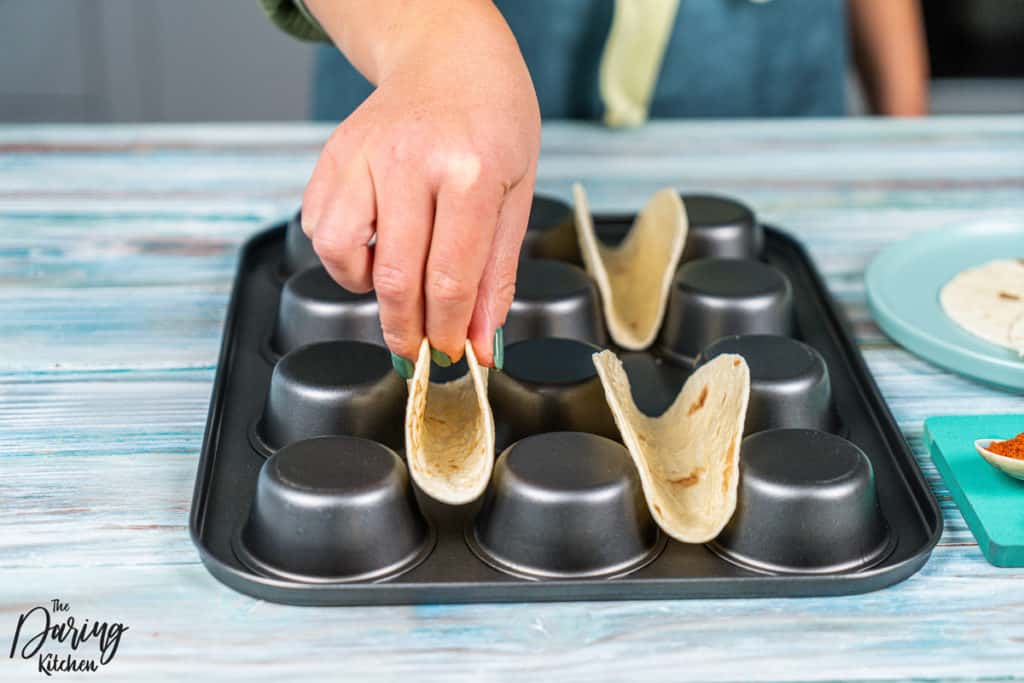 Now it's time to make the quinoa taco "meat." Heat some olive oil in a skillet over medium heat. Add rinsed quinoa and salt, and stir. Pour in 1 ⅔ cups of water and continue stirring until it boils. Cover with a lid, reduce the heat, and cook quinoa until it absorbs all the liquid.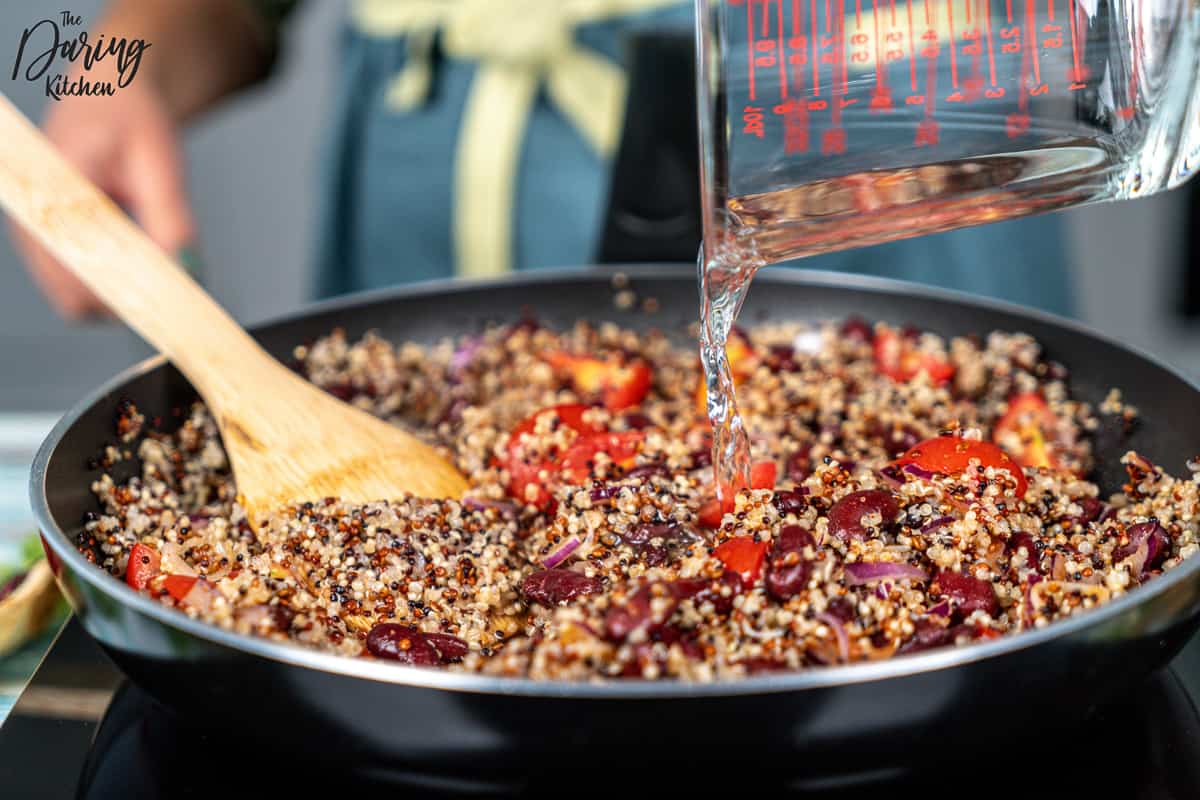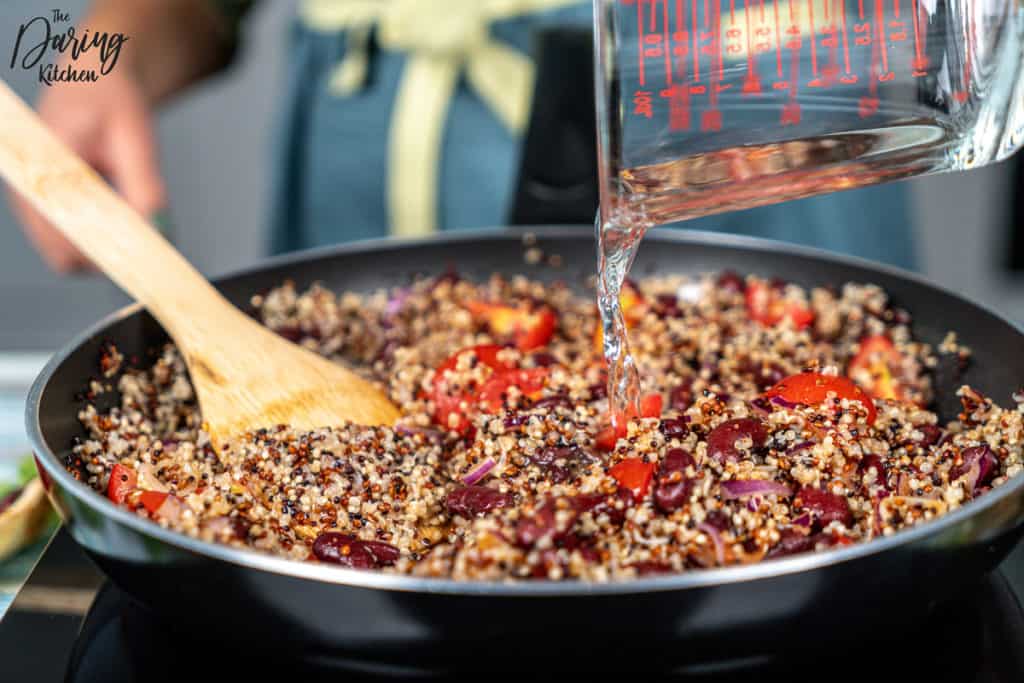 Push the cooked quinoa taco filling to the edges of the pan to create an empty space in the center. In the center of the pan, add the red onion, garlic, cumin, and red pepper flakes. Then, mix in the cherry tomatoes and beans. Combine all the ingredients with the quinoa and garnish with fresh cilantro.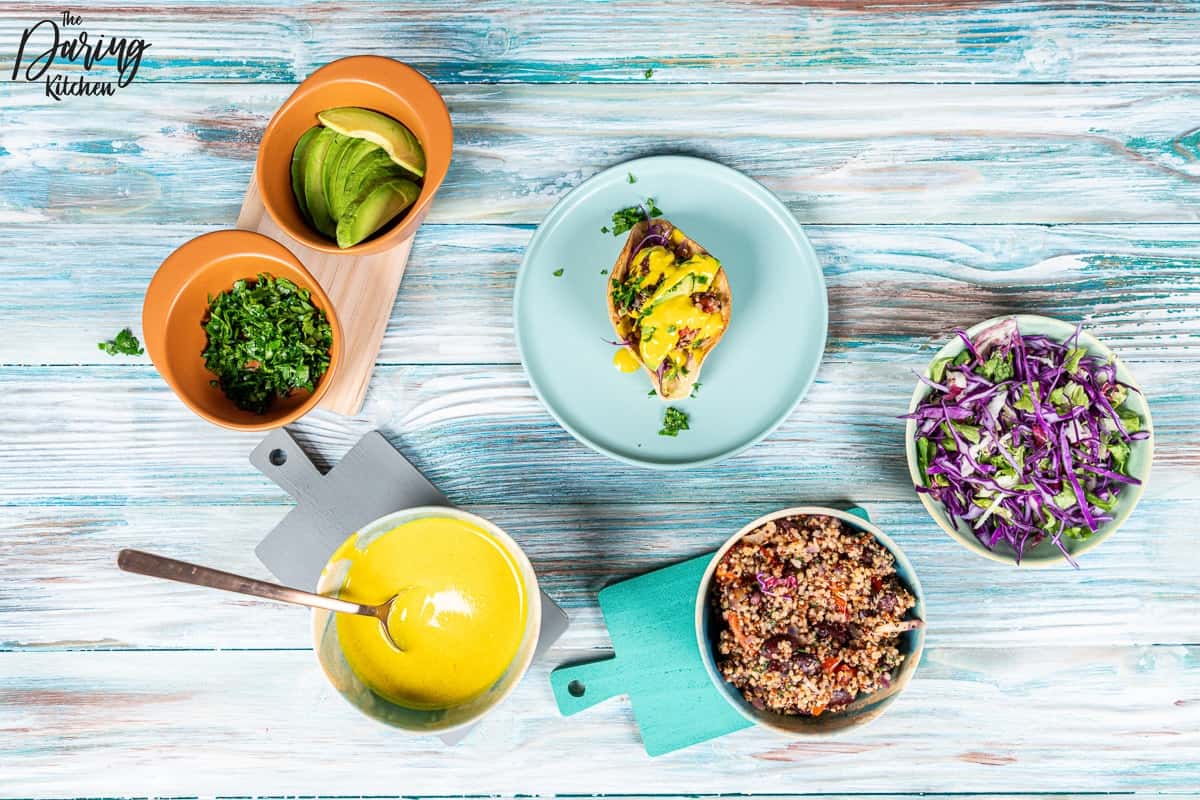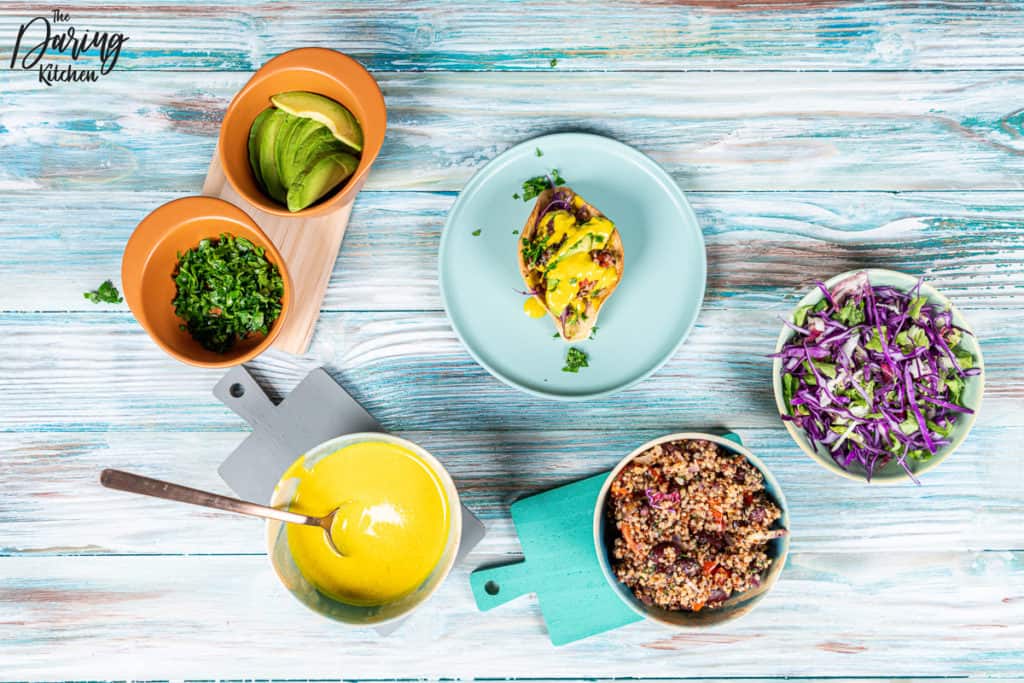 Assemble your quinoa tacos with a little bit of shredded red cabbage and romaine. Then spoon in your quinoa filling. Add a decorative slice of avocado and garnish with chopped fresh parsley. Lastly, drizzle as much curry sauce as you want over each taco.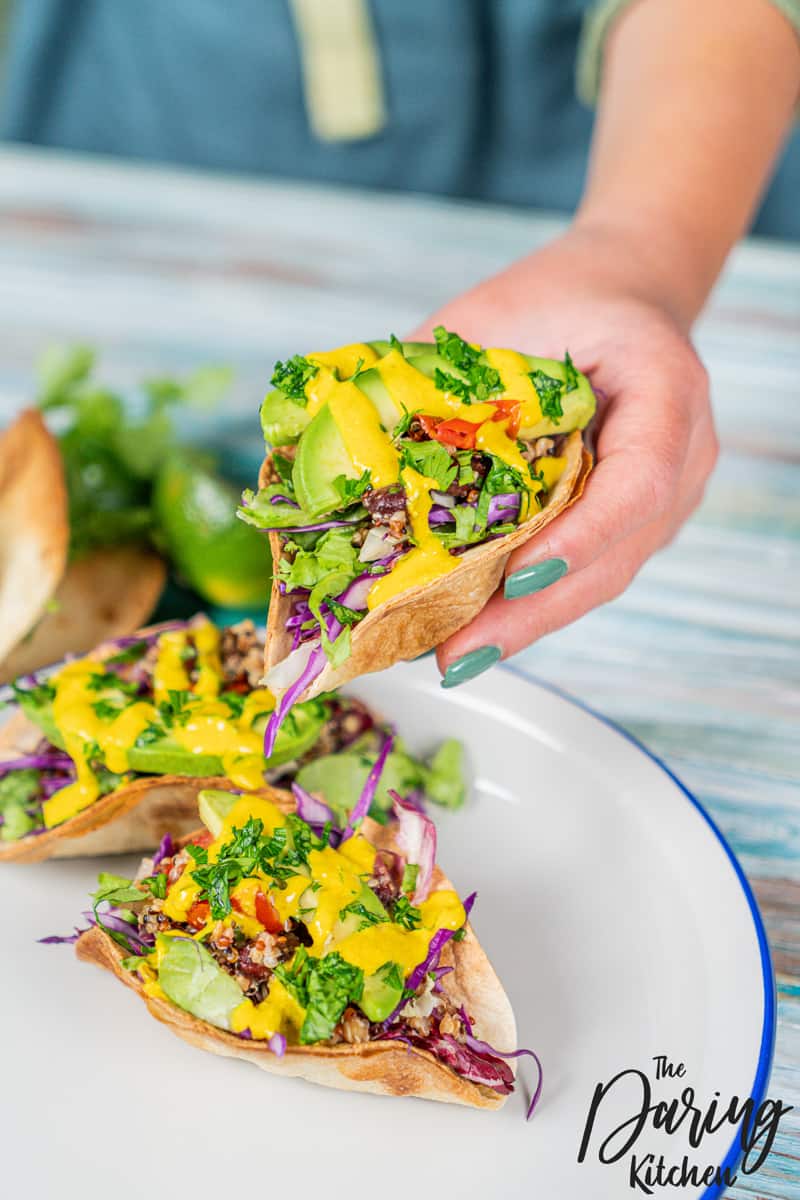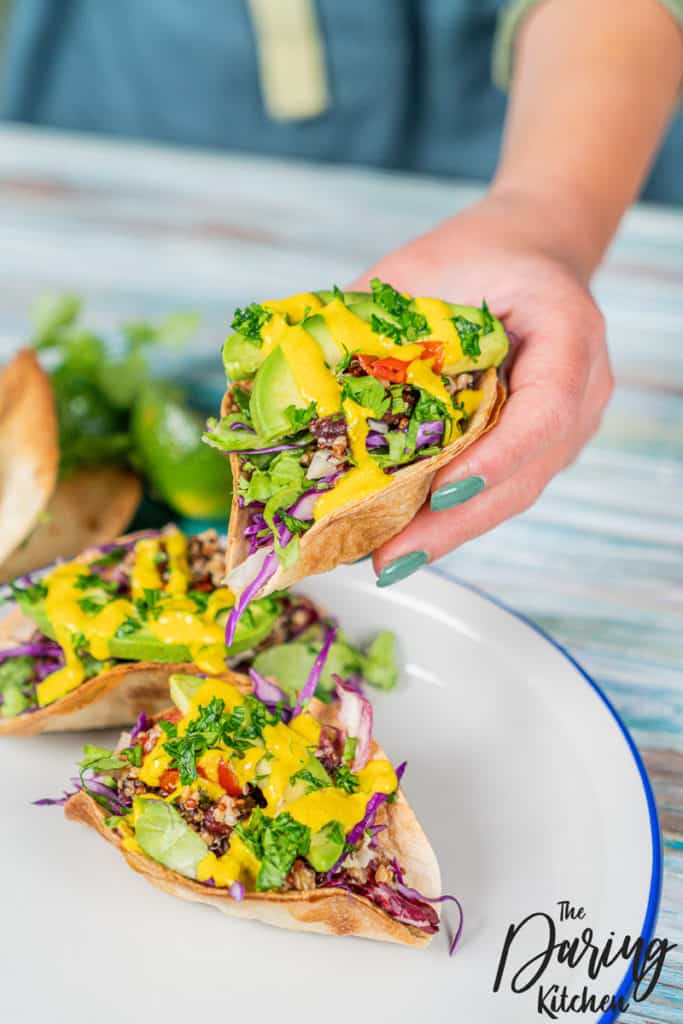 Popular Substitutions And Additions
Quinoa- Use any grain, such as brown rice, cauliflower rice, barley, or farro.
Beans- Add black beans, pinto beans, cannellini beans, or chickpeas.
Vegetables- Add bell peppers, squash, yellow, onion, zucchini, mushrooms, spinach, or kale for extra fiber and nutrition.
Vegetable Broth- Use vegetable broth to cook the quinoa filling instead of water.
Cheese- Add feta, cheddar, pepper jack, or queso fresco.
Tortillas- Use whole wheat tortillas, flour tortillas, corn tortillas, or lettuce wraps.
Sauces- Serve with a variety of sauces such as salsa verde, guacamole, sour cream, or plain Greek yogurt. Tomato paste can be cooked with the quinoa to make it even more flavorful.
Fresh Herbs- Add freshly chopped parsley, cilantro, or chives to the quinoa tacos.
Spices- Add chili powder, smoked paprika, onion powder, oregano, garlic powder, or taco seasoning to the quinoa taco meat.
Citrus Juice- Add fresh lime juice or lemon just to make these quinoa tacos even more fresh!
Toppings- Top these quinoa tacos with a cilantro lime sauce, sliced avocado, hot sauce, chopped onion, petite diced tomatoes, red enchilada sauce, red onion, pico de Gallo, fresh lime, or sour cream.
Can I Freeze Quinoa Tacos?
The quinoa taco filling can be frozen for up to 3 months. Once fully cooked, let the quinoa cool completely before transferring it to an airtight container or freezer bag. When ready to use, defrost in the refrigerator overnight before assembling. All that will be left to do is to make some fresh taco shells!
Quinoa Taco FAQs
Are quinoa tacos healthy?
Yes! Quinoa is a nutrient-rich grain that is full of protein and fiber. It also provides B vitamins, iron, magnesium, and phosphorus. Combined with fresh vegetables, beans, and avocado, quinoa tacos are an incredibly healthy meal option.
Can I make these tacos vegan?
Yes. For vegan tacos, simply substitute the butter for a dairy-free version. Quinoa is a vegan taco meat substitute, so this quinoa taco recipe will naturally be vegan-friendly. Use vegan sour cream, dairy-free cheddar cheese, along with other vegan-friendly taco toppings.
How long do quinoa tacos last in the fridge?
The leftover quinoa mixture will last up to 4 days in an airtight container in the refrigerator. The taco shells will last up to 4 days in an airtight container at room temperature.
Are these vegetarian tacos also gluten-free?
Yes, this quinoa taco recipe is both vegetarian and gluten-free. To ensure that the tacos are truly gluten-free, use certified gluten-free tortillas.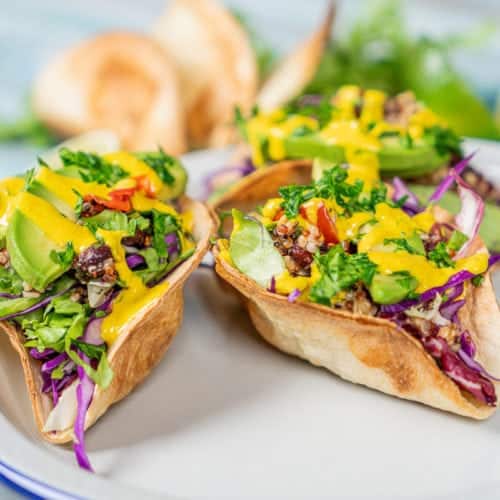 Vegetarian Tacos with Quinoa
With tons of fresh veggies and fiber-rich quinoa, these tacos are a fabulous and healthy meal for any time of day!
Print
Pin
Ingredients
6

Tortillas

gluten free

melted butter

1

tbsp

Olive Oil

1

cup

Mixed Quinoa

½

tsp

Salt

1 ⅔

cup

Water

1

Red Onion

2

cloves

Garlic

1

tsp

Cumin

1

tsp

Red Pepper Flakes

1

cup

Cherry Tomatoes

1

cup

Red Beans

½

bunch

Coriander

Fresh

Mixed Green Salad

Avocado

slices

Parsley

fresh

Curry Sauce
Instructions
Preheat your oven (to 395 degrees Fahrenheit)

Brush melted butter on both sides of each tortilla. Then, with the muffin pan, fold each tortilla and rest it in between each elevated muffin 'bottom.'

Then, place them in the oven for 5 minutes, or until hard and golden brown. 
Filling
In a reliable pan, heat olive oil over medium heat. Pour in your quinoa and mix with the oil. Then, add in a bit of salt and cover with your 1 ⅔ cup of water. Continue to mix the quinoa as the water comes to a boil. Using a tight-fitted lid, cover and lower the heat. Once the quinoa absorbs all the liquid, it is done.

By pushing quinoa to the edges of the pan, create some open space in the middle of your pan. Add your red onion, garlic, cumin, and red pepper flakes to that newly freed space.

Mix well as you add in the cherry tomatoes and beans. Now, mix everything together with the quinoa. Garnish with fresh cilantro.
Assemble Tacos
Begin with a little bit of shredded red cabbage and romaine. Then spoon in your quinoa filling. Top it off with a pretty slice of avocado and plenty of chopped fresh parsley. Drizzle each taco with as much curry sauce as you like!

Time to eat! Trust me these will go fast!
Nutrition
Calories:
402
kcal
|
Carbohydrates:
65
g
|
Protein:
14
g
|
Fat:
10
g
|
Saturated Fat:
2
g
|
Polyunsaturated Fat:
3
g
|
Monounsaturated Fat:
5
g
|
Sodium:
622
mg
|
Potassium:
638
mg
|
Fiber:
8
g
|
Sugar:
4
g
|
Vitamin A:
411
IU
|
Vitamin C:
12
mg
|
Calcium:
103
mg
|
Iron:
6
mg