If you want to impress your guests, this is the recipe for you. A vegetarian spin on the classic, this vegetarian beef wellington will have everyone asking for seconds.
What is a Vegetarian Wellington?
Ever heard of a beef wellington? Well, this is its vegetarian cousin. They are super similar, except one is filled with meat while the other vegetables!
Beef wellington is not a simple dish to make. It requires cooking a beef fillet perfectly inside layers of puff pastry dough. The method is really impressive. It results in a dish that is both delicious and eye-catching. That is because the puff pastry can also be used as a decoration. You can make all sorts of shapes with dough, which puff up and become beautifully golden in the oven.
A vegetarian wellington is all of that, sans the meat. Instead, you have a hearty and fragrant filling that almost resembles stuffing. It has leeks, mushrooms, spinach, and thyme. The mushrooms add that meaty character a wellington needs, but without all the careful cooking hassle. The filling combines elegantly with goat cheese, adding in just enough richness the dish needs.

Whole Wheat Puff Pastry
What is also unique about this Holiday recipe is its whole wheat puff pastry dough. Using whole wheat adds more character and nutrients to the dough. It also lends it a nice brown color that looks even better once it's baked.
But, the ultimate question is always: is it better to make your puff pastry dough or buy premade?
To be honest, you can really go either way with this recipe. If you are looking to save time, I advocate buying your dough at the store. You can find puff pastry dough easily, especially in the frozen foods section. But, finding whole wheat puff pastry is a little difficult. You will have to use regular puff pastry, which still does the job just fine.
Or, if you do have time, make your own puff pastry dough. It is not as difficult as it seems! Plus, this lets you select the kind of ingredients in your dough. Whole wheat flour is a perfect example of that.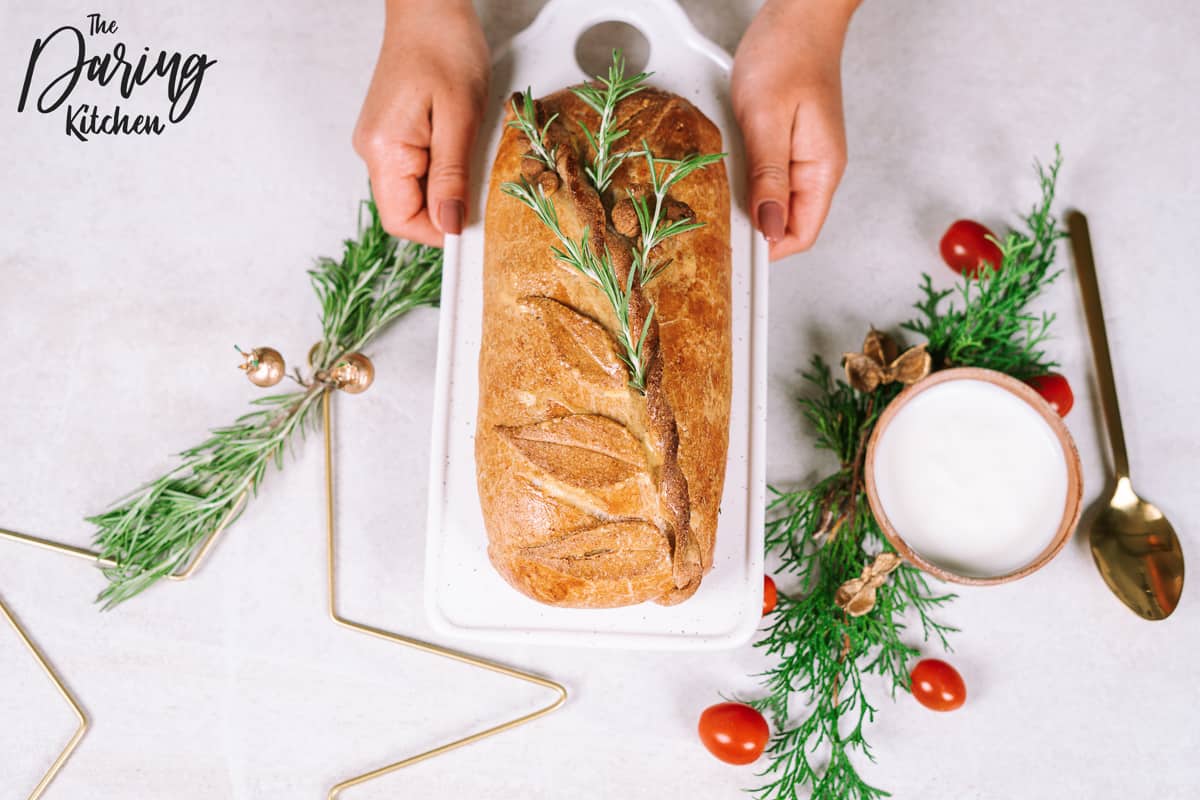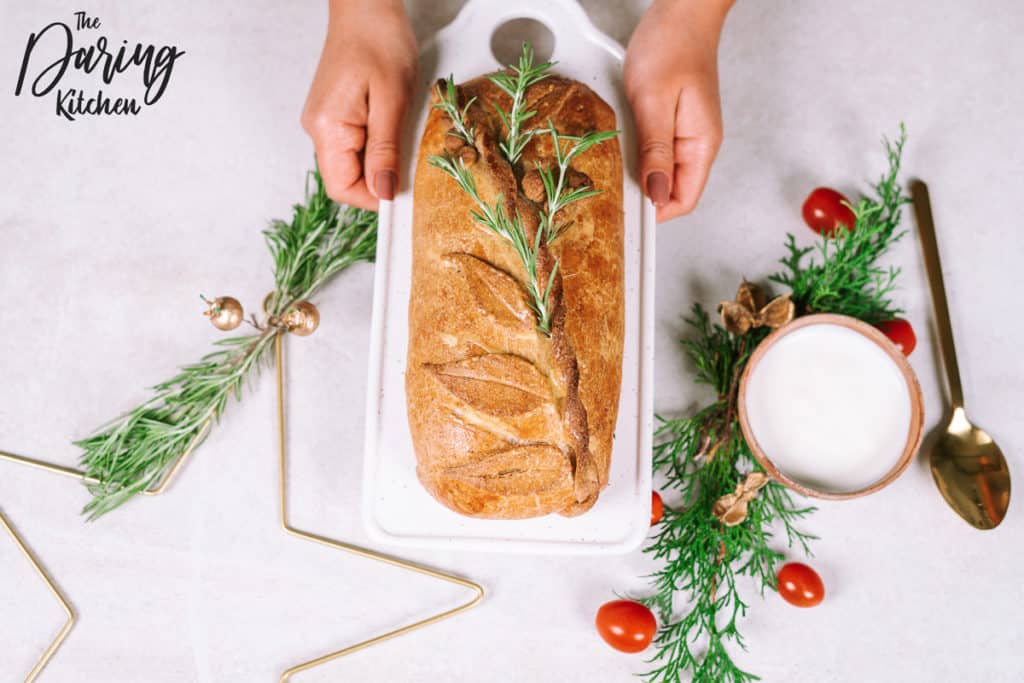 A Dinnertable Decoration
The most dazzling part of this recipe might just be how pretty it looks on the Christmas table. Once you assemble your wellington, you will have extra dough. This will not go to waste! It will be used to create your beautiful decoration on top of your wellington.
Given the season, you can really have fun with this. But, if you feel your artistic skills are not your strong suit, simple leaves are plenty easy to make.
How to Make a Vegetarian Wellington
A step by step guide to making a Holiday vegetarian wellington is very useful. Here are all the steps you need to take to create a delicious vegetarian wellington.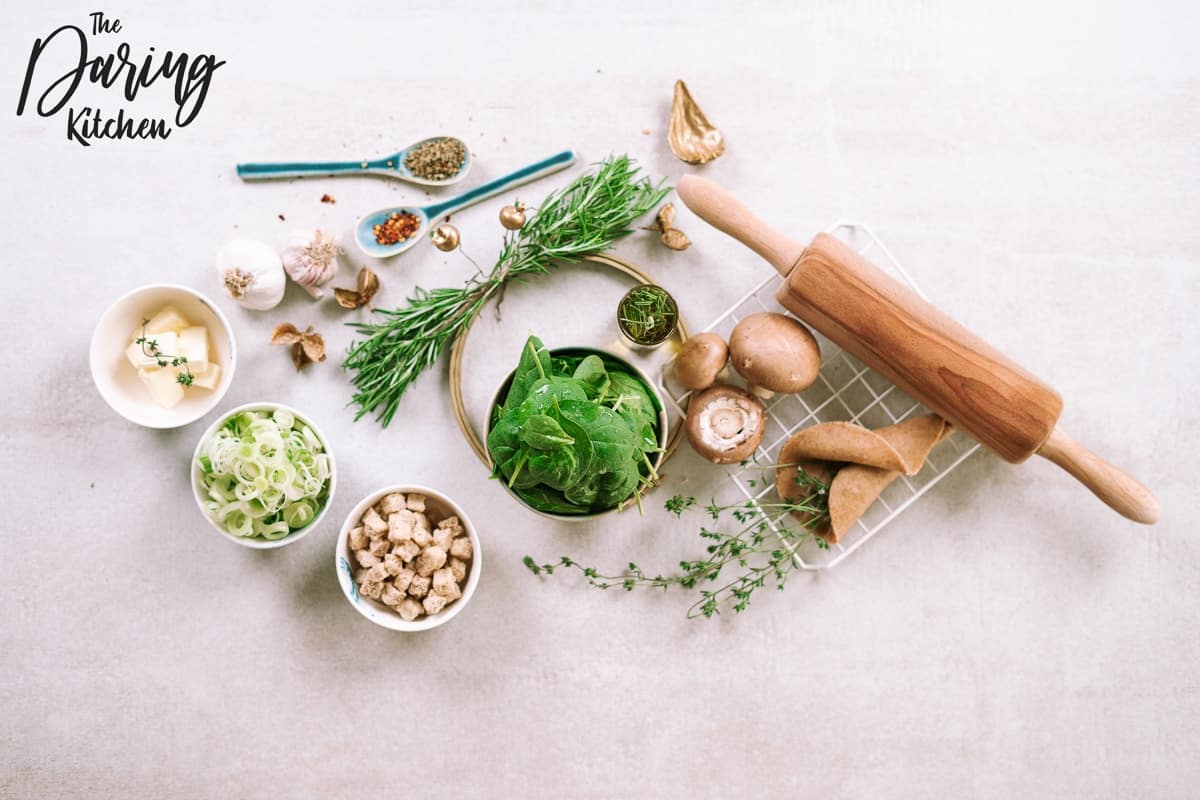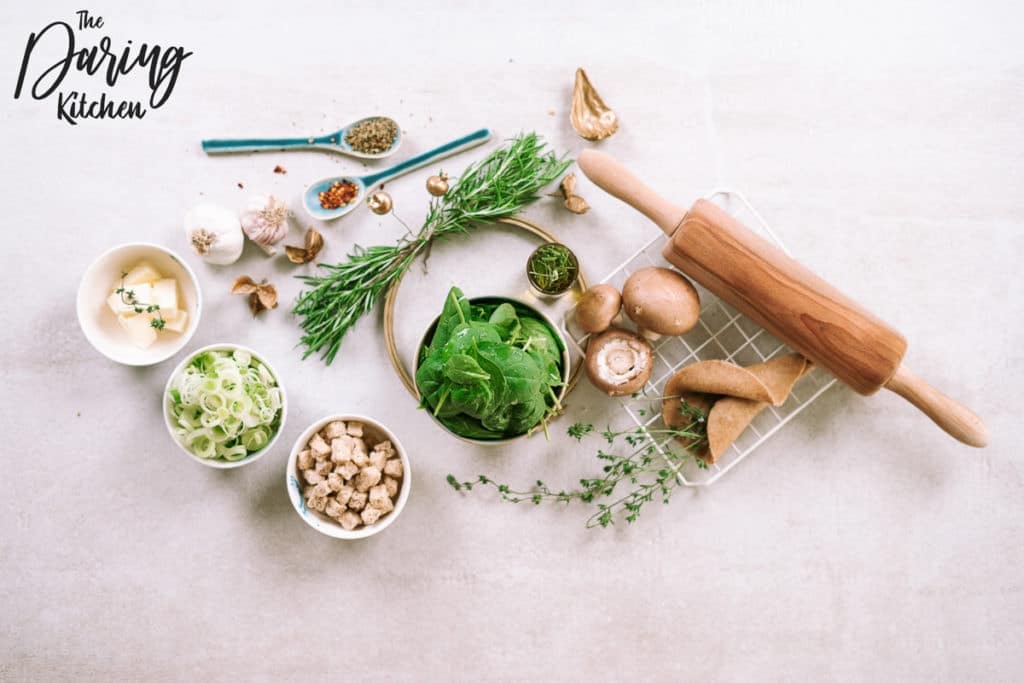 The first thing is to make sure your dough is ready. If you are making it, the dough will of course be done in advance. But, if you bought your dough from the store, just make sure it is defrosted (if necessary) and ready to go.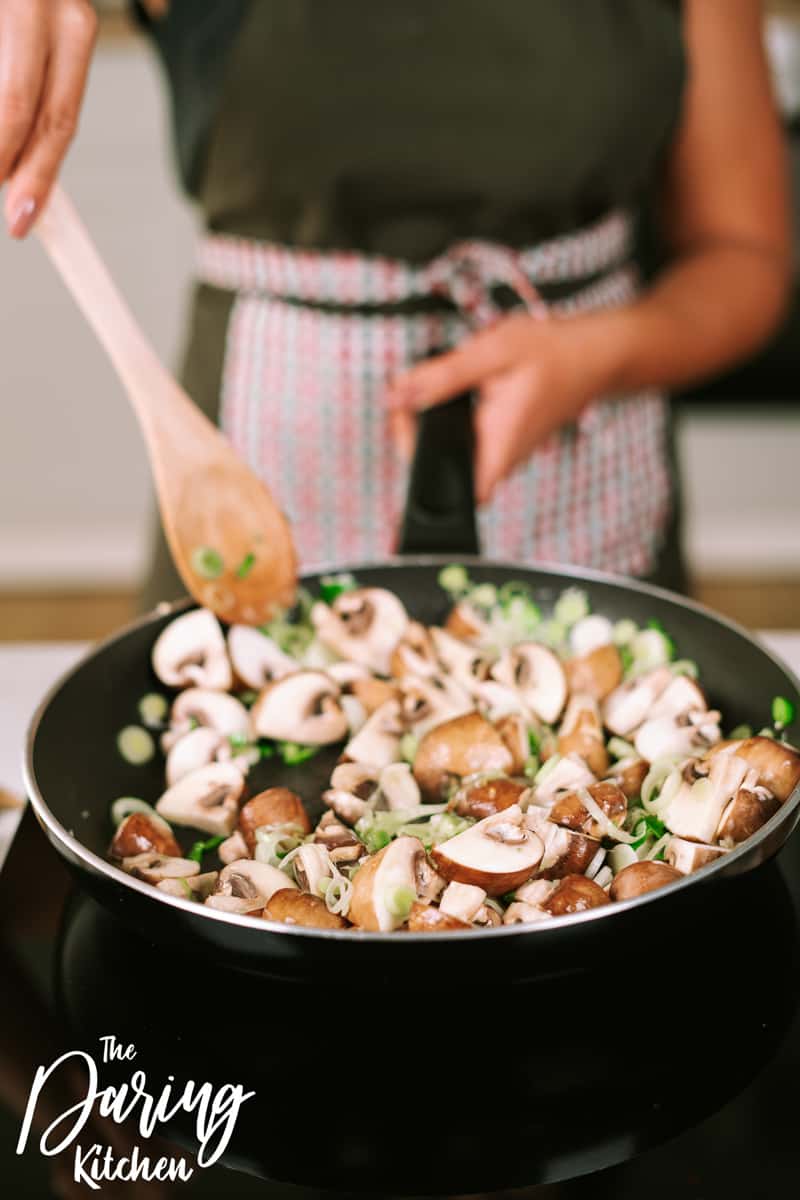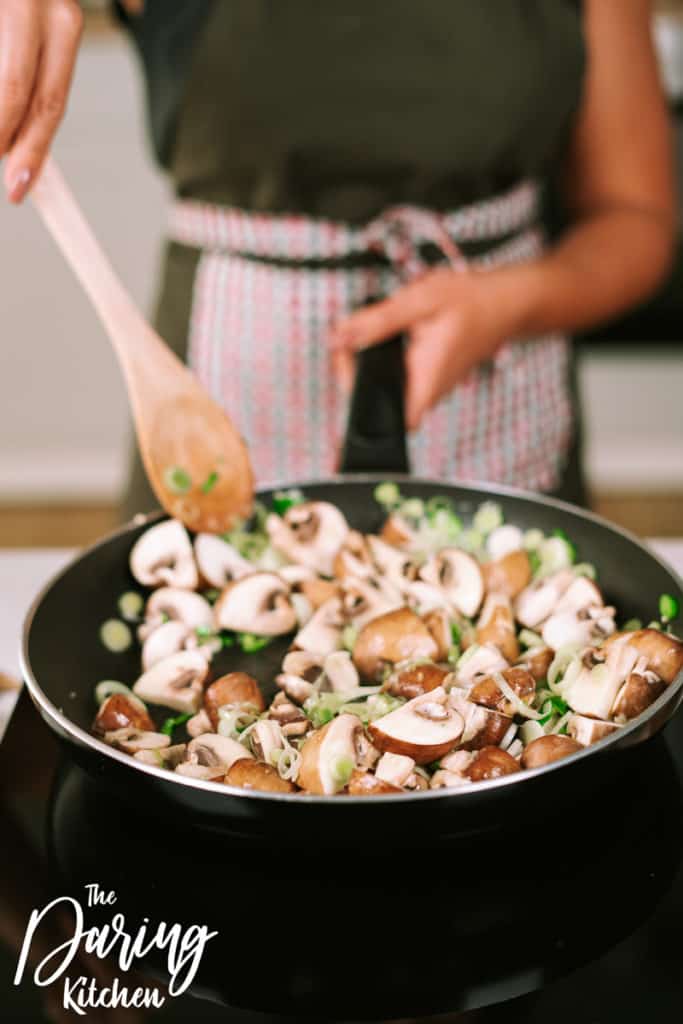 To start, you will create the filling. Prep all your vegetables - chop your leeks, garlic, and mushrooms. Using any sort of pan or skillet, heat olive oil over medium heat. Then, throw in your leeks and garlic with a little salt. Once the leeks soften, add in the mushrooms and butter. Allow everything to cook until the mushrooms are soft and there is no more moisture left in the pan. Then, you can add in your thyme leaves (without the branch) and whole spinach.
Allow everything to gently simmer for a couple of minutes. Then, finish off the filling with croutons and goat cheese. Mix everything gently together and remove the pan from the heat.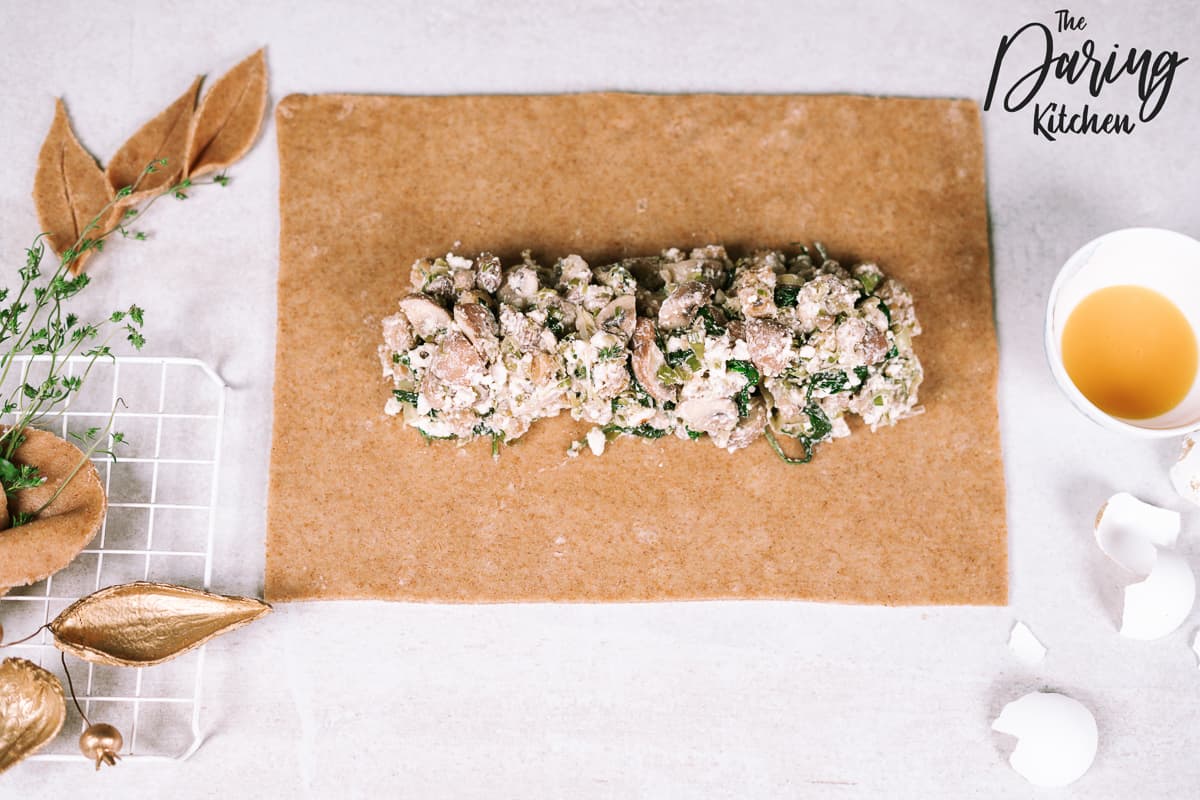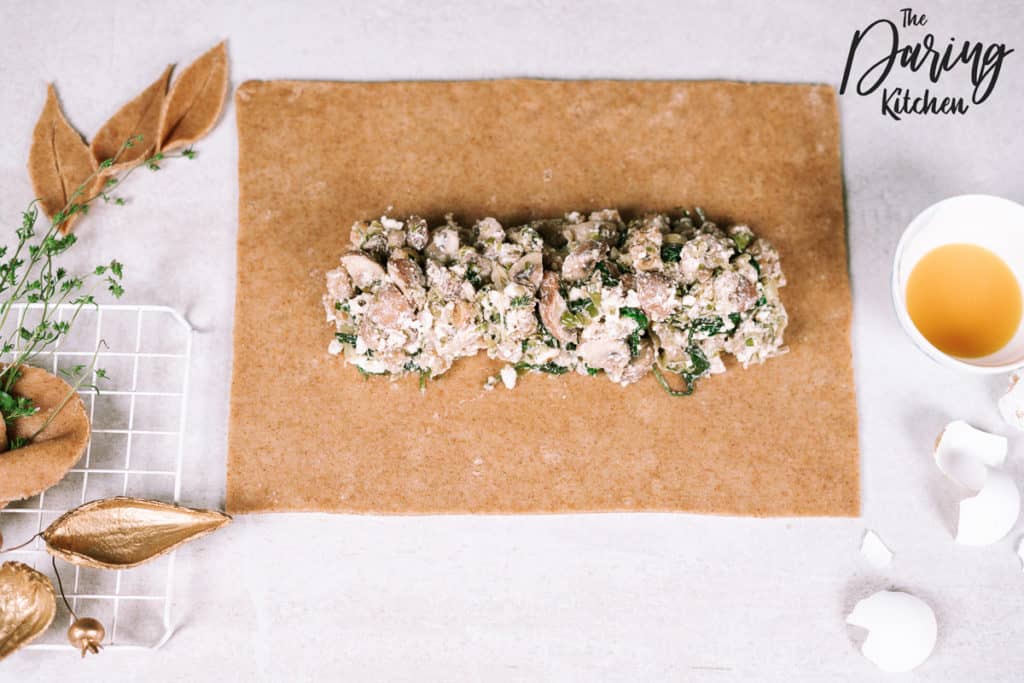 Now it's time to assemble your vegetarian wellington. Make sure your dough is rolled out flat and in a square shape. Carefully spoon your filling in the middle of the dough. You need to leave space from the edges as if you would for a burrito. Then, gently fold over the wide edges. As you fold in long edges, use them as a tool to flip over your vegetarian wellington. Make sure the long edges stay molded and tucked in.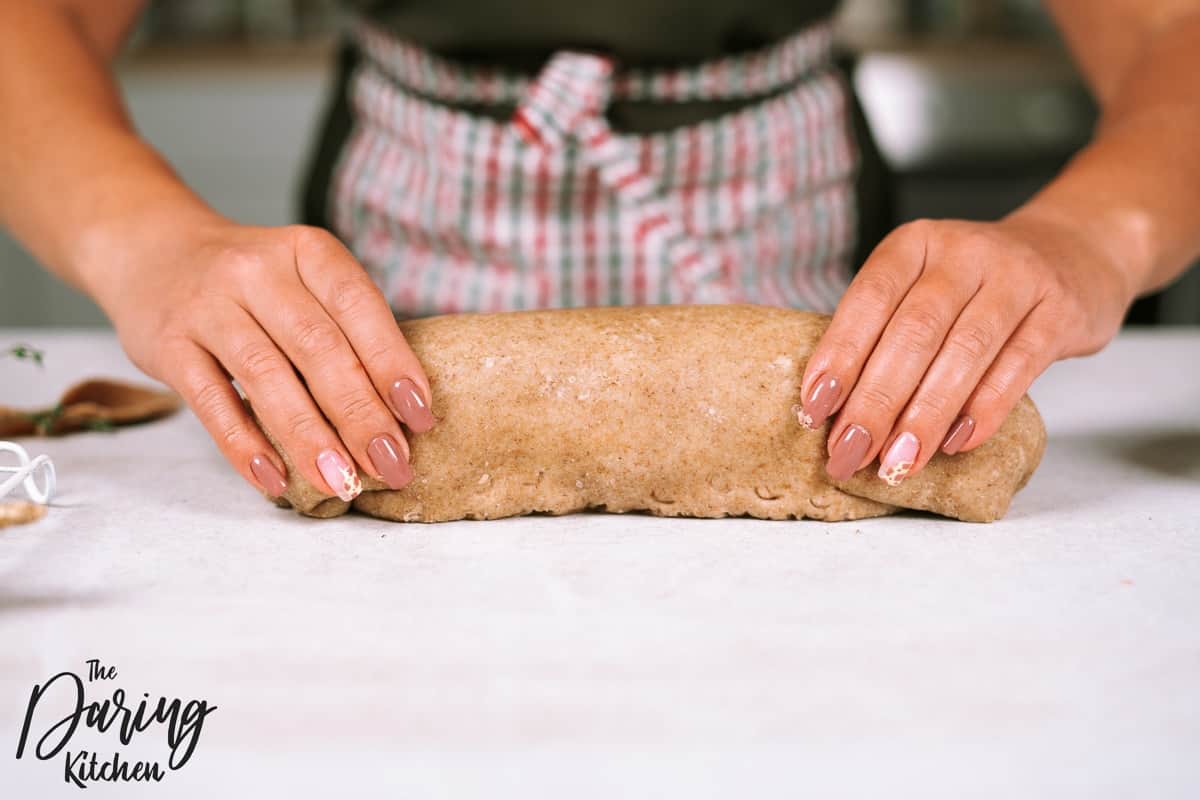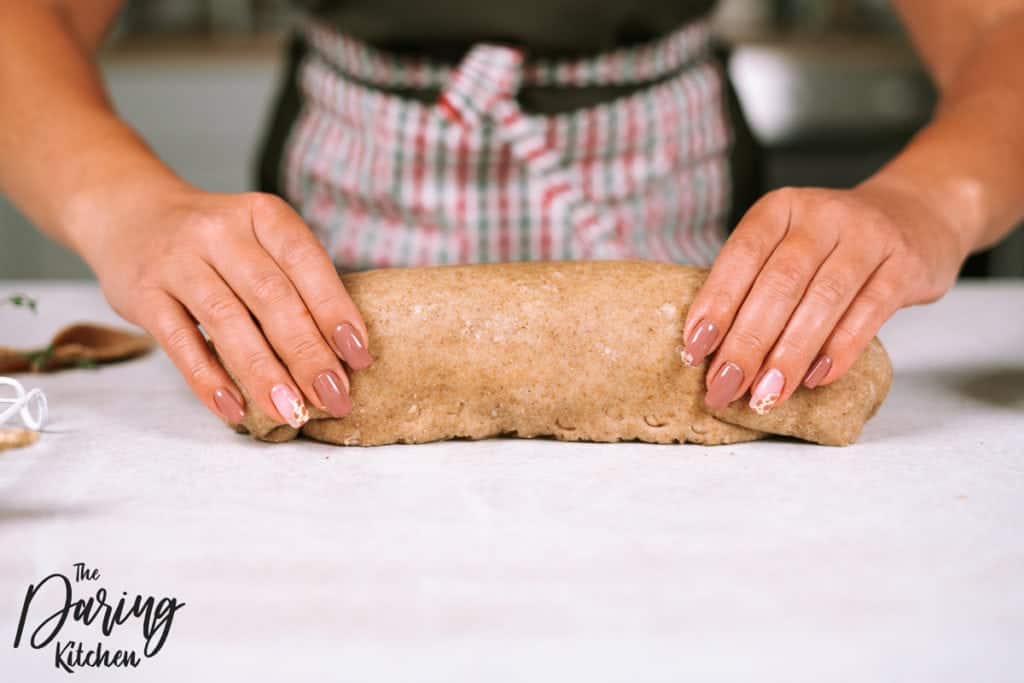 Quickly, whisk together an egg yolk to create a wash. Brush some to cover the top of your wellington - this is essential to produce a perfectly golden-brown crust.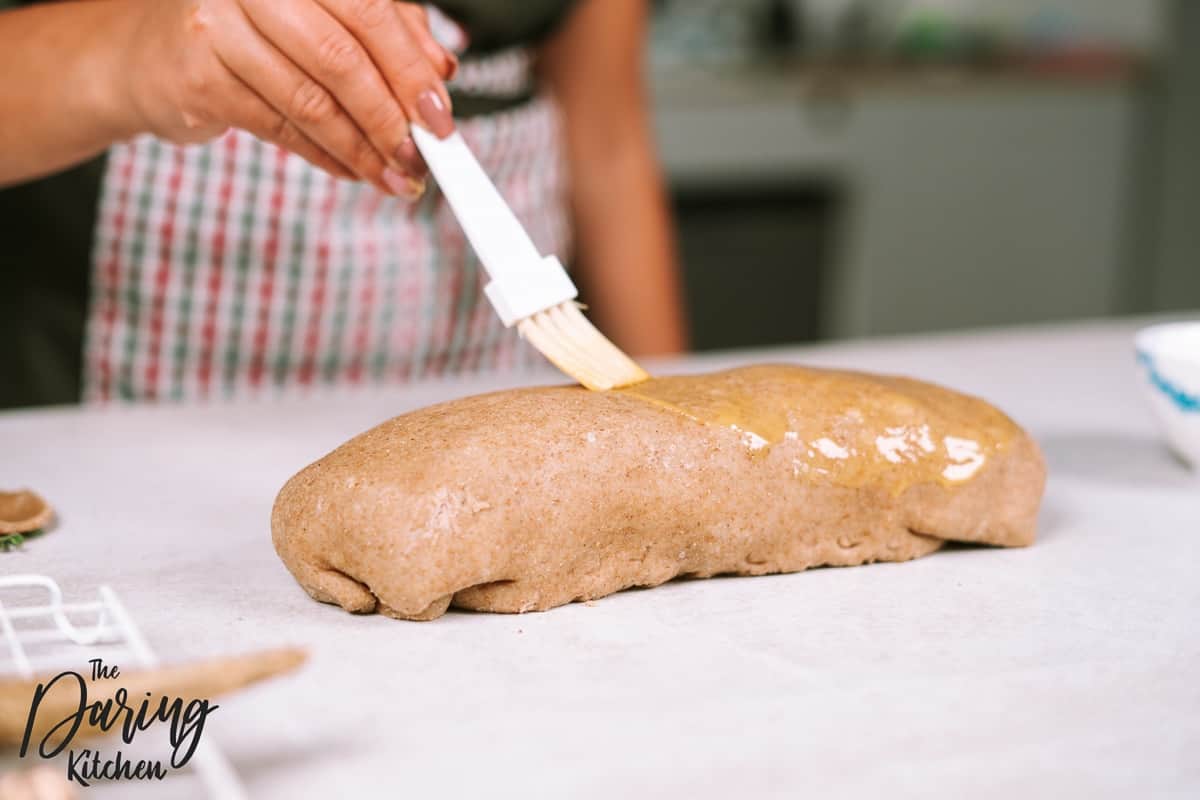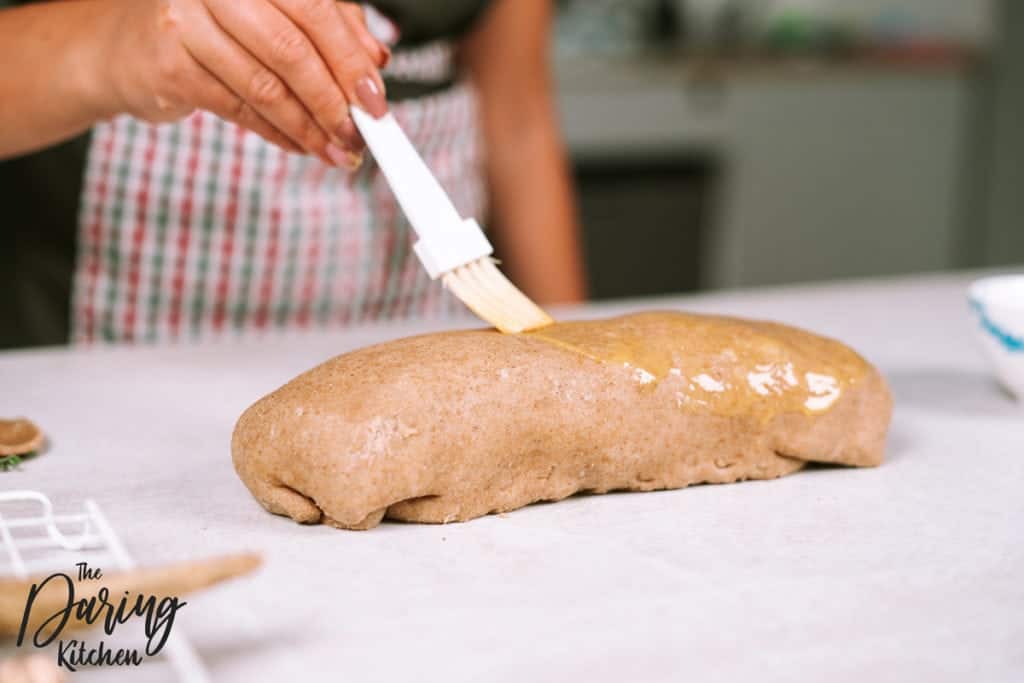 Now you can decorate it! With leftover pieces of dough, make designs to place on top of your vegetarian wellington. I did a simple branch with leaves. These only take a few minutes to make, or you can create your designs before making your filling. The choice is up to you.
When its all ready, place it on a parchment paper-lined baking sheet and bake it at 400 degrees F (200 degrees C) for 30 minutes. When it is done, allow it to cool for just a couple of minutes. You can plate the entire vegetarian wellington, as it makes such a beautiful addition to the dinner table.
For serving, I suggest a tangy yogurt sauce drizzle. It just brings everything together!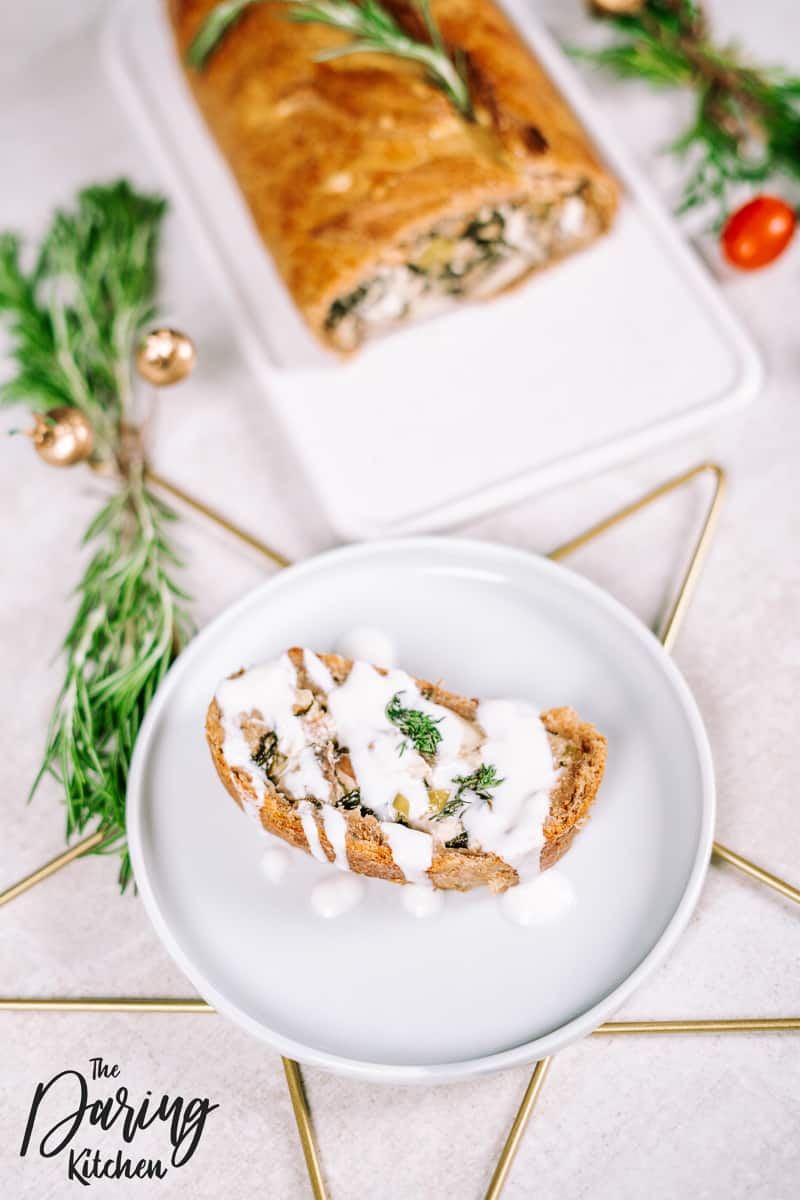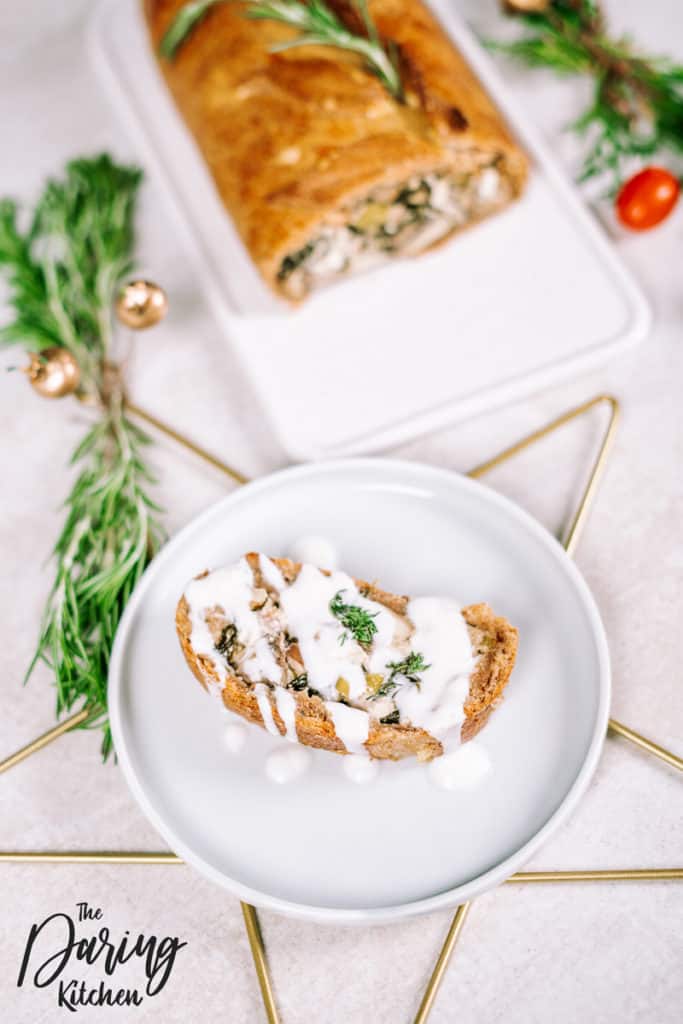 Don't forget to share your Holiday vegetarian wellington experience in the comments below.
Happy holidays!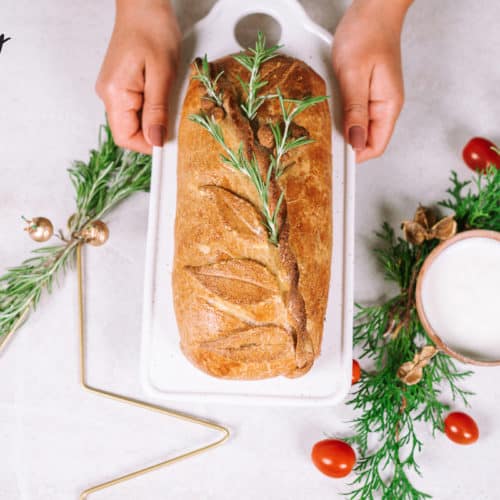 Christmas Vegetarian Wellington
A Perfect Vegetarian Recipe for Christmas
Print
Pin
Ingredients
¾

tbsp

Olive Oil

1

Leeks

½

Salt

300

gr

Mushrooms

50

gr

Butter

⅔

branches

Fresh Thyme

150

gr

Spinach

fresh

20

gr

Croutons

whole-grain

150

gr

Goat Cheese

crumbled

Whole Wheat Butter dough

1

Egg Yolk

2

cloves

Garlic
Instructions
In a preheated pan heat the olive oil and sautée the leek and garlic cloves with salt.

Add the quartered mushrooms and the butter. Cook until the mushrooms are soft.

Add the fresh thyme and spinach and let simmer. After the spinach is cooked add the croutons and stir well.

Add the crumbled goat cheese and remove from the heat.

Spread the dough, spread the filling on top and shape the dough. Cover with egg yolk and decorate with pieces of the butter dough. Bake at 200 degrees for 30 minutes.

Decorate with fresh rosemary and serve with yogurt sauce.
Nutrition
Calories:
1082
kcal
|
Carbohydrates:
59
g
|
Protein:
58
g
|
Fat:
74
g
|
Saturated Fat:
28
g
|
Cholesterol:
264
mg
|
Sodium:
854
mg
|
Potassium:
2026
mg
|
Fiber:
9
g
|
Sugar:
12
g
|
Vitamin A:
17358
IU
|
Vitamin C:
63
mg
|
Calcium:
521
mg
|
Iron:
14
mg