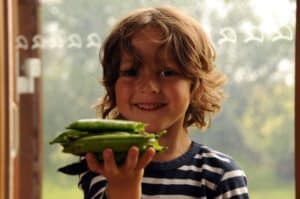 What's beige and bland and has little or no nutritional value? The dishes that thousands of restaurants across the UK try and pass off as being suitable for a kids' menu. It's one of the restaurant industry's dirty little secrets that, more often than not, they fail to serve their younger customers anything remotely resembling a balanced meal.
What isn't a secret is that British kids are eating less and less vegetables.
Five a day is now a far-fetched goal with as many as one in seven 4-11-year-olds going through most days eating not a single portion of veg. And when you look at the veg they do consume, a fifth of it comes from baked beans or pizza.
The Sustainable Restaurant Association (SRA) believes it's time for restaurants to help #KidsVegOut. Throughout May, the SRA is running a campaign to help children and their parents by calling on restaurants to put two vegetables on every child's plate. Parents know their kids should be eating more veg but often find it hard to stick to their guns when eating out and no one wants a family fight on a night out.
There are plenty of good examples of restaurants already feeding children well and making it easy for kids to eat their greens. Everyone knows that a couple of florets plonked on a plate are more likely to end up in the bin than a kids mouth. That's why leadership from creative restaurants is so desperately needed. If all the options on the children's menu have at least two portions built in, and the dish looks good, kids are much more likely to want to eat them. And parents can then get on with the business of relaxing and enjoying their own meal.
Restaurants like Jamie's Italian ensure a minimum of two portions of veg on every child's plate, squirrelling away bucket loads of the stuff in its pasta and pizza sauces as well serving its popular Shake me Salads. At Wahaca, all kids' meals come with carrots and cucumber dippers, tomato salsa and freshly squished guacamole – making veg appetising, automatic, fun and easy.
Wouldn't you prefer a restaurant which helps #KidsVegOut?