Doing a brief Google search on "blender," what are the first brands that typically pop up? Vitamix and Ninja. Considering the companies first came about in 1921 and 1998 respectively, it's astonishing that the high-speed blender manufacturers are nearly deadlocked in terms of winning the title as the best blender brand of 2020.
However, it's less about which brand is truly the best and more about which currently best meets your needs as a buyer. But it takes more than a few minutes of research to make sure you're making an adequate conclusion. All good consumers should be well-informed before making that big buy.
That said, we are going to take a look at the operation, high-quality and longevity, price and warranties, and general pros and cons both Ninja and Vitamix typically deliver in their two blenders. Then, we'll provide our own opinion regarding which corporation's blenders are the better option. Additionally, providing you a list of some of the top models from both companies, we'll leave the decision up to you to contemplate what your most ideal blender option is.
Vitamix vs Ninja Blender Comparison
Vitamix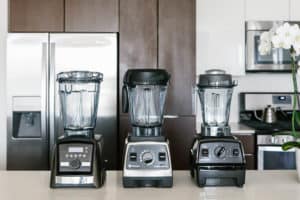 Since the Barnard family founded Vitamix in the 20s, the Olmsted Township, Ohio establishment has been delivering high-class blenders for consumers and the restaurant and hospitality industry since. Although a bit bulky in size, the versatility and overall performance of these machines set them apart from many other competitors' blenders.
Blending Performance
Vitamix considers their blenders to feature "high-performance blending." Yet, according to Vita, their goal is not to provide machines with the highest horsepower, but rather, horsepower that is well-trained and reliable. Nevertheless, the power of many Vitamixes is greater than the power of Nutri Ninja bullet blenders.
Regardless of the corporation claiming that horsepower isn't their focus in their machines, it's clear that blending performance is still on key. With a Vitamix blender, you can confidently mix tougher foods like fibrous fruits and vegetables, nuts and seeds, meat, and even ice. Your Vitamix will shred these components up in a matter of minutes or even seconds, producing a smoother, cleaner by-product without a gritty, chunky texture. Unlike many other blenders on the market, Vitamix machines also have the capability of warming your ingredients, like, for instance, if you're serving a nice, warm sauce or hot soup.
Another great benefit regarding the blending performance of Vitamix blenders is that they feature several different blending speeds along with a pulser. However, some reviewers complain that when they choose a faster speed on their Vitamix appliance, they often notice a burning smell. This, though, is not uncommon with any blender on the market. Just be cautious with blending at speeds too high for too long. Moderation is advised.
The great news is, most consumers who have tried a Vitamix blender say the higher price is certainly worth it. But if you'll be opting for a refurbished Vitamix, know that the performance may not be as ideal as a new, unused model.
Machine Quality & Lifespan
The maker claims that their machines are built to last, lasting a whopping three times as long as their competitors' appliances. This is one reason why the producer provides longer warranties than most blender brands on the market. But the question is, are Vitamix appliances truly as great in class and lifespan as the creator says they are?
Fortunately, consumers raise the fact that if you use your blender a lot whether it be for food preparation or making smoothies, you can count on a Vitamix machine. These brawny devices won't go out after half a year of use. In fact, some consumers state that they've had a Vitamix appliance for over a decade!
But one con that users say is that the part between the blender and the base, which used to be rubber, is now constructed with cheap plastic. Some also complain that disassembly is a pain, the lid sometimes gets stuck on the container, and that the container doesn't stay as snug on the base as it should.
Also, although the manufacturer suggests not placing your machine's parts in the washer as it may damage them, the company has made it where each of their devices feature easy self-cleaning. With no disassembly necessary, the company instructs that you simply blend lukewarm water with a drop of dish soap at the highest speed for 60 seconds to clean your device. While some consumers complain that their next blend tastes a little soapy after running a cleaning cycle, the best advice is to add more water and less soap the next time around. Plus, 60-second cleaning routine definitely beats a two-hour dishwasher cycle anyways!
While there are some flaws and inconveniences, Vitamix appliances are still long-lasting and still feature great quality, especially in an era where nearly all tinier and larger appliances are now being constructed with low-quality materials.
Prices & Warranties
On the Vitamix website, they currently are divided into three categories: Classic, Space Saving, and Smart System. The blenders apart of these series have a price starting at $289.95, $329.95, and $399.95 respectively.
While the starting expenses of Vitamix blenders might be out of most people's budgets, the good news is that the maker provides a 5-year to 10-year warranty for all of their blenders. This warranty covers all parts, labor, performance, and two-way shipping. If you buy a secondhand Vitamix machine, the company will allow the warranty to transfer to the new owner.
Pros
BPA free construction
Able to crush ice
Self-cleaning
Can heat soup and work with hot food
Long warranties with great coverage
Constructed with stainless steel blades
Cool-running motor for smoother performance
Less noisy operation than some of its competitors'
Has a metal drive system for better blends and an extended machine lifespan
Cons
Hefty expenses across all series, including older, refurbished machines
Recommended not to place your Vitamix in the dishwasher.
Machines tend to be too bulky to store in smaller spaces
Feature bulky bases
More suitable for large blends
Not available in bullet blenders at this time.
Ninja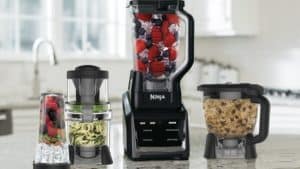 With both traditional and bullet-style blenders, Ninja has blending appliances that are suitable based on your lifestyle, how much storage you have, and how much capacity you wish to produce with your blender (single-serve or large batch). When compared to Vitamix blenders, you might notice how Ninja blenders are sleeker and more narrow in style and size.
Blending Performance
The heavy-duty, sharp blades of Ninja blender make these small-scale appliances great at blending a plethora of elements from thick meats and veggies to chunks of ice. Likewise, some Ninja devices allow you to work with warmer ingredients, which can expand the types of recipes you're able to tackle with the help of your blender.
While your ability to use both ice and warmer products in many Ninja blenders is a definite plus, however, utilizing steaming-hot ingredients, especially in their compact bullet blenders, is probably not your best bet. If you want to add hot food to your blender or wish to turn colder substances into a piping-hot, ready-to-serve blend, make sure to pick up a Vitamix blender.
Nevertheless, regardless of Vitamix's ability to work with a wider range of recipes, you'll find the blending ability of Nutri Ninja's appliances on point, especially for its lower costs. Leafy greens, nuts, and seeds all beautifully shred down to a non-lumpy, non-gritty liquid to give you the perfect sauce, smoothie, or protein shake. But with less refined speed controls over your blending experience with a Ninja blender, you may either find your Ninja blender easier to operate or less personalized, depending on your wants and needs.
Machine Quality & Lifespan
Not surprisingly like most smaller appliances on the market today, Ninja blenders feature plastic construction, as opposed to hefty glass. Fortunately, the cups, carafes, and other parts of Ninja blenders are not only sturdy, but they are also made of non-BPA material which means their products are safer for the environment and potentially to humans as well.
While Ninja offers sharp blades in their machines to deliver fast, consistent, smooth results, there are still some quality issues that need to be addressed.
One problem that some consumers bring up regarding Nutri Ninja blenders is that there tends to be sticky texture on the suction of the lid. Although, this is more of an inconvenience than a quality problem, and it can be easily overlooked.
Some folks also wish Ninja include chutes on their blender models to allow them to add more food and liquid mid-blend, which is essential for certain recipes. Although, with a sharp blade and powerful motor, having a chute on a Ninja blender might more than likely result in fruits and veggies getting splattered on your face.
A last common issue consumers find with Ninja blenders is that the rubber base on the bottom wears away pretty quickly. Being a slight problem and one that can be easily repaired under Ninja's warranty, this still is not a major flaw that should prevent one from opting for a Ninja.
As for lifespan, one wouldn't necessarily believe Ninja machines will last that wrong based on their less extensive price, and well, they're right. With a one-year warranty, Ninja appliances are not guaranteed to last beyond 365 days after purchase with regular use. Some consumers even complain that their Nutri Ninja only lasted a few months with heavy use. However, with good care and taking advantage of the warranty if necessary, your Ninja can last years.
Prices & Warranties
The current prices of Ninja's latest products – Ninja Ultra Prep, Nutri Ninja with Freshvac, Ninja Smart Screen, and Ninja Smart Screen with Freshvac – are as follows: $79.99, $99.99, $169.99, and $229.99 respectively.
All of the brand's current models come with a limited year-long warranty for defects in materials or workmanship. On top of that, the producer presents a 30-day money-back guarantee if you don't end up liking your blender.
Pros
BPA free construction
Has a well-made pitcher
Most models feature a powerful motor with at least 1,000 watts
Able to crush ice
Produces a consistent, smooth blend
Less noisy operation than some of its competitors'
Parts are dishwasher safe
Cons
Parts are not microwave safe
Complaints of sticky residue on lid
Lack of spout/chute
Flimsy rubber base; wears away quickly
Low warranty for its more expensive devices
Its sharp blades are dangerous to clean by hand.
Even some of Ninja's smaller blenders (i.e., bullet blenders) are still a bit too bulky for storage in tighter places, as some users claim.
Vitamix vs Ninja Blender: Which is Better?
Ninja and Vitamix blenders have essentially proportionate ratings for their overall value and operation. But if we must choose between the two, Vitamix blenders might take a pretty big lead over their Ninja counterpart. You may not be surprised that we say this considering Vitamix machines are priced higher and have been on the market longer than Ninja machines.
As we scope the main differences and exclusives of each manufacturer and engage in brief a blender comparison towards the end of this review, it will make more sense why our final pick is Vitamix. The following information will also be helpful as you decide for yourself which blender is best for you personally.
Key Differences
Although looking at the two machines at a brief glance you might think they're similar, Vitamix and Nutri Ninja blenders have many distinctions that set them apart.
One of the biggest variances between the two brands is that Vitamix doesn't have bullet-sized blenders at present while Ninja does. So, if you want a small, portable blender that can whip up a travel-ready, one-serving blend, you can get it with Ninja but not with its competitor.
Likewise, if you wish to work with hot substances or want to turn cold or room-temperature ingredients into a ready-to-serve, hot soup, you can count on Vitamix, but not Ninja, to get the job done.
Considering the prices of both company's appliances, however, it's clear which one will take more out of your pocket: Vitamix. But it's not enough to consider the price variances. You also must consider the specifications, overall value, and lifespan of each machine, and most Vitamix blenders topple Ninja in all three categories.
All in all, disregarding money, Vitamix devices are typically more powerful in motor speed, have greater versatility in operation, and are less simple in operation and appearance. Although, those who want to spend less up front, aren't looking to use their blender too frequently, and only wish to blend colder or semi-warm ingredients, a Ninja might be more appropriate.
Brand Exclusives
Nutri Ninja proposes a plethora of small appliances including full- and bullet-sized blenders, coffee makers, food processors, and cookers. However, Vita-Mix Corporation specializes in just full-sized blenders.
Technology-wise, Ninja offers its patented FreshVac system in some of its models, which is completely exclusive to its brand. FreshVac is a one-touch pump that helps remove oxygen from your blender's pitcher prior to the blending session. The company says that by removing oxygen, your recipe will be more flavorful, contain more nutrition, and will have better coloring.
Best Vitamix Models:
We've reviewed the best Vitamix blenders in-depth in another article. But here's a run-down of what we found:
Vitamix Professional Series 750 - average 4.6- out of 5-star rating; 330+ customer reviews
Vitamix Explorian Blender - average 4.6- out of 5-star rating; 230+ customer reviews
Vitamix 5300 Blender - average 4.4- out of 5-star rating; 770+ customer reviews
Best Ninja Models:
We have also dedicated an entire article to reviewing Ninja blenders. Once again, here are the takeaways.
Ninja Personal Blender (QB3001SS) - average 4.6- out of 5-star rating; 440+ customer reviews
Ninja Professional Blender (BL660) - average 4.4- out of 5-star rating; 3,890+ customer reviews
Ninja Mega Professional System (BL770) - average 4.4- out of 5-star rating; 1,630+ customer reviews
Vitamix Professional Series 750 vs Ninja QB3001SS
As we compare a top model by both Vitamix and Ninja, the Professional 750 and QB3001SS (also known as the Ninja Fit) respectively, we can generally see how the two brands are similar and different.
Read on to see how the two blenders stack up to one another.
Vitamix Professional Series 750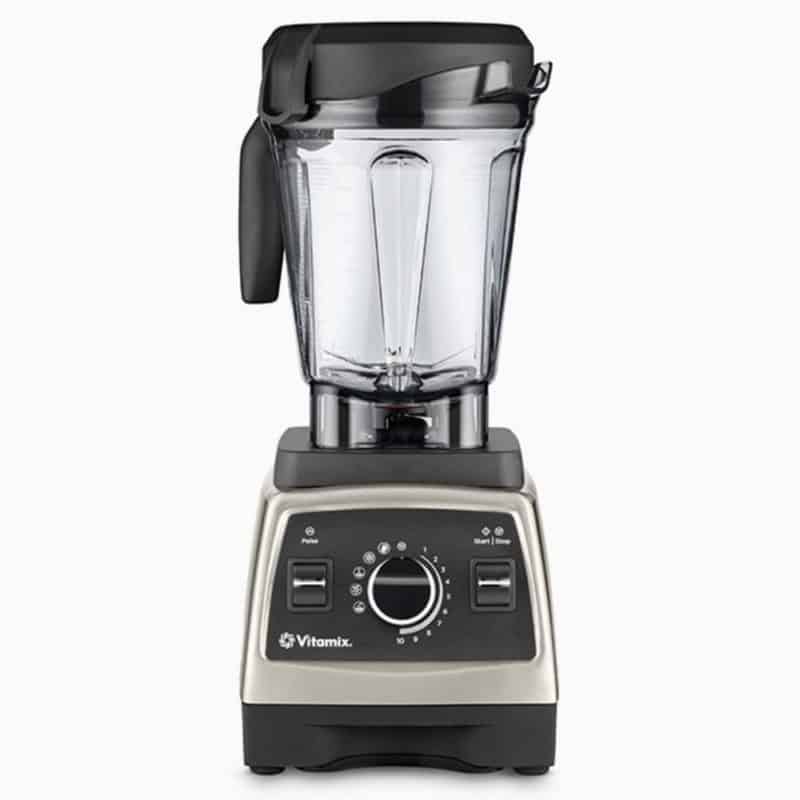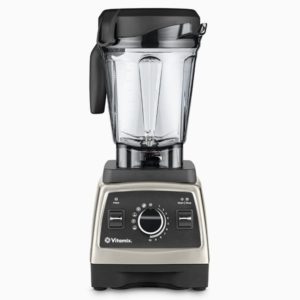 Features:
1,380-watt motor
BPA free construction
64-ounce pitcher
5 pre-programmed settings
Variable speed control and pulser
Stainless steel blades
Self-cleaning
Available in four different colors
DVD and cookbook included
Pros:
Can work with frozen food
Capable of handling resilient ingredients (e.g., meat)
Leaves your food or beverage smooth and grit-free
Can create smooth, steaming-hot soup in under 10 minutes
Easy to clean
Fairly quiet operation
Tamper tool to get rid of air pockets while blending included
Cons:
Above price point for most people
Bulky base
Reports that the tamper isn't as durable as it could be
More suitable for larger quantities
Not ideal to put in the dishwasher, but can be washed with warm water
Price: $599.00
Ninja Personal Blender (QB3001SS)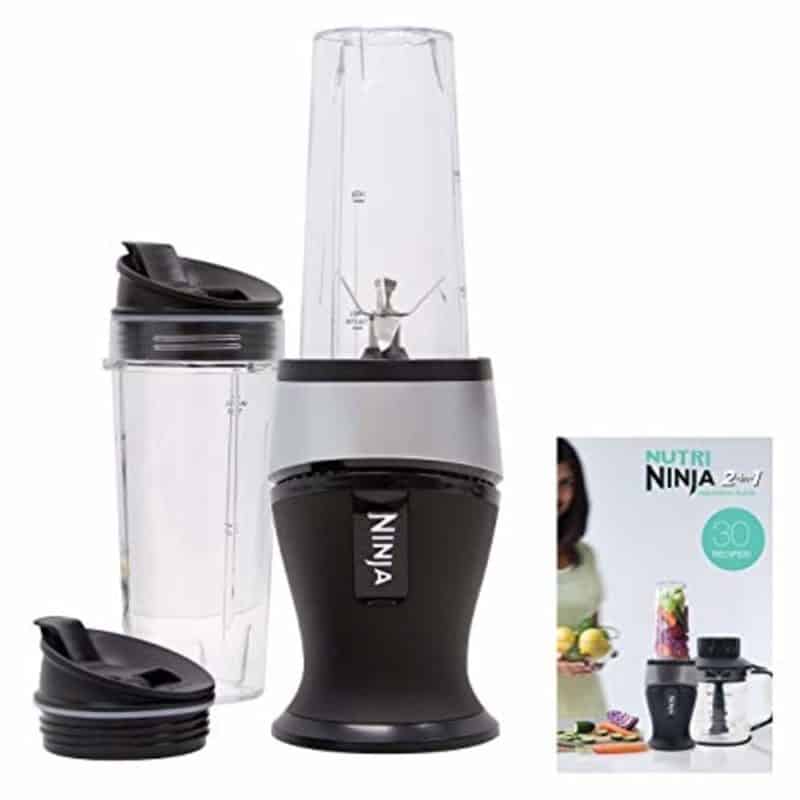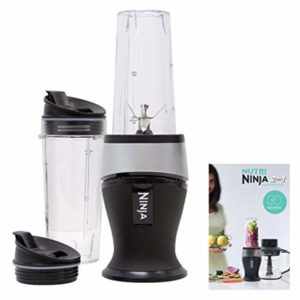 Features:
700-watt motor
BPA free construction
Pulse technology
Non-slip base
Includes two 16-ounce cups, 2 sip-and-seal lids, and a recipe book
Pros:
Can work with frozen food
Capable of handling resilient ingredients (e.g., meat)
Leaves your food or beverage smooth and grit-free
Easy to clean
Seal tops have great suction and are easy to drink from
Dishwasher safe
Cons:
Bland aesthetics; only available for purchase in one color
Semi-loud operation for a Ninja
Bulky base compared to other bullets on the market
Only one cup size included
Price: $59.99
Winner: Vitamix Professional Series 750
Although the price is incredible for the Ninja QB3001SS and both machines can whip up thick smoothies and icy drinks while shredding through thick ingredients, leaving you with a smooth, non-gritty consistency, it's the high-quality and versatile performance that we love the most with the Vitamix 750. Thus, we're going to have to give the gold to Vitamix with this quick comparison.
Appearance-wise, both machines are plain yet attractive. However, the aesthetics of the Vitamix 750 topples the Ninja QB3001SS by a landslide as it's more detailed and looks more luxurious to the eye, as it should since it does cost significantly more. Unlike the QB3001SS, the 750 is available in four different color selections whereas the only comes in black. But appearances aside, both machines are equipped a dependable blade and feature a pulser.
Although, what makes the Vitamix machine greater overall is its better motor, ability to work with hot food, less noisy operation, and five convenient pre-programmed settings. However, we have to keep in mind that the QB3001SS is a bullet blender while its Vitamix counterpart is a full-sized blender, and not to mention, the Vitamix model is nearly 100 times the cost of the Nutri Ninja blender.
In the end, it's obvious both machines are worthwhile, but one is not greater than the other in all cases. If you want to pay a cheaper price, even if it means having to settle for a blender that's more simple in appearance and has a shorter warranty, and would rather have a personal, travel-friendly blender, Ninja might be more applicable. On the other hand, if you don't find it a burden to pay more for your blender and want a machine that can work with not just cold but also hot substances and contains both a pulser and various speed settings, go for the Vitamix model.
Making Your Final Decision
Buying a blender might seem like an easy task, but just like with purchasing a larger appliance, it's important to weigh all options when buying blenders too. Many enjoy Ninja blenders as they come in a plethora of sizes, types, and styles, and of course, have fairly affordable prices. However, Vitamix has cutting-edge offerings and incredible capabilities that tend to surpass what Ninja can provide.
While there are more details, more favorable warranties, and a more versatile performance from Vitamix blenders overall, some would prefer to have a less expensive blender from Ninja, especially if they don't plan on using the appliance too often. However, picking between the two companies is more complex than choosing between function versus affordability.
The blender most suitable for you depends on numerous factors that go beyond brand name, cost, and manufacturer philosophy. These factors include the following:
Number of blender carafes/cups and the capacities they deliver
The operation, standard, and durability of its blades
Speed and pulse settings
What you plan to blend (e.g., hot soup, icy beverages)
How much nutrition a blender's blades are able to extract from the food you blend
Simplicity and method of operation
Motor power
Weight, size, and portability
Strength of construction and ease of part cleaning
What consumers have to say
Blender aesthetics (i.e., color, style)
Extra specs and special technology
Reliable support from the manufacturer (i.e., ability to answer your questions, open to part repair and/or replacement)
Whether or not the price and warranty of the blender match up to how long the device actually ends up lasting (Hint: Read online reviews.)
Pondering upon some of the latter factors as you're hunting for the right blender, it will be easier for you to come across the appliance that is the easiest, most convenient, and most applicable for your wants and needs. Regardless of whether you select a Vitamix, Nutri Ninja, or other brand's blender and whether it is a newer or older model, there's a full- or bullet-sized blender perfect for you out there somewhere