We should all be drinking more water every day. Be it homemade soda water or plain still water, hydration is key for a healthy body. But what to do if you don't like tap water taste that much? And how do you know if it's safe for you to drink? Bottled water isn't the only solution. With the best water filter for your needs, you can get clean, high-quality drinking and cooking water at a fraction of the cost. Plus, you won't waste any plastic bottles.
There are dozens of products out there claiming to get rid of heavy metals, harmful microorganisms, and unnecessary dissolved solids from your tap water. Which ones actually work—and how do they work? That's why we've put together this list of best water filters. Not only have we picked the most effective products, but we are also answering commonly asked questions and giving you a buying guide to help you pick the best filter for your home!
1) Best Overal Pick: Brita Extra UltraMax Water Dispenser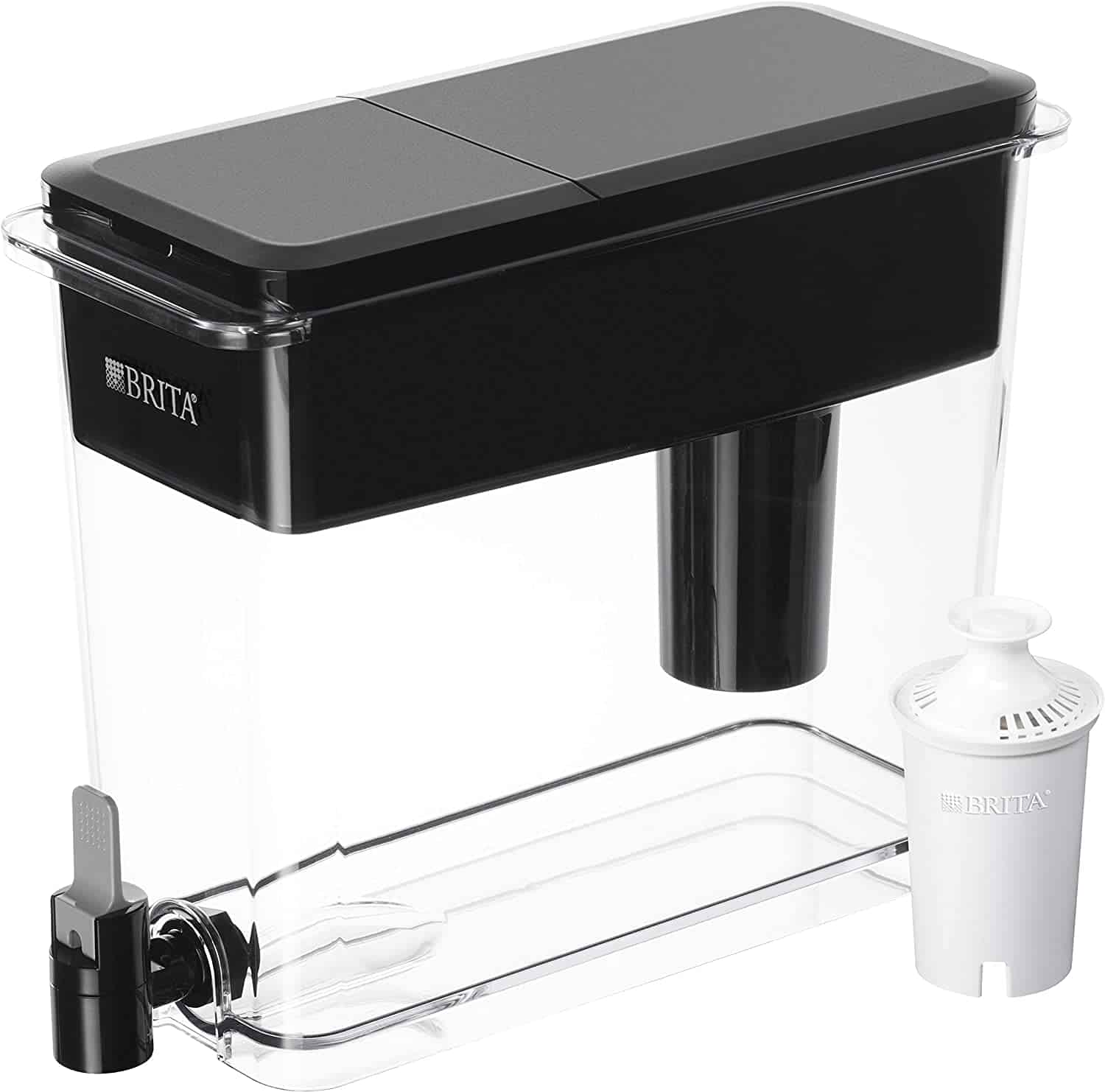 This Brita UltraMax unit is the best overall water filter for home use. Its high capacity, ease of use, sleek look, and good durability make it earn first prize on our list.
You can fill this dispenser with up to eighteen cups (or 1.13 gallons) of water, making it a great pick for large families. Even if you live by yourself, this unit is low-maintenance and doesn't need to be refilled frequently.
You only need to change the filter once every two months, on average, since it can handle up to 40 gallons of water. For convenience's sake, there is a helpful indicator that tells you when you need to replace it.
Brita water filters are well-known for being super efficient at getting rid of dissolved solids and tap water taste. This unit is no exception. The filter removes things like chlorine, copper, mercury, zinc, and cadmium.
Using this dispenser is a breeze, thanks to its easy-pour spigot. Additionally, despite being a large model, it doesn't take up much room in the fridge or on the counter.
2) Runner Up, Budget-Friendly: Brita Small Metro Pitcher Filter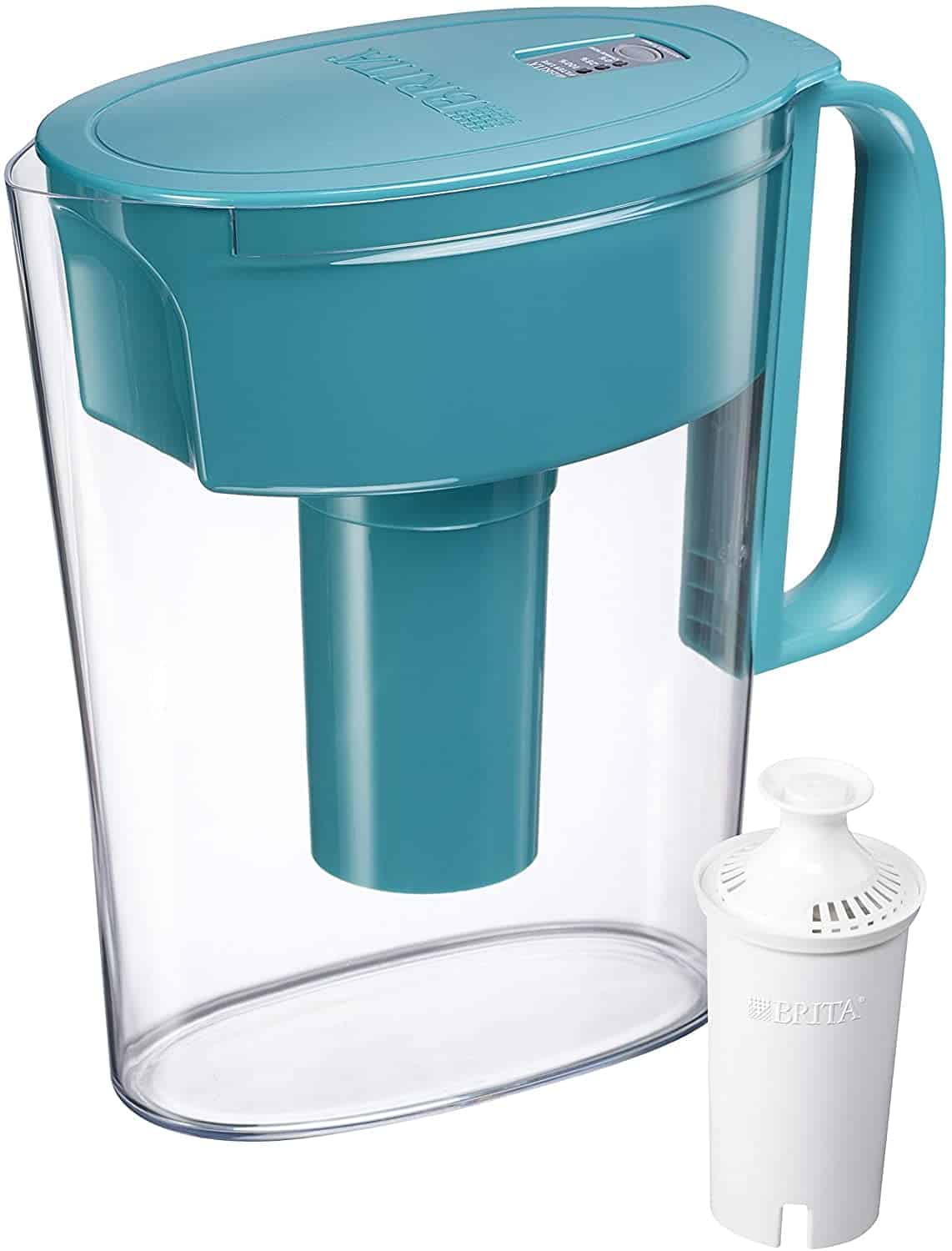 Running for the spot of best cheap water filter we have yet another Brita product. This one is great for smaller families, lasts a long time, and doesn't take up much room.
Fill up your Brita filter tank with up to five cups of water. It may not seem like much, but it's also what allows the unit to fit so nicely into your refrigerator door.
The water filters last for up to two months, approximately. They can filter up to 40 gallons before they need to be changed. There's a handy indicator light that tells you when it's almost time to get a new filter.
The BPA-free Brita filter is great at getting rid of that tap water smell and taste. It eliminates harmful contaminants like chlorine, copper, mercury, and cadmium.
Another cool feature is the locking lid. It stops any unfiltered water from spilling out and making a mess. Additionally, the ergonomic handle is also a plus. It makes pouring much easier.
3) Best Water Filter for Backpacking: Sawyer Products Mini Filtration Device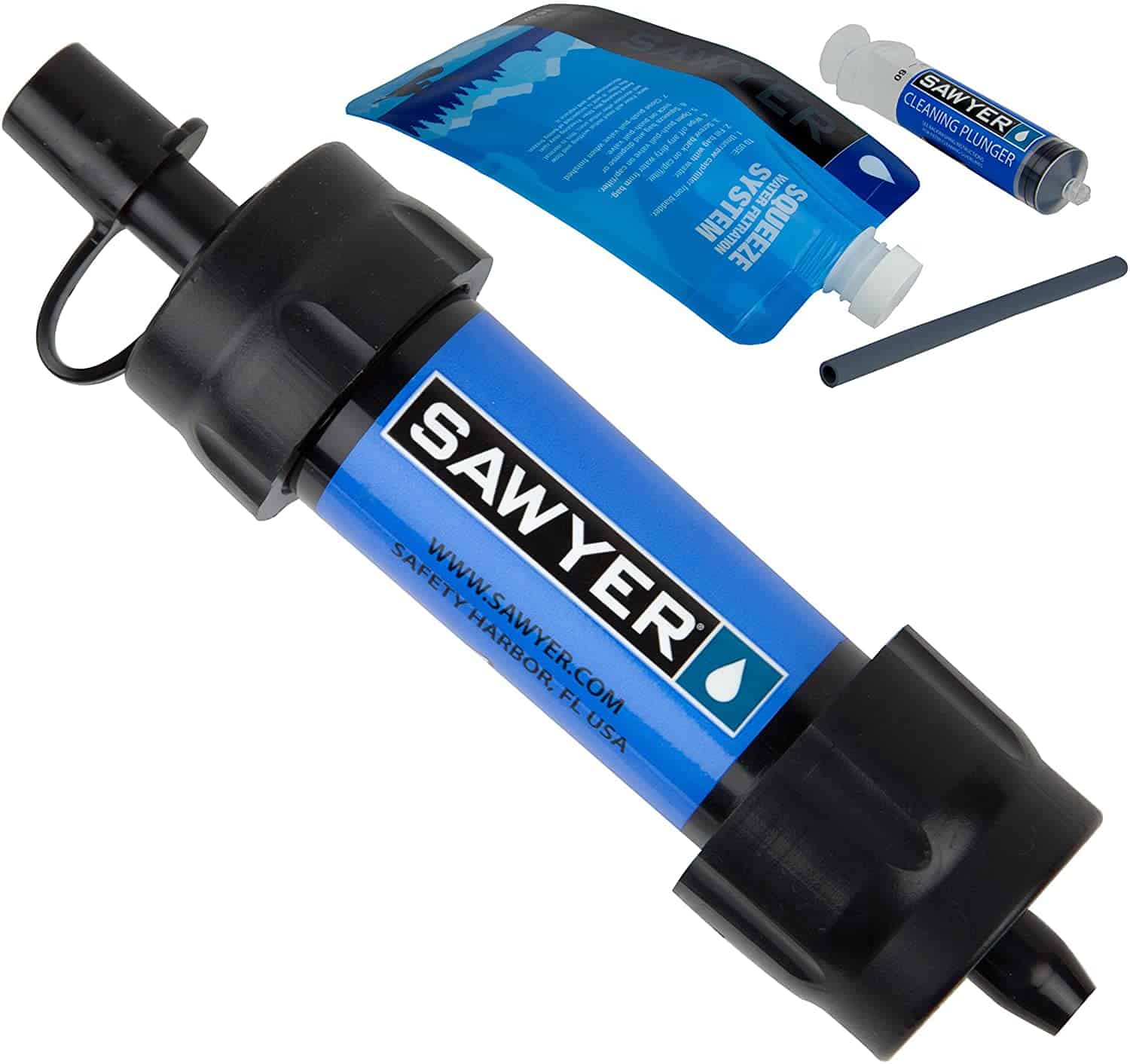 For your next hiking or camping trip, we recommend getting this Sawyer system. It's compact, easy to use, and effective at keeping you hydrated and safe, even while on the go.
This product isn't like the ones we've reviewed so far. You can use it in three different ways. Firstly, you can use it as a straw to drink directly from the source. Secondly, you can screw it onto most water bottles and drink through it. Lastly, you can drink from the 16-ounce reusable squeeze pouch that comes with the product.
Whatever way you choose to use it, the Sawyer will be your best companion on your next outdoor adventure. It filters out harmful bacteria (for instance, E. coli) and protozoa (such as Giardia and Cryptosporidium), which can wreak havoc on your body. However, it won't remove chemicals or viruses. 
The Sawyer Mini will last you a long time. It can filter up to 100.000 gallons, which is impressive for a device as small as this.
You couldn't find a more compact outdoor water filter even if you tried. This one fits in the palm of your hand and weighs just two ounces.
4) Best Water Filter for Faucet: PUR Classic Faucet-Mount System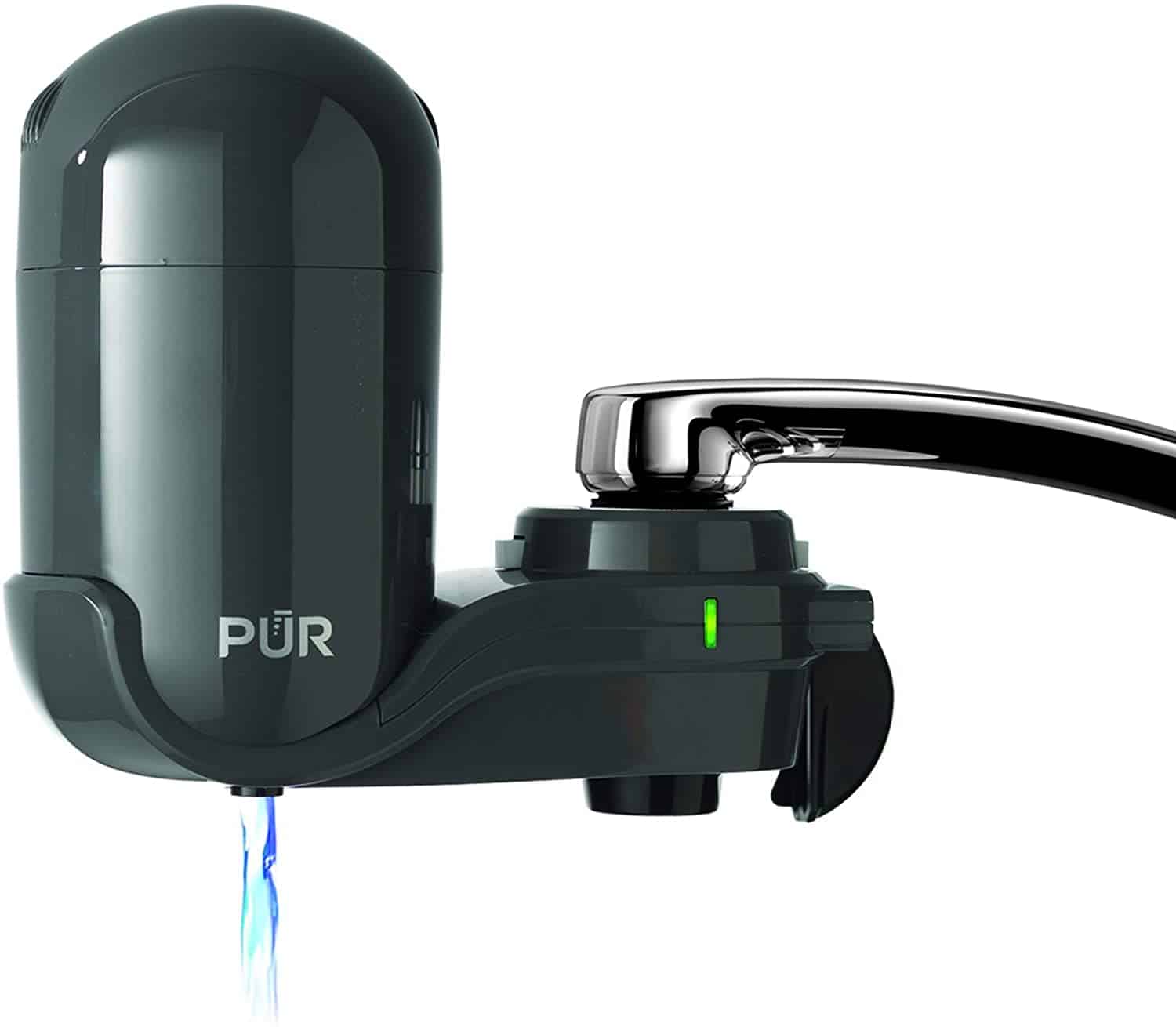 If you'd like to have a filter mounted on your faucet, this PUR Classic model is the one for you. It's easy to install, easy to use, and very durable. 
There is no water limit capacity with this device. You can have clean, purified running water when you open the tap. You just have to wait five minutes for the filter to do its magic.
Surprisingly enough, you don't need any tools to mount this carbon filter. Screw it around the tap and you're done. When you want purified water, turn on the lever. When you want just plain tap water, keep the lever down. It's that simple.
Each filter can handle up to 100 gallons. This means you'll only need to replace it after three months, more or less. When it's time to get a replacement filter, the indicator light will stop flashing green.
This PUR filter can get sediments, dissolved solids, and lead out of your water. This ensures you get clean, safe drinking water that tastes much better than tap water.
5) Best Under-Sink Water Filter: iSpring Reverse Osmosis Filtration System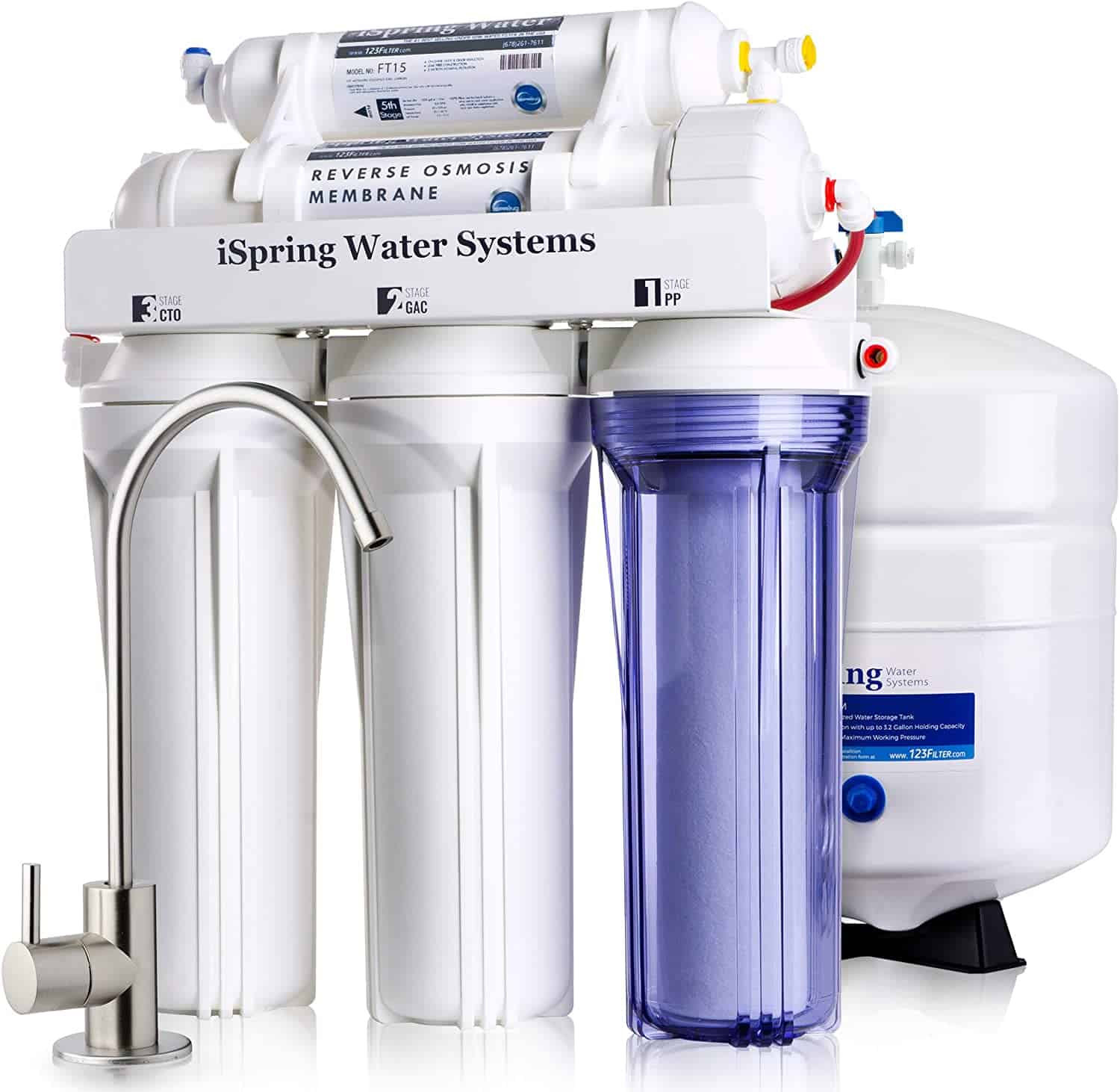 The most expensive item on our list is also by far the most heavy-duty model. This iSpring reverse osmosis filter system goes under your sink to rid even the dirtiest water of all kinds of harmful contaminants, including heavy metals.
You can filter up to 75 gallons per day using this system. It may not seem like a lot, but it's plenty for a large family. 
This filter is perfect for the most contaminated areas. It eliminates as many as 1,000 contaminants, like lead, mercury, and asbestos. It does so with an efficacy of up to 99.9%, thanks to its thorough reverse osmosis technology.
At the same time, this unit doubles as a water softener. It gets rid of calcium and magnesium ions during the filtration process. If you live in an area with hard water, you may have noticed limescale buildup in your tea kettle or other appliances. It can damage them in the long term, so having this water softener is a plus.
This under-sink model is relatively easy to install, at least in comparison with rival units. It comes with all installation pieces and tools and you will even get a clear step-by-step guide installation guide.
The price you're paying is well worth it, considering this unit boasts a long filter life. It will last you years! On top of that, you'll get lifetime customer support with your purchase and a one-year money-back warranty if you end up not liking the product.
Why Use a Water Filtration System?
Generally speaking, tap water in the United States is safe to drink. However, in rural and low-income areas, that is not always the case. You may remember hearing about Flint's water crisis in the media. As it turns out, this Michigan city isn't the only place in the country facing problems with its water supply network.
Millions of Americans don't have access to clean drinking and cooking water from their taps. Be it because of contaminants like heavy metals (like lead) or harmful microorganisms, tap water isn't always as safe as we imagine it to be.
One solution is to boil the water with an electric kettle. But this proves time-consuming, doesn't get rid of all contaminants, and just isn't very convenient. A water filtration device, on the other hand, solves this problem quite efficiently.
There are many types of water filters, and we've written a whole guide on how to filter water. But these store-bought filters can catch any small particles that should not be in the water in the first place, including lead. Needless to say, this is essential for anyone getting dirty well water into their pipes.
On top of that, some people simply don't like the taste and smell of tap water. The cheaper filters can also help with that, making tap water taste just like bottled water. And the best part? It's a great eco-friendly alternative to plastic waste.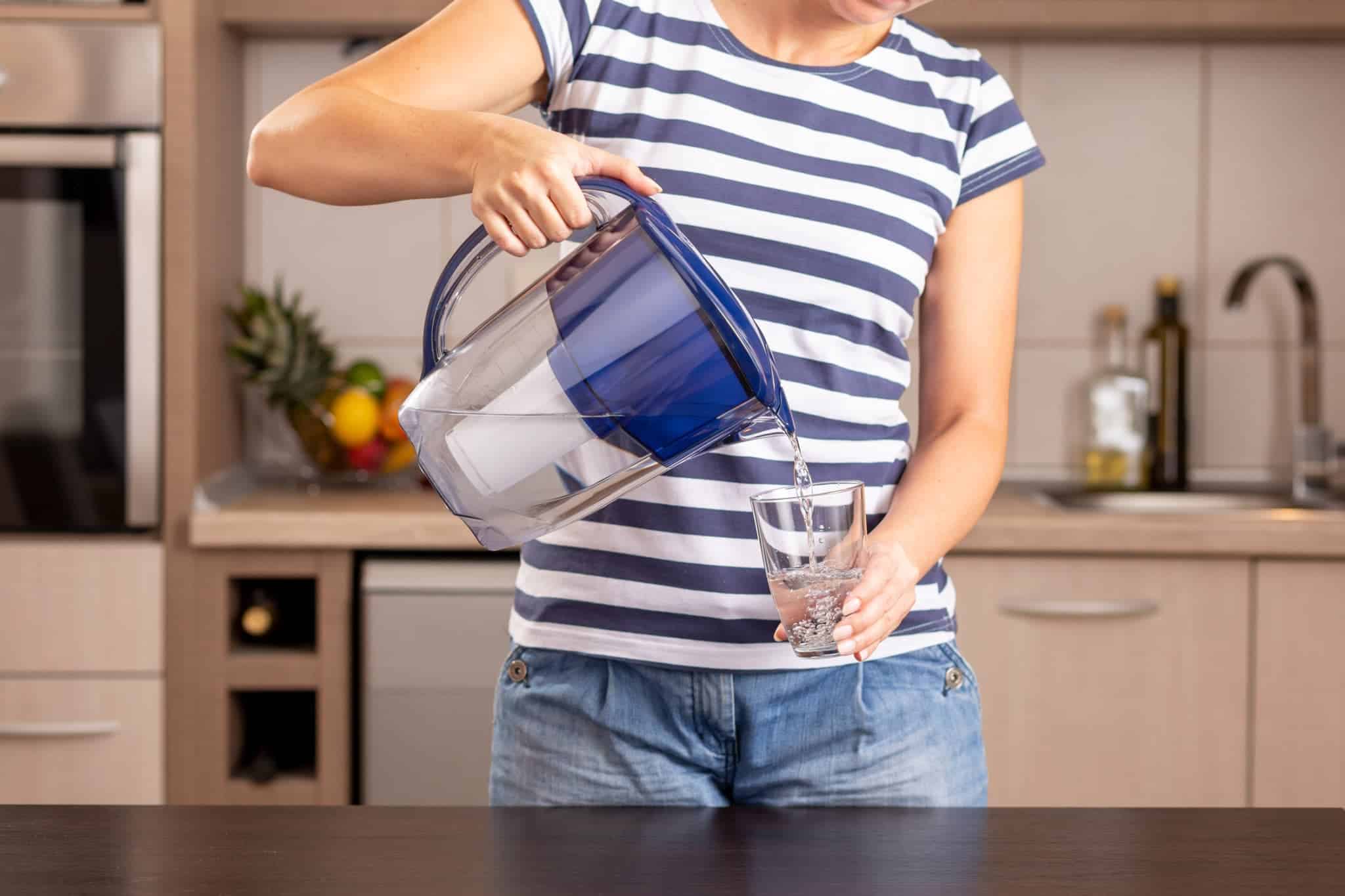 What Contaminants Can the Best Water Filter Remove?
Some of the contaminants that a water filter can get rid of include:
rust

silica

dust

sand

gravel

chlorine

radium

lead

arsenic

agrochemicals
Keep in mind that carbon filters remove far fewer pollutants than reverse osmosis filters
Different Types of Water Filters
You'll find three main types of water filters on the market. They each have their specific purposes, as well as their upsides and downsides. Which one you choose depends on what you need a filter for.
Pitchers and Dispensers
These are the cheapest and most common filtering systems. Dispensers and filter pitchers are your every-day water filters, perfect for getting rid of that disgusting chlorine smell. They're also super easy to use: fill up the pitcher or dispenser and wait for the water to pass through the filter. You can keep them in the fridge to get clean, cold water.
You should be using this kind of system if you want tasteless water. It's best used with city tap water. Keep in mind that if your water supply is heavily contaminated, pitchers and dispensers aren't your ideal purifiers. They may get rid of lead, bacteria, and viruses, but not always so efficiently.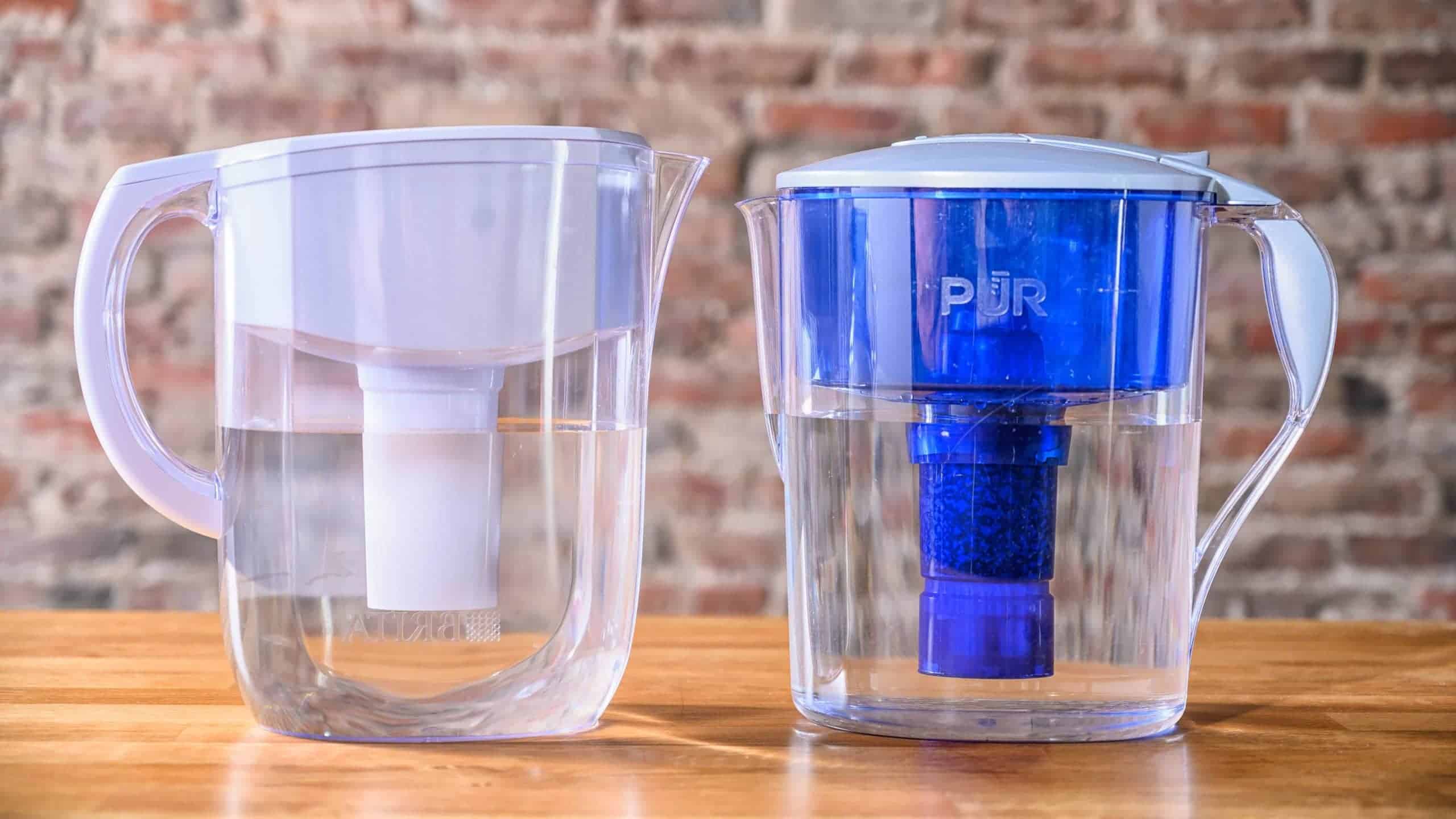 Tap Attachments
Faucet water filters are also very popular. Once you've attached them to your faucet, all you'll have to do is open the tap and filtered water will flow out. They're sometimes more convenient than pitchers.
For starters, you'll get drinking water every time you turn on the tap. That means you don't have to keep refilling a dispenser. Additionally, this is a great system to invest in if you need purified water for more than just drinking. For instance, you might want quality drinking water for your cooking. If so, fill up your pot with filtered water straight from the tap.
Their only downside is that they're bulky and require installation, although it's not a complicated process.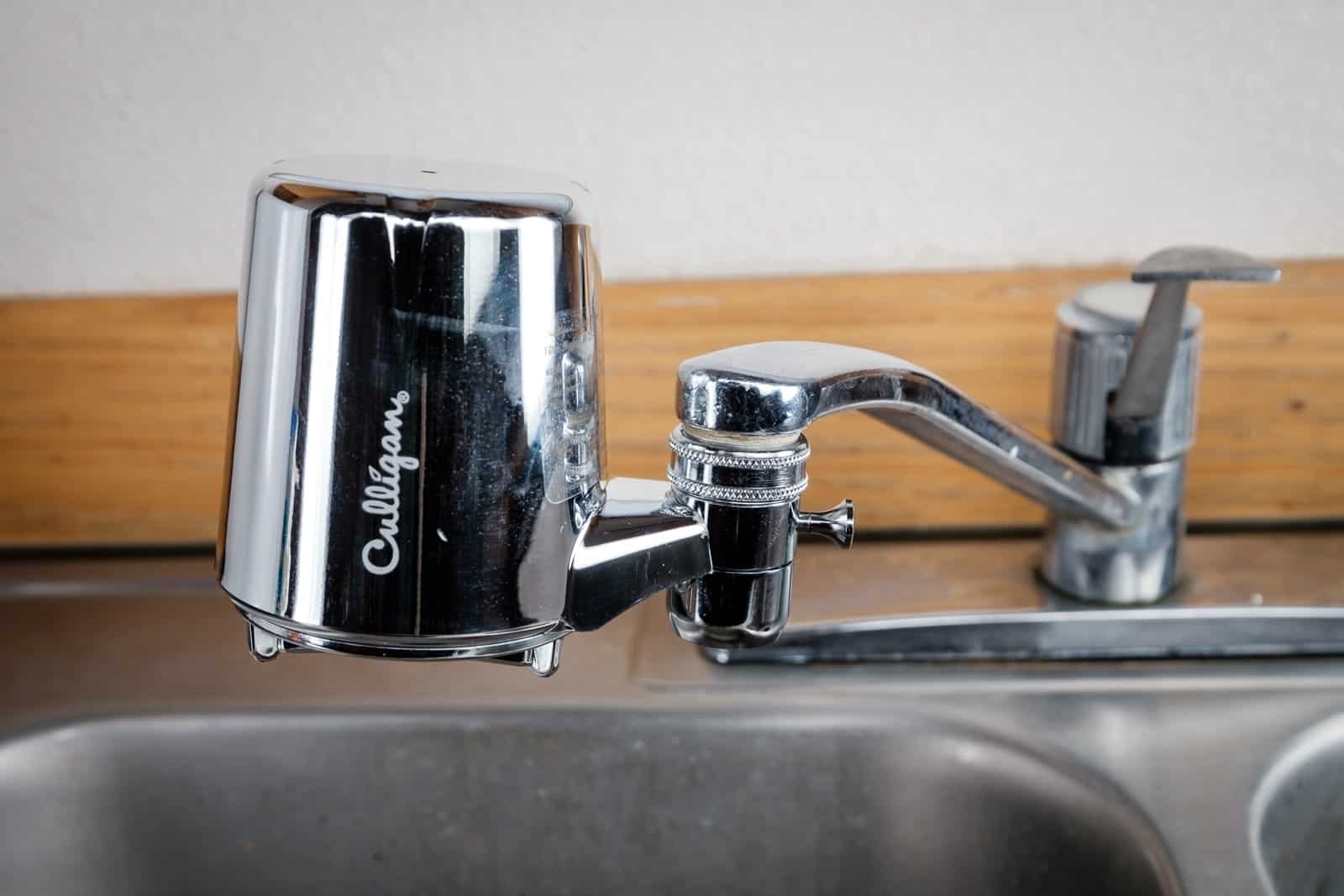 Under-Sink Filtering System
Lo and behold the royalty of filtered water. This kind of system is ideal for water that needs a lot of purifying. It's most recommended to anyone with old pipes and very poor water quality.
They're pretty expensive, bulky, and need quite a bit of work in installing them. However, they are definitely worth it, as they can turn any brown, smelly water into tasteless, odorless, colorless water.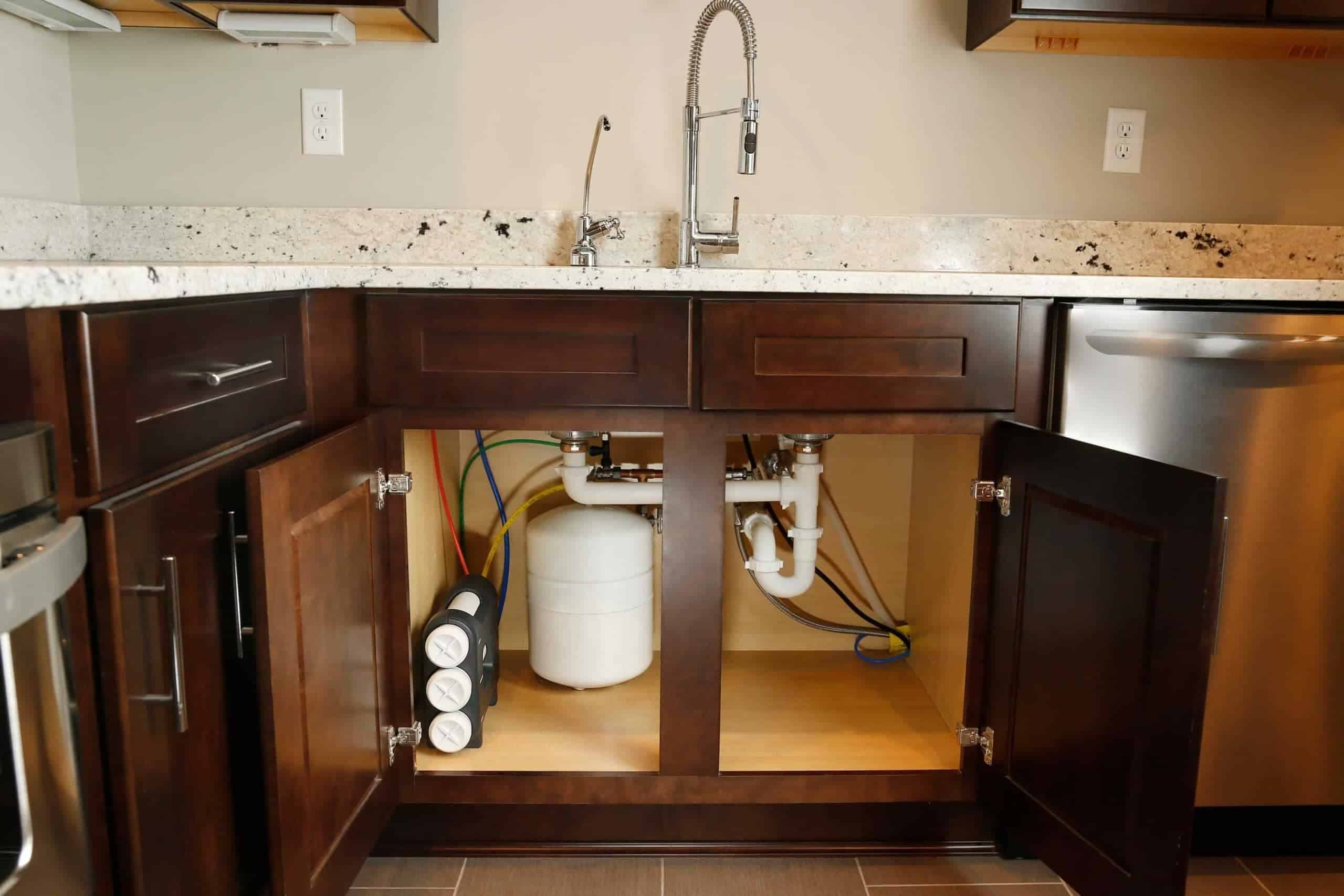 Ways of Removing Contaminants
Different water filters have different ways of eliminating contaminants in the water. Here is a quick list with some of those processes:
Mechanic filters

Activated carbon filters

Ion exchange filters

Ultraviolet-light filters

Reverse osmosis filters
What Is the Best Water Filter System?: Buying Guide
Before committing to a specific H2O filter, you need to know what features to look for. That's why we've put together this buying guide: so that you don't get lost in the vast world of filtration systems. The best water filters check off most (if not all!) these boxes.
Know Your Water Source
First things first: what do you want to get rid of from your water? Different water filters are suited to get rid of specific substances. For instance, some pitchers can eliminate lead, but not all. You have to look into this before purchasing any unit.
If your tap water is already safe for consumption and just has a funky taste, you don't need to spend much money. A dispenser or pitcher will do a great job. If, however, your water supply has heavy metals in it, you'll need to spend more to get an under-sink water filter. This will keep harmful chemicals away from your organism.
Total ANSI or NSF Certifications
Two organizations test water filters: the American National Standards Institute (ANSF) and the National Science Foundation (NSF).
You'll know if a certain brand of filters is good if they've been certified by one (or both) of these groups. Stick to these units.
But beware! Some brands advertise that they've been "independently tested" their products to the standards. However, this doesn't mean anything and certainly doesn't guarantee their products work.
Durability
Every filter has to be replaced once in a while. They stop being effective once they filter so many gallons of water. When this happens, you must purchase replacement filters and install them, one by one.
Different models have different filter life. The ones that last longer need less hands-on maintenance. At the same time, your filter life will depend on how much work your water needs. In other words, filters cleaning water with a high concentration of dissolved solids will need replacing more often than if they were cleaning already relatively clean water.
Cost
For starters, reverse osmosis filters are some of the most expensive models you'll find out there. At the end of the spectrum, you have pitchers, which are typically the cheapest. Choose the one that's best for both your budget and your water supply.
Besides looking at the price of the water filter, you should also look at the price of filter replacements. Also, think of how often you will need to replace the water filters. If you're not careful, you could accidentally be signing up for an expensive water purifier in the long run. 
Water Capacity and System Size
You will also have to think about your filter's water capacity. This applies only to water filter pitchers and dispensers. High-capacity ones are great for large families, but also more expensive and harder to store. Small-capacity ones are cheaper, easy to store, but need to be refilled much more frequently. It's up to you which one best suits your needs.
Water Pressure
If you're getting a faucet-mount or under-sink filter, you should also consider water pressure. These two filtration systems change how strong the water pressure is on that specific tap. Low pressure can become really annoying after a while.
Flow Rate
Flow rate describes how many gallons can be filtered per hour. For example, a countertop filter that has a flow rate of 30 gallons per day will take a lot longer to dispense filtered water than a similar model with a flow rate of 70 gallons per day.
In a nutshell, if you want clean water at your disposal quickly, you need to look for units with high flow rates. Keep in mind these are usually more expensive. It's all a matter of balancing priorities within your budget.
However, don't sacrifice water quality for a better flow rate. It's definitely not as important as other aspects we've already covered.