As one of the most popular and widely consumed melons worldwide, it only makes sense that there are a ton of questions to answer and a load of informative material to share when it comes to watermelon!
For this reason, we have assembled this Watermelon Season 101, which will walk you through all of the basics you need to know about this delicious melon. Along the way we'll answer some frequently asked questions, and we'll even bust a few watermelon myths about which you may be surprised to learn the truth!
Our goal? To ensure that when watermelon season begins, you are more than ready and armed with all of the information you need about this quintessential sweet treat of the summer!
Watermelon Season Basics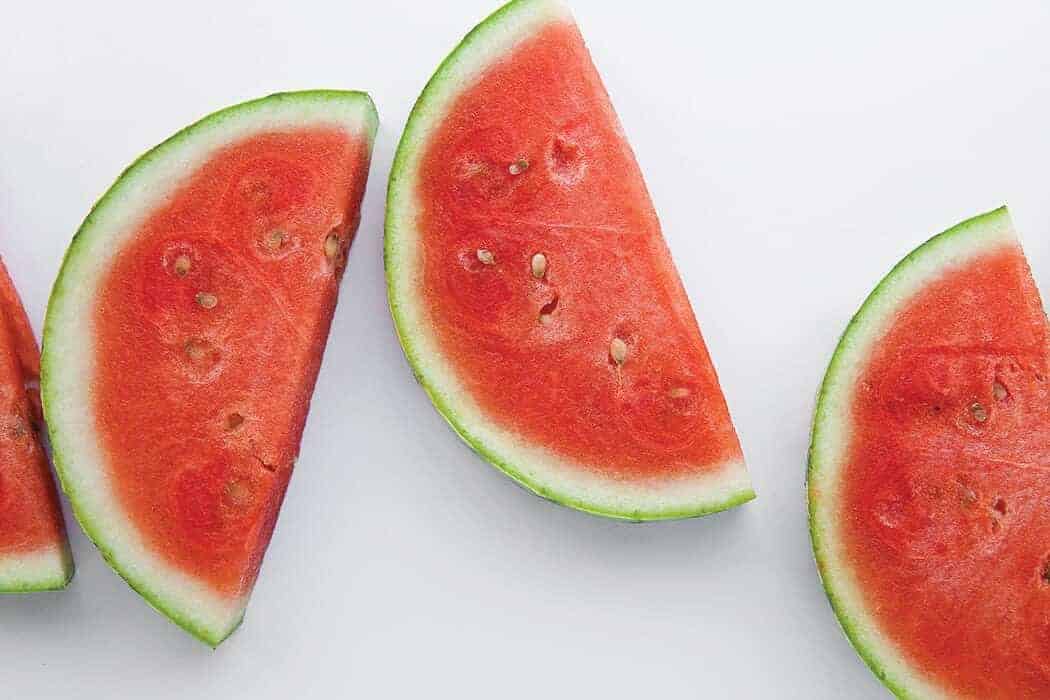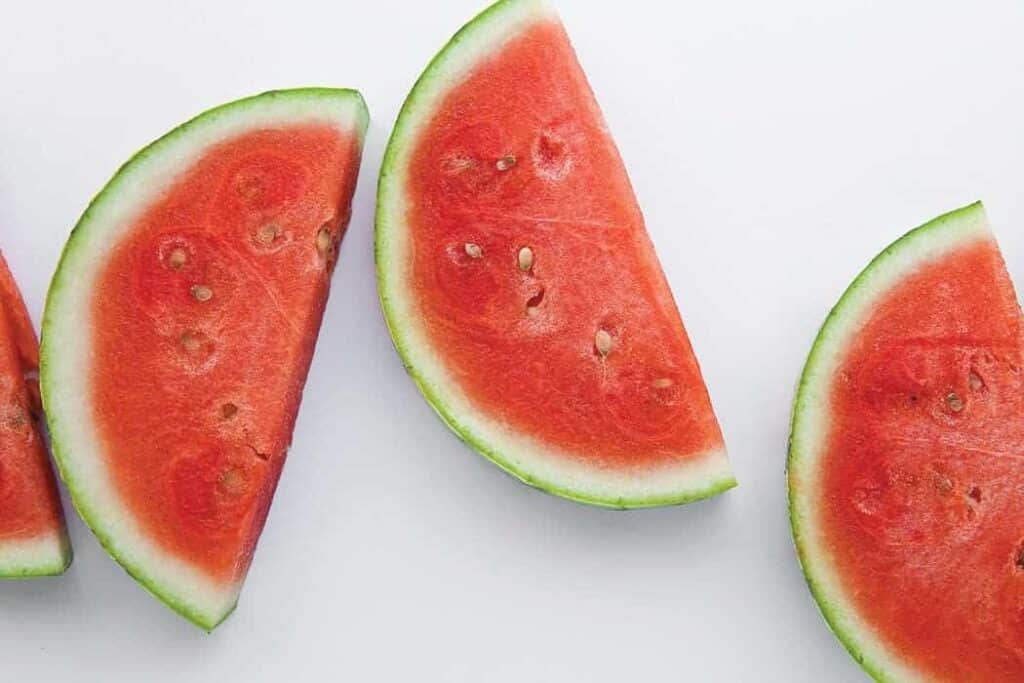 Let's start at the ground floor: watermelon basics! Before we can go anywhere, we need to know what exactly a watermelon is and where it comes from. Read on!
What is Watermelon? Is Watermelon a Fruit?
Well, we certainly picked a doozy to start things off! The question of whether or not watermelon is a fruit or vegetable is an issue upon which the debate continues to rage!
In typical fruit-like fashion, each whole watermelon is produced by a flower and as such, is the ripened ovary of the plant--complete with seeds and all. However, according to this definition, other members of the Cucurbitaceae family, like cucumbers and butternut squash, are therefore fruits as well, despite most folks considering these items to be vegetables. To make matters even more confusing, the watermelon has actually been named the state vegetable of Oklahoma!
Bottom line? Botanically speaking and culinarily speaking, fresh watermelon does indeed fall under the fruit category. On the other hand, cucumbers and butternut squash--and green beans and bell peppers, for that matter--may be botanical fruits, but in terms of flavor and how they are used in culinary applications, can be considered vegetables.
Where Did Watermelon Originate?
It is believed that the origins of the sweet watermelon varieties we know today lie in northeastern regions of Africa, dating back nearly 4000 years! While those original melons were likely more bitter and far less sweet than today's, these first watermelons paved the way for the juicy-sweet and red-fleshed watermelons to take hold in the Mediterranean in later years. From there, the watermelons made their way to new lands and now can be found on every continent except Antarctica!
How Does Watermelon Grow?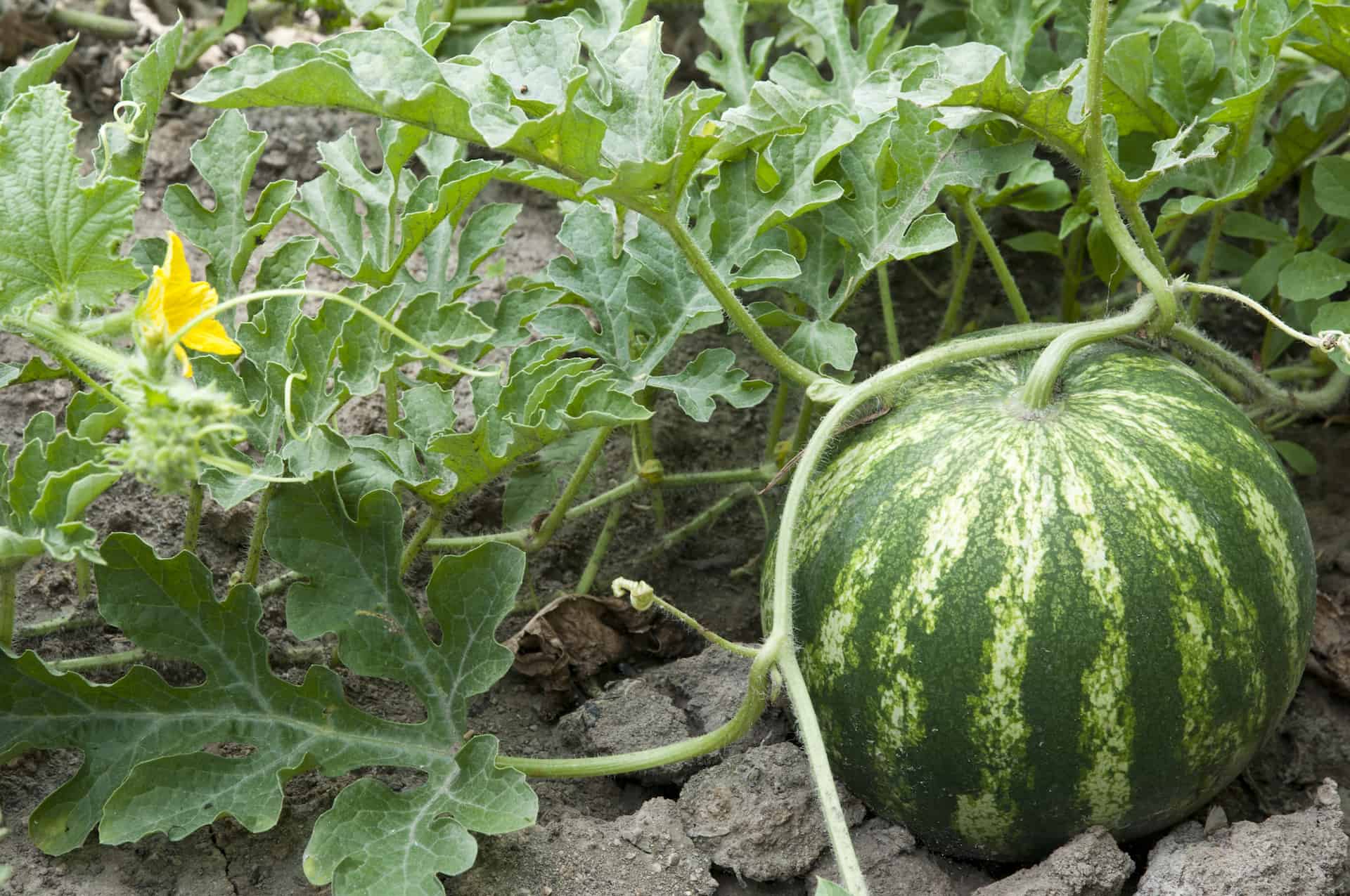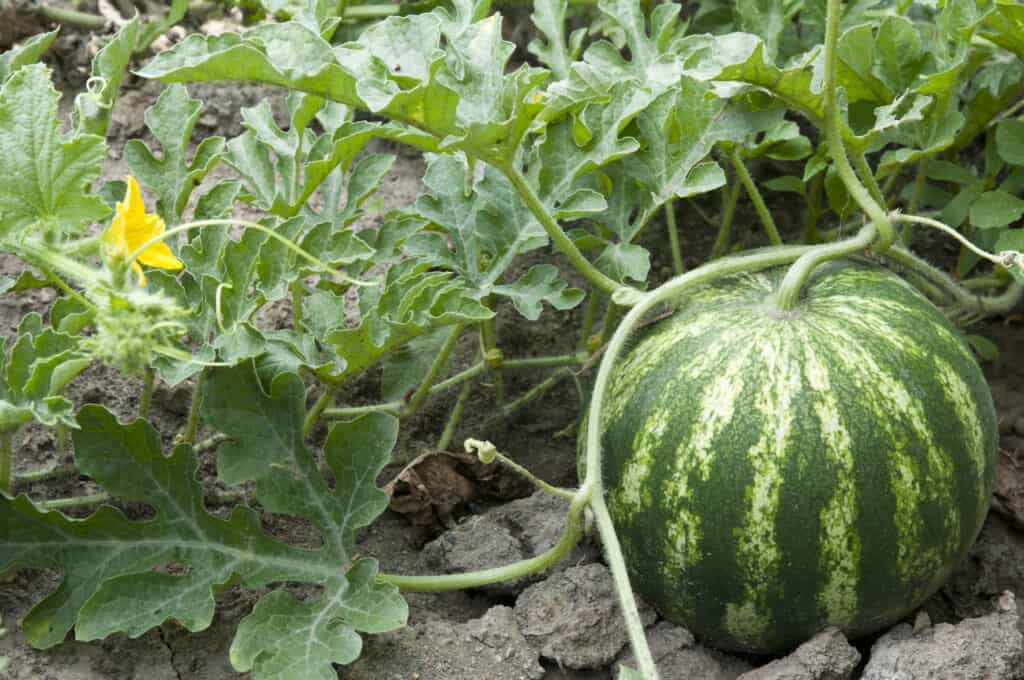 Watermelon plants are a vine, meaning they need plenty of room to crawl and sprawl! When the plant is getting ready to bear fruit, it will bloom both male and female flowers. While the male flowers eventually fall away, the base of the female flowers will swell, and thus a watermelon is born.
Some watermelon varieties mature faster than others, but generally speaking, watermelons require up to 3 months of heat and sun to produce ripe fruit. This can be tough for regions which are prone to receiving mixed weather conditions and temperature fluctuations during the summer months. Therefore, most watermelon crops these days are produced in the Gansu province of China (a northern arid region which borders the Gobi Desert), Turkey, Iran, and a few of the Southern United States like Florida, Texas, and Georgia.
As the fruit grows, it demands a ton of water, which, given its name "watermelon", is not too surprising! Over time, this water content has an effect on the overall weight and texture of the final product. The watermelon may only be picked at its peak of ripeness, as unlike other types of melons, this fruit does not continue to ripen once harvested from the vine. A whole watermelon should sound hollow when tapped lightly or knocked upon, rather than producing a dull sound.
Are There Different Types of Watermelon?
Yes! While the large, oblong, thickly green-striped variety is perhaps the most ubiquitous, there are actually many types of watermelons. Up to 1200 specific varieties in fact! These may range from green and striped on the outside, to a uniform green, or may even be a yellowish color.
Just as the colors of the outer rind may vary, the inner flesh takes on different coloring as well. Traditional watermelon is bright red or pink fleshed, but there are varieties with orange flesh, or those that range from golden to yellow as well. There are also both seeded and seedless varieties, and larger and smaller watermelons too.
In most grocery stores and markets, you're likely to find the red-fleshed seeded and seedless varieties. To find watermelons with other flesh colors or uniquely small melons, you may have to check your local farmer's market or specialty grocery store!
When is Watermelon Season?
The occurrence of watermelon season depends entirely on where you happen to live. You may see watermelons starting to show up in your grocery store or farmer's market as early as May and it's possible they will continue to be available all summer through to September! Of course though, if you live in a northern climate where the summer is shorter, your watermelon season may be more limited.
While it's true that watermelons are available year round in most major grocery stores and supermarkets, these tend not to be the best watermelons. These are most often being shipped in from the warm growing regions of South or Central America and due to the distance they must travel, are harvested before full ripening can occur.
Watermelon Myths
Myths are not just for origin stories! Whether we realize it or not, there are plenty of myths surrounding us in our daily lives, and many of them have to do with some of our favorite and most prevalent food sources. Let's examine a few of the most commonly held beliefs, old wives' tales, and points of confusion about watermelons.
Swallowing a Watermelon Seed is Dangerous.
False!
Okay. We realize this isn't quite the myth bust of the century as once most folks grow up and out of childhood, they realize that the once ever-present warning to never swallow a watermelon seed is just a bunch of bogus.
While it goes without saying that this is decidedly not true, we thought it worth taking a moment to discuss the viability of eating watermelon seeds in general. Is it safe to do so? And hey while we're here, if it's true that seeds such as pumpkin and chia seeds offer us health benefits, are watermelon seeds nutritious as well? Let's find out.
Is it Safe to Eat Watermelon Seeds?
Yes! For healthy folks, swallowing the dark seeds that speckle your wedge of fresh watermelon is no threat to your digestive system nor your overall health. The seeds will merely pass through your system and cause no trouble! Now, if you have inflammatory digestive conditions such as diverticulitis or are otherwise instructed to restrict your consumption of roughage and/or fiber, you should most likely avoid swallowing the seeds.
Are Watermelon Seeds Nutritious?
Yes! Just like the seeds of many other plants, watermelon seeds pack a ton of protein and other important nutrients. However, the catch is that simply swallowing the seeds whole is not going to allow your body to absorb any of this nutrition, as that shiny black seed hull is impenetrable by your body's typical digestive process. The only way to make the nutrition within watermelon seeds accessible to the human body would be to sprout them and remove the outer shell.
Seedless Watermelon is Just Watermelon with White Seeds Instead of Black Ones.
False!
Upon having their first seedless watermelon, most folks tend to think--hey, wait a minute, this isn't seedless though! And who could blame them? By all appearances, instead of the thick, black seeds which you find buried in the fruit of a traditional watermelon, a seedless variety appears to simply contain a multitude of lighter colored, softer seeds instead.
The truth is though, these are not actually seeds at all! Rather, these are empty and underdeveloped seed coats, which actually do not contain any viable seed material whatsoever.
Seedless watermelon is produced by breeding parent watermelons in a way that produces an offspring plant which has three sets of chromosomes. This causes the plant to produce fruit which fail to bear actual seeds. Contrary to popular belief, this type of plant breeding is not genetic modification, therefore seedless watermelons are not the GMO product they are sometimes mistakenly thought of as.
The Stripes on a Watermelon Will Indicate its Ripeness.
False!
This is a myth! You may have heard that the deeper the green stripes running across the surface of that watermelon, the riper it is. Not so fast! Some watermelon varieties have extremely pale stripes in all stages of ripeness, while others don't bear stripes at all, therefore this cannot be considered an indicator of what is going on inside the melon itself.
Heft and overall coloring are better indicators of ripeness, as the watermelon should feel heavy for its size in addition to featuring a creamy yellow patch on one side of its exposed surface. For full details on what you need to look for when selecting the best watermelon you can find, be sure to check out our complete guide on How to Pick a Watermelon.
A Cracked Watermelon is Unsafe to Consume.
False!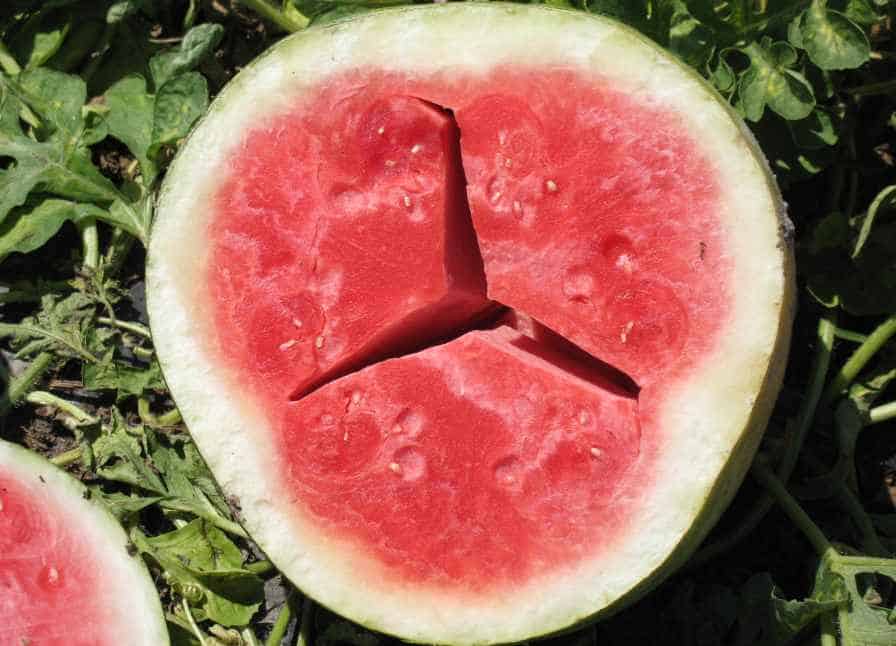 After some claims went out into the media-sphere that cracks running through the interior flesh of a watermelon are an indicator that it has been artificially ripened or grown with the use of synthetic chemicals, scientists went to work to determine the truth behind such splitting. Thankfully, they were able to do so and we can put the "dangerous" cracked watermelon myth to rest once and for all!
This condition, known as "hollow heart" is faced by many watermelons. Studies carried out by researchers at the University of Delaware indicate that hollow heart is actually caused by an issue of pollination to the plants, rather than any illicit tampering during the watermelon's growth and processing, pests, or disease. Failure to be adequately pollinated during development results in these rather strange spaces and cracks towards the center of an affected watermelon.
Despite their rather sketchy appearance once cut open, some people swear by hollow heart melons, claiming the flesh of these fruits to be even sweeter than their fully-hearted counterparts. If you happen to end up with one, don't hold back from giving it a shot, you might be surprised just how good the flavor may be!
All of this said, we're only discussing interior cracking here. If the exterior rind of a watermelon is cracked or punctured in any way, it should be considered unsafe to eat. The rind is the first line of protection for the fragile flesh inside and once exposed, harmful bacteria can easily make their way to the inside of the fruit and take hold of the moist, sugar-rich environment.
Other Watermelon FAQ's
The answers to all of your remaining watermelon season questions, right here, right now.
Can You Grow Your Own Watermelons?
With all of this conversation about the awesomeness of watermelons, you'd only be human to have the sudden urge to try growing your own!
While it's not all that difficult, there are some specific conditions that watermelon plants require. First and foremost, they need warmth and sun! Watermelon plants are not at all frost tolerant, and therefore could be ruined by planting too early--before the risk of a last frost has dissipated--or by not having adequate time to reach full maturity before the first frost in the fall season. Some watermelons may take over 100 days to grow and become ripe, so make sure you live in an area where you can count on sun and warmth for this long span of time. There are some varieties of watermelon plants which mature faster than others, so if you live in cooler climates, you may want to opt for one of those.
Also, not surprisingly, those big ol' watermelons grow from big ol' plants which need plenty of space to grow. Much like pumpkins, watermelons cover plenty of ground as they grow, so be sure to plant them where they have space to roam and plenty of soil nutrition to meet the demand of the multitude of large fruits.
Can You Freeze Watermelon?
Yes! The high water content of this fruit makes it an excellent candidate for freezing, however, the process will certainly alter the texture of the fruit once it is thawed. For this reason, frozen watermelon is best used in its frozen or at least partially frozen state, and tastes best when used as part of another dish rather than on its own.
For all you need to know about freezing watermelon, and storing it for that matter, be sure to check our how-to guide: Can You Freeze Watermelon? And Other Watermelon Storage Questions Answered.
Can You Eat Watermelon Rind?
Yes! Watermelons are completely edible, rind and all. This is quite good news as, according to the Watermelon Board, your average watermelon will only yield about 70% its total weight in flesh, with roughly the remaining 30% being the rind. That's a lot of waste if you don't bother to eat it!
Thankfully, there are tons of ways to enjoy watermelon rind. Many folks may have heard of or even tasted pickled watermelon rind, in which the crunchy, white rind is stripped of its dark green peel before taking a long soak in some salty-sweet pickling liquid and packed into an airtight container. Watermelon rind is also a popular ingredient used in Indian cuisine and is often found in chutneys and curries. You can also slice the watermelon rind and add it to stir fries, make it into gazpacho, or even toss it into smoothies for an extra fresh flavor!
What's the Deal with Square Watermelons?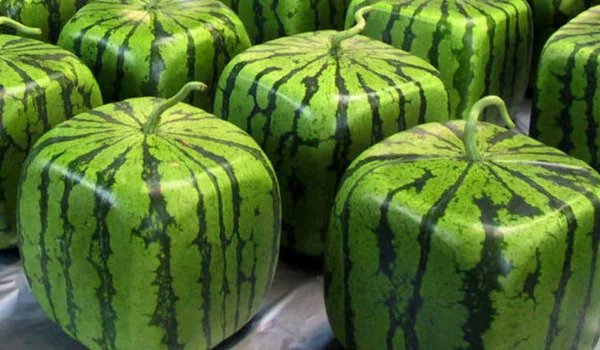 You've likely seen them in photos or featured in news stories, but what actually are these cube shaped melons? Interestingly enough, they are not a unique species or variety, rather they are your standard watermelon which is encouraged to grow in the characteristic square shape. When watermelons are small, a clear casing (cube-shaped, of course) is placed around them. As each melon continues to grow, it is met by the confines of the box and ends up taking the shape of the very container it is surrounded by!
The downside to these amazing looking fruits is that not only are they incredibly expensive, but they also tend to be harvested before they are fully ripe so as to avoid the melon getting too big for its box. As we know, watermelon does not continue ripening post-harvest, therefore the flavor of a square watermelon is typically not as enjoyable as your average round or oblong shaped one.
Watermelon Season: Are YOU Ready?
We hope this guide to watermelon season has left you more prepared than ever for the sweet season which is about to be upon us!
Whether the knowledge of how and where watermelons grow (and where they came from!) has spurred you to attempt to grow your own watermelon, or a few of the watermelon myths you thought to be true have now been debunked, we hope this knowledge empowers you to be a wiser consumer and more thoroughly enjoy your summertime treat.
Still hungry for more watermelon info? Check out our complete guide on How to Cut a Watermelon or find out everything you need to know about Watermelon Nutrition, Benefits, and Facts.