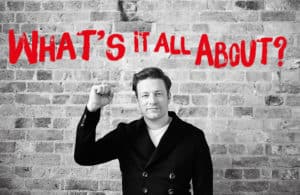 Hi guys, Jamie here!
Welcome to our brand new Food Revolution news hub. When it comes to food news, this is your go-to place for daily updates, new information and stories from across the world. We want to inspire and encourage you to make better, more informed decisions around food, and in turn, empower you to support and push for positive change in the wider food industry.
So why are we here? In a world where 41 million kids under the age of five are overweight, while another 159 million are too undernourished to grow properly, something has to give. I've been campaigning for better food and nutrition for more than 15 years now, and while I've never been more concerned about the state of global child health, I'm also absolutely positive that we can reverse the tide. Together, if we speak out now as one united, global voice, we have the power to make meaningful, lasting change in the way our children access, consume and understand food. Never before has it been so easy to spread and share information, to provoke debate, to lobby governments and to harness our buying power as consumers in such a way that big business and industry have to change their practices for the better. We're facing an exciting, but scary time ahead, and the health of future generations really is in our hands.
In essence, the Food Revolution is about each and every one of us taking a stand. And that doesn't mean we all need to make radical changes – we all have the power to contribute to the bigger picture simply by making the effort to act positively in small profound ways, whether that's cooking with our kids, reading up on current food issues, sharing what we learn with those around us or buying a better product that supports a fairer system – it all counts. It's about building a community of people – experts, parents, communities, policy makers, activists, scientists, you, me – and turning that collective noise into a powerful movement, harnessing technology to elevate our voices into one loud, united choir. I couldn't live with myself if I didn't try to make a difference, and the fact that you've taken the time to read this, suggests that you feel the same way.
This online hub sits at the heart of the Food Revolution. Here we'll shout about both the joys of cooking and the ugly truths of the food industry. We want to strike a balance between celebrating the incredible artisans, activists and communities who are already out there making a real, positive difference, and bring to light the food issues that urgently need to change to allow us to create a better, healthier, happier world.
So guys, please sign up now and join the revolution. I promise we'll keep it both fun and real, topping you up with news and inspiration, asking you questions and getting you to comment, interact, and help shape where this food revolution is headed. Access to good, healthy food is a basic right for every child – let's make that a reality. The time to act is now.