In this day and age, it's become relatively common to see cookware on the market sparking concern for its safety. While cooking at home is a very healthy way to live, home chefs still have to get a quality cookware set and cooking utensils that don't endanger their health. With so many materials to choose from, what is the safest cookware?
We're taking a look at all types of cookware most commonly found in kitchens and stores all over America. From funky Teflon nonstick cookware that can leach toxic chemicals and heavy metals into your food to healthy and affordable glass and ceramic cookware, you'll find a bit of everything here.
Since it can be difficult to tell what cooking products are safe or not, we've put together this guide. So, if you have a passion for cooking in the best cookware possible, we'll help you figure out where to start when it comes to choosing the best and safest cookware for your food preparation.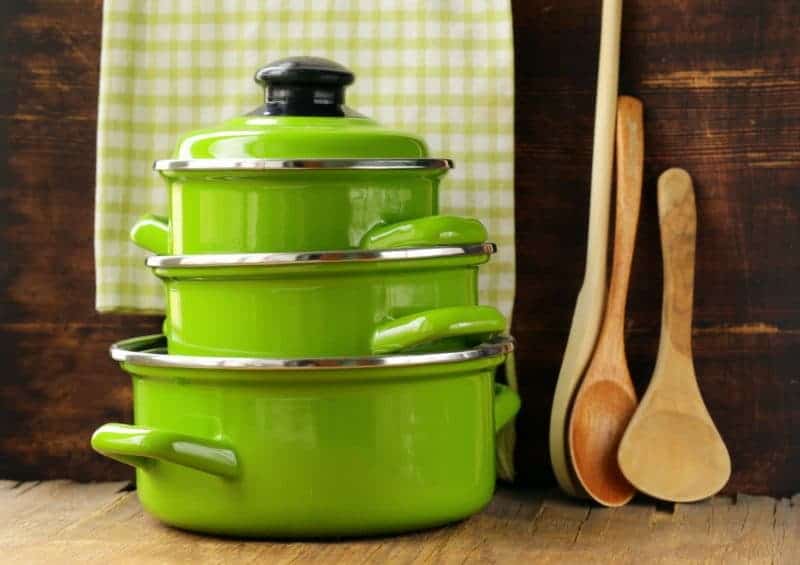 Are there health risks?
Consider the potential health concerns when it comes to your everyday kitchen cookware. Is it coated with something that, when heated, might become toxic to inhale, or that might leach into your food?
Now, let's focus on some of the best safest cookware options to help you sort out which kind would be the perfect addition to your kitchen arsenal. We will also provide you with pertinent info about the contrary, not-so-safe cookware that's on the market, too, so you are fully aware of what to look out for.
What to Avoid
Well, let's start with the bad out of the way first and be done with it:
Teflon, Non-stick, PFOA, and PTFE
Nonstick can include different materials and coatings that give cooking pots and pans a "food release." In other words, the food slides right off. They can either be considered safe or lead to health problems.
The OG non-stick pans that were designed in the 1940s were formulated with the compounds PFOA (Perfluorooctanoic acid) and PTFE (aka Teflon) and have been marketed as totally safe for health.
However, this isn't exactly the case. It is now evident that these materials can build up and are actually harmful chemicals in the long-run, even though they start as trace amounts in your bloodstream. They can cause adverse health effects and can even lead to "Teflon flu," or thyroid disease after inhaling fumes from cooking with these types of materials. It's also an endocrine disruptor and a carcinogen.
Note that cooking food at very hot temperatures can cause the coating to break off from the pan and into your food, regardless of which cookware brand you got your pan from.
Initially, the advent of these materials made cooking and clean up a dream come true for the overall time it saves. After all, time is our most valuable resource. But, saving a few minutes in the kitchen isn't a trade-off for sacrificing good health.
So, as for the positive, non-stick pans are some of the most affordable and safest cookware and, as we said, are easy to clean. On the other hand, the coating on some nonstick cookware can begin to melt into your food if heated past a certain temperature, and this type isn't as durable, with scratches being more likely to form.
Pro tip: don't buy nonstick cookware made in countries with lax safety regulations, such as China. Moreover, stay away from untrustworthy cookware brands with poor user reviews. There's a greater chance the chemicals used to make the set aren't well regulated and could be harmful to you.
Aluminum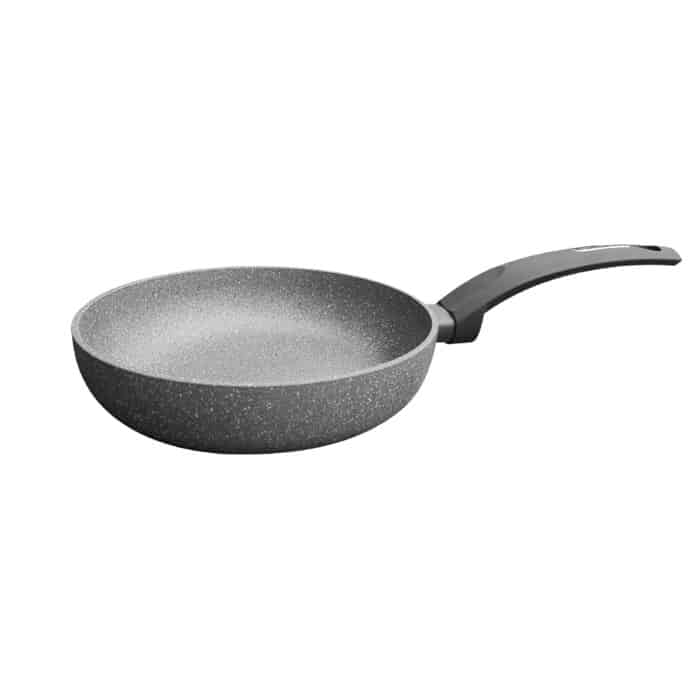 Odds are that your grandmother cooked with aluminum. With it being nearly weightless and easy to use and clean, it's clear as to why this material was so convenient to work with. However, this metal can also become toxic if you're exposed to high enough amounts of it, leading to cancer, Alzheimer's disease, and autism spectrum disorders.
Aluminum deposits do leach into the food during the cooking process, turning into harmful chemicals, but you won't taste this toxin. This isn't much of a concern if you cook in this way with moderation, as you'll only get trace amounts of aluminum. But if you cook with this metal on the daily, you might want to think about the risks.
Generally speaking, aluminum is fairly non-stick, but you will need to lubricate it with some sort of spray or tasty coconut oil.
Aluminum cookware can be nonstick, or it can also be anodized aluminum, which means the pan won't react with acidic foodstuffs. This means the amount of the metal that will percolate into your food is lesser than it otherwise would be with plain ol' regular aluminum. The process of anodization happens when aluminum is placed in a chemical solution and is exposed to an electric current that builds up a hard, non-reactive surface. A popular alternative to aluminum cookware, anodized aluminum locks in the aluminum so it won't escape, but can degrade with time.
Note that aluminum cookware is not as durable as other materials like cast iron - expect scratches and corrosion with this option. But, you get what you pay for, and most times you'll find aluminum at a pretty affordable price.
Aluminum is the third most abundant element on Earth, so it's almost impossible to avoid intaking at least a little bit.
Safest Cookware Materials
Now to the good stuff. Here are some ideas for safer cookware items to cook some tasty food in!
Non-stick Ceramic
A bit misleading, these pots and pan are not actually made from ceramic. Instead, they are metal pans made with a glossy ceramic coating with a non-stick finish.
This option is usually designed with either a PTFE- and PFAS-free glass coating that has been tested for safety, and is one of the healthiest cookware items on the market. The highlight of these coatings is that they won't start to break down and leach into your food if you're cooking with high temperatures.
These sets are ideal if you don't want to be concerned with using non-stick cooking sprays or oil and it's super easy to clean.
This type of cookware can be used in the oven—just be mindful of the temperature you bake with. If you're heating in a pan with silicone handles, this ok if you don't heat it up hotter than 350 degrees. Now, if the handles are made of stainless steel, temperatures up to 500 degrees are ok.
If you want this investment to withstand time, use only silicon, plastic, or wooden utensils for your frying pans and pots to prevent any scraping of the finish.
When it comes to non-stick ceramic versus ceramic, the absolute healthiest bet is a full-on ceramic item cookware piece, which we'll explore next.
Ceramic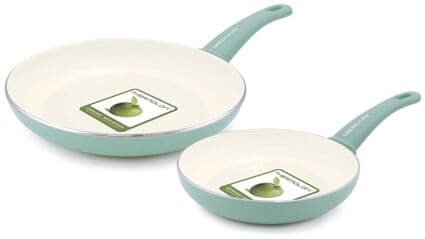 This non-toxic clay cookware is kiln baked to high heat, ceramic cookware is basically a natural quartz sand surface.
It's inherently non-toxic and isn't designed or laced with any chemicals or metals. It's an eco-friendly choice that is toxin-free, durable and could last you several years.
The only downfall is that it's not entirely nonstick, but that's nothing a little bit of cooking oil can't help.
Also, note the source of your ceramic cookware, as some companies do market themselves "100% ceramic" and "100% nonstick," but the FDA doesn't keep tabs on this. So, be sure to buy actual ceramic and not the ceramic glazed metal wanna-be's.
These are one of the cookware materials that can be heated to very high heat (up to 800 degrees) without any of the finish breaking down.
If you're considering investing in this type of healthy cooking material, know that it might be on the pricier side of things for the real deal cookware. It is an investment that will last you a while, though!
If you want to preserve your ceramic cookware for as long as possible - handwash it to protect it's non-stick properties.
*Tips for using ceramic cookware:
Don't heat up a ceramic pan if there isn't yet food in it.
Let the pan cool down before cleaning it - the coating is fragile.
Use a non-abrasive pad to clean this.
Cast Iron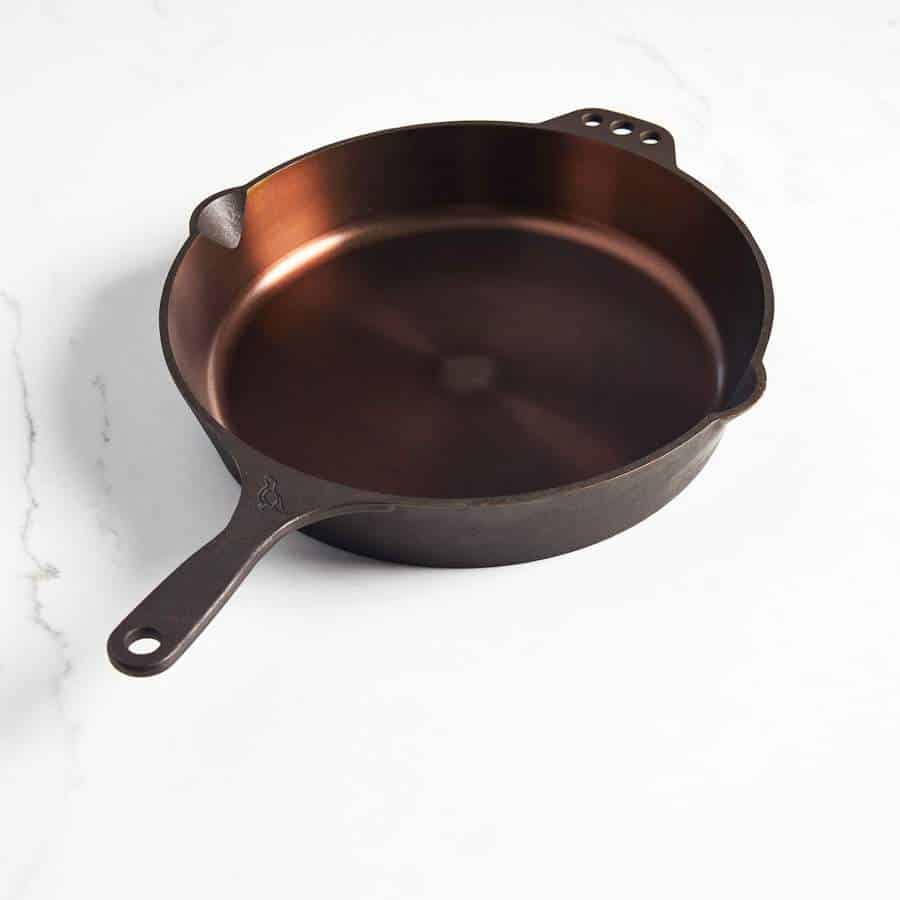 This healthiest cookware material is as durable as durable can be! And you may not ever have to buy cookware again if you invest in something that's cast iron. It's the definition of long-lasting, and this reliable cookware material has been around for centuries.
Cast iron, which is basically a slab of crafted metal, gives food a unique flavor that you can't achieve with anything other than a piece of cast iron skillet or grill pan. Plus, it boasts the best heat distribution out there.
It contains iron, which can bleed into your food, but this isn't a problem and has even been recommended for people that are anemic. If your body has a condition where it produces too much iron, you might want to consider a different material, but do note this is an option that airs on the more natural side.It's advised to avoid cooking acidic foods with cast iron if you want to minimize the chance of iron leaching into it.
When you cook with cast iron, it's to be seasoned by applying oil and heating to safeguard the iron and give it a low-stick coating. You just have to make sure you're keeping up with the seasoning to maintain the coating, so this choice does involve a little bit of maintenance from time to time.
For cleaning, use a nonabrasive pad with hot water, and be sure to pat it dry with a cloth when you're done. Just don't scrub it with a brillo pad and soap, whatever you do.
An affordable option, cast iron cookware is an excellent option if you want to keep yourself and your family in tip-top health. You can check out some snazzy cast iron skillets here.
Glass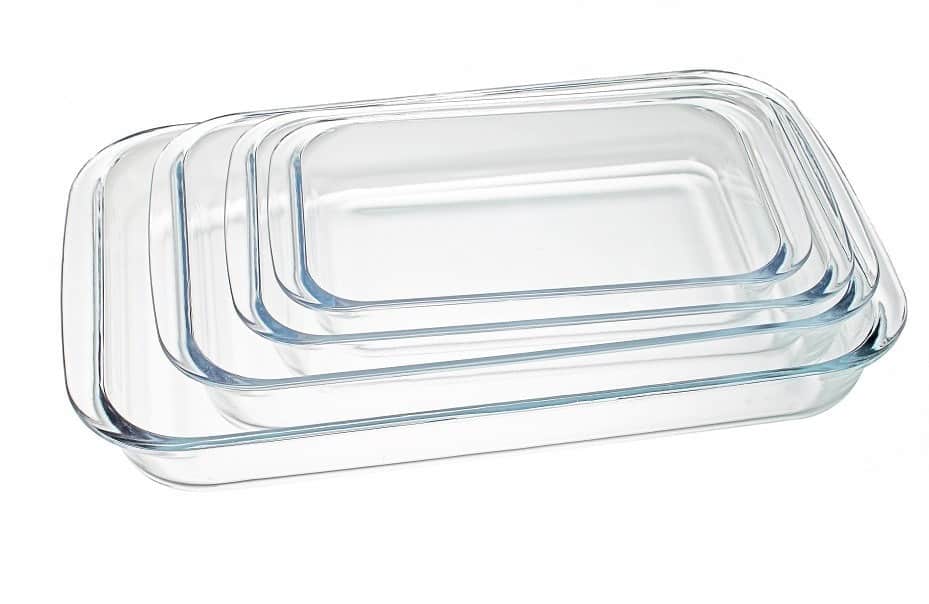 For those of you looking to stock your kitchen with healthy cookware, glass is both chemical-free and eco-friendly, if that sounds like your cup of tea.
Glass cookware is on the pricier side, but it surely won't bleed any toxins into your food, so the extra few dollars spent could be worth it. Moreover, it's also dishwasher-safe.
The only downfall about glass is that it could break, but if you make sure to be extra careful with it, that shouldn't happen. Just be careful going back and forth between temperature extremes - if the glass is suddenly hit with a major change in temperature, there's also a chance it could break. As a preventative, let it cool completely before placing it in water.
This cooking medium is more so used for baking, as it's not quite as versatile as other cookware options, but it's definitely one of the safest cookware for health.
What is the best and safest cookware material? Glass ranks high on the list.
Being a non-porous substance, glass cookware is easy to clean, and there's no chance it will react to highly acidic foods.
Stainless Steel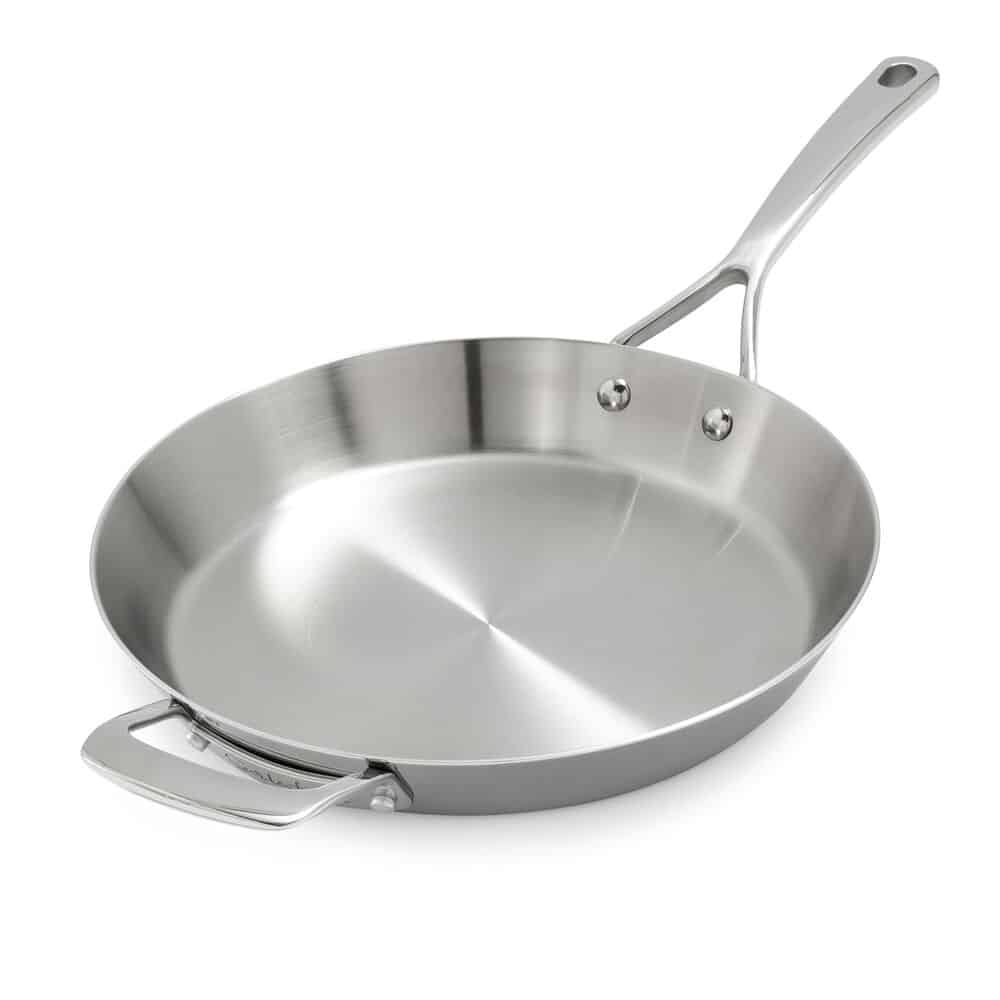 A trendy type of healthy cooking materials in kitchens across the globe, stainless steel is one of the most widely used materials for healthy pots and pans. There's a reason why you're bound to find a stainless steel frying pan in just about any kitchen.
Stainless steel is a metal alloy that generally contains iron, chromium, nickel, and is stainless in the sense that it's resistant to corrosion and rust, which makes it a safe cookware material that will last you a very long time.
The more "stainless" a cookware item is, the more nickel it contains. Nickel is able to be tolerated by the body in small amounts—but beware for any nickel allergies in your family. As far as the ratio of chromium to nickel is concerned, the ideal numbers are 18/4 or 18/0 stainless steel. Just switch it up when you cook: use stainless steel cookware one day and copper cookware the next.
With this type of non-toxic cookware material, the heat distributes evenly through and cooks your food perfectly. Keep in mind you'll need to use a drop or two of oil, so it's truly 100% non-stick. Stainless steel is normally pretty easy to clean, but a little extra lubrication never hurts, right?
Stainless is one of the healthiest types of cookware and is also economical - it won't put too big of a dent in your wallet. Carbon steel is slightly different and also a good option, but we'll leave that for another day.
If you're wondering what type of cookware is the safest, consider stainless steel as one: it will not lead to any health problems down the line.
Copper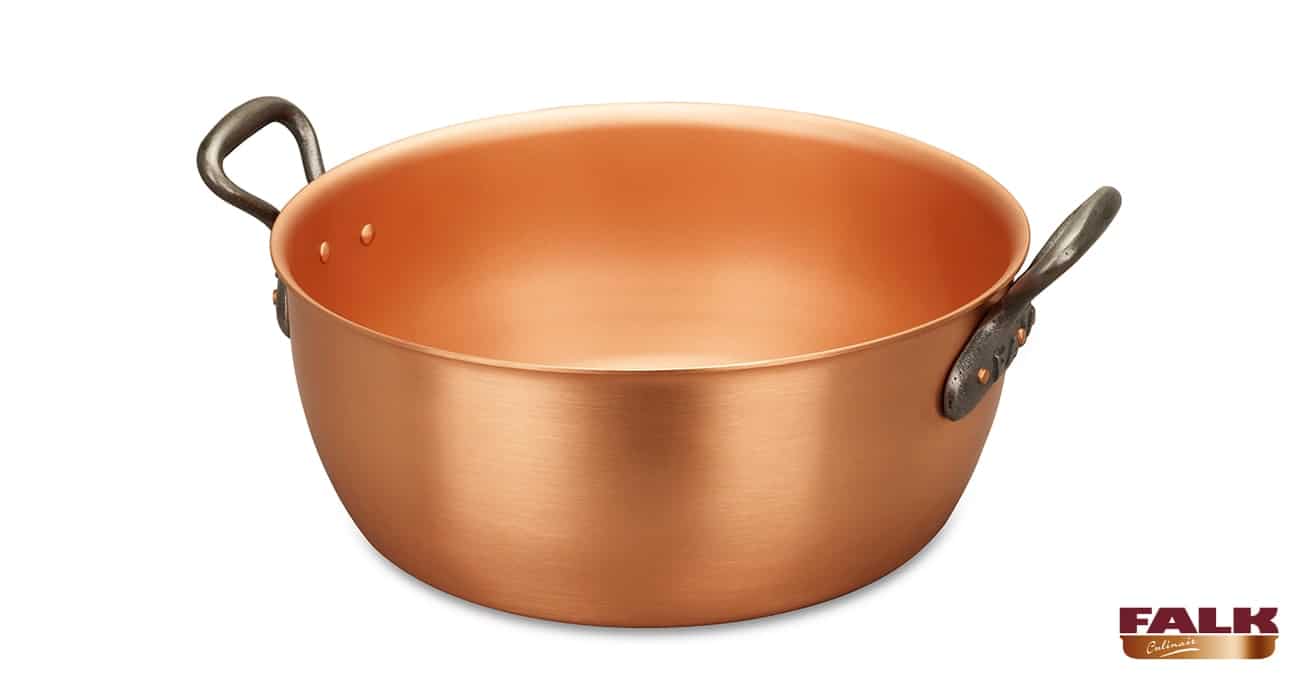 Commonly used by chefs and around for as long as cast iron has been, copper cookware and material conducts heat well and actually does contain copper in it, which has nutritional value in the same way iron does.
This safe cookware is usually made with a base that's made of another metal, such as stainless steel cookware, with a copper coating on top. Sometimes too much copper can leach from the material, however, so be conscious of unlined copper.
Copper is a great heat conductor, but loses its heat just as quickly - unlike cast iron, which stays hot for a while once it's hot. So, time out your cooking so it's still warm when you go to nom on it.
Be wary of your copper cookware being coated with tin or nickel, as those aren't ideal elements to be ingesting for your health. It does provide a nice non-stick surface, but this can be a double-edged sword if it's coated with other elements.
Copper can be an expensive healthy material: a set can cost you upwards of a thousand dollars, but if you just want to have one pot or so on hand, that would be more affordable. Who says you can't mix and match cookware materials?
Other cookware materials
It's inconclusive as to whether the following cookware materials are truly safe or not until more research is done, but the following cookware does seem to air more on the healthier side of the spectrum:
Ceramic Coated Non-stick
Most ceramic coated non-stick healthy pots and pans are designed with thermalon, a derivative from sand that contains silicon dioxide. Companies claim this to be safer than Teflon, and while it's considerably safer than the original Teflon non-stick coating, these products haven't been on the market long enough to reflect accurate test results.
Porcelain Enamel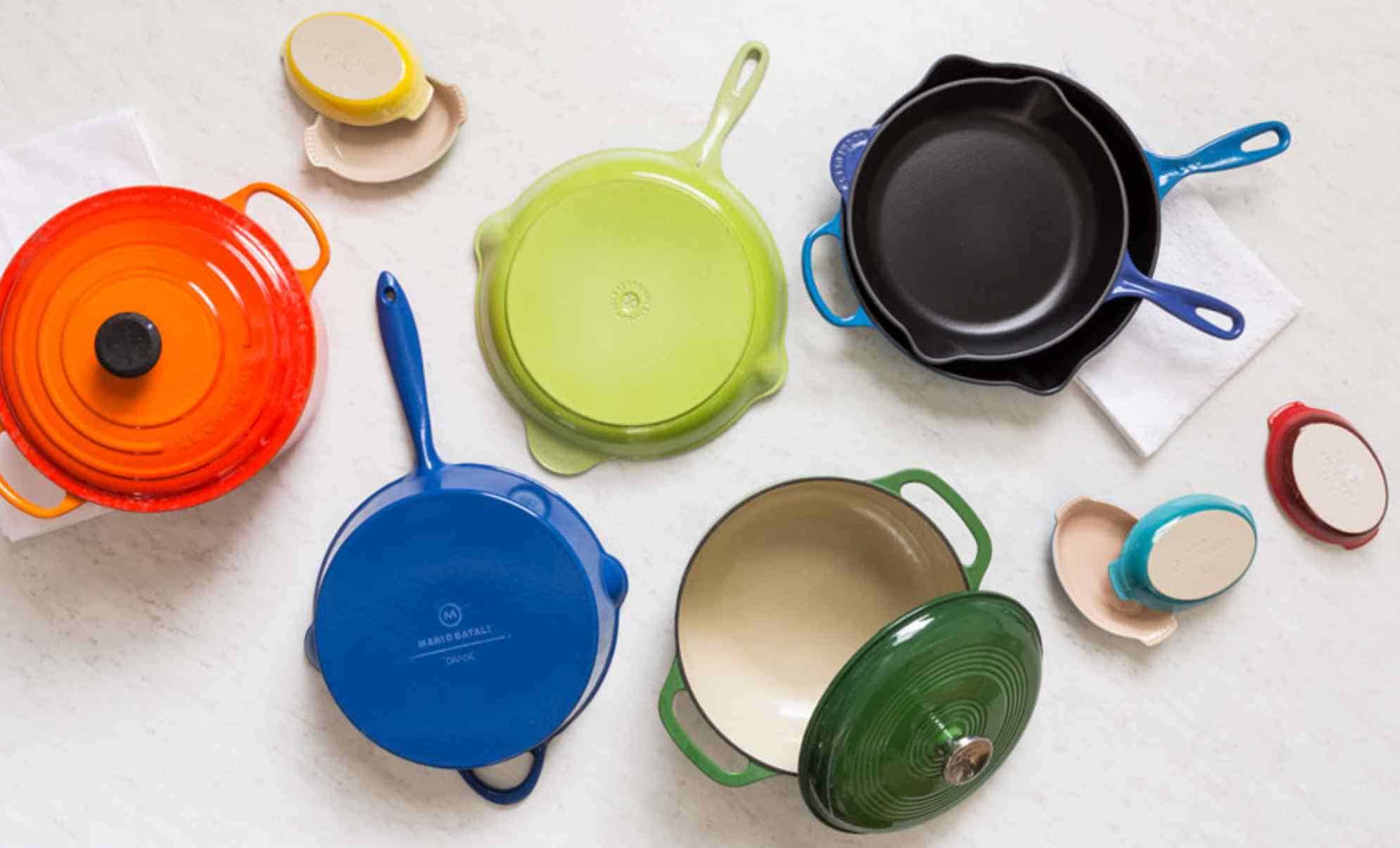 If you've been wondering what is the safest type of cookware - consider this lightweight cookware that is highly functional.
Essentially, porcelain enamel is made of glass and can be used to cook an abundance of different foods.
For ultimate versatility, this cookware can be used in the oven, on the stovetop, to reheat food in the microwave, or over a grill or campfire. Note that low to medium heat produces the best results.
The ceramic coating's nanoparticles on this type of kitchenware are what create the nonstick surface.
Determining the overall health implications of using this type of cookware can be tricky because the coating is able to be made in a few different ways, thus the safety data is unclear.
This type of enamel, while still safer than PFOA or PTFE, falls under the category of controversial non-toxic cookware materials. It's a possibility that lead and cadmium can sometimes leach from even some of the highest-end products, though this is more evident in the cheaper brands.
Note the Le Creuset brand has been reported to have the lowest levels of contaminants in the blue colored pans.
It can tend not to cook so evenly, so if you are a chef and are focused on only creating 5-star culinary creations, consider a different alternative. This material is best to use if you don't plan on cooking with high heat, as this can damage the delicate coating.
There are many different types of healthy cooking materials (each with its pros and cons!) to consider before you make your decision. Selecting cookware that's best for the health of you and your family is paramount.
If you decide to indulge on a high-quality porcelain item, it will last longer than a ceramic coated item, if you're looking for something that will withstand time.
It's also common to see this type of enamel coating on a cast iron pan, in case you come across any on your cookware hunt. With the cast iron, just be sure to wipe out any food residue with a paper towel before it cools down. Also, keep in mind that citrus soap could dull the outside luster. A little coconut oil might help with this.
Titanium
Titanium cookware is one of the most durable, lightweight nontoxic cookware options that will nearly last you a lifetime.
For you health-conscious readers out there, this substance is considered to be some of the safest cookware. This material uses an aluminum base for thorough heat transfer and distribution, but that aluminum will not seep into your food due to the non-porous titanium exterior.
Do note that some companies now lace their healthy pots and pans with potentially unsafe non-stick coatings, so be conscious about this.
More studies still need to be completed on the negative health impacts of titanium, but so far, it's considered to be a healthy material that's far better than aluminum or Teflon.
Safety Tips
Store leftover food in a tupperware that is glass, BPA-free plastic, or something of the like. This is better than keeping it in the original pot you cooked it in, as this will reduce exposure to metals.
Use bamboo or silicon materials instead of metal to cook with, as this will prevent scraping off any coatings from your cookware.
If you're using cookware that's made of non-stick material like Teflon or aluminum, a good rule of thumb is to replace it every few years.
To reduce the amount of metal that sticks to your food that's invisible to the naked eye, be sure to put something like coconut oil or vegetable oil in your cookware first to prevent sticking.
Always wash cookware thoroughly after use. A non-toxic soap is best - that way, it won't stick to your cookware and thus to your food.
Final Thoughts
Think about why you're wanting healthy cooking material and what you'll be using it for. Are you going to be grilling up steaks on cast iron cookware, baking cupcakes with glassware, boiling water with ceramic cookware? Or do you like to cook a little bit of everything and need something versatile like stainless steel? Perhaps you plan to rarely use your cookware and the potential toxicity doesn't really matter so much.
Now, it may not be easy to decide on one specific material to furnish your entire kitchen with. If you cook more than once a day, odds are you're going to want a combination of non-toxic cookware options. Variety is the spice of life, after all!