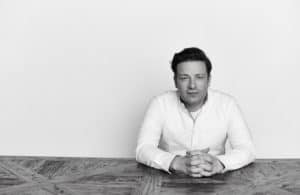 The levy on sugary drinks in the UK, scheduled to come into effect in 2018, is just one of a whole range of proposals that could help change children's health for the better.
Together with medical experts and professionals, Jamie has drafted a six-point plan of proposed policies, initiatives, incentives and community-based interventions to help tackle the problem of rising obesity levels among children.
Jamie has sent his proposal to the UK Prime Minister David Cameron, and believes that we must keep putting pressure on the Government to consider these measures and be bold once again in their own strategy to protect the future health of our children.
JAMIE'S SIX-POINT PLAN
1. Sugary drinks tax
Recent results from the National Diet and Nutrition Survey and the Scientific Advisory Committee on Nutrition (SACN) Carbohydrates and Health report show that soft drinks are the largest single source of sugar consumption for school-age children and teenagers. Our suggestion of an introduction of a 20p levy per litre on all sugary soft drinks would not only drive down consumption, but also raise revenue of up to £1 billion per year. The UK Government should also be encouraging food manufacturers to show sugar content in teaspoons on their products, with the aim for this to eventually become mandatory throughout the EU.
What has already been achieved?
The sugar tax proposed for 2017 has two bands for total sugar content. Any drinks above 5g/100ml will be taxed at 18p per litre and any drinks above 8g/100ml will be taxed at 24p per litre. The money raised is currently estimated at £520m a year, which will be spent on increasing funding for sport in primary schools, as current research shows that half of seven year olds do not do enough exercise.
2. Sugar reformulation
A soft drinks levy will kick-start the task of reducing childhood obesity levels, but in the long term, food reformulation is needed. The Government must ensure that all food available for purchase in the UK is as healthy as possible, as soon as possible. A compulsory long-term programme to reformulate all food and drink products with excessively high levels of sugar must be put in place. A compulsory strategy must be pursued, since the voluntary Responsibility Deal between government and industry, conceived five years ago in an attempt to improve public health, failed. Ultimately, penalties should be imposed on any food companies that fail to meet the targets.
3. Clearer labelling
Both the SACN and the World Health Organisation (WHO) have published guidelines recommending that everyone should consume far less free sugar daily, but current EU-governed labelling legislation around sugar isn't proving adequate.
Product labels do not currently differentiate between the quantity of natural sugar in a product and any free sugars (sugar found in honey, syrups and fruit juices as well as refined sugar added to the product by the manufacturers). It is therefore extremely difficult for consumers to judge how well they are keeping to SACN and WHO guidelines. The UK should be at the forefront of European countries demanding that Brussels allows "free sugars" to be separately identified on packaging. In addition, front-of-pack traffic light labelling should be made mandatory and restrictions on portion sizes should be legislated, where appropriate.
4. School dinners and beyond
We believe that it is every child's human right to learn about real food, where it comes from, how it affects their body, and how to cook it. The ongoing delivery of the actions in the UK Government's School Food Plan is vital and should be made compulsory for all schools. Free school meals should be made available to all families, and school food standards must also apply to packed lunches, with guidance from the Department of Health and Change 4 Life.
Other suggestions include:
To further build on the success of the School Food Plan, Ofsted must, in their school inspections, report on how schools ensure children are eating well and leading active lifestyles.
Basic nutritional training must be embedded in all teacher training, and educational programs offered to parents, parents-to-be and healthcare workers – particularly doctors, midwives and health visitors.
Out-of-term clubs would be a great opportunity for children who might otherwise go hungry during the holidays to receive cooking lessons, using donated food that might otherwise be destined for landfill.
In addition:
Hospitals should no longer be permitted to allow unhealthy food concessions within their premises and healthy catering establishments should be encouraged. Hospital menus and vending machines should be upgraded to include healthier options.
Employers could be incentivised, via tax breaks, to adopt practices within the workplace that would keep their staff fit, such as subsidising healthy food, education around healthier choices, and offering subsidised gym memberships.
What has already been achieved?
One ask from this point was that Public Health England (PHE) update their Eatwell Guide to take into account recent sugar recommendations, and to also feature a glass or cup of water as part of the guide. PHE has now revised and republished the Eatwell Guide incorporating these points.
5. Fair marketing
The affordability and marketing of food needs urgent attention, and policies to reduce the cost of healthy foods are required. Regulations should be put in place to promote healthier choices and limit the quantity, frequency and amount of time that food and drinks that are high in fat, salt or sugar (HFSS) can be promoted.
The introduction of a buy-one-get-a-reduction-on-another scheme for healthier food products should be implemented, and supermarkets should be encouraged to provide on-premises cooking classes for customers, with government grants for in-store kitchens.
Supermarkets should be incentivised to work more closely with organisations such as FareShare (who have estimated that food waste could provide 800 million meals for British people living in poverty) and FoodCycle, so that nutritious food can be made more available to people on lower incomes.
Restrictions on the types of food businesses allowed to set up near schools should be put in place, to limit the unhealthy choices available to school children. The ridiculous saturation of HFSS food in corner shops and the checkout aisles of supermarkets must also be addressed.
More robust digital marketing regulations must be put in place to protect children from junk food advertising. Some of the UK's highest-rating TV shows, watched by millions of children, are not covered by current regulations.
6. Empowering parents to help
We want to arm parents with the tools to help their children be the healthiest they can be. One way of doing this is through extending the National Child Measurement Programme (NCMP) in schools. The NCMP currently measures the weight and height of children in reception class and again in year six. Ideally, it should be implemented from preschool years, then annually throughout primary school, so that early signs of obesity can be spotted and preventative measures put in place, where required. It is extremely important that such a programme is sensitively run so that it does not lead to an increase in eating disorders among children and young people. Expertise on this matter should be sought so that the NCMP only leads to positive outcomes for young people.
THE FIGHT FOR A HEALTHIER FUTURE
If all of the above recommendations are met, the UK will be some way nearer to achieving its goal of reducing levels of childhood obesity by 2020. In 2007, the Government declared:
"Our ambition is to be the first major nation to reverse the rising tide of obesity and overweight in the population by ensuring that everyone is able to achieve and maintain a healthy weight. Our initial focus will be on children: by 2020, we aim to reduce the proportion of overweight and obese children to 2000 levels."
That was a big ask in 2007, and it's an even bigger ask today, with levels of overweight and obese children soaring. So now more than ever, for the sake of our future generations, we absolutely have to take action and all work together to achieve this goal.
Show your support by signing up to Jamie's Food Revolution for updates and to get more information about how you can help.
Read more about Jamie's strategy at www.jamieoliver.com/theplan.