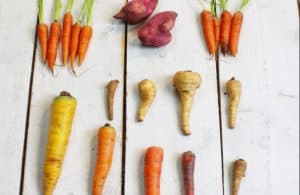 In 2010 I read an article about bin-divers being arrested for taking unsold food from supermarket bins. It got me thinking about our food supply chain and the difficulty of balancing the supply of perishable produce with consumer demand.
Shocked into action
I then started reading about food waste in more depth. It was something I had never properly thought about before, or even really knew existed on such a scale. On discovering that we waste a third of all food produced worldwide, creating 3.3 billion tonnes of greenhouse gases, and consuming masses of resources in the process, I became passionate about the need to create change. While we panic about how we can feed a growing planet, just a quarter of what we waste in the UK and USA would feed the one billion people going hungry. The food system seemed woefully out of balance and I had to act.
So, the next day, I set my alarm for 4am and headed to a wholesale fruit and veg market in London that I'd read about. And that's where the idea for my business, Rubies in the Rubble was born.
Unwanted food haul
I was fascinated by the diversity of this nocturnal world – a world of famers, wholesalers, restaurant owners and market sellers, all living by night and sleeping by day, trading anything from durian to Brussels sprouts.
But just along from the bustle of the traders were piles of unsold fruit and veg: mangetout from Kenya, mangos from the Philippines, tomatoes from Turkey, cranberries for California… all deemed unworthy and heading straight for the bin! What really saddened me was that much of these, though potentially with a very short shelf life, were perfectly edible.
My food waste solution
Cycling home with boxes of mangetout in my basket and mangos in my backpack, I decided I'd make a range of chutneys from this unnecessarily wasted fruit and veg. It would not only be a solution to using them, but also a way to raise awareness and encourage people to value food again – and use our resources well, one jar at a time.
Growing up in the countryside, we were blessed with a lovely garden and my mum had always made chutney and jams from any excess fruit and veg in the garden or hedgerows. There wasn't a month in the year that our larder didn't have a shelf full of chutney, and a jar would come out almost every lunch time with salads, baked potatoes, stews, ham or cheese.
Looking at this excess, it was like mum's veg garden on a bigger scale. Having made my first few jars of chutney, I found my closest weekly farmer's market and signed up for a stall for the following week.
And that was the start. Turning something that you know would have been destined for the bin, into something marketable, delicious, and lasting is satisfying to say the least. But I didn't just want people to simply buy our products, I wanted them to learn from the ethos of the products as well.
Wider engagement
The problem of food waste is linked to far larger issues of consumer attitudes, and it'll require more than the sale of thousands of jars of chutney to solve it. I was dealing with produce that is wasted before it gets to the consumer, and yet in the UK, the biggest amount of food waste is created in households, after it has been bought.
It has been over four years since those early market days and Rubies in the Rubble has since become a small team, learning as we go. We soon grew out of our kitchen and now work directly with large-scale farmers, using fruit and veg that fail to meet supermarket specifications in our range of preserves that we sell throughout the UK. Our goal is to expand into many other product categories and countries.
Hope for the future
One day, wasting food will become unacceptable. We all need to start valuing our food supply chain and seeing food as a precious, natural resource so that we can feed our growing population sustainably.
So go on, join us and have a dollop!