Who said salads are too cold for the winter? With roasted sweet potato and creamy tahini dressing, this vegan winter salad will nourish and refresh you no matter the temperature outside.
Simple and Delicious Winter Salad
With chilly weather all around, typically we wouldn't opt for a cold salad. But, salads are not all the same! This one especially - it is full of warm, filling, and packed with flavorful ingredients.
The best part about winter is the multitude of root vegetables and squashes. In particular, sweet potatoes and yams are everywhere. These mighty roots are available around the beginning of winter. And, there are many varieties of these guys too! I always say, if you can find local sweet potatoes, it definitely is time to stock up! These are typically the freshest and have the most potent nutrients.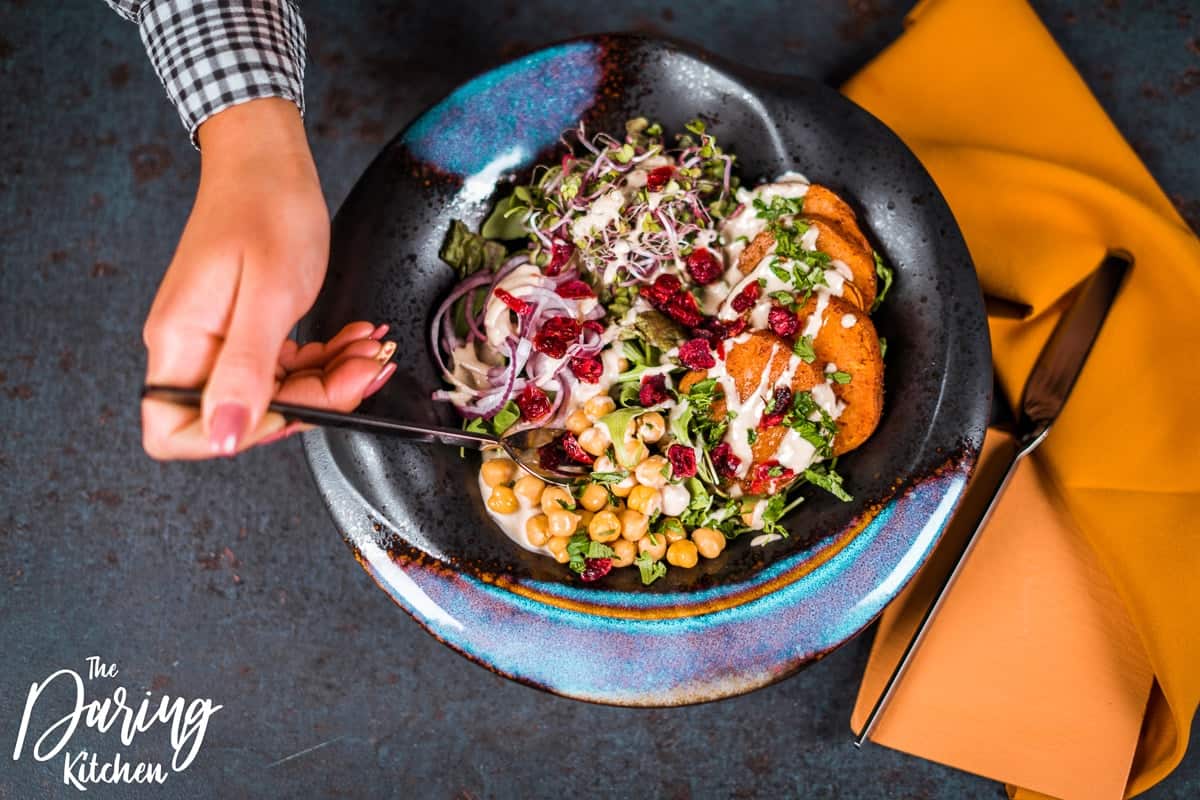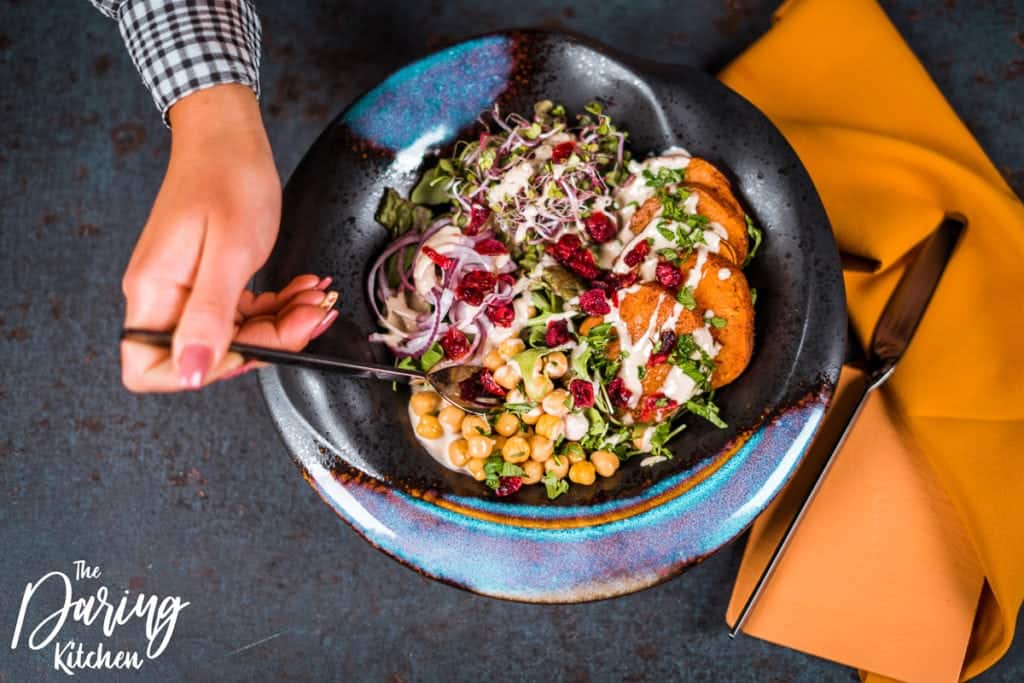 Did you know sweet potatoes are natural immune system boosters? That is exactly what we need in the winter. Who wants to catch a cold?
Sweet potatoes are one of the main stars in this dish. Their naturally sweet flavor comes alive when roasted in the oven with only a few other ingredients. These root vegetables are a perfect complement to the zesty salad served alongside them. You can play around with the sweet potatoes you'd like to use in this recipe, but I chose to keep it classic with some bright and pretty orange yams.
I could not leave out a protein source from a salad! For me, a salad always needs a filling protein component. In this dish, I used chickpeas. Maybe I was dreaming of the Mediterranean by choosing these beans and pairing them with lots of lemon juice and tahini. With crunchy sprouts and red onion, each bite is just better than the next.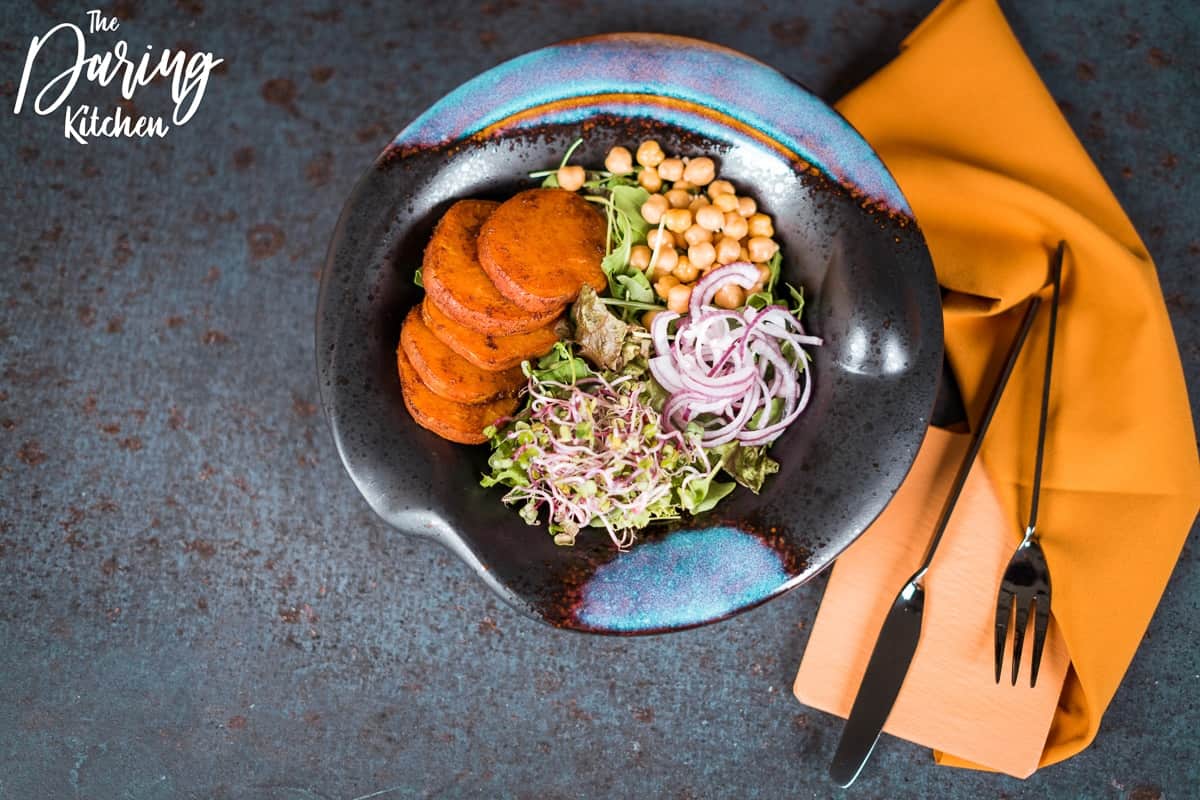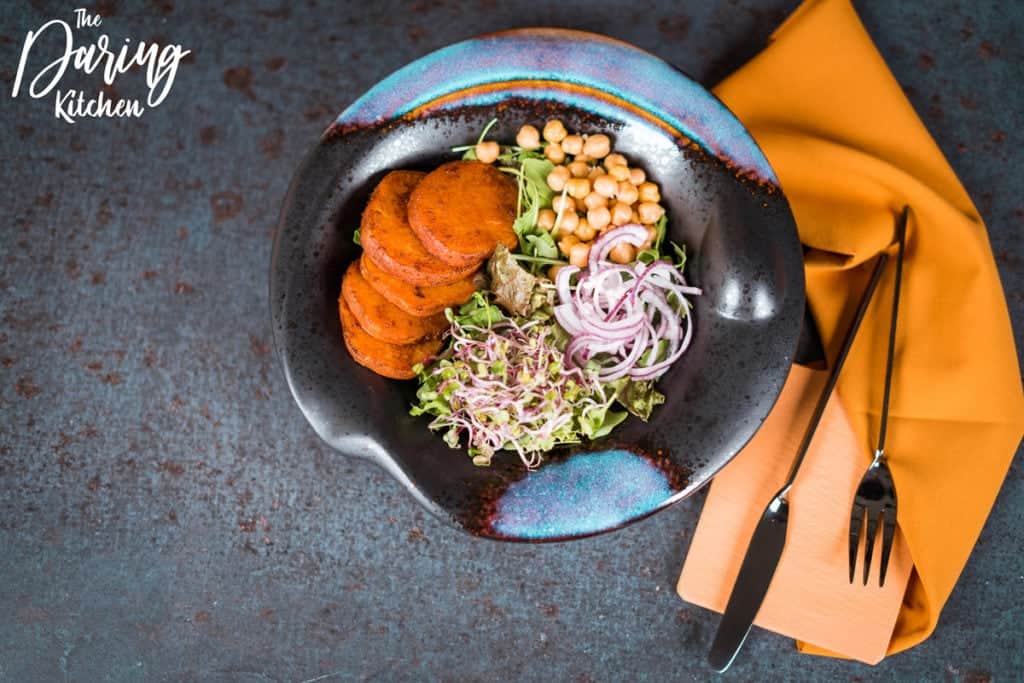 The Creamiest Tahini Dressing
When it comes to salad dressing, I say go homemade always. Store-bought salad dressings oftentimes do not have the best quality ingredients. There are hidden preservatives and strange ingredients. On the other hand, high-quality pre-made salad dressings are usually pretty pricy. Making your own can save you money and make your salad a lot healthier!
Salads, no matter if it's winter or summer, need to have that fresh element. With colder weather, we do need more filling and nourishing ingredients. That is what inspired me to make a delicious tahini dressing for this winter salad.
There is something really special about tahini. Made from sesame seeds, this condiment is naturally very rich and nutty. Its high-fat content is very representative of Mediterranean and Middle Eastern diets. It provides energy, nutrients, and most important fills you up! With enough lemon juice, tahini's richness balances out into a savory dressing.
You can flavor the dressing how you like. But, I like to keep it simple like the Mediterranean diet. I only add minced garlic. Garlic and lemon are a great pair in tahini. I also decorate the tahini dressing with dried cranberries or even dried apricots. A little sweetness goes a long way with this dressing, especially from dried fruits. Dried fruits are also an immense part of the Mediterranean and Middle Eastern diets. They are a great way to enjoy delicious fruit in the wintertime.
How to Make a This Fabulous Winter Salad
This winter salad has a straightforward recipe that I am sure you will nail on your first try. Just make sure you have all the ingredients ready to go!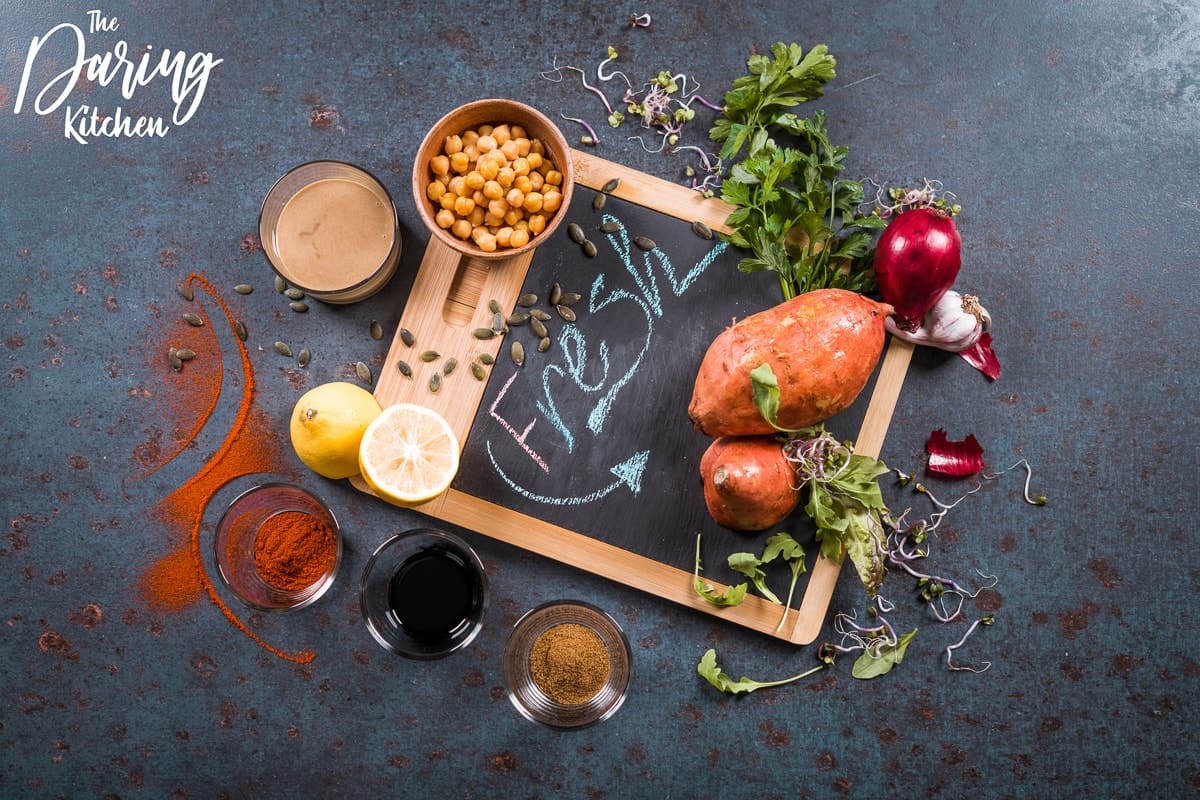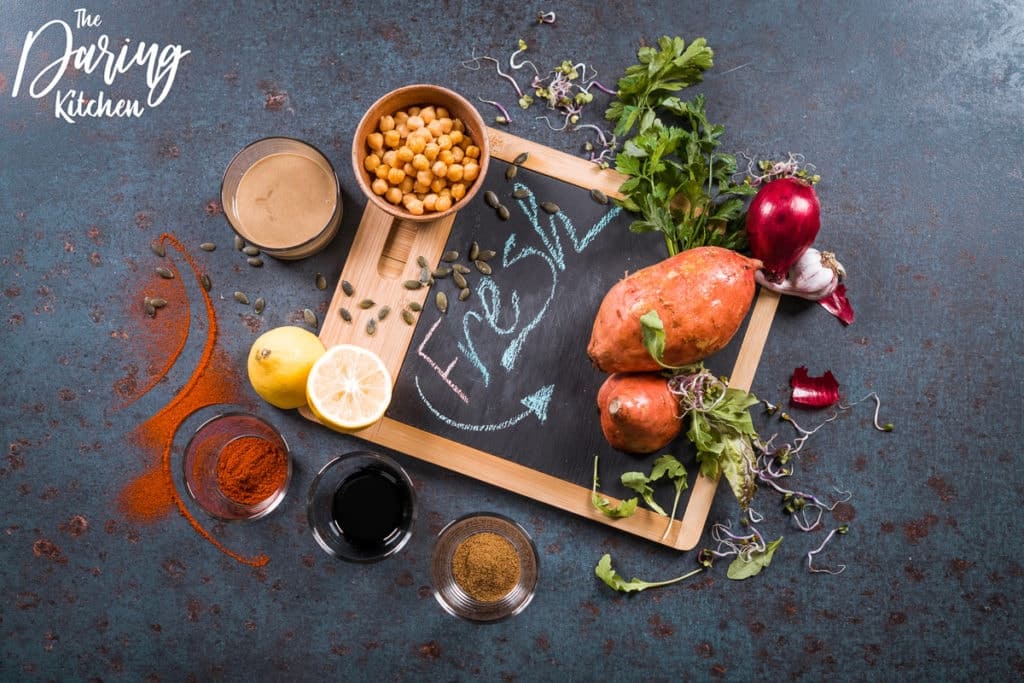 To start, always pre-heat your oven to 400 degrees Fahrenheit. Then, you are going to prepare a simple sauce to dress your sweet potatoes. In a large bowl, combine olive oil, balsamic vinegar, red pepper powder, and cumin. Whisk until the sauce emulsifies. When your sauce is ready, it's time to cut your sweet potatoes.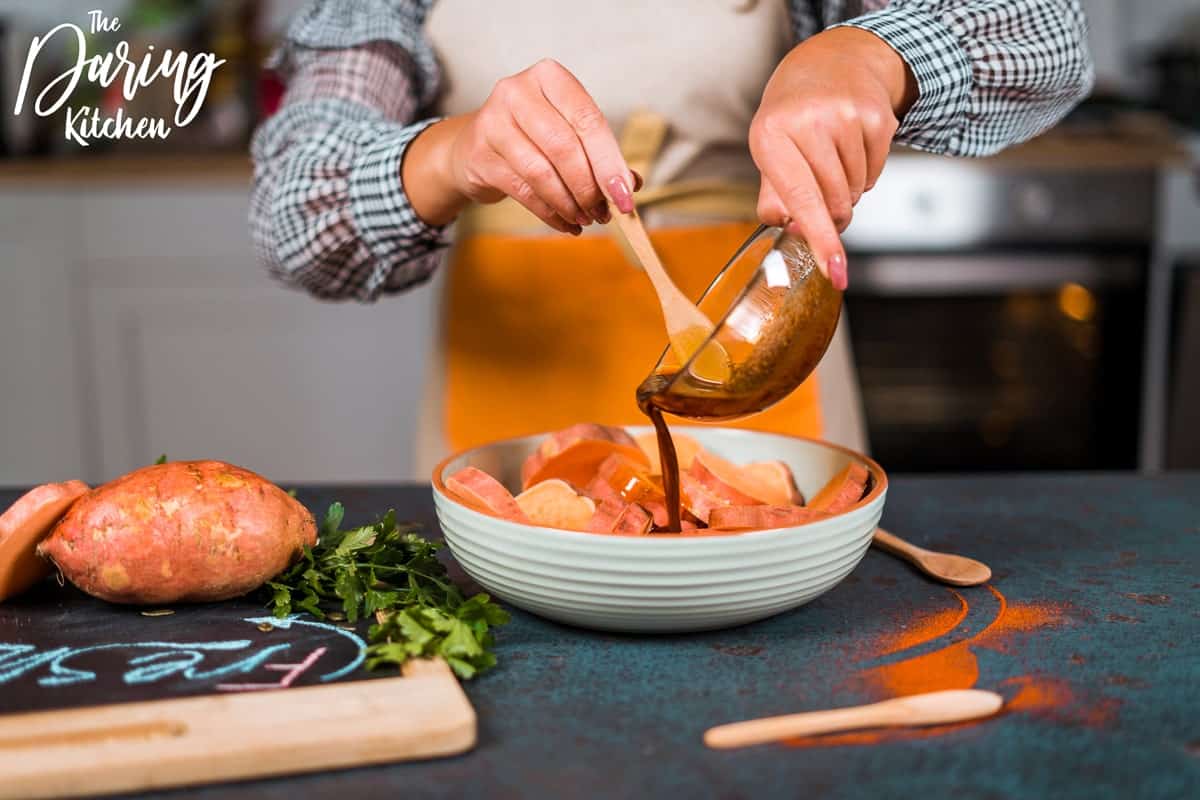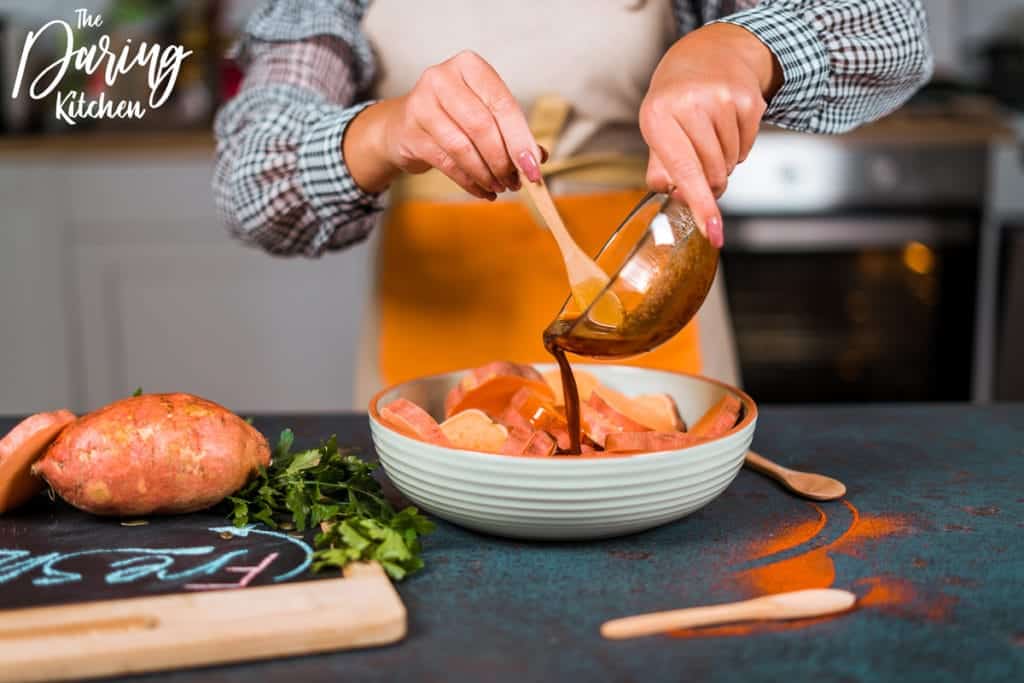 You want to cut your sweet potatoes into circles. This makes all the difference in the plating of your dish. Once cut, place them in a bowl and coat with your sauce. Then, line them up on a baking sheet, leaving just enough wiggle room between the circles. The sweet potatoes will need to bake for roughly 30 minutes, or until caramelized and cooked throughout.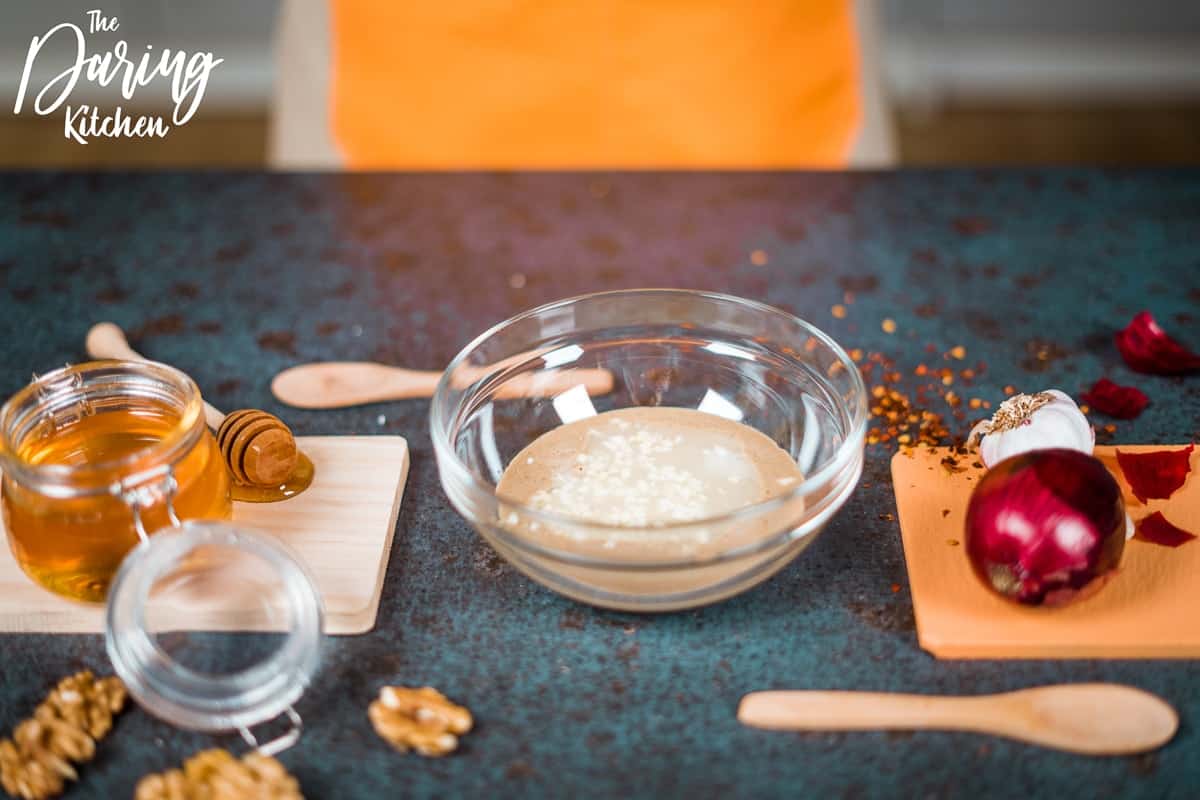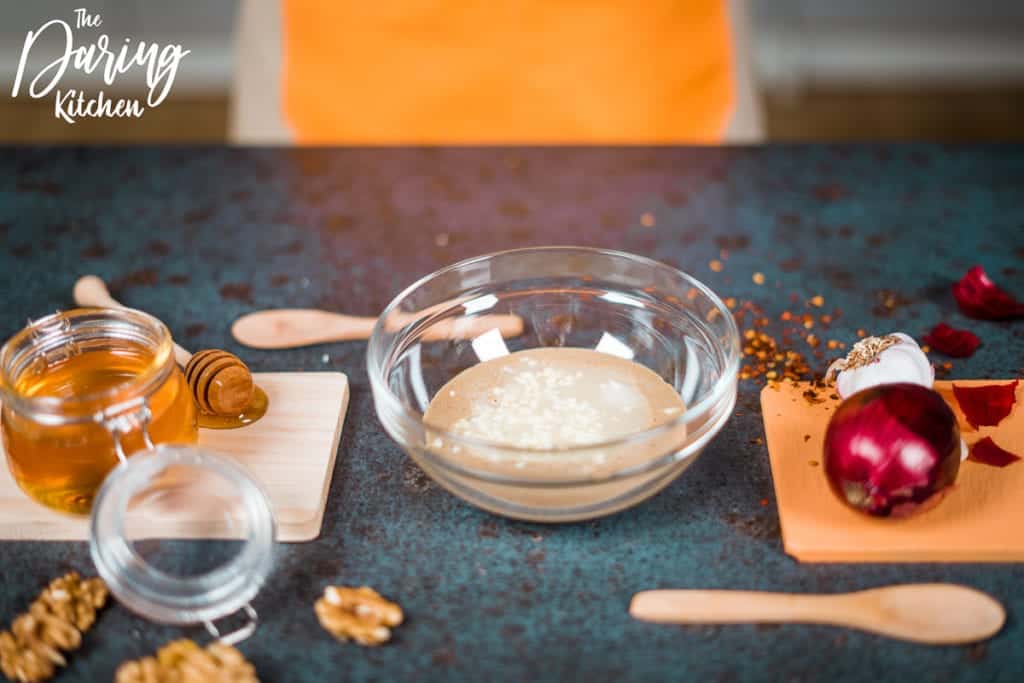 Now it's time to make the creamy tahini dressing. Using your cutting board, mince your garlic. This is important, as you need the garlic to blend into the dressing. In a small bowl, whisk together the tahini, lemon juice, and garlic. Make sure that everything is evenly incorporated. Season to taste and adjust as needed. You always need to make sure your dressing tastes good to you!
When your sweet potatoes are ready, it is time to assemble! Place your sweet potatoes and salad greens side by side on your plate. Place your sprouts, red onions, and chickpeas on top of your greens. Amply drizzle everything with the tahini dressing. If you like, sprinkle dried cranberries or dried fruit of choice on top.
Dig in!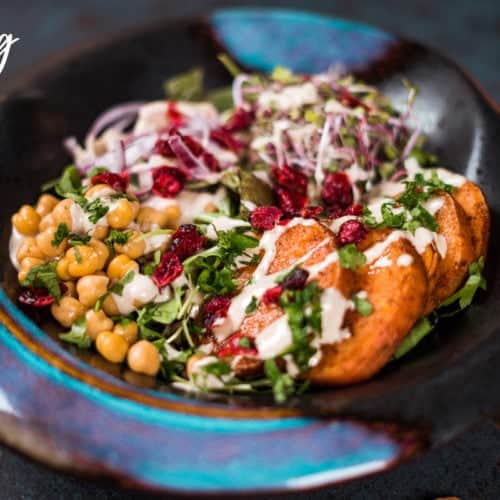 Winter Salad with Baked Sweet Potato
This easy vegan salad recipe is delicious and filling, perfect for any winter's day!
Print
Pin
Ingredients
Sweet Potatoes
2

Sweet Potatoes

1

tsp

Salt

50

ml

Olive Oil

20

ml

Balsamic Vinegar

1

tsp

Red Pepper Powder

1

tsp

Cumin
Salad
¼

cup

Sprouts

½

cup

Chickpeas

Red onion

to taste
Dressing
100

gr

Tahini

1

Lemon Juice

2

cloves

Garlic
Instructions
In a small bowl mix the ingredients for the sauce and stir well until fully incorporated. Cut the sweet potatoes into circles, add the salt, drizzle with the sauce and bake for 30 minutes at 200 degrees.

While the potatoes are baking, mix the dressing ingredients and let chill.

To assemble the salad place green salad on the bottom of a plate. On top add: - baked sweet potato- chickpeas- red onion- sprouts

Finally drizzle with the tahini dressing and dried cranberries.
Nutrition
Calories:
402
kcal
|
Carbohydrates:
36
g
|
Protein:
8
g
|
Fat:
27
g
|
Saturated Fat:
4
g
|
Polyunsaturated Fat:
7
g
|
Monounsaturated Fat:
14
g
|
Sodium:
657
mg
|
Potassium:
595
mg
|
Fiber:
6
g
|
Sugar:
7
g
|
Vitamin A:
16272
IU
|
Vitamin C:
8
mg
|
Calcium:
90
mg
|
Iron:
3
mg