Introduction: Hi, my name is Manal Obieda, known as Manal's Bites. I am thrilled to be hosting July's 2015 Daring Bakers' Challenge. In this challenge I am bringing you a great authentic dish from Jaffa in Palestine where my mother comes from. The dish is called "Yafawi Sfeeha" (translation: meat pies from Jaffa). I hope you enjoy the experience of making these delicious and interesting meat pies that come in a spiral shape. Traditionally this dish is made with meat but I am introducing more options that are vegetarian and sweet.
Recipe Source: Family source; this is my grandmother's recipe which I took from my mom.
Notes:
This dish brings back great memories from my childhood. My mom comes from a big family of 8 sisters and 3 brothers. I remember my grandmother having all of us over for lunch (the main meal in this part of the world) and making these with all her daughters helping while the grand children were running around and waiting for the fresh pies to come out of the oven. I hope you will try these and will enjoy them as much as I did and still do.
Ghee is clarified butter. It is very easy to make using normal butter at home, see this link
Flour measurement – scoop flour using cup measure then level with knife
Preparation time:
This dish will need some planning ahead as the dough needs to rest overnight if possible. But once you start working, it will take a couple of hours from start to finish depending on the amount you are making.
Equipment required:
Measuring cups and spoons
Stand-up mixer if available
Baking sheets
Oven
Recipe 1:Yafawi Sfeeha
Servings: 15-18 pieces
Ingredients:
To make the dough:
3 cups (750 ml) (420 gm) (15 oz) all-purpose (plain) flour, scoop flour using cup measure then level
1 teaspoon (5 ml) (6 gm) salt
1 tablespoon (15 ml) (15 gm) (½ oz) sugar
3 tablespoons (45 ml) powdered milk (you can substitute this with warm milk, you will need less water if using milk)
3 tablespoons (45 ml) vegetable oil
About 1 cup (250 ml) warm water for kneading
Melted ghee (or olive oil) to stretch the dough (ghee gives a great texture and flavor).
Directions:
1.Mix flour, salt, sugar, powdered milk and vegetable oil then start adding the warm water until you get a tender and slightly sticky dough. Kneading will take about 8 min on a stand-up mixer or 12 min by hand. you might need more depending on where you live and the kind of flour you are using).
2.Form the dough into small golf-ball-sized balls. Place on a baking sheet that is very well greased with ghee or olive oil and pour some more (oil or ghee) over dough. Cover and let rest at room temperature for few hours at least (or overnight).
3.Prepare filling in the meantime.
4.After you have your filling ready, use some of the ghee to brush a round tray (the surface that you will be working on). Take one piece of dough and using your hands, gently start spreading it as thinly and evenly as possible.
Once that is done fold the upper side to the middle, then fold the opposite side to the middle as well.
Spread your filling in a long line across the dough. Roll like a long tight rope making sure that it is tight enough to ensure no filling escapes. Then taking one end start rolling the rope towards the inside in a spiral shape (see photo).

Put some more ghee on your baking sheet and place the done Sfeeha onto the baking sheet. Continue making the rest of your Sfeeha using ghee to keep it nice and moist.
Preheat oven to moderately hot 400°F/200°C/gas mark 6 and bake Sfeeha for 15-20 minutes till golden brown. Serve hot or at room temperature with a bowl of soup during winter or a salad and Greek yogurt in summer time.
Meat filling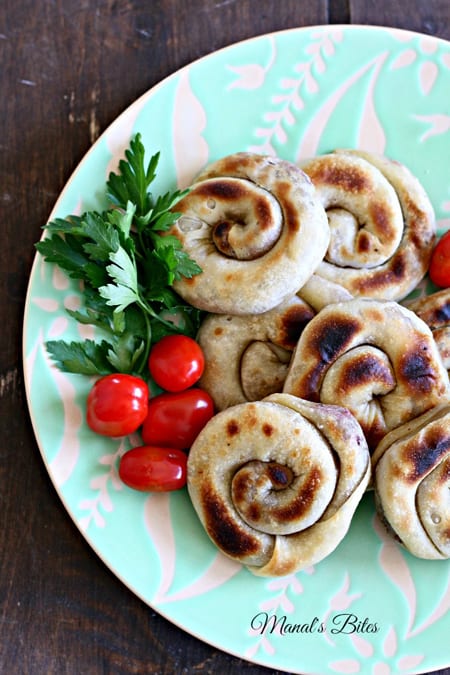 Ingredients:
1 pound (500 grams) ground beef, lamb or a mix of both
1 medium onion, minced
½ teaspoon salt
½ teaspoon pepper
1 teaspoon Middle Eastern 7 spice blend (this was covered in a previous Daring Cooks' April 2015 challenge). If you don't have this blend on hand just use ½ teaspoon all-spice and ½ teaspoon ground cinnamon.)
1 teaspoon sumaq (A Middle Eastern deep red colored and sour flavored spice) (or substitute with ¾ teaspoon lemon zest and ¼ teaspoon pepper)
1 tablespoon pomegranate molasses
½ cup (120 ml) (60 gm) (2 oz) toasted pine nuts (optional)
Directions:
In a skillet over medium heat, cook meat until no longer pink and water has evaporated, add onion and cook till it becomes tender (around 3 minutes). Season the mixture and add spices; it will be very fragrant now. Remove off heat and add sumaq and pomegranate molasses. Add toasted pine nuts if using. Let the filling cool completely before stuffing Sfeeha.
Cheese filling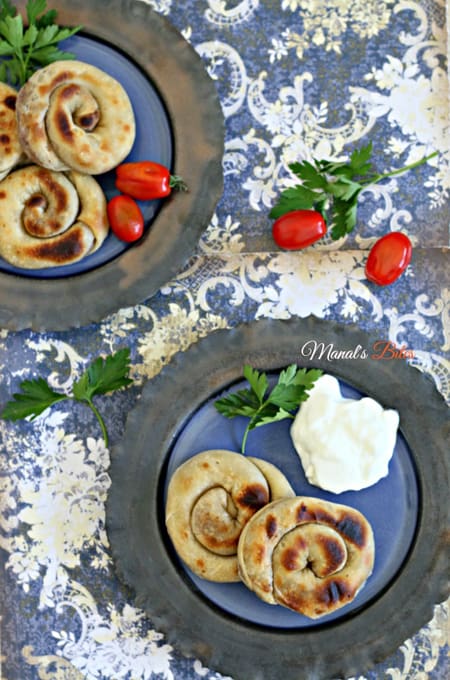 Ingredients:
3-4 cups Nabulsi cheese, crumbled (You can use feta or Halloumi if you like but you need a reasonably hard and salty white cheese)
½ cup Italian parsley, minced (you can use fresh mint or fresh za'tar)
1 egg, beaten
Black pepper
Directions:
Mix ingredients and your cheese filling is ready
Walnut sweet filling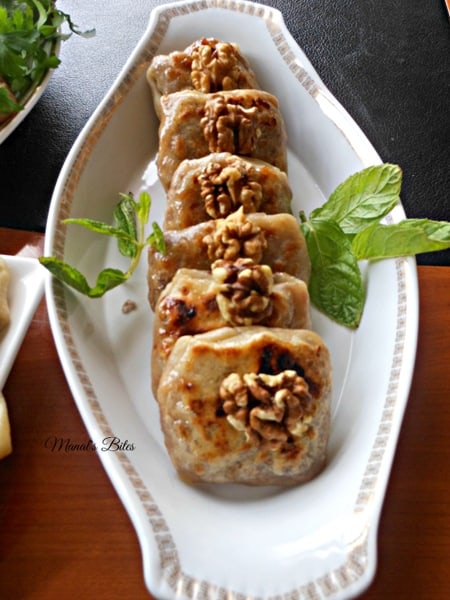 Ingredients:
2 cups (500 ml) (230 gm) (8 oz) walnuts, coarsely chopped, (you can use any sort of nut you wish)
1 teaspoon cinnamon
3 tablespoons powdered sugar
1/8 teaspoon ground nutmeg
½ tablespoon orange blossom water
½ tablespoon rose water
Directions:
Mix all ingredients together and your filling is done.
For serving: Powdered sugar or sugar syrup
Sugar Syrup
Ingredients:
2 cups (500 ml) (400 gm) (14 oz) sugar
1½ cup (375 ml) water
Juice of half a lemon
½ tablespoon orange blossom water (optional)
Directions:
Mix sugar and water over high heat in a stainless steel pot. Don't stir. Once it comes to a boil stir with a wooden spoon to ensure all sugar is dissolved. Add lemon juice and let it cook for a couple of minutes. Remove off heat and add orange blossom water if using.
Note: Once you have the sweet ones baked and hot pour some cold sugar syrup over them or let them cool off and dust with powdered sugar. I decided to make mine into poaches instead of spirals.
Storage and freezing instructions
Store Yafawi Sfeeha in an air tight container in the refrigerator and reheat them a bit when serving. Or freeze them in a single layer in the freezer for up to 3 months.