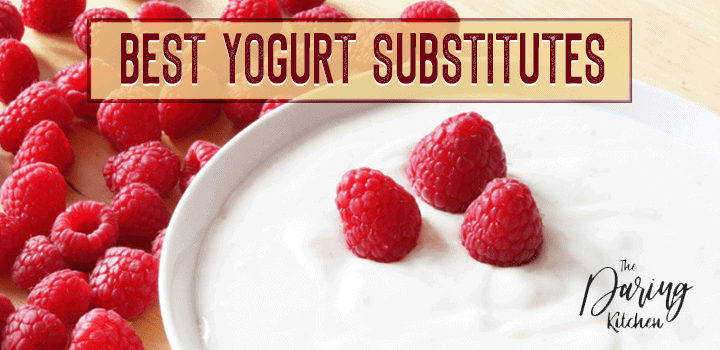 Its creamy deliciousness and tangy flavor make yogurt a super versatile ingredient in a variety of cooking and baking recipes. But what happens if you're out of it or if for any other reason you need a yogurt substitute?
The good news is that there are many ways to substitute plain unstrained yogurt without sacrificing texture or flavor.
Sour Cream
In terms of taste and consistency, sour cream is the closest to yogurt - especially Greek yogurt. It's a little less tangy than yogurt and when used in baking goods such as cakes or bread (including naan bread) it makes them more tender.
It is also a popular ingredient for dips and salad dressings. Sour cream works great as a recipe thickener in soups and Indian curry. It will thicken the food and add sourness similar to yogurt. For best results, make sure you strain it so it doesn't make your food more watery than desired.
Use the same amount of sour cream for the yogurt in your recipe. When it comes to fat content, sour cream is higher and this may scare away people who are conscious about their daily fat and calorie intake.
Cottage Cheese
Cottage cheese is a fresh curd cheese with a mild taste. It is made from skim or nonfat milk so it contains less fat than whole milk yogurt. This makes it a good yogurt substitution for dieters and some health enthusiasts.
To make its crumbly texture smooth, place it in a blender or food processor. It can replace yogurt in cheesecakes, pancakes, and a variety of other foods such as toast, salads, and dips. 1 cup of yogurt will give you 1 cup of cottage cheese.
Buttermilk
Buttermilk is fermented milk with a slightly sour flavor and a texture that is thicker than milk. As it is liquid, it can only replace yogurt in baked goods, sauces, and dressings. It is also great for pork and chicken marinades because the lactic acid it contains makes the meat more tender. It also allows other flavors to penetrate the meat more easily.
When used in baking cakes, use ¼ less buttermilk than the yogurt amount the recipe requires. For other recipes, you can use the same amount.
If you don't have buttermilk, you can easily turn regular milk to buttermilk. For 1 cup of buttermilk, you will need to add 1 tablespoon of white vinegar or lemon juice to 1 cup of milk. Stir the mixture gently and allow it to sit for 5 minutes. It will curdle slightly and become sour.
Greek Yoghurt
There's nothing wrong with using Greek yogurt instead of regular yogurt if it happens to be the only closest alternative in your fridge. Greek yogurt is strained and therefore it's thicker in texture than the plain one. It also has more protein and fat. However, it's a lot lower in calories than other popular substitutes such as sour cream.
It can help bread, cookies, and cakes get a fluffy texture and moist crumb while still maintaining that slightly tangy flavor we all love in yogurt. To use it as a replacement for regular yogurt, mix it with a little water till you get the consistency needed for the type of recipe you are making.
Cream Cheese
If you use yogurt to thicken soups and sauces, but you don't have any left, you might be lucky enough to have some cream cheese sitting in your fridge. The truth is that in terms of fat content, this not the best choice, but it will do the job in case of an emergency.
Besides, it is super versatile. From cheesecakes, cookies, and cake frosting to savory dips and spreads, cream cheese can easily replace Greek yogurt on a 1:1 ratio.
Tofu
Tofu comes from soya and is a staple in Chinese and Thai cuisine. In the Western world, it is mostly known for its wide appeal to vegan dieters or avoid-all-dairy enthusiasts.
Tofu has many health benefits. It is rich in soy protein, which is considered to help lower bad cholesterol, and contains phytoestrogens that can be helpful for the reduction of menopausal symptoms. It's also a valuable source of calcium and iron and contains all 9 essential amino acids.
To achieve a yogurt-like consistency, you need to whip the cheese up with a fork or add it to a food processor. But first, remove its excess water by using some easy DIY tips or a tofu press machine. Tofu lacks the tang of yogurt but you can add a bit of lemon juice to it if the recipe calls it for.
Medium-firm tofu can substitute yogurt using a ratio of 1:1 or you can also use tofu sour cream.
Other Non-Dairy Yogurt Substitutes
Depending on the recipe, here are some other vegan style alternatives that can also work well for people who are intolerant to lactose:
Coconut or soy milk
Plant-based types of yogurt such as coconut yogurt, almond vanilla yogurt, cashew yogurt
Mashed avocado
Mashed potatoes