Baked snapper
Red snapper is an excellent source of protein that's delicious, low in calories, light, and versatile.
This Middle Eastern-inspired recipe uses za'atar, which is a blend of spices. Details of the blend vary from one country (or one kitchen!) to another, but the usual combination is dried sumac, thyme or marjoram, oregano, and sesame seeds (toasted). The sesame seeds provide a nutty flavor, while the sumac brings in a tangy and slightly acidic zing.
You can find za'atar either online or at a Middle Eastern grocery store. And if you want to make your own, we've included a recipe in our FAQ section following this recipe.
The total time for this baked red snapper recipe is 30 minutes and will be a hit with everyone at the table!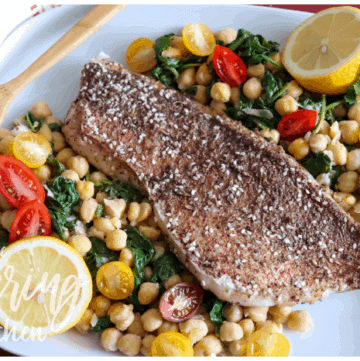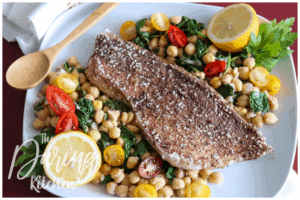 Ingredients
Baked Snapper
1 ½

tbsp

Za'atar Spice Mix

12

oz.

Red Snapper Fillet

portioned into 4 fillets

1

tbsp

Olive Oil

extra virgin
Chickpeas and Greens
1

tbsp

Olive Oil

extra virgin

2

cloves

Garlic

peeled and minced

1

tsp

Ground Cumin

½

tsp

Ground Coriander

1

can

Chickpeas

drained and rinsed

3

cups

Baby Spinach

2

tbsp

Lemon Juice

Salt

to taste

1

cup

Heirloom Cherry Tomatoes

split
Instructions
Preheat oven to 400°F. Place red snapper fillets on a baking sheet and season with za'atar seasoning and drizzle with olive oil. Bake for 10-12 minutes or until fish is thoroughly cooked and tender. Let rest for 2 minutes before serving.

While the fish is baking, heat oil in a large skillet over medium high heat. Sauté garlic, cumin, coriander, chickpeas and spinach for 3 minutes or until spinach has wilted. Season with lemon juice and salt to taste.

To serve, spoon chickpeas, greens and tomatoes onto a plate and top with snapper fillets.
Nutrition
Calories:
166
kcal
|
Carbohydrates:
4
g
|
Protein:
19
g
|
Fat:
8
g
|
Saturated Fat:
1
g
|
Cholesterol:
31
mg
|
Sodium:
75
mg
|
Potassium:
577
mg
|
Fiber:
1
g
|
Sugar:
1
g
|
Vitamin A:
2510
IU
|
Vitamin C:
16
mg
|
Calcium:
61
mg
|
Iron:
1
mg
Red Snapper recipe FAQs
What is Za'atar good for?
Za'atar has many health benefits. It can help improve our immune system, strengthen the bones, help calm inflammation, help with circulation, boost your energy and your mood, and even help purify the respiratory tract.
How do I make Za'atar myself?
For ½ cup of za'atar, combine in a spice grinder the following: 3 tbsp dried thyme, 1 tbsp ground sumac (use 2 tbsp dried lemon peel if you can't find sumac), 1 tbps toasted sesame seeds, ½ tsp dried marjoram or oregano, and ¼ tsp sea salt. Grind well, and store in a dark place. Your spice blend should keep for up to 6 months.
Is red snapper healthy?
Red snapper has all 9 essential amino acids, which are important for health. Red snapper also has vitamin D, vitamin E, omega-3s, selenium, and magnesium.
Can you eat the skin of red snapper?
Yes, the skin of red snapper is edible. Red snapper recipes that call for snapper fillets to be fried in a pan or grilled in an oven with the skin on will allow you to enjoy the crispy baked skin of the fish.
Does red snapper have a lot of bones?
Each snapper fillet has bones that come out from the center of the fish towards the edges. You'll want to remove these before cooking, if possible.
If you buy a whole snapper, remove the bones by first slicing the fish down the middle (most of the time the grocery store will have done this for you). Slice diagonally across the fish with a very sharp knife just under the gills. Then slice down the back of the fish with the tip of your knife. Your knife should go along the bone right to the tail. Keep cutting with gentle cuts till you can peel the fillet away from the bones.
How can I tell if my red snapper is fresh?
Ideally, each snapper fillet should be sold with the skin to retain its moisture. If you're buying the whole fish, make sure the eyes are clear and are bright red.
What should I serve with my baked snapper?
Here's what's tasty with your red snapper fillets (or with any fish recipe, for that matter):
Mediterranean-style vegetables in a butter mixture
Steamed vegetables such as broccoli, asparagus, snow peas
Greek salad with fresh cucumber, feta cheese, olives, and fresh mint leaves
Crispy baked potato wedges, tossed in herbs and grilled in the oven
Sprouted or cooked quinoa, with plenty of lemon wedges
What's sumac?
Sumac is made by grinding the dried flowers of the sumac plant. It has a tangy, lemony flavor and is often used in dry spice blends to prepare meat or fish with a spice rub before cooking.
Are chickpeas and garbanzo beans the same thing?
Yes, chickpeas and garbanzo beans are two names for the same food. The name 'garbanzo' is related to the Spanish name for chickpeas.
How long will leftover fish keep?
Any leftover fish will keep safely in the refrigerator for 3-4 days, or in the freezer for 3 months.
If you are freezing your leftover fish, be sure to do so as soon as it has cooled down.
Enjoy your delicious baked snapper recipe!