Za'atar is an eastern Mediterranean and Middle Eastern spice blend. Za'atar's flavor brings a zesty, aromatic and herbaceous punch to it's recipe. A blend of thyme, oregano (or marjoram), sesame seeds and sumac is used universally, seasoning everything from breads, meats and seafood. It is pretty easy to find za'atar, typically found online or at a specialty or gourmet grocery store. 
Snapper is a wonderful option for the seafood fan. Light, flaky and fresh flavored, snapper is a versatile fish that can hold up to a number of cooking methods-baking being a favorite. This recipe comes together pretty quickly, about 30 minutes, and is well balanced with the spinach and chickpea additions. 
serves 4 
Ingredients: 
for the baked snapper: 
1 1/2 tablespoons za'atar spice mix 
12oz. red snapper fillet, portioned into 4 fillets 
1 tablespoon extra virgin olive oil 
for the chickpeas and greens: 
1 tablespoon extra virgin olive oil 
2 garlic cloves, peeled and minced 
1 teaspoon ground cumin 
1/2 teaspoon ground coriander 
1 can chickpeas, drained and rinsed 
3 cups baby spinach 
2 tablespoons lemon juice 
salt to taste
1 cup heirloom cherry tomatoes, split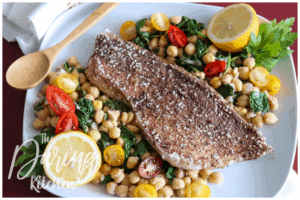 Instructions: 
Preheat oven to 400°F. Place red snapper fillets on a baking sheet and season with za'atar seasoning and drizzle with olive oil. Bake for 10-12 minutes or until fish is thoroughly cooked and tender. Let rest for 2 minutes before serving. 
While the fish is baking, heat oil in a large skillet over medium high heat. Sauté garlic, cumin, coriander, chickpeas and spinach for 3 minutes or until spinach has wilted. Season with lemon juice and salt to taste. 
To serve, spoon chickpeas, greens and tomatoes onto a plate and top with snapper fillets.