These easy-to-make zucchini fritters are absolutely delicious and make the perfect snack, appetizer, or even side dish. With shredded zucchini and sweet potato, they are filled with tons of veggie goodness. Plus, they are 100 percent GLUTEN FREE!
The Best Zucchini Fritters Recipe
When it comes to fritters, most people usually think of crispy deep-fried dough. But, fritters are so much more than that! There are plenty of ways to make yummy and healthy fritters.
Zucchini is one of the most popular vegetables around, especially with summer around the corner. What is really all the crazy still is shredded or spiralized zucchini in recipes. It makes for the best low-carb substitution for so many things. You can substitute pasta with zucchini noodles. Hey - you can even make zucchini brownies!
With all the summer zucchini recipes, I figured it would be super easy to make some fritters. I always have leftover zucchini on hand. I also always have a ton of shredded sweet potatoes too. Why let that go to waste?
These two delicious vegetables make some seriously delicious and crispy fritters. Achieving perfectly crispy edges is super easy in a pan with a little avocado oil or olive oil. A few minutes on each side and voila! you have golden brown fritters that no one can resist eating.
So, what makes this recipe gluten free? Well, rather than using whole wheat flour, I use rice flour. Really any gluten-free flour will work. I personally love coconut flour or almond flour for this recipe too. If you aren't concerned about gluten, whole wheat flour works too!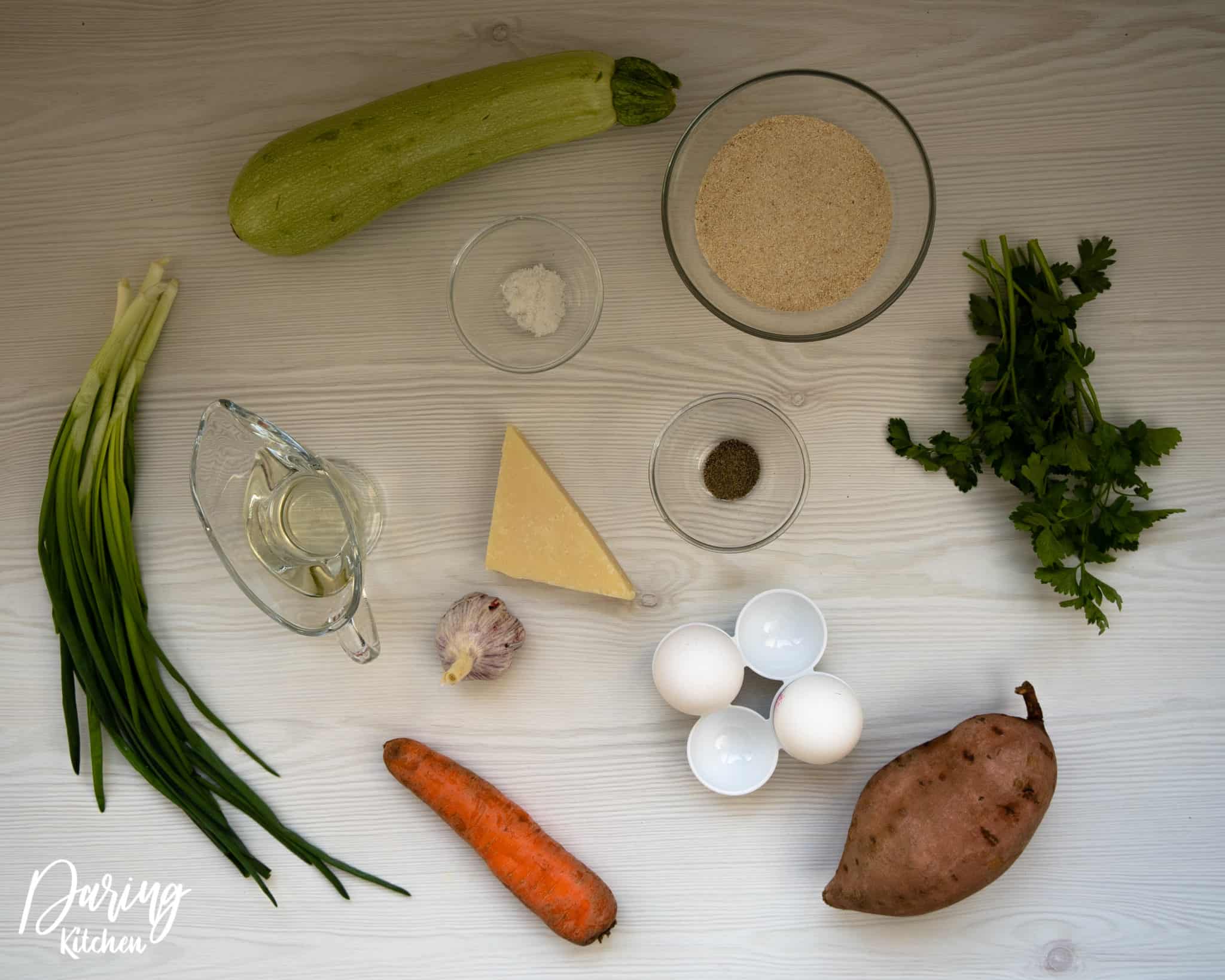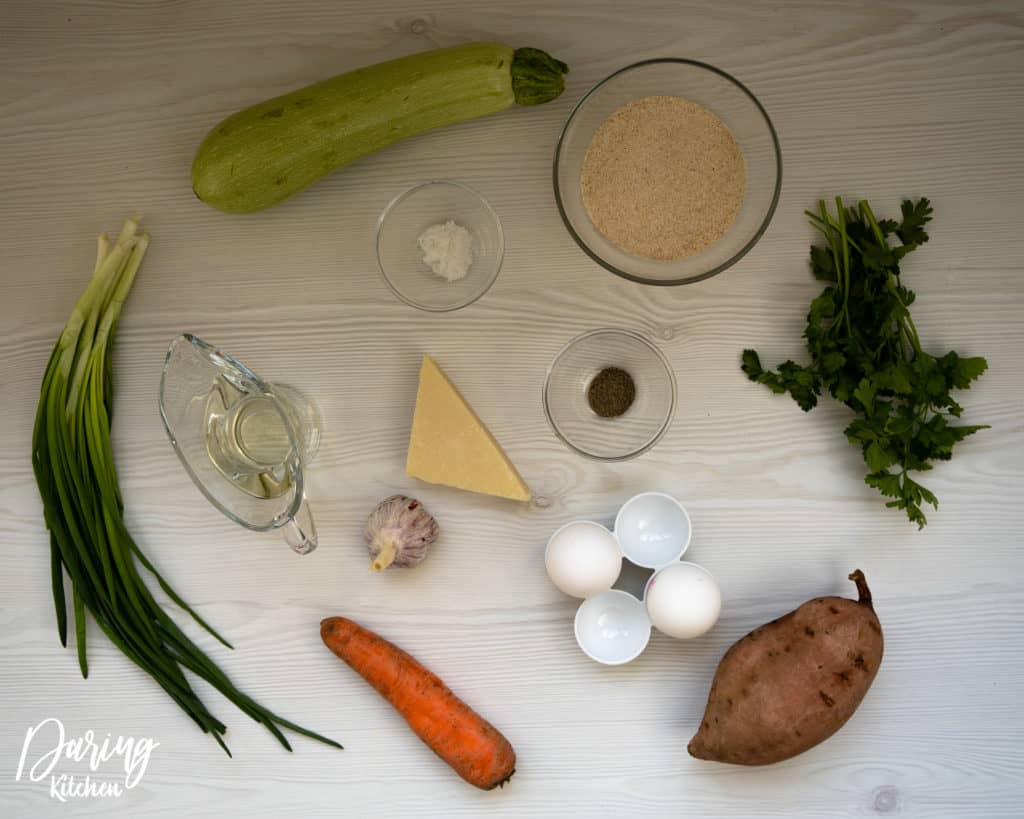 What Ingredients Do you Need for Crispy Zucchini Fritters?
The ingredients in these fritters are super simple.
First, let's break down the ingredients!
Zucchini
Sweet potato
carrot
green onion
garlic
chopped parsley
eggs
gluten free flour (like rice flour, coconut flour, or almond flour)
parmesan cheese
kosher salt and pepper
Olive oil or avocado oil
These ingredients are all easy to find and some a super simple to substitute as well! If you do not have zucchini and/or sweet potato, you can also use another squash instead. I adore butternut squash fritters too.
Also, if gluten free flour doesn't matter much to you, you can use whole wheat flour. I prefer whole wheat when eating gluten, as it has more fiber than regular flour. You do not need any baking powder for this recipe.
When it comes to seasoning, you are welcome to go beyond garlic, kosher salt, and pepper. You can add in some lemon zest or lemon juice, spices, or whatever you like. The same goes for the parmesan cheese - any of your favorite shredded cheeses work!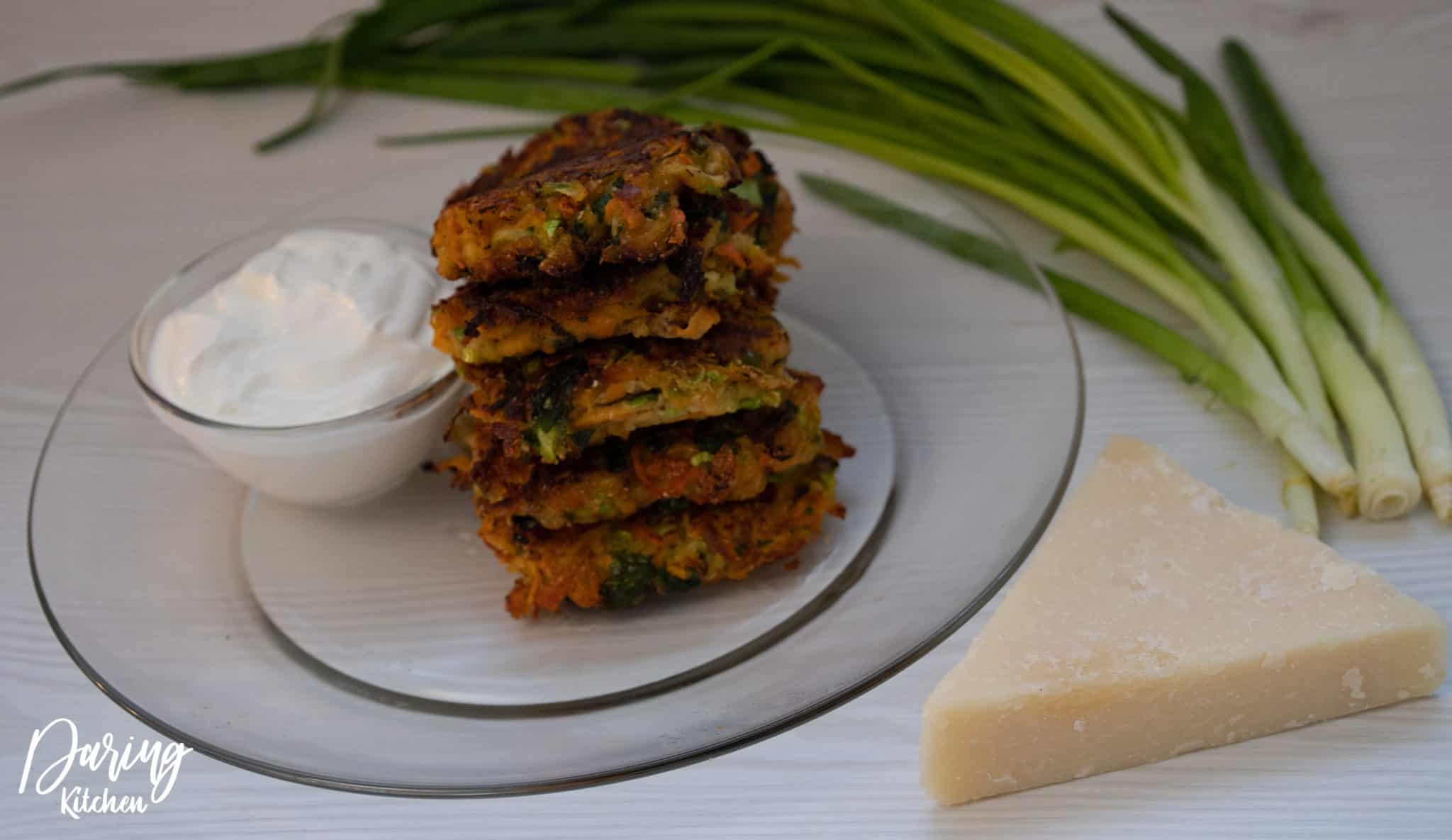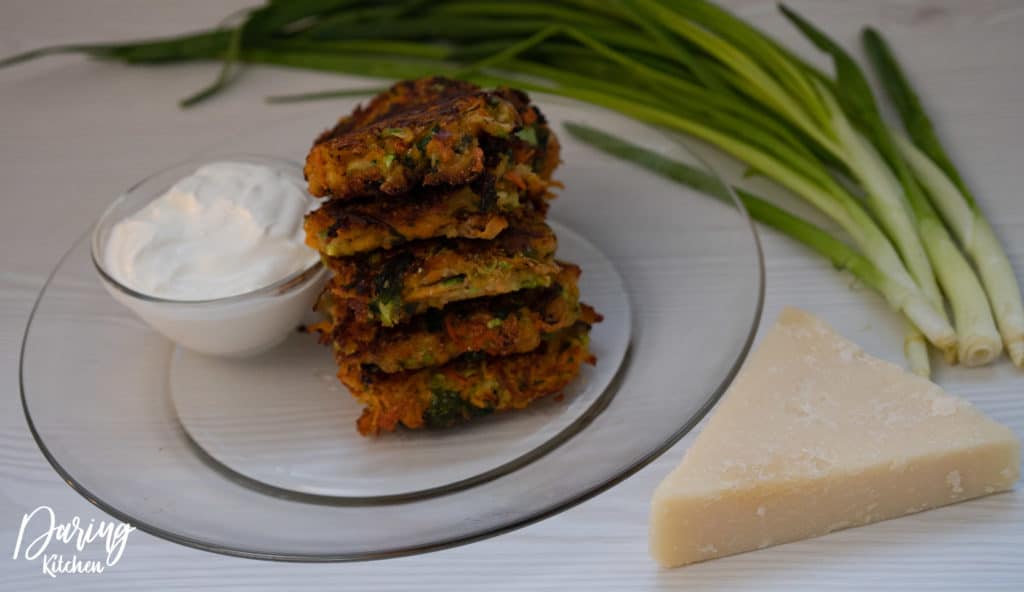 What Appliances Do I Need to Make Zucchini Fritters?
I also wanted to go over the appliances you will need for this recipe too, as these are a little more particular. This especially goes for your grated zucchini and sweet potatoes.
So, what appliances do you need for this recipe?
Grater or food processor - A grater is definitely more labor intensive so, if you have a food processor, I suggest using it! It will cut down your cook time, having you enjoying delicious zucchini. pancakes in no time.
Chicken cloth or gauze - you MUST strain your zucchini before incorporating it into the recipe. This squash has a tremendous amount of water that needs to be strained before cooking.
Non-stick pan - I always recommend a non-stick pan for this recipe. It makes achieving that golden brown crust a lot easier, without all the need to scrub a non stick pan!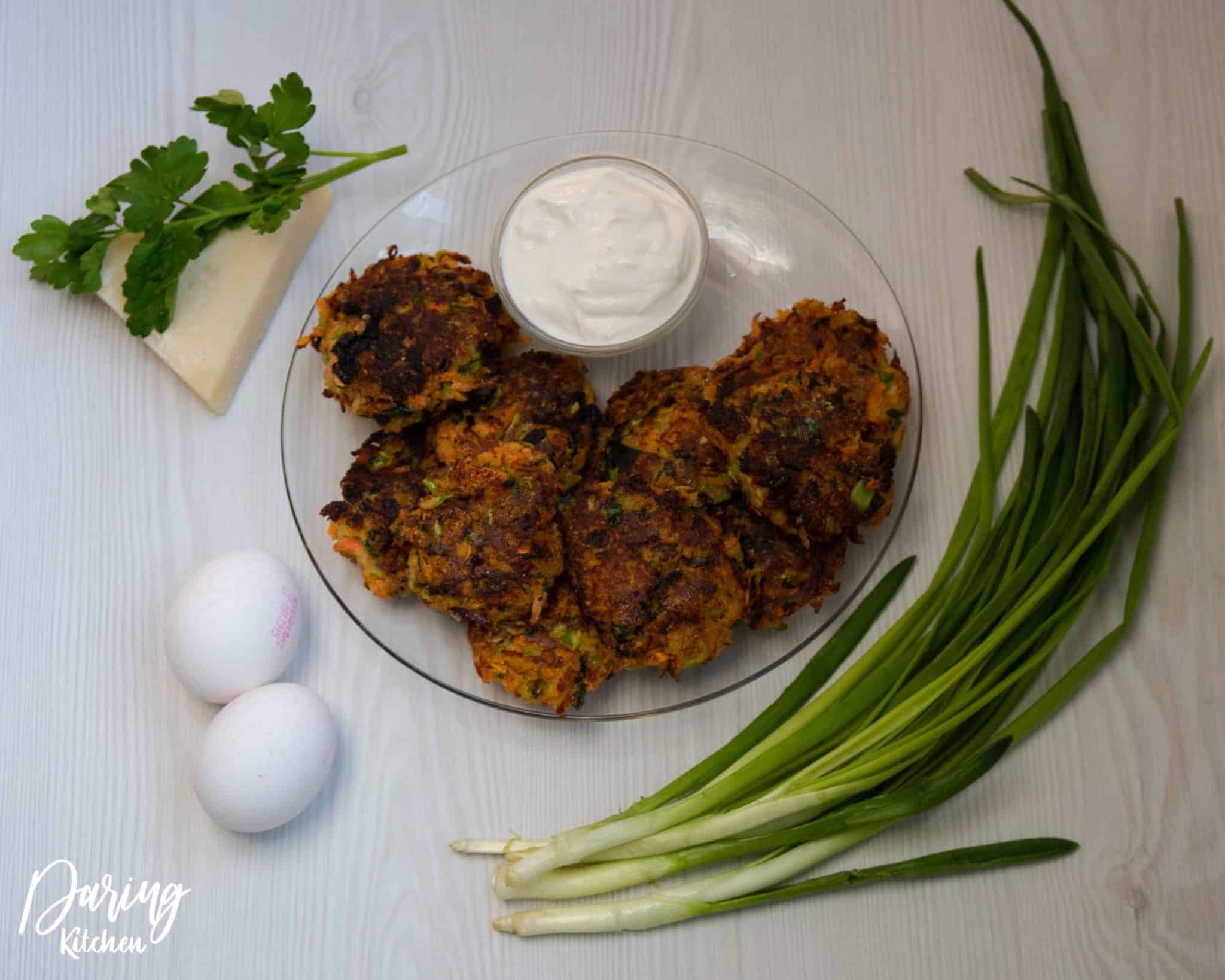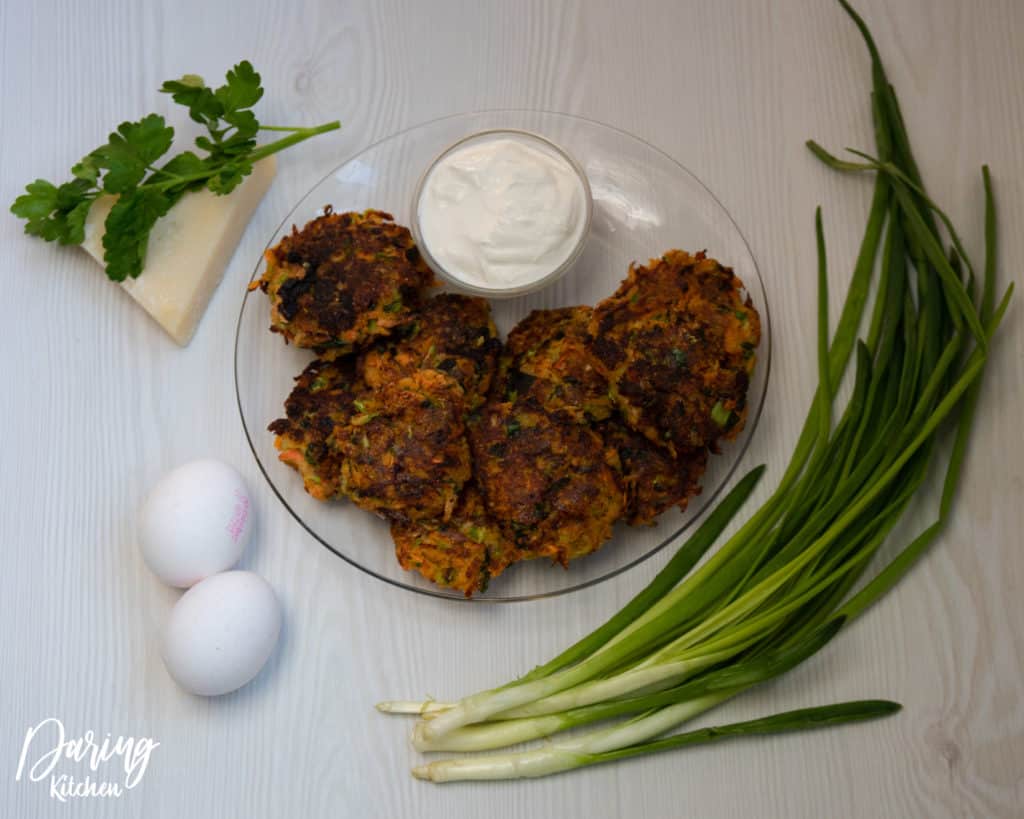 How to Serve Zucchini Fritters
My favorite part about these fritters is all the ways you can eat them! Of course, you can simply serve them by themselves or with your favorite dip. But, I had to share my preferred way to eat these pan-fried fritters.
Mexican-style - Top with. guacamole, a dollop of sour cream (or greek yogurt,) and green onions
Greek-style - Garnish with a squeeze of lemon juice, delicious tzatziki sauce, and lemon zest for garnish
Breakfast fritters - Serve with a poached egg, shredded cheese, and some fresh greens (like arugula!)
Simple Italian style - Garnish with grated parmesan cheese, a drizzle of olive oil, and lemon zest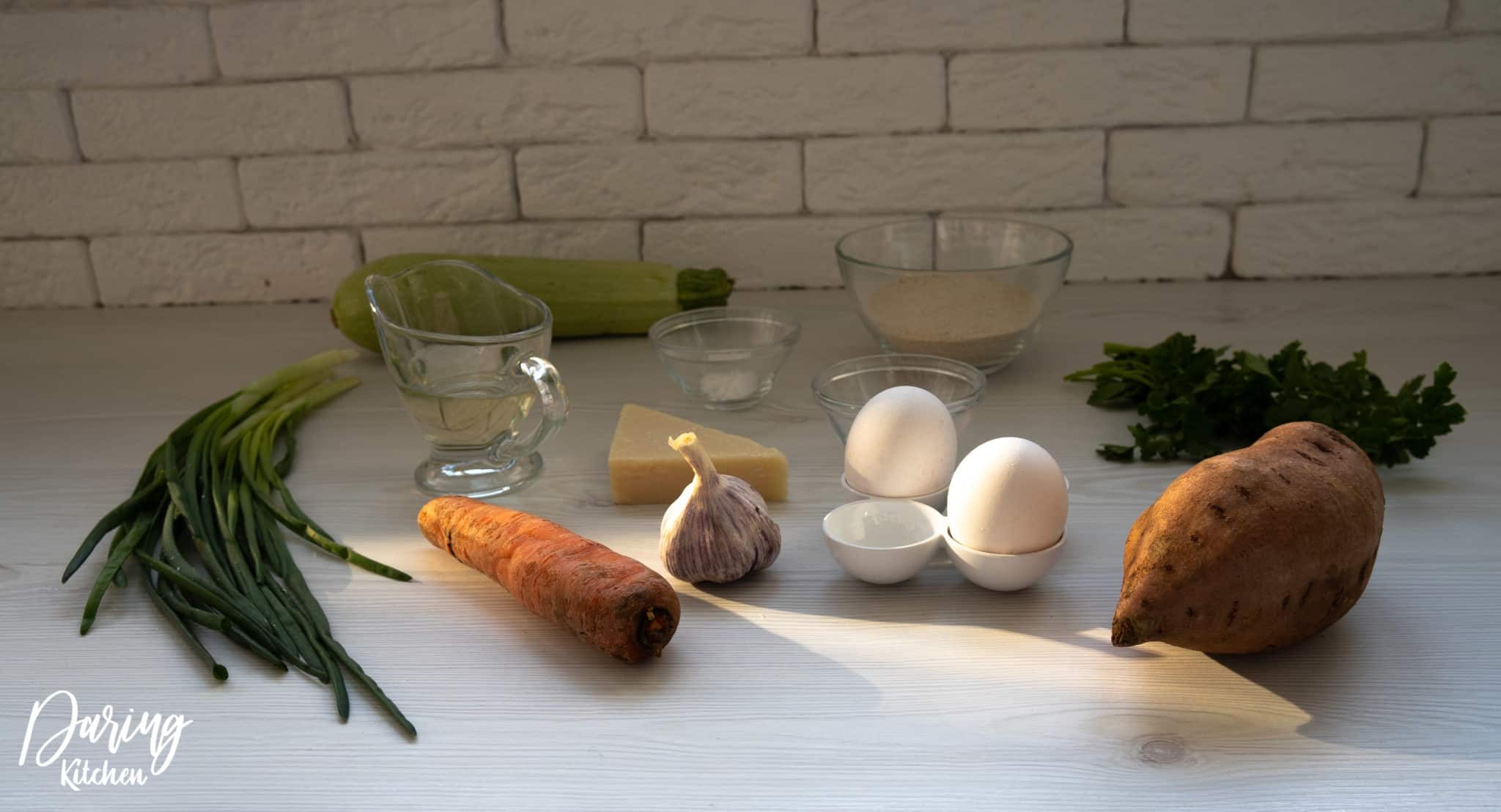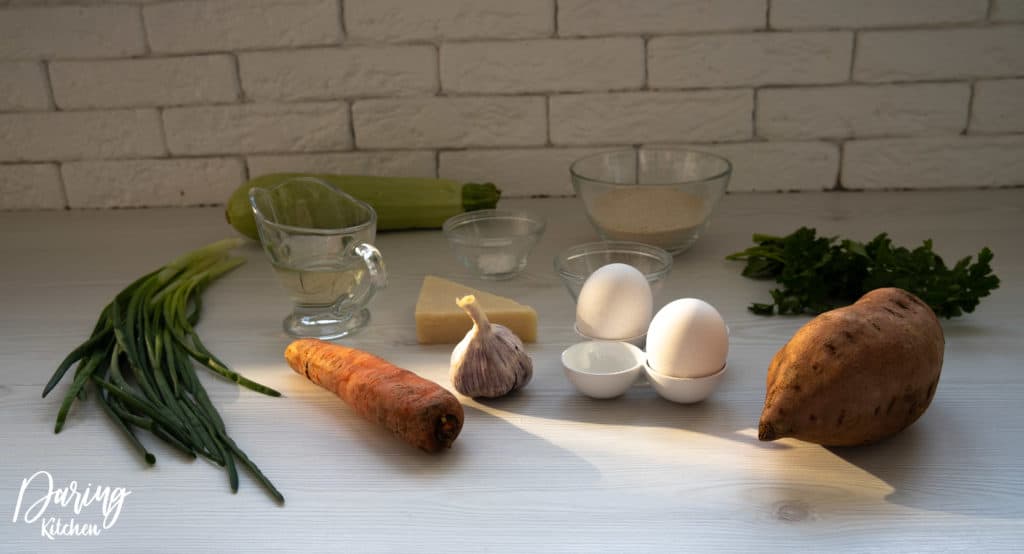 How to Make Zucchini Fritters
All this talk about this fritters recipe has me hungry! So, let's dive into how to make this pan-fried fritters recipe.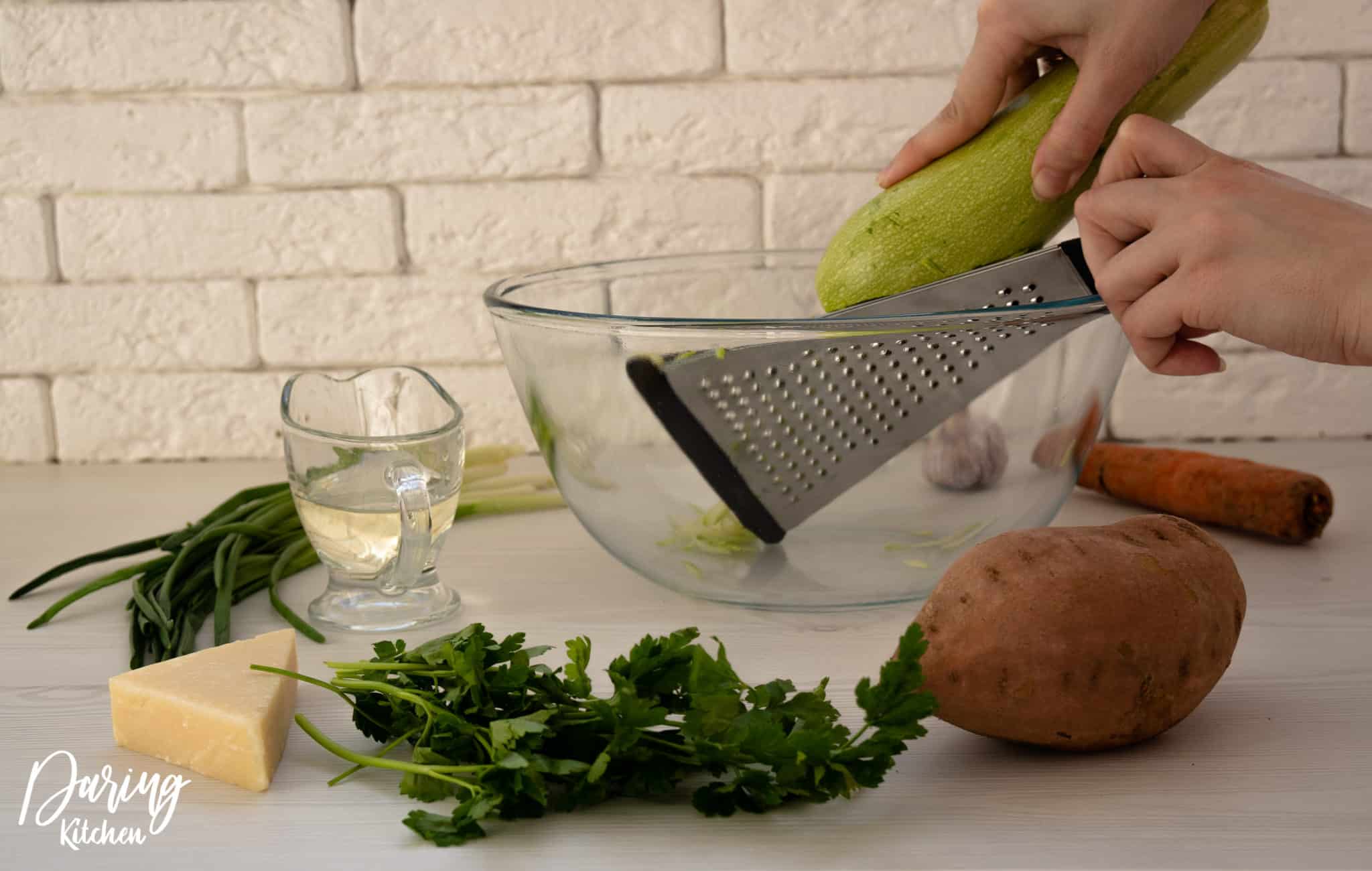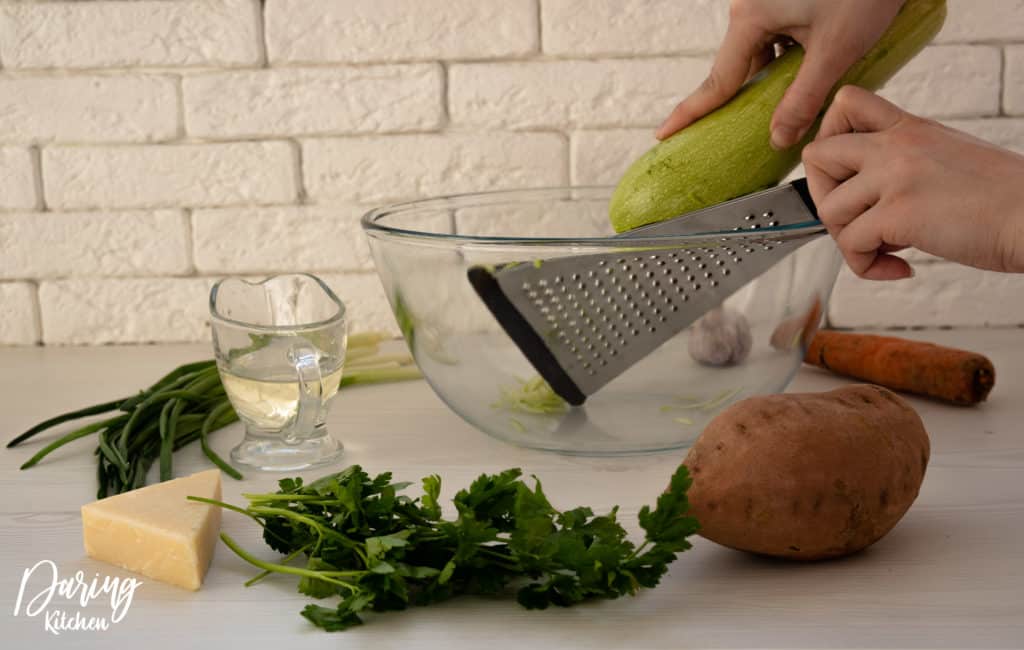 First, you need to prep your zucchini and sweet potato (if you aren't using leftovers.) With your grater or food processor, grate your zucchini. Then, place it in a cheesecloth, squeezing out as much liquid as possible. Then, grate your sweet potato and carrot (these will not need straining!)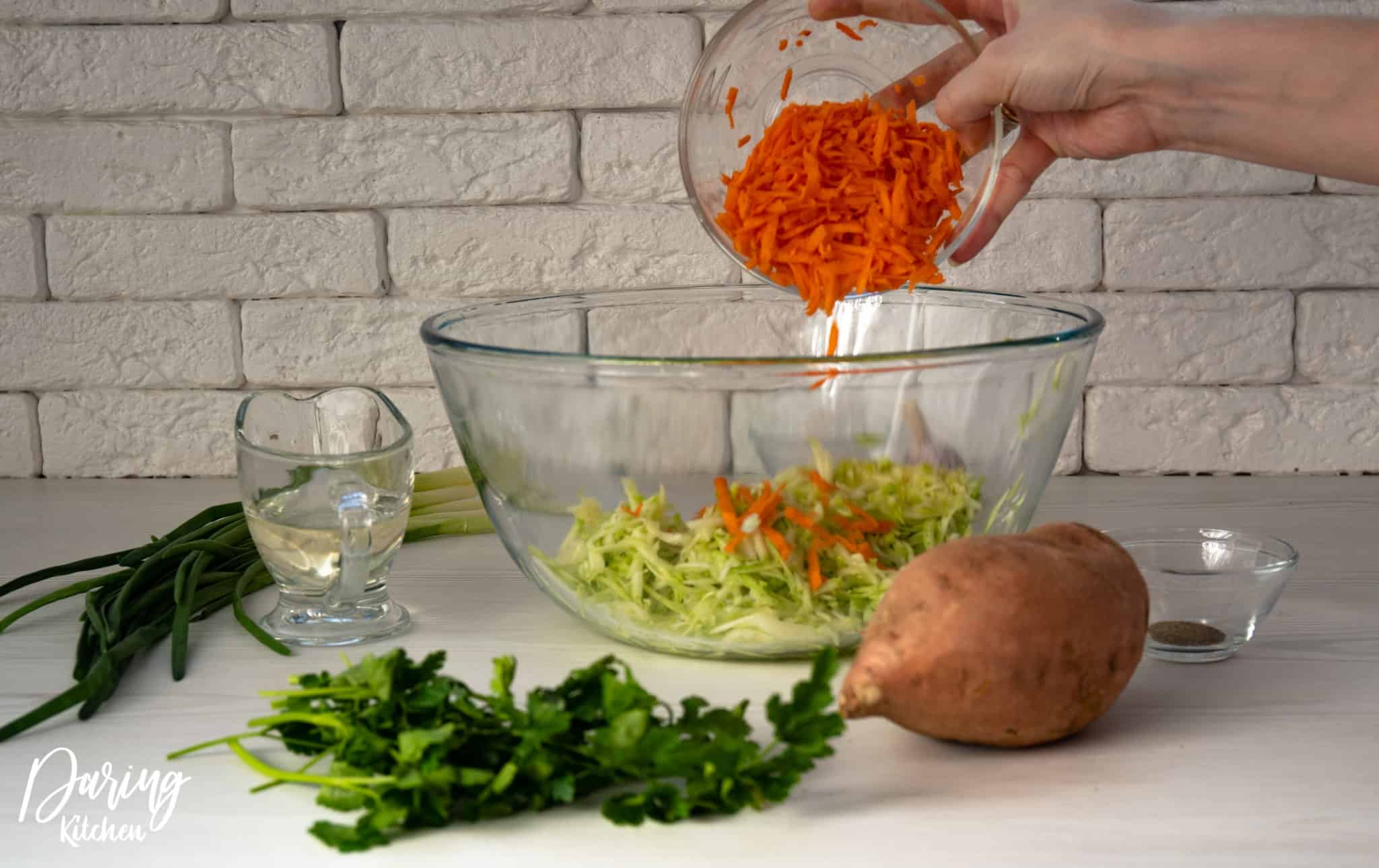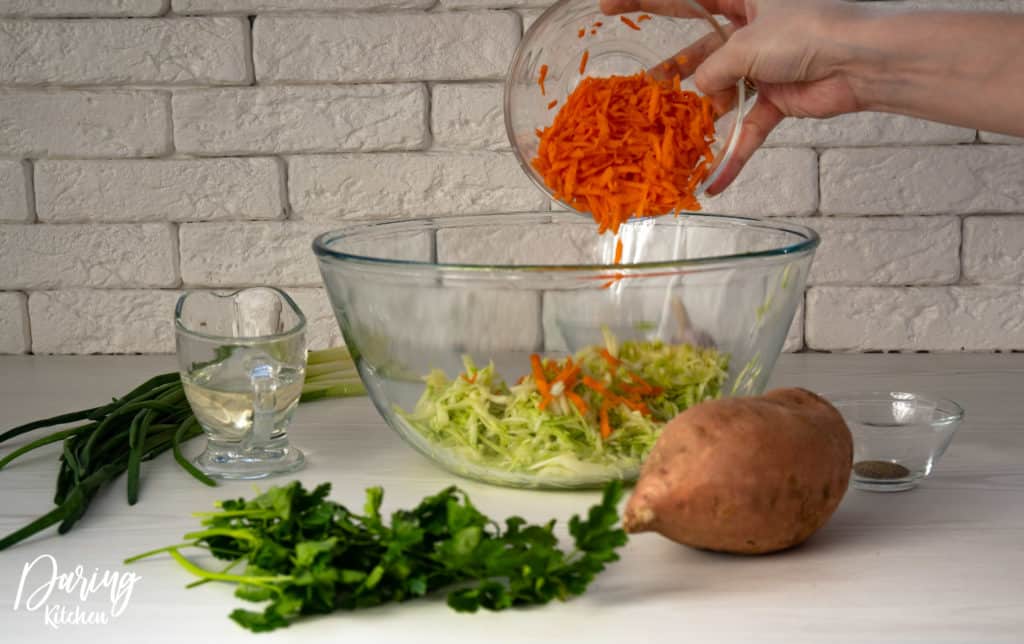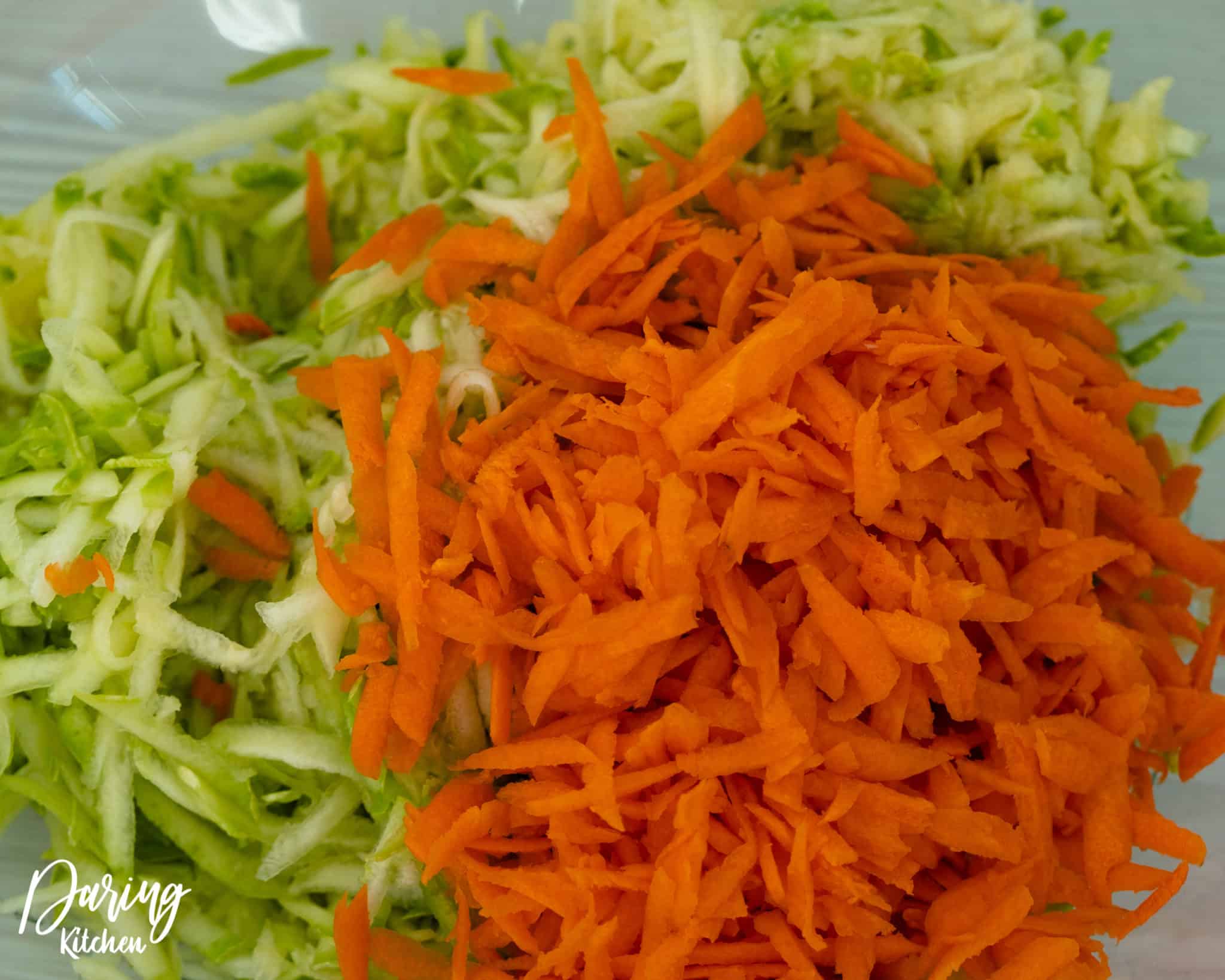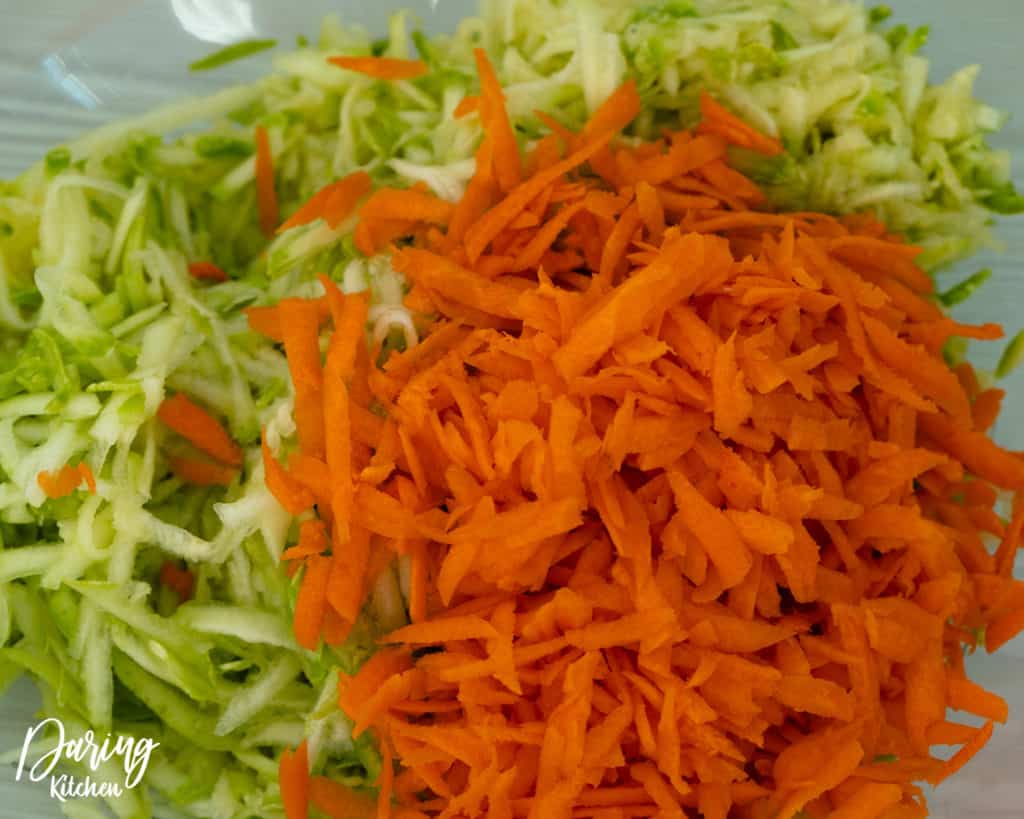 Add all your shredded veggies into a large bowl.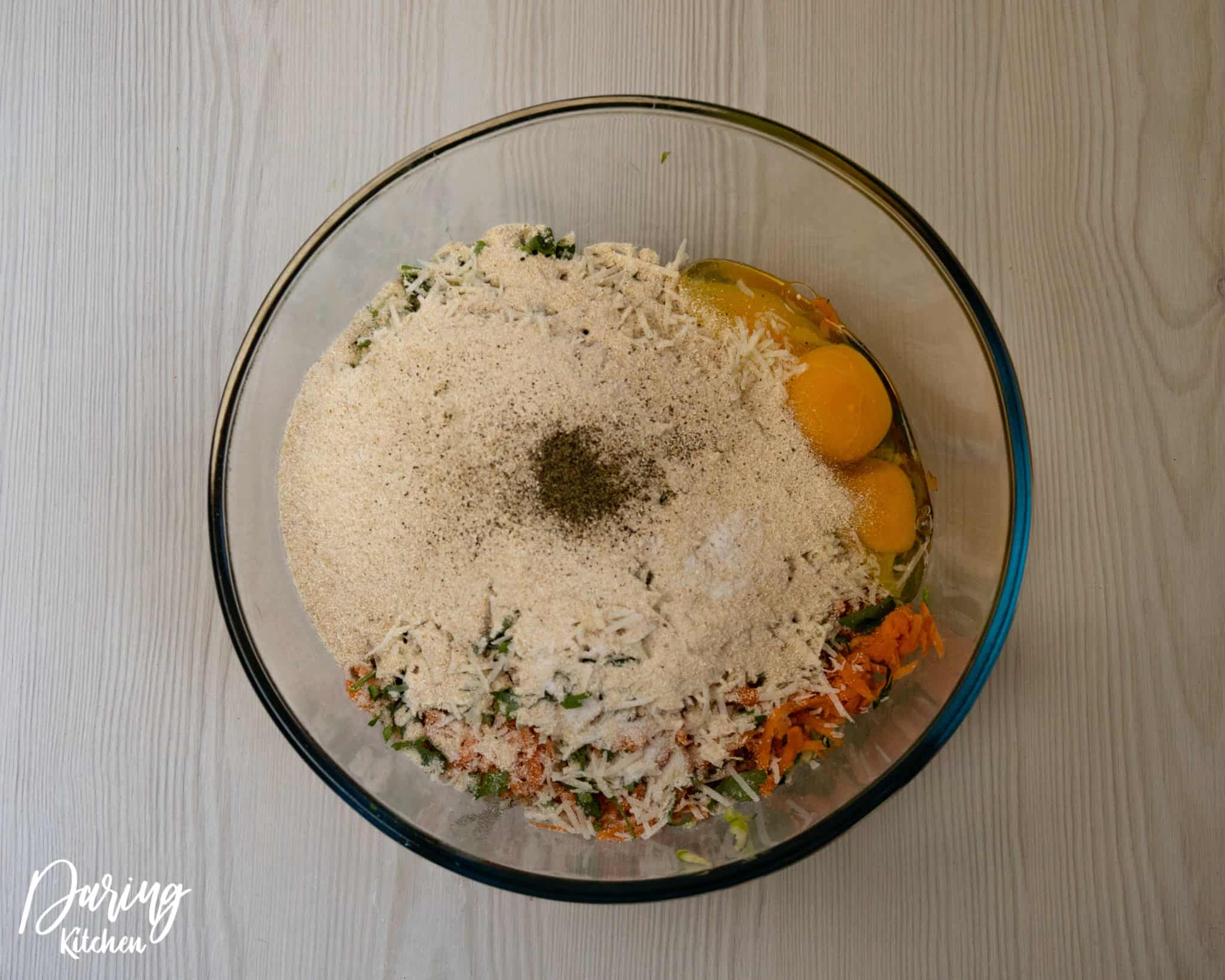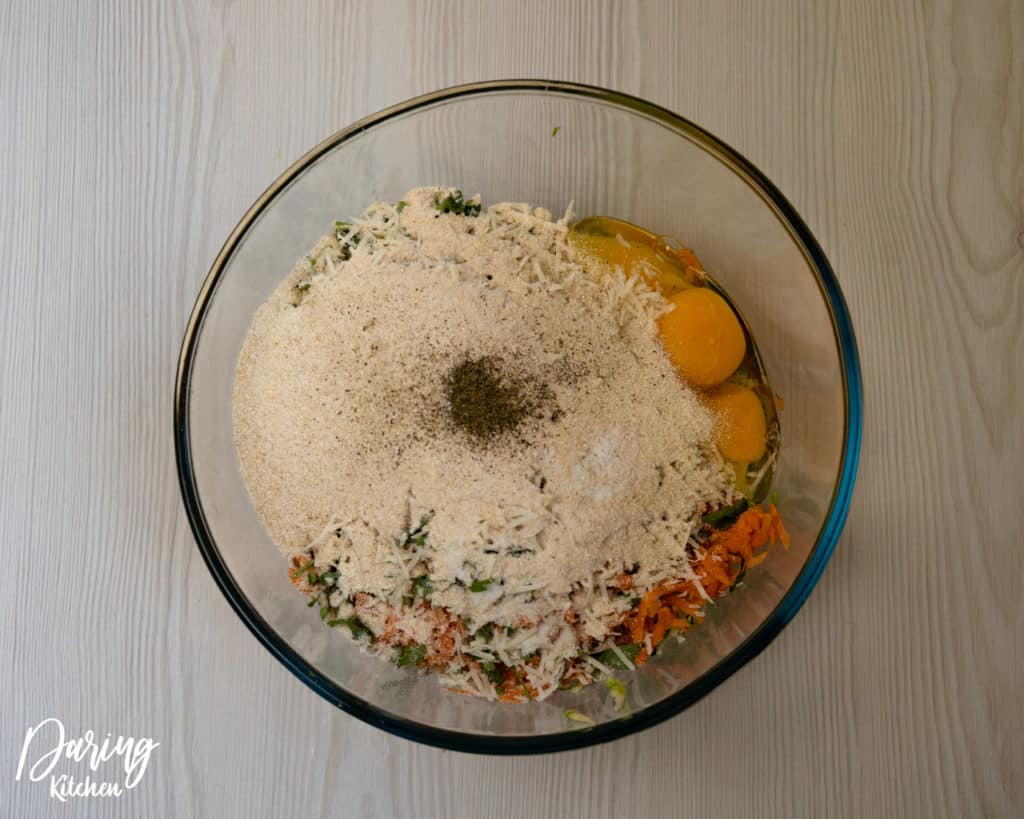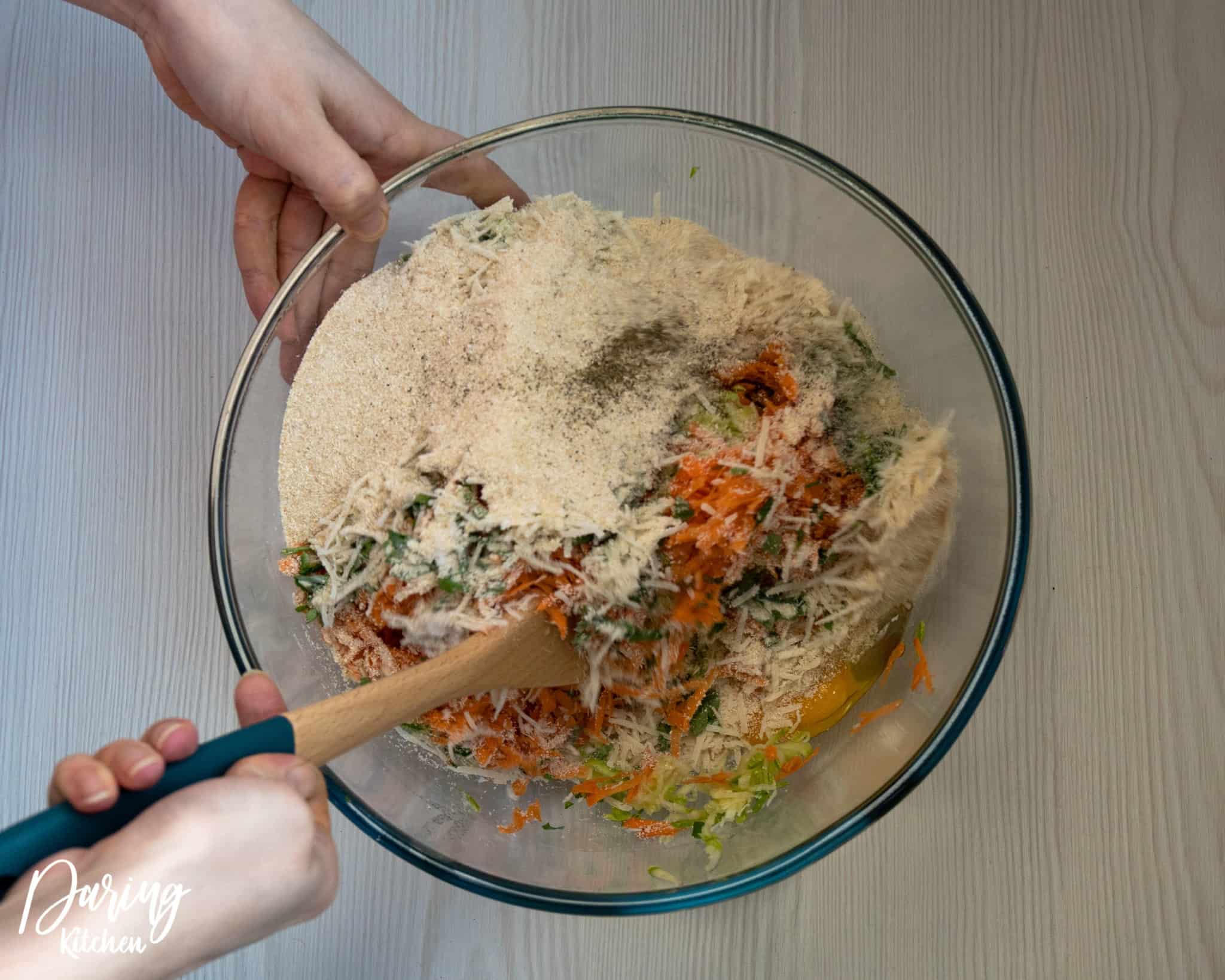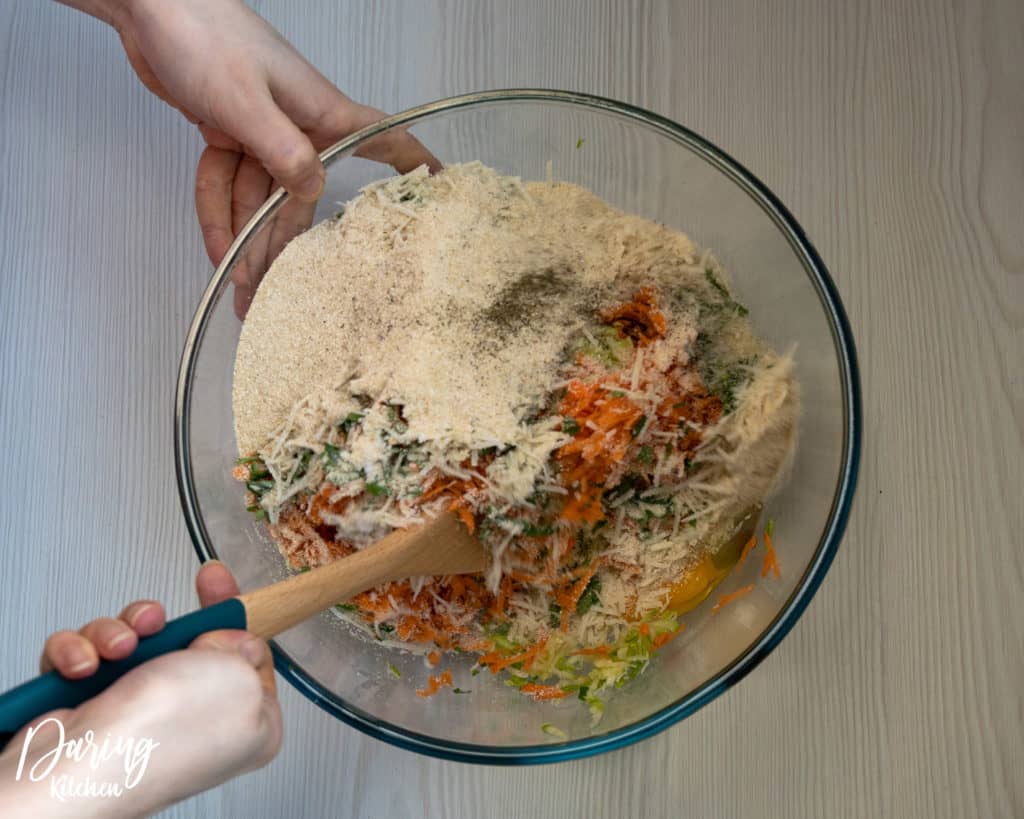 In the same large bowl, add in all your other ingredients carefully (including 2 tablespoons of your olive oil or avocado oil.)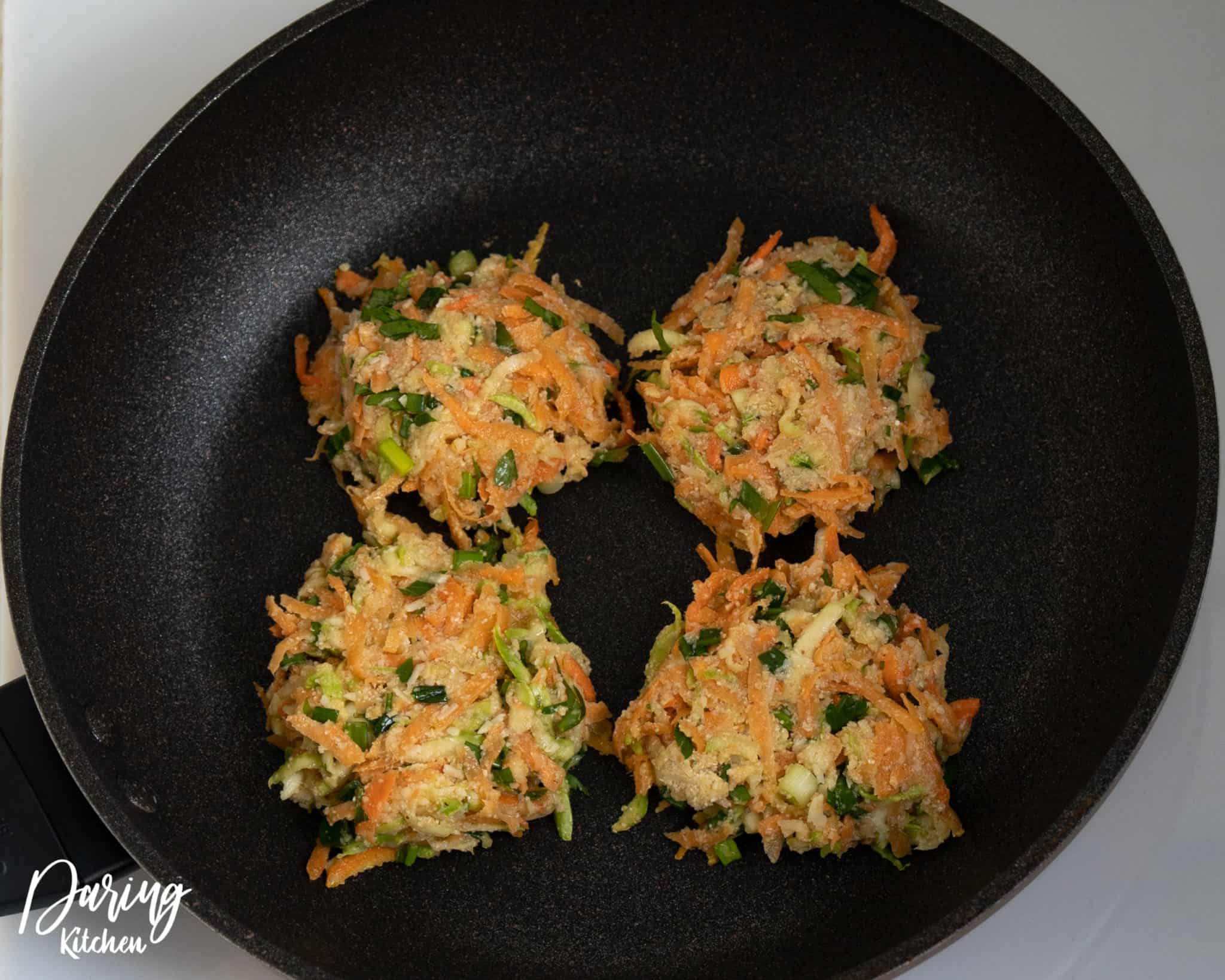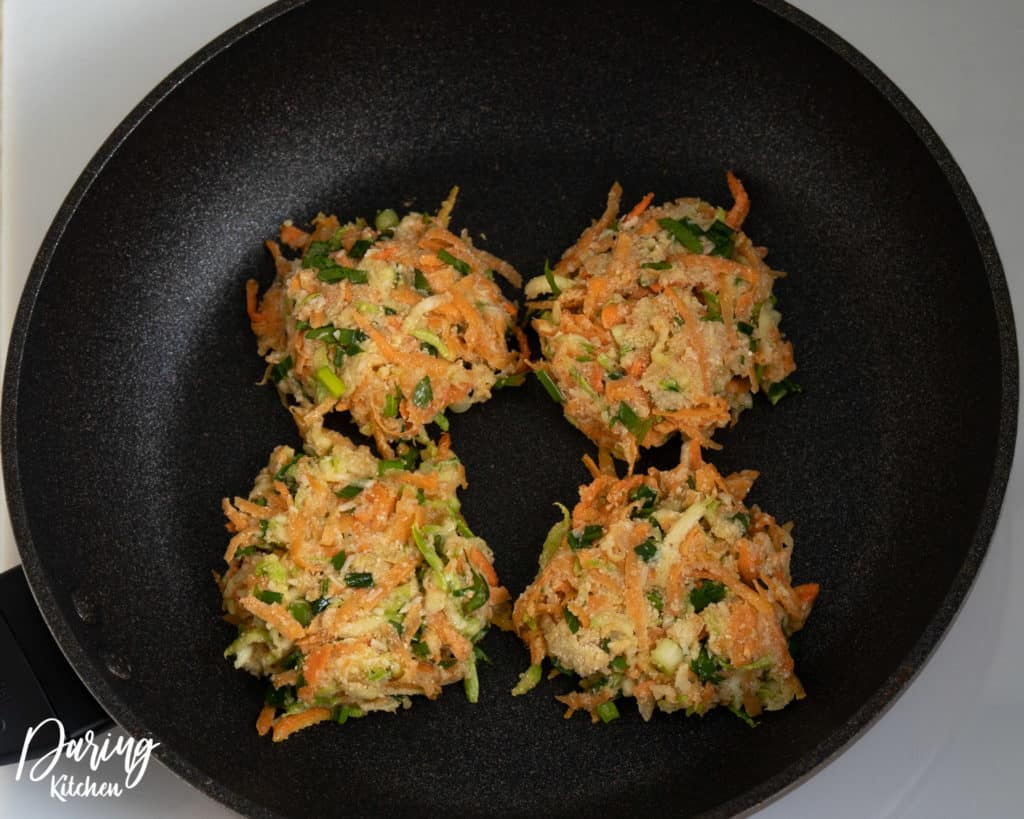 Now, heat your pan over medium heat with the rest of your olive oil. Add spoonfuls of your fritter mix to the pan. Depending on the size of your pan size, it's best to cook 4 fritters at a time. You will make a few batches, so more oil may be required. While your fritters cooked, line a plate with paper towels.
Cook each fritter on each side for about 3 to 4 minutes, or until perfectly golden brown. Place your cooked fritters on a paper towel lined plate.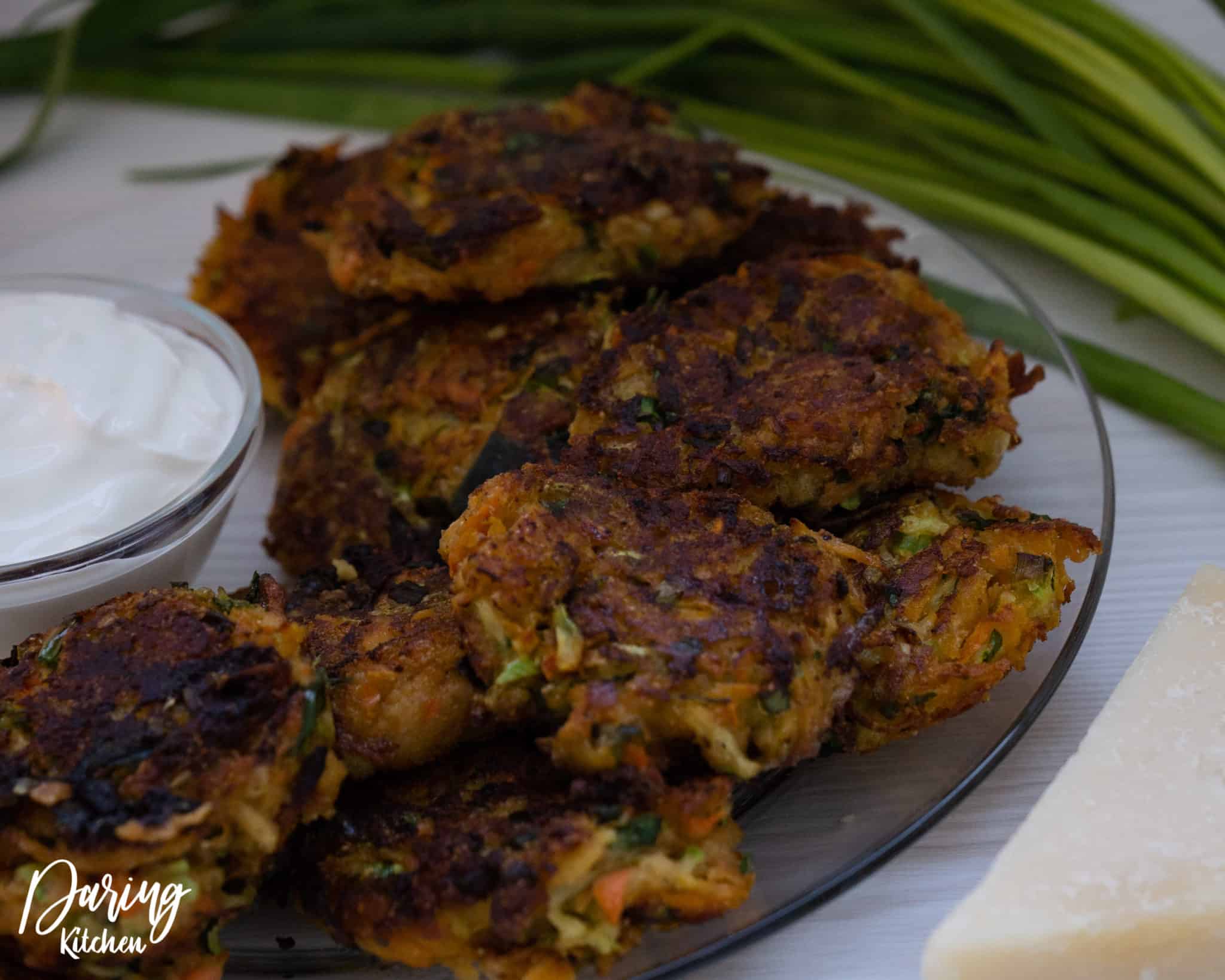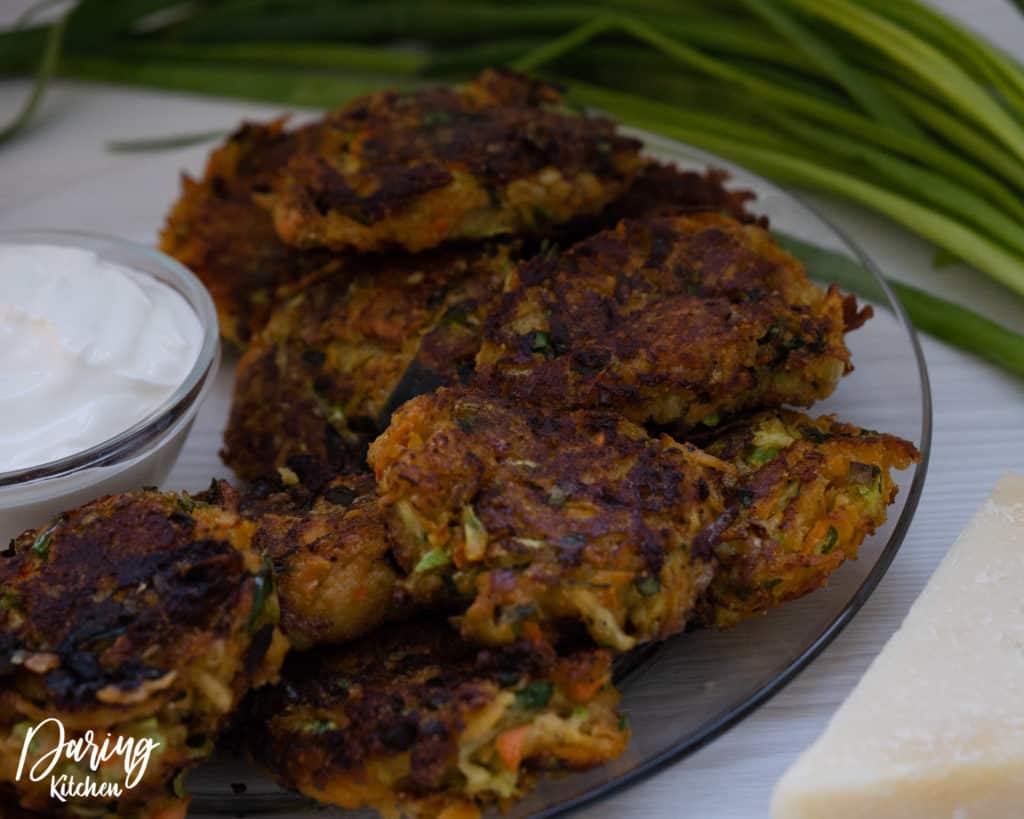 Once all the fritters are cooked, serve them however you like! I always love to add a squeeze of lemon juice to the fritters fresh out of the pan. It adds a nice bite, especially when combined with greek yogurt or more cheese!
I hope you enjoyed this recipe. Please leave a comment below if you tried it out! Love to hear your thoughts.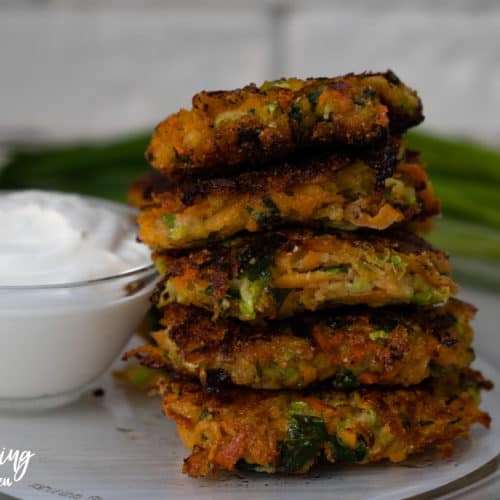 Easy Zucchini Fritters
Perfectly golden brown and crispy delicious, these gluten free fritters are one of my favorite summer zucchini recipes ever.
Print
Pin
Rate
Equipment
Knife

Grater

Gauze

Garlic Press

Vegetable Scissors

Kitchen Spatula

Pan
Ingredients
1

large zucchini

1

small sweet potato

peeled

1

medium carrot

peeled

¼

cup

finely chopped green onion

3

garlic cloves minced

(can be replaced with 1 tablespoon of garlic powder)

2-3

tbsp

chopped parsley

½

tsp

salt

or to taste

¼

tsp

ground pepper

or to taste

2

large eggs

½

cup

rice flour

(Gluten-free or oat flour will be good substitutes)

¼

cup

ground parmesan cheese

¼

cup

olive or avocado oil
Instructions
The easiest way to prep the veggies is by using your food processor and set up the small shredding blade. Alternatively, you can use a medium-small grater.

Grate the zucchini, then squeeze as much water as you can and place them in a large bowl.

Continue to shred the sweet potato and carrot and add it to the bowl. Stir in the remaining ingredients: green onion, garlic, parsley, salt, pepper, eggs, rice flour, and cheese. Add 2tablespoon of oil. Using your hands or a kitchen shovel, mix thoroughly until well combined.

Heat oil in a large nonstick pan over medium heat. Add about one spoonful of mixture into the pan, and gently press it down to create a round shape fritter.

Cook about 4 fritters at a time, for about 3-4 minutes per side.

Serve with your favorite dip and enjoy!