Zucchini meatballs are a healthy and delicious alternative to traditional ones. They're easy to make and a real crowd-pleaser! Gather your loved ones around the table and dig in!
Why You'll Love This Zucchini Meatballs Recipe
Great For Parties- Zucchini meatballs are perfect for your next party or potluck. They're easy to make ahead of time and can be served either hot or cold.
Flavorful- These tasty meatballs are packed with flavor. The combination of fresh zucchini, garlic, and Romano cheese is simply delicious.
Simple Ingredients- This recipe calls for just a few simple ingredients you probably already have in your kitchen.
What Are Zucchini Meatballs?
Zucchini meatballs are an amazingly healthy and oh-so-tasty alternative to traditional meatballs made with beef or pork. These vegetarian meatballs are made with fresh zucchini, garlic, Romano cheese, breadcrumbs, and a blend of herbs. The result? Light, fluffy, and absolutely delicious! These flavorful gems will surely bring a smile to even the pickiest eaters.
Equipment
Vegetable Grater

Cheesecloth

Large Bowl

Skillet

Stirring Spoon

Knife

Baking Sheet

Ingredients
Large Zucchini- The main ingredient in these tasty vegetarian meatballs! It adds a light, fresh flavor and helps keep the meatballs moist.
Olive Oil- Helps the zucchini and garlic to cook in the pan.
Garlic- Adds a delicious flavor to the zucchini meatballs and is also very nutritious.
Italian Bread Crumbs- Helps keep the meatballs together and add a delicious texture.
Romano Cheese Adds a nice sharp flavor to the zucchini meatballs, enhancing their taste. You can also use grated Parmesan cheese can be used in place of Romano.
Egg- Acts as a binder and helps the zucchini meatballs hold together when cooked.
Fresh Basil- Provides a delicious herbaceous flavor that brings the dish to life.
Marinara Sauce- To be served with the zucchini meatballs on the side.

How To Make Zucchini Meatballs
First, preheat your oven to 375 F. Then grate the zucchini on a coarse vegetable grater. Drain the grated zucchini in a cheesecloth to remove any excess liquid.
Heat olive oil in a pan, add the grated zucchini and garlic to the pan, saute until soft, and drain once more.
Combine the bread crumbs and Romano cheese with the zucchini mixture. Add the beaten egg and chopped basil, and combine well.
Gently roll the zucchini meatball mixture into balls with your hands and place each one on your prepared baking sheet. Spray the zucchini meatballs with a light layer of oil. Bake the meatballs in the preheated oven for about 20 minutes.
While the meatballs are cooking, simmer the marinara sauce in a pan. Serve baked zucchini meatballs with heated marinara sauce, and enjoy!

Popular Substitutions & Additions
Replace the traditional bread crumbs with Italian-seasoning flavored panko breadcrumbs, gluten-free breadcrumbs, or flour.
Add grated onion or crushed red pepper flakes for a bit of heat.
Use fresh parsley instead of fresh basil.
Swapping out the Romano cheese for grated Parmesan cheese.
Add lean ground meat such as ground chicken or ground turkey to your grated zucchini to create chicken zucchini meatballs or turkey zucchini meatballs.

Can I Freeze Zucchini Meatballs?
Yes! This recipe freezes very well. Once the meatballs have been cooked, let them cool completely. Place them in a freezer-safe container, and they will last up to 3 months in the freezer. When reheating the frozen meatballs, defrost them thoroughly before cooking. The best way to do this is to place them in the refrigerator overnight to thaw. You may reheat zucchini meatballs in a variety of ways. For one, you can put them in an oven at 350 degrees for 10 minutes or until thoroughly heated. You can also warm them over medium heat in the skillet.

Zucchini Meatballs FAQS
What is the best way to store leftover zucchini meatballs?
Zucchini meatballs are stored best in an airtight container in the refrigerator. If stored correctly in an airtight container, vegetarian zucchini meatballs will last up to 3 days in the fridge.
Can I use a sauce other than marinara sauce?
Yes! You can use any sauce that you like. Alfredo sauce, pesto sauce, or even a simple tomato sauce would be delicious.
Do I have to use zucchini in this recipe?
No, you don't have to use zucchini in this recipe. You could replace the zucchini with shredded carrots, cauliflower, or broccoli.
What can I use in place of breadcrumbs?
If you are looking for a gluten-free option, use almond flour or ground oats instead of breadcrumbs. Both of these options will work just as well in this recipe.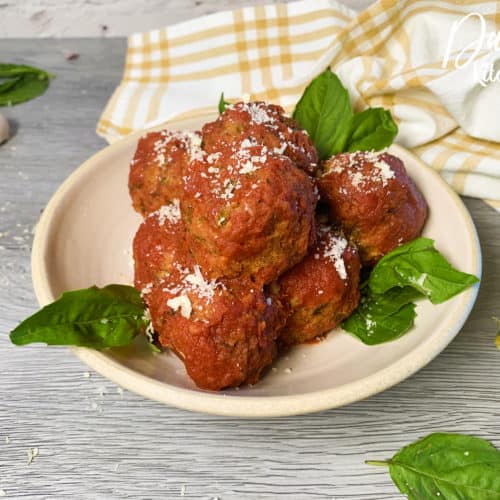 Zucchini Meatballs
Grated zucchini, garlic, and fresh basil bound together with Italian flavored breadcrumbs, Romano cheese, and egg to create these delicious, meatless meatballs.
Print
Pin
Rate
Ingredients
1 ¼

lb

Fresh zucchini

1

tsp

Olive oil

2

Garlic cloves

minced

1

cup

Italian breadcrumbs

¼

cup

Romano cheese

1

Large egg

3

tbsp

Chopped basil

2

cups

Marinara sauce
Instructions
Drain them on a cheesecloth and remove excess moisture.

On a skillet add the olive oil and sauté the zucchini and garlic until cooked.

Drain to remove excess moisture.

Add the breadcrumbs and the romano cheese to the zucchini mixture.

Add one large egg and the chopped basil and mix well together.

Grab a small amount of the mixture and shape it into a round ball. Place the balls on a baking tray

Add a little bit of oil spray before baking them at 375F for 15 to 20 minutes.

Heat the marinara sauce on a skillet and add the zucchini meatballs.

Simmer for 7-8 Minutes until meatballs have absorbed sauce.

Serve with grated cheese.
Nutrition
Calories:
220
kcal
|
Carbohydrates:
32
g
|
Protein:
11
g
|
Fat:
6
g
|
Saturated Fat:
2
g
|
Polyunsaturated Fat:
1
g
|
Monounsaturated Fat:
2
g
|
Trans Fat:
0.01
g
|
Cholesterol:
48
mg
|
Sodium:
1084
mg
|
Potassium:
834
mg
|
Fiber:
5
g
|
Sugar:
10
g
|
Vitamin A:
1036
IU
|
Vitamin C:
35
mg
|
Calcium:
172
mg
|
Iron:
3
mg