Imagine: You're hyped to make your homemade pickles. Then you unload the groceries, only to realize you picked up zucchinis instead of cucumbers! Well, this does happen sometimes.
In this article, we'll help you identify differences in the zucchini vs. cucumber, so the next time you walk into the veggie aisle, you'll know which is which right away.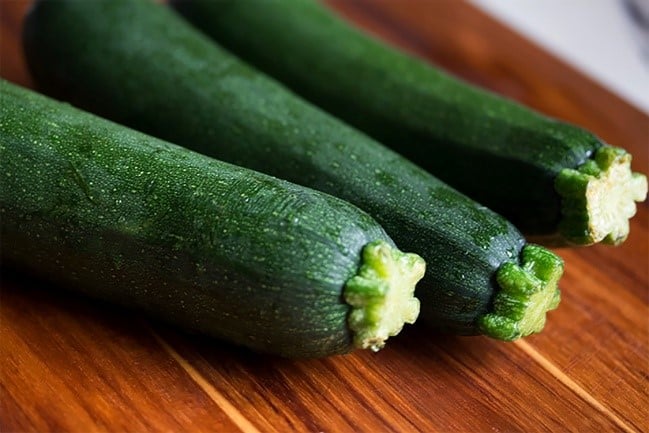 Still, don't regret that mistaken zucchini stash just yet. Pull out your spiralizer and turn it into another exciting culinary creation. How about some low-carb zoodles?
Zucchini vs. Cucumber- What are their Differences?
The first aspect in the zucchini vs. cucumber weigh-in is this: Are they fruits, or are they vegetables? You mostly find them in the vegetable section, so we often understand them as being vegetables. In a culinary context, they are also considered veggies.
Technically speaking, though, both cucumber plants, and zucchini plants as well, are classified as bearing fruits! They are types of berries. They grow a flower, have seeds, and have fleshy insides. Nonetheless, we still eat cucumbers and zucchinis with salad greens, and not with fruit salads.
What Makes the Zucchini vs. Cucumber Contrasting?
Externally, these green, cylindrical fruits have such striking resemblances that it's hard to tell them apart. Upon closer inspection, though, you'll find that zucchini squash is mostly cylindrical from end to end. Cucumber, on the other hand, has tapered, rounded ends.
When it comes to taste, cucumbers are so juicy and crispy that you can even eat them raw. Meanwhile, zucchini has a milder, almost bland taste, with a slightly bitter tang. It pairs well with vegetables and is best when cooked.
Zucchini in Overview
Zucchini, or "courgette" in France, is a summer squash that belongs to the cucurbitae family. Its plant grows abundantly around mid-summer, and it's harvested when the fruit is not yet fully matured. At this stage, zucchini squash has a tender, edible core.
With its bland taste, zucchini, much like yellow squash, can complement most vegetables when cooking. Aside from using it in pasta and pizza, it also makes for a great ingredient in bread and other desserts. It's so versatile that it can be used for almost any type of cooking – anything that you can think of.
There's no contest between zucchini vs. cucumber in terms of nutritional value. Zucchini, like cucumbers, contain about 95% water, fiber, and a trace amount of vitamins like B6, C, and K.
How to Select and Store Zucchini
Zucchini thrives in warmer regions and is best planted in the spring or fall, to become available in summer. When the weather gets warm, the plants begin to sprout abundantly. Thus, summer is the time when you can get zucchinis cheap and fresh.
If you are growing your own zucchini, proper selection and storage will give you an ample supply that can last longer. Choose the firm, intact, and smooth zucchini fruit for storing. The small and medium fruits are more ideal for long-time storage than larger ones.
Unrefrigerated, zucchinis can last from 2 to 4 days in a well-ventilated room. However, if you stash it in the freezer, it may last until about a year. Cut and blanch the zucchinis you want to freeze for about three minutes, then dunk them in ice water and drain them.
Pack them in an airtight container and keep it in your freezer. Now you have a supply to last you until the next harvest season! When you're ready, try a delicious zucchini noodles recipe, or even just simple zucchini slices.
Uses of Zucchinis
Grilled zucchini is flavorful enough with just butter or olive oil. You can sauté it to make an excellent side dish. You can throw it in with other veggies, meat, or fish dishes to make a delicious and healthy mix, or deep fry some zucchini fritters to get a healthier substitute to French fries.
The infamous "zucchini pasta" is also enjoyed by people who want to eat less carbs. Since it is practically water, and is high in fiber and low in calories, it can aid in weight management. Parents who want to encourage their children to eat more greens can slip zucchini into their diet this way.
Zucchinis are bland, so kids can get their share of healthy goodness without even noticing.
Cucumber in Overview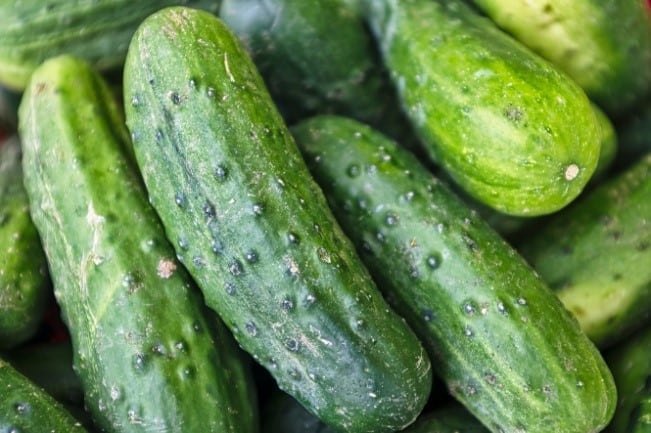 Like zucchini, cucumber also belongs to the squash and melon family called cucurbitae. It's enjoyed because of its crisp texture and hydrating quality. Cucumbers grow best in the full sun, just like zucchinis. Springtime is the best season for harvesting them, which makes them available in the summer.
This refreshing fruit complements drinks like lemonades. It's also widely used in salads, for pickles, and in presenting main courses. Cucumbers' internal temperature is often 20 degrees cooler than its exterior. That's why they're cool and hydrating.
Aside from a cucumber's hydrating properties, it's also valued for its disease preventive properties. Everything about a cucumber – the seed, peel, and flesh – is packed with nutrients and antioxidants.
How to Select and Store Cucumbers
Cucumbers are available in grocery stores all year round, but its peak season is in the summer, and that's the time when it tastes great, when you can notice the hint of its sweetness. Growing your own cucumbers will ensure enough supply for whatever cuisine you have in mind.
You will also lessen food waste, while being economical.
When harvesting cucumbers, you should assess their lengths in advance. For example, cucumbers that are about three to four inches long are good enough for pickling. Just don't let them grow any larger than nine inches. Mature cucumbers are less tasty and may have a bitter taste.
Cucumbers can last for about a week in the refrigerator. You can also freeze them if you want to have them handy for future use. However, the best way of preserving cucumbers is to turn them into pickles.
Uses of Cucumbers
The acidic, salty-sour zest of pickles gives cucumber its defining identity in the zucchini vs. cucumber comparison. This versatile fruit can also enhance various foods, like salads and refreshing drinks.
Cucumbers are also making rounds in weight loss diet plans. Aside from its nutrient-dense and hydrating content, it's thought to help reduce food cravings. Cucumbers are also known as being a quick fix for a hangover.
Cucumbers are not only delicious when eaten raw. You can also cook them to enhance the flavors of other foods. Some people put cucumber in gazpacho sauce, salsa, and even in stir-fry.
Final Thoughts
Zucchinis vs. cucumber: there are several differences between them. Each has its distinct culinary uses, and you can't use one as a substitute for the other. Use them together, though, and you can create very delectable culinary creations.
The next time you see these fruits in your local market, pick both, and enjoy the unique benefits they give.