It's all about trying new things, boosting vitality and having fun. A splash of courage, some whipped up curiosity and bam: your very own, daring kitchen.
So, you're a foodie and you're looking for some culinary spice and adventure. Like us, you probably love healthy produce and flavorful new frontiers: they fill you with fresh, creative ideas! Right? Yes, we know. It doesn't always start like this and sometimes, even the inspired hit a wall. We've been there, and that's why we're here.
Welcome to The Daring Kitchen, we're so glad to have you here!
In this little corner of the internet, you'll find a community that is all about trying new things, boosting vitality, and having fun. We aim to encourage you to experiment with new foods, to explore different cooking techniques, to give new products a chance, and to be all-around daring when it comes to your cooking and eating endeavors.
Life is too short to be bored by what's for dinner!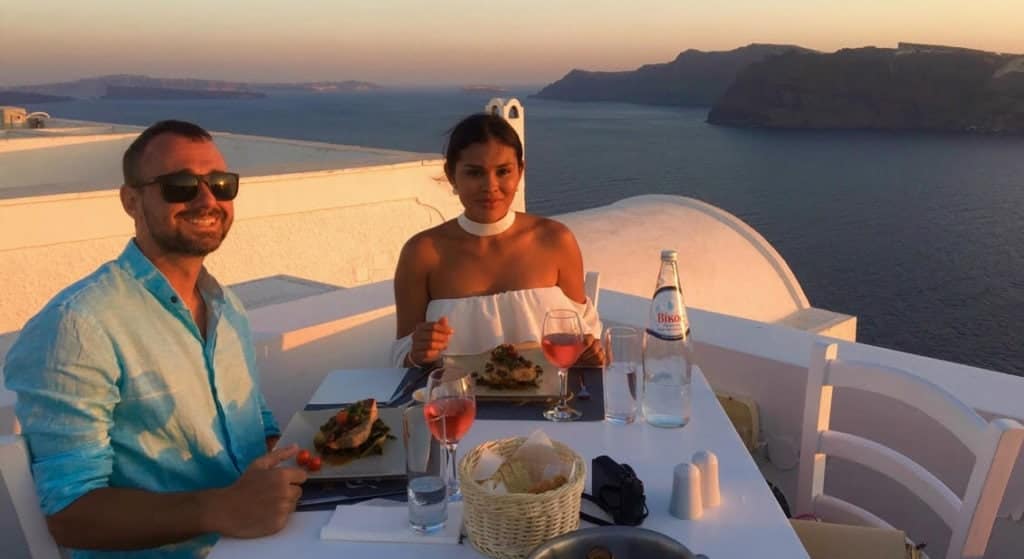 Where it All Began.
I'm Ligia, and I'm glad you're here, because the best things in life are shared. Chris and I are a foodie couple, and a Nicaraguan - American recipe. We're adventure foodies and cultural culinary chefs by now. Travel was an acquired taste for me but once we got rolling, it taught us to expand our horizons. Soon enough local cuisines became our North Star, keeping us on our creative path and giving us moments to breathe out and share time. On the road and at the chopping board, we've pushed through feeling unsure. We've experimented. We've mixed things up and tossed things out. We've learnt to be bold.
Why We're Here.
We draw most of our inspiration from our experiences with local cuisines around the world, turning them into recipes where authentic secrets blend with our own experimental brand.
We are also equally as inspired by YOU, our community, as we strive to share information on topics that you care about most–whether it is reviewing the latest products so you can be the most informed shopper or walking you through kitchen tips and tricks to make your culinary creations come all that much more easily.
We take care to ensure that each of our types of content is chosen with intention, written for a purpose, and that at the end of the day, it serves to help you in your own kitchen!
Recipes
We design our recipes as a means to inspire, nourish, and expand the culinary expertise of you and those you cook for! We're all about fresh ingredients, seasonal attunement, and big bold flavors here.
Product Reviews
As a consumer, it's impossible to try each and every product out there–it would simply take too much time, and not to mention the cost! We work through these items for you, providing you with all of the first hand info you need to make the most informed shopping decisions.
How To's
Showcasing our tried and true methods for common culinary tasks, in an effort to save you time and simplify your food prep procedures.
This Vs. That
Because sometimes the differences between 2 ingredients or kitchen tools aren't so clear cut, we break down the differences so that you always know which to use and when.
Substitutes
We've all been there, trying to get a meal cooked only to find out you don't have a key ingredient on hand! We create substitute guides in order to help you decide which replacement ingredients are available and best suited to your needs.
Who We Are.
Over the years, we have built up a wonderful team of contributors–fellow food-loving folks who help us to bring our inspirations and information to your table. Get to know each of them!
Ligia Lugo
Co-Creator, Creative Director, Recipe Creator, Food Writer
Growing up in Nicaragua, food was a focal point of Ligia's life from the start. She has loved to cook for as long as she can remember and to this day, soulful memories of home come to her in the form of foods like homemade tortillas and sweet yet savory pollo tapado.
Ever since her first few trips away from home, she was stricken by the desire to discover everything she could about the meals people make and why. Her collection of these first hand experiences continued to grow and now, 63 countries and 23 states later, her expertise in international cuisine is unmatched. Her jet setting is countered only by the routine of motherhood, and when she's not cooking for The Daring Kitchen community, she is most certainly passing such food memories down to the newest chef in the family.
Chris Reily
Co-Creator, Technical Director, Food Writer
With years of experience running websites of all types, Chris was just the person to help Ligia bring her arsenal of international culinary knowledge to the masses. Like Ligia, he too has a chronic case of the travel bug, a case of the travel bug and together these two experience as many different places as often as they can.
From the simplicity and focus of authentic Italian cuisine to the street foods of Trinidad and Tobago, Chris's focus when traveling is to focus on what each country has to offer.
At home, Chris likes to get involved with cooking as well, and is a true aficionado when it comes to all things smoked! He loves to create smoked versions of meals that he and Ligia share during their travels and features his work at smokedmeatsunday.com.
Anela Tatlic
Recipe Photographer & Videographer, Contributing Recipe Developer
Anela views cooking as an act of passion, skillfully crafting food that tastes as good as it looks!
Over the many years she has spent honing her culinary skills, Anela learned that food exploration is never-ending work, and is constantly improving her techniques and base of knowledge. In her words, "there is always something new to learn!"
Her educational journey started with culinary high school and since the first day, she knew it was her path. She went on to earn an MSc in general nutrition, enabling her to design recipes from an intentional and health-minded standpoint–as well as a tasty one, of course!. Mastering the art of food photography was the next logical step for Kasi, and she can often be found in her in-house studio, cooking and preparing delicious meals and sharing the photographic evidence!
Kelly Tyrrell
Product Reviewer & Photographer, Contributing Food Writer
After graduating from the International Culinary Center (formerly the French Culinary Institute), Kelly worked her way through a number of NYC restaurant kitchens before managing a farm/culinary events space in Connecticut. She's hung up her chef's apron–at least for now–and is putting her extensive food industry knowledge to use as a writer. She's able to use her expert palate and wealth of back-of-the-house experience to taste her way through piles of food products, try out various kitchen tools, and share all of her findings and insights with you!
When she's not writing, she's most likely hiking in the mountains of upstate NY, co-running a cat rescue in Brooklyn, cooking up comfort food classics, or just chilling with her own cat, Max--who you might just see making a cameo in a product review photo or two.
Kasi
Contributing Recipe Developer
From an early age, Kasi was captivated by travel and food. From her homebase in Atlanta, Georgia, Kasi took many trips with her family, getting to know different cultures and the authentic culinary delights offered by each location.
She began recording her journeys, encounters, and favorite dishes in a journal–and developed an unwavering appreciation for writing in the process. This became a driving force as she matured, eventually giving birth to a life-long passion for cooking! Kasi says "Cooking gives me an opportunity to express myself in ways that are unique compared to other forms of art–through taste." She loves trying new recipes, perfecting old ones, and experimenting with flavors.
How We Operate.
Our Funding
As you can see by the size of our small team, we are an independently operated blog meaning all of the food, recipes, how-to's, and content you see here is a result of our own investment in this community. Our revenue is provided in part by ad partners and affiliate marketing, but rest assured that we only promote products we know and trust.
Product Reviews
Our product reviews are objective in nature, meaning we do not and never will receive compensation for items that we feature on our "Best" lists. Each product is evaluated according to our editorial and testing standards which include a variety of metrics. When it comes to food products, we utilize a panel of tasters for impartial flavor analysis.
Any leftover product is donated to local food pantries or food rescue kitchens, where they can be used to make meals for hungry members of the community.
Accuracy and Originality
By combining our extensive experience of worldwide cuisine with the industry expertise of our contributors, The Daring Kitchen is able to produce articles that are as informed as they are inspired.
Each of our recipes, articles, and reviews is carefully researched and written by us and our team qualified professionals and goes through our internal review process before publication. All content you see here is original or duely credited.
Fact Checking
In addition to our review process before publication, we also regularly review outdated content, removing content that we feel no longer meets our standards and/or update it as needed. This includes testing additional products as they become available.
If you happen to spot an error or omission, please let us know about it, you can email [email protected]
Connect With Us!
Subscribe
Please subscribe to our (monthly?--can insert how often here) newsletter here!
In the Press
Check out our feature in LA Weekly!
Advertise With Us
If you'd like to place ads on our site as an AdThrive partner, you can do so via the AdThrive marketplace.
If you're a brand looking to partner in another way, please reach out to [email protected]
Work With Us
Interested in being a member of The Daring Kitchen team? We are always looking for new writers and contributors! Please visit our hiring page here.
Find Us
Please connect with us on social, we'd love to hear from you!