In the eyes of grillers, the next best appliance to a barbecue is usually a good ole smoker. While both devices can cook meats and vegetables alike, smokers and barbecues offer vast variations that ultimately make the two unique. However, even the best propane smoker and the best propane barbecue could not compare to one another. Here's what makes the two devices different:
Barbecues:
Ensure excess fat drips off meats
Allow meats and vegetables retain more nutrients
Use direct heat to cook food
Must be "babysat;" food has to be flipped every now and then to avoid burning
Utilize a higher temperature range (~350 degrees Fahrenheit)
Cook food quickly (~25 to 30 minutes)
Smokers:
Offer a smokier flavor and often leave a nice smoke ring on meats
Give tender, fall-off-the-bone texture to meats
Use indirect heat to cook food
Allow for set and forget style of cooking
Most often utilize a lower temperature range (~200 to 220 degrees Fahrenheit)
Take longer to cook than barbecues (~6 to 8 hours)
Whether a barbecue or smoker is best for you all comes down to your preferences. If you want smokey, tender meats with a beautiful smoke ring but don't mind waiting hours for your food, you might be leaning towards a smoker. As for those who want juicy, moist meats in the matter of a half hour or less, you're probably a great candidate for a smoker.
If you're looking to get your hands on a new smoker, here are 10 of the best propane smokers you'll want to take a closer look at:
1. Cuisinart COS-244 Vertical 36" Propane Smoker, Black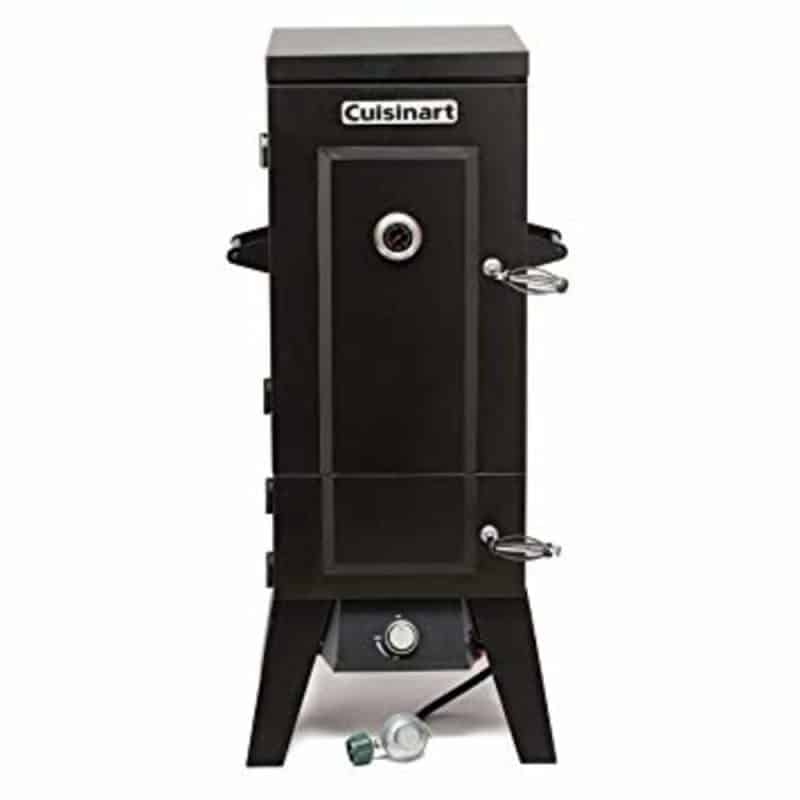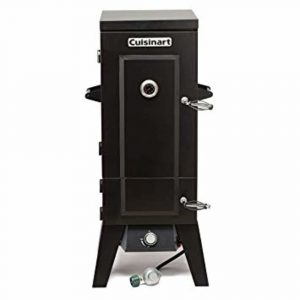 If you're wanting a propane gas smoker at a lower cost, the Cuisinart COS-244 might be a good fit for you. Its cooking chamber that's equipped with four stainless-steel racks offers enough cooking space for an average-sized family or for a smaller gathering. For larger pieces of meat like whole chickens or turkeys, the top rack can conveniently be removed. Being a narrower model, the size of this smoker's body makes it easier than the average smoker to transport and stash away.
With a dual door design on this Cuisinart model, users can replenish the porcelain-enameled water pan and wood chip tray without letting smoke and heat escape from the cooking chamber. The twist-lock door handle system allows for a tight seal while in the midst of smoking. In turn, users won't have to worry about using gasket to seal up the edges of the smoker's doors. Best of all, you can count on this Cuisinart propane smoker to maintain a consistent temperature for several hours at a time.
However, if you're hoping for a true set-and-forget style of smoker, you might want to pass this up. Reviewers state that the water pan is small and frequently has to be refilled during smoking sessions. For a smaller smoker, this shouldn't be a surprise. Additionally, some state that the temperature gauge is a tad off, so opting for an external gauge would not be a bad idea. But generally, the Cuisinart COS-244 is a great pick for those who want something small yet well-structured, well-sealed, and easy to use and transport.
Features:
4 stainless steel cooking racks (14" x 14" each)
Porcelain enameled water pan and wood chip tray
40" hose/regulator
Integrated temperature gauge
Dual door design
Twist-lock door handles
Rear vent
Includes a cover
2. Camp Chef 24" Smoke Vault Propane Smoker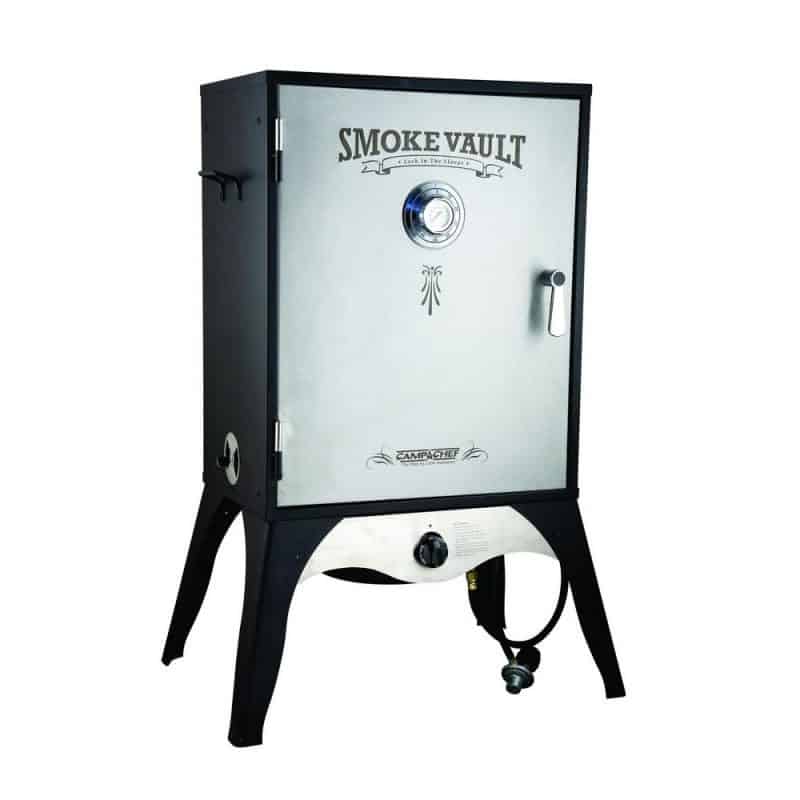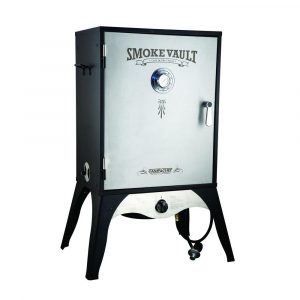 For a median-priced smoker, the Camp Chef 24" Smoke Vault has what it takes to reel in both beginner and long-term smokers. Although this vertical Camp Chef smoker is shorter in stature compared to other smokers and only has two cooking racks, the addition of a jerky rack, three damper valves for airflow and temperature adjustment, and a heavy-duty water pan and wood chip tray that beautifully permeates flavor and moisture into every bite make up for the lack of extra shelf space.
Versatility is also a big plus. The temperature range of this Camp Chef propane smoker which spans from 160 to 350 degrees Fahrenheit allows for both low and slow as well as hot and quick cooking. You can also be confident that the Smoke Vault will offer easy temperature control and provide consistent blue smoke to help you fulfill the results you're looking for.
There are still some things to watch out for with this smoker: the faulty temperature gauge, smoke leakage around the door, and heat fluctuations in windy weather. Some reviewers mentioned that the handles get pretty hot as well. In reality, these cons aren't that bad and are fairly common among both smokers and barbecues. Putting everything in perspective, the Camp Chef Smoke Vault is still a quality propane smoker. For the lower price, the quality construction, consistent heat output, and large cabinet are surprising.
Features:
2 adjustable cooking racks

1 jerky smoking rack

3 damper valves

Heat control dials

Matchless snap ignition

Heavy-gauge steel wood chip tray and water pan

Removable porcelain base tray

Temperature range varies from 160 to 350 degrees Fahrenheit
3. Dyna-Glo DGY784BDP Vertical LP Gas Smoker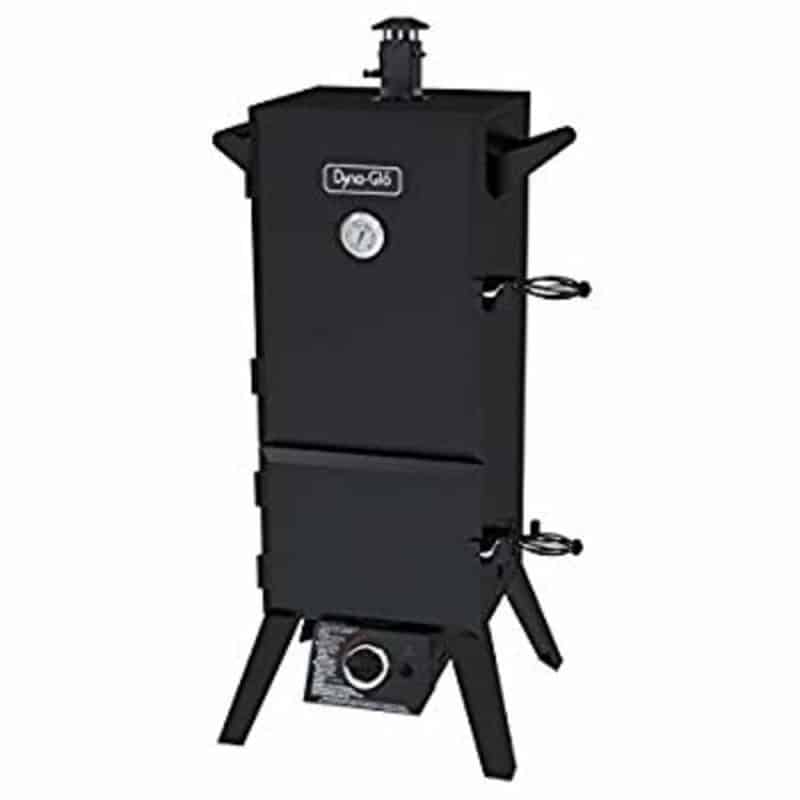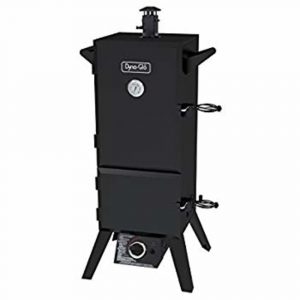 With four adjustable cooking grates, 784 square inches of cooking space, and a 25-pound capacity per rack, the Dyna-Glo DGY784BDP is the best propane smoker for those who want a large amount of room for cooking. But if 784 square inches isn't big enough for you, this smoker model is also available in 1,235 square inches of cooking space in a wider (four cooking racks) and taller (six cooking racks) version.
Weaseling our way deeper into the specs, this large propane smoker features a double-door design, an attractive built-in thermometer, lightning-quick electronic ignition, and sliding air dampers. Apart from great features, consumers know that the DGY784BDP has gone through strict, high quality product testing as it has successfully received its CSA certification.
But the cons are really where we learn about the quality of a product. For this Dyna Glo propane smoker, users state that the temperature gauge is virtually useless. However, most integrated thermometers on both smokers and barbecues are. Users of this smoker also find that there is smoke leakage and that the paint bubbles and peels with time. With a few modifications, these cons can easily be addressed. Fortunately, consumers mention more benefits than disadvantages such as the fact that it's lightweight and easy to maneuver, features a large smoker box, and has sturdy cooking grates.
Features:
15,000 BTU cast iron burner
784 square inches of cooking space
4 adjustable steel cooking racks
25 pound capacity per rack
Push button ignition
Porcelain-enameled steel wood chip tray with lid and handles
Porcelain-enameled steel water pan
Double door design
Sliding air dampers
Integrated, stainless steel temperature gauge
CSA certified
1-year warranty
4. Masterbuilt Portable Propane Smoker, Black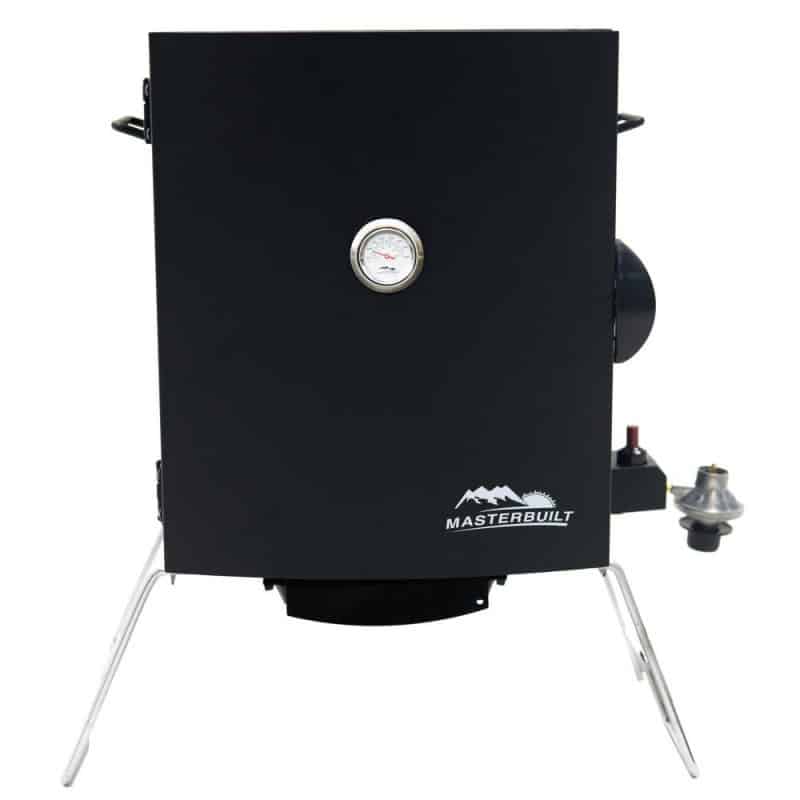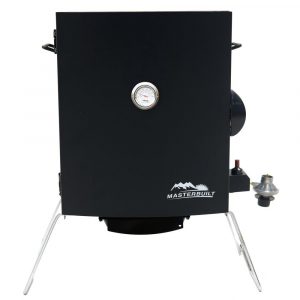 If you're looking for a portable smoker, the Masterbuilt Portable Propane is a great option, particularly for those on a budget. The black version of this model is just under $100. For a little extra, you can get this model in a stainless-steel version if you prefer. No matter your preference, this Masterbuilt product was certainly built by a master, which is apparent by its heavy-duty body and roomy cooking space despite the fact that it's a portable model.
With its ability to heat up at a rapid rate, provide plentiful smoke in a short period of time, and keep at a consistent temperature, some might consider this to be the best propane smoker under 200 dollars. Even in below freezing temperatures and in heavy wind, this portable smoker still works wonders, and the temperature can be easily manipulated.
The Masterbuilt Portable Propane Smoker, considering it only features two cooking racks, is especially a wise choice for those wanting to cook for one or two people at a time. Thanks to its fairly lightweight body and foldable legs, this product truly is portable as intended, making it a great buy for camping trips and tailgates. On the downside, however, users find that this little machine has occasional flare-ups and has a too-small water pan and wood chip tray, but these are minor fusses for the most part. Nevertheless, once you get well-acquainted with this little guy, smoking has never been easier and convenient.
Features:
5,000 BTU stainless steel burner
2 cooking racks
Wood chip tray
Water pan
Adjustable air damper
Push button ignition
Integrated temperature gauge
Foldable legs
5. Masterbuilt 20051311 GS30D 2-Door Propane Smoker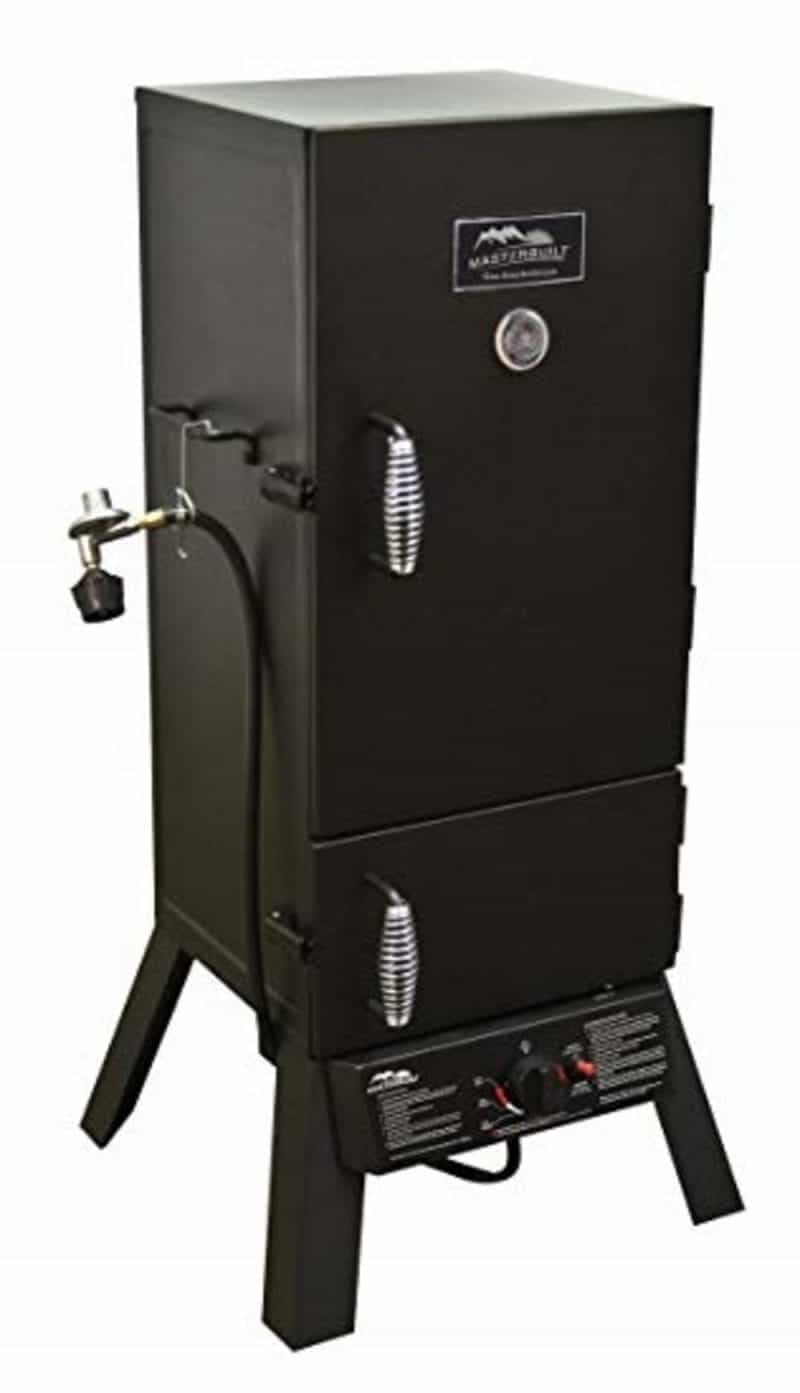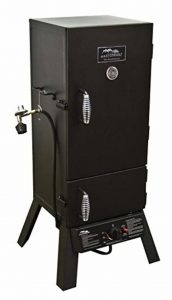 Featuring another two-door smoker, the Masterbuilt the 20051311 GS30D, is set with four cooking racks that offer a favorable 717 square inches of cooking space. The top rack of this device allows for enough space for users to place larger slabs of meat without having to sacrifice other shelves in the process. With the cool-touch handles and locking doors, rest assured that your smoking session will be quicker and more convenient.
This propane gas smoker also features an easy-to-use push-button ignition system and an integrated temperature gauge to simplify the smoking process. With an embedded air damper, this smoker will provide the ability to maintain ideal smoke control. As a result, the damper can allow one to essentially personalize the smokiness of their meats to their liking. With sturdy construction and ease of use, you've got yourself a supreme purchase.
Focusing on the disadvantages, this smoker is on the heavier side yet lacks wheels, making it tricky to transport if necessary. In Masterbuilt's defense, the heavy-duty construction is reliable as users have stated that it holds up well over the years. However, heat leaks through the edges of the door but can be corrected with a gasket application. While the Masterbuilt 20051311 GS30D 2-Door Propane Smoker isn't going to be the best smoker for all, it does offer easy assembly, reliable temperature control, plenty of rack space, and even cooking across the racks.
Features:
717 square inches of cooking space
4 chrome cooking racks
Stainless steel burner
Push button ignition
Locking door
Air damper
Integrated temperature gauge
Type 1 regulator with hose
Cool touch wire handle
Porcelain coated water pan and wood chip tray
6. Char-Broil Vertical Liquid Propane Gas Smoker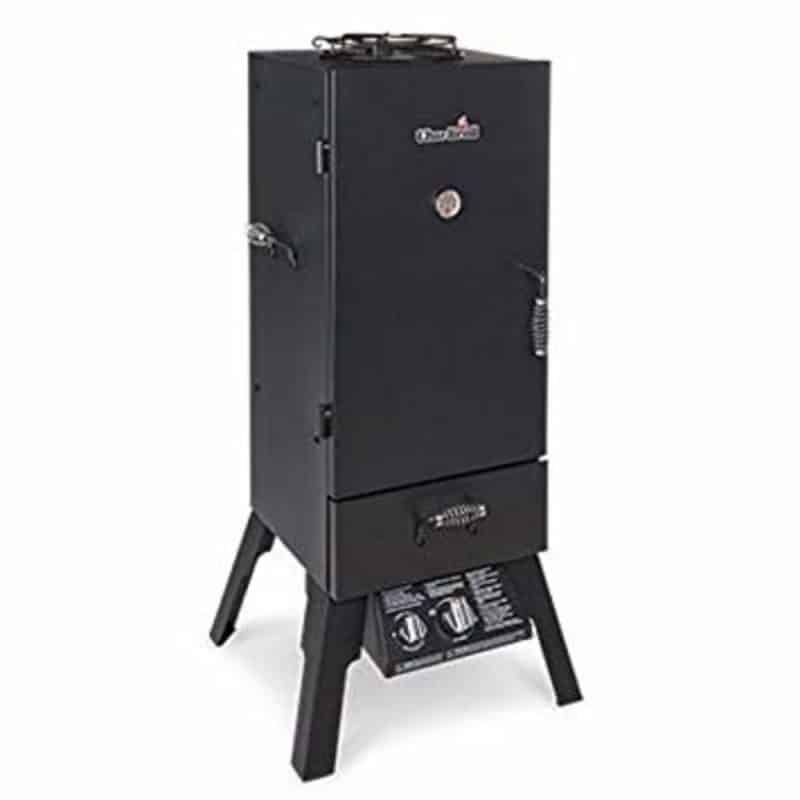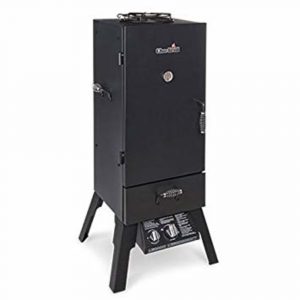 As one of the best Char Broil propane smokers, this vertical model features a decent 595 square inches of space for cooking divided among three chrome-plated cooking grates. It also features a dual door design to eliminate heat loss when replenishing water and wood chips as well as a built-in thermometer to allow users to quickly monitor their smoking session. If one had to sum up this liquid propane smoker in three words, it would be simple yet functional.
With the convenient addition of a warming rack located on the top of the smoker, one can not only whip up mean meats and other dishes but keep them warm prior to serving. As for the function of the smoker itself, quick lighting, strong smoke output, and generally ease of use can be expected. In fact, one can achieve great results with this smoker even in the dead of winter.
While this vertical propane smoker requires gasket because it tends to leak smoke around the door, and the temperature gauge needs to be replaced due to its inaccuracy, customers like that this gas smoker is inexpensive, infuses a quality smoke flavor into meat, and is easy to clean and maintain. Ultimately, this product is perfect for those on a budget and those who like smoking meats the old school way without technology or unnecessary features.
Features:
595 square inches of cooking space
3 chrome plated wire racks
Warming rack
Dual door design
Porcelain water pan and wood chip tray
Integrated temperature gauge
7. Smoke Hollow 38202G 38-Inch 2-Door Propane Gas Smoker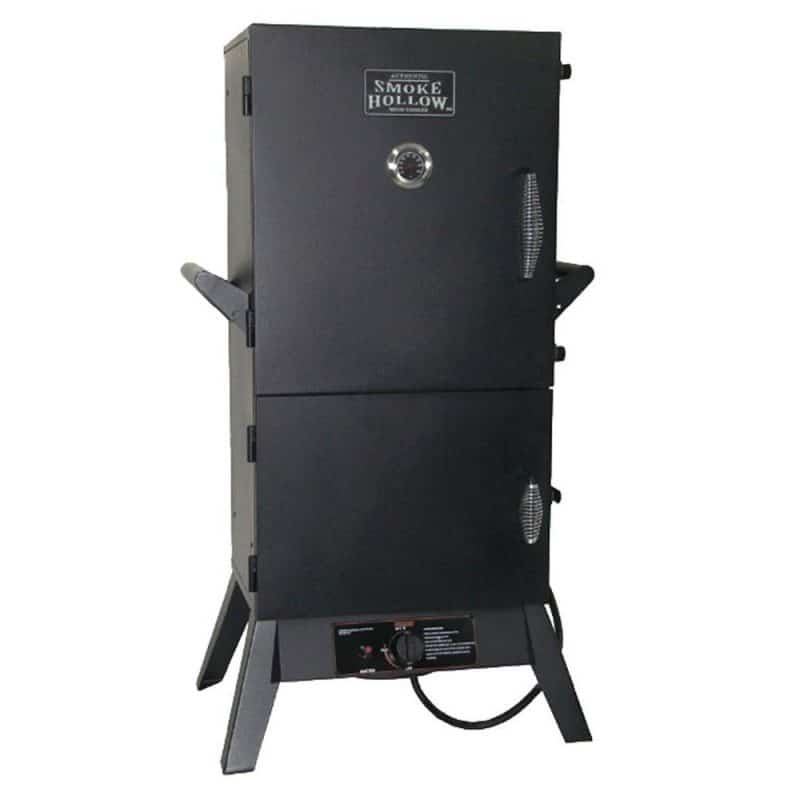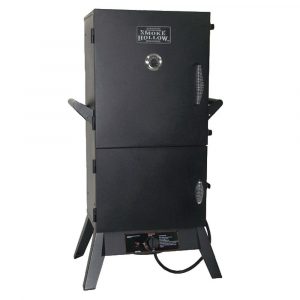 Starting off with a Smoke Hollow propane smoker, the 38-inch 38202G, you'll get a simple, classic-styled smoker with great value. It comes with four adjustable cooking racks with 3.4 cubic feet of cooking space, perfect for a small family. With the addition of a sausage hanger, you can whip up hot dogs or sausages with ease. The door separate doors on this Smoke Hollow smoker ensure you can add more water and wood chips to your smoker without disrupting the cooking process.
Digging more into the features, this smoker offers push-button ignition to make powering your device even easier. With its integrated temperature gauge and gas control system, you can have quick and easy control over the temperature range of your current cooking session. With it's easy to startup system that's quick to preheat, this might be considered the best propane smoker under 300 dollars thanks to its overall reliability.
However, reviewers do state some important cons with this smoker. The Smoke Hollow 38202G 39-Inch 2-Door Propane Gas Smoker works well for many, but some find that the price is for this smoker is a little on the heavier side. Additionally, there are reports of heat leaking from the door. On the bright side, the latter con can be mended with gasket tape. But generally, this Smoke Hollow smoker is easy to light, offers consistent temperature control, and has a large woodchip box.
Features:
3.4 cubic feet of cooking space
4 adjustable, chrome plated cooking racks
Sausage hanger
Push button ignition
Gas control system
Integrated temperature gauge
2 doors
20,000 BTUs
8. Weston 36-Inch Outdoor Propane Vertical Smoker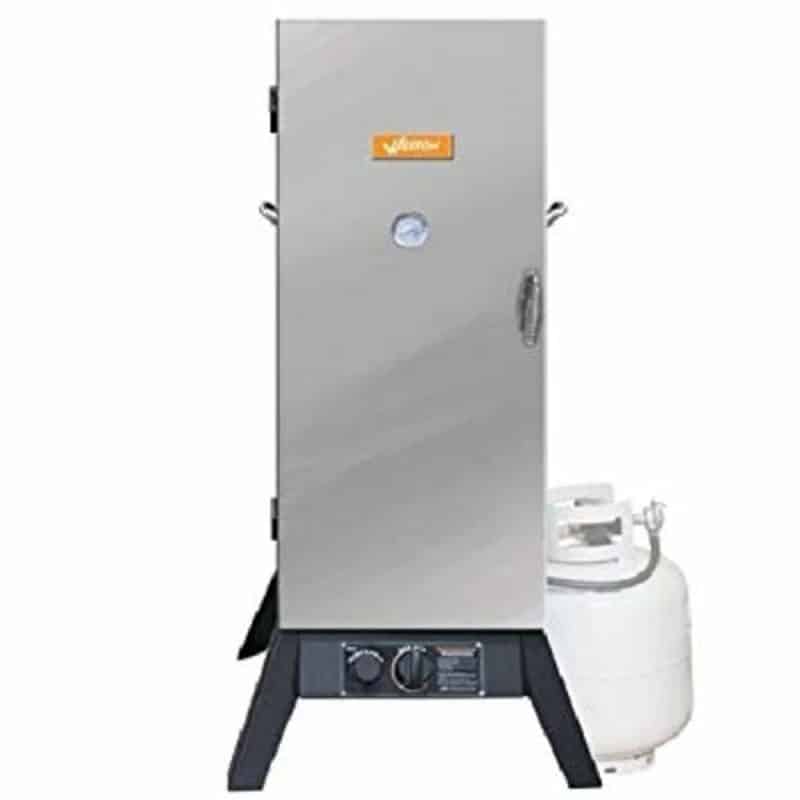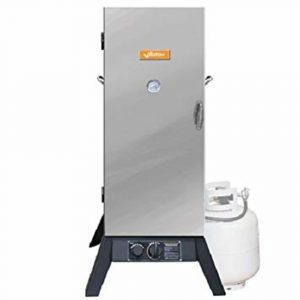 The Weston 36-inch is a reliable, mid-ranged vertical propane smoker with an attractive, stainless-steel finish and integrated temperature gauge. This Weston model not only features six sturdy 14.5" x 14.5" cooking racks but is also equipped with two sausage hangers. The multi-rack spacing provided by the Weston 36-Inch vertical smoker allows users to achieve the right amount of space between the racks no matter what they're cooking: a rack of ribs, a whole chicken, beef jerky, you name it.
While the function is generally satisfactory with this vertical smoker, there are some important complaints to mention. For one, some users find that this gas smoker leaks heat through the door, but with the right gasket, this issue can be resolved. A few users also found that cranking up the temperature above 200 to 220 degrees Fahrenheit is a challenge. For that reason, this smoker is best for true low and slow cooking.
Still, many users find that this entry-level smoker's pros outweigh its cons. The Weston 36-inch offers an easy assembly process, sturdy fabrication, and a sleek and modern finish. As long as you aren't planning on using this smoker in heavy wind, it can maintain a uniform, fairly easy-to-control temperature. While this model doesn't have a lot of bells and whistles, what it does offer is a nice design and more cooking space than the average user would ever need.
Features:
36" heavy gauge, fully-welded, black-coated steel cabinet
9,000 BTU burner
6 chrome plated 14.5" x 14.5" cooking racks
2 sausage hangers
Rotary ignitor
Adjustable dampers
Stainless steel door
Integrated temperature gauge
9. Smoke Hollow 38205GW Propane Smoker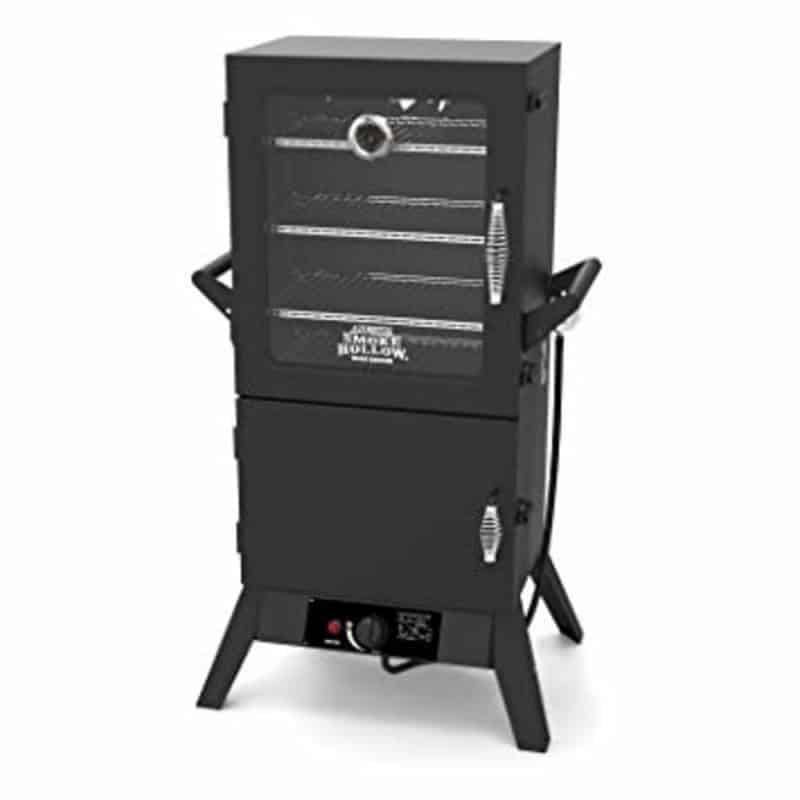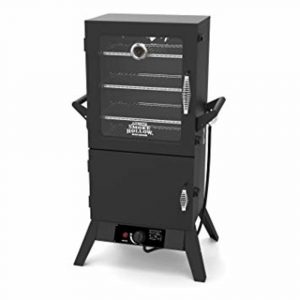 If you're looking for a sleek smoker with a viewing window, you'll want to take a look at this Smoke Hollow propane smoker. The viewing window not only adds aesthetic value but also allows one to monitor the progress of their food without opening the door and expelling smoke and hot air in the process. With handles on each side of the smoker and a lightweight body, transporting the 38205GW is easy.
The general quality of this model is particularly worth noting. Featuring a cast brass burner and heavy-duty chrome-plated cooking racks, consumers won't have to worry about not getting their money's worth when it comes to heavy-duty construction and longevity. To add to the quality, this smoker is equipped with a sausage hanger rack and an integrated temperature gauge on the viewing window.
This gas smoker has a plethora of benefits for its mid-range price from great construction to easy portability. However, keep in mind that the door thermometer is rarely accurate, there is some smoke leakage, and there lacks a drip pan. But even with these issues, most don't regret purchasing the Smoke Hollow 38205GW Propane Smoker. After all, the 38205GW is easy to assemble and use, heats up quickly, and holds temperature well for a prolonged period of time. In turn, many find that the 38205GW is a set and forget style of smoker.
Features:
2 door design

Viewing window

Cast brass burner

Push button ignition

4 adjustable, chrome plated cooking racks

1 sausage hanger rack

Porcelain coated water pan and wood chip tray with lid

Integrated temperature gauge
10. Masterbuilt Pro Charcoal and Propane Dual Fuel Smoker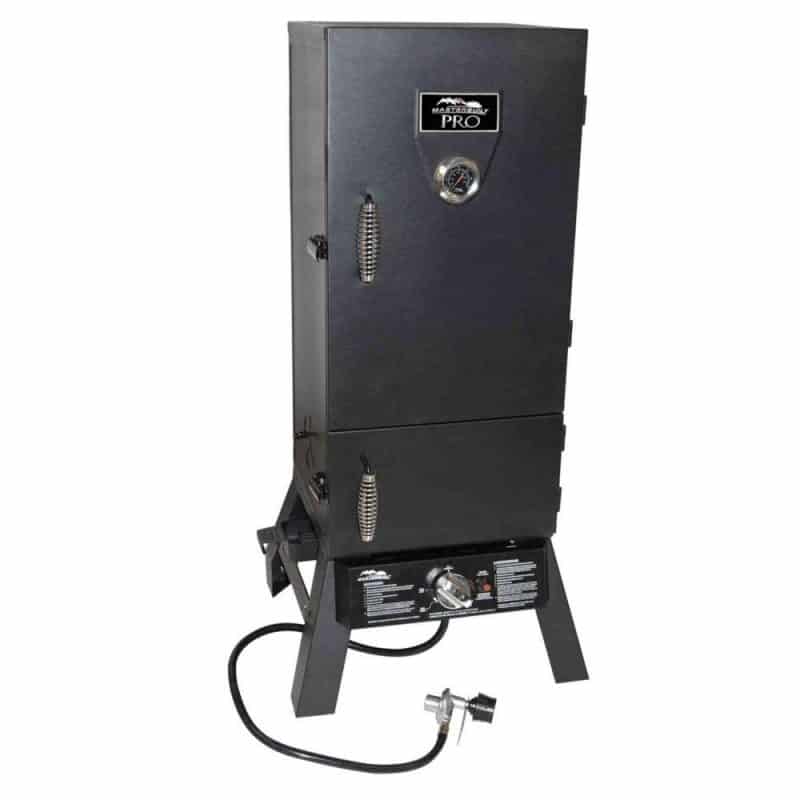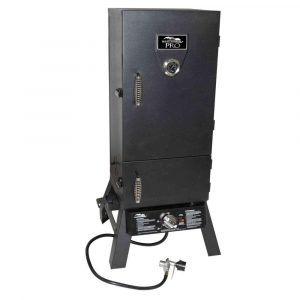 As the best propane smoker on our list for its price, the Masterbuilt Pro Charcoal and Propane Dual Fuel Smoker is recommended by 91-percent of buyers and holds an average rating of 4.3 out of 5-stars. While simpler in appearance, this model boasts a powder-coated steel body with a locking double-door design, an integrated temperature gauge, and a stainless-steel burner.
The Pro Charcoal and Propane Dual Fuel Smoker has features many good smokers have: quick push-button ignition, a removable drip pan, and an adjustable air damper. However, it also features, as apparent by the title, the option to use two types of fuel: propane and charcoal. The ability to use charcoal if one wishes is a benefit for users who want a smokier flavor and a nice smoke ring on their meats. The dual-fuel capability is brought to us by Masterbuilt's patented door design.
While there is no insulation on the walls, the door leaks smoke, the thermometer isn't completely correct, and the water bowl is flimsier and smaller than anticipated, this Masterbuilt machine still functions like a pro considering it's under $200. According to users, this smoker is easy to operate, creates smoke quickly, maintains heat well even in cold ambient temperatures, and is generally a great smoker for newbies. With some modifications, this smoker can easily be a 5-star product for many users.
Features:
Double-wall construction

Powder coated steel body

Porcelain coated water pan

15,400 BTU stainless steel burner

Push button ignition

Adjustable air damper

Dual door design with lock

Dual fuel capacity (charcoal and propane)

Patented flame disk bowl

Removable drip pan

Integrated temperature gauge
Best Propane Smoker FAQ
Many form the misconception that all smokers are created equal. However, this isn't true. To find the best propane smoker for your needs, it's important to understand that each model offers different features and capabilities.
Reading through the following frequently asked questions, you'll come to realize why it's a good idea to be strategic about your decision to purchase the right propane smoker, or a smoker at all for that matter.
Is a propane smoker better than electric?
It's vital to understand what types of smokers are out there: propane/gas, electric, charcoal, pellet. What makes electric smokers different from their propane/gas, charcoal, and pellet smokers is that they heat up thanks to, you guessed it, electricity. However, there is never one best type of smoker; all have their pros and cons.
When it comes to picking between an electric or propane smoker, there are some important differences to cover to decide which is best for you personally:
Price: Depending on where you live, running electric smokers are more affordable than running their propane counterparts. Propane fuel tends to add up to around 40 cents an hour while electric smokers cost on average of 6 cents per hour.
Ease of use: Electric smokers are the easier option as all that's require to crank up the heat is plugging the device in, pressing a button, and using a dial to achieve your ideal temperature. With propane smokers; however, you'd have to attach and turn on your propane tank and/or add charcoal/wood chips as fuel to heat up the smoker. Many gas smokers also offer convenient dials, but the heating component is the trickier part of these smokers.
Versatility: If you don't want to risk not getting to finish your current cooking session due to a sudden power outage, you might be more comfortable with a propane-run smoker. These smokers are also more portable in that they can be used in remote areas where no power outlets are located, and not to mention, can be used in the rain considering there's no electricity used to run them.
Flavor: You'll achieve a smoky flavor and nice smoke ring on your meats with a propane smoke but a subtle smoky flavor with no smoke ring with an electric smoker. The variant flavors from these two types of smokers is based on preference.
How to use a propane smoker?
Depending on the model, using a gas smoker may vary from smoker to smoker. Generally, one would set up and start the propane tank of their smoker, add wood chips to the woodchip tray, fill up the water pan with their liquid of choice (e.g., water, beer, etc.), and leave their smoker to preheat until smoke begins to fill the chamber of their smoker.
Manipulate any ventilation dampers or temperature knobs as necessary to ensure your smoker reaches the right temperature.
Once your smoker has reached the ideal cooking temperature, this is when you would add your food to your smoker. Throughout the smoking session, make sure to check to see if the water pan and/or woodchip tray need to be refilled or if the temperature needs to be adjusted.
After finishing smoking your food, make sure to turn your smoker's dial to the 'off' position, clean up any ash, dump the wood chip tray and water pan, and clean your smoker according to your smoker's user manual. Always clean your smoker after every use to prevent rust build-up (particularly on the grates), which can be toxic to one's health if they consume food cooked on the rusty, dirty grates in the future.
For better detail on how to use a propane smoker, make sure to read the instructions in your specific smoker's user manual, or watch a video online.
What to cook in propane smoker?
Cooking with a gas smoker is quite versatile. Apart from a plethora of meats (from ribs and brisket to chicken and sausage), jerky, and vegetables, you can also smoke fish and seafood, macaroni and cheese, mashed potatoes, corn bread, beans, green beans, deviled eggs, cobbler and a variety of cheeses.
Do research on different propane smoker recipes to find other intriguing options.
Can you leave a propane smoker unattended?
The great thing about smoking with gas smokers, as opposed to grilling with a barbecue, is that there is less of a need to pay close attention to what you're cooking.
While many claim that they leave their smoker unattended, sometimes for several hours at a time, this can, however, pose risks. The smoker itself may have complications, or your food may dry out or overcook if you aren't there to monitor your smoking session.
Occassionally keeping an eye on your smoker is important when it comes to adding more water to the water pan, replenishing wood chips, and/or regulating the temperature as necessary.
How much propane does smoker use?
To give you an insight into how much propane gas smokers use, a 14- to 16-ounce propane tank will last you about 1.5 to 2 hours. Standard propane tanks (20 pounds) typically last 18 to 20 hours.
How to clean propane smoker?
Cleaning a propane smoker is fairly easy, but first, make sure that your smoker is not currently in operation and has had time to cool down before you begin cleaning your device. Additionally, wear gloves to avoid getting grease and ash on your skin.
When cleaning your smoker, you'll want to focus on cleaning the exterior, the door inside and out, the racks, the water pan and/or wood chip box, and any excess ash present in your smoker.
Also be sure to refer to your smoker's user manual for instructions on cleaning your specific device.
Which is the best propane smoker?
With a plethora of smoker brands out there, it's difficult to pinpoint the "best propane smoker." In fact, one could say it's impossible as everyone is going to have their own idea of what makes a good smoker.
However, based on our list, these are the top three rated and most commonly bought gas smokers:
Masterbuilt Pro Charcoal and Propane Dual Fuel Smoker (average 4.3 out of 5-star rating; 650+ reviewers)
Smoke Hollow 38202G 38-Inch 2-Door Propane Gas Smoker (average 4.2 out of 5-star rating; 190+ reviewers)
Camp Chef 24" Smoke Vault Propane Smoker (average 4.1 out of 5-star rating; 280+ reviewers)