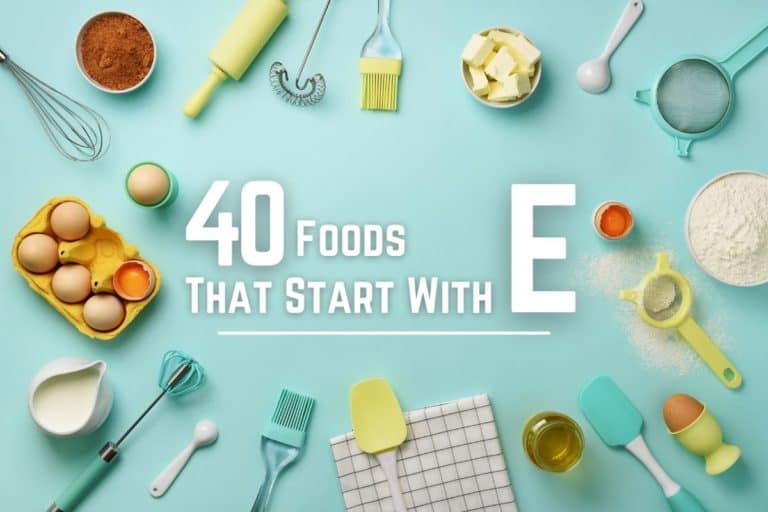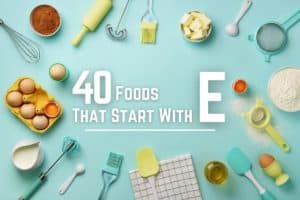 There are so many different foods out there it's hard to keep track of them all. Learning about new foods and ingredients can help liven up your cooking and expand your palate while giving you new ideas for recipes and dishes.
I love learning about new foods, so I've compiled an easy list of all my favorite foods that start with E. Follow along and see how many you are familiar with and how many are new to you!
40 Foods That Start with the letter E.
1. Early Girl Tomatoes
A prolific and high-yielding tomato great for the home gardener or professional farmer alike. First developed in the 1970s these bountiful, round, tennis ball-shaped tomatoes are familiar and delicious. Great for canning, sauces, or salsas, these tomatoes will work well in most growing situations!
I love an early girl and pimento sandwich on a hot summer day and they make delicious BLTs as well!
2. Eastern Carolina Barbecue Sauce
Yes, barbecue sauce is specific enough to have an "Eastern Carolina" variant. Ask anyone who's spent some serious time considering the barbecue traditions of the south and they will tell you that regionality truly matters when your talking BBQ.
Eastern Carolina Barbecue sauce is a sweet and tart mixture of brown sugar, vinegar, Tobasco, and other seasonings. It's delicious on smoked pork shoulder sandwiches with a side of coleslaw and baked beans.
While Lexington style or Western Carolina Barbecue Sauce contains tomato products, eastern Carolina is about the interplay of sugar, vinegar, and spice.
3. Eccles Cake
If you are a fan of The Great British Baking Show or you hail from across the pond then you might be aware of Eccles cakes but for most this is going to be something new.
Eccles cakes are a pastry made from flaky pastry crust filled with a fruit mixture of dried currants and candied lemon zest. The cakes are molded into biscuit shapes and baked until crispy.
4. Eclair
Eclairs are cream-filled pastry puffs, made from pate au choux a sweet flour and egg mixture that creates light, fluffy pastry shells.
Eclairs can be filled with any number of flavored fillings and topped with chocolate, icing, or powdered sugar. They are usually 3-4 inches long and 1 inch wide and tall. They are light and airy from the eggs in the recipe that creates giant air pockets in the batter as it cooks.
5. Edam
Edam is a cheese native to the Netherlands and named for the town it was first sold in. Edam is a semi-hard cow's milk cheese. It has a pale yellow color and is coated in a red wax or rind. It is larger, flat-ended, sphere shape and has a milk, tart flavor that is rich and creamy.
Perfect with ham on a baguette or crusty bread, or in a warm grilled cheese sandwich, Edam is delicious and great for all palates.
6. Edamame
Edamame is a young green, vegetable soybean. They are green in color and tender as opposed to full-sized soybeans that are tan or gray and quite hard. They can be served as the individual bean in a dip or salad or steamed whole in the pod with sea salt or sauces as a fun appetizer.
7. Eel
Eel is a type of ray-finned fish that can be eaten in several different ways. Served sauteed, or grilled, barbecued or marinated, one of the most common eel dishes you may be familiar with is unagi or eel sushi.
Unagi is a freshwater eel often served in sushi restaurants. Prepared in a barbecue-style and served with a sweet soy-based sauce, unagi is delicious and savory.
8. Eggs
Served in a myriad of different ways, eggs are one of the most common foods eaten worldwide. In fact, almost every food culture has some egg-based cuisine or national dish.
From scrambled eggs to over easy, to custards, batters, bread, and baked goods eggs have a multitude of uses. In fact, the french chef's cap the Toque famously had 100 pleats for the 100 ways to cook an egg!
The most common eggs you'll find in the kitchen are chicken eggs but there are uses for almost all egg types from ostrich eggs, or pheasant eggs to quail eggs, duck eggs, or goose eggs.
9. Egg Cream
An egg cream contains zero eggs despite the name. A soda combination made famous in the soda counters of yesteryear, an Egg Cream is a concoction made from milk, carbonated water, or seltzer and flavored syrups, typically chocolate or vanilla.
To prepare, pour some flavored syrup into whole milk in a glass and then pour in seltzer water while beating the mixture vigorously with a fork.
10. Egg Drop Soup
Egg drop soup is a savory Chinese soup made from a flavorful broth with eggs whisked into the soup while simmering to create a delicate noodle-like texture. Often served with chopped tofu, black pepper, scallion, or cooked ground pork, this is a delicious dish that is perfect for cool fall evenings or cold winter afternoons.
11. Egg Foo Young
Egg foo young is a savory Chinese omelet dish. Often filled with items like chicken, pork or shrimp, and veggies ranging from mushrooms to onions and bell peppers, this tasty omelet is topped with stir fry sauce and served with bean sprouts.
Egg foo young is a takeout favorite but is super easy to make at home for a quick weeknight meal or a light lunch.
12. Eggfruit
Eggfruit is also known as campistel or cupcake fruit. It is an edible fruit found in Central America as well as in other countries worldwide. With a sweet yellow flesh that has a texture similar to hard-boiled egg yolk, this fruit is packed with nutrients and vitamins.
13. Eggnog
Eggnog is a milk punch made from milk, cream, whipped egg whites, egg yolks, and seasonings. Often spiked with rum or whiskey, this rich, decadent, custard beverage is often served during the Holiday season.
14. Egg Noodles
Egg noodles are a pasta style that has roots in many different cuisines. Typically made from eggs, flour, and seasonings, the dough is rolled flat and cut into strips. Most cuisines with pasta traditions from Asian cuisines to European styles have an egg-based pasta or noodle dish and you can find many different varieties in the grocery store.
Egg noodles are incredibly easy to make fresh but there are great dried varieties available as well. To cook simply drop the noodles into boiling, salted water, and cook until tender, serve with your favorite sauce or accompaniment.
15. Egg Rolls
Egg rolls are a deep-dried appetizer popular in Chinese American Restaurants Typically filled with shredded vegetables and proteins from shrimp to chicken or pork, egg rolls are formed into a cylinder and wrapped in an egg roll wrapper before frying.
Egg rolls are easy to make from scratch at home and there are also lots of great frozen options available in the freezer aisle of your grocery store or at your local international market!
16. Egg Salad
Egg salad is a mixture of chopped hardboiled eggs, mustard, mayonnaise, and seasonings as well as chopped herbs and veggies. Typically served on a kaiser roll or toasted sandwich bread, and available from the deli section of your local grocer, it is a great option for a light lunch. I like to eat egg salad on a hearty salad of greens and grains with fresh veggies and pickles for a light, energy-packed lunch.
17. Eggplant
Eggplant is a nightshade vegetable that is common throughout multiple cuisines and traditions. Typically larger and purple, this vegetable has spongy flesh and small black seeds. It can lend itself to several flavors or cooking styles and works great in many different cuisines or recipes.
18. Eggplant Parmesan
This is a classic Italian entree made from breaded and fried slices of eggplant topped with a hearty tomato sauce, mozzarella cheese, and grated parmesan before being baked to golden brown perfection.
Eggplant Parmesan tastes delicious on its own or with a side of pasta or on a sandwich. It goes great with a light salad and a glass of fruity, lightly chilled red wine.
19. Eggplant Rollatini
Eggplant Rollatini is a dish composed of thinly sliced and fried eggplant rolled around a ricotta stuffing and topped with tomato sauce. Baked until warm and just set, this dish is similar to Eggplant Parmesan but different in preparation. Eggplant rollatini utilizes much thinner slices of Eggplant and is often richer, and fattier than eggplant parmesan. Both are delicious but definitely different dishes.
20. Elbow Macaroni
Elbow macaroni is an extruded pasta shape that many are familiar with. Delicious in everything from mac and cheese to pasta salad or noodle soup, elbow macaroni is a truly versatile pasta shape.
21. Elderflower
Elderflower is the white flower of the elderberry plant. With a rich aromatic flavor reminiscent of honey and honeysuckle Elderflower can be used in an umber of recipes and foods. Two of the most common are elderflower cordial and elderflower liqueur.
Elderflower cordial is a light, carbonated beverage and can be sold as a syrup intended to be mixed with sparkling water or as a carbonated beverage itself. Elderflower Liqueur is an elderflower flavored alcoholic beverage and the most common expression would be St. Germain which is often served as a spritz in a glass of champagne.
22. Elephant Ears
Elephant ears or palmiers are a sweet pastry creation made from puff pastry, butter, sugar, and cinnamon. Roled into a B shape the puff pastry grows to a large size and achieves a crispy, crunchy texture filled with a caramelized sugar caramel.
23. Elephant garlic
Elephant garlic is an allium or onion variety that resembles large cloves of garlic. With a sweet, lighter flavor reminiscent of garlic, elephant garlic goes great in so many different dishes. I like to roast elephant garlic whole for a lighter, sweeter roasted garlic flavor that I blend into hummus and other dips!
24. Embutido
Embutido is a Filipino meatloaf dish made from ground pork beef and chicken. Often stuffed with whole hard-boiled eggs and Vienna sausages, embutido is often served with a sweet/spice pickled relish.
25. Emmental
Emmental or Emmenthal cheese is a light yellow semi-firm cheese from the Bern region of Switzerland. First named in the 1500's Emmental cheese has a rich, texture with a fruity butter flavor and tart acidic undertones.
With large irregular holes and light yellow color, Emmental resembles classic swiss cheese and tastes great on everything from a burger to a cold-cut sandwich or a grilled cheese.
26. Empanadas
Empanadas are Latin American hand pies or turnovers that are baked or fried. Literally meaning "enbreaded" empanadas are made from a rich, flaky pastry crust often composed of lard or shortening, and a myriad of different fillings.
Empanadas are delicious and I've enjoyed savory as well as sweet varieties. You can make them easily at home with premade empanada shells or you can make the dough from scratch with little effort.
27. Emperor Grapes
Emperor grapes are a red wine grape often grown as table grapes for eating and enjoying fresh. They have thin skin and light, firm, sweet flesh. Delicious in everything from chicken salad to Dover sole with a grape sauce, these tiny little orbs of sweetness are the perfect snack for a hot summer day.
28. Empire Apples
Empire apples are a red variety first grown in upstate New York in 1946. With a firm, crunchy texture, thick red skin, and a tart sweetness these apples ripe in September/October every year. These apples are great on their own or in a pie or filling. I like to candy them with a thick, red, candy coating around Halloween for a sugary, crunchy treat.
29. Enchiladas
Enchiladas are an incredibly tasty Latin American dish composed of crispy corn or flour tortillas wrapped around a filling made from meat or vegetables and topped with salsa and cheese. With tons of different fillings, toppings, sauce, and flavor combinations, enchiladas make a great addition to any recipe box or collection.
30. Endive
Endive is a green leafy vegetable from the chicory family. Also known as Belgian Endive this leafy vegetable is 4-6 inches long and 2-3 inches wide. The leaves are tightly wound around a central core and it grows vertically from the ground like heads of lettuce.
The bottoms of the leaves are thicker and crisper, with white color while the tops of the leaves are light to a darker green and more like lettuce. Endive tastes great when sliced in a fresh salad or cooked in spears in a saute pan or over a grill.
31. English Muffin
English Muffins are an awesome breakfast food that can be used in everything from egg sandwiches, to eggs benedict with poaches eggs, and ham, or by themselves with warm butter and jam.
English muffins are a type of yeast-risen griddle bread and are notable for their wide-open crumb and famous "nooks and crannies". English muffins are often "fork split", which means they are punctured from the side and meant to be pulled apart to create a rough uneven texture that soaks up butter and toppings.
32. English Peas
English peas are a type of shelling or garden pea. Available from early spring to mid-summer, English peas have a light, bright vegetable flavor and go great in everything from stir-fries to soups and salad. I love eating English peas in risotto or pasta dishes with crispy ham and fresh herbs like tarragon or mint.
While the individual peas are edible don't eat the shells as they are woody and flavorless. The greens or shoots can be eaten as well and are delicious in salads and as a garnish for roasted meats or fish.
33. English Trifle
English trifle is a layered dessert made from layers of sponge cake, creamy pudding, fruit gelatine, whipped cream, and fresh fruit like strawberries. Sometimes spiked with alcohol this delightfully decadent dessert is great for large parties or gatherings.
34. Escabeche
Escabeche is the name for several dishes of Spanish, Portuguese, or Latin American origin. Typically made from seafood or meat simmered in an acidic, vinegar-based sauce, flavored with citrus, and spices, this is a hearty dish that will leave you breathless. I like to make this dish in the summer when the hot weather is perfect for a spicy, acidic dish that makes you sweat and cools you down at the same time.
35. Escalope
An escalope is a thin slice of meat or poultry often served in rich gravy or sauce. Escalop is the root of the traditional dish scalloped potatoes which are made from thinly sliced layers of potatoes baked in a rich cream sauce.
36. Escargot
Escargot is a variety of land snails served mainly in Europe and especially in Britain and France. Often cooked by sauteing them in a mixture of butter, garlic, and parsley as well as other fresh herbs and wine, these tasty, chewy delicacies are eaten with a small fork and served on buttery toast.
37. Escarole
Escarole is a member of the chicory family and is a bright leafy green with a slightly spicy/bitter flavor. Similar in size and shape to green leaf lettuce, this healthy green is best served stir-fried with lots of garlic and lemon or in a hearty bean and sausage soup.
38. Etouffee
Etouffee is a Creole and Cajun dish made from seafood or shellfish in a rich spicy gravy traditionally served over rice. The gravy is usually thickened with a rich roux, that provides a smoother, more decadent texture to the gravy and is usually composed of southern trinity, shellfish, and spices.
39. Evaporated Milk
Evaporated milk is a shelf-stable canned milk product. Made from cow's milk with 60% of the water removed, evaporated milk is a common baking ingredient in recipes like pies and fudge. I always try to keep a can on hand just in case the recipe I'm using calls for it. As it's shelf-stable it will last for a long time in your pantry, but if you are worried about it going bad there are a ton of tasty recipes to make at home!
40. Extra Virgin Olive Oil
Extra Virgin Olive Oil is a rich flavorful oil product from the Meditteranean. While there are lots of different types of olive oils, extra virgin olive oil is often prized for its rich, spicy flavor, and dark green color. When olive oil is pressed, extra virgin olive oil is usually one of the first oils collected from the pressing. This results in a highly concentrated olive oil flavor that is perfect for marinating or dressing salads.
Final thoughts on foods that start with e.
I hope you enjoyed this list of foods that start with the letter e. While I'm sure there were a lot of familiar foods, I hope you had the opportunity to learn about some new and unfamiliar ones as well. Next time you're in the mood for something new for dinner, try one of these delicious foods that start with the letter e and let me know in the comments which you liked best!