When I envision the perfect kitchen, it usually looks a lot like a space you might have seen as the backdrop to your favorite cooking show. There's usually an island, a natural gas range, a few jars with various utensils, and there is always a stand mixer somewhere close at hand.
Stand mixers have continued to be one of the most versatile and thoroughly valuable appliances you can have in your home. Beyond staples like an oven, range, and refrigerator, a stand mixer is a dessert island tier appliance that will provide hours of utility and tons of delicious food throughout its life.
While there are a few brands that we all associate with a quality stand mixers, there are many newer options on the market that offer the same utility for a much lower price, such as the Acekool 7.5 quart multifunctional stand mixer!
With all the functionality you'd expect in a well-designed stand mixer, the Acekool 7.5 quart stand mixer offers a fantastic value while delivering much utility. This mixer can help you make all of your baking dreams come true. This mixer can handle it all from bread to pie dough, cake batter, cookie dough, and whipped desserts like mousse or baravois.
If you're looking for a stand mixer and want a quality model that won't blow your budget, the Acekool 7.5 stand mixer fits the bill.
Acekool 7.5 Quart Compact Stand Mixer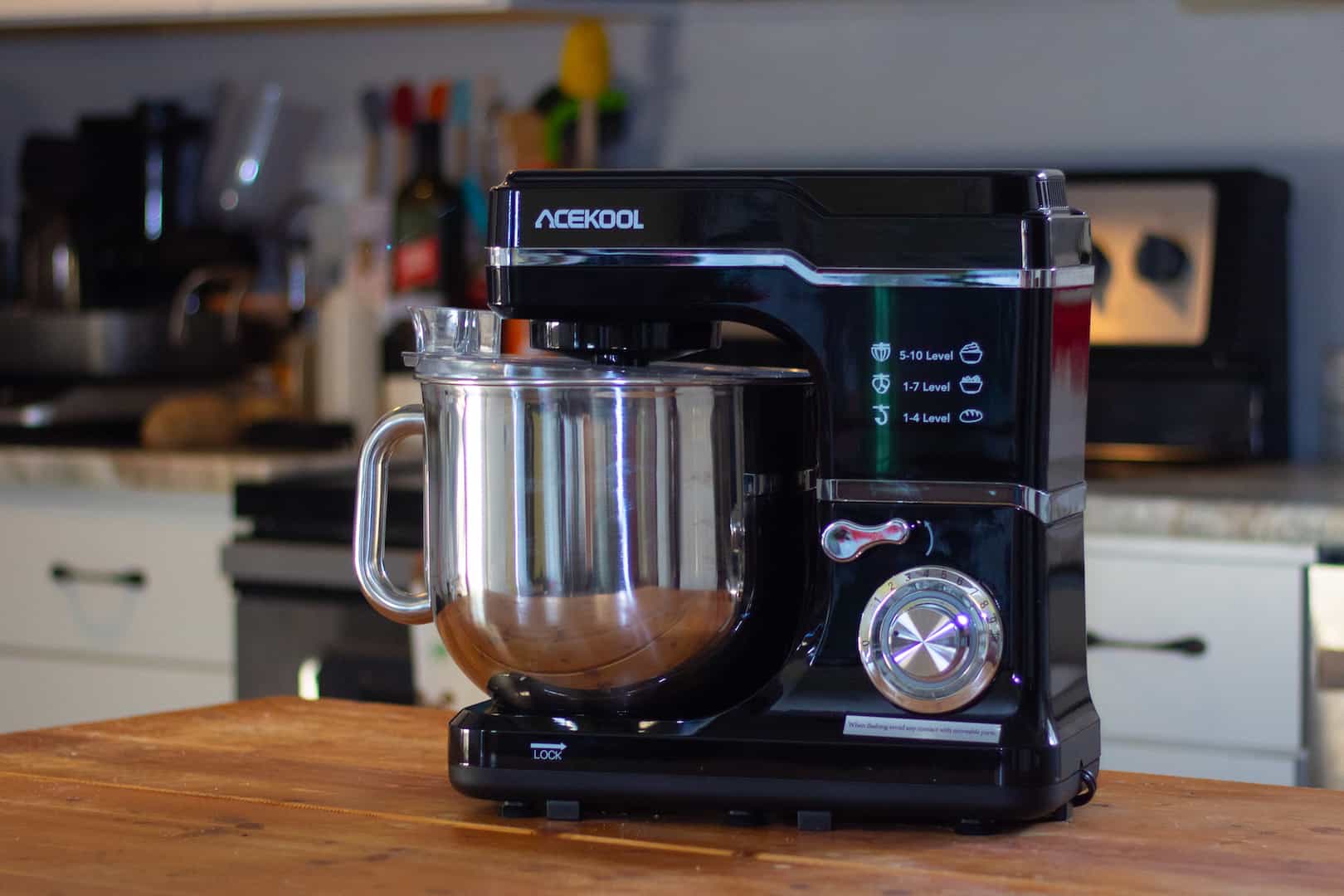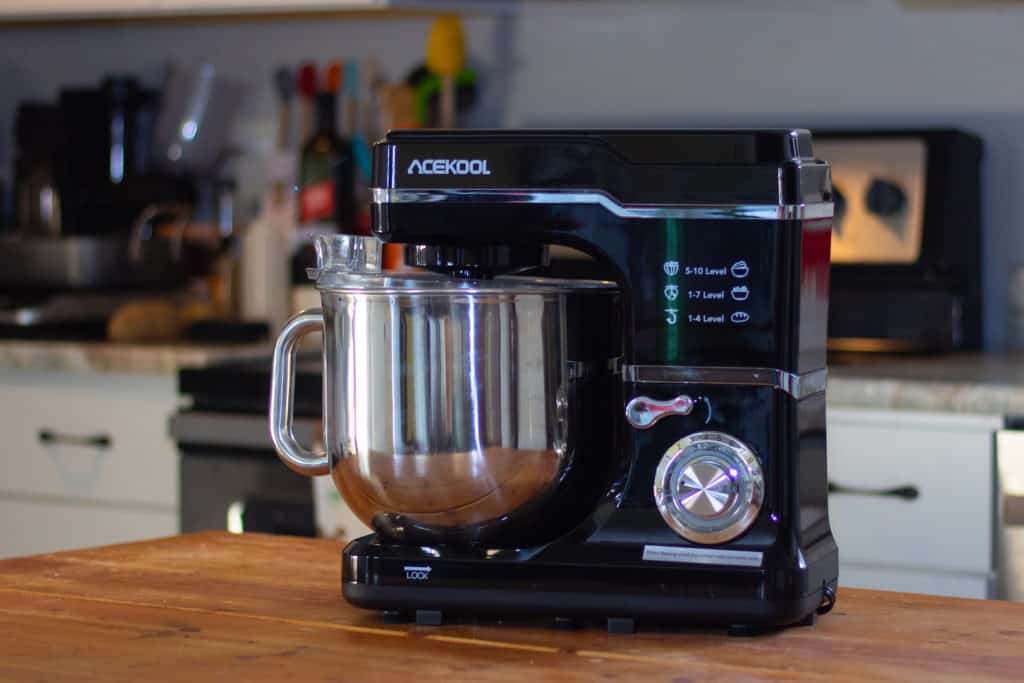 What we liked:
It comes with 3 attachments
Slim profile fits easily on a countertop or in a cabinet
Large 7.5-quart capacity
10 speeds
Easy speed reference right on the mixer
What need's improvement:
Mixer feels light and can shimmy during heavier recipes.
Attachments feel a bit flimsy
Look and Feel:
Out of the box, the Acekool stand mixer is a very attractive appliance. With a high gloss finish, and available in silver or black, this mixer looks great on your countertop.
More narrow than many mixers I've used before, the non-slip feet lock the mixer securely to the counter. Though it did feel a bit top-heavy, it was very stable once situated.
The bowl and attachments are stainless steel with a matte finish, and though they did feel a little light, they were very sturdy overall. The mixing bowl is very deep with a 7.5-quart capacity, and it locks firmly to the mixer base when seated.
On the right side of the mixers is the control knob. The dial ranges from 1-10 and has a cool blue accent light in the center that illuminates when the mixer is plugged in. Above the control dial is a convenient speed reference that provides the best speeds to use depending on the product you are mixing.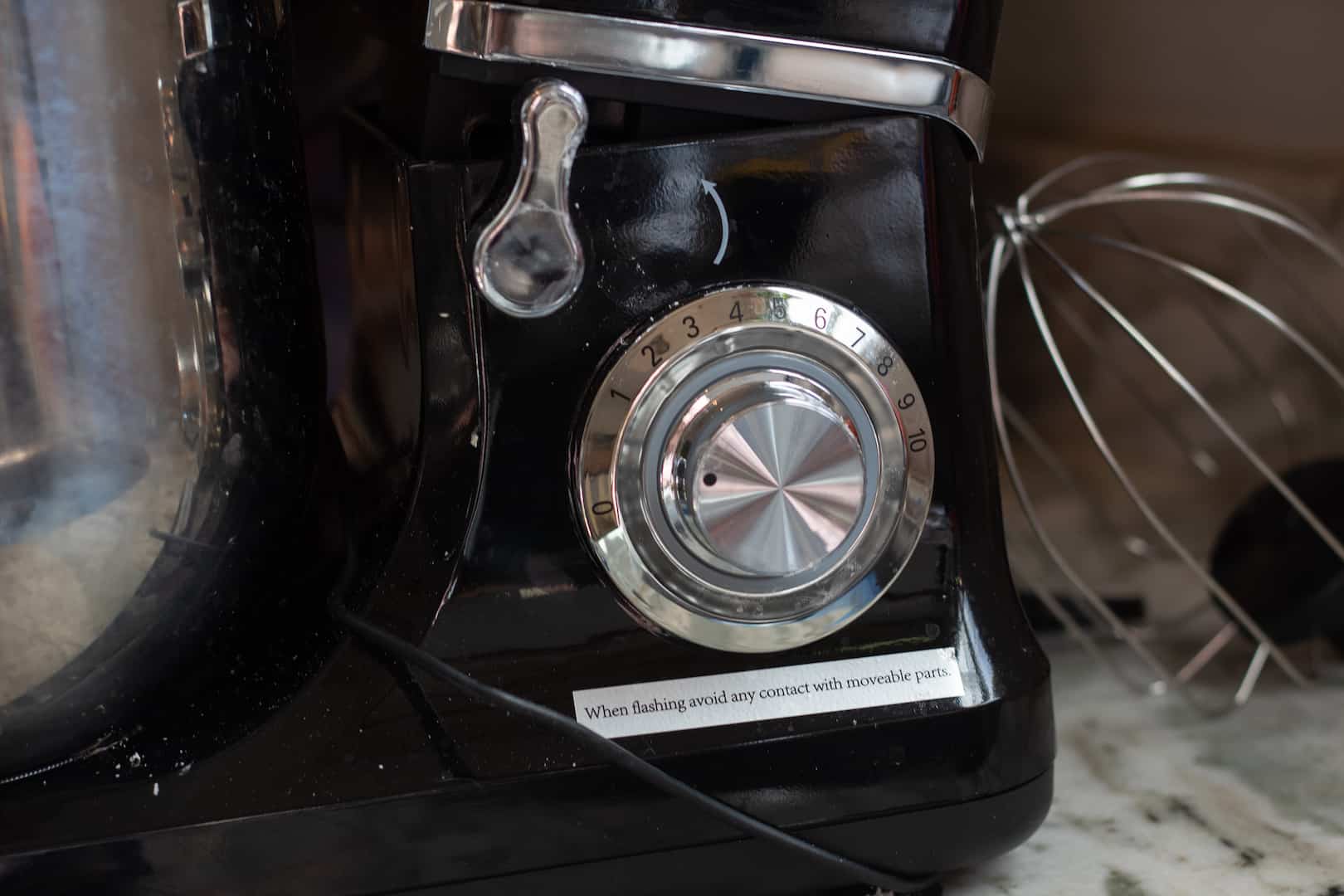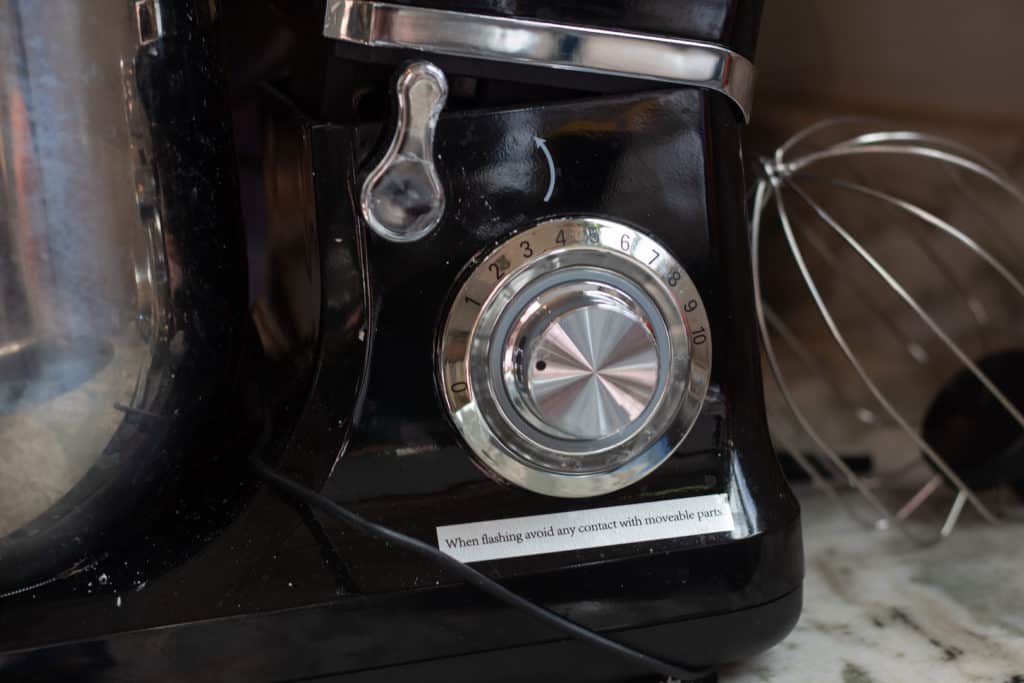 Right behind the mixer bowl and above the speed dial is a tilt head locking mechanism that allows the spring-loaded tilt head to move up and down.
With the tilt head lowered and locked into place the Acekool mixer fit comfortably under my cabinets on my countertop but I had to move it forward slightly to give it enough room to open fully. Open, or locked into place, the tilt head is super sturdy, and feels well built.
Using the Acekool Stand Mixer
After I'd unpacked the mixer and all of its attachments, I set the mixer up and plugged it in. I gave all of the attachments a rinse with warm water and a bit of soap to wash any chemicals or dust away from the construction/packing process.
Once everything was clean and tidy, I ran through the instruction manual briefly to better understand the features and attachments. After some light reading, I felt I was ready to get down to recipe testing.
First, I attached the bowl and the paddle attachment and tested the various speed levels. While many mixers require you to stop them to adjust speed, the 10-speed dial on the side can be adjusted while the mixer is running, and I cycled through the various speeds to see just how fast it could run.
The mixer is relatively loud at the highest speed, but certainly, no louder than a blender or food processor might be. The thinner profile of this mixer gives it a slightly top-heavy feel, but the suction cup feet on the base of the mixer locked it firmly into place on my countertop, and I didn't really feel it move at all when running.
While stand mixers can be used for whipping cream to mashed potatoes, I mostly use mine to make baking recipes like cookies, pie dough, or bread. I did not doubt that the Acekool 7.5 quart stand mixer can make great mousse or chantilly; I was interested in learning how well it would do with more challenging recipes that require a strong motor and motion.
Mixing Bread Dough.
For my first test, I decided to throw together a bread dough for a gathering I was having later in the evening. I'd been meaning to test out a 1-day panettone recipe I've been working on, so I began pulling out my ingredients and getting the dough together.
First, I weighed my ingredients directly into the 7.5-quart bowl of the Acekool dough mixer. Once everything had been measured, I placed the stainless steel bowl onto the tilt head stand mixer and turned it to lock it into place.
Next, I attached the dough hook to the tilt head and then pushed the tilt head down to lock it into place. Once the mixer was secure with the dough hook attached, I turned the speed dial to 1 and sat back while the dough began to mix.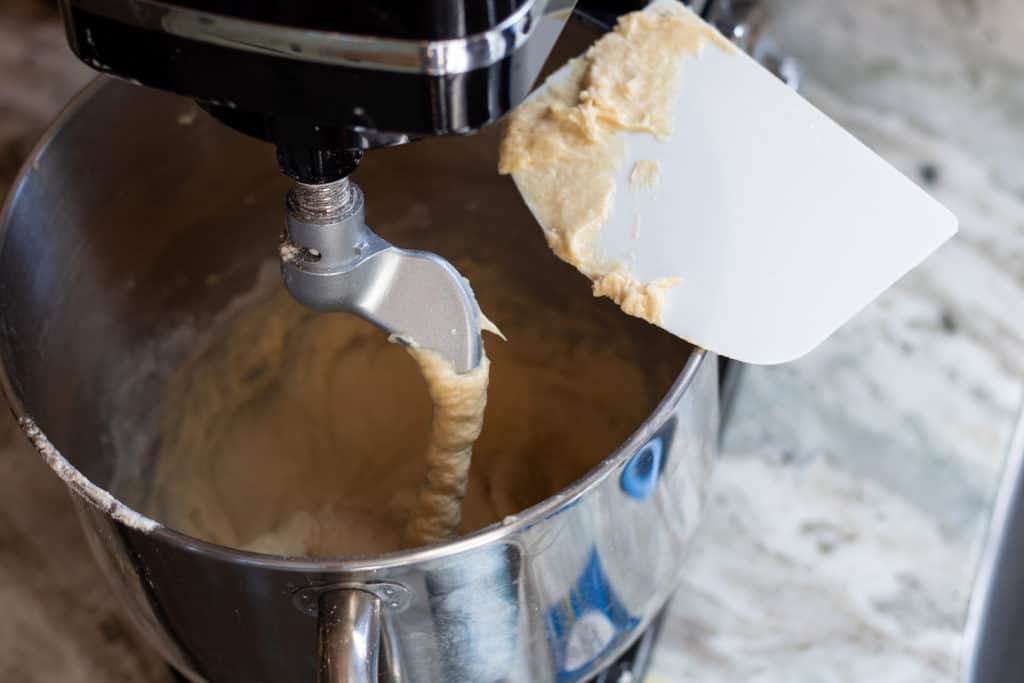 When mixing bread dough, it's best to let the dough mix on the lowest speed for 1-2 minutes until an even, rough dough is formed, and then increase the speed to start to build gluten and structure.
Thanks to the suggested speed levels listed on the side of the mixer above the speed dial, I knew that the Acekool mixer shouldn't go above speed 4 when mixing dough. While you can use these speeds as guidelines, and certainly, you could increase the speed of the mixer past 4 when mixing dough, this can result in motor failure or shorten the mixer's life over time.
Four is more than speedy enough for even the firmest dough recipes, and for my needs, it worked perfectly. After 5 minutes of mixing, my panettone dough had reached an even gluten structure and was ready to begin its first proof.
Once the dough had been proofed for an hour in my makeshift proofing cabinet, I added my fruits/filling and formed it into a loaf shape before loading it into a baking dish to proof again.
After a final proof and a long bake, I was left with a picture-perfect panettone, thanks in large part to the Acekool stand mixer. Some dough, like overnight sourdough or no-knead dough recipes, doesn't benefit from time in a stand mixer. A stand mixer is the best option for doughs like brioche, challah, panettone, or any other number of different recipes.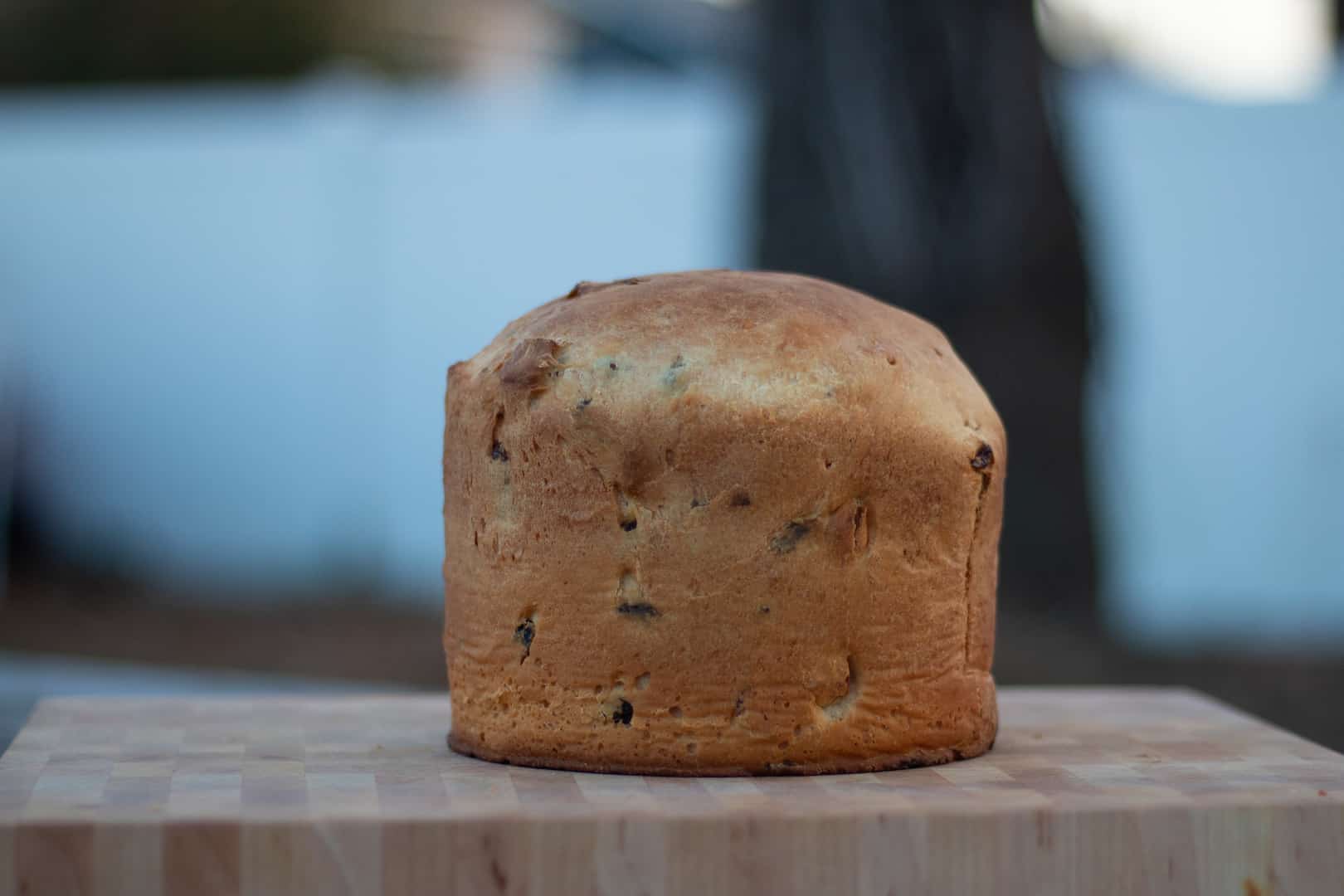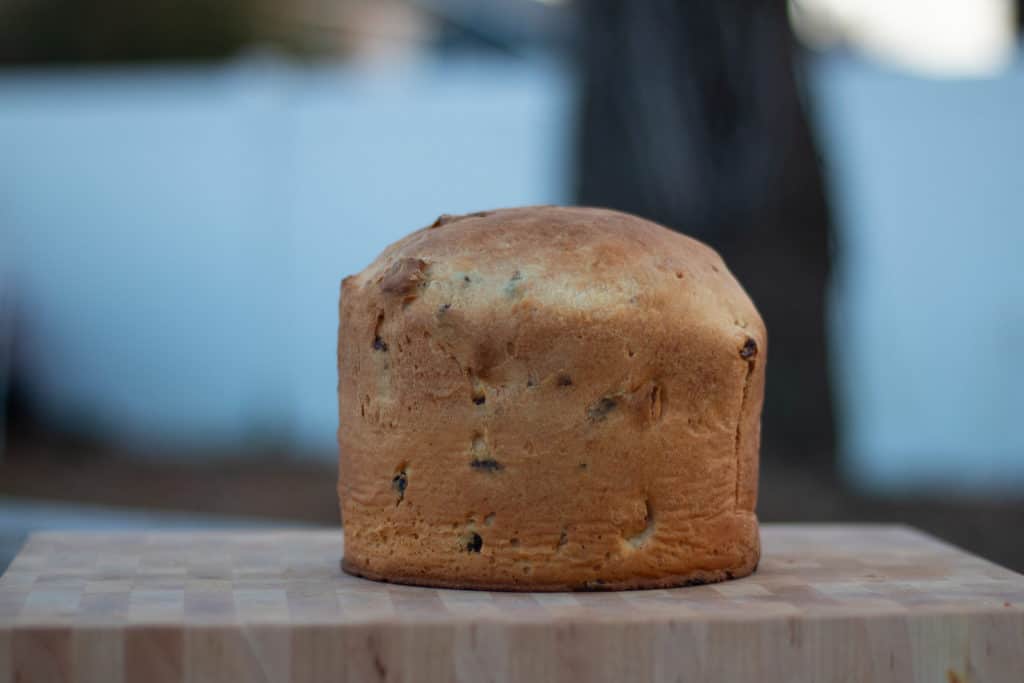 The Acekool stand mixer had enough capacity to accommodate a 3 or 4x batch of the panettone dough I made, and the motor was more than strong enough to handle that volume as well. The dough hook beater itself was impressively designed and reached almost to the very bottom of the bowl, unlike some mixer models that leave too much space resulting in an uneven mix.
Making Cake Batter!
While I love to make bread and cookies at home, I find myself making cakes more than almost any other baked good. I love a good "breakfast cake" with my morning cup of coffee, and a good stand mixer makes light work of cake batter.
While an electric mixer or hand mixer can make a really consistent, delicious cake batter, a stand mixer makes the job hands-free, allowing you to perform other tasks while your batter mixes. It also makes much less of a mess in my experience, thanks to the self-contained nature of the stand mixer bowl.
To test the Acekool stand mixer, I decided to make a simple cherry cake recipe from English Baker and Cookbook Author Mary Berry.
First, I added my butter, eggs, sugar, and flour to the stand mixer bowl; then, I locked it into place on the mixer base. Next, I attached the flat beater or paddle attachment to the mixer and lowered the tilt head into place.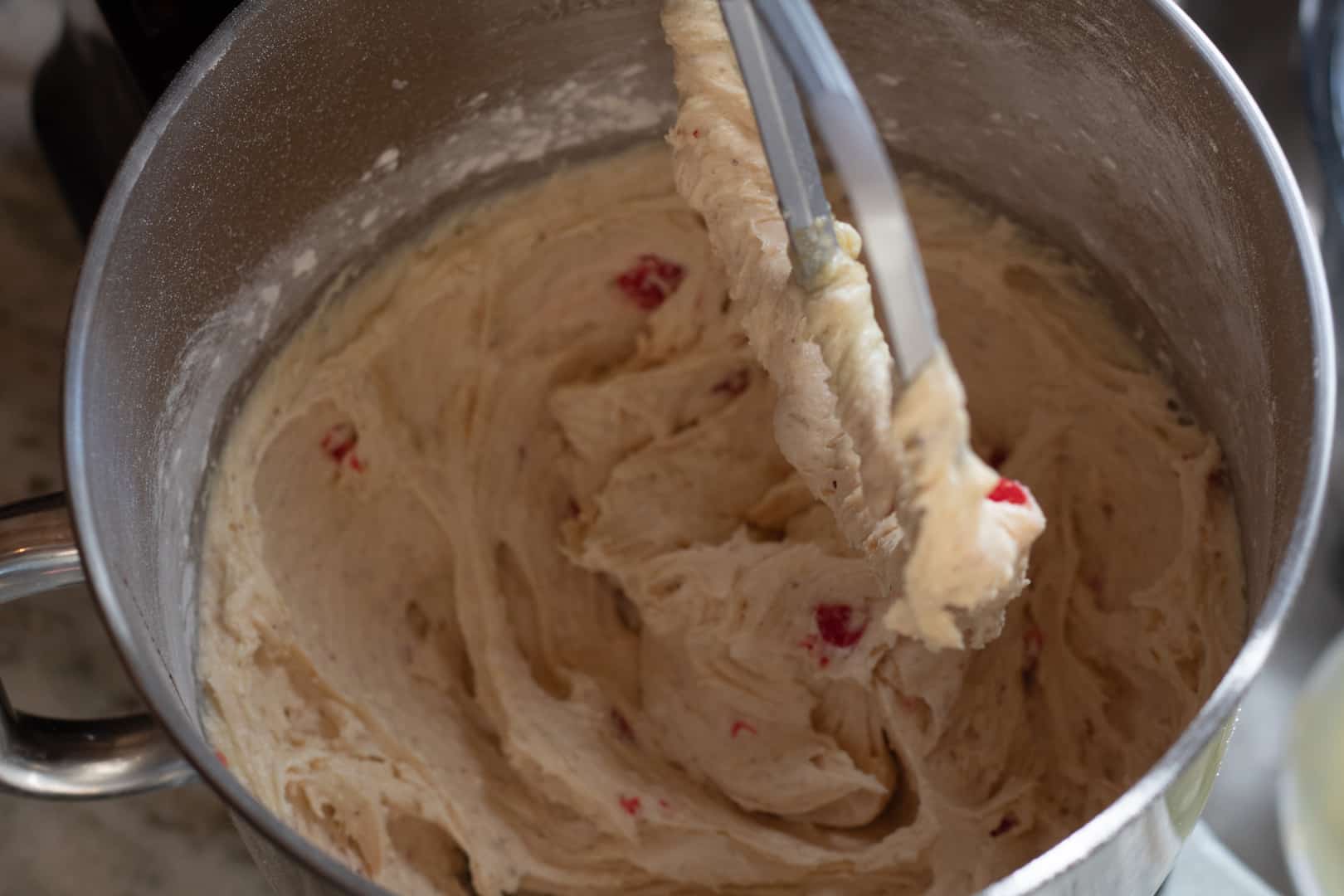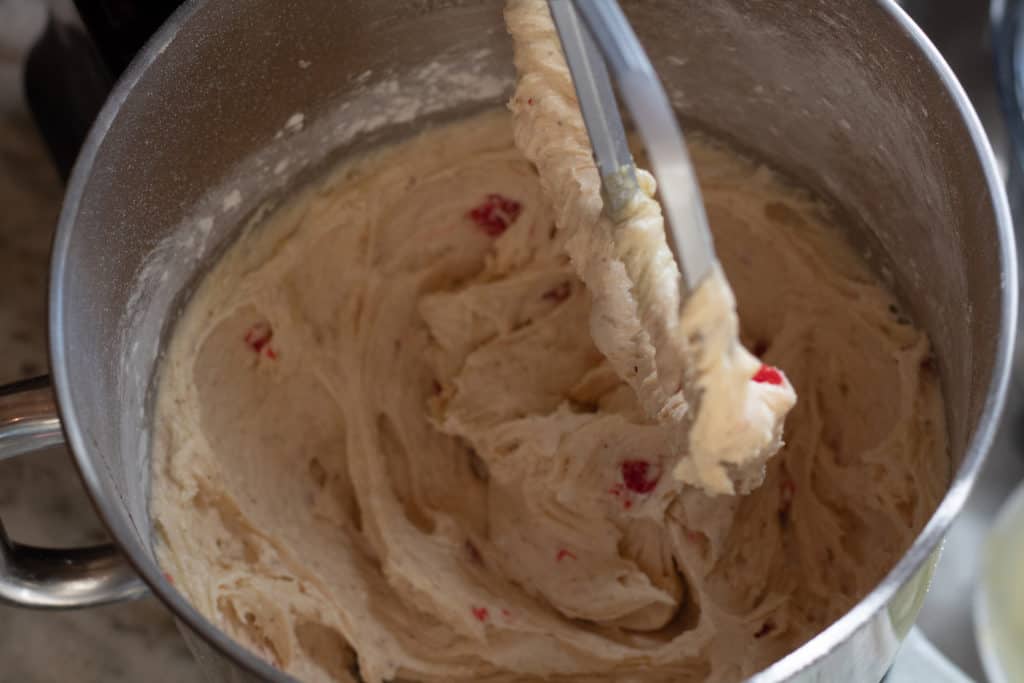 I set the speed level to 2 and allowed the batter to form before increasing the mixer to speed 7. After 3 minutes of mixing, I stopped the mixer and added the chopped cherries to the batter. I started the mixer on speed 1 to gently fold the cherries into the batter for 30 seconds more.
Once the cherries had been added to the batter, I transferred the cake batter to a greased baking tin. I smoothed the top of the cake batter and made sure it was evenly distributed before placing the cake pan into a preheated oven.
While the cake baked, I cleaned the bowl and paddle attachment and allowed it to dry. The Acekool stand mixer attachments are dishwasher safe, but I prefer to handwash them wherever possible. I've found that handwashing will extend the life of appliance attachments over time, but it's more of a personal preference.
After the cake finished baking, I ran into trouble getting it out of the cake pan. I've sworn off bundt-style pans a thousand times, but I always end up giving them another try, and then cakes get stuck.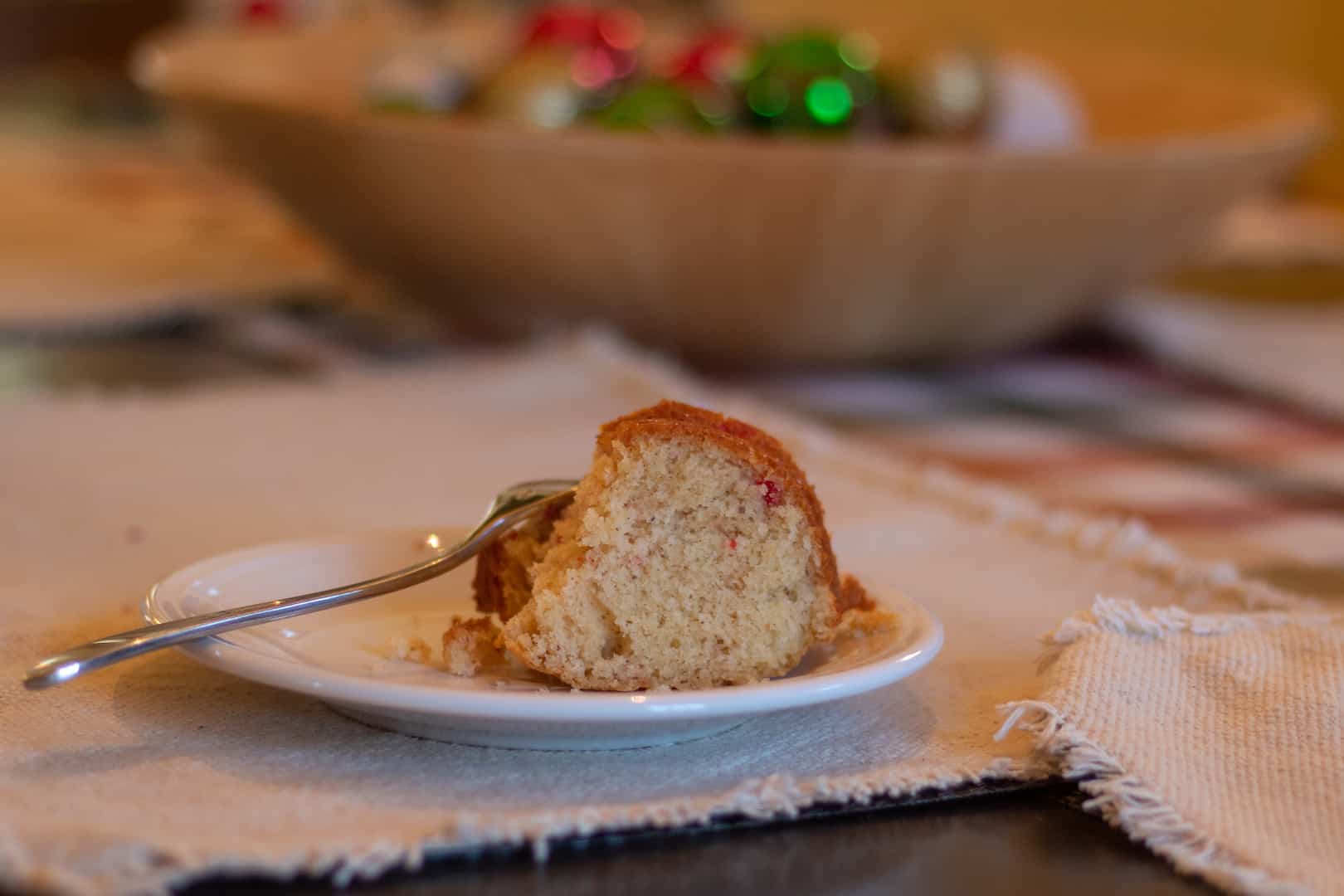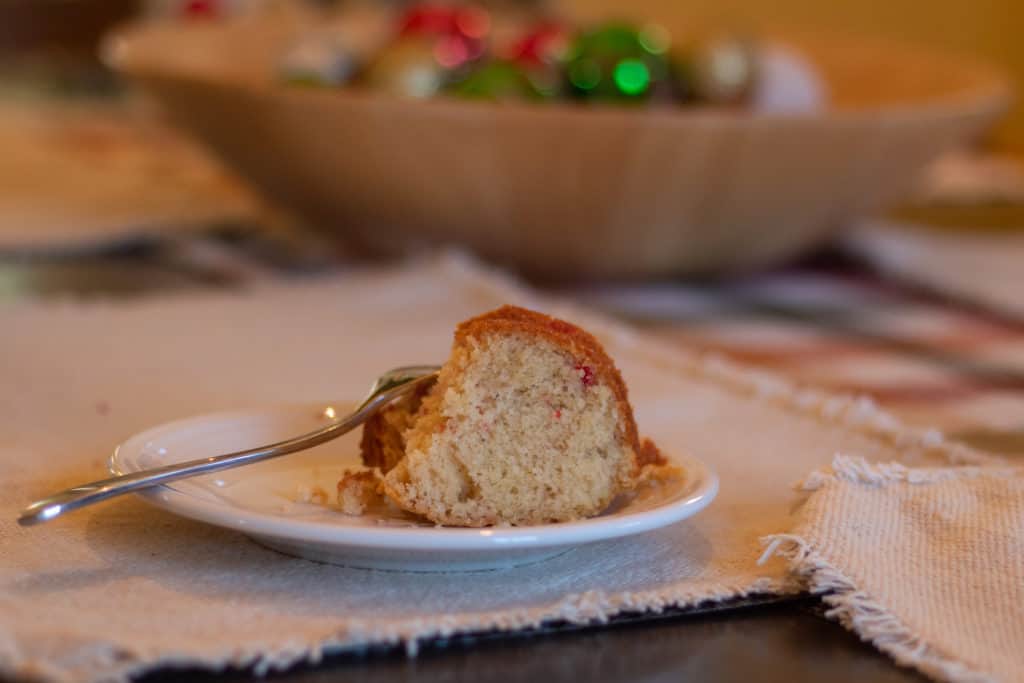 The cake itself was delicious, and the troubles I had with the cake pan had nothing to do with the quality of the cake batter. The Acekool 7.5 quart stand mixer can make an excellent cake batter; it's up to the baker to prepare the cake tin properly!
Clean Up and Storage.
Once your batters, dough, or whipped cream mixtures are finished, tidying up the Acecool stand mixer is really very easy.
All of the attachments, including the bowl, whisk, paddle, and dough hook, are dishwasher safe, which is very nice. While I usually opt to handwash these attachments, the ability to throw them in a dishwasher and have them clean with the press of a button is a really nice feature.
I like to keep my stand mixer on my countertop, so it's always ready when I feel like mixing up a cake batter or a batch of cookies. However, if you're short on space, storing your stand mixer in a cabinet or closet can really make a difference.
Thanks to the compact design Acecool mixer, you can comfortably fit it into almost any cabinet or closet you have available. The attachments fit conveniently into the bowl, and the cord can be wrapped neatly around the mixer base for easy storage.
Is the Acekool stand mixer right for you?
The Acekool stand mixer is a great kitchen appliance that adds a ton of functionality to your kitchen at a fraction of the price of other stand mixers. If you're looking for a compact stand mixer equipped with 3 awesome attachments and you don't want to break the bank, the Acekool 7.5 quart stand mixer is an excellent option
Though this mixer was slightly top-heavy, the sturdy tilt head & anti-slip feet kept the machine in place throughout all of my tests, even with bread dough & thick batters. The splash-proof cover helps keep your batter in the mixing bowl and not on the counter.
If a stand mixer for baking is high on your wish list, the Acekool 7.5 quart multifunctional stand mixer does a great job at a fraction of the price of many more well-known brands.