The 9-in-1, 13-quart air fryer by Taotronics is a really functional example of a countertop, toaster oven-style air fryer. With a ton of power thanks to the 1700w heating element, and a high-powered convection fan, this 13-quart air fryer can handle a ton of different cookign tasks well beyond preparing everyday favorites like french fries and chicken tenders.
Taotronics 13 quart 9-in-1 Air Fryer Oven
Taotronics has a few different air fryer models available but the 13-quart 9-in-1 countertop air fryer oven is definitely its most feature-rich design. With tons of features beyond simply air frying like a rotisserie spit, tumble roast basket, and even dehydrator functions, this 9-in-1 air fryer is sure to check off a ton of boxes on your kitchen appliance wish list.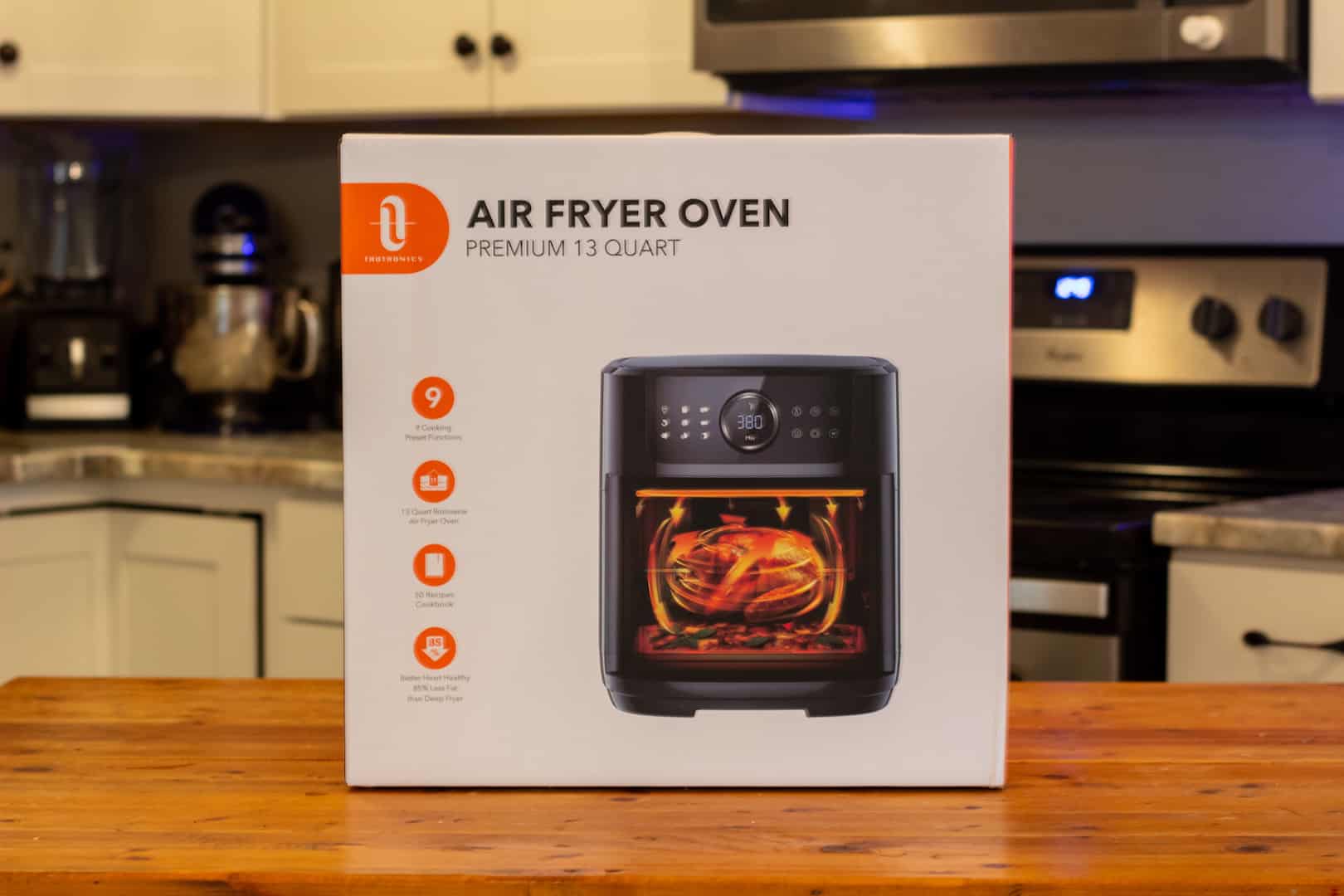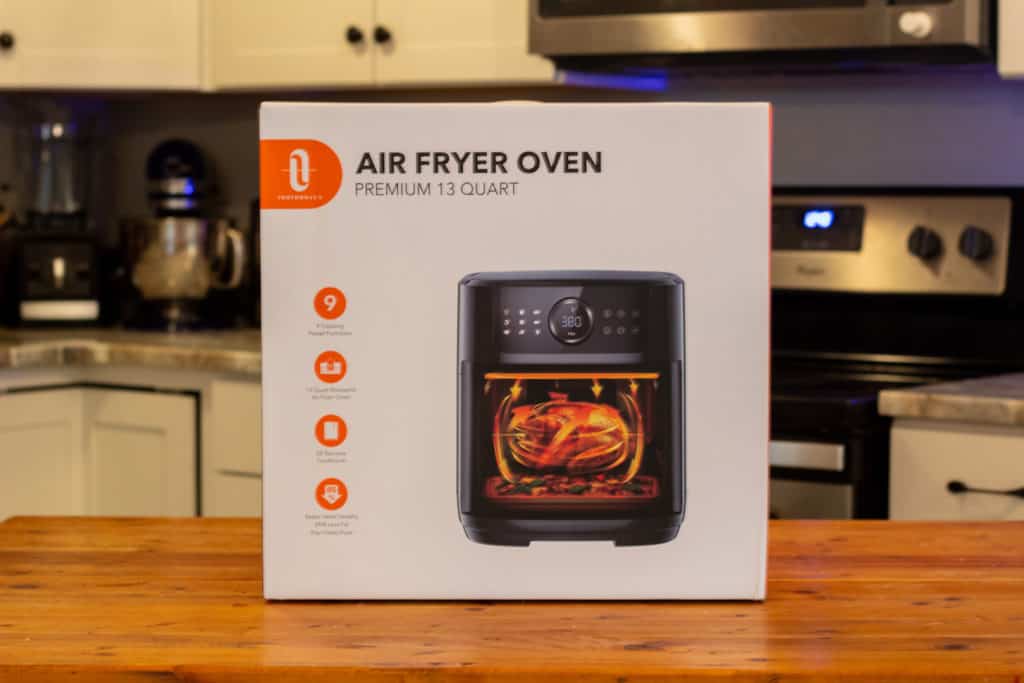 Recently I had the privilege to take the Taotronics 9-in-1 13 quart air fryer through its paces and I can say that though there are a few design flaws, overall this air fryer is a great kitchen appliance that can handle a lot of different cooking processes.
What We Liked:
Extra Large oven space
Powerful heating element and fan
Lots of features and accessories
Super quiet
What We Didn't Like:
The door opens from the side making countertop placement tricky
The Control panel is confusing and difficult to use
Large design not suitable for smaller kitchen spaces
What's in the box?
Once I received my new Taotronics air fryer I immediately set about unboxing it and unwrapping all the pieces/accessories.
Inside the box for my new Taotronic 13-quart air fryer, I found:
1, 13-quart air fryer oven
1 drip tray
1 oven wrack
1 air fryer cooking tray
1 rotisserie basket
1 rotisserie skewer with 2 fasteners
1 User manual
Look and Feel.
The Taotronics air fryer oven is a large, tall example of a countertop air fryer. Where most countertop toaster oven style air fryer ovens tend to be wide and long, the Taotronics 13 quart air fryer is more slender and taller.
The body of the machine itself is a high gloss black that looks great but shows smudges and grease quickly, which can be frustrating when you are roasting or air frying food like wings or fries. The door has a left mounded hinge and opens smoothly, it does rattle slightly and feels a bit unsteady. I found that I couldn't just swing it easily closed and had to deliberately push it shut, I'm not sure if this is the door fitting itself or because the machine is new. The door felt secure when shut though, so that's definitely a plus.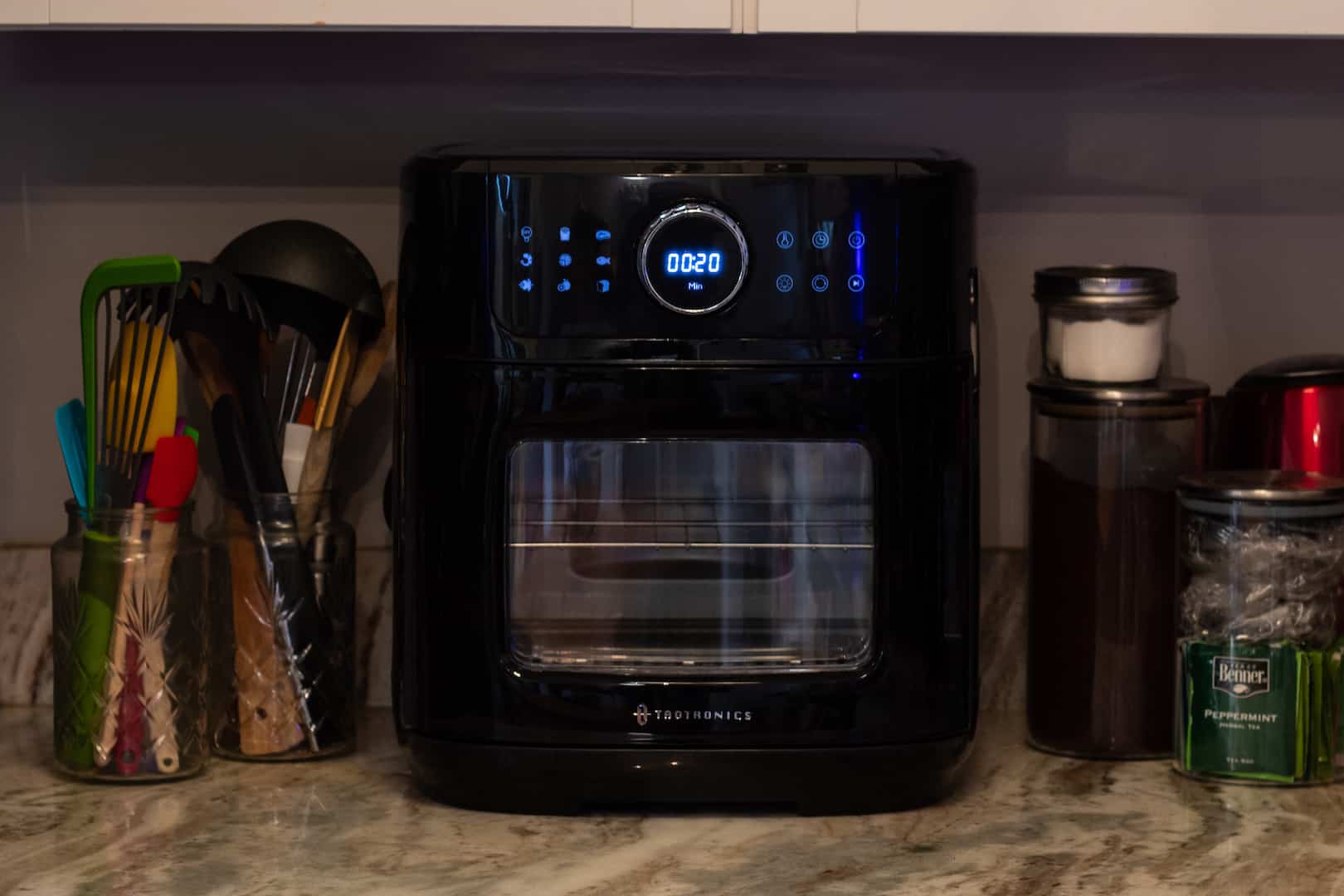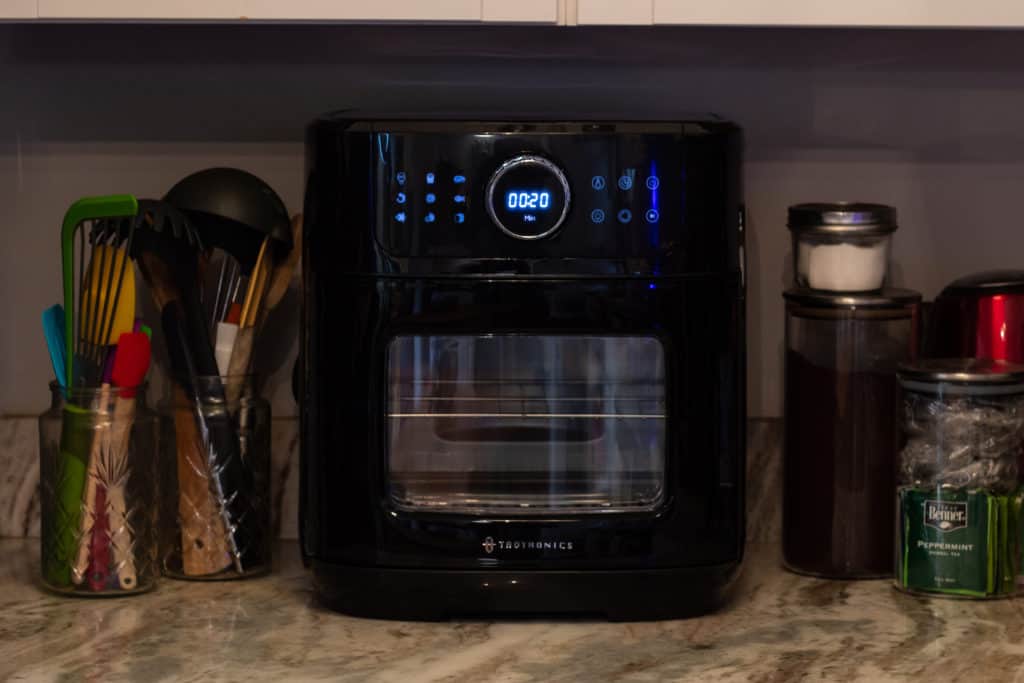 The interior of the oven is large and can handle a chicken, or even a small turkey breast, but with only two included cooking racks you can only fit so many pans of food at once. The light in the oven is mounted towards the rear left corner and provides ample illumination of the oven chamber making it easy to check on your food without opening the door.
In terms of the control panel interface, this was definitely a place that I found the Taotronics 13 quart air fryer a bit lacking. The interface itself is controlled partially by a large control dial that is front and center at the top of the air fryer. The center of the dial displays the timer as well as the temperature and flashes between both during the cooking process.
The right side of the control panel is a touch screen control that allows you to power the air fryer on and off as well as operate the oven light, the rotation for the rotisserie. You can also manually set the time and temperature from the right side of the control panel.
On the left side of the control panel, you'll find the preset options which include favorites like french fries, steak, shrimp, pizza, seafood, rotisserie, dehydrate and toast. To cycle through these presets you rotate the control dial and select the appropriate symbol.
Overall, the control panel isn't necessarily difficult to use, it's just not intuitive. I had to refer back to the user's manual repeatedly at first, and while over time you'll become used to operating the air fryer, I like to be able to get it up and going with as little training or referencing as possible.
Using the Taotronic Air Fryer Oven.
Once I got a good grip on how to operate the Taotronics air fryer I decided to put it through some simple tests to get an idea of how well it handled different recipes and cooking processes. I decided to focus on three basket tasks that any air fryer should be able to handle:
Cooking French Fries
Roasting Chicken
Reheating Pizza
Air fryers are great for a lot more than just "frying" foods like fries and wings, thanks to the rotisserie attachment, high-powered heating element, and convection fan, these incredible countertop ovens can make short work of big tasks.
Cooking Frozen French Fries
While making handmade fries at home is every foodie's dream, it's just not the best way to consistently produce incredible, crispy french fries at home, and certainly not in an air fryer. Given the fact that some of the best fries out there come from frozen, iqf, premade fries, there's nothing wrong in my book with a healthy helping of crispy frozen french fries every once in a while!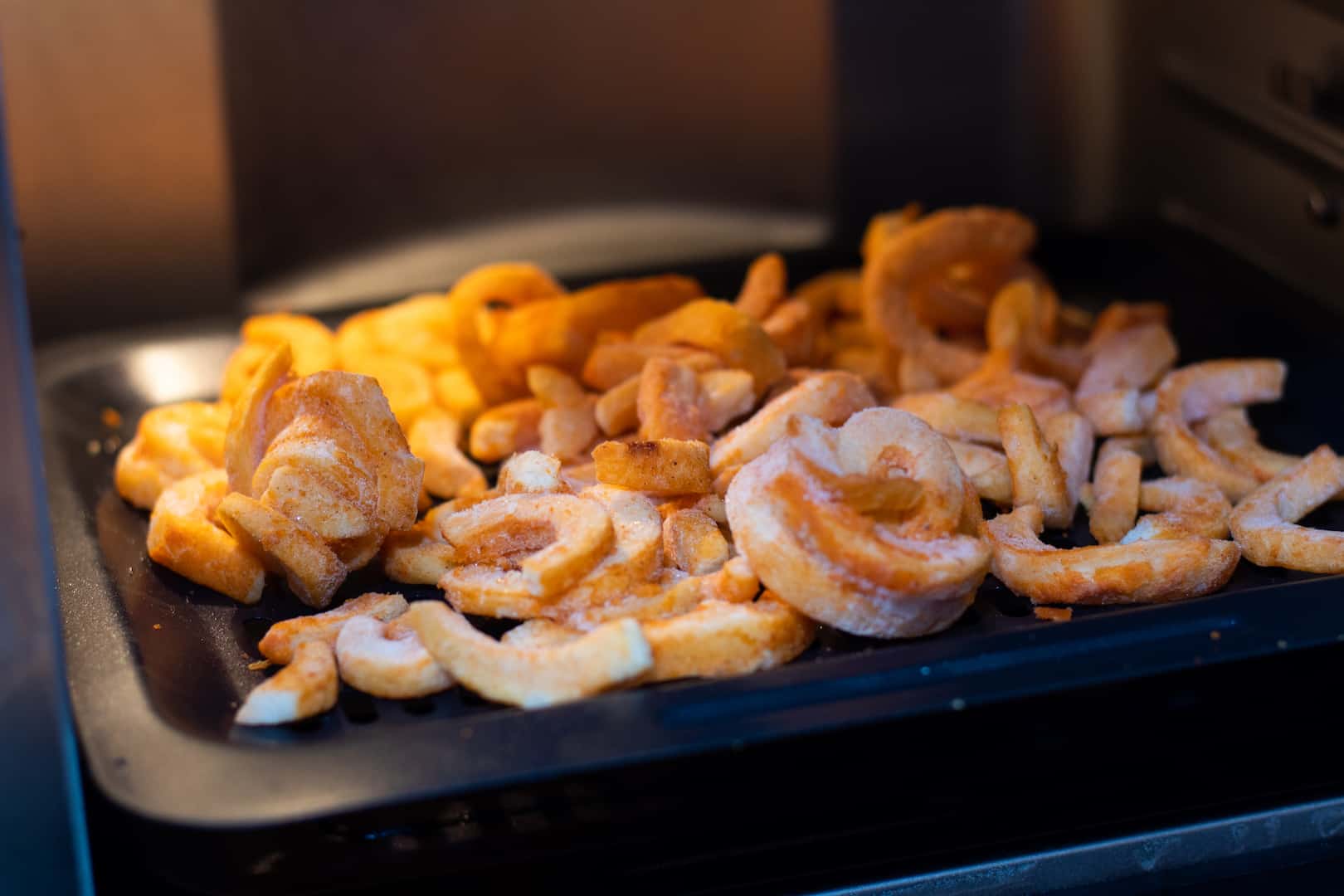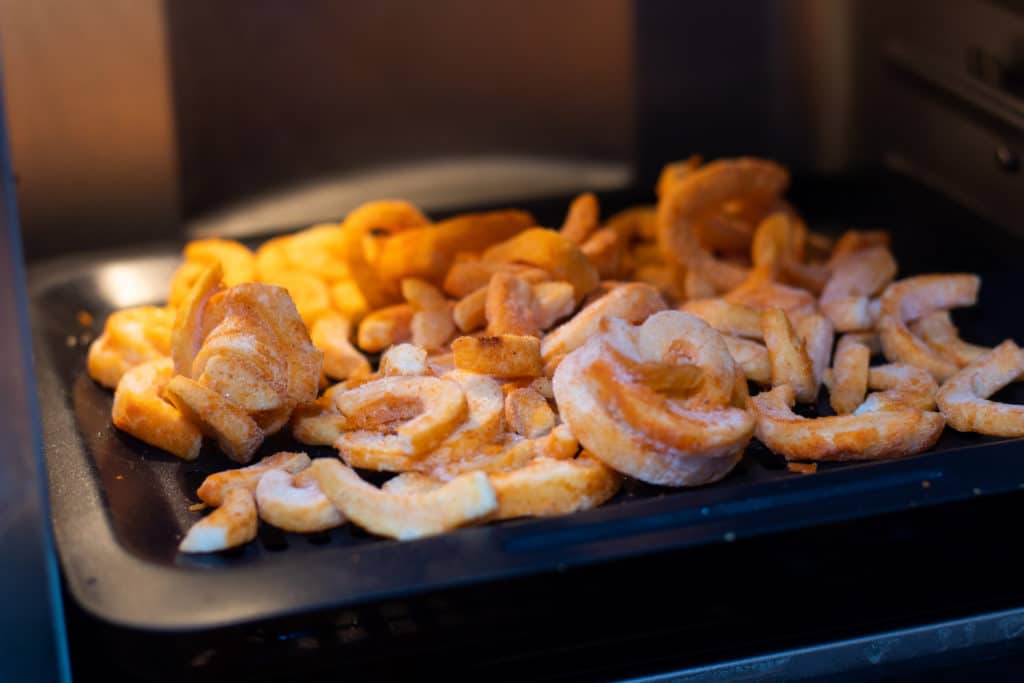 To test the Taotronics french frying abilities I turned the air fryer on and used the selector dial to choose the french fry preset. I loaded a back of seasoned curly fries onto the air fryer rack and popped it into the fryer.
Thanks to the high-powered convection fan, air fryers can turn frozen grocery store fries into something that's just about as good as if it was made in a deep fryer with was less mess and calories. The super-hot air that circulates through the convection chamber cooks the frozen fries quickly and evenly. While the frozen centers steam and leave you with a crispy crunchy coating and a fluffy, potato center. While french fries are still pretty carb-heavy, air fryers promote healthier cooking habits by removing as much fat from the equation as possible.
Once the alarm went off I removed the tray from the fryer and was greeted by the sight of a pile of super crispy, delicious-smelling curly fries. I quickly retrieved a bottle of the spicy ranch from my refrigerator and got down to snacking.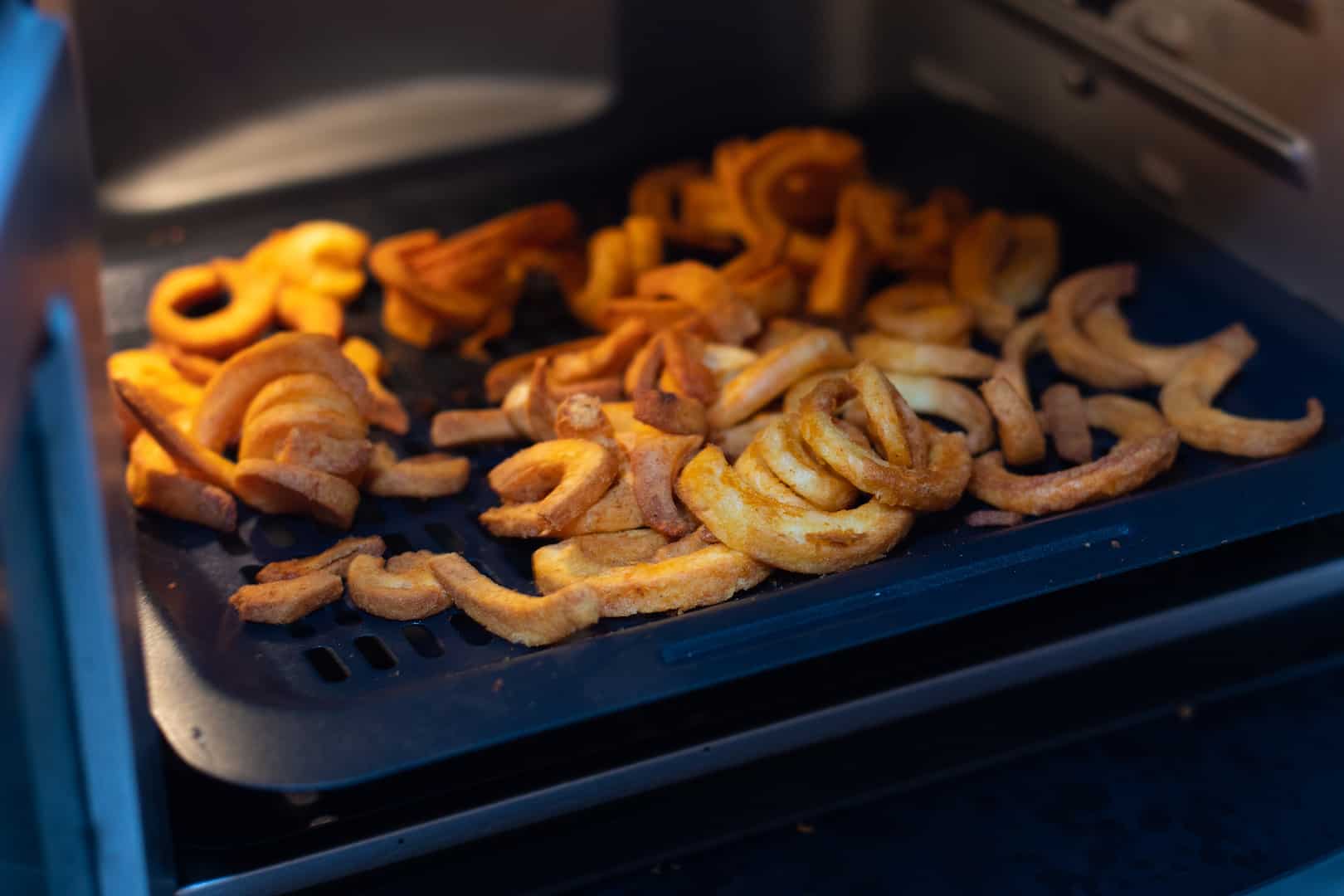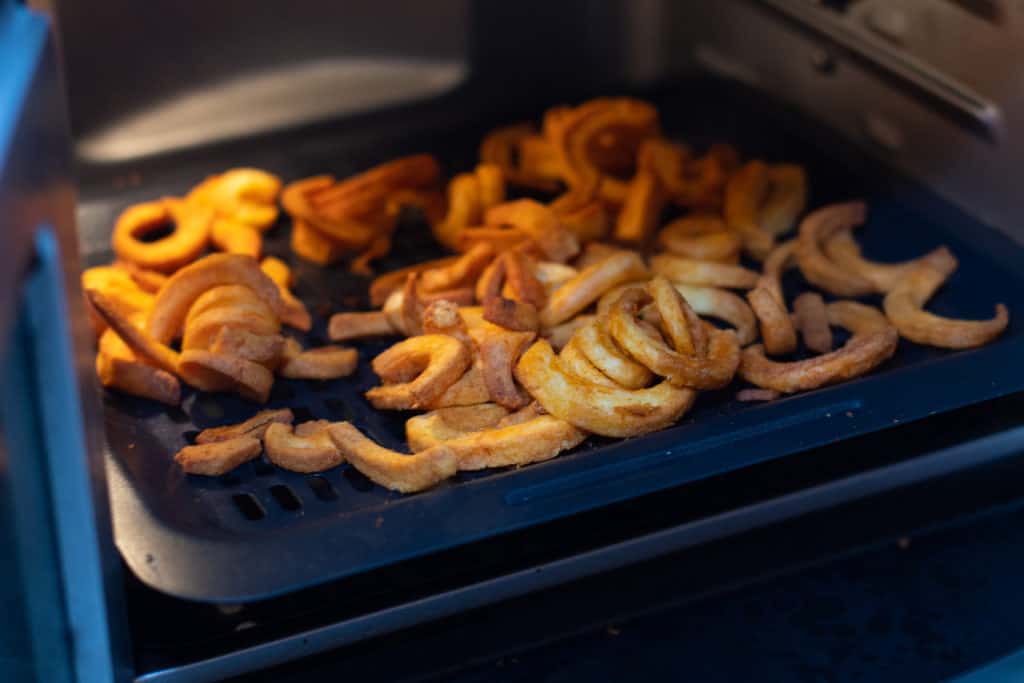 Like most air fryers, the Taotronics 9-in-1 air fryer does a great job air frying fries. Thanks to the super-hot air that helps food cook evenly, all the fries were crispy and crunchy, while also fluffy inside with a perfect french fry flavor.
The Taotronics oven does come with a large rotisserie basket that makes it easy to fry more fries at once, but filling the large basket and attaching it to the rotisserie inserts takes longer than simply using the perforated air fryer tray included with the machine.
Using the Rotisserie Spit.
I'm a sucker for rotisserie chicken, I love a good roasted chicken and I fondly remember the showtime rotisserie oven commercials that were on the tv early in the morning and late at night.
While rotisserie spits look really attractive and they definitely produce a great chicken, getting the chicken properly situated on the rotisserie skewer is often frustrating, and it's usually just easier, in the long run, to roast the chicken on a rack instead. However, if you're craving rotisserie chicken, using bone-in chicken thighs or drumsticks is a great way to prepare a rotisserie chicken product quickly.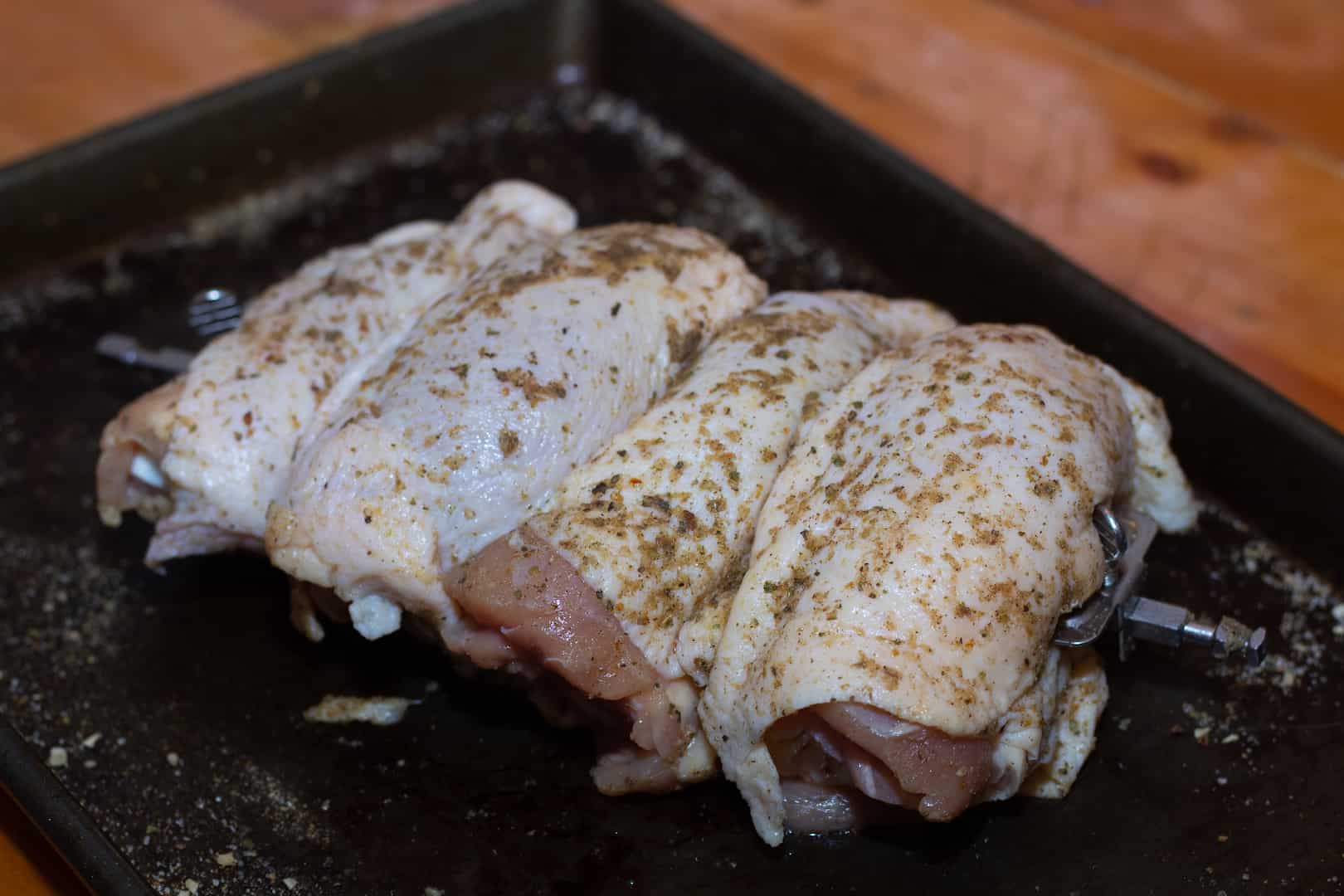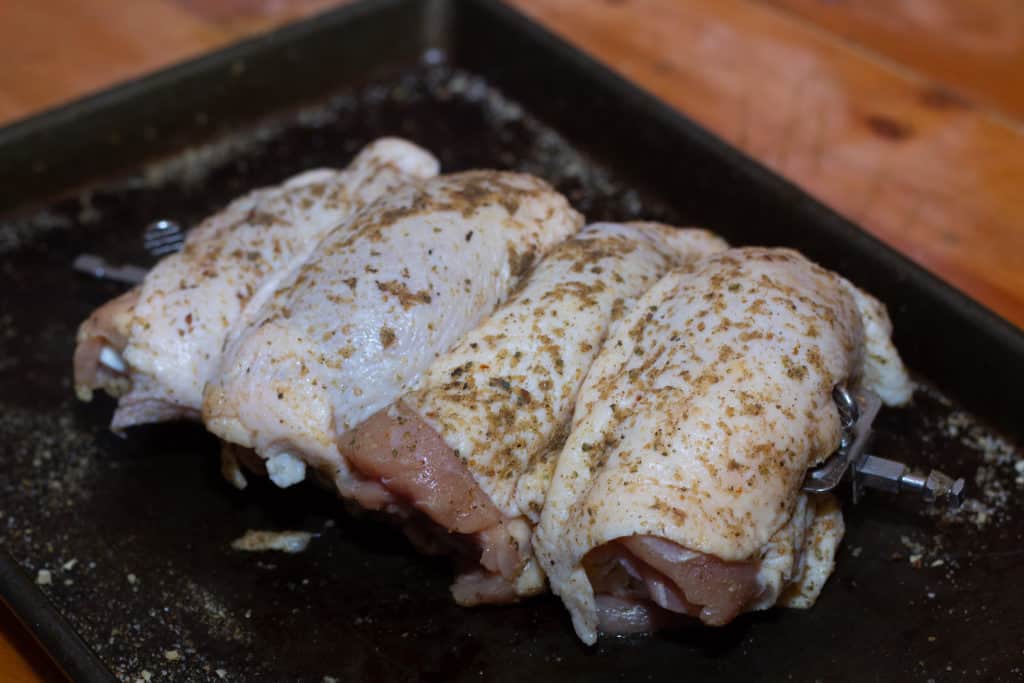 Attaching chicken thighs to the rotisserie spit is much easier than trying to properly situate an entire chicken. I simply threaded the skewer through the things, horizontal to the thigh bone, and then attached the rotisserie forks to each end to the spit, securing the chicken thighs.
After some slight adjustment, I loaded the rotisserie spit with the chicken thighs into the oven and settled it into the rotisserie skewer slots. I selected the rotisserie chicken preset from the digital control panel and sat back to watch my chicken thighs spin.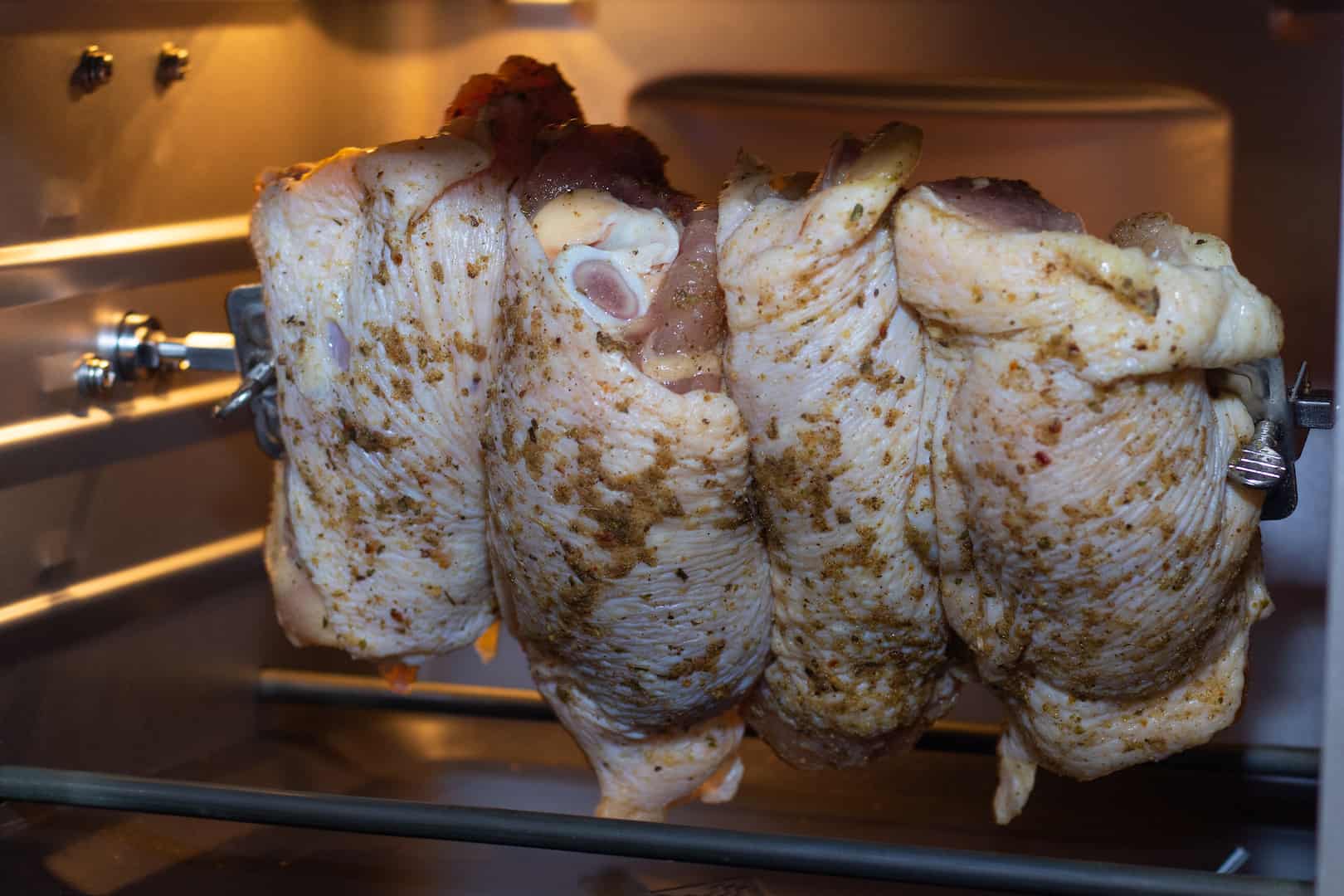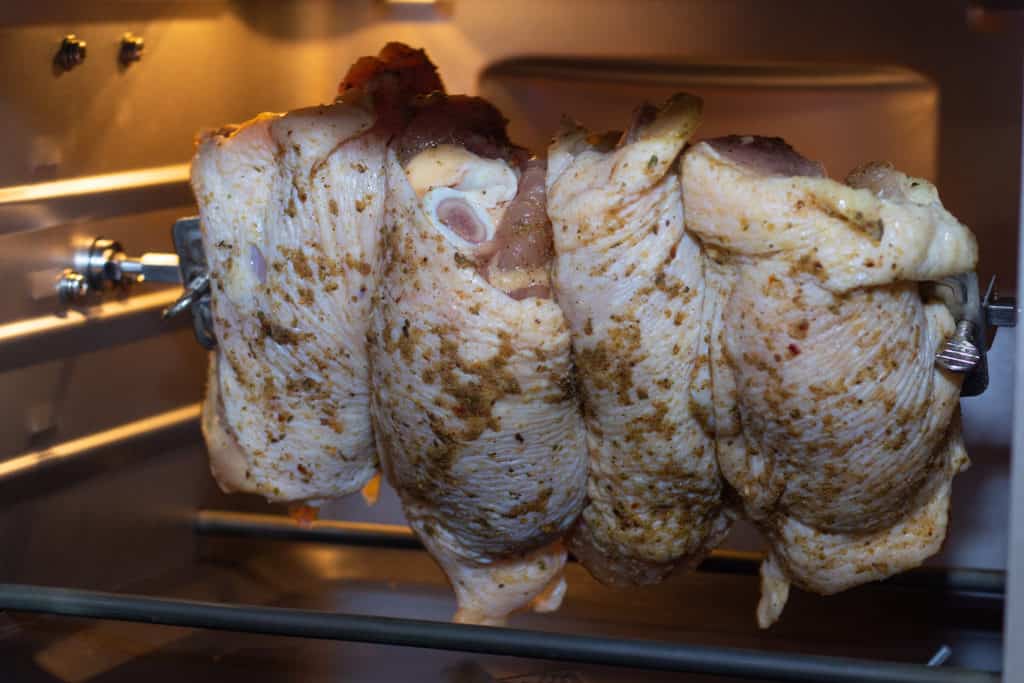 Thanks to the high-powered convection fan, air fryers help promote even cooking, and also reduce calories by helping excess fat render out of the food while it cooks. This is definitely true for the rotisserie cooking process as quite a lot of fat and juices are collected on the drip pan during the cooking process.
It was important to remove the tray during the cooking process at least once to keep the moisture from building up to much and creating a fire hazard or a mess.
After 35 minutes the chicken thighs were just under 165°f internal temperature so I used the control dial to add another 15 minutes to the cooking time.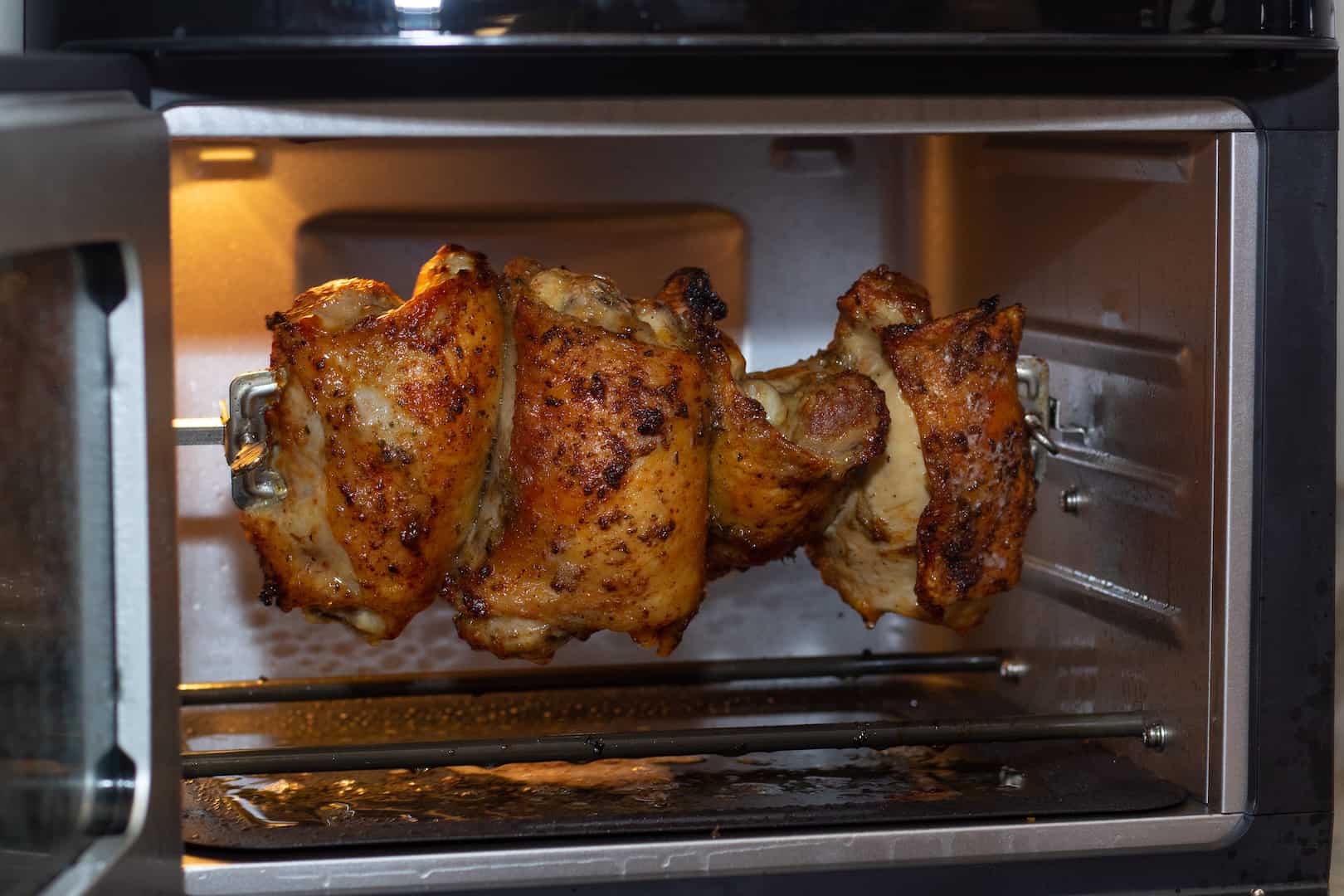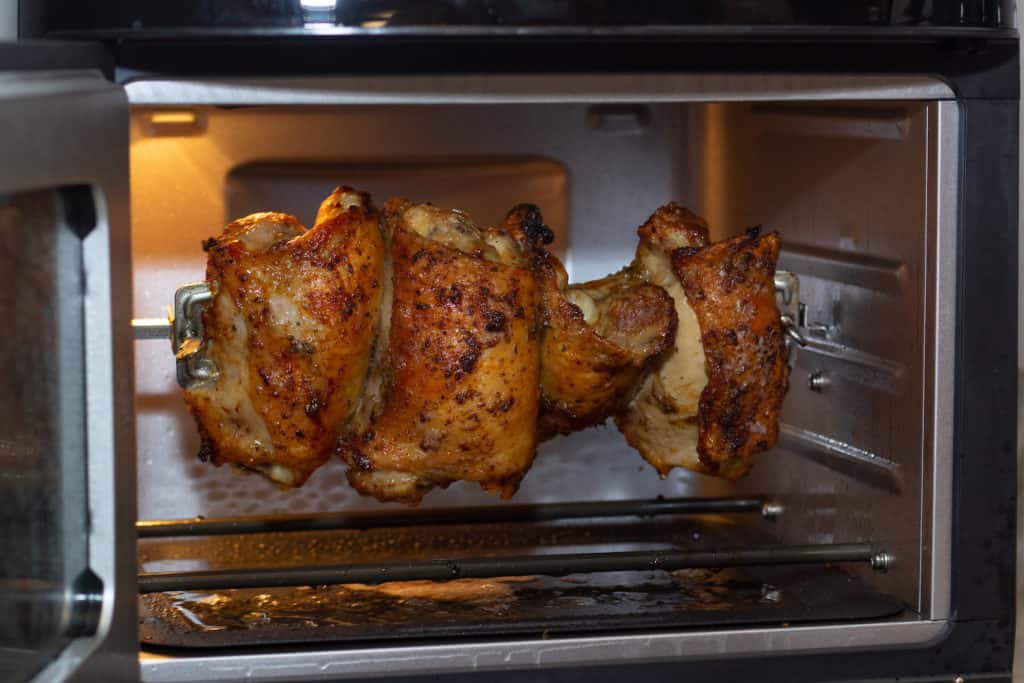 Once another 15 minutes had elapsed, I was the proud owner of 4 perfectly cooked, juicy, and delicious rotisserie chicken thighs. While it's definitely easier to simply roast chicken or chicken thighs flat on a roasting pan, the rotisserie creates crispness and juiciness in chicken that's hard to beat.
Reheating Pizza in the Taotronic 13 quart Air Fryer
There are a lot of things you can air fry in your new air fryer convection oven, from delicious roasted chicken, chicken wings, or french fries, to things like bacon, frittatas, or even baked goods. That being said, one of the more basic, but consistent reasons I find myself powering on my air fryer is to reheat some cold pizza.
While I love cold pizza, sometimes I want it as hot and fresh as possible, and there are a lot of ways to achieve that, but the easiest and tastiest in my opinion is in an air fryer.
To reheat a few slices of pepperoni and hot honey pizza from my local pizza place, I loaded the slices cheese side up onto the wire rack and set the time/temperature to 375°f and five minutes.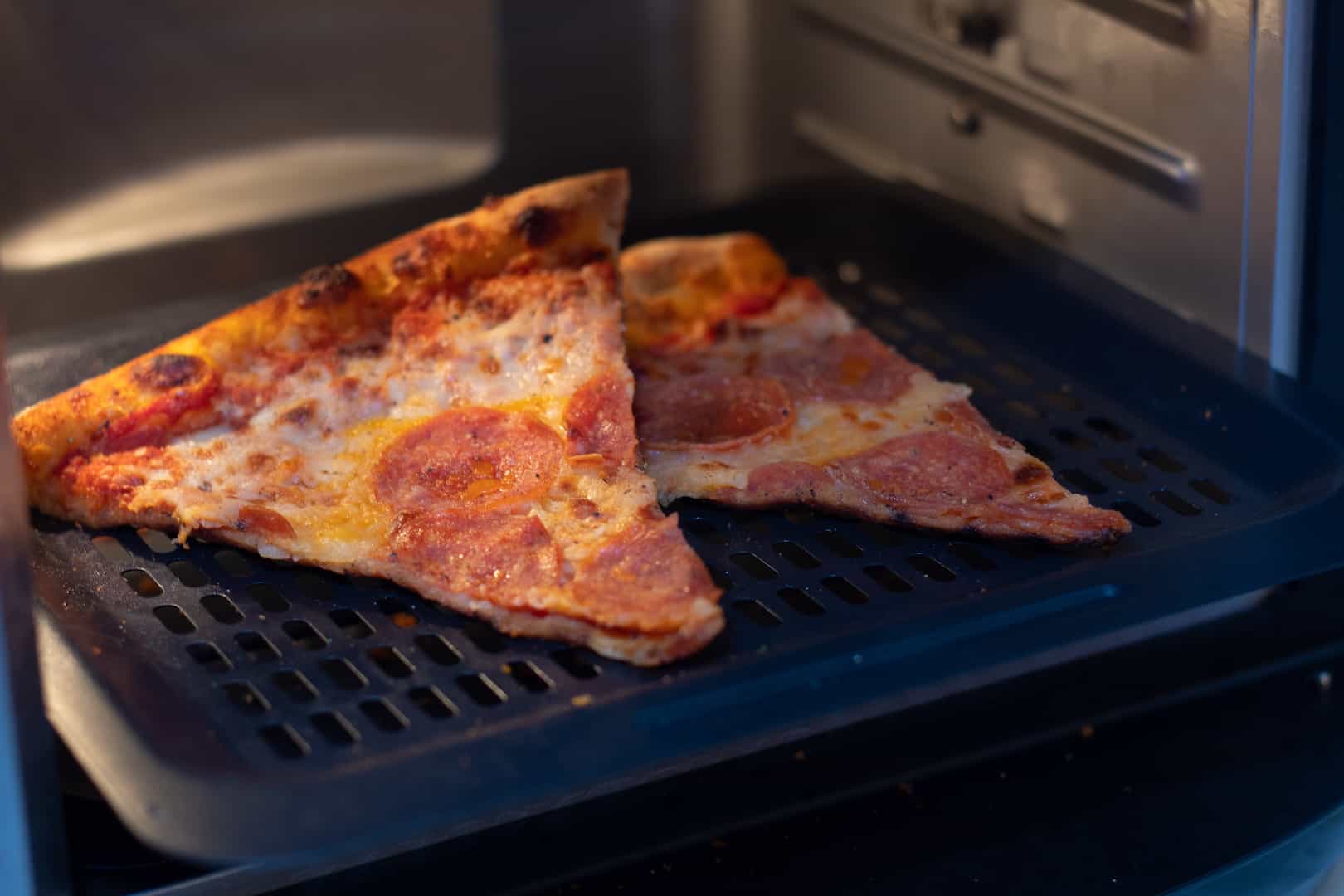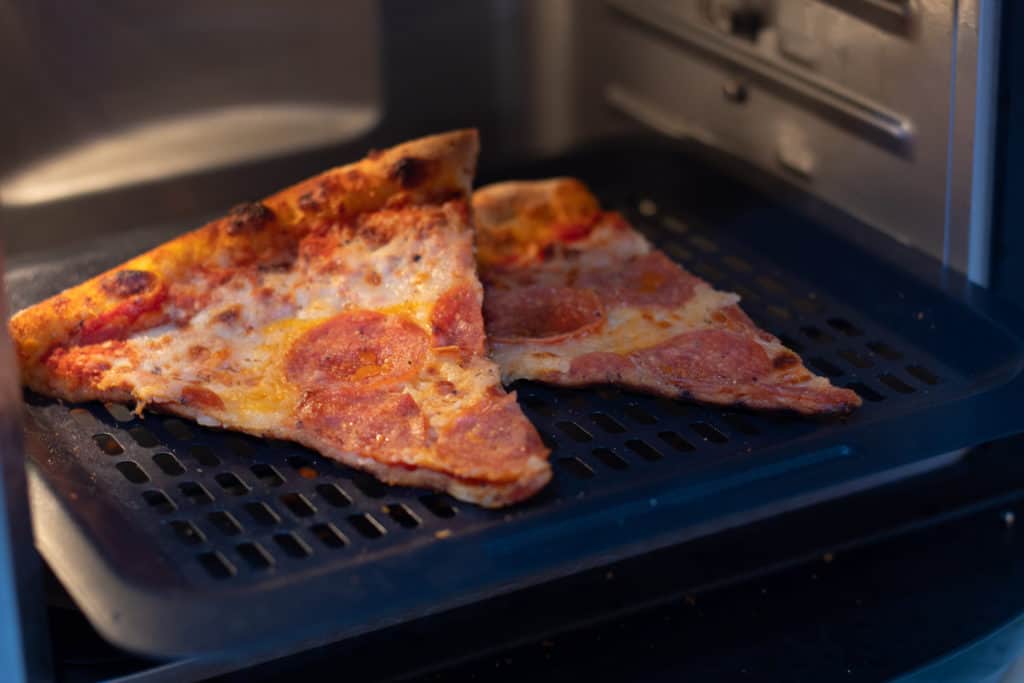 While microwaves can heat food quickly, air fryers retain the crispiness of almost every food in ways a microwave can't. This is primarily because of the high-powered heating element and super-powered hot air from the convection fan. The circulating air in the cooking chamber creates an environment that's perfect for quickly reheating foods that you want to remain crispy and delicious, like pizza.
After 5 minutes, my pizza slices were perfectly hot and ready. While not quite as delicious as a fresh piece of pizza, it was a pretty good approximation of the original quality, and definitely better than I could achieve in a conventional oven or microwave.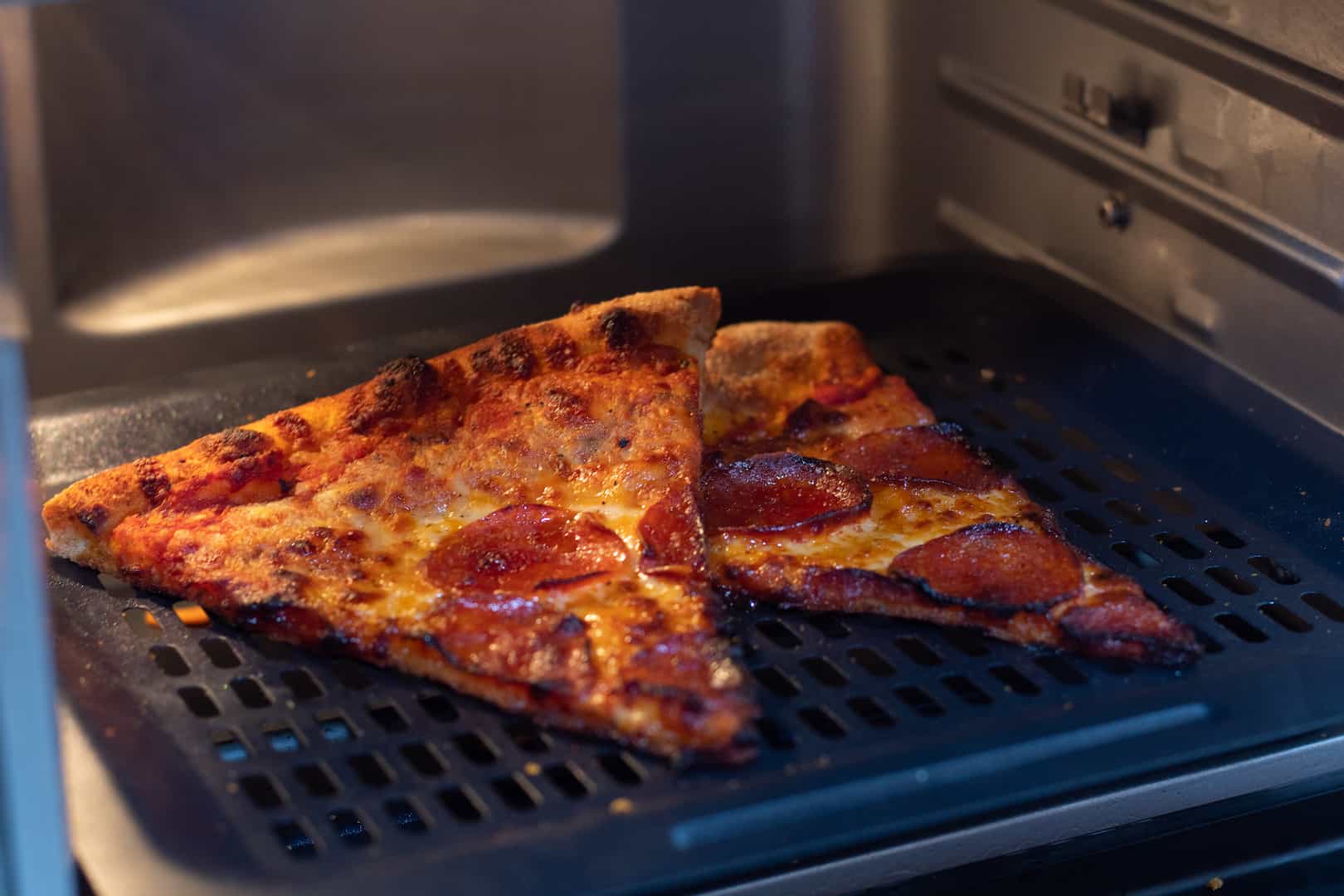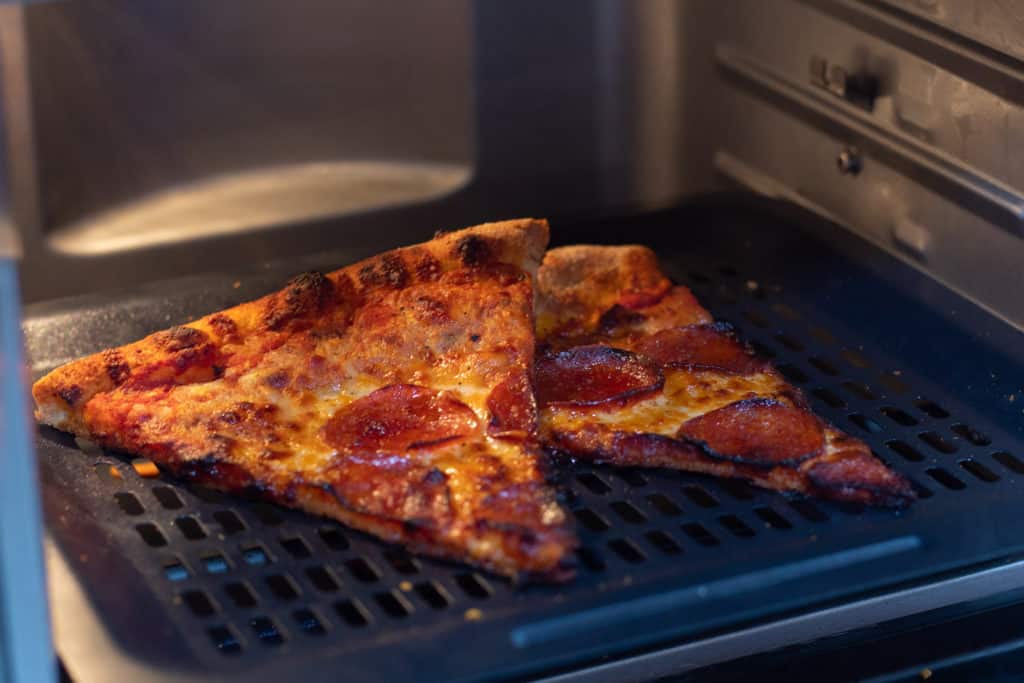 Should you buy the Taotronics 13 quart Air fryer?
Adding an air fryer to your kitchen arsenal is one of the best choices any home cook can make. While the Taotronics 13 quart air fryer isn't perfect, it does a really good job in most areas. The side-mounted door hinges make it more inconvenient to load than I would have liked, especially if you want to place the Air Fryer in a corner, but the overall functionality and capability of this air fryer are really strong.
The rotisserie attachments are a lot of fun to use and with a really strong convection fan and super powerful heating element food gets crispy quickly. If you are looking for an air fryer with a ton of capacity, and the ability to do so much more than simply cooking fries or crispy chicken nuggets, the Taotronics 13 quart air fryer should be high on your list of convection oven/air fryer options.