One of the greatest inventions in modern history has been the dishwasher. Gone are the days of standing over a sink and washing all of the day's dishes by hand.
There are many dishwashers to choose from, so today, we're going to talk about the Whirlpool Gold Series Dishwasher WDT720PADM. It's full of features and has a sleek and stylish design that makes it a fitting choice for any kitchen.
About the Whirlpool Gold Series Dishwasher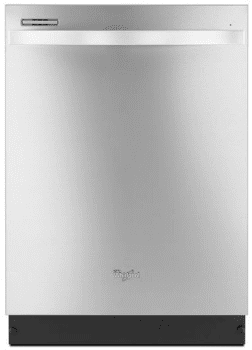 The Whirpool Gold Series Dishwasher WDT720PADM is just one of the many Gold Series options made by Whirlpool. We chose this model because of its cleaning ability, especially when it comes to silverware. There are different models of the Gold Series dishwashers, but the WDT720PADM is our choice because it is affordable, stylish, and effective.
Why it Stands Out
The Whirlpool Gold Series Dishwasher WDT720PADM stands out from the competition because of its specifications and features. We have broken down these specifics in the features and benefits section near the end of this article to further explain how they contribute to this model.
Specifications
2 racks (nylon)
2-position adjustable upper rack
Removable filter
5 wash cycles
Delay wash
51 decibels
AnyWare Plus Silverware Basket
Dimensions: 23 ⅞" W x 34 ½" H x 24 ½" D
49 ½" depth-width when open to 90°
67 lbs
Since 2014, Whirlpool has remained the top-selling appliance brand in the United States, but that's not the only claim to fame that makes Whirlpool a successful and respected brand. They have also received many awards and recognition for both their products and their fundamentals.
Awards and Recognition
Awards and recognition received by Whirlpool include the following:
"Top Company for Executive Women" - Working Mother Media
"Just 100: Companies Doing Right by America" - Forbes
TWICE VIP Award Winner
Red Dot Award for Top-Load Laundry Line
"World's Most Admired Company" - Fortune Magazine
"Best Place to Work for LGBTQ Equality" - Human Rights Campaign Foundation
Pros
Sensor cycle function uses less water, energy, and time
Adjustable upper rack to make more room as needed
Relatively quiet (51 decibels)
Silverware basket can be attached to door or placed on the bottom rack
Silverware spray ensures silverware gets clean during each wash cycle
Cons
Relatively small silverware basket
Normal cycle can take around 3 hour
Features & Benefits of the Whirlpool Gold Series Dishwasher
The features and benefits of the Whirlpool Gold Series Dishwasher WDT720PADM include the different cycle functions, the silverware spray feature, and the water filtration system.
We've dissected each of these in the sections below to provide more information as to why they are important to the Whirlpool Gold Series Dishwasher.
Design
The design of the Whirlpool Gold Series design is sleek and simple, but offers a variety of features. The outside is made out of stainless steel that is very durable (especially if you have children).
It has a very use-friendly touchscreen control panel which gives it a more modern look. This is a great design for anyone looking for a stylish dishwasher that doesn't break the bank.
The inside is fairly standard, made out of durable plastics and nylon, however the features of this dishwasher is where it really shines.
Sensor Cycle
One of the best features of the Whirlpool Gold Series Dishwasher WDT720PADM is the sensor cycle. The sensor cycle will assess the soil level of the dishes and determine how long to wash and dry the dishes accordingly. This helps save on waste, energy, and total wash time.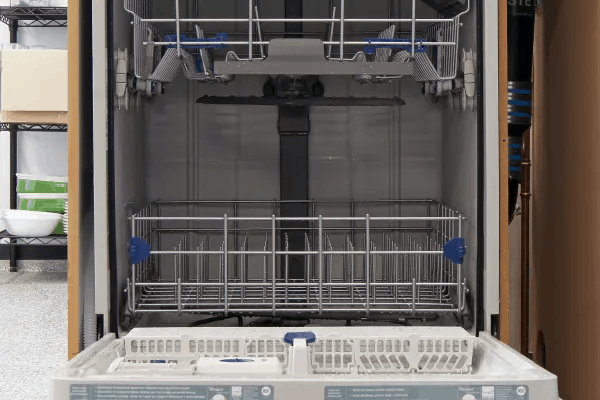 Cycle Memory
There is a built-in cycle memory that will remember the last cycle that was chosen. This makes it quick and easy to start a new cycle without changing any of the settings.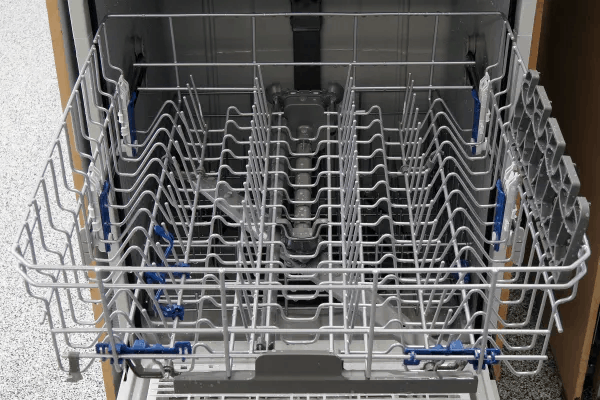 AnyWare Plus Silverware Basket
The Whirlpool silverware basket allows you to keep all your silverware organized in one easy to use basket that is fitted right on to the lower rack of the door.
It not only allows you to keep silverware organized and properly cleaned, but gives you a lot more space and storage for other dishes. The Anyware Plus Silverware Basket is adjustable and can be placed onto the door of the dishwasher to free up space in the dishwasher.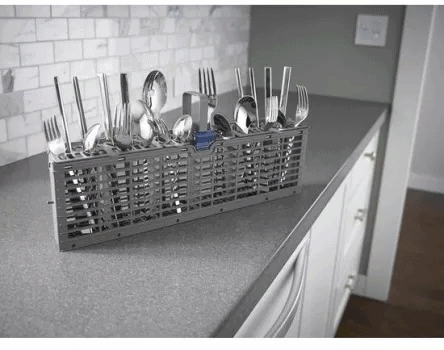 Wash Cycles
One of the best features of the Whirlpool Gold Series are the various wash cycles if offers. It's five cycles are heavy, normal, sensor-wash, one-hour wash, and the soak & clean cycle.
With this variety, you're able to accommodate almost any load no matter what types of dishes or cutlery you run through. In addition to the wash cycles, the Whirlpool's drying feature is very powerful and allows you to get dishes from washer directly to your table without having to manually dry off with a cloth or rag.
Soil Cycle
One of the cycles that really stands out is the soil cycle. The Whirlpool has a specific sensor built in which detect and measures the size of your load and amount of soil level during the wash.
This leads to the dishwasher making adjustments during the wash process to ensure your dishes are squeaky clean. So if you have a mix of some dishes that are slightly dirtier than others, the Whirlpool will know and clean them adequately.
Quick One-Hour Wash Cycle Option
For a quick wash, you can select the one-hour wash cycle. This is ideal for those times when you may not have a full load of dishes or the dishes have already been rinsed before they were loaded into the dishwasher.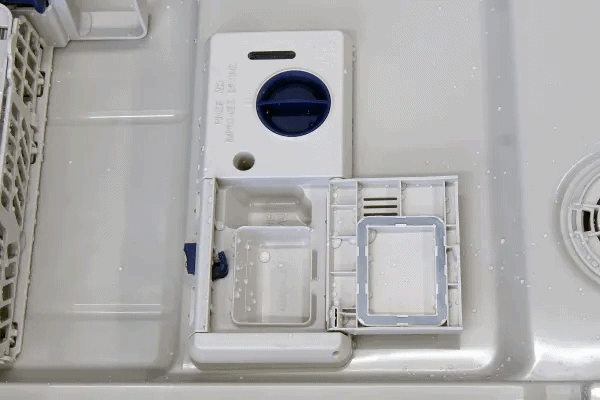 Heavy Cycle
For those times, when you need as much help as possible, you can choose the heavy cycle. The heavy cycle option adds more cleaning time to the wash cycle.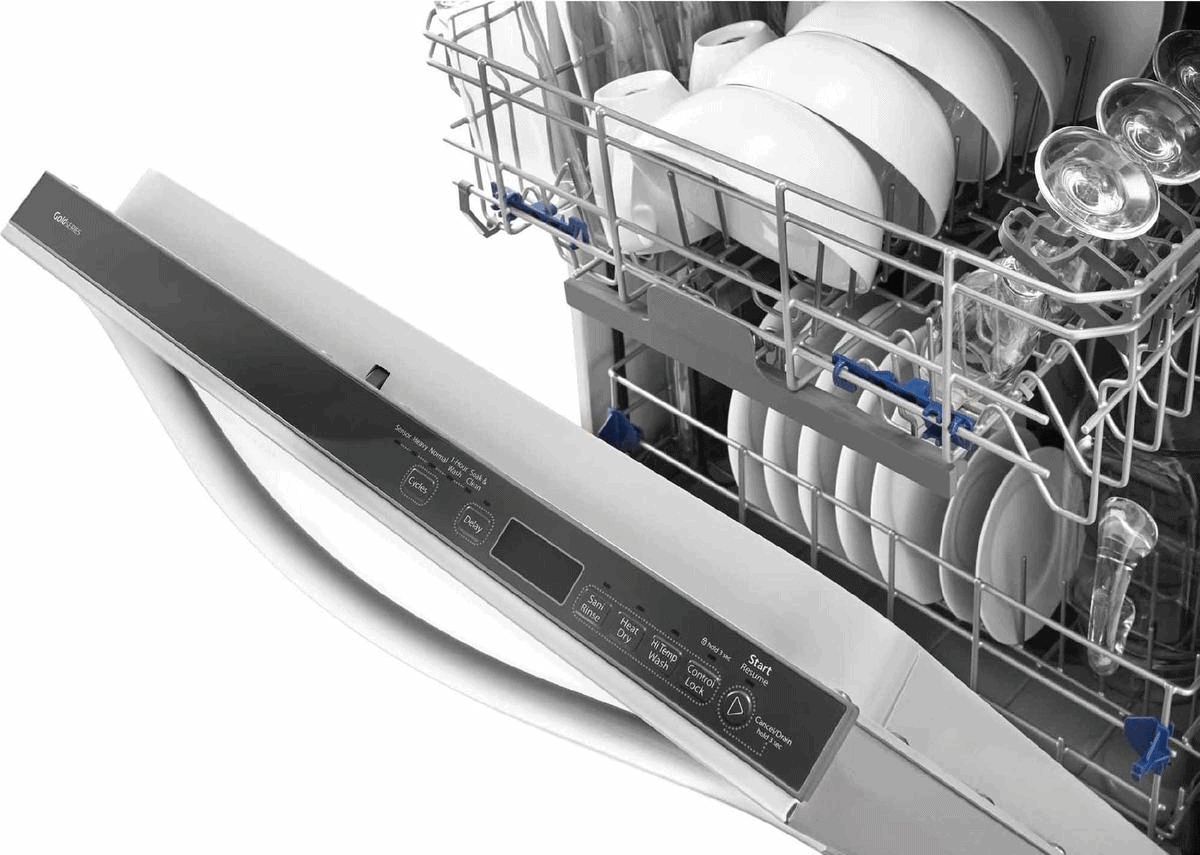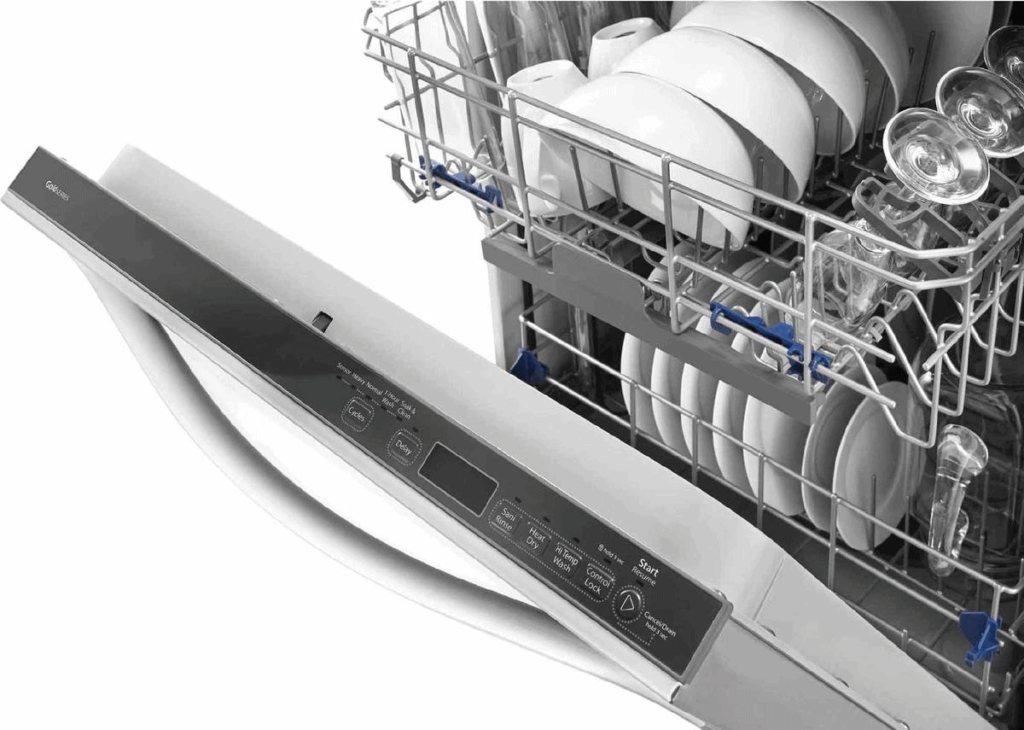 Heated Dry Option
You can choose to heat dry the dishes when they have finished washing. This keeps you from having to dry the dishes with a cloth when they have finished washing.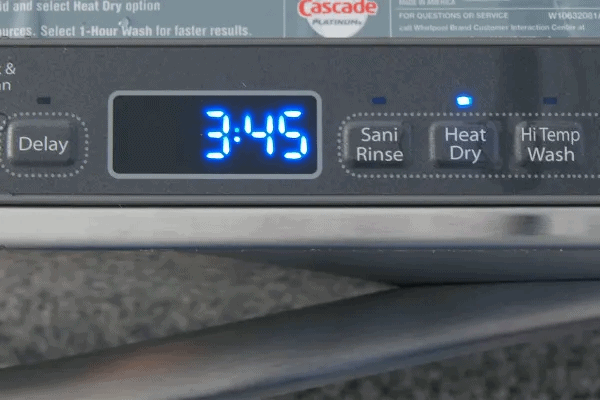 Silverware Spray
One of the best features of the Whirlpool Gold Series Dishwasher is the Silverware Spray feature. Unlike many other dishwashers, the Whirlpool Gold Series Dishwasher spray cycle will clean your dishes using a concentrated spray directly onto the silverware basket in order to remove caked-on food.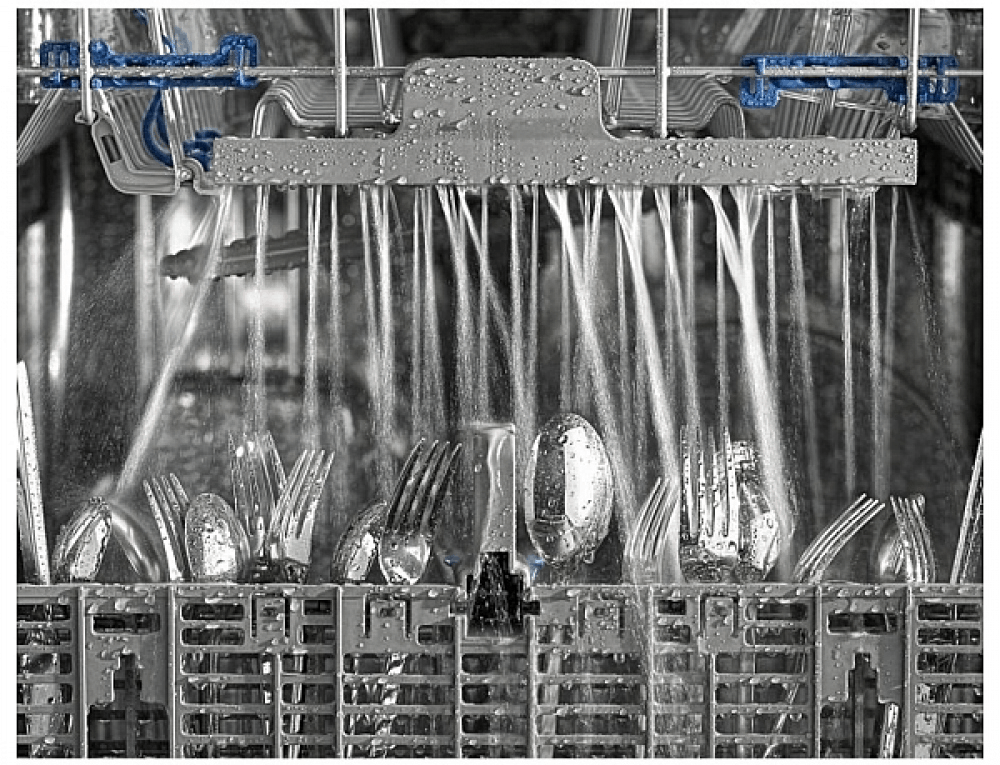 Triple Filtration System
The triple filtration system uses less water and energy while providing maximum cleanliness by removing food particles and other debris from the dishes during the wash cycle.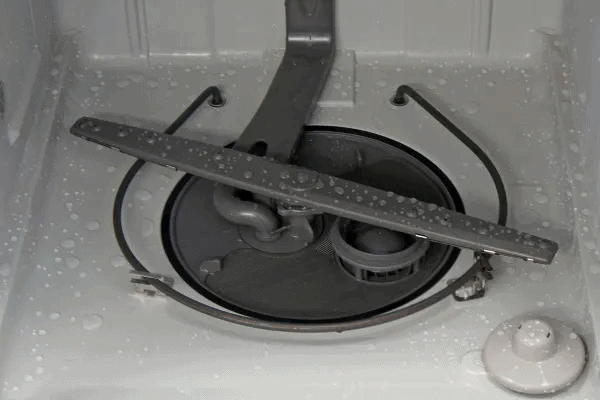 Conclusion
The Whirlpool Gold Series Dishwasher WDT720PADM is the dishwasher you will want to choose if dealing with dirty silverware is the bane of your existence. With the silverware sprayer, it will make sure you never have to deal with food that has stuck to the utensils even after a heavy wash cycle.
In addition to the silverware sprayer, the Whirlpool Gold Series Dishwasher WDT720PADM also has a triple filtration system that will ensure that all food debris from both utensils and dishes will always come off during the wash cycle.
Check out the Whirlpool Gold Series Dishwasher WDT720PADM, as well as other Whirlpool products in their catalog.  Or for more options, check out our review of the 5 Best Dishwashers.