Not too long ago, dishwashers were considered luxury appliances and only found in a few homes. But these have now evolved into time-saving appliances that can save you a considerable amount of time and headache, and is now a common feature in most modern kitchens.
They come in various finishes and with many features – some optional, and some must-haves. Perhaps, the best thing about dishwashers is that you don't have to pay through the nose to get a good one. These machines come at a fairly decent entry-level. Even with as low as $500, you won't be missing out on a lot of modern features. But that's not to say dishwashers are cheap. High-end models can exceed $2,000.
But how do you pick the best dishwasher for your home use? With hundreds of eye-catching models to choose from, it is not surprising if many people find it a bit intimidating to wade through the plethora of options and single out the most suitable.
When it comes to finding the best dishwasher, there is no on-size-fits-all. Every home is unique, and so is their dish cleaning needs. After scouting through several models, we consider the following five options as the most reliable options currently on the market that suit most people. Feel confident choosing any of these models, as they are specially hand-picked from brands with long-standing reputations regarding the manufacturing of first-rate dishwashers.
Reviews of the 5 Best Dishwashers
1. Bosch SHV878WD3N 800 Series Dishwasher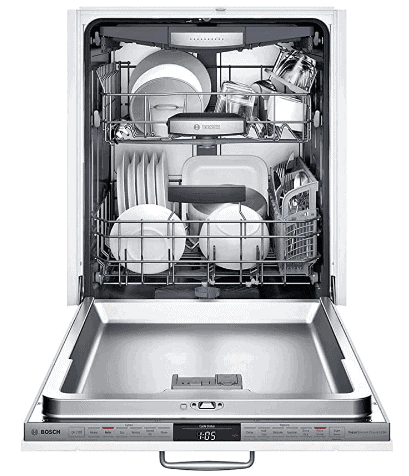 Bosch is undoubtedly a force to reckon with when it comes to high-quality dishwashers, and the SHV878WD3N 800 is no exception. If you are looking for the best dishwasher that will blend perfectly with your cabinetry, your search will likely end with this model. Simply add a cabinet panel to the front, and it is concealed perfectly.
This model has a 16 place setting capacity, with a stainless steel tall tube interior. It includes an upper rack that can be adjusted to suit three heights to accommodate all types of tall stemware and glasses. It also includes a third rack option for added flexibility. The racks slide easily to make for easier loading and unloading.
The dishwasher features highly responsive touch-control buttons, where you can select several options, including cycle and energy-saving options.
Special Features
Touch-control programming
Third rack option with adjustable racks
Panel-ready dishwasher
Specs
Capacity: 16 place setting
Cycles: 6
Warranty: 1 year
Brand: Bosh
What we like
Runs quietly at 42 dBA
Energy Star certification
Easy-glide racks
Extra-shine washing option
What we don't like
Drying feature can be improved
2. SPT SD-9254W Built-In Dishwasher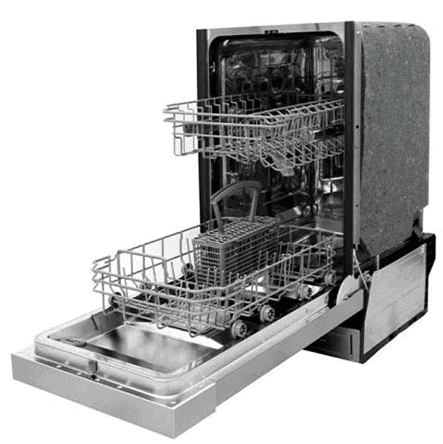 Looking for the best built-in dishwasher? Look no further than the SPT SD-9254W. This model is narrow enough to fit into small kitchens conveniently. It comes with all the advance options of larger dishwashers in a slim package.
The stainless steel tub has two pull-out racks with an eight place setting capacity, making it capable of holding plenty of dishes in its space-saving design. It has six wash cycles and a delay-start option, allowing you to set it to clean your dishes during off-peak utility periods.
The dishwasher includes two high-pressure spray arms, letting water to fully get to all the items in the machine. The auto detergent dispenser features an indicator that lets you know when to refill the cleaning agents.
Special Features
Dual spray arms
6 wash programs
2 pull-out racks
Specs
Capacity: 8 place setting
Cycles: 6
Warranty: 1 year
Brand: SPT (Sunpentown)
What we like
Delay start option
Saves space for small kitchen
Operates at 52 dBA
What we don't like
3. GE Profile Dishwasher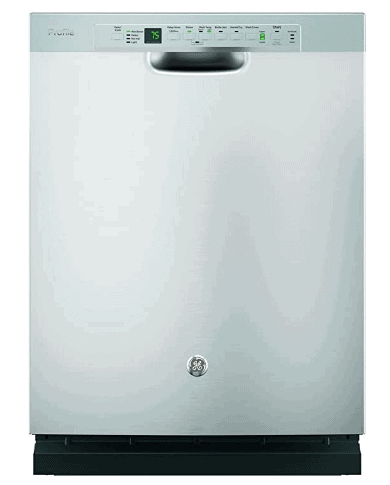 The GE Profile Dishwasher is arguably the best dishwasher when it comes to ultra-quiet operation. With noise level as low as 45 dBA, you'll hardly hear any sound during operation. So you can enjoy a good night's sleep without disturbing sounds coming from the kitchen.
The touch-control allows users to select their preferred cleaning options, including a quick-wash cycle option. The 24-inch dishwasher is large enough for a 16 place setting capacity, with several positioning options.
Its washing operation starts with a steam pre-wash that loosens difficult-to-remove soiling before thoroughly cleaning items with its unique piranha system designed to eliminate food residues. The system also grinds the residue to prevent blockages to the wash arms.
Special Features
Full console
Deep cleaning silverware jets
Adjustable upper rack option
25 jet sprays in wash arm
Bottle cleaning jets included
Specs
Capacity: 16 place setting
Cycles: 4
Warranty: 1 year
Brand: GE
What we like
Quiet operation at 45 dBA
Interior sensor included
Fast wash cycle option included
What we don't like
Not easy to install
Outdated instruction manual
4. Frigidaire FFID2426TD Black Stainless Steel Dishwasher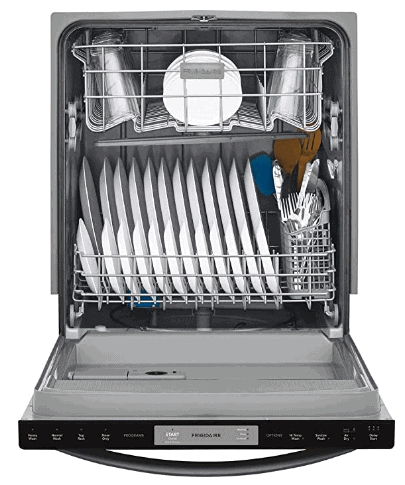 Frigidaire has been in the home appliance business since 1916, making it one of the most established and reliable brands in the industry. This Stainless Steel Dishwasher from the company is a further testament to their superior expertise.
The model has a sleek modern design with a black matte stainless steel finish and is guaranteed to give your kitchen a special look. But this dishwasher is not just about aesthetics; it is loaded with top-of-the-line functions that will improve your dishwashing experience.
Some of its impressive features include an impressive sensitive touch sensor, self-cleaning filter, dish-sense technology, delay start option, and four wash cycles that include the usual cycles plus a sanitizing and top-rack only cycle. You won't be throwing your cash away with this model.
Special Features
Self-cleaning filter
Dish-sense technology
Touch-control buttons
Specs
Capacity: 14 place settings
Cycles: 4
Warranty: 1 year
Brand: Frigidaire
What we like
Features delay start option
Quiet operation
Child lock feature
Dirty water does not collect on dishes due to top sprayer
What we don't like
Drying elements not up to standard
Lacks a quick wash cycle
5. Bosch SHX3AR75UC Ascenta Stainless Steel Dishwasher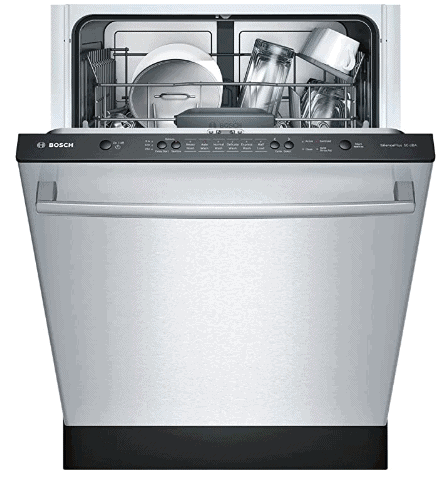 Most dishwashers are designed to conserve energy, but only a few can stand toe-to-toe with the Bosch Ascenta Stainless Steel Dishwasher. There is no questioning the fact that this is the best dishwasher in that regard.
This model has a precision wash technology that scans the items in the dishwasher throughout the cleaning cycle to ensure a sparkling result. At 50 dBA, the machine is quiet enough to not disturb the household. This model from Bosch has a sanitize option that can remove up to 99.9% of bacteria.
You don't have to worry about leaks, as the model is designed with an effective overflow protection system. Investing in any Bosch dishwasher models is usually a wise decision.
Special Features
Overflow protection system
Extra-hot water heating
Sanitize option
Height adjustable upper rack
Specs
Capacity: 14 place setting
Cycles: 6
Warranty: 1 year
Brand: Bosch
What we like
Runs quietly at 50 dBA
Impressive Energy star rating
Element-free drying
Fold-down tines
What we don't like
Loud alarm tone at the end of cycle
Large pans are difficult to load on the slanted tines at the bottom rack
Does not dry properly as other similar models
Factors to Consider When Buying a Dishwasher
Just about any decent dishwasher can do what it is designed to do – wash dishes. But why buy something regular when investing a few more extra dollars can give you a model that is easier to load, more reliable, and significantly quieter?
Here are some important considerations that can help you choose the best dishwasher for your home.
Capacity
The size or capacity of a dishwasher should be your first consideration. A compact-size dishwasher is typically available as an 18-inch size dishwashing machine with 6 or 8 standard place settings. This is ideal for a small family or couple or occasional use. The size also makes it a great option for those with small kitchens.
On the flip side, a standard-sized dishwasher comes up to 24 inches wide, 35 inches high, and 24 inches deep. This can hold up to 14 standard place settings, and it most suitable for a large family.
Type
What's the size of your home? How many people are in your household? Do you rent or own your home? These are some of the major determining factors in choosing a portable, built-in, drawer, or countertop dishwasher.
Some portable units and countertop options are usually more affordable. But countertop models are generally not suitable for a large family because they are typically the smallest options. However, this might be the right choice for you if you are tight on space (perhaps renting an apartment).
The prices for higher-end portables, built-in options, as well as drawer models, are often dependent on the design and features included. However, you can get reasonably priced portables and built-ins if you are not after too many features.
Consider getting a portable model if you live in a rented apartment, as you can easily move it when relocating. A built-in dishwasher is the preferred option if you own your home.
Energy Saving
You want to choose a dishwasher with more star ratings by the Energy Star or one with a Consortium of Energy Efficiency certification. This type of model is energy-efficient, meaning it will cut down on the money you pay on your energy bill.
Another good option for saving energy is the delay start option. This is particularly useful for taking advantage of off-peak electricity rates. So if your electricity rate is based on time-of-use, you can set the dishwasher to run when the energy is a lot cheaper or when it won't conflict with the household's demand.
Hard Food Disposal Feature
If you don't want to spend time pre-washing, rinsing, or scraping your dishes and pots before loading them into a dishwasher, you will want to look for a model with an effective hard food disposal feature. This feature will remove grime and all food residues at the first rinse cycle, meaning there won't be any need to swish your dishes around when it comes time for the final rinse cycle.
By the way, some dishwashers leave your dishes less than sparkling if you rinse or pre-wash them. This is because they first rinse off the dishes and measure the level of dirt in the water. If you pre-wash your dishes before loading them in these types of dishwashers, you will likely get less than satisfactory results because the dishwasher will assume that your dishes don't need serious cleaning.
Dishwashers come with filtration systems that are either self-cleaning filters or manual filters. Both systems are great, but it is important to confirm which type is included in a dishwasher before you buy it, so that you are better prepared in terms of maintenance.
Performance Features
Typically, the performance of a dishwasher is determined by the locations of the water jets, how the water is distributed during the washing cycle and the number of washing levels. For example, a model with a three-tier system allows for better coverage of the dishes.
Keep an eye out for models with electronic dirt sensors. And if you have small kids at home, it is best to choose a dishwasher with a child safety lock. However, as with anything else, the more performance features that come with a dishwasher, the higher the cost will be.
Noise Level
Due to the Energy Star system standards, dishwashers are built to minimize energy and water usage, making them work long hours. You definitely don't want a dishwasher that will keep you awake for all those hours at night because of its noise. Therefore, choose a model that runs as quietly as possible.
You will generally find different models with noise levels ranging anywhere from 38 dB to 60 dB or thereabout. Consider choosing a dishwasher with a noise level below 45 dB, although anything below 50 dB is still fine.
Here's a brief explanation in case you're not familiar with noise level measurements. Noise levels are measured in decibels (written as dB), and the human ear can only perceive noises on A-weighted decibels (dBA). To give you a clearer picture, a usually quiet public space, such as a library, has a noise level of around 40 dB. A whisper comes in around 30 dB, while a regular conversation (not loud chatter) comes to about 60 dB.
So, if you want to have some peace and quietness while the dishwasher is running, go for models that come to close to the noise level of a library.
Stacks and Racks
Generally, dishwashers come with at least two dish racks, and that's fine if you want to choose a standard model. However, if you prefer a model with more loading options, look for one with three extending loading options. There are lots of extra stacking and racking features that can make a dishwasher more desirable.
Some of the special features include removable or adjustable tines and shelves, unique racks with designs that can accommodate tall items, oddly shaped items, tall stemware or glasses, and even racks that can be converted to suit more than one purpose.
Some dishwashers also include a small closed basket specially meant for baby bottles and rings. There's a wide range of options to choose from, so be sure to check through a few models before choosing one that suits your purpose.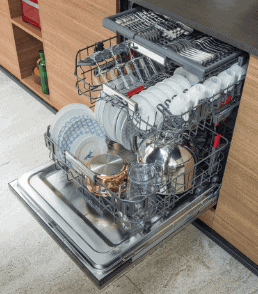 Washing Cycles
Here's the thing, the most important thing a dishwasher is designed to do is to clean dishes. Regardless of how fanciful a dishwasher is and how many tech innovations it has, they don't amount to much if the machine cannot effectively perform its primary function.
Therefore, it is important to choose a model with sufficient wash cycles and options that can handle all levels and types of soiling. The most important washing cycles to look out for include regular wash, heavy wash, light wash, and economy setting. Having a quick wash cycle is a huge plus, especially as energy-efficient cycles are designed to last for up to two hours.
Sensor wash is another excellent advantage. It allows you to adjust wash duration depending on the number of dishes to be cleaned and the level of soiling. A few other enhanced cycles that are also great to have are pot scrub, rinse, stemware or glass, and sanitize. But expect to pay more for these options. Consider getting a dishwasher with great spray arrangement and quality nozzles, as it will deliver better results.
Keep in mind that while a stainless steel interior is a desirable option (and looks beautiful, too!), that is only a style option and does not improve overall washing performance in any way. It is best not to get too hung on getting a model with a stainless steel interior. Nevertheless, a dishwashing arm that comes in stainless steel is more durable and will not rust.
Drying
While a dishwasher's ability to clean dishes is the most important consideration when choosing a model, drying effectiveness is equally as crucial. Generally, there are two options to choose from. The most effective drying method is the condensation system.
Models that employ the technique dry dishes by removing moisture from the dishes and onto the walls of the dishwasher. The stainless steel walls around the dishes are first cooled down to allow them to pull in the moisture. Bosch, Miele, and some other European manufacturers use this method.
The other method uses heating elements to heat the moisture on the dishes. The dishes dry up as the moisture evaporates. Although dishwashers that employ this technique are also good, it might not be suitable for plastic items, as the heat can melt them. If the machine fails to clean any food residue, dishes will come out with baked food residue.
You should also look out for other drying features such as:
Automatic door opening at the end of the cycle to improve air drying
Gentle heat drying cycle at the end of the cycle to remove any rid the tub of any remaining moisture
Tray Position
Some models have the silverware tray located at the bottom rack, where it can be easily removed when cutleries need to be loaded or unloaded. In other dishwashers, the tray attaches to the door of the dishwasher, taking less space. In either case, the positioning of the tray does not affect the machine's performance. It generally is a matter of preference, so choose whichever style suits your taste.
Brand Reliability
Lastly, but perhaps most importantly, you want to choose a model from a reliable brand. It is common sense that the surest place to look is a reliable manufacturer if you want the best dishwasher. Regardless of how stylish a dishwasher looks and well it can clean, it will amount to no good if it breaks down a few months after purchase.
It might not be possible to find a brand that has never had a few issues with one or two of their models. How else would the latest versions improve on previous ones if they were no flaws? But you definitely can find a handful of brands with an excellent track record. Dishwashers from reliable manufacturers are guaranteed to provide continuous and efficient cleaning for a long time to come.
Quick Tips on Price Consideration
Choose a dishwasher based on your personal needs. A family of 5 will have different needs than someone who lives alone.
A huge wash cycle is great, but don't spend money on such if you don't need it. Keep in mind that most families and individuals typically use models with a small set of cycles, and that is sufficient.
Don't waste money on buying marketing hypes. Some dishwasher features are standard features in many basic models, even if a brand makes it appear exclusive to them. Ensure that you are paying features you actually need.