Enchilada sauce forms the core of Mexican delicacies. Therefore, it's no surprise that every time you visit a restaurant that serves authentic Mexican dishes, this spicy sauce is always on the table. Given that it's the make or break, it's crucial to get the recipe right.
However, if you can't invest time to cook the perfect enchilada sauce, you can opt for the canned versions that have littered the market. There is a multitude of brands that have mastered the recipe.
Picking the best canned enchilada sauce as per your requirements from the wealth of options can be a mammoth task that will have you confused about the ideal option for you. Luckily, you've come to the right place.
We've scoured the market and narrowed it down to the 7 best options that deserve your money and attention. In addition to that, we've highlighted a few buying factors that will ensure your next canned enchilada sauce purchase is one without regrets. Read on!
1. Rosarita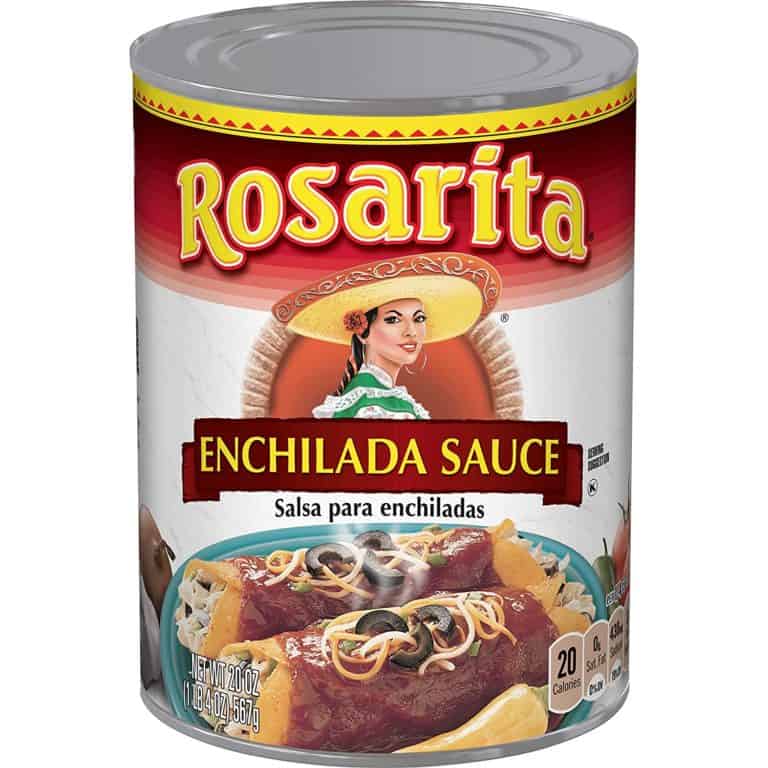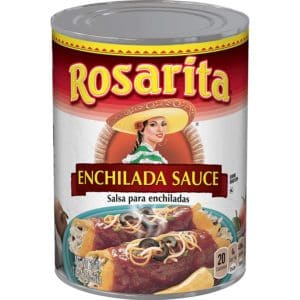 With a mildly hot tomato base, Rosarita Enchilada Sauce is a suitable option for children and anyone who doesn't do well with spices. Each serving has 20 calories, making it ideal for the Keto diet. It also lacks added sugars and trans-fat. 2grams of sugar per serving, 430mg of sodium make Rosarita a guilt-free option.
As a product of canola oil, garlic puree, spices, tomato puree, dehydrated onion salt, and red chili puree, this sauce also has carob bean gum, Xanthan gum, yeast extract, and guar gum. The gums come in handy for thickening the sauce. Moreover, yeast extract is a form of MSG.
Pros
Mildly spicy option suitable for smaller children
Easy to use
Low in calories
Ideal for a Keto diet
Lacks trans-fat
No added sugars
Cons
Contains MSG
Not as flavorful for people with developed taste buds
2. Old El Paso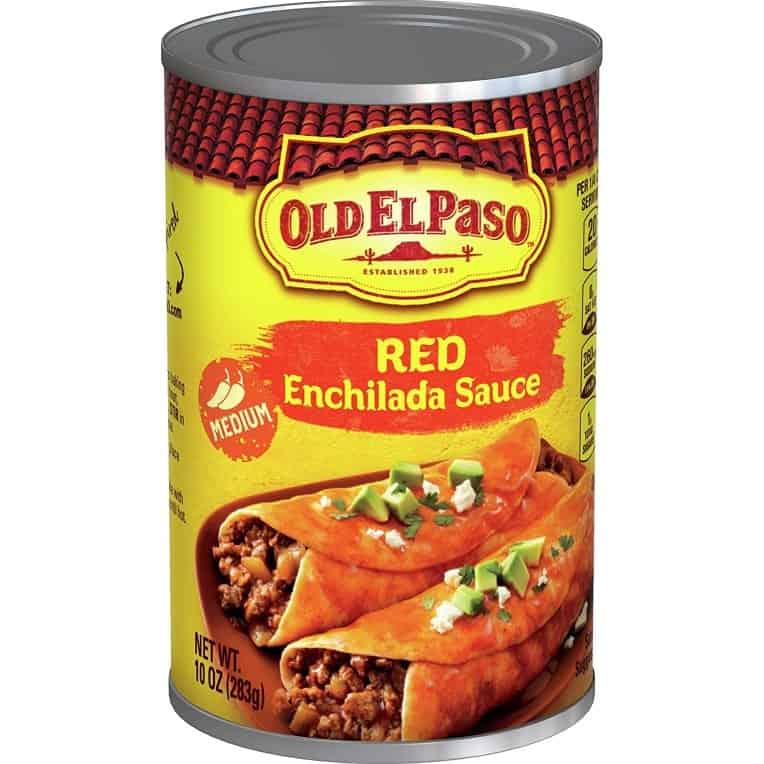 Available in varieties such as medium, green, and mild, Old El Paso Enchilada Sauce is a product of a vast assortment of ingredients. They entail chili powder, tomato puree, vinegar, water, modified corn starch, added colors, onion powder, salt, citric acid, hydrolyzed corn protein, sugar, and soybean oil.
Each serving of about ¼ cup contains 20 calories, 290mg sodium, 4 grams of carbohydrates, and 1 gram of sugar. The good news is, these are on the lower end of the spectrum and won't destroy your health or your waistline, provided that you exercise moderation.
One aspect that sets this sauce apart from the pack is that it's used in many Mexican-inspired dishes, aside from enchiladas. It's ideal when you're feeling adventurous in the kitchen or regularly cook Mexican dishes for you and your loved ones.
Pros
Low in carbohydrates, calories, sugar, and sodium
Available in a broad range of spice levels, green and red sauces
Each can has 4 servings
Versatile enough to be used on a myriad of dishes
Offers a moderate level of spices
Cons
Must remain refrigerated after opening
Has soy that is harmful to anyone with allergies
It has added coloring
3. Las Palmas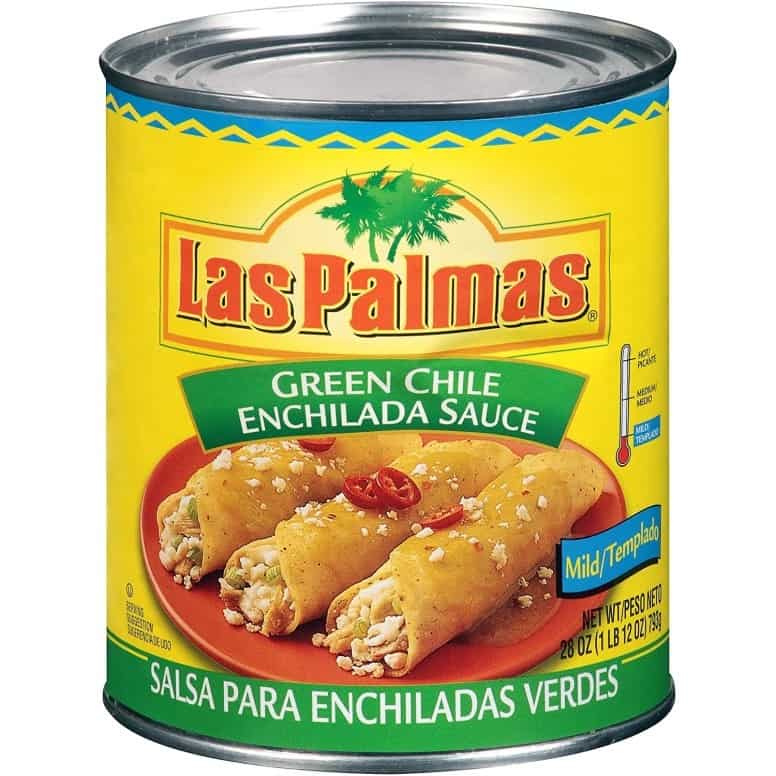 With a rich and spicy flavor that is not too harsh and overpowering, you can delight in the heat of the Las Palmas Enchilada Sauce. It's made from monosodium, green chili peppers, corn syrup solids, garlic powder, salt, glutamate, soybean oil, and sugar.
Its zesty flavor sets Las Palmas apart from the pack. With its versatility, this sauce pairs well with lasagna, casserole dishes, as a topping over macaroni & cheese, and soups. Each serving of about ¼ cup contains 3g of carbohydrates, 25 calories, and 340mg of sodium.
Pros
Unique zesty flavor
Low in sodium, calories, carbohydrates, and sugar
Versatile as it pairs well with various foods
Made with jalapeno peppers for an authentic spicy Mexican flavor
Cons
It has corn syrup solids that can cause rapid weight gain and diabetes if consumed in large quantities
4. La Victoria
As a Kosher-certified option, the La Victoria Enchilada Sauce is the perfect option if you're Jewish. It also works well for those that have celiac disease or gluten sensitivity as it is gluten-free.
Made from California Chile peppers, salt, water, distilled vinegar, red chili peppers, and soybean oil, to name a few, La Victoria only has 3g of carbohydrates, 460mg sodium, and 25 calories per serving.
Pros
It's mild, making it ideal for those that don't like strong spices
Perfect for people on a Kosher diet
Gluten-free
Low in sugar, sodium, and carbohydrates
Cons
Slightly problematic and insufficient packaging
It contains soy that can cause allergies
5. Hatch Red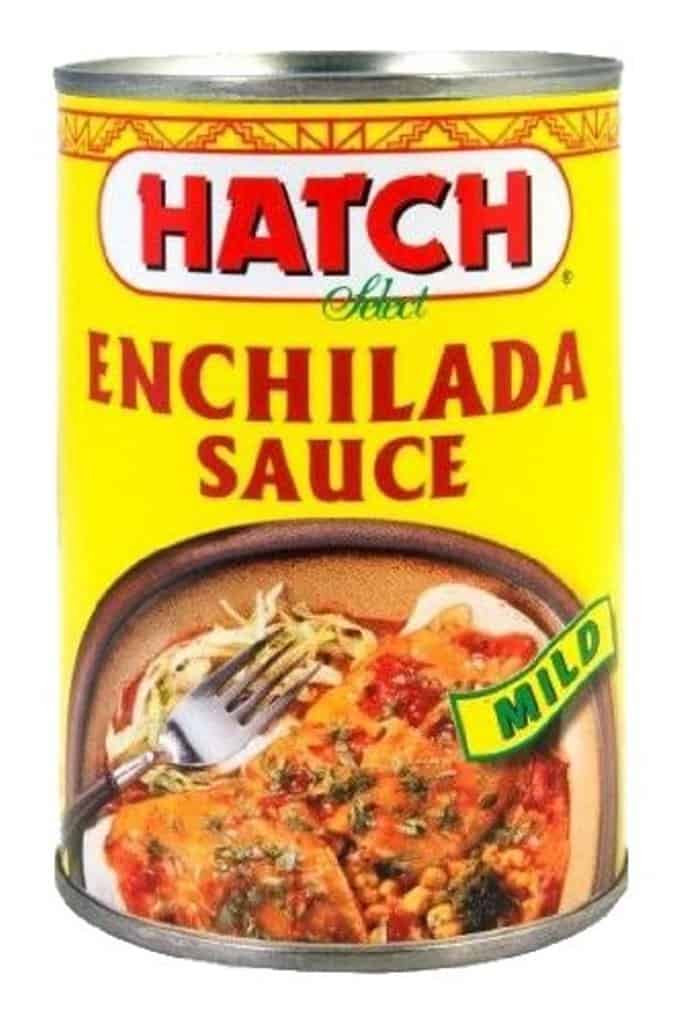 If you're not particularly great with spices or gravitate more towards milder flavors and sauces, Hatch Red Enchilada Sauce is right up your alley. Moreover, it's an excellent alternative for people who cannot eat spicy foods due to health problems. Hatch Red is a product of ground chili peppers and comes in handy not only for enchiladas but also as a marinade for a wealth of other dishes.
Citric acid that can double as flavoring and preservative, tomato puree, soybean oil, modified corn starch, yeast extract, garlic powder, sugar, salt, and a few more ingredients make up this mouth-watering sauce. Each can of this delicious goodness has about seven servings, and each serving has 3g carbohydrates, 25 calories, and 260mg of sodium.
Pros
Low in calories, salt, and carbohydrates
Ideal for those that have health issues that prevent them from consuming spicy food
Useful as a marinade
Unique and versatile
Cons
Contains soy products and preservatives
6. La Preferida Green Chile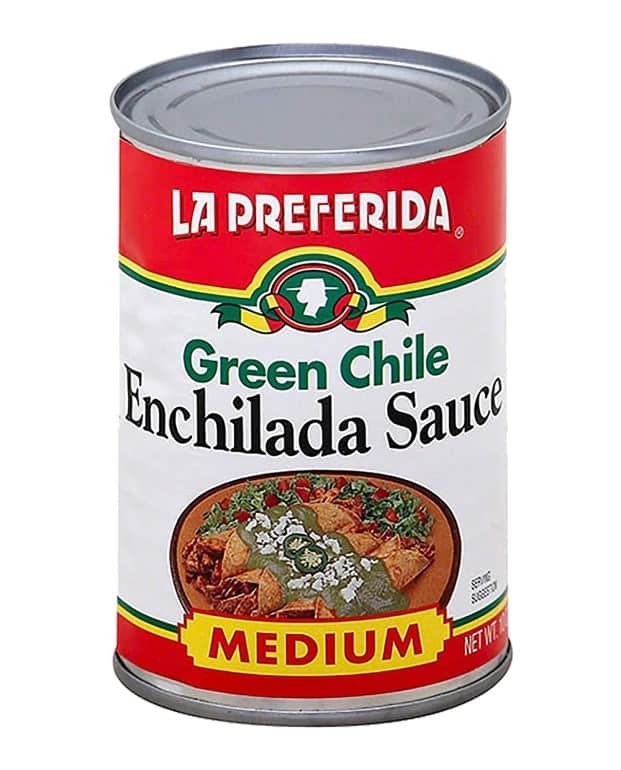 It's no secret that jalapenos are an incredible way of infusing the heat into any meal, which is why they are associated with the most delicious Mexican dishes. Keeping that in mind, it's no surprise that La Preferida uses jalapenos coupled with a secret mix of spices for its unique burst of flavor.
As an excellent in-between level when it comes to the level of spice in food, this sauce is a great option to serve when you have guests over for lunch or dinners. La Preferida contains caramel coloring and other artificial colors that may usher in health problems. Furthermore, each serving of this yummy sauce has 80 calories.
Pros 
Filled with flavor regardless of its mild level of spice
Cans are lined with materials free of BPA
Versatile enough to be used on burritos, burgers, tacos, and more
Cons
Contains more the 3 times the number of calories found in other brands
Should be heated up before use, which can at times be inconvenient
7. La Preferida Red Chile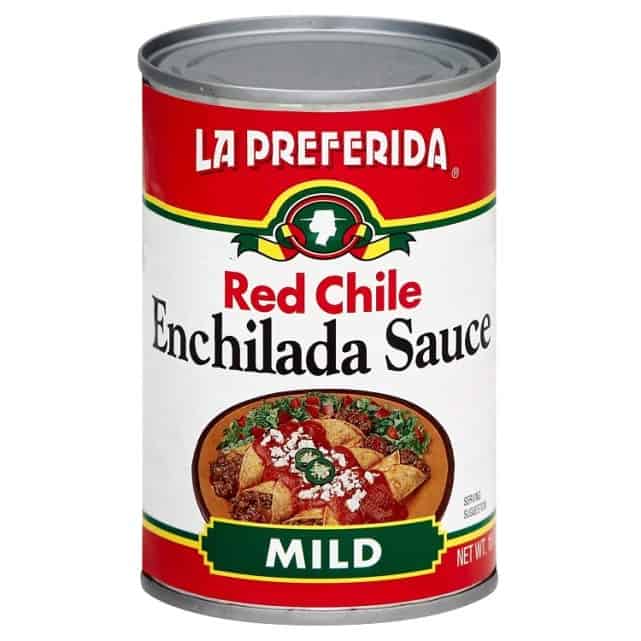 As is the case with the green counterpart, the La Preferida Red Chile is also a product you should keep an eye out for. Made from spices, Chile paste, and tomato paste, this canned enchilada sauce is milder but filled with flavor.
Much like the green version, each serving of the La Preferida Red Chile sauce has 80 calories. In addition to that, it has 2g of protein and 5g of fiber.  You can rest easy knowing the cans are BPA-free.
Pros
Flavorful despite the mild level of spice
Versatile use
Cans are BPA-free
Cons
Things to Consider Before Buying Canned Enchilada Sauce
Red or Green
Before buying enchilada sauce, it's important to think about whether you should opt for the green version or red one.
Green enchilada sauce typically uses jalapenos and green peppers for zestier flavor
The red version is typically a product of water and tomatoes that forms a puree base in the sauce
To make the selection process easier, consider the sauce base you gravitate more towards. You may prefer a tangier flavor or opt for the sweeter hint of tomatoes. Depending on what you prefer, try out the sauce with the most allure. Nonetheless, both types of sauces are perfect for when you're having guests over. You'll want to invest in both options for more variety.
While red and green sauces pair well with all types of fillings, it's worth noting that enchilada sauce is versatile and blends well with other Mexican-style dishes. In that case, think about the types of dishes and meals with which you'll use the sauce, aside from enchiladas.
Ingredients
This will determine two things:
How the sauce will taste
If there are any specific ingredients that interfere with dietary restrictions, cause allergies, or may lead to health issues
When buying canned enchilada sauce, be sure to thoroughly read through the ingredients to ensure it's suitable to you and your families needs (check to see if it is vegetarian, vegan, Kosher, Halal or gluten-free).
Generally, Mexican food is famous for it's various level of spice, so if that's something you're not able to handle or have certain health conditions that require you to avoid high levels of spice, then look for products with lower spice. Generally the type of chiles or chili powder used will determine this. Another good rule of thumb is the less ingredients, the better! Look out for added preservatives such as MSG.
Although each sauce is unique and the ingredients will vary, here are some of the main ingredients in enchilada sauce that you always want included:
All-purpose flour
Chiles or chili powder
Salt
Cumin
Garlic or garlic powder
Tomato paste
Broth (usually chicken)
Kosher and Gluten-Free Sauce
Most enchilada sauces are vegetarian and gluten-free, and are safe for Kosher or Halal restrictions are well. However, some do contain flour, so be sure to check for that ingredient if you have a gluten restriction. Many sauces on the market today also add meat such as pulled pork, but that's usually labelled right on the front of the can so you'll be able to distinguish it easily.
The majority of canned enchilada sauces do contain some form of soy, such as hydrolyzed soy or soybean oil. If you do have an intolerance to soy, be sure to check the ingredients carefully as it's generally not labelled on the front of the can.
Versatility
Although the most obvious pairing for enchilada sauce is enchilada's, it's flavor allows you to use it on a variety of other Mexican dishes. It pairs well with tacos, grilled sandwiches, wraps, or as a dipping sauce for nachos. It works almost anywhere to add a nice kick of spice and flavor to a meal.
Enchilada sauce allows you to derive authentic Mexican flavors right from the comfort of your home without denting your wallet or jeopardizing your health. Depending on the type and brand of sauce, you can add it to various types of soup, American-style pizzas, gluten-free pizza, or vegan pumpkin pizza, and macaroni & cheese, as a dipping sauce or topping.
It also serves as great party food or sauce fondue. Consider whether you can eat the sauce straight from the can, the consistency, the spice level, and flavor, beforehand, to help you decide on the best option.
Level of Spice
Granted, there's a myriad of health benefits that spicy food ushers in, such as boosting immunity, elevating metabolism, lowering symptoms of depression, and curbing sugar cravings.
Nevertheless, you should refrain from frequently consuming eating spicy foods. After all, too much of something can be harmful. Overly spicy foods are harmful to your stomach, especially if you suffer from dyspepsia, which triggers abdominal pain and irritable bowel syndrome.
As a rule of thumb, if after eating spicy food you experience stomachache, you'll want to be cautious about frequently consuming enchilada sauce. The can will specify the level of spiciness of the sauce.
Fortunately, a boatload of sauce options and brands provide a range of spice levels, from very hot and mild, to medium. If you realize a can of enchilada sauce is on the milder side of the spectrum, you can tweak it with hot sauce or a few chilies.
Calories and Nutritional Value
Depending on how health conscious you are, checking the calories, salt, fat, and carbohydrates is something you'll want to consider before purchasing as well. Generally, enchilada sauces are low in calories, sugars, salt and carbohydrates, so it's a great option for a healthy snack or sauce to add flavor to a boring meal. A normal serving size will have approximately 25-30 calories, 200-500 mg of sodium, 2-3 grams of sugar, and 3-5 grams of carbs. Overall, these ratios are low so you won't have to be worrying about your macronutrients too much with enchilada sauce.
The key thing to look out for are added ingredients and preservatives in canned enchilada sauce, which can unsuspectingly add more calories to your meal, such as hydrolyzed soy or MSG.
Canned enchilada sauce contains some nutritional benefits as well, including antioxidants, vitamin C, potassium, folic acid, and fiber. Some of those antioxdants also include beta-carotene and lycopene, both of which have been shown to prevent types of cancer (such as breast and prostate cancer).
Closing Remarks
If you enjoy Mexican food but lack time to cook your favorite dishes, then the best canned enchilada sauce is here to swoop in and save the day.
With a closely similar taste to the homemade versions, you can skip the sauce preparation, jump straight to the corn tortilla and make Mexico's famous mouth-watering enchiladas at home. You also have free rein to alter the flavor until your taste buds are satisfied.