Tuna is nutritious and flavorful. And, when it's packaged in a can, it's not only convenient but also inexpensive. But how certain are you that your canned tuna fish is the good stuff?
Purchase the wrong product, and you may be unknowingly supporting unsustainable fishing methods that harm other sea creatures and deplete the fish supply. What's even worse is that you could be ingesting dangerous levels of mercury that are detrimental to your health.
Luckily, you don't have to resign yourself to this fate. We've reviewed the 15 best canned tuna products. And, there's an informative buyer's guide that will help you narrow down your search.
1. Best Overall: Albacore Wild Tuna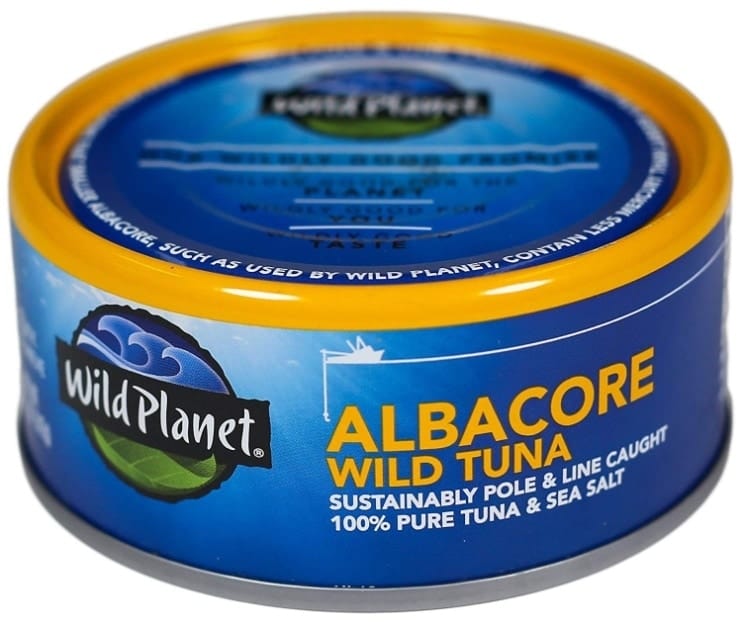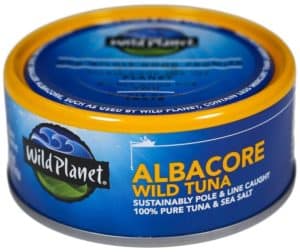 As the perfect gift for your health and overall wellbeing, each serving of the Albacore Wild Tuna is rich in 600mg of EPA and Omega 3. These substances are a beast at enhancing the brain, heart, and whole-body function. As a 100% Kosher and Non-GMO certified product with no added fillers, oil, or water, you can trust the health perks it ushers in.
This tuna fish pairs well with your favorite meals such as salad or sandwiches. You can also enjoy spoonfuls of goodness right from the can. With the absence of fillers, you can revel in the burst of flavor that's fresh from the ocean. As a gluten-free product, the Albacore Wild Tuna can be enjoyed by those with celiac disease or lactose intolerance.
Pros
No added water, oil, or fillers
Rich source of protein and Omega-3
Non-GMO
Sustainably sourced
Natural and addictive flavor
Ideal for Paleo and Keto diet
Cons
Contains added salt
Pricey
2. Best for Keto Diet: Bumble Bee Albacore Tuna

With an irresistible, mild flavor and a firm structure, you can add the Bumble Bee Albacore Tuna to a boatload of recipes to enhance them. Packed with a significant amount of vitamin B6, lean protein, Niacin, Omega 3, and a vast assortment of important minerals, it's an excellent promoter of good health.
As a solid white tuna, the Bumble Bee Albacore is sourced sustainably from renowned fisheries worldwide. Given that this flavorful canned tuna has a myriad of nutritious contents, it's perfect for anyone on a Keto diet.
Pros
Mild but delicious taste
Contains soy and sodium
Packed with minerals and nutrients
Pairs well with all tuna recipes
Ideal for a Keto diet
Non-GMO and gluten-free
Non-fat
Cons
Contains soy and sodium
Must be opened with a can opener
3. Best Budget: Genova Yellowfin Tuna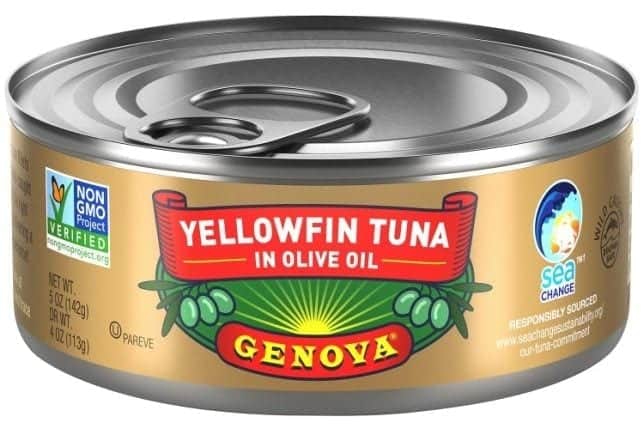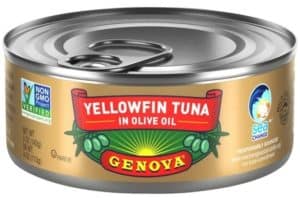 Containing pure olive oil, you can rest easy knowing that the Genova Yellowfin Tuna lacks additives and preservatives. So, you can revel in the natural flavor that fresh tuna ushers in. Moreover, Genova implements a dolphin-safe sustainable fishing method that's great for the sea's natural ecosystem.
As a rich source of Omega 3 and protein, this olive oil-soaked product will do your brain, skin, and heart some good. Furthermore, the Genova Yellowfin Tuna doesn't need a can opener, making it the perfect option for busy people.
You can open it in an instant and enjoy for lunch while you're out and about. The lack of carbohydrates and low fat and sodium levels make it the best canned tuna for health-conscious people.
Pros
Easy to open
Lacks carbohydrates
Rich in Omega 3 and protein
No preservatives and additives
Low level of sodium
Cons
Contains a higher level of fat compared to its rivals
4. Best for Heart Health: Chunk Light Chicken of the Sea Tuna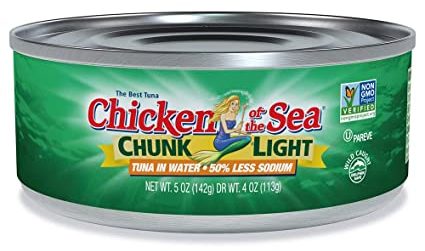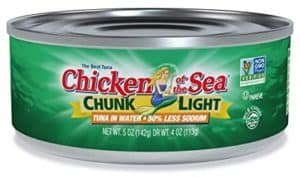 Are you on a mission to improve the health of your heart that, in turn, boosts your overall wellbeing? Then the Chunk Light Chicken of the Sea Tuna is right up your alley. It's rich in Omega-3 and protein and is 99% fat-free.
Furthermore, this delicious and healthy goodness is a beast in improving the quality of your sleep, protecting your joints, and vision health. The Chunk Light Chicken of the Sea Tuna is a convenient, easy, quick, and healthy meal on the go, making it an ideal option for busy people.
Pros
Quick and convenient
Protects joints
Promotes excellent vision health
Excellent for heart health
Ideal for better sleep
More affordable than other options
Cons
5. All-Natural MW Polar Tuna

Are you on the quest for the best canned tuna that doesn't have soy? Then the All Natural MW Polar Tuna wraps up your search. Containing wild-caught tuna, you're assured that this product lacks diseases, antibiotics, and pesticides. With only salt, tuna, and water, the Natural MW Polar Tuna also lacks preservatives and additives. So, you can delight in the burst of flavor that fresh tuna brings.
Providing excellent nutrition, this canned tuna is a rich source of vitamins, minerals, lean protein, and Omega-3. As you know, Omega-3 is an amazing substance that boosts the health of your brain, eyes, and skin.
Pros
No chemicals or soy
Delicious taste
Lacks preservatives and additives
Non-GMO
All-natural
Rich source of vitamins, proteins, minerals, and Omega-3
Cons
Not ideal for a low-salt diet
Pricier than other its competitors
6. StarKist Albacore Solid White Tuna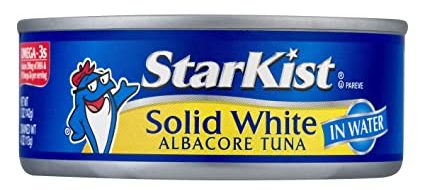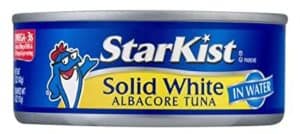 Containing a solid fillet of flavorful and nutritious tuna, this product is ideal for making your favorite tuna salads and hot casseroles. It has 110 calories, 26 grams of protein, and Omega-3, thus making it the perfect after-sports, after-work, or after-school treats.
As an all-natural canned tuna, the StarKist Albacore Solid White Tuna has significantly lower levels of cholesterol and fat compared to chicken and beef. Furthermore, it's gluten-free and soy-free. So, it pairs well with various diets ranging from Keto, Weight Watchers, and Paleo, to the Mediterranean.
Pros
Low cholesterol and fat
Firm texture
Pairs well with hot casseroles and salads
Mild flavor
Great protein source
Soy-free and gluten-free
Suitable for different diets
Cons
Lacks a pull-top lid
Overly watery
7. Best for Children and Pregnant Women: Elite Wild Safe Catch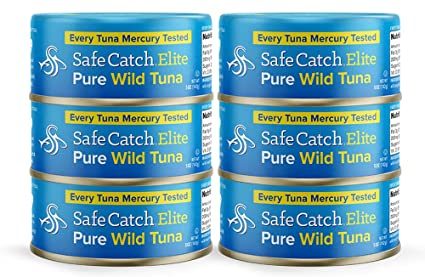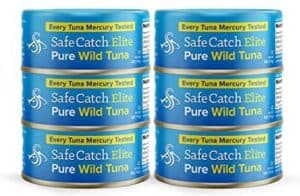 If you're looking for a product from a brand that carefully tests the mercury level in each fish, then the Elite Wild Safe Catch your best bet. Therefore, it comes as no surprise that it has an impressively low level of mercury compared to its competitors.
As a result, it's the go-to option for children, athletes, and pregnant women. Along with its mouth-watering flavor, this product is packed with nutrients that enhance its reliability.
The Elite Wild Safe Catch is gluten-free, non-GMO, and BPA-free, thus rendering it safe to use. It features an easy-open lid that allows you to open it effortlessly without using a can opener.
Pros
Rich in Niacin
Incredible flavor
Low fat
BPA-free can
Gluten-free
Rich in vitamin B12, D, and B6
Non-GMO
Cons
Contains a high level of sodium
8. Best for Travel: Freshé Gourmet Canned Tuna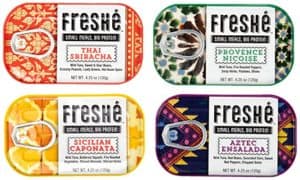 While enjoying at-home sushi using the best sushi making kit is great; sometimes, we all just want a quick fix. In a ready-to-go and aesthetically-pleasing design, you can take your pick from the four available flavors of the Freshé Gourmet Canned Tuna. There's Sicilian Caponata, Thai Sriracha, Aztec Ensalada, and Provence Nicoise, all of which are rich in flavor and nutritional value.
Courtesy of the pocket-sized can, you can bring this mouth-watering goodness on your travels. With a secure pull-top lid, opening the can is a walk in the park. As a great source of vitamins and Omega-3, the Freshé Gourmet Canned Tuna has non-GMO ingredients and is BPA-free. So, you can trust its quality.
Pros
Gluten-free and high in protein
Ideal for outdoor adventures
Easy to open
Beautiful packaging
Different flavor options
Pocket-sized
BPA-free can
Cons
Mushy and relatively oily
Cumbersome to open the can
9. Adriatic Sardina Canned Tuna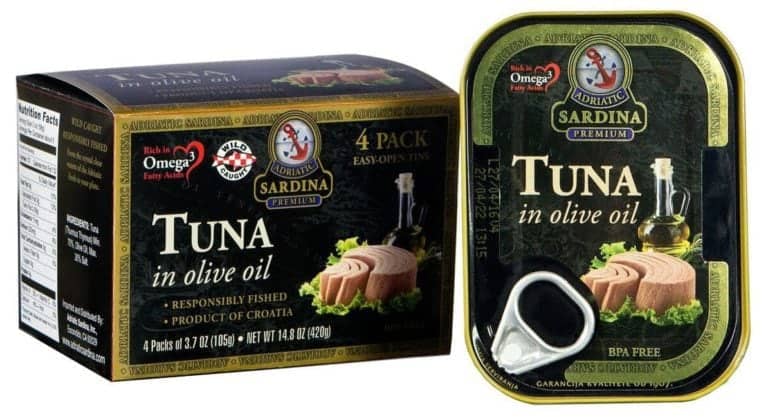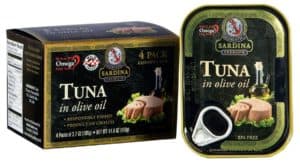 Soaked in top-notch olive oil, it's no surprise that a multitude of people gravitates towards the taste of the Adriatic Sardina Canned Tuna right off the bat. Obtained from the Adriatic Sea, renowned for the healthiest and freshest tuna, this product will give you value for your money. Its unique flavor makes it suitable for pairing with casserole, sandwiches, and salads. Alternatively, you can enjoy it as a real treat, right in the can.
The Adriatic Sardina Canned Tuna is BPA-free and gluten-free. So, it's completely safe for consumption. Moreover, each can is rich in protein and Omega-3. What makes this product stand out from some of its rivals is the pull-top lid.
When the hunger pangs strike, you can simply pop the can open in a heartbeat and delight in mouth-watering fish.
Pros
Provides protein and Omega-3
Soaked in high-grade olive oil for enhanced flavor
Convenient to open
BPA-free can
Delicious taste
Cons
Oilier than other products
10. Raincoast Wild Albacore Tuna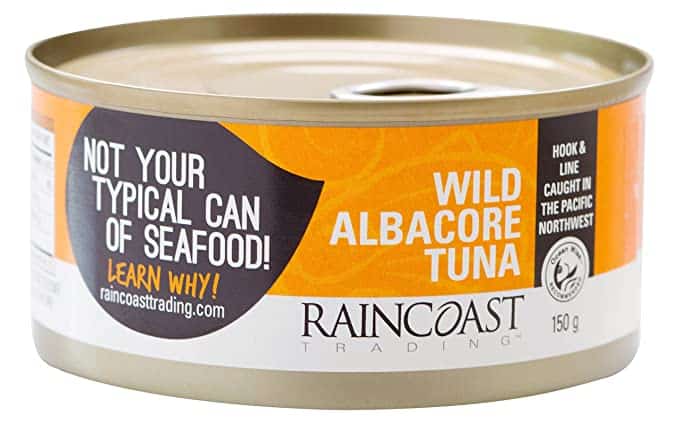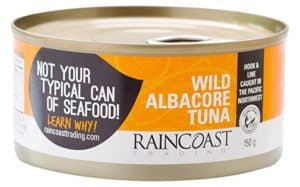 Packed in authentic fish oils, the Raincoast Wild Albacore Tuna has a dense and rich flavor that will have your taste buds hooked from the onset. And, if you're conscious about your health, you'll be pleased to learn that this canned tuna has Omega-3 and other nutrients that are a rarity in other brands.
Containing low fat, sodium, and lacking in carbohydrates also makes it the go-option for many people. Athletes will be pleased to discover that it has a great amount of protein that's perfect for muscle building and strengthening.
Pros
Rich in nutrients including Omega-3
No added oil or water
Dense and rich flavor
Contains a high level of selenium
Cons
More expensive than other brands
Buying Guide: How to Choose the Best Canned Tuna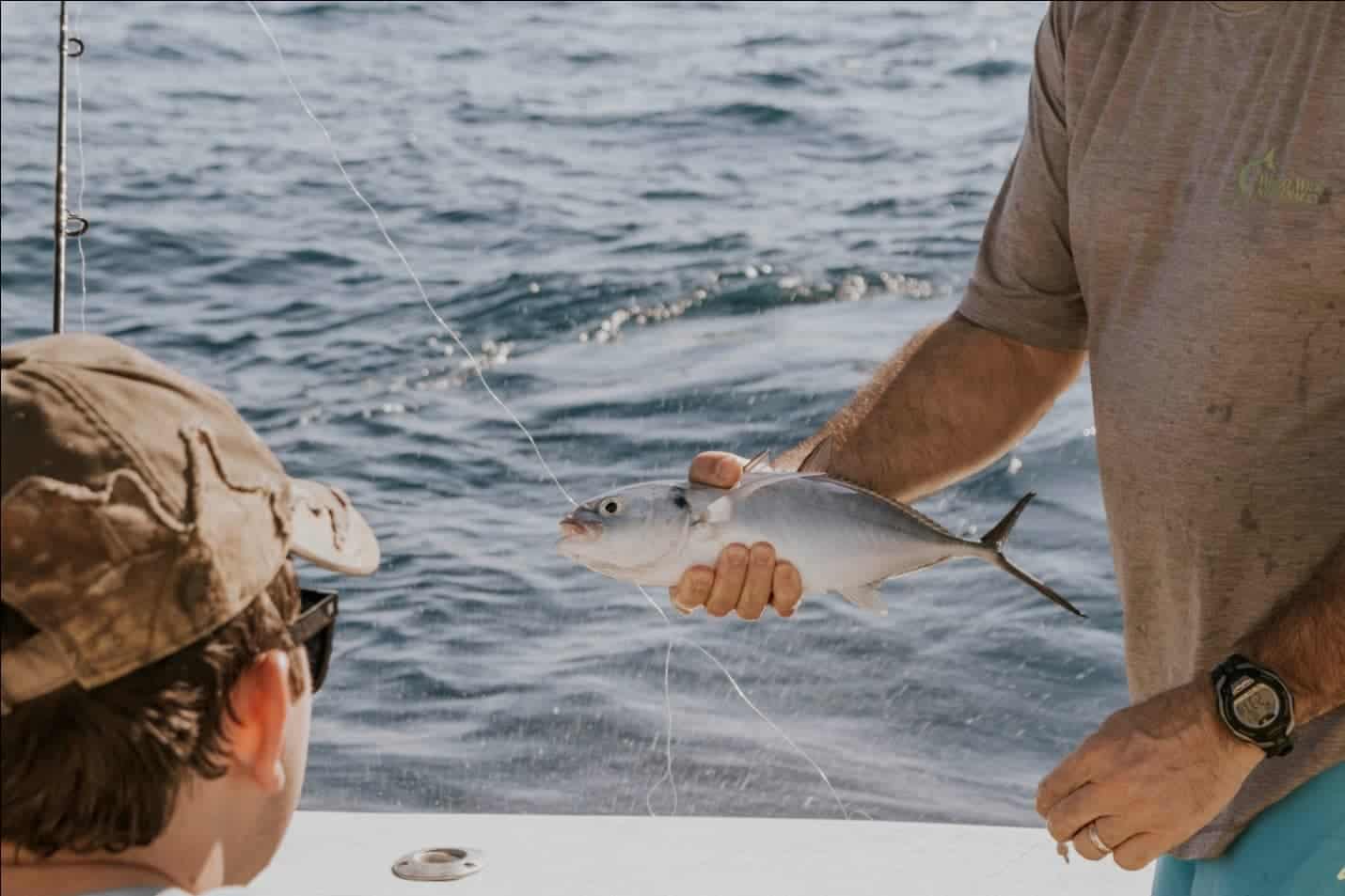 Canned tuna isn't made equally. There's a myriad of variables that come into play that impact the outcome. And this is the case among certain brands with a vast assortment of tuna products.
Therefore, you may be engulfed in a wave of confusion when it comes to selecting the ideal canned tuna for you when you simply want to whip up a sandwich.
Luckily, with this guide, you can narrow down your search by taking the factors discussed below into consideration. They'll give you the much-needed clarity to feel confident in your purchase.
Type of Fish
The type of tuna used in the product you opt for directly impacts the taste. For instance, Yellowfin tuna has a stronger flavor than the Albacore counterpart. Albacore is the go-to tuna option in the US and is the only type of fish that's termed as 'white.' It's not only lighter in flavor but also in color.
Yellowfin, on the other hand, has a darker shade of pink. The main variation between white and light tuna is compared to that of chicken breasts and thighs.
Moreover, steer clear of products that don't specify the species of tuna contained. Typically, they contain low-quality tuna. However, these can be the more affordable options, particularly when you can't taste the difference.
Texture
Canned tuna is usually sold as a solid piece of fish or comes in smaller chunks. The solid counterpart is more versatile than the chunks of fish. For instance, it can be broken down into smaller pieces if that's what you require for a given recipe, whereas it can be kept whole for others. Contrarily, it's nearly impossible to piece chunks of tuna back together.
Oil or Water
Canned tuna usually comes packed in a liquid that's oil or water. The best canned tuna products come in their natural juices that, to some people, have an overpowering taste of fish. On the other hand, canned tuna that's soaked in water has the mildest taste.
The water leeches nutrients and oils from the fish. But, keep in mind, the water usually contains a vegetable broth infused with salt. So, it's a health hazard to anyone suffering from high blood pressure or those who have adopted a healthier lifestyle, limiting their salt intake.
Tuna soaked in virgin olive oil is rich in healthy fats. But it has higher calories. And, some people may find the texture of oil off-putting. Based on this, you can decide what works best for you and take your pick.
Mercury Levels
The common misconception is that canned tuna has high mercury levels, thus rendering it frequent unhealthy consumption. But that's far from reality. The best canned tuna is produced by companies that test the levels of mercury contained in the fish. You can rest easy knowing that these products won't negatively impact your health but come at a higher cost.
The consumption of mercury has a detrimental effect on the immune, digestive, and nervous system, and the major boy organs such as the kidneys and lungs. High levels of mercury in the body can be fatal.
Furthermore, it's essential to steer clear of products that don't provide information on the level of mercury they contain. Even after selecting products with low mercury levels, the recommended canned tuna intake is anywhere between 3 and 5 ounces, up to thrice a week.
Pregnant women are advised to eat tuna containing a deficient level of mercury. For instance, the Safe Catch Elite Lowest Mercury Solid Wild Tuna.
Sustainability
Irresponsible commercial fishing is detrimental to the seas as it can result in a significant decrease in biodiversity as some species are overfished. Furthermore, it ushers in the likelihood of causing harm to dolphins and other sea creatures. With that being said, the best canned tuna companies are dedicated to their fish's ethical sourcing.
While nearly all products claim to use dolphin-safe fishing procedures, only a handful are reputably certified as such. So, keep your eyes peeled for brands that get their tuna from WSC fisheries for ultimate peace of mind.
Can
Granted, the quality of the fish is important. But, so is the material of the can in which it's packaged. Some cans are constructed from BPA material that poses a risk to your health. So, before hastily picking a product, carefully check on the label for the phrase 'BPA-free' on the can.
Refrain from using cans that have bulging, discoloration, and are cracked or dented. To maintain the can's quality, store the product in a cool and dry place (preferably in the refrigerator) away from direct sunlight.
Closing Remarks
As they, you're what you eat. So, it's essential to know what you're putting into your body, and more importantly, where it came from. The same applies to canned tuna. As discussed above, the best products are packed with nutrients that will better your health and are fully transparent with their labeling.