Numerous times, you get caught up in the day-to-day that you simply lack time to prepare a meal from scratch. During these times, nothing beats the convenience of a meal that you can whip up and enjoy at any time. But that doesn't mean you have to compromise on flavor.
Therefore, it comes as no surprise then that the best instant ramen is the go-to comfort food and a guilty pleasure that can get you through those laborious days and nights. They unarguably pep up those crummy days.
With the vast assortment of products available that come in different flavors and styles, finding the best option for you can be overwhelming. We've compiled a list of the top 12 best instant ramen that will satisfy your taste buds and a comprehensive buying guide that will help you narrow down your search.
1. Best Overall: Samyang Ramen Spicy Chicken Roasted Noodles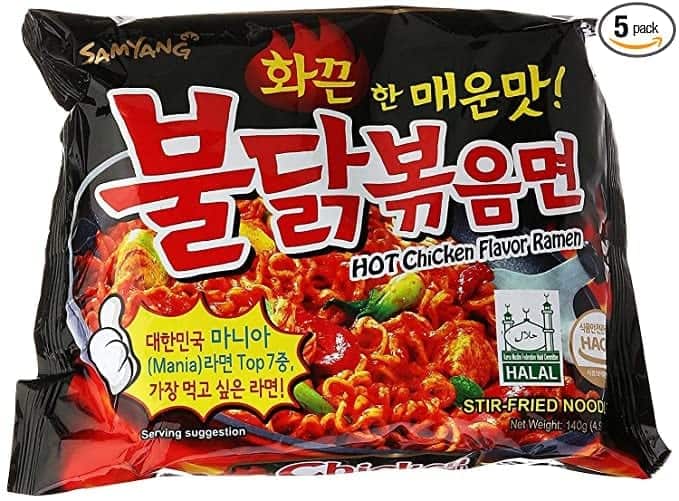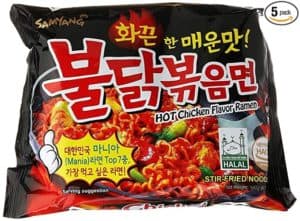 Famous on YouTube, you may be familiar with this product as it birthed the 'Fire Noodle Challenge.' So, if you gravitate more towards spicy foods, then the Samyang Ramen Spicy Chicken Roasted Noodles were made with you in mind. Compared to its rivals, this product is a stir-fry and comes with a sauce packet.
As a substitute for the generic soup packets, this infuses more flavors. Whipping up this ramen is a walk in the park. Simply follow the simple instructions on the package, and you're ready for action. While it's spicy at first, your taste buds will fall in love with the hot sauce and leave you craving more. It'll be love at first taste!
Pros
Short preparation time
Sweet, spicy, and salty
Remarkable flavor
Perfect for spicy pallets
Comes in a pack of five
Cons
Overly spicy for some people
2. Best Thailand's Style: Mama Noodles Instant Shrimp Tom Yum Flavor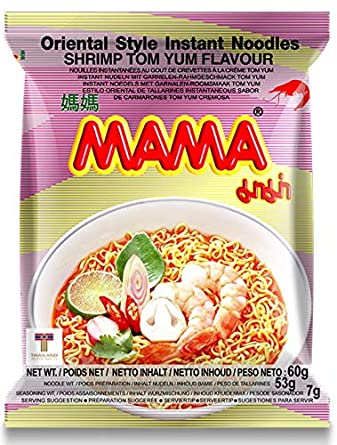 Do you enjoy the complex flavor of Thai cuisines? Then the Mama Noodles Instant Shrimp Tom Yum Flavor is right up your alley. The taste can be described as the perfect balance of salty, sour, and spicy. Each product comes with three flavor packets, one of which has chili powder. So, if you're a chili lover, this will certainly spark a smile.
You can skip the chili altogether if you're sensitive to it. While this product has MSG coupled with other additives, you can give it a try on dreary and busy days for a new experience. For a healthy twist with a burst of flavor, you can add toppings such as mushrooms, eggs, chicken, and beef strips to the ramen.
Pros
Takes 3 minutes to prepare
Comes in a pack of 30
Flavorful and savory
Lacks trans-fat
Shrimp flavor with hints of lemon
Pairs well with healthy toppings
Cons
Contains additives and MSG
High level of sodium
3. Nissin-Raoh Japanese Instant Ramen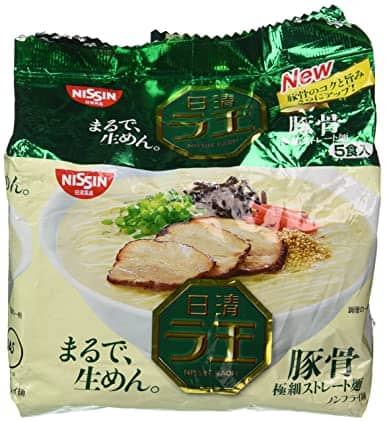 While it's pricier than other its rivals, as with everything else in life, you get what you pay for. Produced in Japan, the Nissin-Raoh Japanese Instant Ramen is chewy with a delicious soup that will make you fall in love right off the bat. Simply follow the given instructions to the letter, and you can enjoy this goodness in 3 to 5 minutes. Remember, you'll need to eat this ramen within 15 minutes of preparation. After all, the last thing you need is soggy noodles that taste like low-quality ramen.
Pros
High-quality instant ramen
Flavorful pork born soup
Strikingly similar to authentic ramen in a Japanese restaurant
Simple prepping instructions
Chewy
Cons
Pricier than its competitors
4. Best Japanese: Umami Miso Nissin RAOH Ramen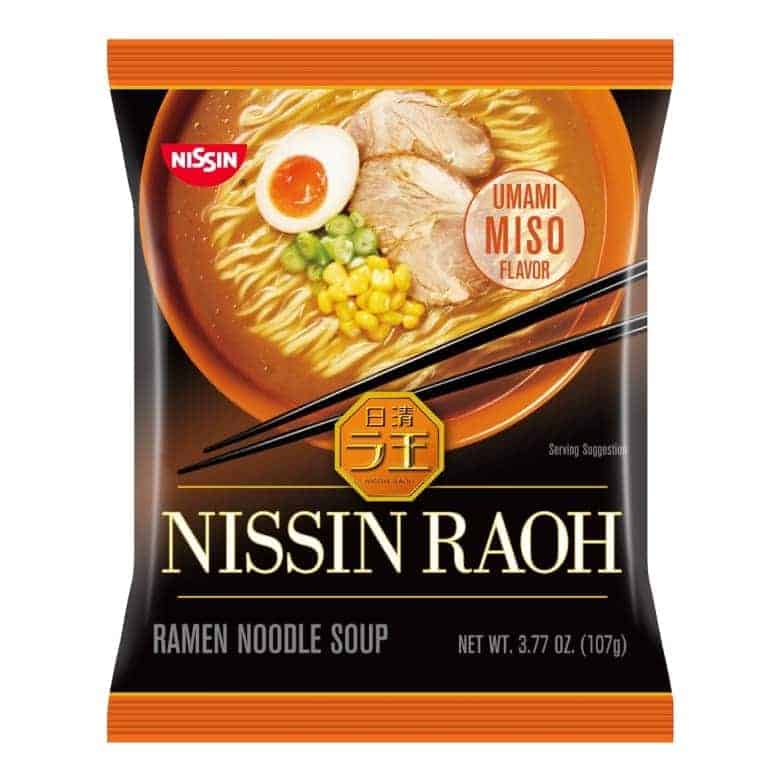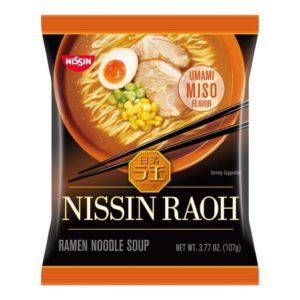 It would be a dream to delight in Japanese-quality ramen right from the comfort of your home, right? Well, the Umami Miso Nissin RAOH Ramen can quickly turn this dream into a pleasant reality. With a creamy and mild taste, you can feel the difference in slightly after 4 minutes.
Contrary to the generic instant ramen that has littered the market, you'll be blown away by the authentic soup base and authentic texture of the Umami Miso Nissin RAOH Ramen.
The alluring aroma and taste of this ramen will have you hooked from the get-go. Granted, some people prefer not to add the sesame oil that comes with the packet. If you're feeling adventurous, you can prepare your noodles with the oil and see if you like it or not.
Pros
Mild but flavorful taste
Alluring aroma
Air-fried
Yummy and creamy broth
Miso flavor
Comes in a pack of 10
Cons
Costlier than other brands
5. Best Convenience: Nissin Cup Curry Ramen Noodle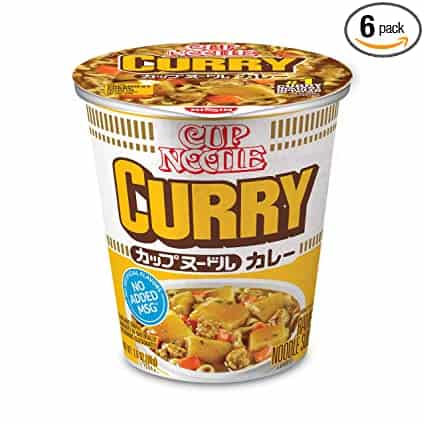 Without a shadow of a doubt, you require a quick and convenient meal when you're on the move. So, the Nissin Cup Curry Ramen Noodle is just what the doctor ordered. At a small price, you can enjoy a delicious meal on your trip or during a lunch break at school or work. If you're on a healthy streak, you'll be pleased to learn that this product doesn't have artificial flavors or added MSG. The rich curry flavor of this ramen will have you hooked from the onset.
Pros
Doesn't have MSG and additives
Pleasant smell and yummy taste
Ideal for trips and daily commutes
Rich curry flavor
Fast and easy to prepare
Cons
Noodles get soggy in a jiffy
6. Best Budget: Dr. McDougall's Chicken Flavor Vegan Ramen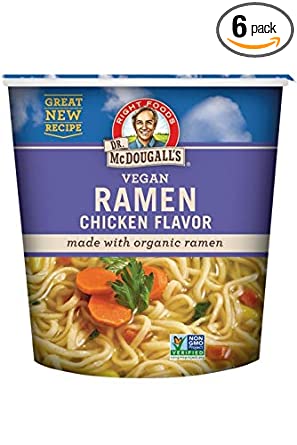 Made from the best organic noodles that are never fried but steamed instead, Dr. McDougall's Chicken Flavor Vegan Ramen is a healthier option. Packed in a convenient cup, this ramen is ideal for carrying on the go. Simply add water, and you can delight in the mouth-watering plant-based soup cups.
Do you gravitate more towards rich-flavored foods? Then you'll be pleased to discover that Dr. McDougall's Chicken Flavor Vegan Ramen is perfectly seasoned to deliver a yummy and quick meal for those late-night study or work sessions or short lunch breaks. With no added oil, this product is perfect for keeping you on a healthy streak.
If you're watching your sodium intake, then the Chicken Noodle, Black Bean, Split Pea, and Lentil Couscous are the low-salt versions that were made with you in mind.
Pros
Yummy chicken flavor
Gluten-free
Inexpensive and healthy
Non-GMO
Comes in convenient on-the-go packaging
Fresh plant-based goodness
Cons
7. Best Nutritious: Millet & Brown Rice Ramen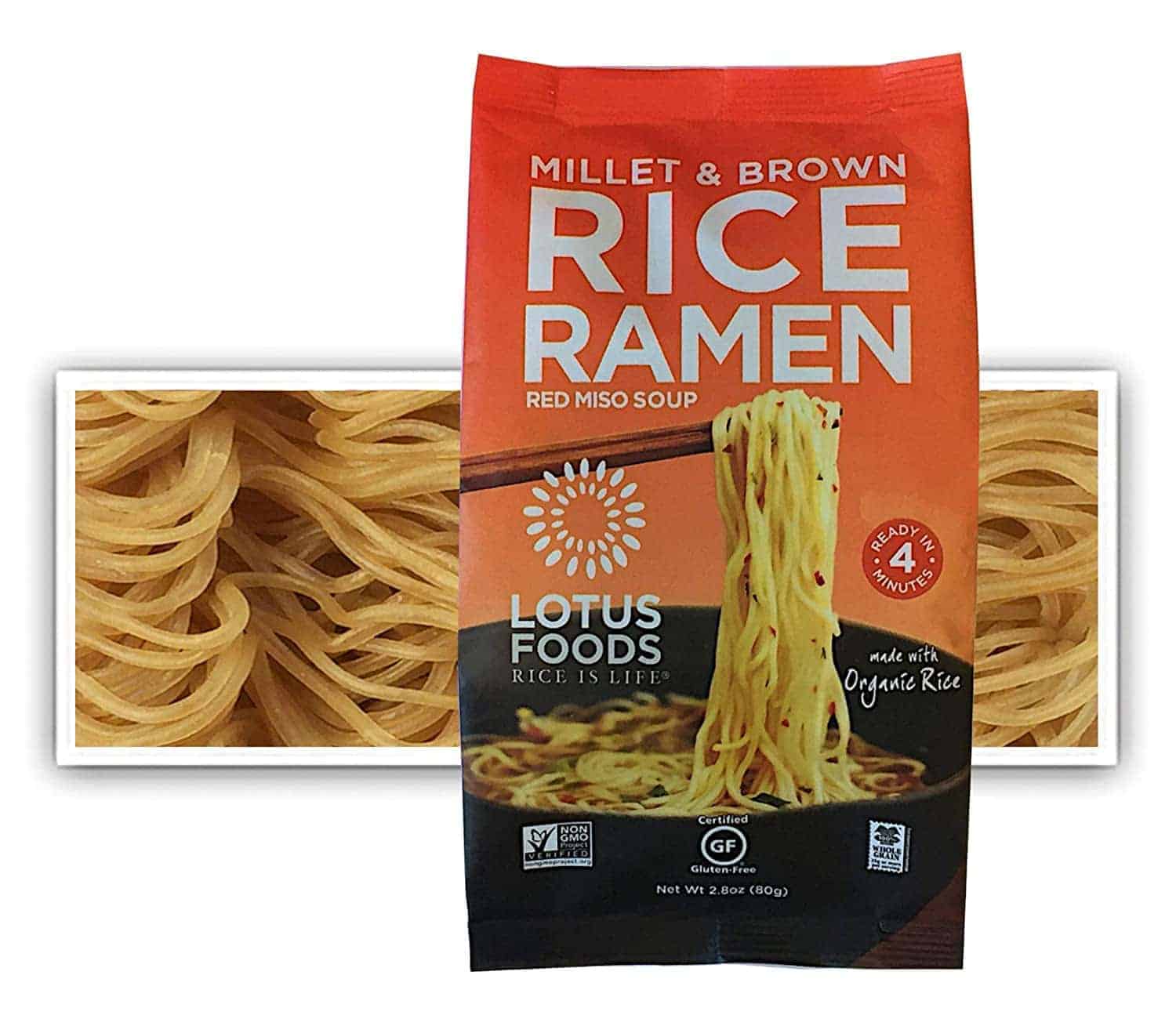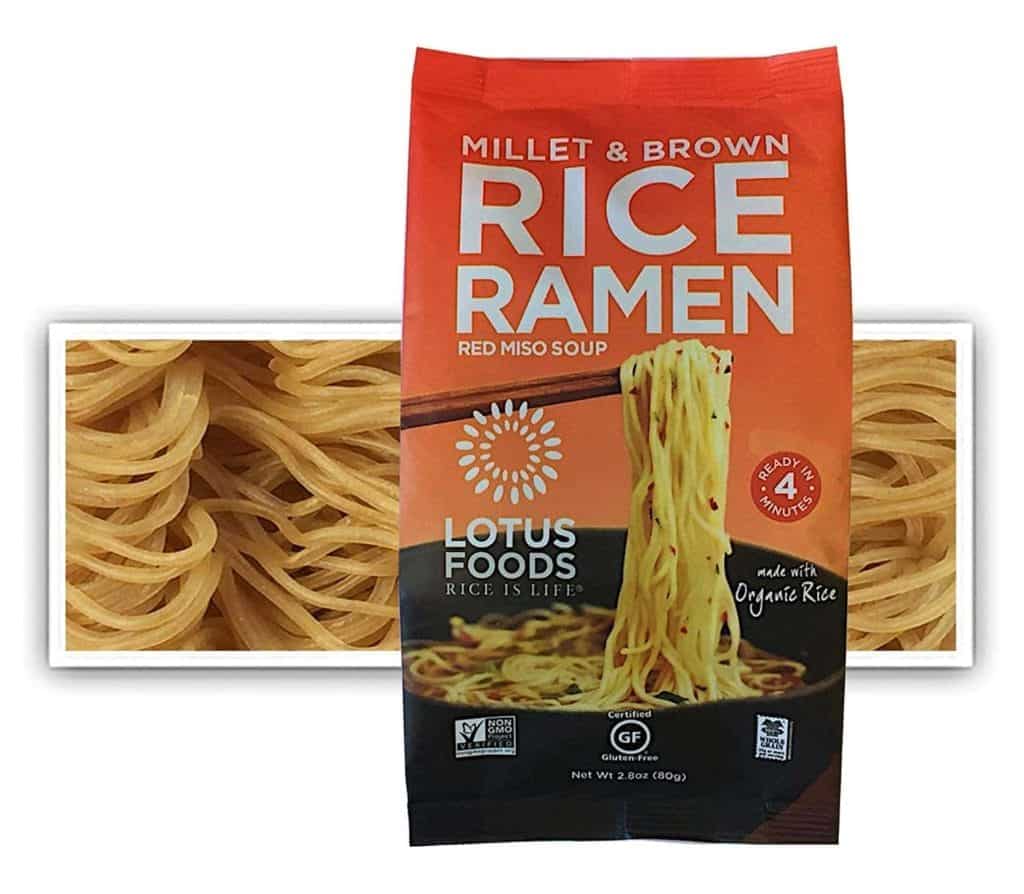 Compared to its rivals, Lotus Foods brings you Millet & Brown Rice Ramen made from specialty rice as a substitute for wheat. So, it's not only easily digestible but also more nutritious. It's an ideal option for people that have adopted a healthy lifestyle. Given that this ramen is made of rice, it has a yummy nutty taste that will please your taste buds. And, as a bonus, it's an excellent source of protein.
When it comes to fast and easy preparation, all you need is a few minutes, and you can enjoy the deliciousness that lies ahead. For added flavor, you have free rein to infuse the Millet & Brown Rice Ramen with soup or Miso and nourish your body with this deliciousness as you please. Moreover, you can stir-fry or pair it with a cold noodle salad to step up the burst of flavor by a few notches.
Pros
Easily digestible
Rich source of protein and fiber
Non-MSG
Ideal as a substitute for pasta
Gluten-free
Lower sodium level compared to its competitors
Perfect base for stir-fries, soups, and salads
Made from whole grain, heirloom, and organic rice
Authentic Japanese-style noodles
Cons
Lacks flavor packets
You have to create a broth from scratch, which takes longer
8. Best Flavor: Maruchan Ramen Chicken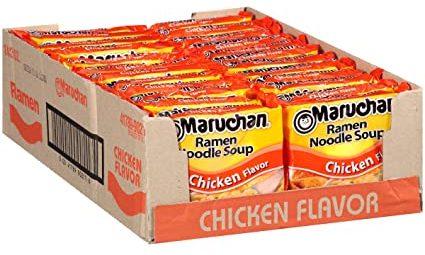 As one of the best brands, Maruchan Ramen is renowned for the savory and mouth-watering chicken flavor. Therefore, it's an excellent gift for late-night studies or night shifts and quick lunches whereby time is of the essence.
With a prep time of 3 minutes, the Maruchan Ramen Chicken is a lifesaver when you're craving a quick and convenient fix without compromising on flavor.
Aside from the popular chicken flavor, Maruchan has a vast assortment of other options from which you can take your pick. They include the authentic ethnic flavors to the low-sodium alternatives.
Furthermore, the Maruchan Ramen Chicken pairs well with a broad range of recipes. It's a bonus when you're feeling adventurous in the kitchen. With exceptional flavor and affordability, the Maruchan Ramen Chicken is worth a try.
Pros
Produces a yummy, creamy broth
Savory chicken flavor
Lacks trans fat
Exceptional flavor compared to other chicken ramen brands
Blends well with other recipes
Ideal texture and flavor
Ready to eat in 3 minutes
Comes in a vast assortment of flavors
Cons
Contains artificial ingredients
Not as healthy as other brands
9. Best for Health: Asha Tainan Noodle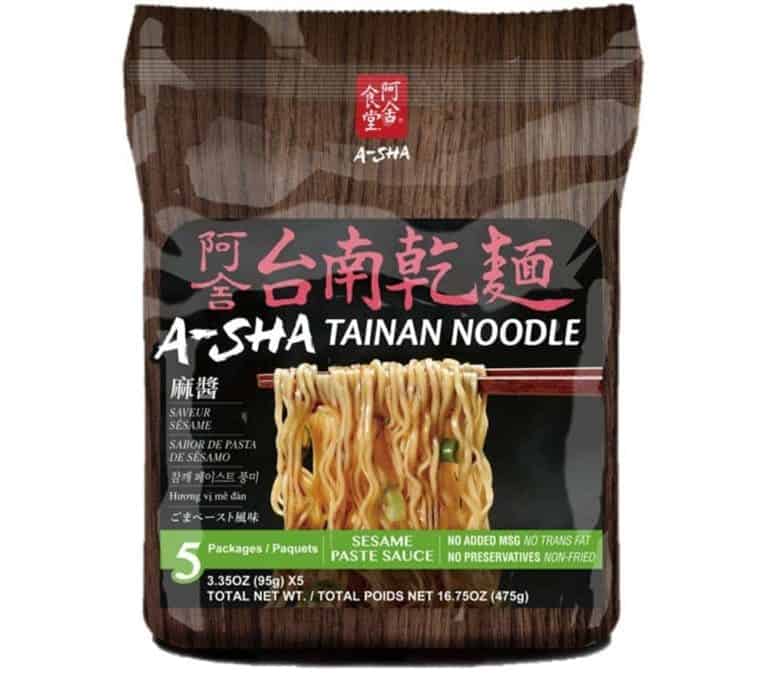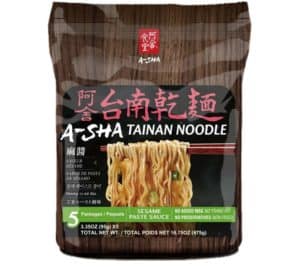 Are you on a healthy diet and looking for a quick fix? Then the Asha Tainan Noodle is right up your alley. Crafted from the highest quality ingredients via a unique air-fried process, this product lacks unhealthy additives, MSG, and preservatives. Each packet of this artisanal instant ramen is made from the best raw ingredients that have been perfectly blended to help you maintain a healthy lifestyle without sacrificing time and flavor.
With the Asha Tainan Noodle, you can frequently delight in instant ramen as it's nutritious. Not only does it have natural flavorings, but it is also low in calories and carbohydrates while being rich in fiber.
Pros
Topnotch ingredients
Lacks unhealthy preservatives
Low in calories and carbohydrates
Non-MSG
Flavorful, aromatic, and fresh
A nutritious option to generic instant noodles
Rich in fiber
Cons
Significantly milder taste compared to other products
10. Nongshim Soon Veggie Noodle Soup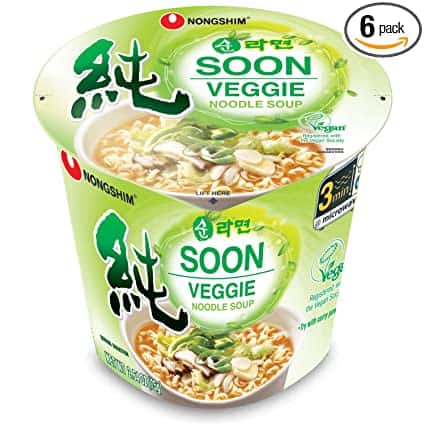 Does a hot veggie soup tickle your fancy when the chilly days roll around? Then the Nongshim Soon Veggie Noodle Soup is your Holy Grail. Made from100% vegan-friendly ingredients, the veggie broth has a hearty, mild, and pure flavor that nearly everyone will find appealing.
Despite the absence of meat, the Nongshim Soon Veggie Noodle Soup is surprisingly yummy and packed with an array of flavors. The excellent quality ingredients and great taste make this product one of the best Korean instant ramen options.
Much like other brands of instant ramen, the Nongshim Soon Veggie Noodle Soup is a breeze to prepare with only 3 minutes needed to have a fulfilled meal. It's packed in cups, making it perfect for bringing along on travels and other outdoor activities.
Pros
Refreshing and delicious
Savory and mild veggie broth
Ideal for people on the move
Quick and easy preparation
Full of aroma and flavor
Made from 100% vegan ingredients
Cons
Pricier than other instant ramen brands
Lacks trans fat
11. Best Stir-fried: Japanese-style Myojo Ippeichan Yakisoba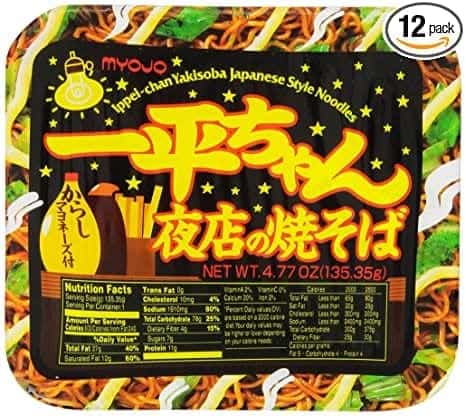 If you're familiar with famous Japanese cuisines, then you're probably familiar with Yakisoba, stir-fried instant ramen. Now, you don't need to visit your local Japanese restaurant to try it. You can revel in this yummy and famous goodness right from the comfort of your home. Simply follow the straightforward instructions on the packaging of the Japanese-style Myojo Ippeichan Yakisoba instant ramen, and you'll have ideal noodles in a jiffy.
The packet comes with a spicy soy sauce, mustard mayonnaise, and dried veggies for a burst of flavor. To ensure the Japanese-style Myojo Ippeichan Yakisoba instant ramen noodles have a fried texture, you'll require shaking them for up to 10 seconds. Doing so allows the sauces to coat the ramen entirely and uniformly. Don't forget to add the included mustard mayonnaise at the end to step up the flavor of the noodles.
Pros
Rich in protein
High calories
Comes with mustard mayonnaise that adds a nice kick
Superb aroma
Authentic Japanese-style stir-fried ramen
Fast and convenient meal
Perfect for spicy food lovers
Rich and addictive flavor
Cons
Short expiration date
No trans fat
Not ideal for weight watchers
12. Sapporo Ichiban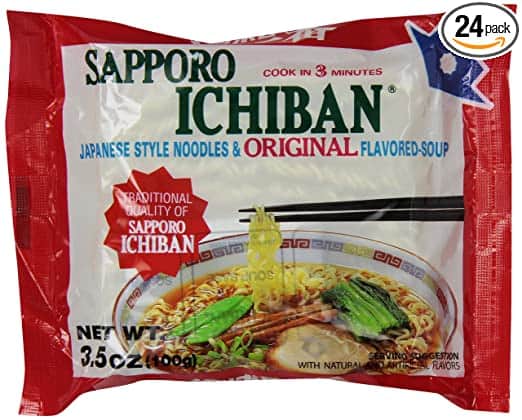 If you're familiar with Japanese-style ramen, then chances are you've stumbled upon Sapporo Ichiban. Compared to its rivals, the broth of this instant ramen has a fresher and milder taste. If you find it overly salty, you have free rein to throw in a couple of seasonings until you find the perfect balance.
The Sapporo Ichiban instant ramen comes with a packet of seasonings that enhance the taste of the broth. Unlike the unpleasant sogginess and softness that you've experienced with other brands of instant ramen, this product remains pleasantly chewy.
You can add a few healthy toppings such as chopped onions, mushrooms, or beef chunks for a more satisfying meal.
Pros
Alluring aroma of ramen soup
Chewy taste
High level of sodium
Strikingly similar to the rich flavor of authentic Shayu ramen
Easy, convenient, and quick
Mouth-watering
Blends well with different toppings
Cons
More expensive than other products
Doesn't get disgustingly soft and soggy
Buying Guide: How to Choose the Best Instant Ramen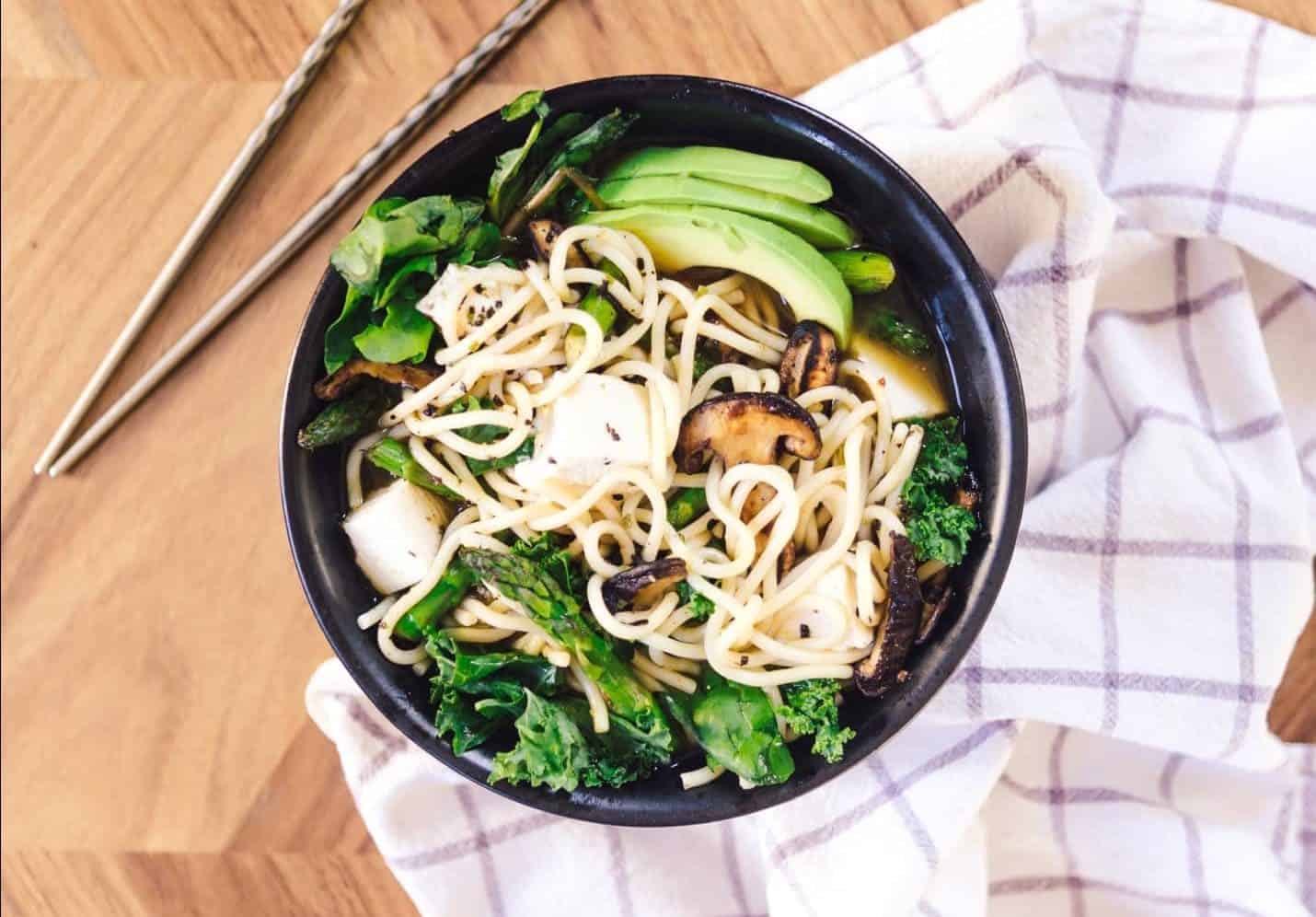 With the wealth of options that have littered the market, we've rounded up a few essential buying factors to consider. They will steer you on the right path towards selecting the ideal instant ramen for your pallet and lifestyle.
1. Country of Origin
While each country has its unique brands and flavors of instant ramen noodles, the three most renowned options on the market stem from 3 countries: Thailand, Japan, and Korea.
Japanese Instant Ramen Offers a Flurry of Options
Instant noodles came from Japan, with Momofuku Ando's Cup Ramen being the first in 1958. With a history that dates as far back as the 1950s, you can be certain that Japanese brand instant noodles come in a wealth of variants. They have a subtle and subdued taste. Some popular brands are Sapporo Ichiban, Nissin, and Maruchan.
Aside from the generic soup noodles, Japanese instant ramen is available in non-soup counterparts, for instance, Yakisoba. It's typically flavored with sweeteners and soy sauce for a rich salty-sweet taste. For soup bases, curry, tonkotsu, and Miso are your best bet.
Korean Noodles for a Sweet and Spicy Flavor
They are renowned for their red appearance and fiery kick with the perfect blend of spicy and sweet flavors. If you revel in that in-your-space spice, then popular Korean brands ranging from Samyang and Nongshim to Paldo are right up your alley.
Granted, not all Korean noodle brands fall in the spicy category. But, they usually have an overpowering flavor compared to their Japanese cousins. So, flavors such as tteokbokki, bibimbap, kimchi, and jajangmyeon are ideal.
Thai Noodles for Complexity in Flavor
These usually come in a blend of sour, sweet, and salty flavors with acidic hints. Thai noodles may vary in spiciness levels, from hotter flavors such as salted egg to subtle ones like green curry. Renowned brands of Thai instant ramen are Yum-Yum, Mama, and Waiwai. We recommend salted egg, tom yum, green curry, and pad Thai flavors.
2. Type of Instant Ramen
There are three different types of instant ramen available.
Ramen Noodle Soup
It comes with the seasoning powder packet. Upon adding this packet into the hot water, you can enjoy a yummy broth. So, ramen noodle soup is suitable for late-night working or studying or chilly days.
Stir-Fried Ramen
It comes with a sauce packet. So, simply cook the stir-fried ramen noodles for 3 to 5 minutes, then drain out the water and add the sauce. Mix up the sauce in the noodles to ensure it coats them uniformly.
Noodle Base
If you have concerns that instant ramen may have harmful additives such as MSG, then you can buy the noodle base and create a unique broth with meat and veggies to your preference. The base comes in handy for different recipes ranging from ramen noodle soup and salads to stir-fries.
3. Flavors
When it comes to selecting the best instant ramen flavors, below are some options to consider.
Miso: Various types of Miso are a lifesaver in enhancing the flavor of different ramen brands. They include Red, White, Charred, Rice, Barley, and Soybean Miso. A multitude of people prefers ramen with Miso-flavored ramen because of its sharper, deeper, and richer taste.
Tonkotsu: It's a popular flavor that ramen lovers also gravitate towards. Exquisite Tonkotsu flavor comes from cooking pork bone for up to 15 hours to generate a deep, rich, and thick flavor.
Shoyu: As the most common instant ramen flavor, Shoyu is deep and rich and stems from chicken bones coupled with seafood.
Shio: Like Shoyu, Shio derives its flavor from seafood and chicken bones, but it's a milder version.
4. Low-Sodium and Vegan Versions
Some instant ramen brands provide low-sodium and vegan-friendly variants for those that have high blood pressure, closely monitor their sodium intake, or have adopted a healthy lifestyle.
We recommend choosing products containing organic and healthy ingredients and natural flavors if you frequently consume instant ramen. Steer clear from those that have harmful preservatives and artificial substances.
5. Calories
If you're watching your weight, and have concerns about calories, ensure you carefully check the labeling. In some instances, one packet of instant ramen can have more than one serving size. For instance, if it may say 2 serving sizes on packages with 300 calories for each serving size; this means that the package contains 600 calories.
Given that most instant ramen noodles are fried, they have a higher saturated fat content and calories. For nutritional purposes, you're better off selecting options such as veggie-based, baked, or rice noodles.
They're not only rich in fiber but also considerably lower in calories. If you're strictly monitoring your calorie intake, we recommend salt-based or soy sauce broths. They have the least amount of calories.
Closing Remarks
The best instant ramen noodles are an ideal option for anyone seeking affordability, and unmatched convenience rolled into one. Their effortless preparation makes them accommodating to the multitude of people with tight schedules that lacks the luxury of time.