Of all the foods out there, ramen is one of my favorite. What I love more is a healthy, quick ramen recipe that is 100 percent vegan! With vegetable broth and coconut milk, you can easily create one of the most delicious ramen in just 20 minutes!
Why I Love This Easy Vegan Ramen Noodle Soup
If you love ramen, then you've definitely tried instant ramen before. I think anyone who's budgeted before has! It's such an easy meal - just rip open the packet, combine it with hot water, and done!
Now, instant ramen may taste good, but it's not all that great for you. It has a terrible amount of sodium and mystery ingredients that aren't the best for us. So, I got to thinking - how do we still get quick ramen noodles, but in a healthier format?
Well, this ramen noodle recipe may not be as instant as the packages, but it's 100 percent healthy, delicious, and vegan. The ramen broth in this recipe is rich and nourishing. It's everything you need after a long day or when the cooler Fall temperatures start to creep in.
This is the most delicious vegan comfort food yet! It's just as good as restaurant ramen, I swear. This vegan ramen's flavorful broth is really unbeatable.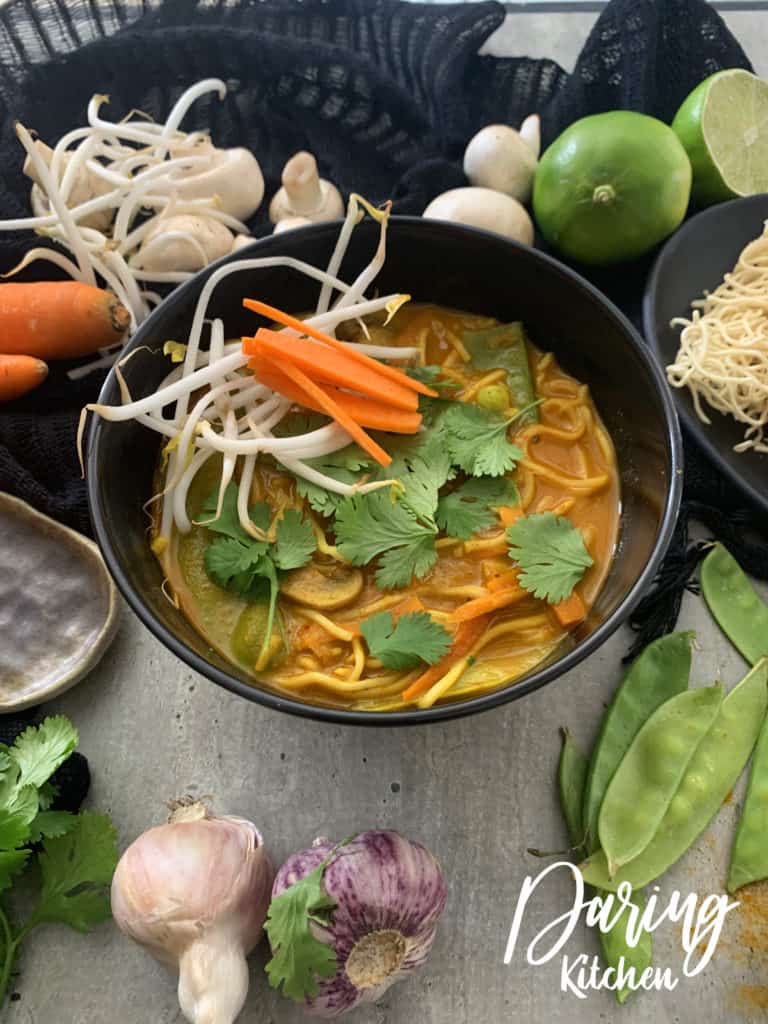 What Ingredients you Need for Vegan Ramen
What makes this vegan ramen so simple to make and delicious to eat? Very few wholesome ingredients pack all the flavor into your bowl, leaving you with a scrumptious bowl of vegan ramen noodles in just 20 minutes!
Coconut milk - This gives the broth the rich character I love in ramen noodle soup. Instead of needing any meat stock, coconut adds all the depth of flavor and texture you need.
Vegetable broth - Veggie broth adds a lovely herbal flavor to this dish. It's easy to make your own or pick up at the grocery store.
Red Curry paste - Curry paste is so lovely in this ramen noodles recipe with coconut milk. It gives a thai flair to this ramen recipe. You can switch up the curry paste if you like or even add a little miso paste or soy sauce.
Ginger - This adds zest and flair to your bowl of ramen. It's also amazing for your health as it's awesome for digestion.
Garlic - What's a soup (or any dish) without garlic? This aromatic element is a must for this ramen recipe.
Sugar snap peas - These add the prettiest touch to this ramen. Their bright green color and wonderful texture are so delicious in this dish. You can also add in bok choy too if you like.
Mushrooms and carrots - These are classic soup elements that add even more flavor to the dish. Plus, the mushrooms add a 'meaty' character as well, especially if you opt for oyster mushrooms! I also love fresh shiitake mushrooms in this dish too.
Ramen noodles - These are essential. If you want to make this recipe gluten free, simply substitute ramen noodles with rice noodles.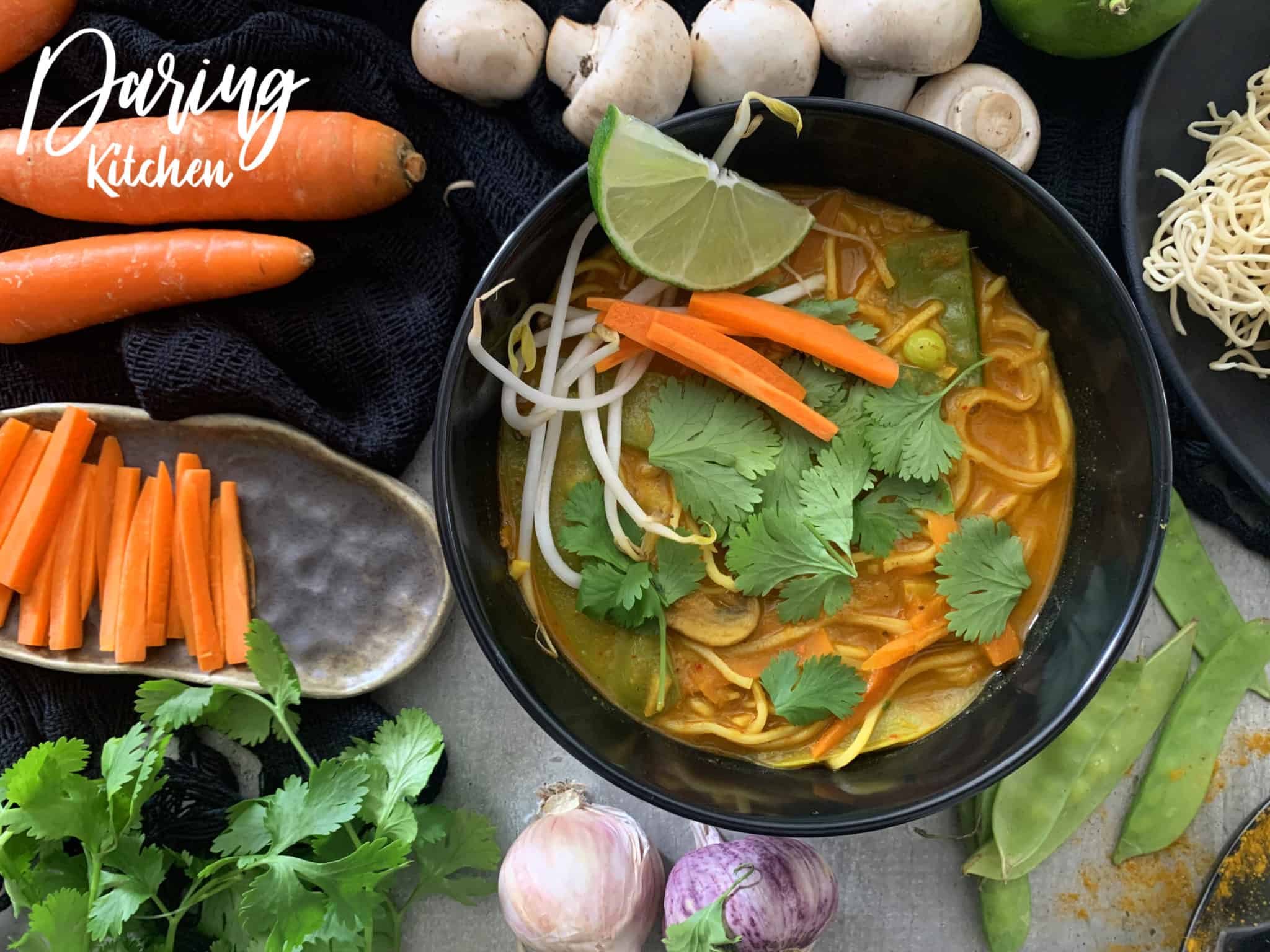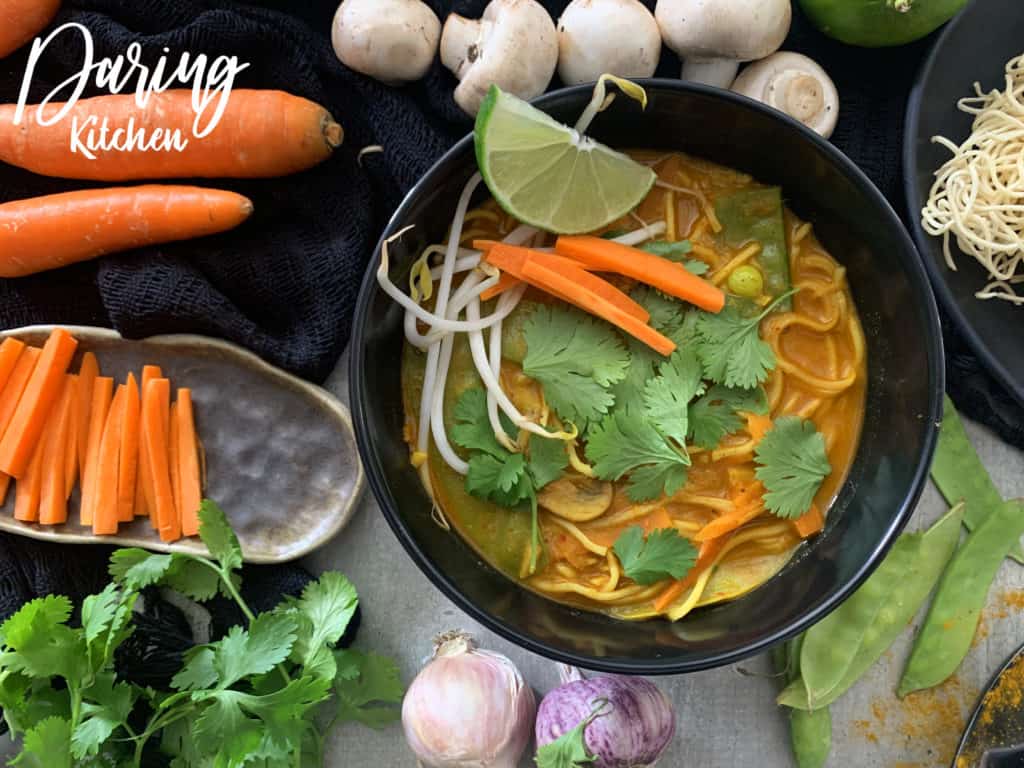 How to Garnish Vegan Ramen
My favorite part about eating ramen is all the garnishes! You can have a lot of fun with ramen soup toppings. They only add more flavor to the veg broth. Here are a few of my favorites...
Keep it classic. Add green onions, more mushrooms, and toasted sesame seeds on top.
All the greens. Baby bok choy, mustard greens, or any leafy greens that blanch easily are perfect for this recipe.
Anything crunchy. I adore adding fried shallots, carrot bacon, or eggplant bacon to this soup bowl!
Make it spicy. Drizzle chili garlic sauce on top with a little rice vinegar.
Increase the protein. Add in fried extra firm tofu, soft-boiled eggs, or fresh mushrooms.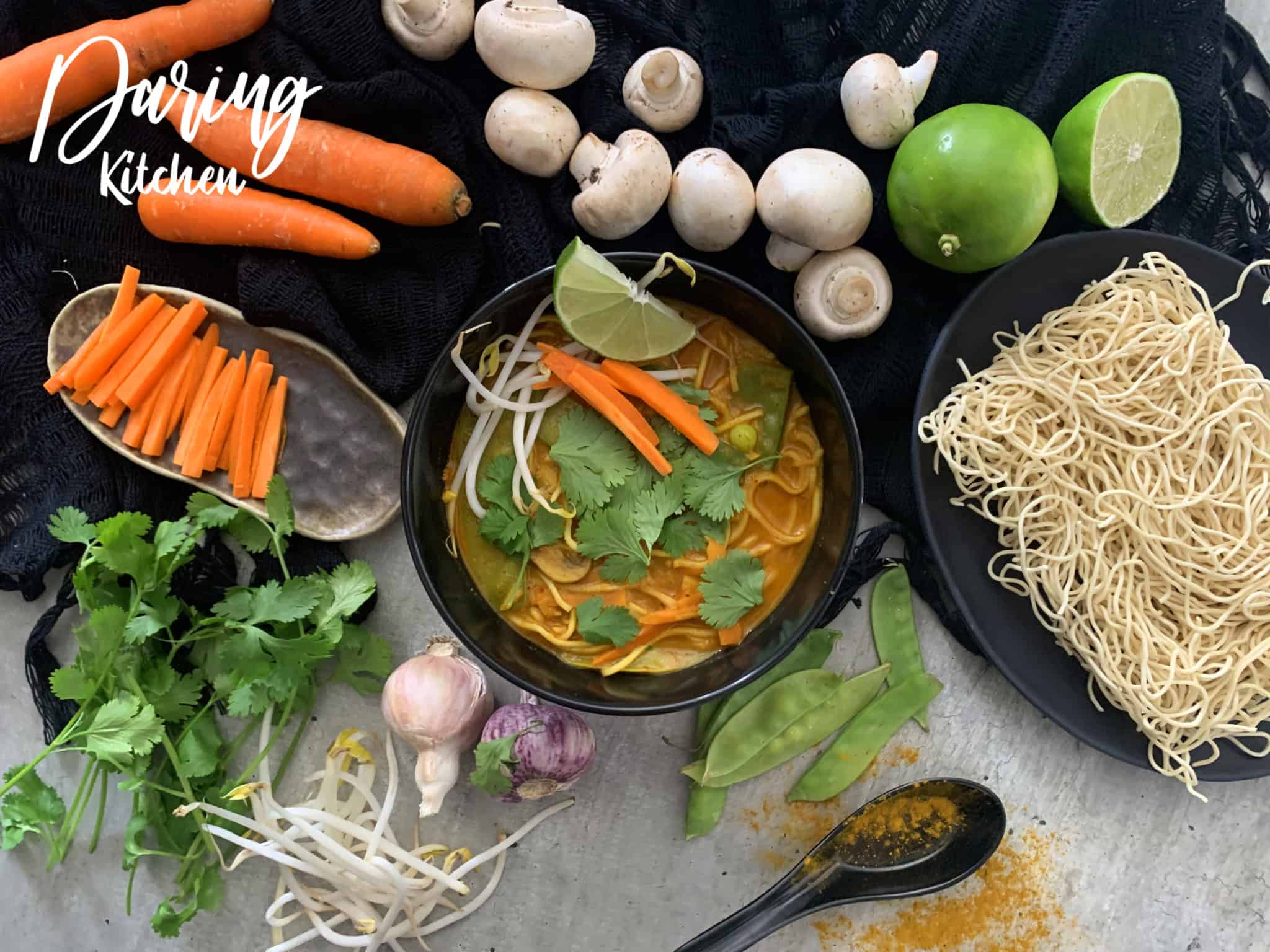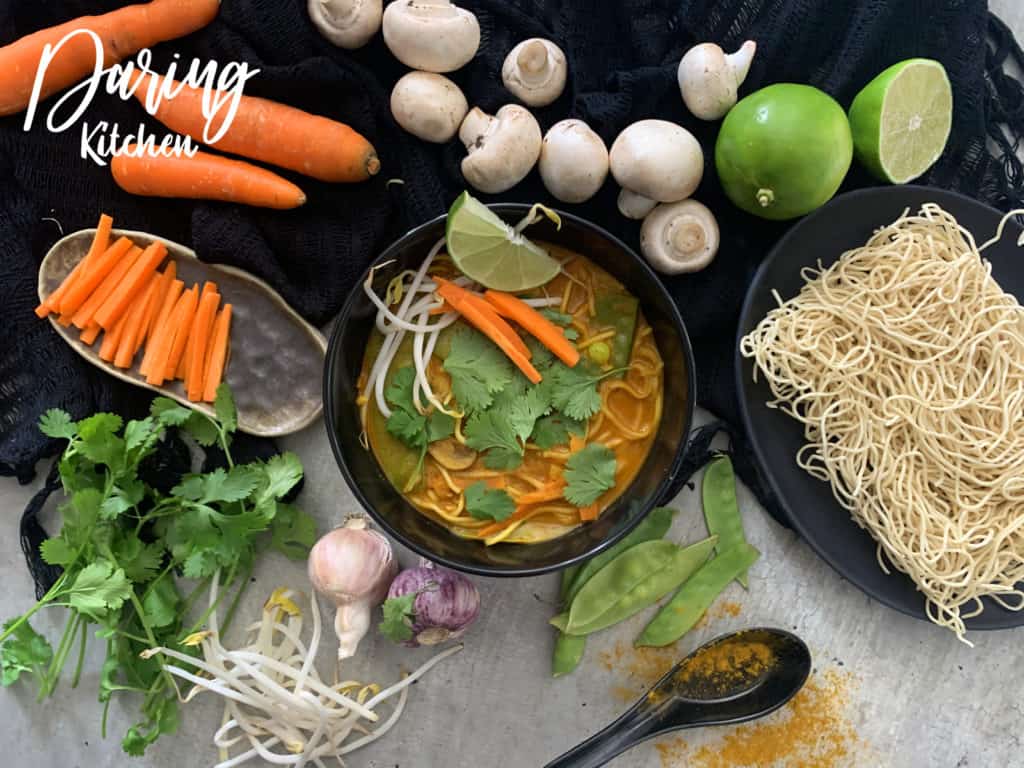 How to Make Vegan Ramen
This quick and easy recipe takes just 20 minutes to make. Wanna know how? Check out my method below with all the detailed tips!
First, prep your ingredients. Chop your mushrooms, carrots, and garlic. Grate your ginger well too. For the sugar snap peas, simply snap off their ends.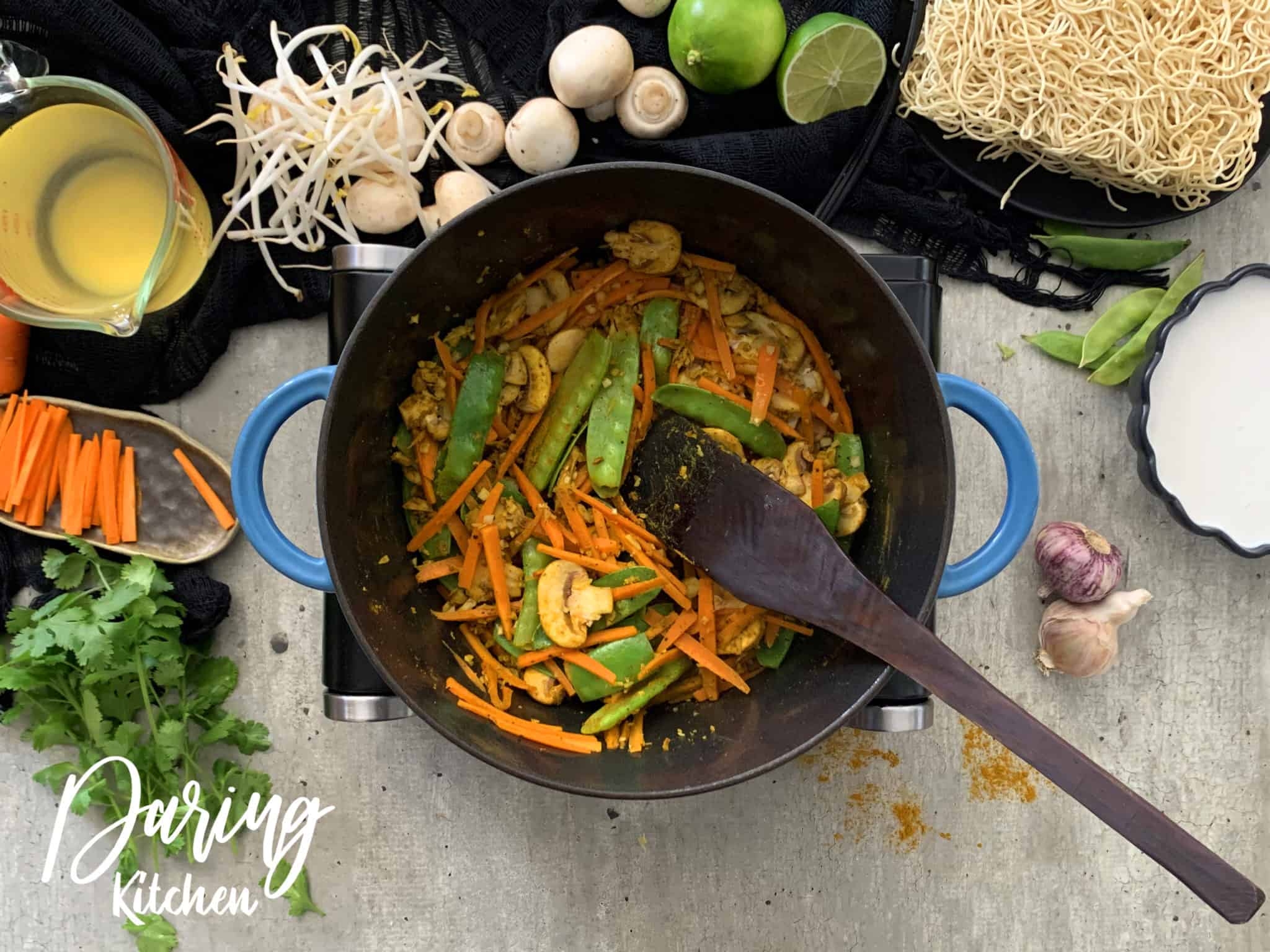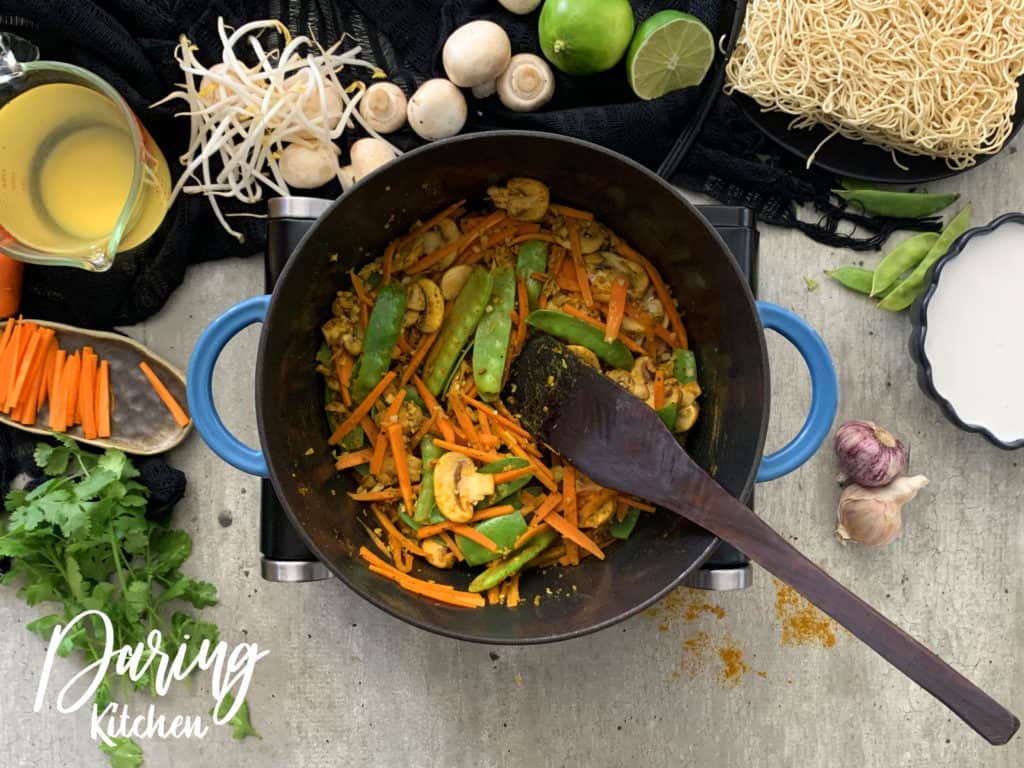 Once your veggies are all ready to go, time to make your vegan ramen broth. Add your sesame oil to a large pot or dutch oven. When the oil is heated, add in your mushrooms, carrots, and snap peas. Toss them into the oil. Then add in your garlic, ginger, and black pepper.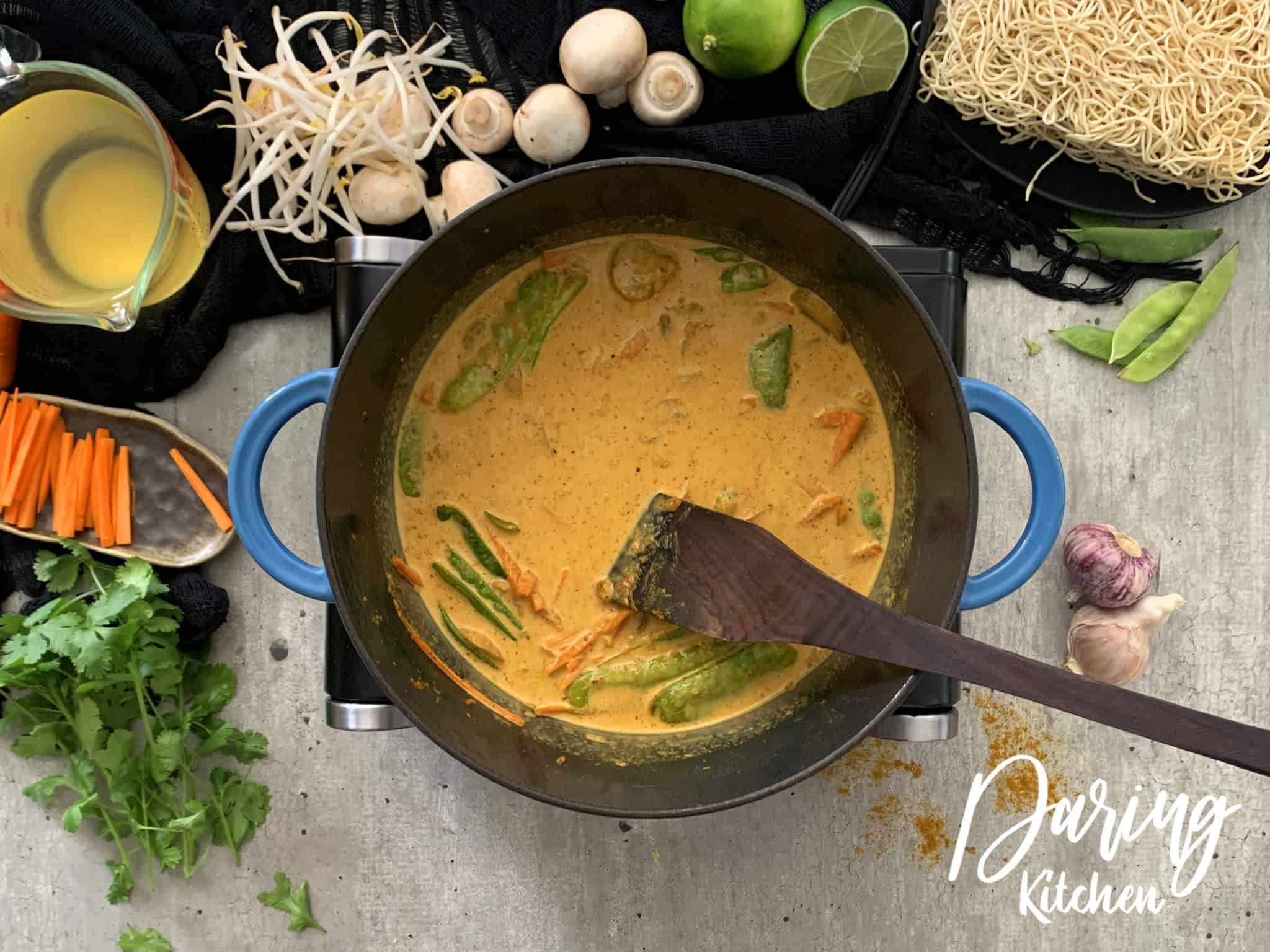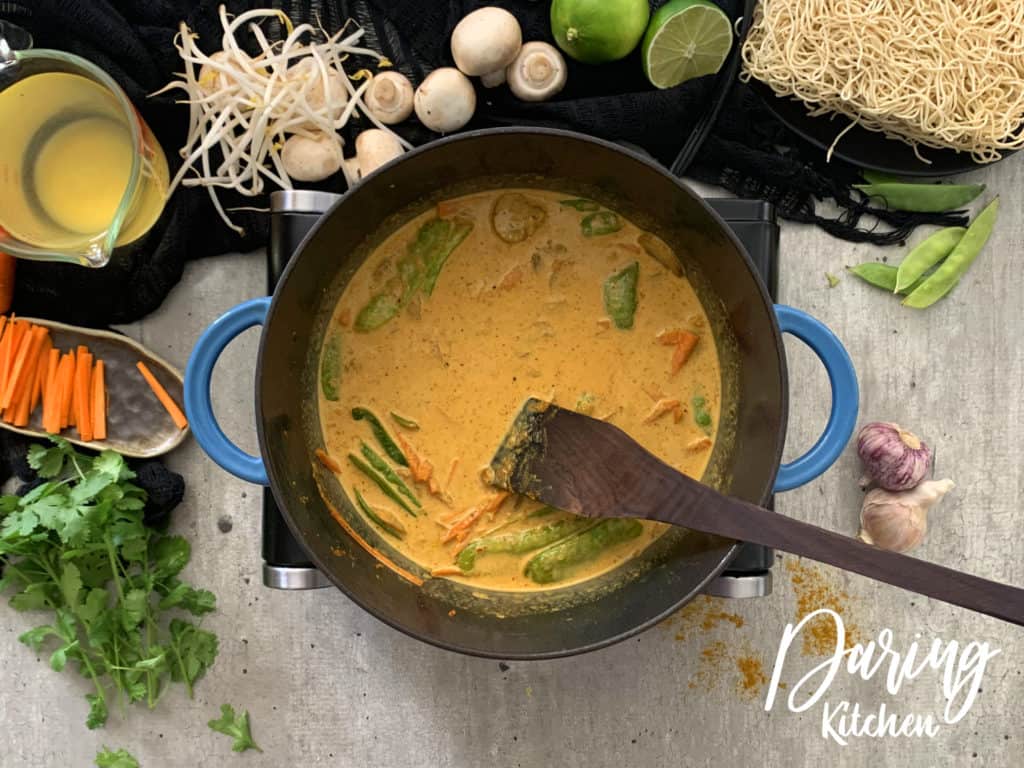 Saute all of this goodness until the garlic is transparent. When you reach this point, it's time to introduce your spices. Add in your curry paste (or whatever seasonings you're using) into your aromatic veggie mix.
Then, pour in your coconut mix. This will help you to mix the spices well into your dish, practically dissolving them into the coconut milk broth.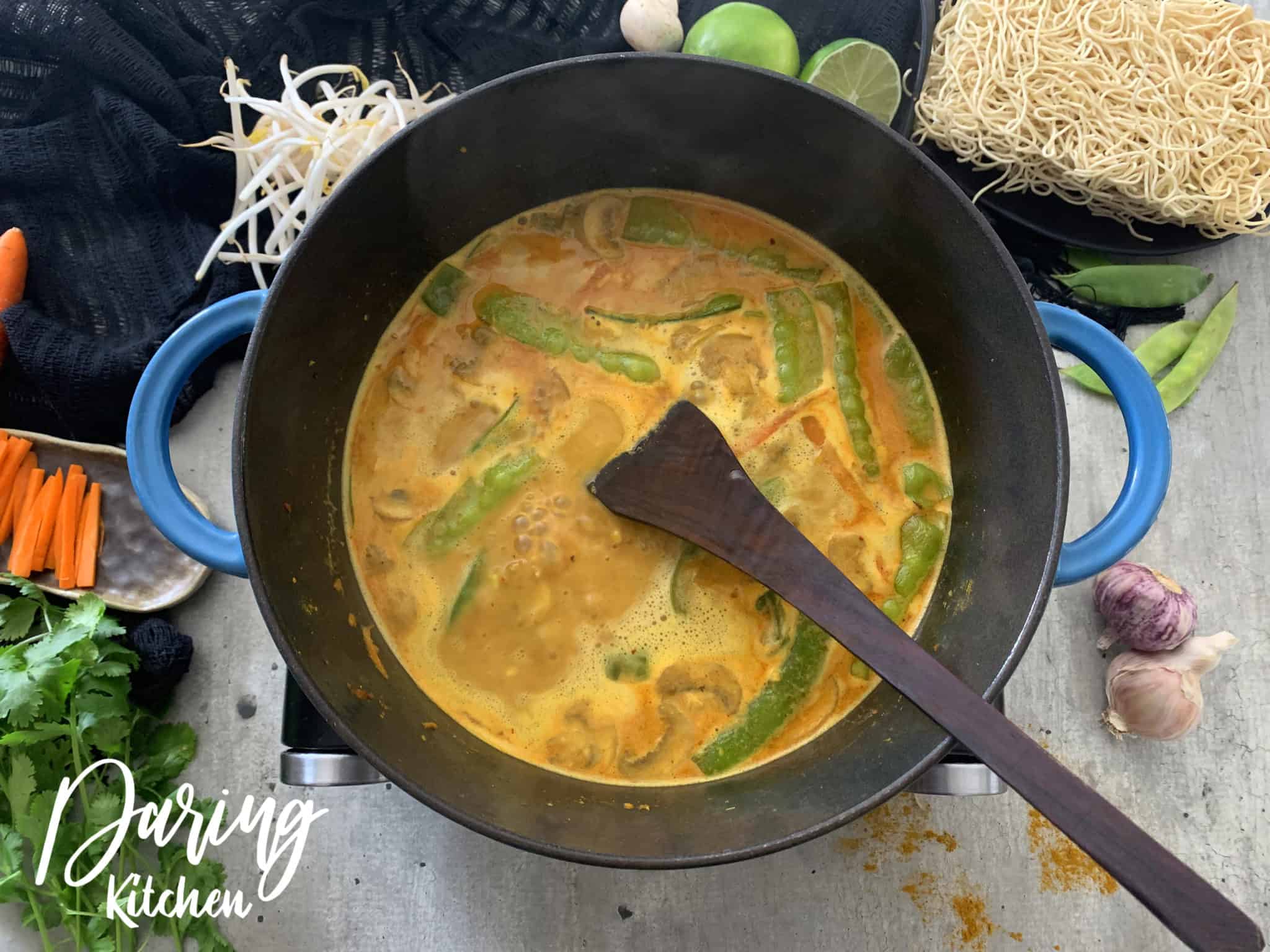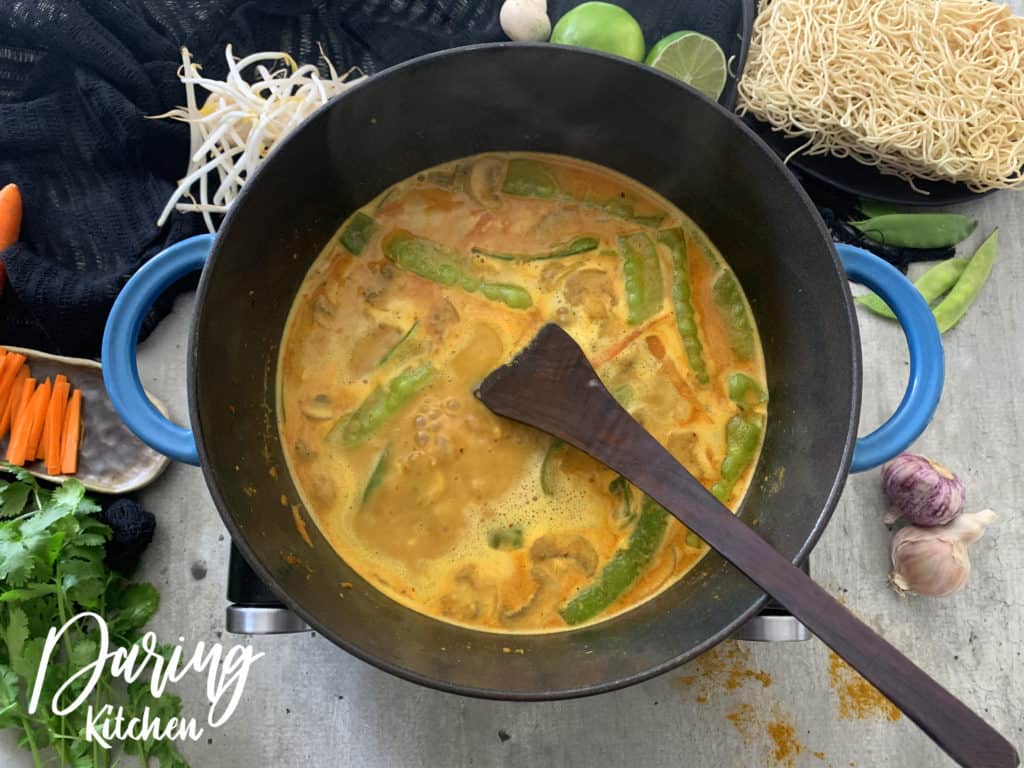 Time to make your soup magic happen. Pour in your vegetable broth, stirring everything together.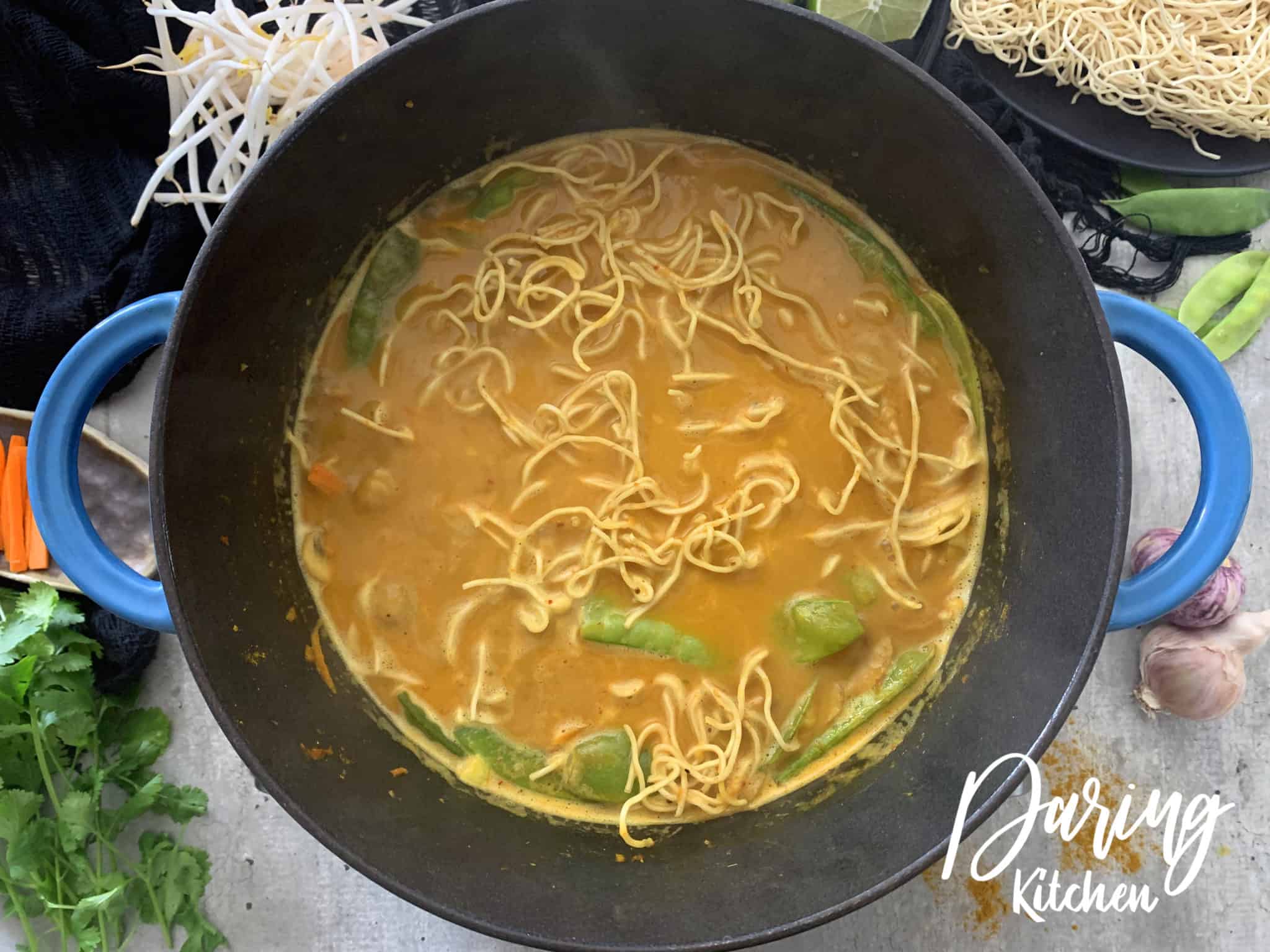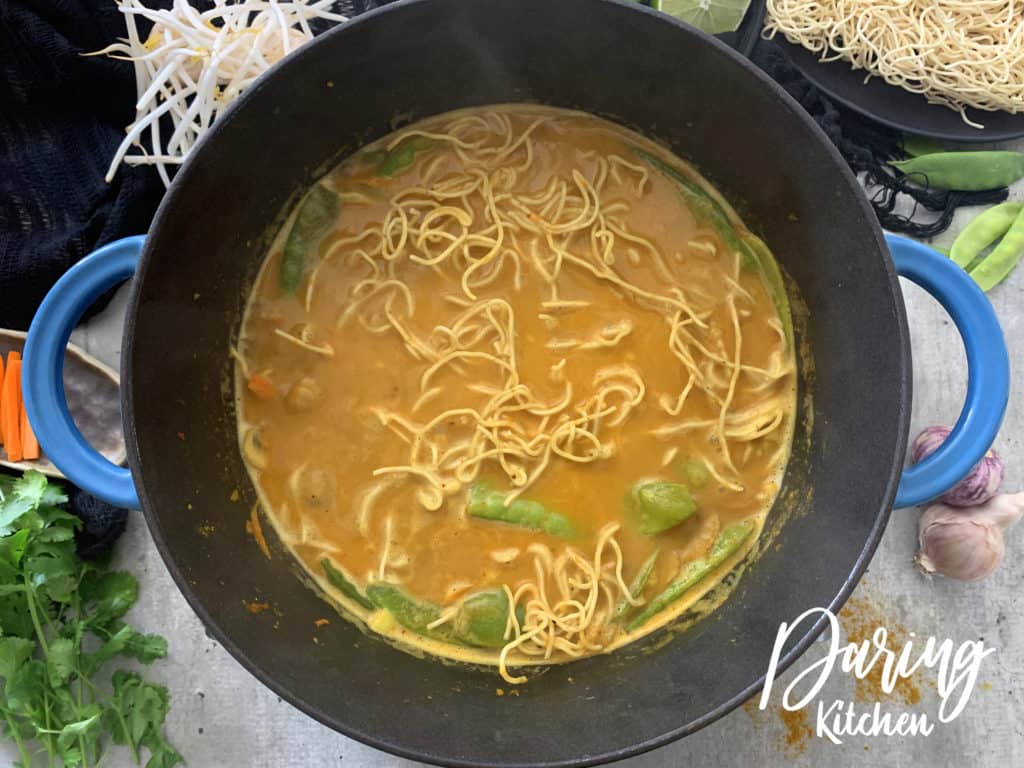 Now, you can let this simmer for a little while if you like. Or, you can bring it all to a boil and cook your ramen noodles immediately.
Choose a large bowl for your ramen and add in your cooked noodles. Then, pour your broth on top. Decorate your bowl with all your favorite toppings!
Thank you so much for checking out this recipe! I hope it inspired you to make a delicious bowl of ramen soup. Trust me - this recipe tastes just as good as any restaurant ramen! Let me know all your thoughts on this ramen recipe in the comments below!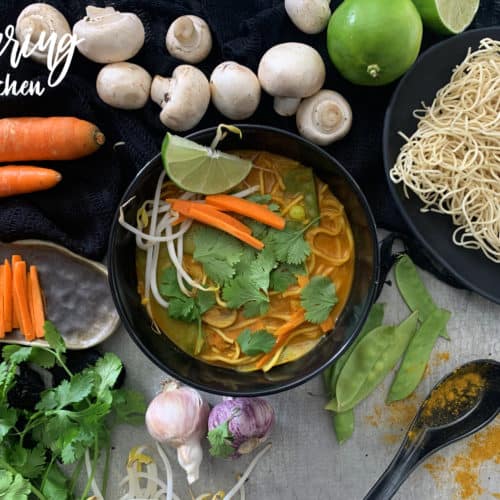 Easy Vegan Ramen
With a rich coconut broth and hearty veggies, this easy vegan ramen is a nourishing meal that evreyone will love!
Print
Pin
Rate
Servings:
4
Generous Servings
Ingredients
6

Garlic Cloves

8

oz

Mushrooms

1

cup

Carrots

1

cup

Sugar Snap Peas

2

tbsp

Ginger

Black Pepper

to Taste

2

tbsp

Curry Powder

1-3

tbsp

Red Curry Paste

13.5

oz

Can of Coconut Milk

6

cups

Vegetable Broth

8

oz

Ramen Noodles

Cilantro for Garnishing
Instructions
Chop garlic cloves, mushrooms and carrots.

Remove the ends of the snap peas and grate the ginger.

Add 1 Tbsp of sesame oil to a dutch oven and sauteé the carrots, snap peas and mushrooms.

Add pepper, garlic and ginger.

Continue until the garlic looks slightly transparent.

Add the spices like curry powder, red curry paste and add the coconut milk.

Mix until the spices are well dissolved.

Add 6 cups of vegetable broth.

Wait until the mixture is boiling and add the noodles.

Garnish with fresh cilantro.
Nutrition
Calories:
315
kcal
|
Carbohydrates:
50
g
|
Protein:
9
g
|
Fat:
10
g
|
Saturated Fat:
4
g
|
Polyunsaturated Fat:
1
g
|
Monounsaturated Fat:
4
g
|
Sodium:
2592
mg
|
Potassium:
466
mg
|
Fiber:
4
g
|
Sugar:
8
g
|
Vitamin A:
6961
IU
|
Vitamin C:
20
mg
|
Calcium:
53
mg
|
Iron:
3
mg