A Dutch oven is a multi-purpose pot that can be used for a variety of recipes, including deep-frying, boiling water for pasta, baking bread, and braising. Dutch ovens are particularly well-suited for slow cooking because they not only retain and maintain heat but because they can easily be transferred from the stovetop to the oven, which leaves your food extra tender.
Typically, a 5 ½ - to 6 ½- quart Dutch oven should be able to serve two to four people, and this size will work for most cooking tasks. If you're feeding more people, however, you might want to increase the size of your Dutch oven to a 7-, 9-, or 13-quart oven.
You must keep in mind that the bigger the Dutch oven is, the heavier and harder it'll be to move around your kitchen, especially when it's full of delicious food. When it comes to the shape of the best Dutch Oven, a round one will work better on the round burners of stoves, whereas an oval-shaped oven will heat less evenly and can be hard to fit onto a small stovetop.
However, the oval-shaped Dutch oven is more useful when it's time for you to do large, long roasts, such as tenderloin. The oval Dutch oven will fit onto an oval-shaped burner and will also work great on a large round burner for something like a braise, where you start it on the stovetop and finish it in the oven.
The Best Dutch Oven Picks
1. Lodge 6-Quart Enameled Cast Iron Dutch Oven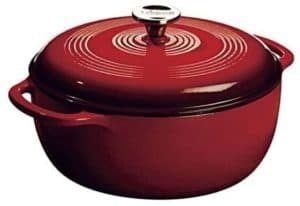 Overall, the best Dutch oven is the Lodge Enameled Cast Iron Dutch Oven. It cooks your food just as well as other, more expensive Dutch oven models, and it is easy to move around your kitchen. The large handles help when you're trying to carry this Dutch oven across the kitchen and lessens the strain of moving the full pot in and out of the oven or into the sink.
Whisks or spoons can easily reach into the rounded corners of this Dutch oven to keep food from getting stuck during the deglazing process. Plus, the light-colored enamel interior makes it so you can easily see your food browning and is a breeze to clean.
The shape of this Dutch oven makes cooking easy. It's squat and wide enough to let you sear meat, and the gentle curve from the bottom to the side of the pot helps you brown onions more evenly because they don't get trapped in the corners of the pot.
Pros:
Features wide, looped handles that are easy to grab
The enamel finish is smooth, even, and long-lasting
Easy to move around your kitchen, even when it's full
Cons:
Requires a few extra minutes to sear large cuts of meat
The enamel chips easily
2. Le Creuset Signature Enameled Cast iron 5 ½-Quart Dutch Oven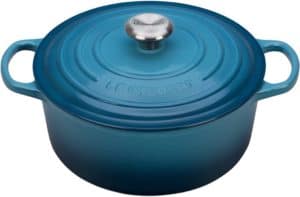 As suggested by the name, this Dutch oven is made of cast iron and then covered with heavy-duty enamel. The enamel on the outside of the Dutch oven is designed to be chip-resistant, while the enamel coating on the inside is made to ward off staining and dulling. The pot has oversized handles that are easy to grab ahold of, even when you're using potholders.
Le Creuset says that the knob on the lid of the cast iron pot can withstand temperatures up to 500 degrees F, but the rest of the enameled Dutch Oven is only oven safe up to 350 degrees F. This Dutch Oven comes in a variety of colors, and each Dutch oven comes with a lifetime warranty.
Pros:
The Dutch oven can handle high temperatures
Versatile
Comes in a variety of colors
Durable
Cons:
3. The Lodge Seasoned Cast Iron Deep Camp Dutch Oven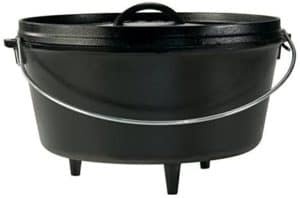 This is the best Dutch oven for camping. It features a cast iron lid and body that's seasoned with soy-based vegetable oil to give it a nonstick finish. This 8-quart Dutch oven weighs 20 pounds, has a 12-inch diameter, and is 5.5 inches deep, so you can use it to make large meals at the campfire.
The lid on this pot can be inverted to use as a griddle and is even flanged so it can hold hot coals. This Dutch oven has three legs on the base to increase stability when placing it in the campfire.
It features a smart design, and it has a loop handle that makes it easy to hang the Dutch oven up when you're done using it. Lodge states that the cast iron of this pot will provide you with lifetime durability.
Finally, this Lodge Dutch oven is incredibly easy to clean when you clean the pot right after using it and comes with a set of recipes to try out.
Pros:
Can put coals in the lid for even cooking and heating
The lid can work as a griddle
Has three legs for increased stability
Cons:
Impractical to use on your stovetops and ovens
Much too heavy to be used when backpacking
4. Cuisinart Chef's Classic Enameled Cast Iron Casserole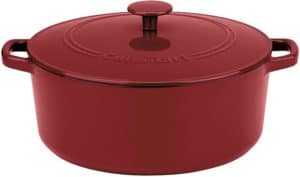 If you like to make stews to keep you and your family warm during the cold winter months, then this is the best Dutch oven for you. This Dutch oven is made of heat-retaining and evenly distributing cast iron and is then covered with porcelain enamel on both the exterior and interior. It also comes in a variety of colors and size options.
This Dutch oven is stovetop (induction included), oven, and broiler safe. If you're hoping to find a Dutch oven that's safe to use in the dishwasher, this isn't the Dutch oven for you. It's preferred that you hand wash this pot to keep it safe and usable for a longer time. Finally, this pot makes great stews, easy to use, and solidly built.
Pros:
Great for making soups and stews
Attractive design
Induction stovetop safe
Cons:
Prone to chipping
Not very durable
5. Tramontina Enameled Cast Iron 6 ½-Quart Round Dutch Oven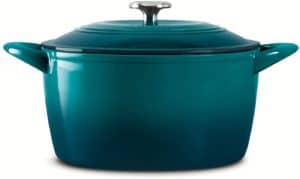 If you don't want to spend hundreds of dollars for a Dutch oven, this is the best Dutch oven for you because it offers several of the same features of a more expensive model, but at a much lower price. The large size of this pot is great for large families or large poultry and roasts, and the pot features a durable enamel coating.
This does a metal knob on the lid, but it's still can be used in ovens as hot as 450 degrees F. This means that you won't be able to use it for some of those no-knead bread recipes that need higher temperatures, but that's okay for the price you're paying.
While it is considered to be a heavier Dutch oven than some other ovens, the design is terrific and heats your food evenly. Additionally, it comes with a lifetime warranty from the manufacturer.
Pros:
Extremely affordable
Evenly heats your food
Comes with a lifetime warranty
Cons:
Only safe in the oven up to 450 degrees F
Heavy
6. Anolon Vesta Cookware 5-Quart Cast Iron Dutch Oven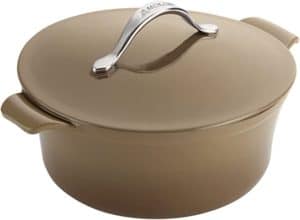 This Dutch oven is attractively designed with the color choices being a Paprika Red and a sandy Umbra, and it features elegantly designed handles. But what makes this Dutch oven stand out is that these features don't just make the pot pretty, but functional too.
The large stainless-steel loop handle on the lid of this pot makes it easy to remove, even when you're using a potholder. The matte black enameled interior is also less likely to show staining compared to the cream-colored interiors of other pots. The side handles are also comfortable to hold onto using potholders, so you can easily get it in and out of the oven. Plus, this pot is safe up to 500 degrees F in the oven.
Under the lid, there are little nubs that cause the condensation produced to fall onto your food to help baste your roast or stew while it's cooking. The pot is also broiler safe, so you can brown your food after braising or simmering it.
Pros:
Features an easy to hold loop handle on the lid
Attractively designed
Self-basting lid makes it great for braising
Cons:
Can be heavy for some users
7. Camp Chef Pre-Seasoned Square Cast Iron Dutch Oven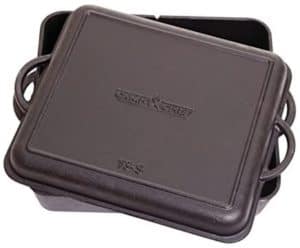 The most common shape of Dutch ovens is round, but there are some times when a square pot is a better choice. There are many reviews about this Dutch oven being extremely versatile, especially because you can bake rows of brownies, cornbread, buns, or biscuits with no difficulty. It's also great for cooking casseroles and roasts and more since it's a roomy 8-quart Dutch oven.
The lid of this Dutch oven comes pre-seasoned, so you can use it right out of the box. However, the cooking surface becomes more nonstick as you use the Dutch oven because of the extra usage and seasoning. The lid is reversible and even has raised ridges so it can be used as a stovetop grill.
This Dutch oven should be hand washed and never soaked in water.
Pros:
Features a reversible lid
Can work as a grill on your stovetop
Features a large surface area for cooking
Cons:
The lid can be hard to fit onto the Dutch oven
8. Staub Cast Iron 6-Quart Cochon Shallow Wide Round Cocotte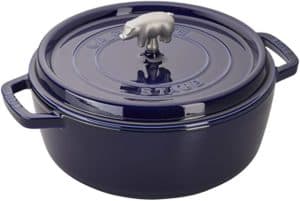 This Dutch oven is slightly shorter and wider than other 6-quart Dutch ovens, but you are still able to fit an average-sized chicken inside this pot. The larger bottom surface makes it so you can brown more food at a single time before braising. You'll be amazed at how well this Dutch oven browns food because it has fewer hot spots than its competition. It also features a black interior, so it's less likely to show food stains.
There are nubs on the underside of the lid that will send condensation dropping onto your food for self-basting. The knob on the lid is small but raised enough to make it easy to grab ahold of when taking the lid off the pot. The lid is oven safe up to 500 degrees F, and the pot itself can handle up to 900 degrees F in the oven. This cookware is made in France and comes in a variety of colors.
Pros:
Features a large bottom surface for browning food
Interior nubs under the lid to self-baste your food
Pot can handle up to 900 degrees F
Cons:
What You Should Look for in the Best Dutch Oven
There are three features that you should research when shopping for the best Dutch oven for you.
Material
Raw cast iron is typically the way to go because it won't discolor or chip over time. However, raw cast iron does require seasoning and thorough cleaning. So, if you don't want to perform that kind of maintenance, then you should go with an enamel-coated Dutch oven for convenience.
Shape
Almost all Dutch ovens are round or oval. Both will fit large meat cuts, but round ones typically have extra deep sides and can fit standard burners better to provide a more even cook. Shallow and extra-wide Dutch ovens aren't as versatile since your food won't be submerged in the cooking liquid.
Size
Every quart should feed at least one person. Choose a deep 6-quart pot if you're looking for the most versatility because it can easily feed a family of five with no problem. Plus, it can cook large cuts of meat easily. If you're often feeding a crowd, you might want to go with an 8- or 10-quart Dutch oven instead.
How to Properly Care for the Best Dutch Oven
Cooking with a Dutch oven doesn't require any kind of special skills but taking proper care of your Dutch oven is essential to keep this cookware safe and usable for a long time. This is especially true if you have to season your Dutch oven by hand rather than with an enameled finish.
You must develop a proper seasoning because that cast iron will rust and make food stick if it's left unseasoned. A brand that's forever seasoned using enamel includes Le Creuset. The enamel that's used by Le Creuset is incredibly durable and can even be dishwasher safe.
But if your Dutch oven is made from cast iron and doesn't have an enamel finish, then you need to season it with fat (i.e., oil or lard) followed by some time in high heat (400-500 degrees F). This creates a durable and nonstick surface for you to cook in, and if you do it properly, this seasoning will last you for a long time.
To properly season a cast iron Dutch oven:
Rub any kind of oil (i.e., olive oil) or lard over the entire surface of the pan; this step consists of massaging the oil into the iron
Heat the pot ideally above 400 degrees F for around an hour
Then allow it to cool in the oven
This is a great start to seasoning your Le Creuset Dutch Oven but remember that good seasoning happens over time.