Who doesn't love avocado toast? To me, it's one of the best ways to start the day. The greatest part is that avocado toast is ridiculously easy to make at home. It's even better with my vegan carrot bacon, making this one of the best vegan avocado toast recipes yet!
The Best Avocado Toast Recipe
On any menu, anywhere, you can find avocado toast. It's crazy! Anytime I meet a friend or co-worker for a bite, I'll see an avocado toast on the menu. Typically, you'll find the toast served up with mashed avocado, tomato, and red pepper flakes. I love it when they let you add a poached egg or smoked salmon to it too...as you can see, I adore this toast!
I personally love eating this toast at home. It lets you have more fun. Most importantly, it lets you make the avocado toast you want to eat! Sometimes, I want sliced avocado instead of smashed. With just a little sea salt and lemon juice on whole grain bread, you can have the most delicious snack or breakfast.
This particular avocado toast recipe is something a little fancier, but still extremely easy to make. Inspired by all the kinds of avocado toasts I've had over the years, I created a toast that has everything anyone would want. Creamy mashed avocado, balsamic vinegar reduction, fresh microgreens, tomatoes, and, my favorite, carrot bacon! That added crunchy from the vegan bacon just brings everything all together.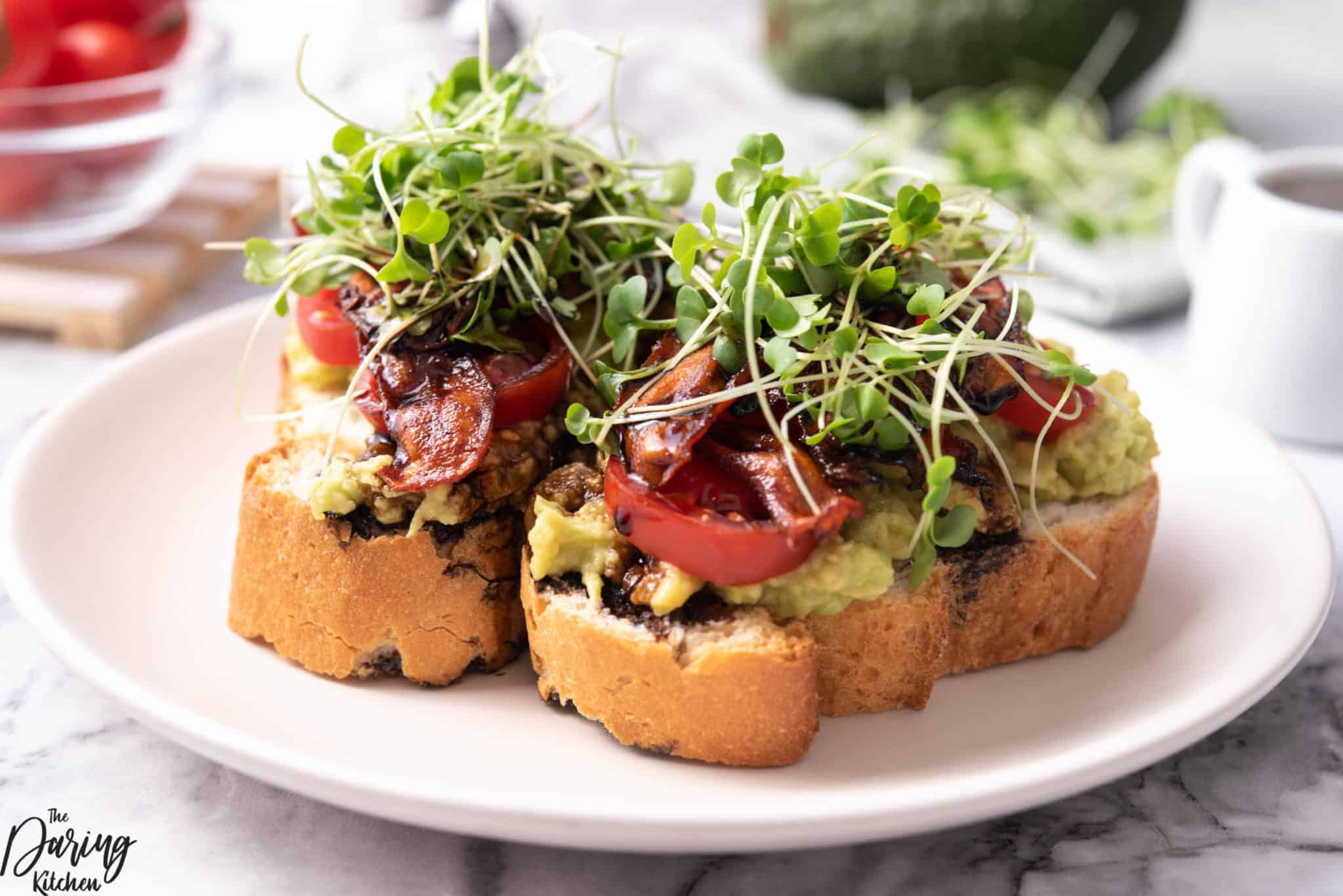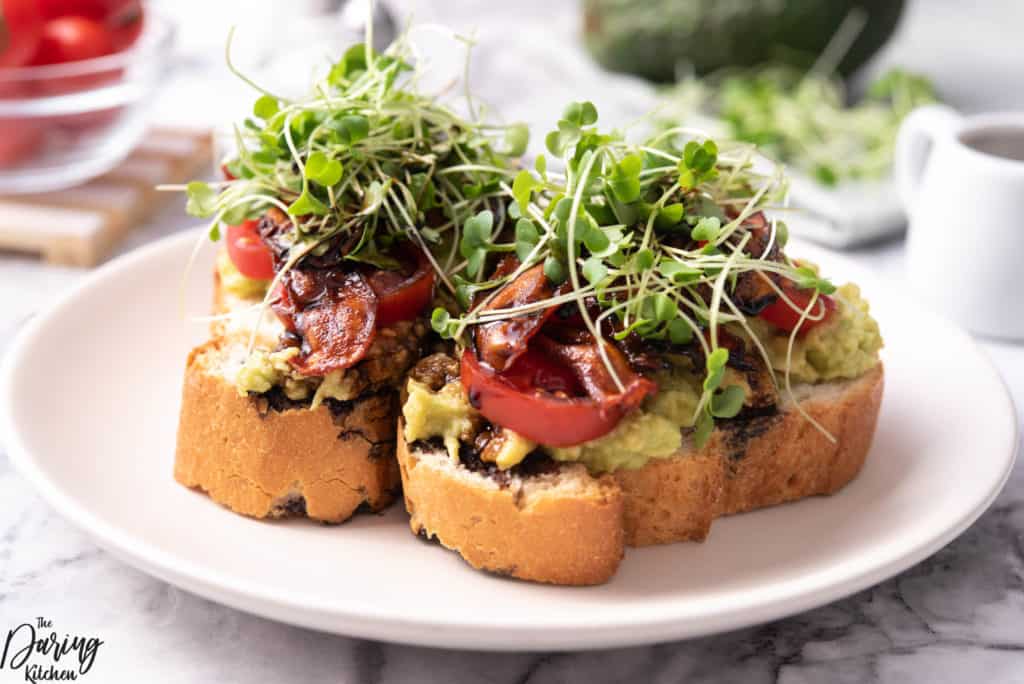 Why I Love Carrot Bacon
What really makes this the perfect avocado toast recipe is the carrot bacon. This is a vegan bacon recipe I recently came up with and am ridiculously proud of! From the color to the flavor to the texture - this carrot bacon tastes just like the real thing.
Oftentimes, I find that simple avocado toast doesn't have the right texture. I love avocado, don't get me wrong. I just think you need something crunchy and salty to contrast all the creaminess of the avocado.
So, with a little flaky sea salt and crispy carrot bacon, you can create an avocado toast with the most amazing texture. Not to mention the cherry tomatoes, balsamic vinegar reduction, and black pepper on top too - these all add a nice zestiness that just tastes so great with the carrot bacon. Sometimes, I add some red pepper flakes for an extra kick.
My carrot bacon recipe is super easy and doesn't take long to make. The same goes for my eggplant bacon recipe. You can also find my carrot bacon recipe here.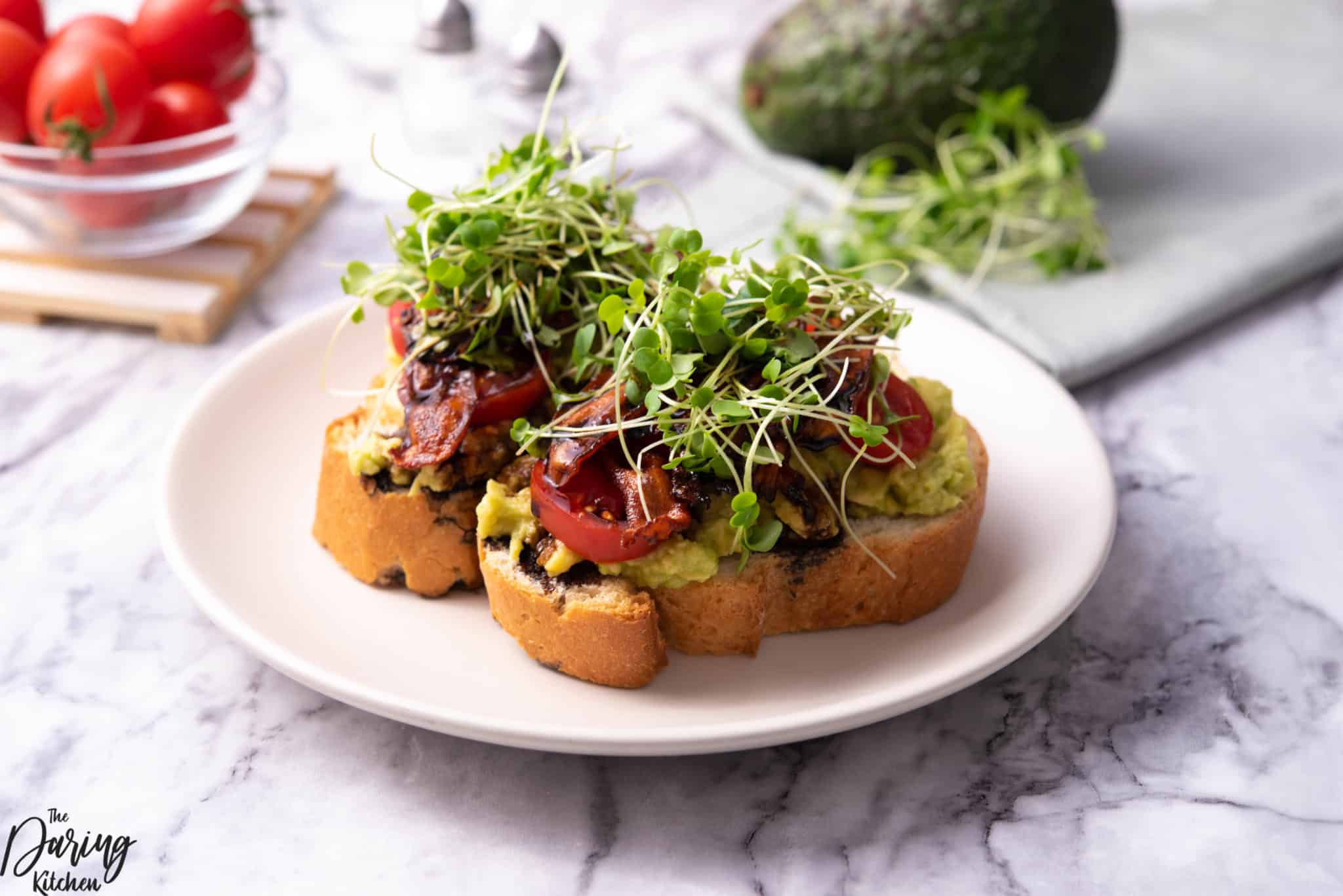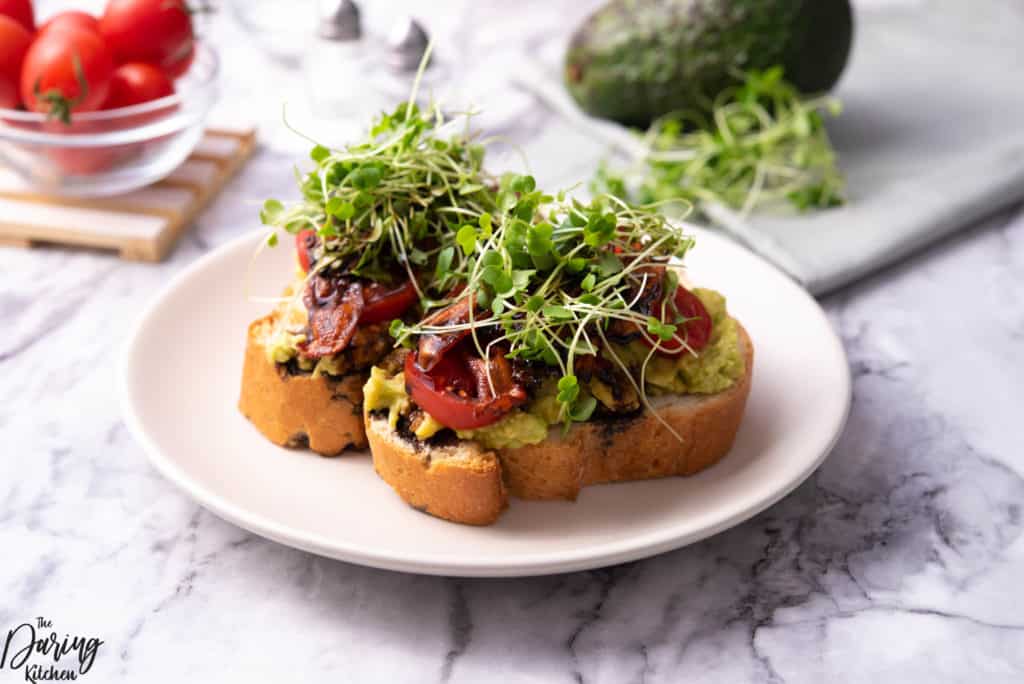 How to Garnish Avocado Toast
In this recipe, I selected my favorite combo of toppings: greens, balsamic, tomatoes, carrot bacon, salt and pepper. But, that doesn't mean it has to stop there.
To boost this avocado toast, I highly suggest adding protein toppings. I adore adding eggs on top. It can be a scrambled egg, fried egg, or poached egg - whatever you prefer! You can even add smoked salmon or goat cheese too.
For those keeping this toast vegan, I love a good tofu scramble on top. With some nice extra virgin olive oil and even a little nutritional yeast, your tastebuds will be in heaven.
Tips on Prepping and Serving Avocado Toast
Serving avocado toast for 1? Or maybe 20 people? Either way, avocado toast can be made for any occasion. I love prepping avocado toasts for summer parties and picnics. It's light, quick to make, and satisfies everyone.
If you are preparing the toasts for a party, I always prep my avocado ahead of time. This may sound like a bad idea, as avocado oxidizes and turns brown very quickly. But, with just enough lemon juice or lime juice, you can preserve the avocado flesh easily. You can even season the avocado with more flavors if you like - onion powder, garlic powder, or even everything bagel seasoning. Just remember: you must put the avocado in an airtight container in the fridge.
With it comes to desired toppings, I love organizing those ahead too. Carrot bacon can be made a couple of days in advance (I use it often in my meal prep!) You can also wash your tomatoes and greens so that they're ready to go in cute storage containers.
When it comes to bread, I like to use only fresh bread slices. Sourdough bread or whole-grain bread are my favorite picks. No matter which you prefer, the key is to toast your bread. Only a good toasted bread slice can hold up your avocado toast!
How to Build your Avocado Toast with Carrot Bacon
Ready to make your avocado toast? Let's do it!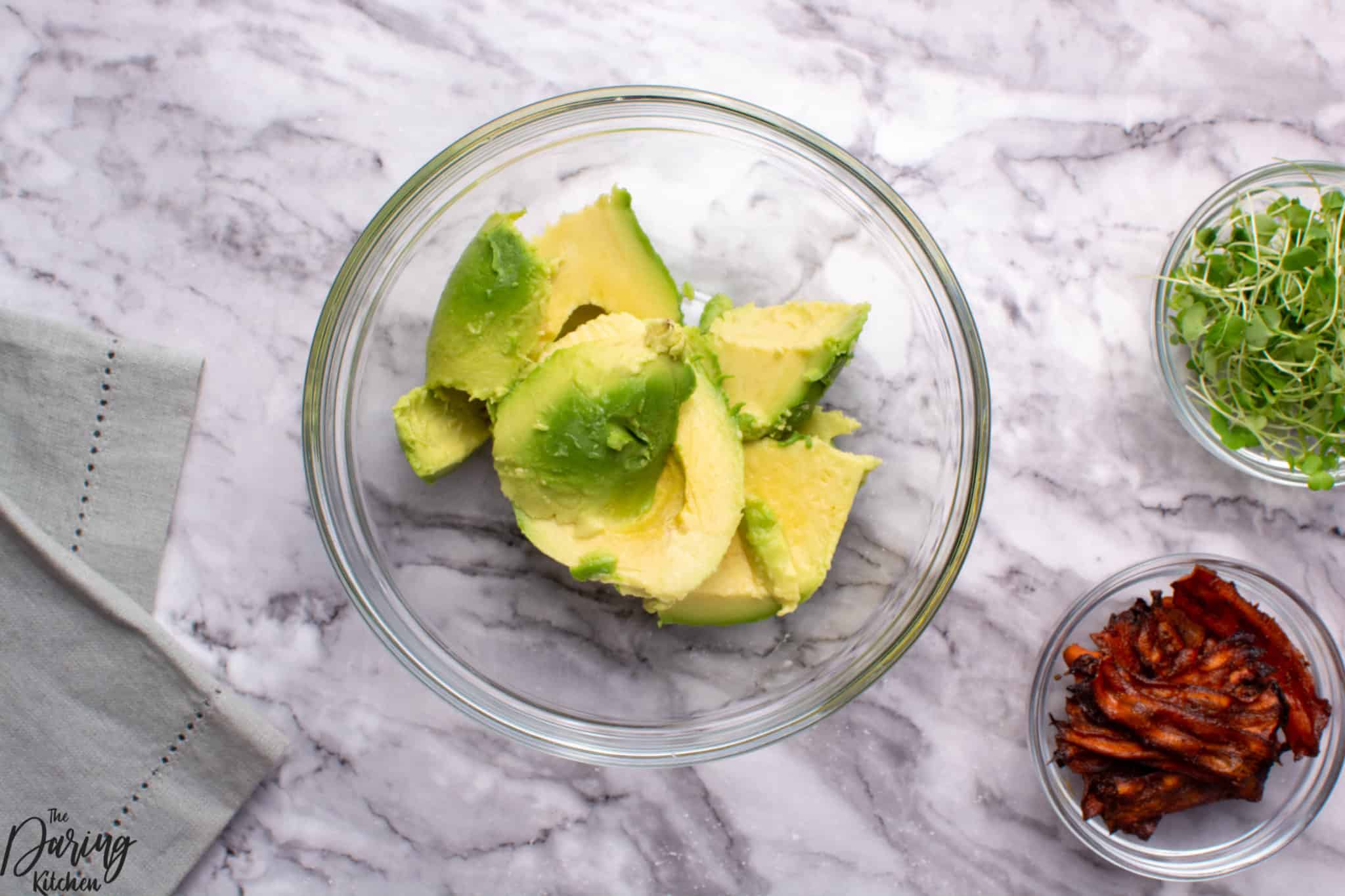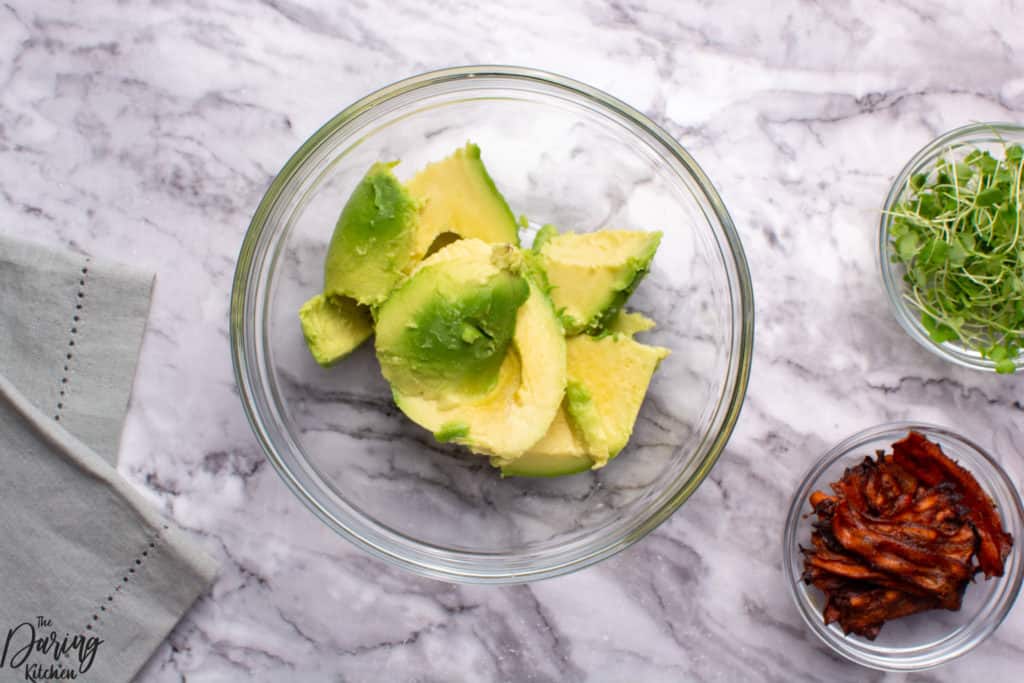 First, cut your avocados, removing the pit from each. Then, scoop out the avocado flesh into a large bowl.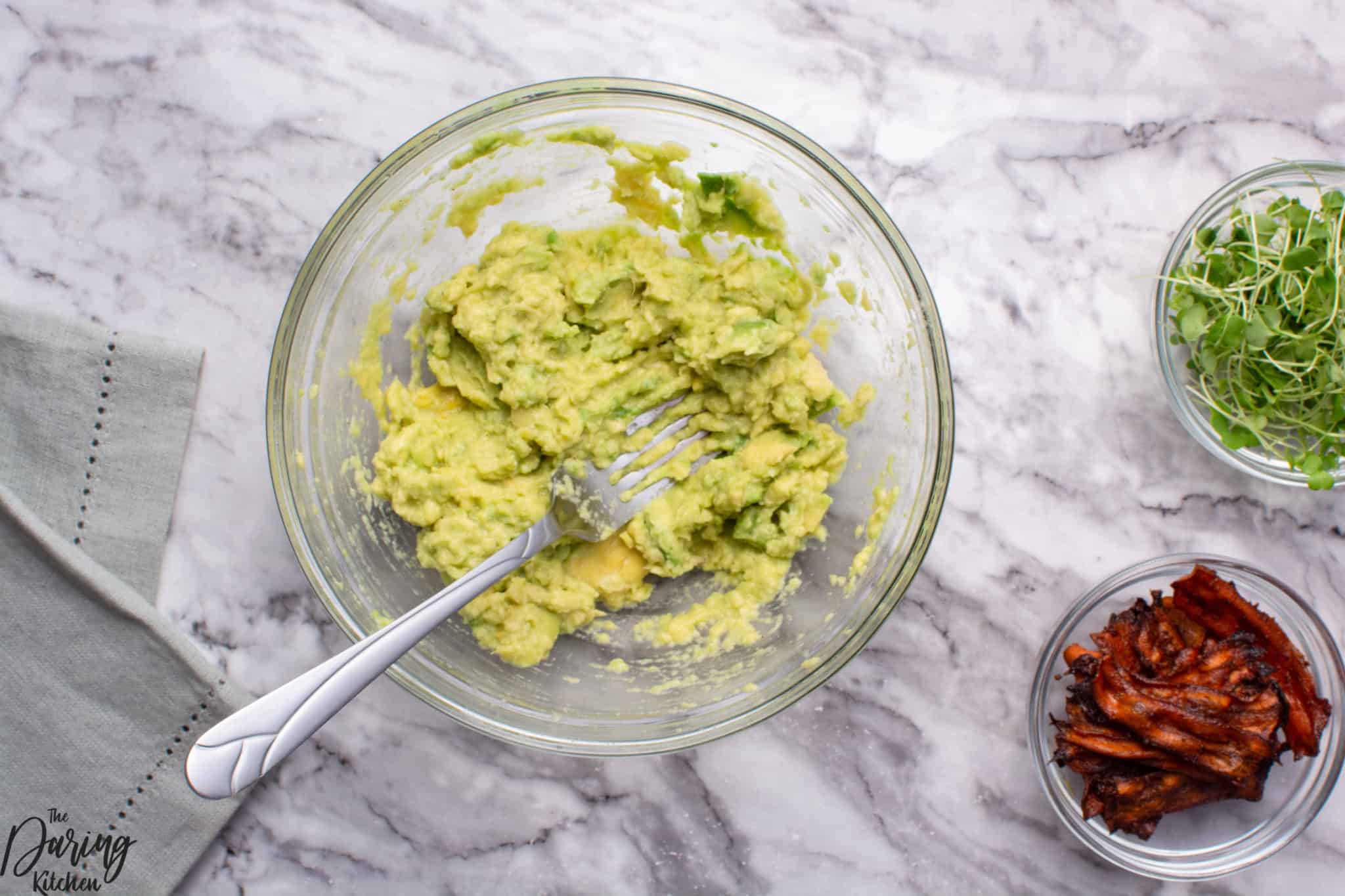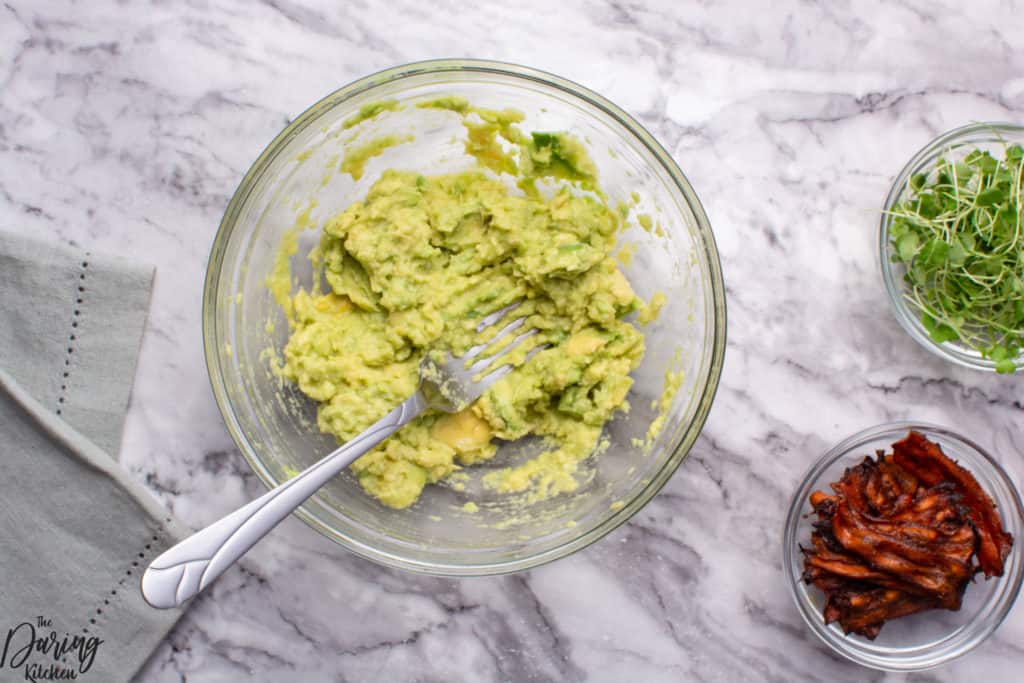 Once all the flesh is scooped, mash your avocado with a fork. Season it to taste with salt and pepper. You can also throw in a little lemon juice in too if you like.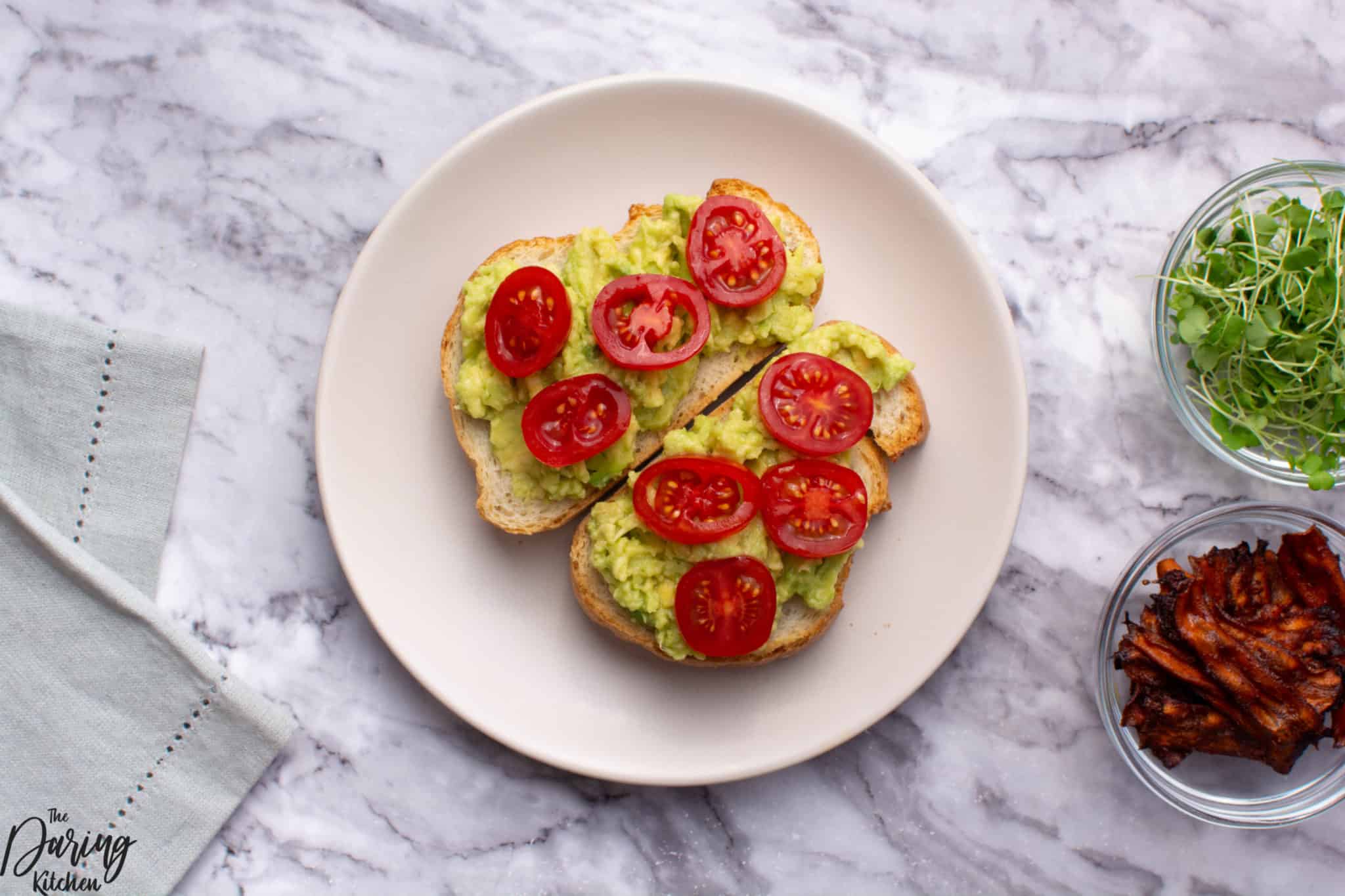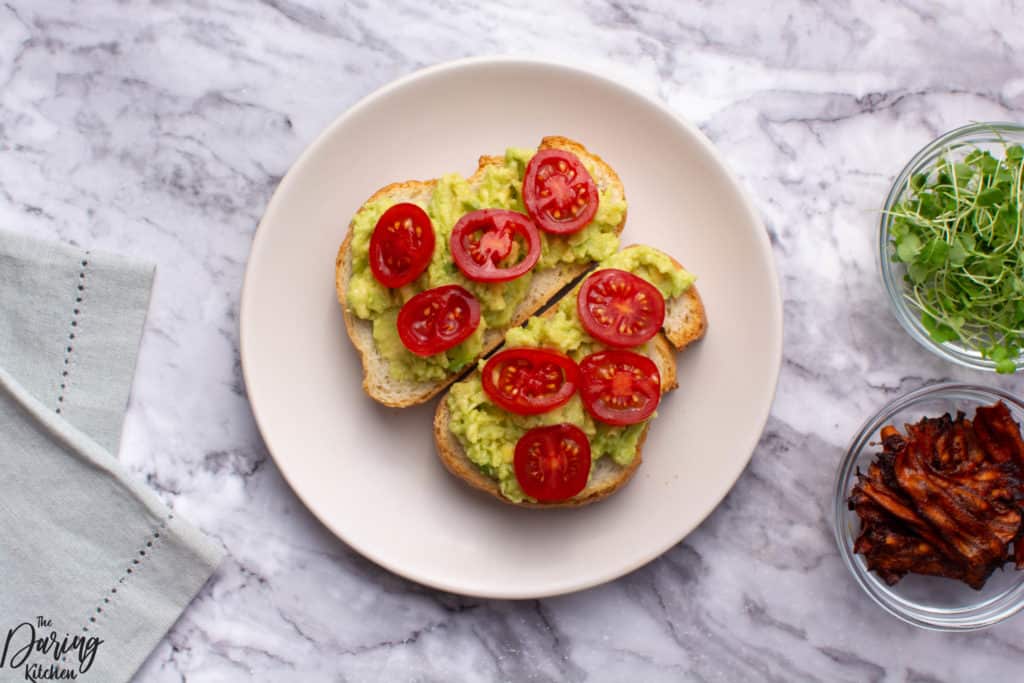 Toast your bread slices. When your bread is nicely browned and toasted, top each slice equally with mashed avocado. Then, add a layer of your cherry tomatoes.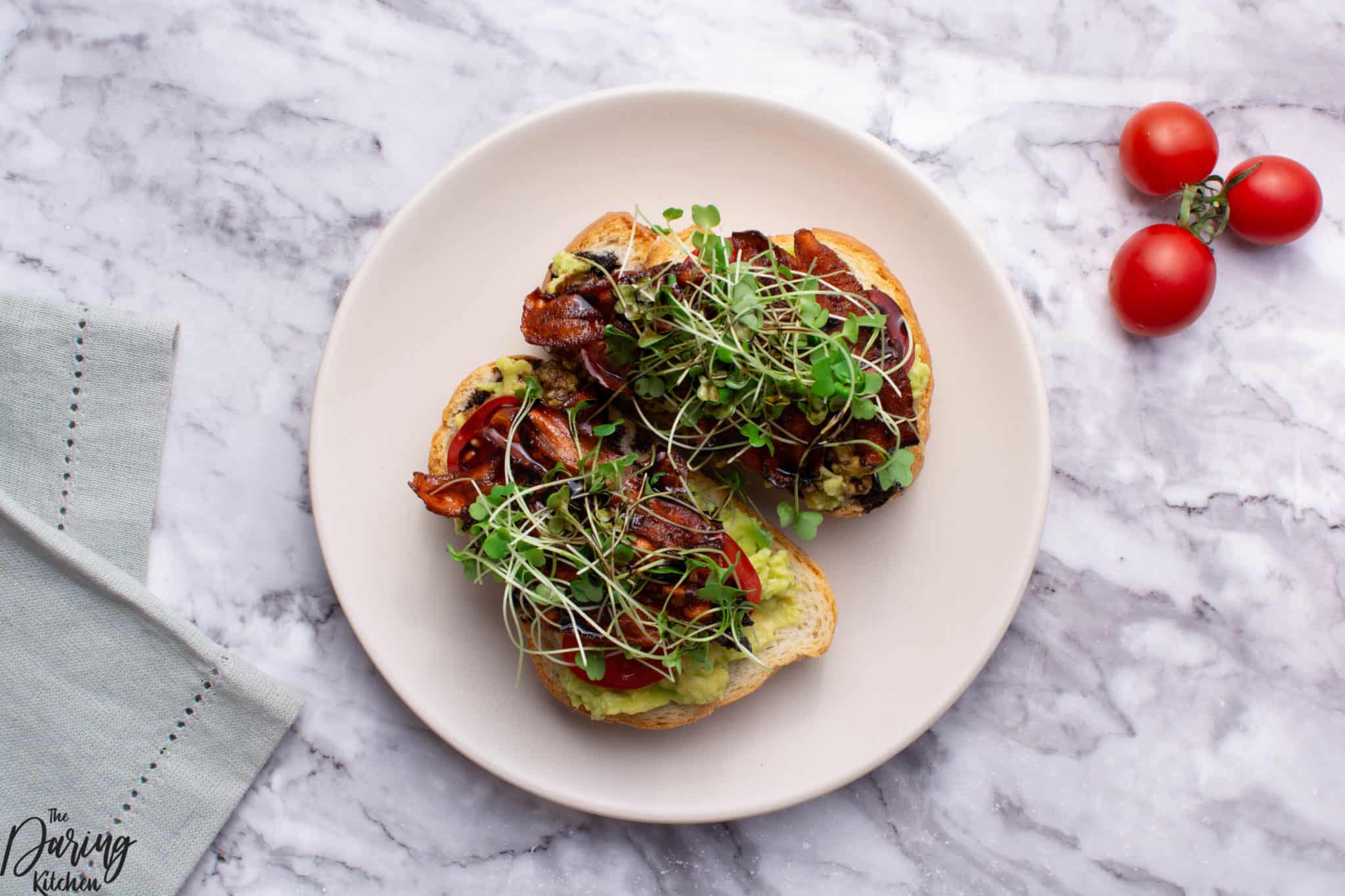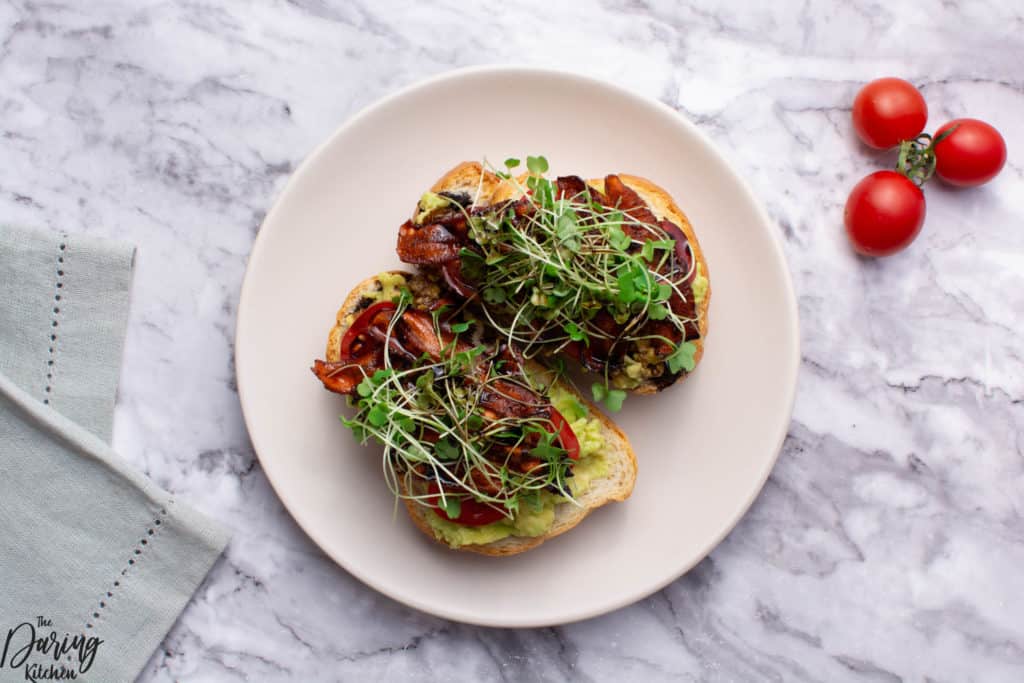 Next, layer your toasts with a few slices of carrot bacon. Carefully top with microgreens and a generous drizzle of balsamic vinegar.
Serve your avocado toasts immediately, alone or with any additional toppings you like.
Love avocado toast? Hope you try out this recipe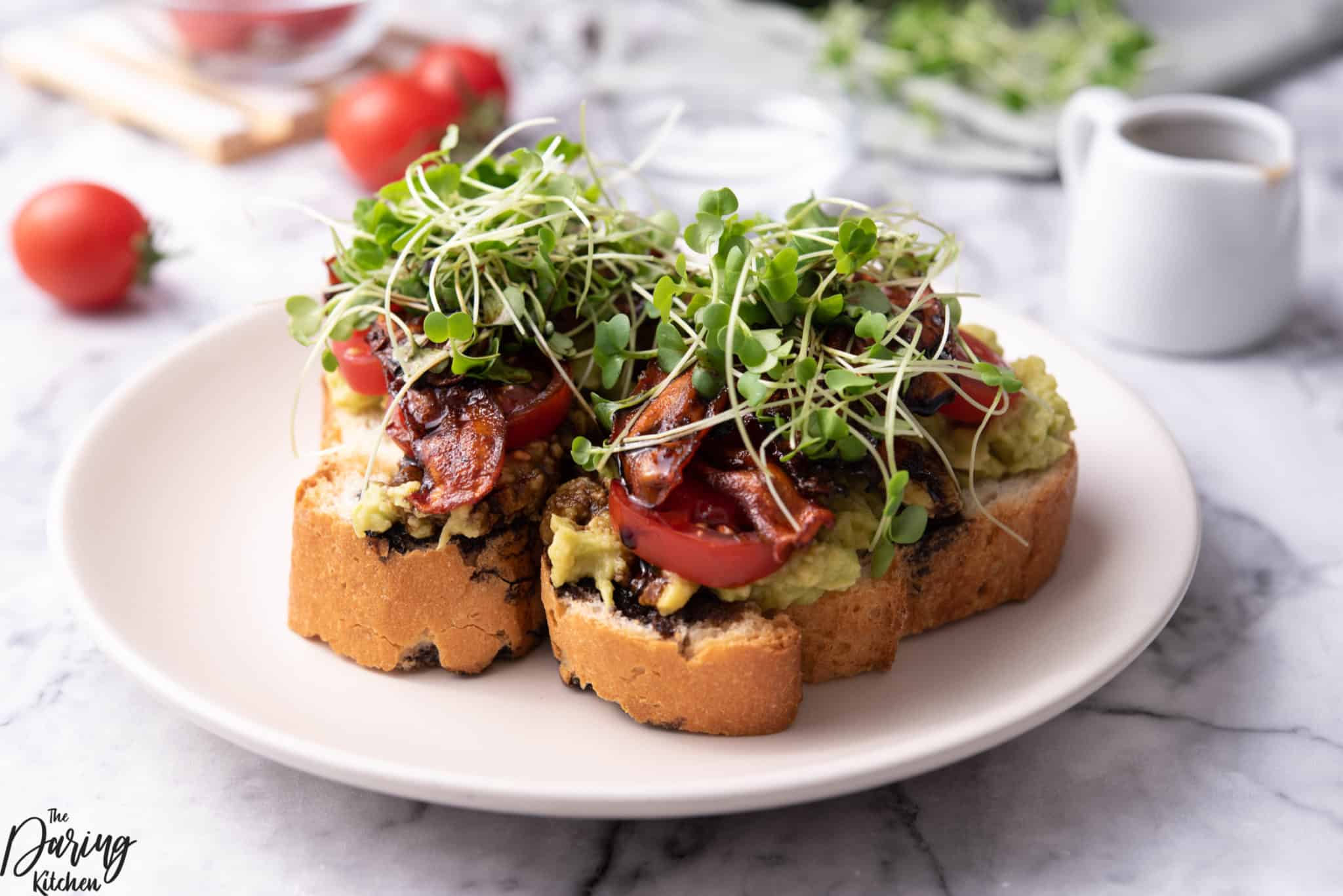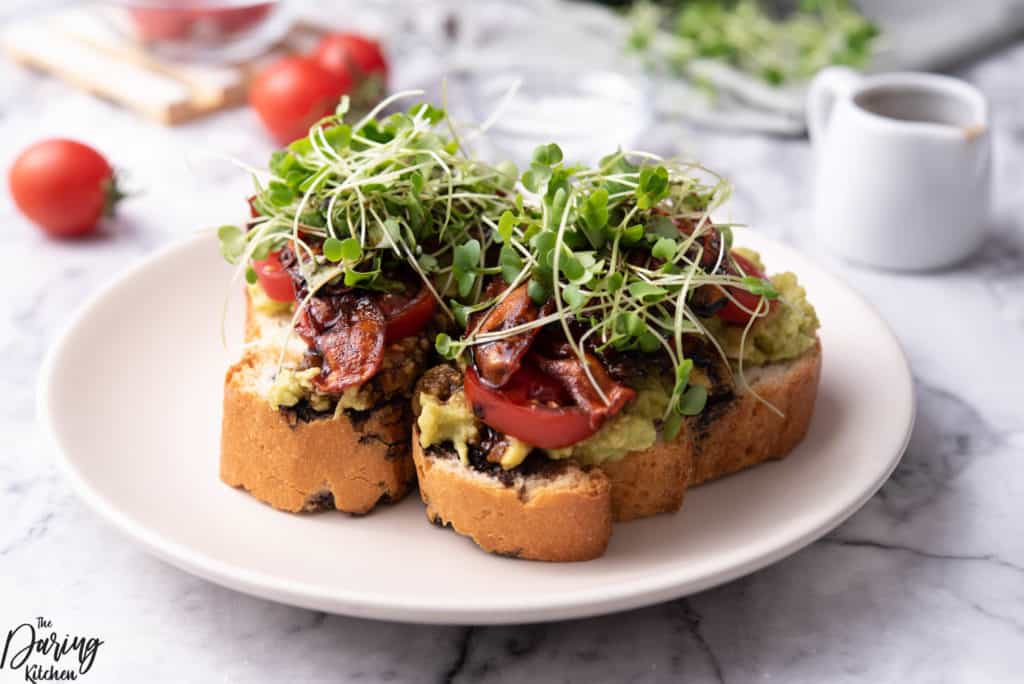 - it is really one of my favorites. I'd love to hear how this recipe turned out or you!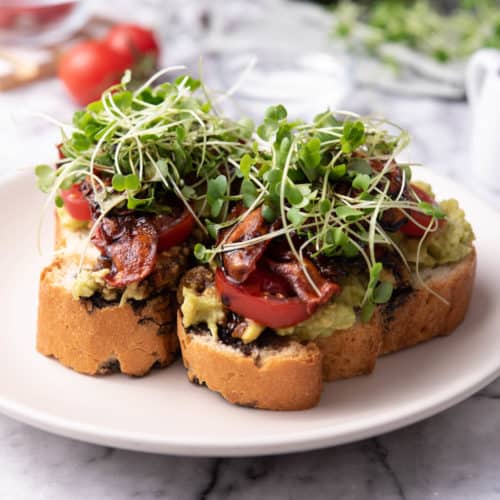 Avocado Toast with Carrot Bacon and Microgreens
Crunchy vegan carrot bacon and zesty toppings make this is avocado toast recipe something you won't find anywhere else!
Print
Pin
Rate
Ingredients
1

avocado

1

pinch

sea salt

¼

tsp

freshly ground black pepper

2

cherry tomatoes

sliced

Carrot bacon

as desired

Micro greens

as desired

2

tsp

balsamic vinegar

2

slices

sourdough bread or any other bread

toasted
Instructions
Cut avocado in half and remove the pit.

Scoop the avocado flesh with a spoon and place into a bowl.

Season avocado with salt and black pepper.

Mash the avocado with a fork.

Spread avocado over toasted bread.

Top with cherry tomatoes, carrot bacon, and micro greens.

Drizzle over the balsamic vinegar and serve.
Nutrition
Calories:
168
kcal
|
Carbohydrates:
10
g
|
Protein:
2
g
|
Fat:
15
g
|
Saturated Fat:
2
g
|
Polyunsaturated Fat:
2
g
|
Monounsaturated Fat:
10
g
|
Sodium:
29
mg
|
Potassium:
530
mg
|
Fiber:
7
g
|
Sugar:
2
g
|
Vitamin A:
230
IU
|
Vitamin C:
14
mg
|
Calcium:
15
mg
|
Iron:
1
mg