You will not believe this creamy sun dried tomato pasta is 100 percent vegan. It is filling and full of so much flavor that everyone at the dinner table will love it.
My Favorite Vegan Sundried Tomato Pasta
Who doesn't love pasta? This Italian staple is maybe one of the best things to eat in the entire world.
What I love about making pasta is finding ways to make it a million times healthier. Typically, when I go out to restaurants, pasta dishes can be way too big and sadly filled with a lot of heavy ingredients. Most of all, a lot of pasta dishes aren't usually vegan.
I absolutely love pasta in tomato sauce. I also love it in a cream sauce. But, I don't love how the dairy makes me feel. So, I decided to get creative. How could I combine my two favorite pasta dishes?
This resulted in an awesome and vegan sun dried tomato pasta. It quickly became a staple for me and my family. And, its recipe is as easy as a pasta salad recipe!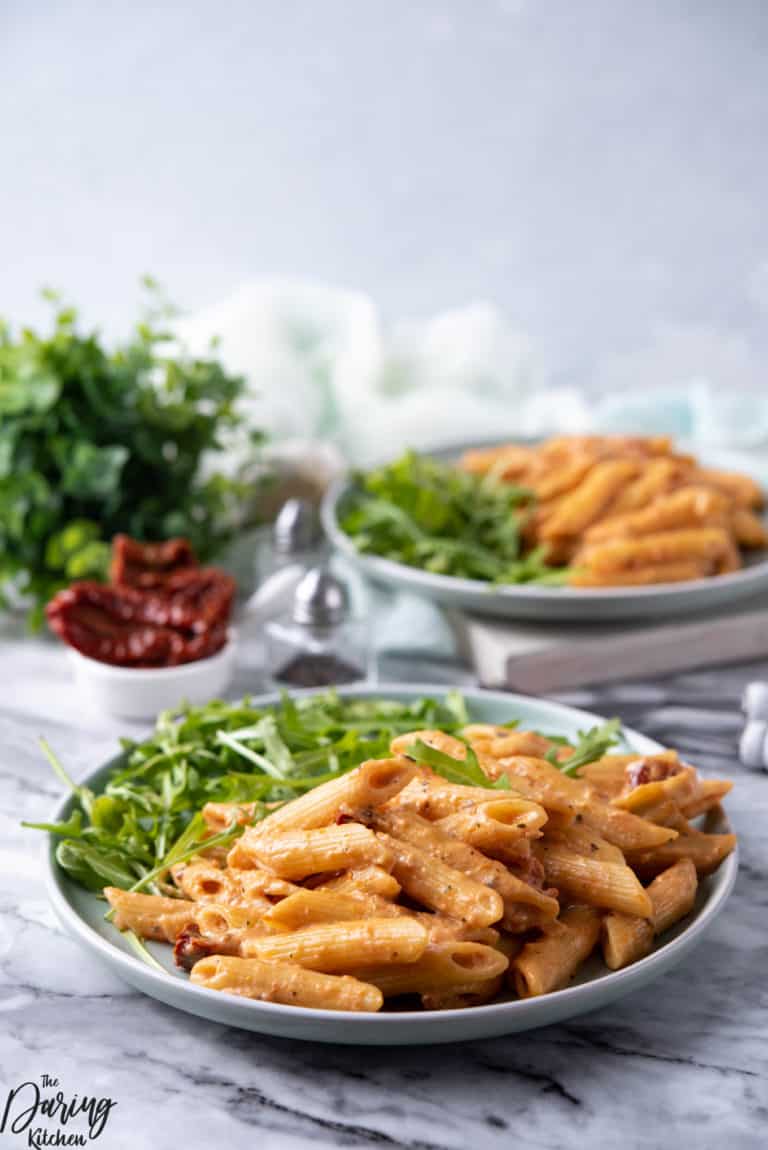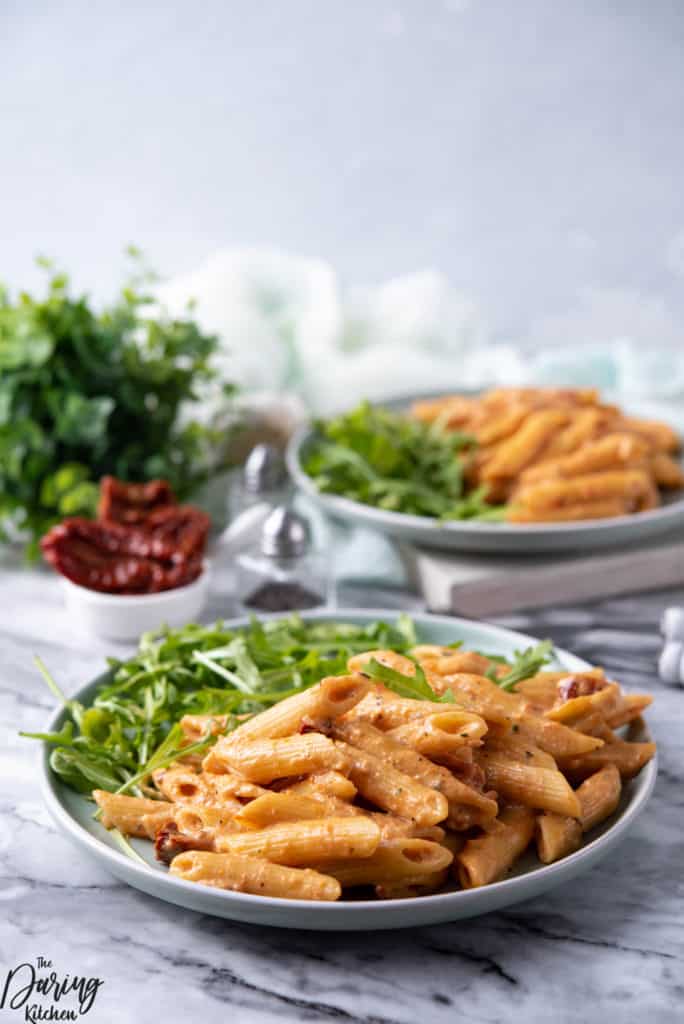 Seriously, no one can get enough of it! Why? Because this sundried tomato pasta hits all the marks. It has that velvety creaminess, bold sundried tomato flavor, and, above all, only healthy ingredients. This leaves everyone feeling full and satisfied, rather than overpowered by a crazy food coma (well, if you don't eat the whole bowl yourself - can't say I never done that…)
What I adore about this sun dried tomato pasta recipe is just how simple it is to make. The ingredients are simple, straightforward, and easy to find. No crazy tricks or methods you need to learn - just simple, yummy pasta made in no time!
This pasta is also perfect to make any time of the week, even with your kids! I love making pasta with kids, as they absolutely adore the noodles. Plus, it's easy to sneak veggies into this dish. I finish this sun-dried tomato pasta with arugula. Kids never even notice!
What Makes this Sundried Tomato Pasta Vegan?
So, you see all these photos of creamy sundried tomato pasta and I bet you are wondering: is it really vegan? The answer is: yes.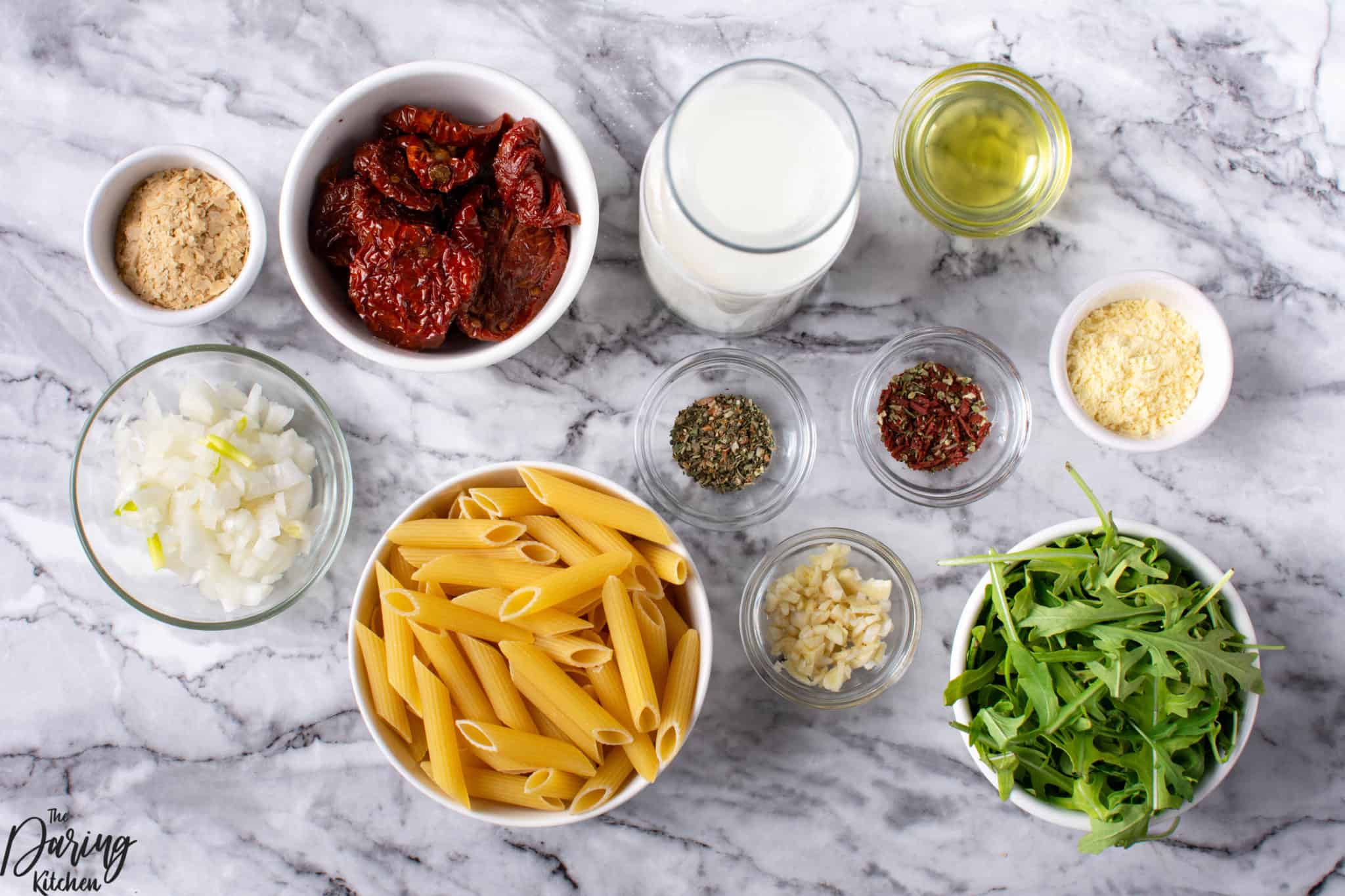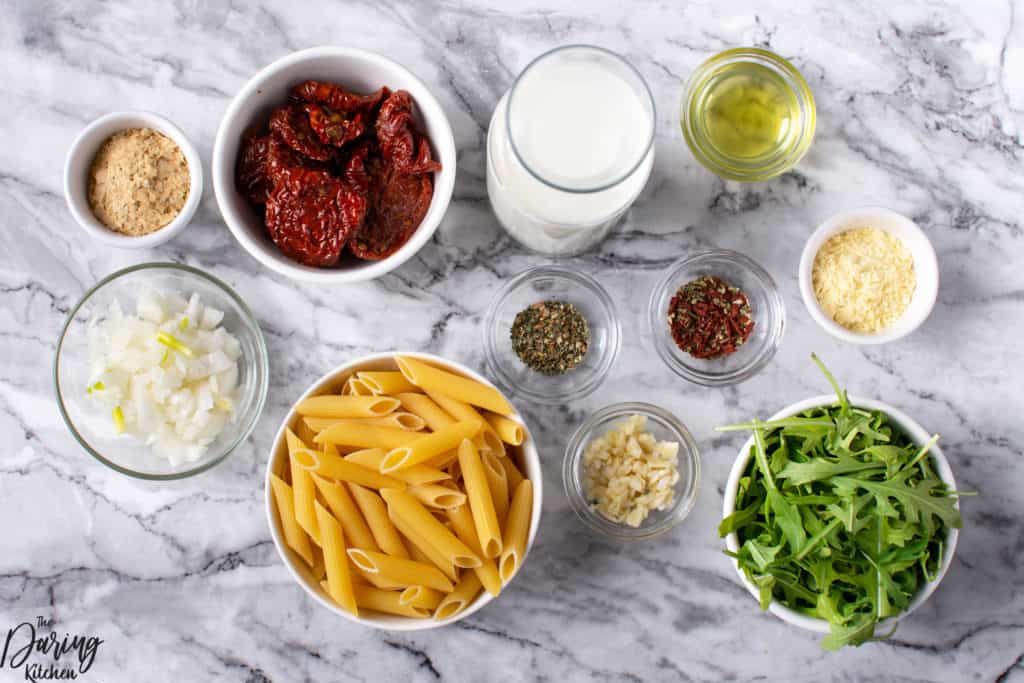 What is my secret? There are 3 ingredients in particular that give this dish the texture and flavor of any creamy pasta dish.
Corn flour
Almond milk
Nutritional yeast
When you are making a traditional cream pasta, you start with a roux. It is what gives the sauce a thick consistency. A roux consists of flour and butter. Since this is a vegan recipe, I got creative. I use olive oil and cornflour. This thickens the sauce quickly without any need for dairy!
Then, to make the actual sauce, I used almond milk. Combined with my vegan 'roux,' it creates a nutty and rich sauce that tastes amazing with sundried tomatoes.
Did I mention this sauce also tastes cheesy? Without any cheese? This is when my secret kitchen weapon comes in: nutritional yeast.
Trust me, you will not even be reaching to top this dish with parmesan cheese, I swear!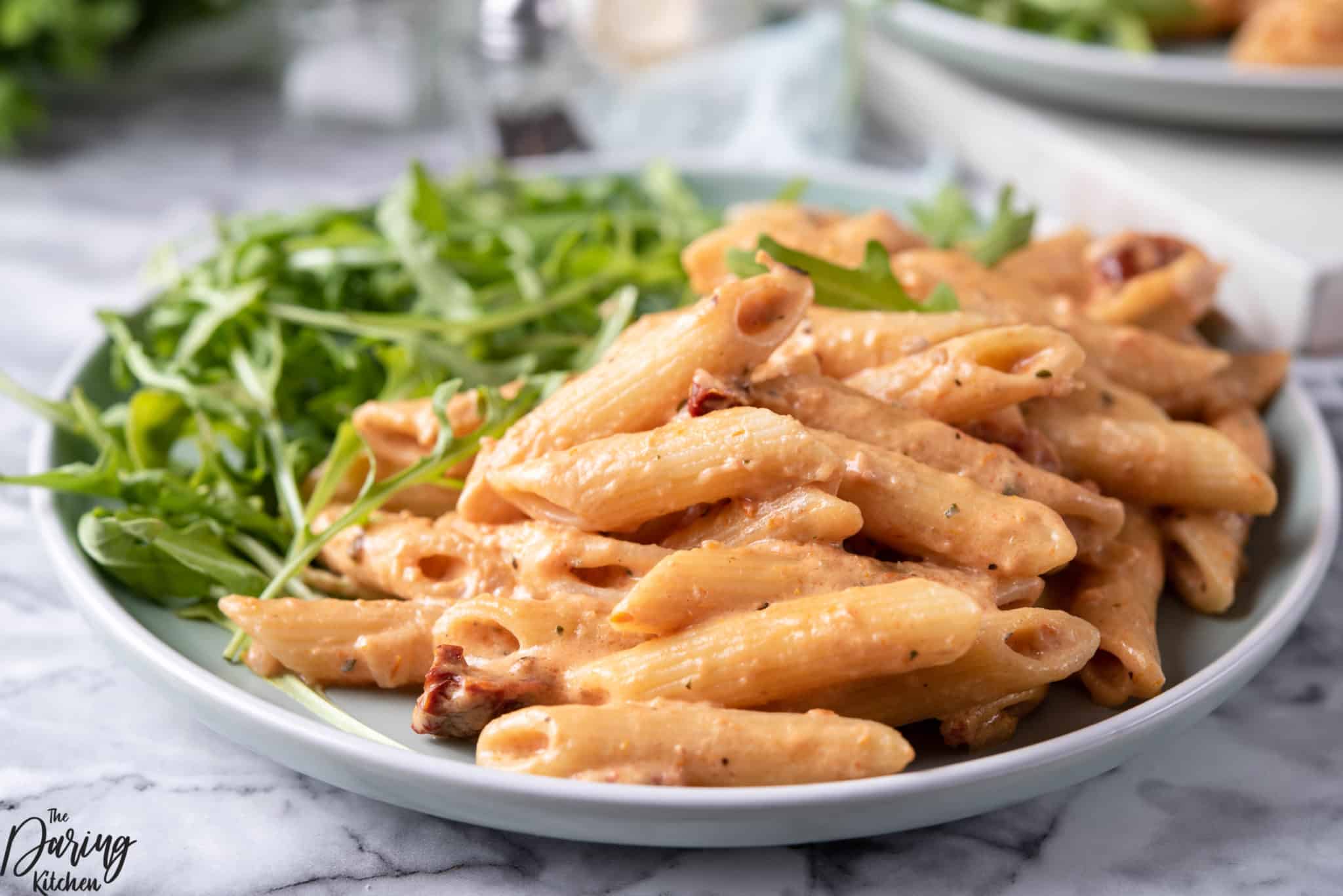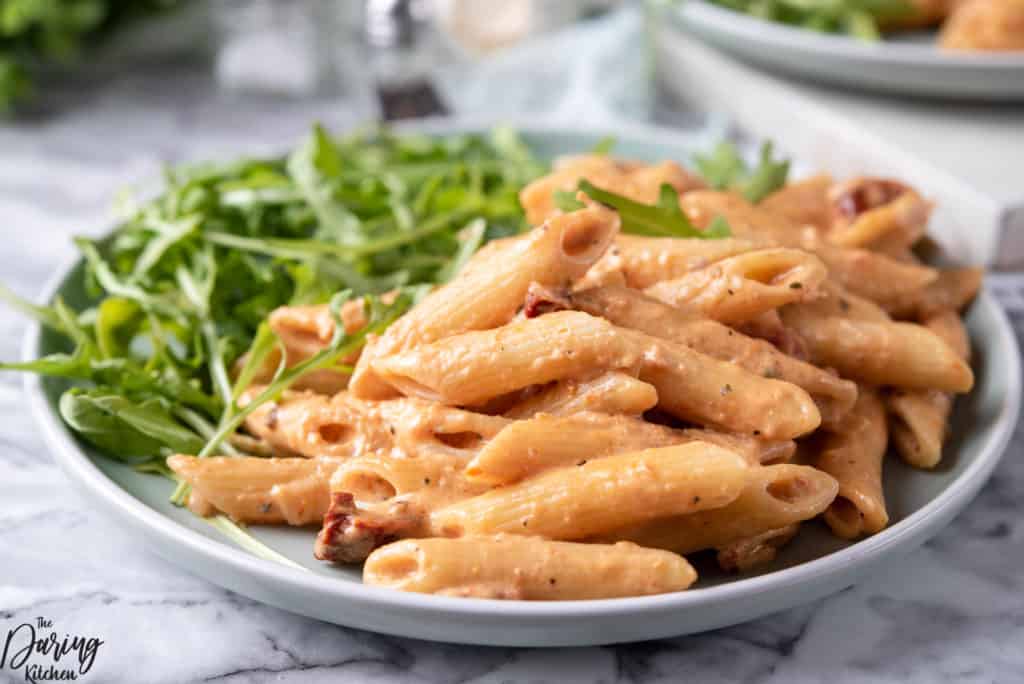 Nutritional yeast is a condiment everyone should have. It is nutritious with tons of antioxidants and vitamins. It also has a naturally cheesy flavor, even though it is a vegan product. Just a couple of tablespoons can make your dish taste just like cheese.
To finish the vegan sauce, all these ingredients are blended with delicious sun-dried tomatoes. The result is a magically flavorful sauce perfect for your favorite pasta. I even add in red pepper flakes and herbs to give the sauce an extra kick.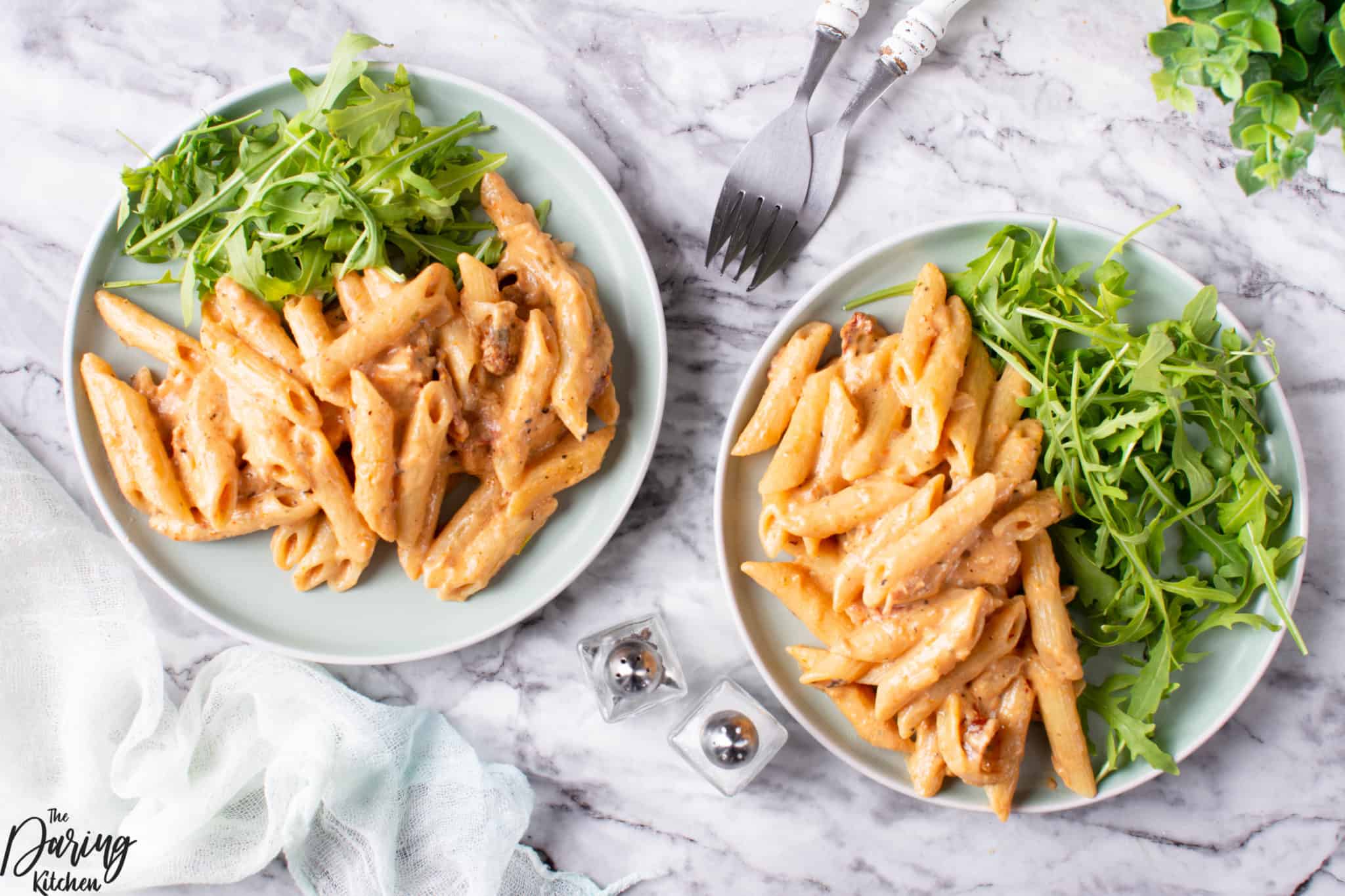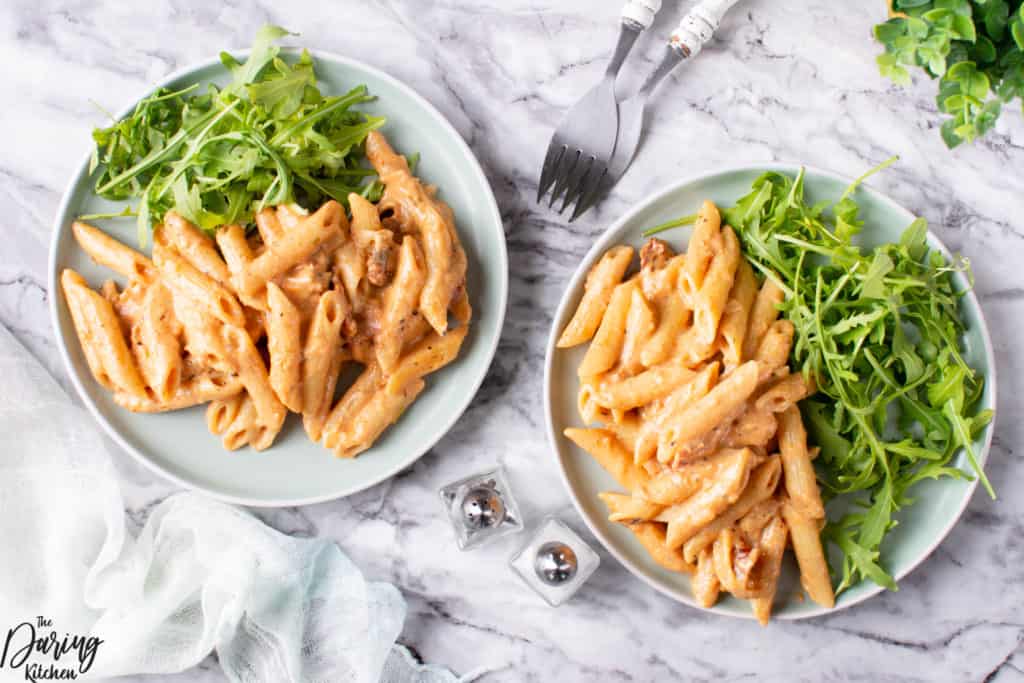 The Best Pasta Shape for Sun-Dried Tomato Pasta
This sun dried tomato pasta recipe seriously works with almost any pasta shape. The only advice I would give is not to use pasta that is very thin or small. The sauce might be a little too heavy for it.
My personal preference for this dish is penne. It has the perfect shape for the sauce. In each bite, you get noodles filled with sundried tomato cream sauce. Also, penne is easy to find in whole wheat or even gluten free versions, making it a very adaptable shape.
How to Make Sundried Tomato Pasta
There are only a few steps in making my favorite sundried tomato pasta dish. Once you have all the ingredients you need, the rest is easy. I am not joking - this recipe only requires 20 minutes of your time!
So, let's get started.
First, fill a pot with salted water and place it over medium high heat. As you wait for the water to boil, gather all your ingredients. When the water is boiling, cook your pasta according to package directions.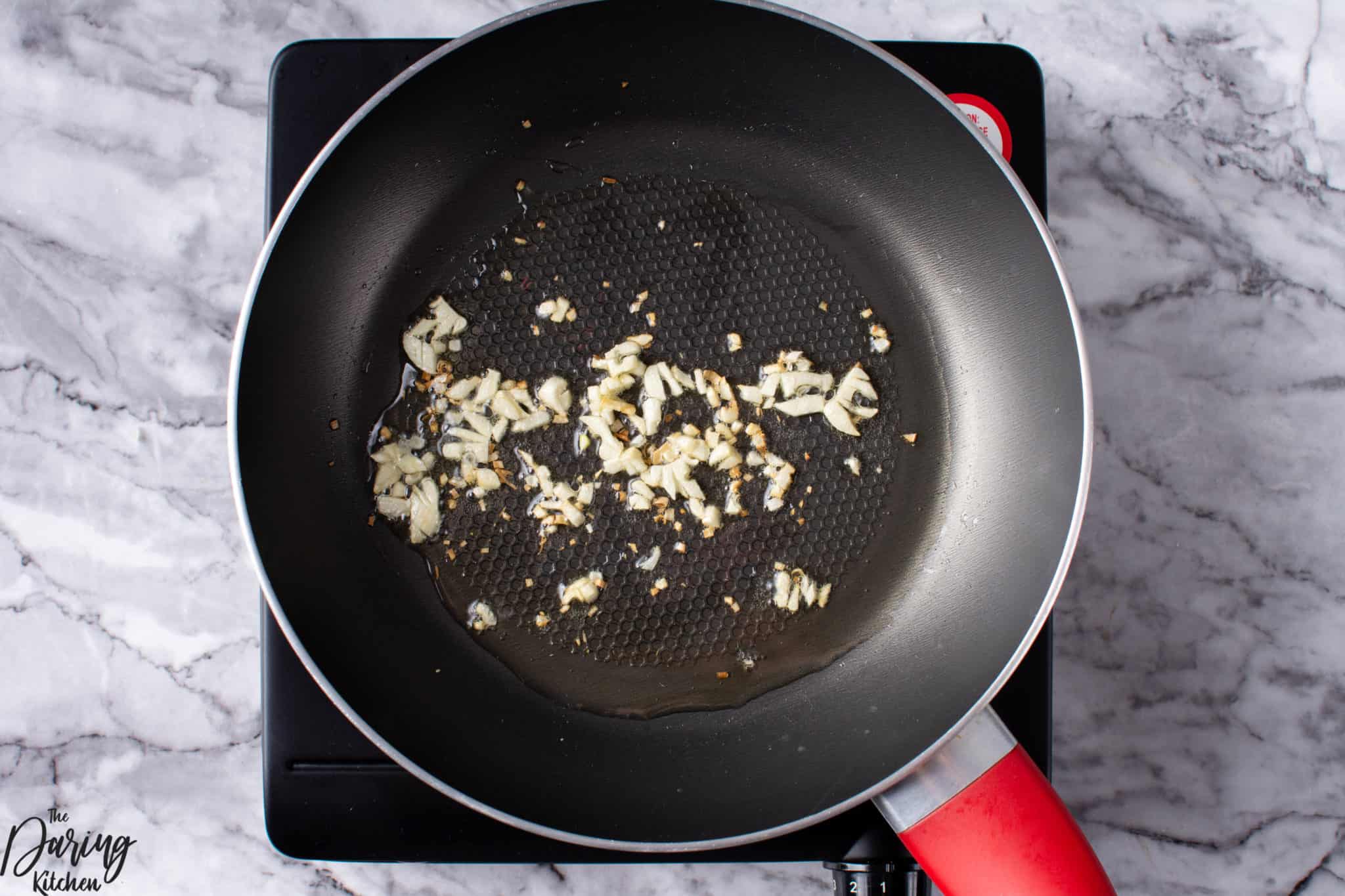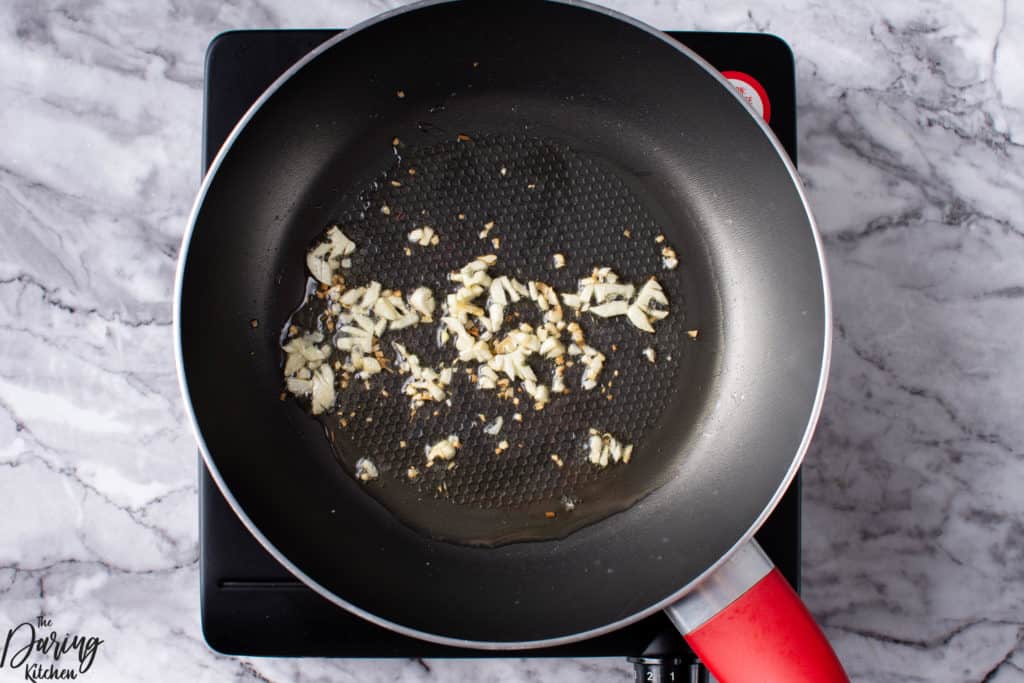 While your pasta cooks, start your sauce. In a pan, heat olive oil. Add in your minced garlic and cook until the garlic is aromatic.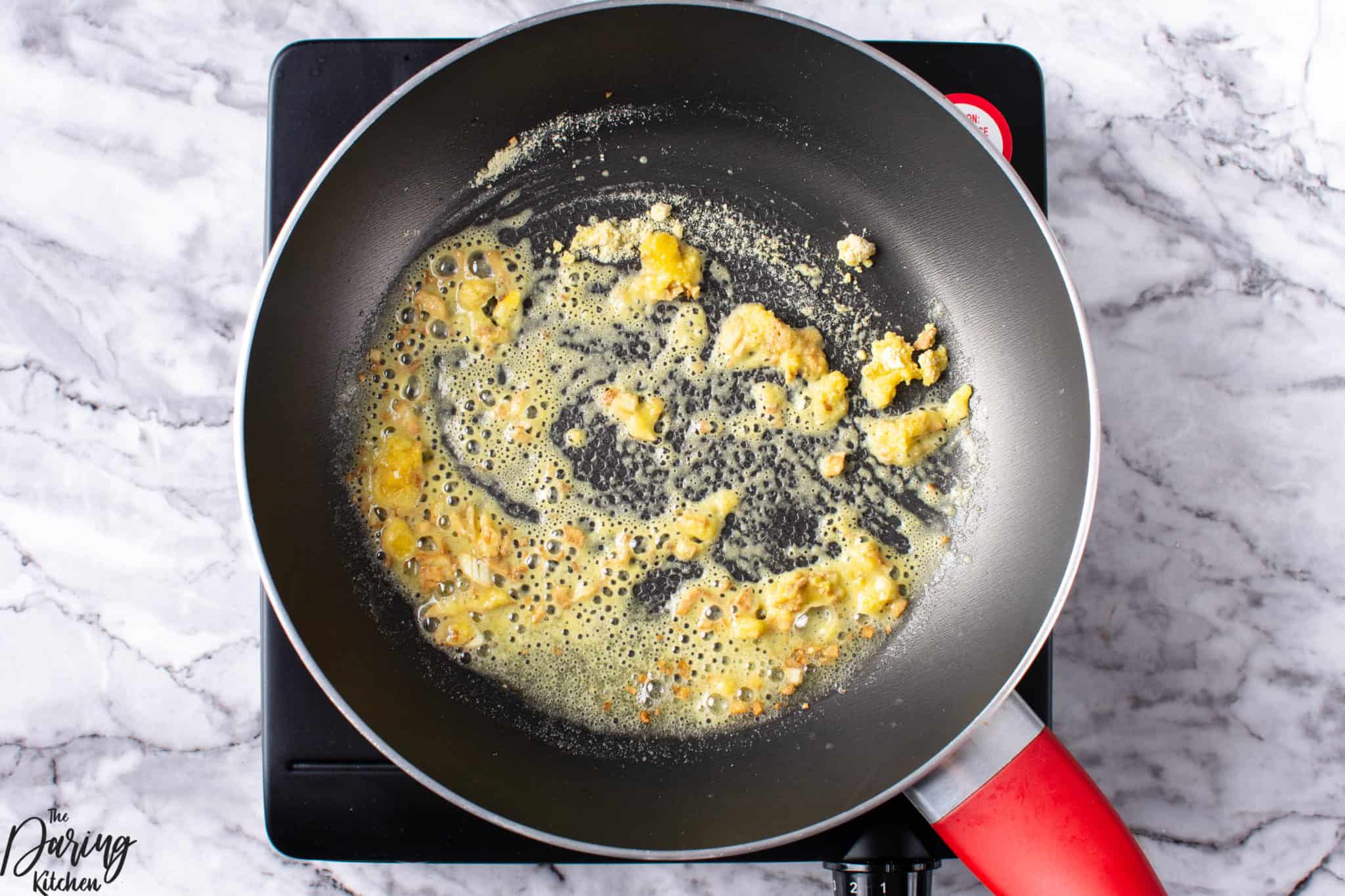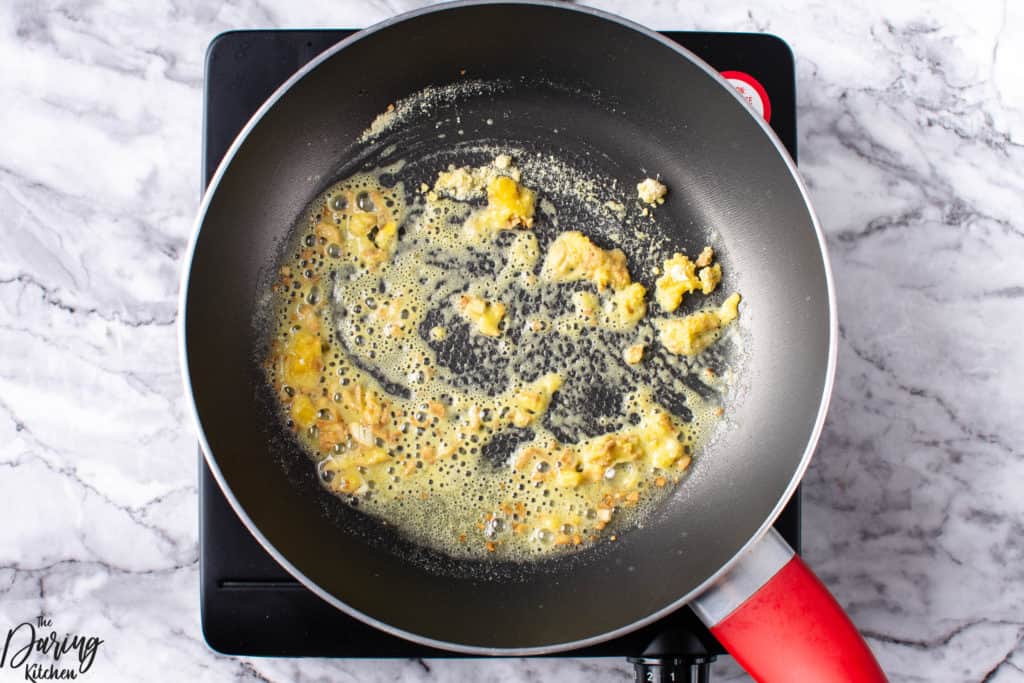 Then, add in your cornflour, stirring immediately. Season with salt to taste.
If your pasta is done before your sauce is finished, strain it, toss it with olive oil, and leave it on the side. The pasta needs to be coated in oil so it doesn't stick together as it cools!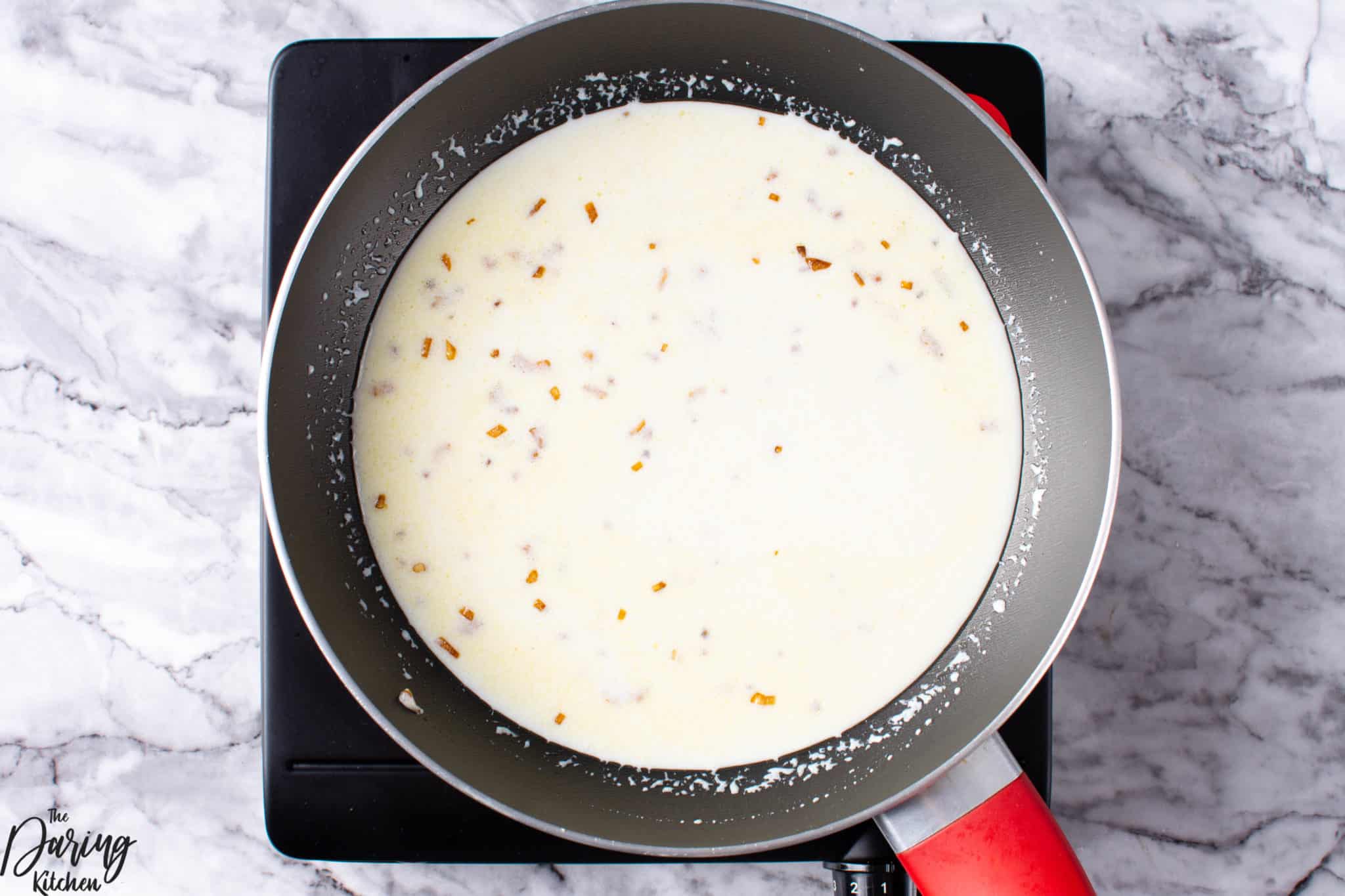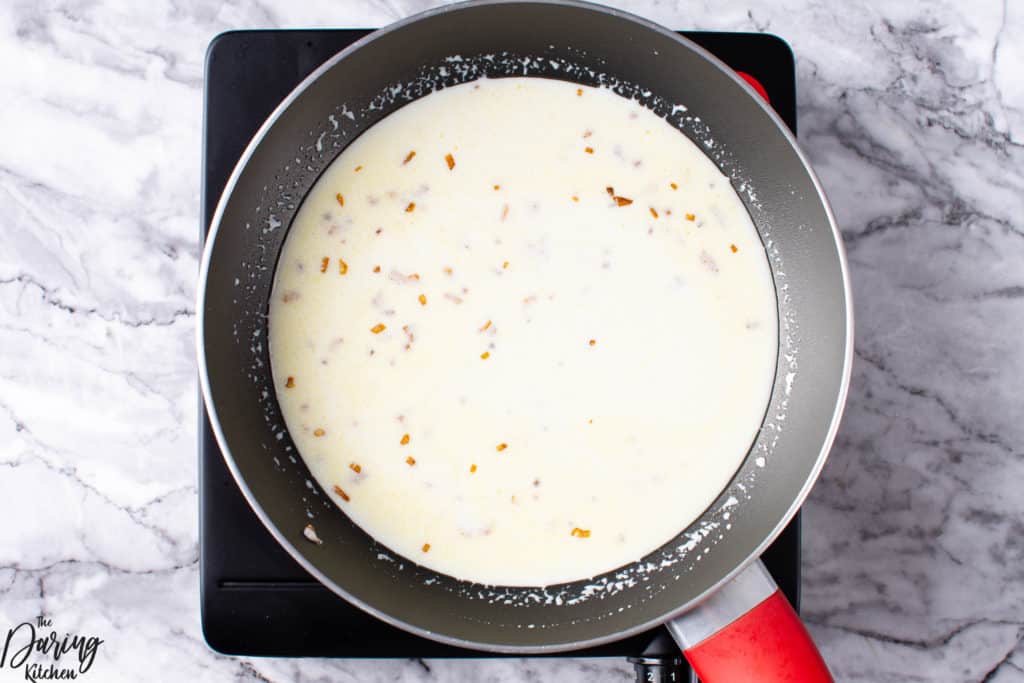 Add in one cup of almond milk. Mix everything together until the sauce begins to thicken. Then, add in the rest of the almond milk and remove your pan from the heat.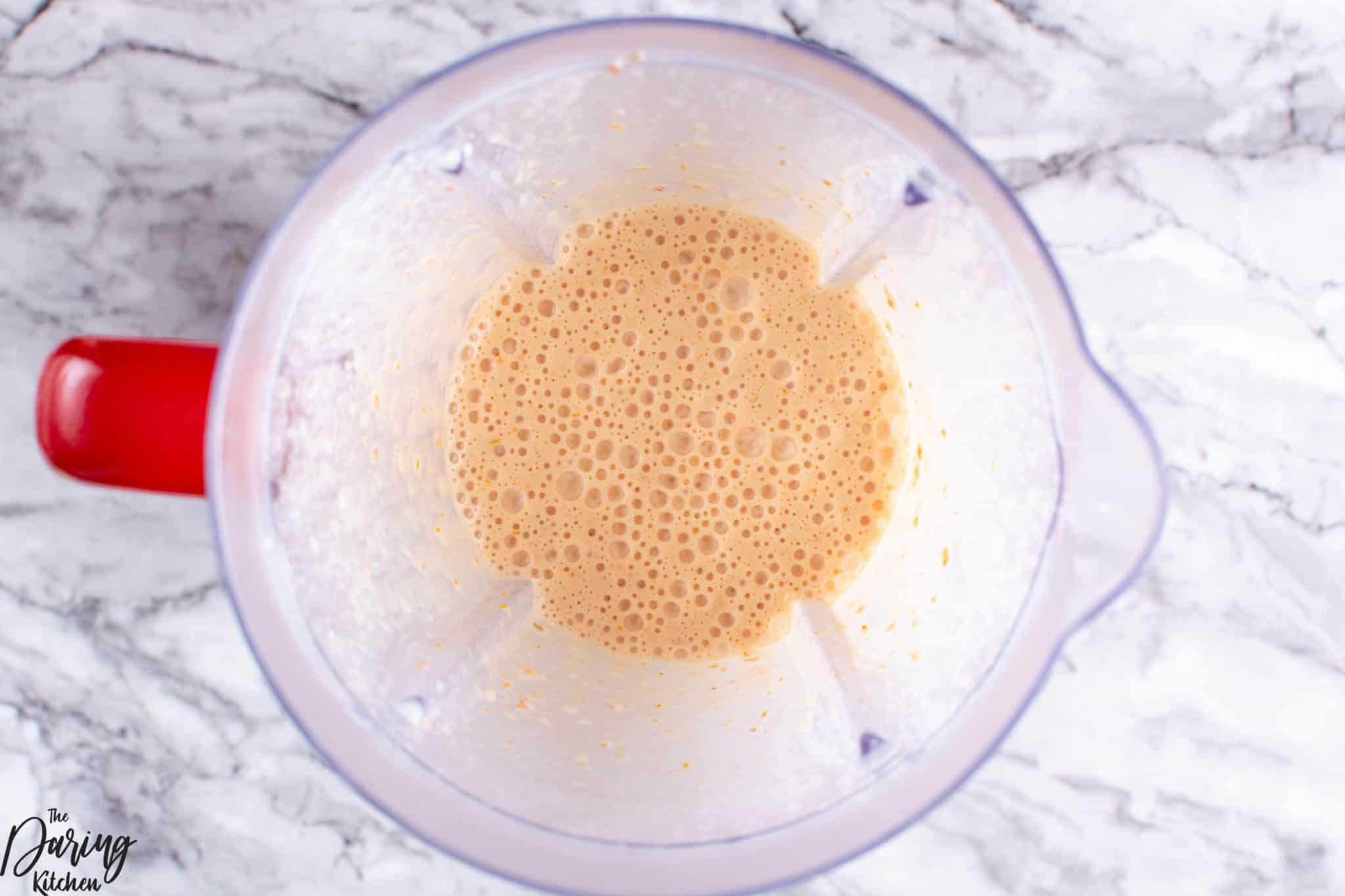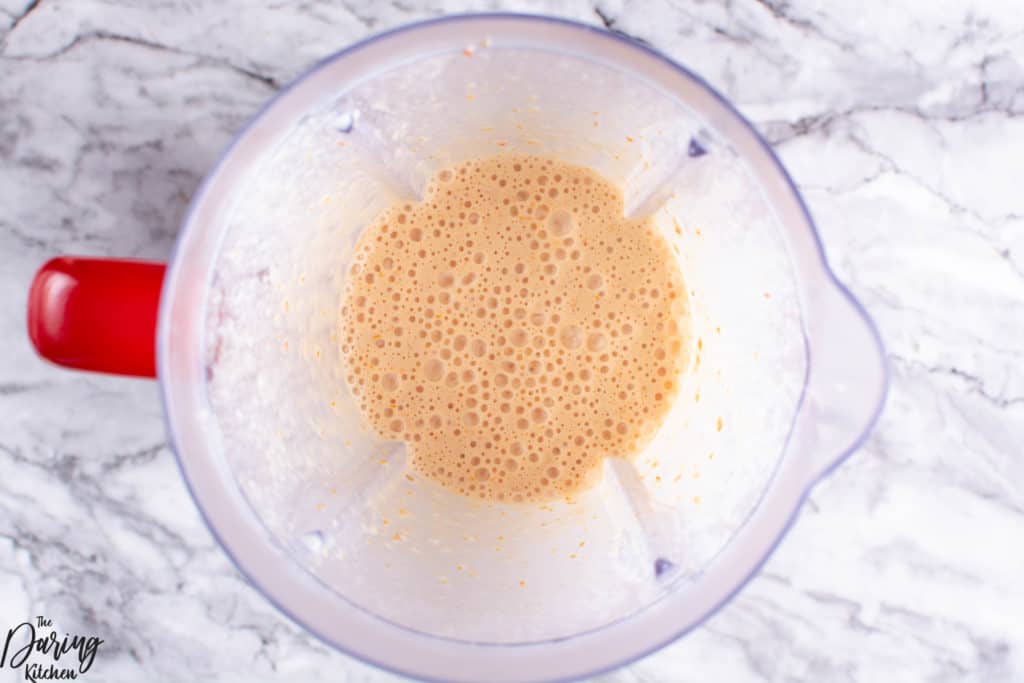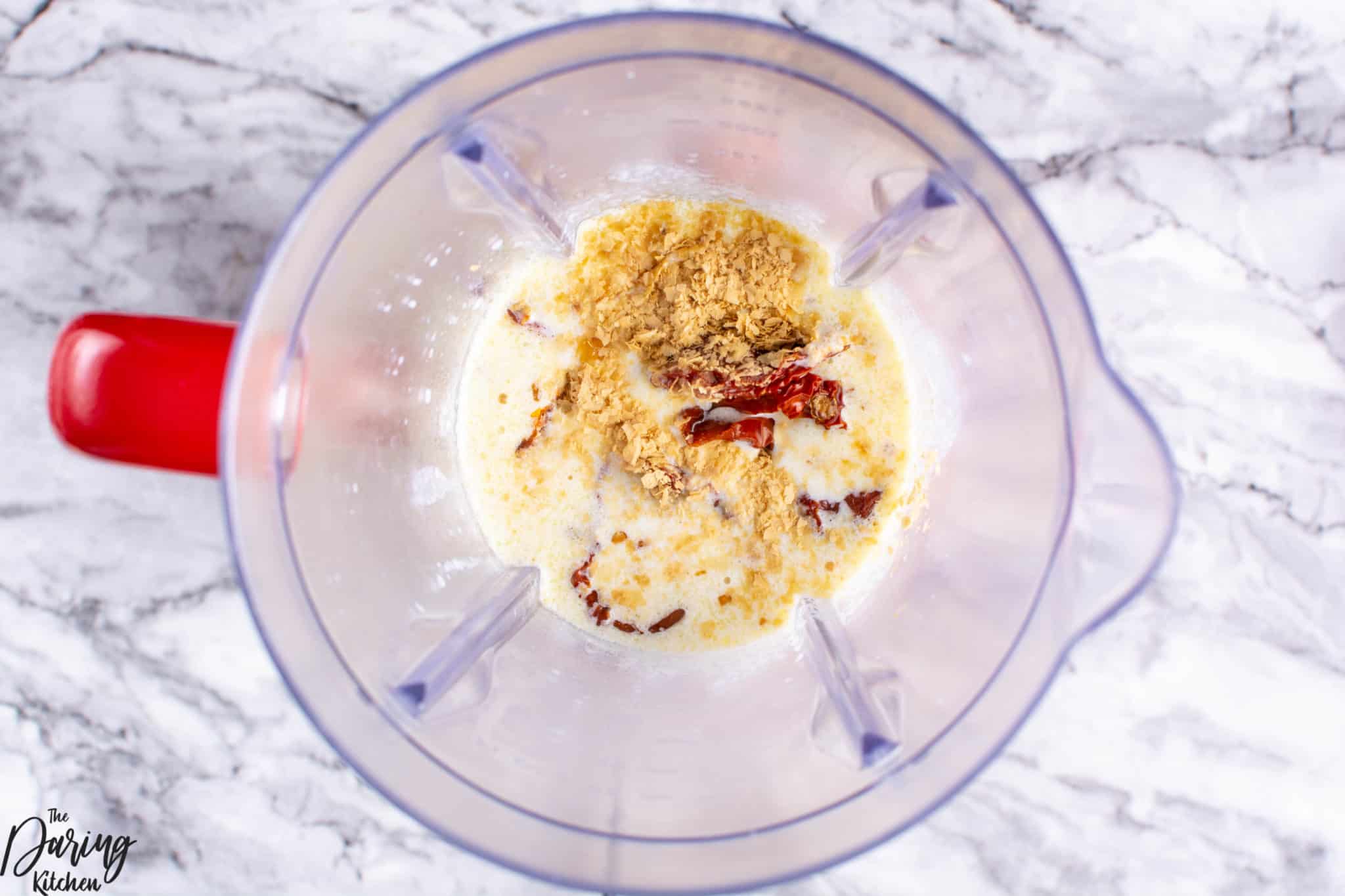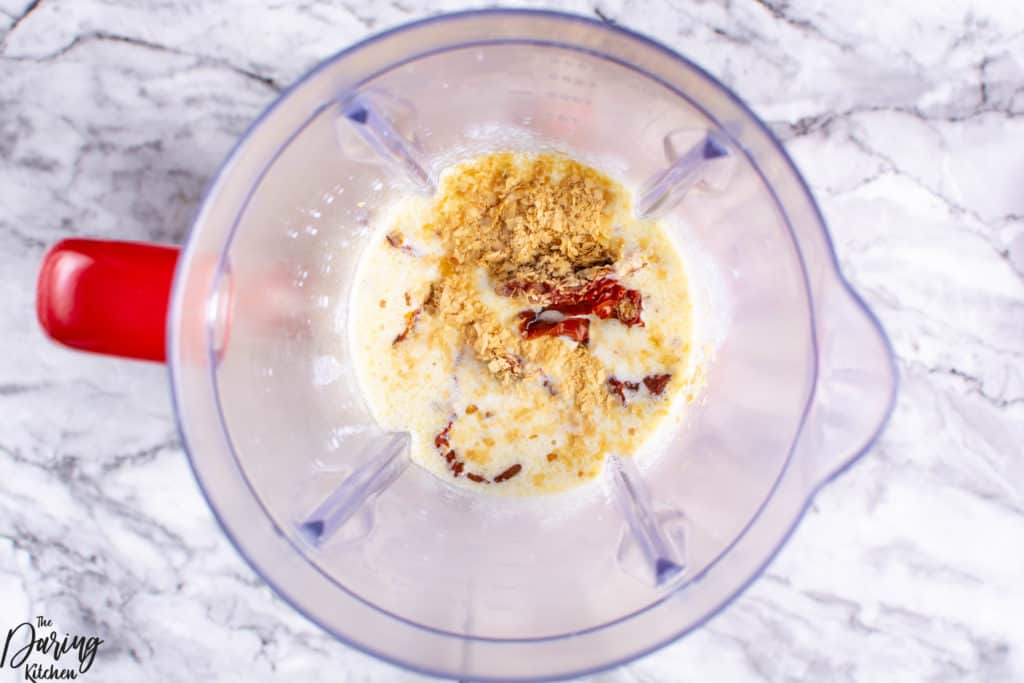 Pour your new sauce into a handy blender or food processor. Then, add in your nutritional yeast and only ½ cup of your sun-dried tomatoes. Blend everything until creamy smooth.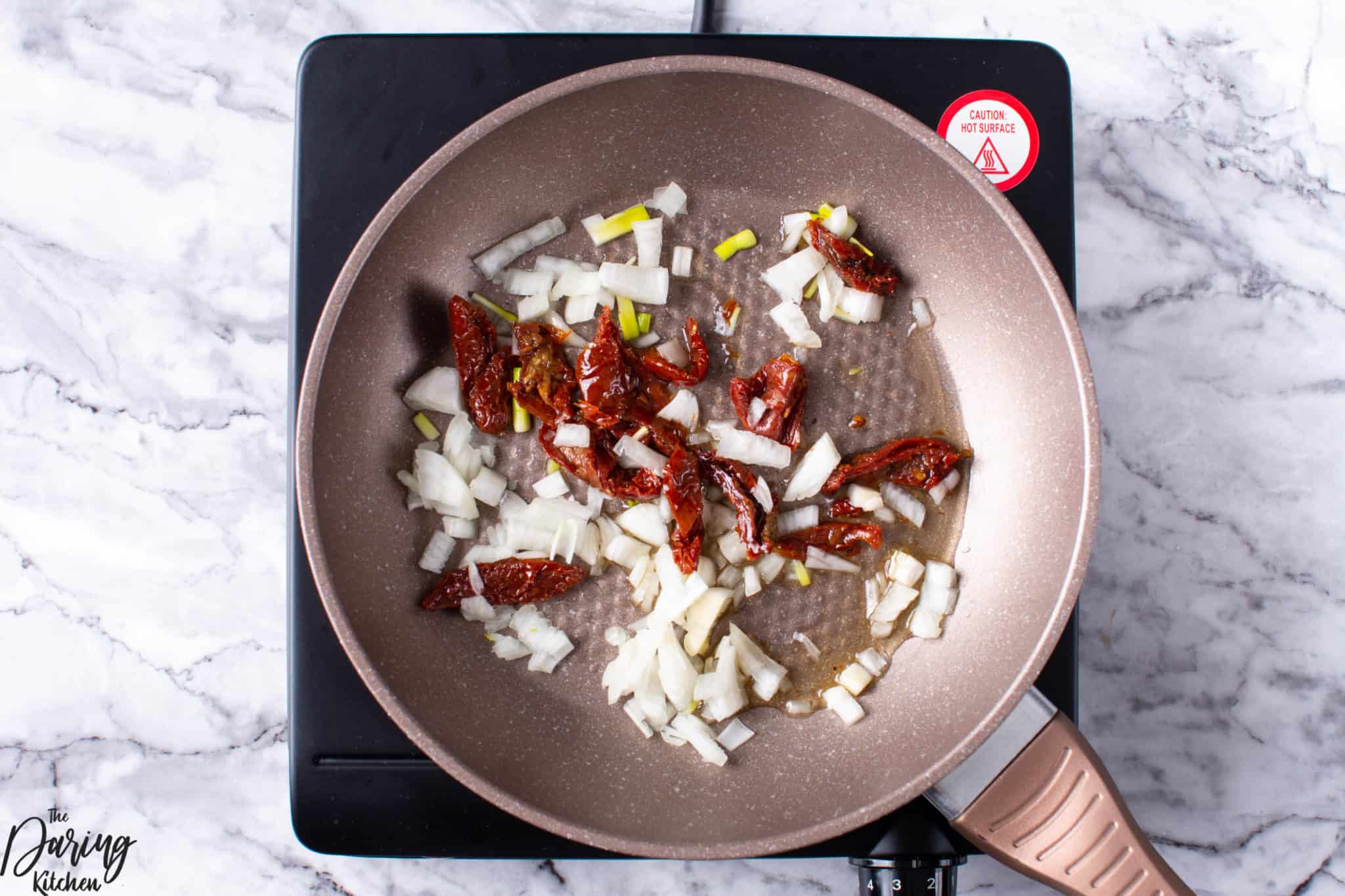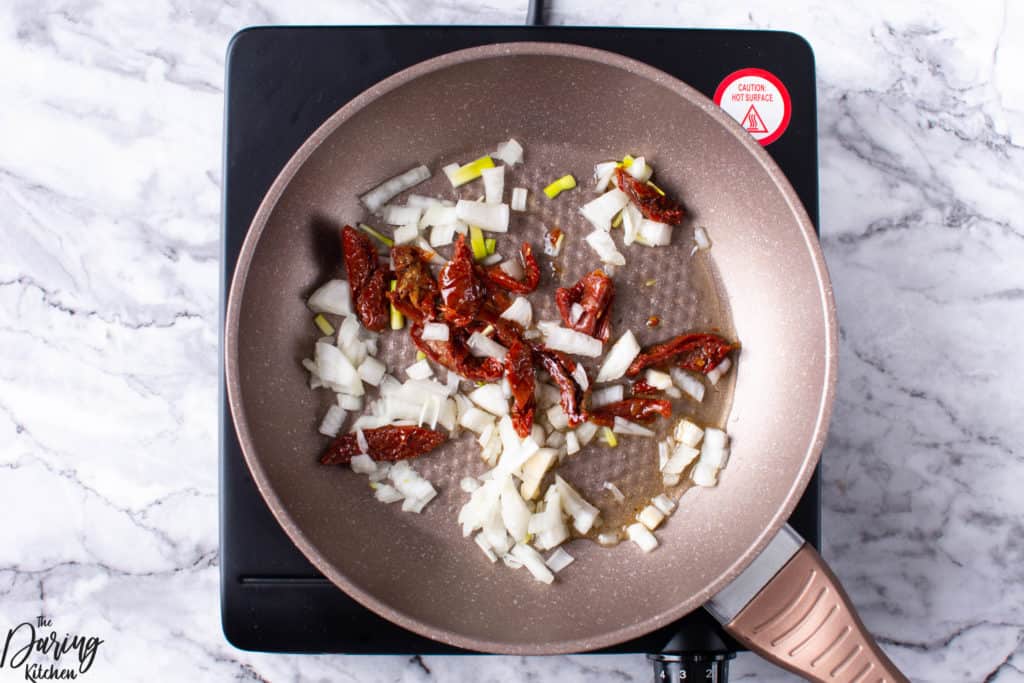 Using your leftover sundried tomatoes, saute them in a pan over medium heat in their own oil. Throw in your chopped onion and cook until the onions are done. This should take around 5 minutes.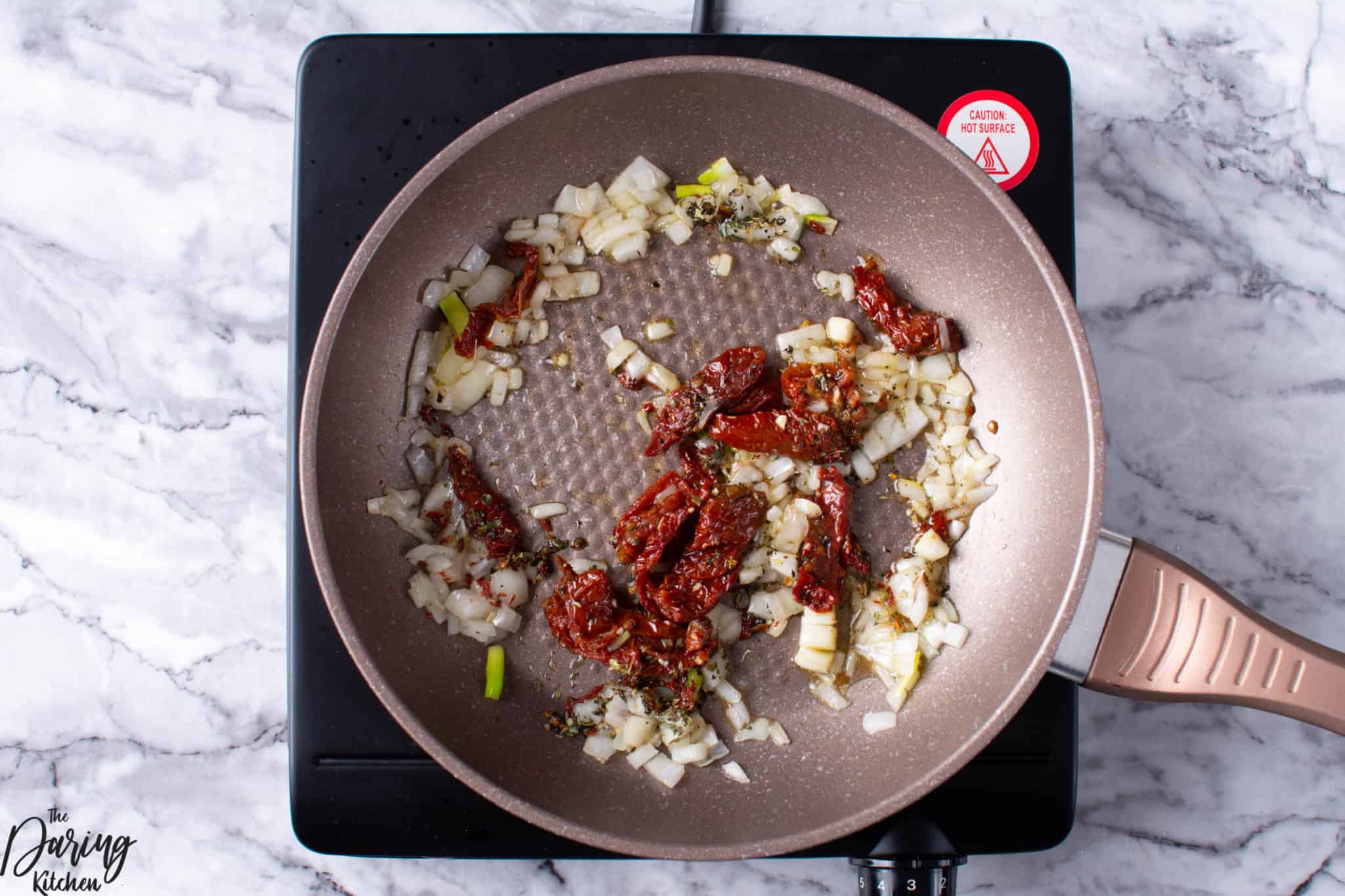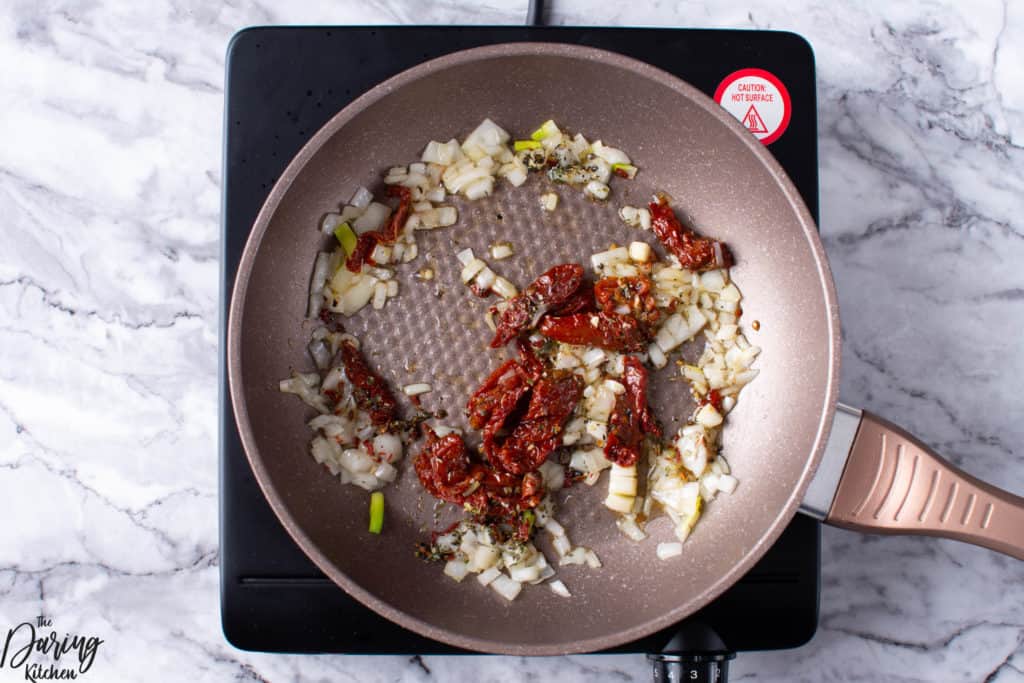 Once the onions are done, toss everything with Italian herbs and chili flakes. These only need about 30 seconds in the pan so that they don't burn!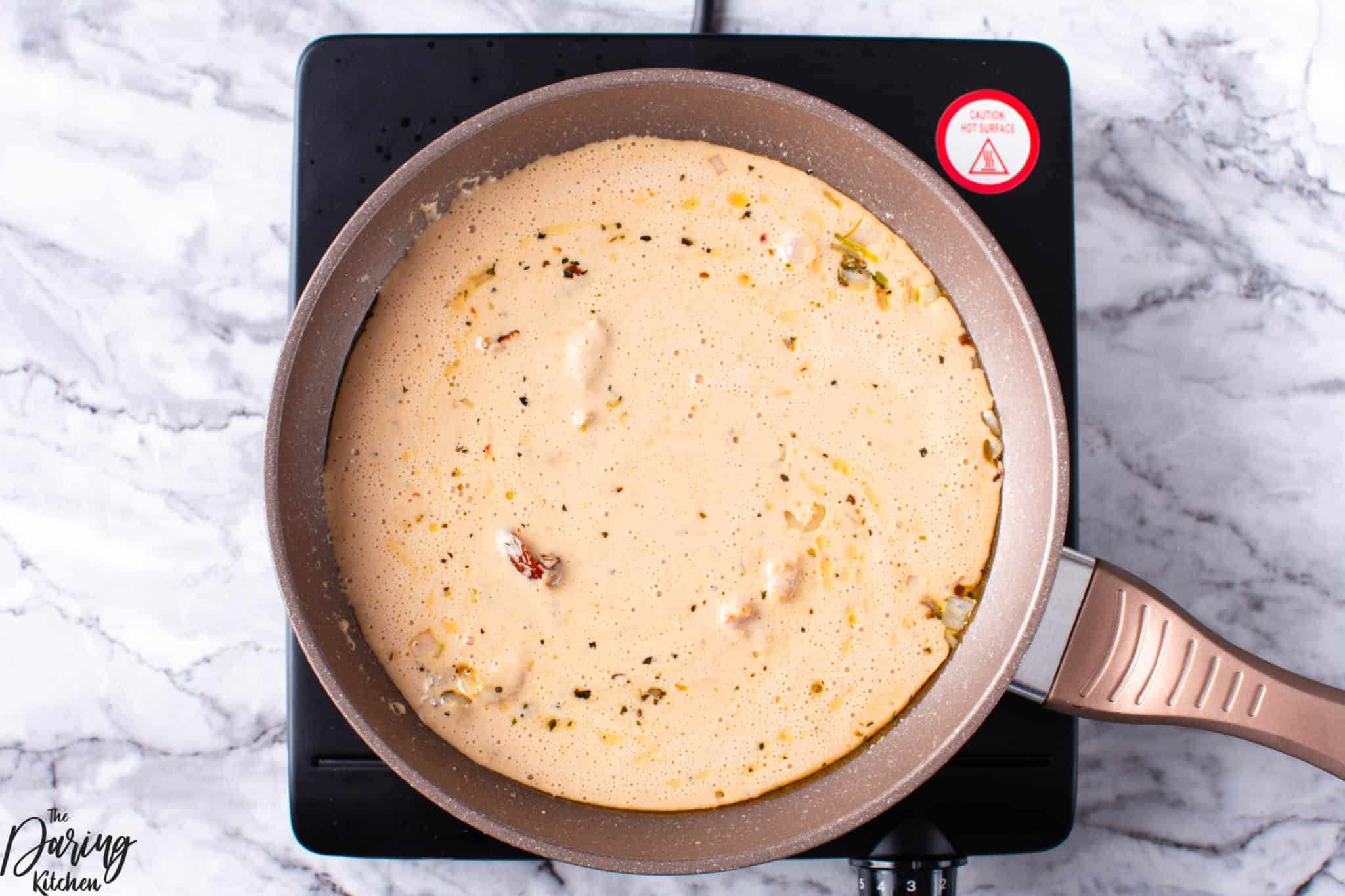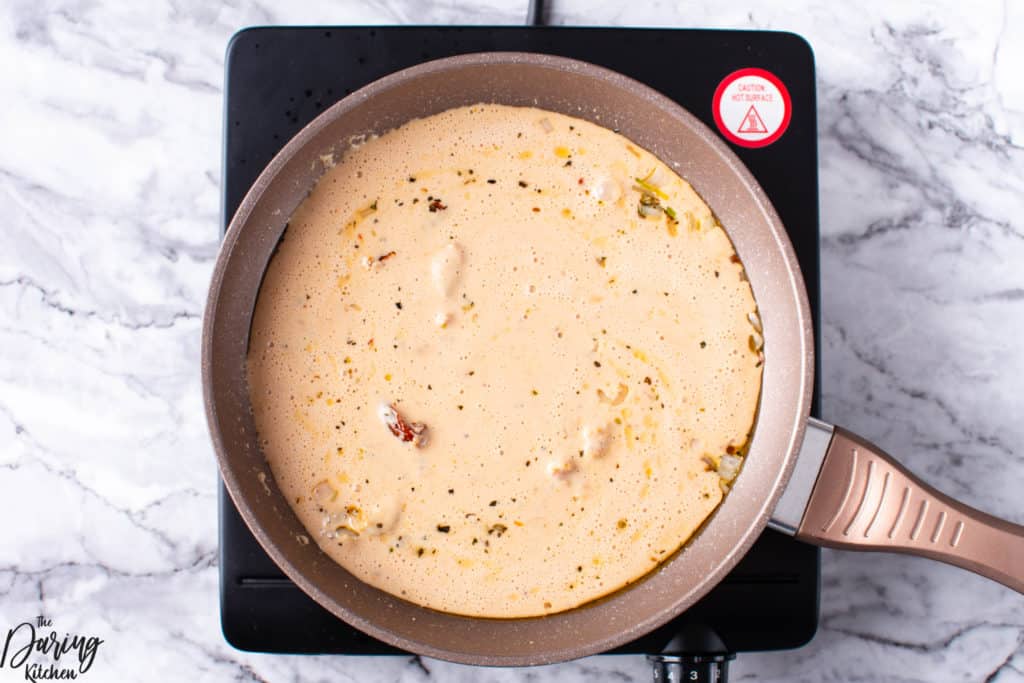 Now, add your blended sauce to the pan. Allow it to simmer with your sun-dried tomato and onion mixture for around 3 minutes.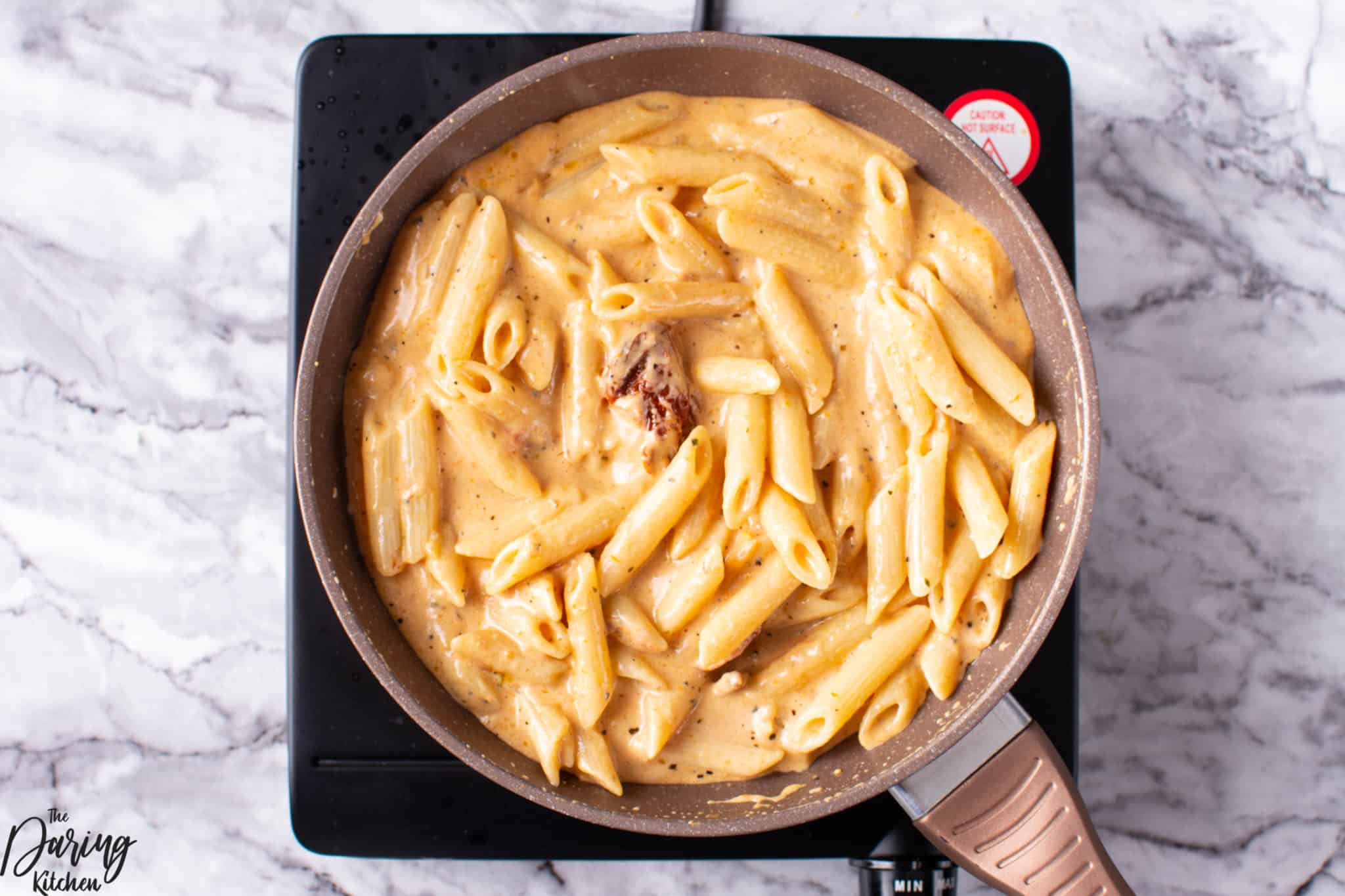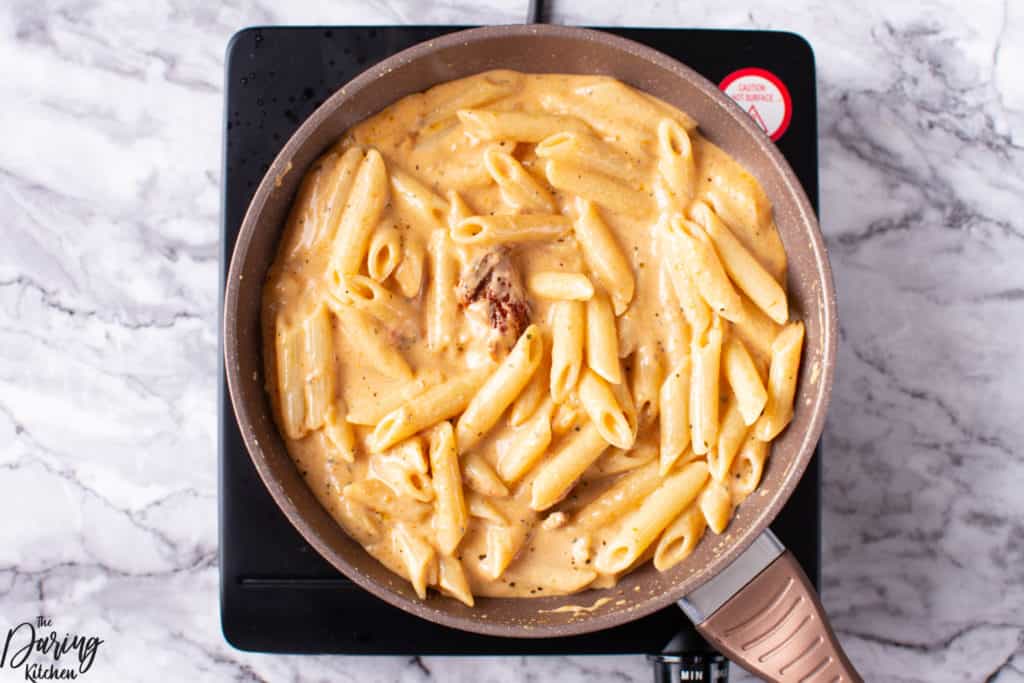 When the times up, mix in your pasta and coat it generously.
Serve your pasta on a plate with extra greens (I love arugula with this dish!) Or, in big bountiful bowls with some extra nutritional yeast on top. The choice is up to you!
Buon Appetito!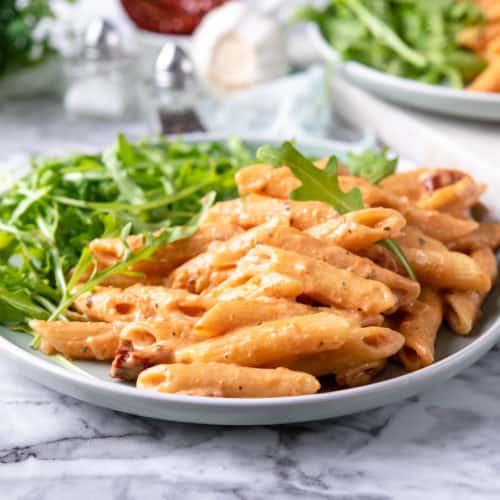 Sun Dried Tomato Pasta
With a simple and cheesy vegan cream sauce, everyone will want second servings of this delicious sun dried tomato pasta dish!
Print
Pin
Rate
Ingredients
For the sauce
1

tbsp

olive oil

4

cloves garlic

minced

1

tbsp

cornflour

¾

cup

sun-dried tomatoes

(divided, ½ cup and ¼ cup), with any oil and herbs that are packed in

2

cups

unsweetened almond milk

1

onion

chopped

1

tsp

Italian herbs

1

tsp

chili flakes

1 ½

tbsp

nutritional yeast

Salt

to taste
For serving
2

handfuls of fresh arugula
Instructions
Cook pasta according to package directions.

In a frying pan, heat olive oil. Add garlic and cook until very fragrant.

Add cornflour and stir to combine with the garlic. Season to taste with salt.

Add 1 cup of almond milk. Cook until the mixture is thickened. Add rest of the milk and remove from the heat.

Make the sauce: pour the almond milk mixture in a food blender.

Add nutritional yeast and ½ cup of the sun-dried tomatoes. Blend until smooth.

Heat a clean frying pan over a medium-high heat. Slice the remaining sun-dried tomatoes, and add them to the frying pan with any oil they have.

Add chopped onion and cook stirring, for 5 minutes. Add Italian herbs and chili flakes. Cook 30 seconds.

Pour the blended sauce over the tomatoes and simmer for 3 minutes. Add pasta and stir to combine and coat with the sauce.

Serve pasta warm with some arugula on the side.  
Nutrition
Calories:
276
kcal
|
Carbohydrates:
38
g
|
Protein:
11
g
|
Fat:
12
g
|
Saturated Fat:
1
g
|
Sodium:
447
mg
|
Potassium:
1663
mg
|
Fiber:
9
g
|
Sugar:
18
g
|
Vitamin A:
676
IU
|
Vitamin C:
22
mg
|
Calcium:
388
mg
|
Iron:
5
mg