Although soy sauce is known to be a staple ingredient for many Asian cuisines, it has bagged a special place in Western cooking in recent times.
It proves to be a great marinade ingredient for different vegetables and meats, so finding it in everyone's kitchen nowadays won't come as a surprise.
Whether you're planning to try a few recipes with soy sauce or just want to know the best soy sauce brand, it may be hard, as a layman, to differentiate them based on their types.
But don't worry, today we're going to talk about some of the best brands that you can't beat in terms of taste and value.
So, next time you're out in search of a soy sauce, make sure you choose one amongst our top picks.
Best Soy Sauce Brands to Have in Your Kitchen
1. San-J Tamari Gluten Free Soy Sauce – Best Premium Choice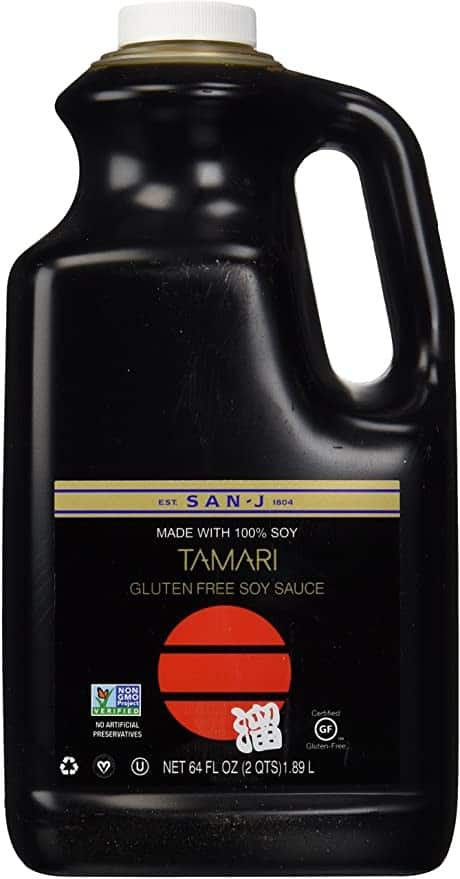 Unlike other soy sauces that contain wheat, this San-J Tamari Soy Sauce has more soybean content. The best part is it is gluten-free. So, it's the best choice for people who are allergic to gluten.
The presence of only soybeans helps in enriching the food flavors naturally. It is a better option than other chemically fermented soy sauces. Unlike them, it employs the natural fermentation process.
It's best to use it in soups, stir-fry dishes, sauces, and casseroles.
Pros:
Premium brand
No artificial preservatives
Gluten-free and non-GMO verified
Cons:
May need to dilute with water before use
Different flavor than regular soy sauce
2. Yamaroku 4 Years Aged Kiku Bisiho Soy Sauce – Best Overall

This soy sauce is made with soybeans, wheat, salt, and water and features a deep, full flavor. Aged between three and five years, this authentic soy sauce works best as a sauce for ramen bowls. The aging of this soy sauce takes place in conventional Kioke barrels that are 100-years old.
You can use it to make Teriyaki and Ponzu sauces. However, it's best when paired with seafood, including grilled fish, sushi, and more. If you are a sushi lover, don't forget to check some of the best sushi making kits.
In short, if you're searching for a soy sauce that can provide you with a rich, smooth, and complex flavor, Yamaroku's Kiku Bisiho won't disappoint.
Pros:
Premium-quality sauce aged for several years
Includes only natural ingredients
Complements best with seafood
Cons:
Cannot be used as an all-purpose sauce
3. Lee Kum Kee Premium Dark Soy Sauce – Best Budget Choice Dark Soy Sauce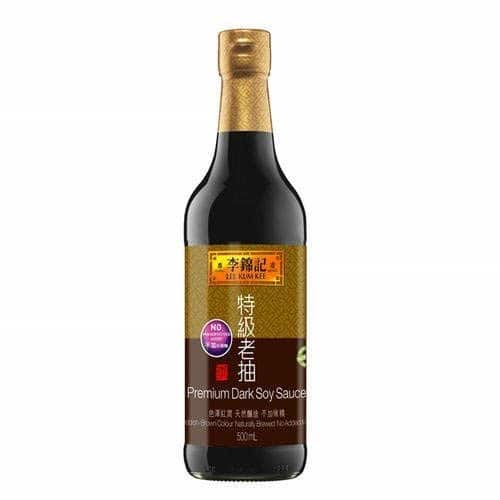 Isn't the bottle and packing attractive? We bet the soy sauce inside is even better. It also comes at a very affordable price. This soy sauce is brewed with more traditional methods to achieve a richer flavor in your recipes. However, gluten-intolerant people can't try this dark soy sauce as it contains wheat flour.
Made in China, this dark soy sauce is non-GMO verified and is also free from preservatives. If you're looking for a balanced flavor soy sauce and are not gluten-intolerant, consider this option.
Pros:
Non-GMO and preservative-free dark soy sauce
Balanced flavor
Affordable price
Cons:
May not be as dark as other soy sauces
Contains wheat flour and is not gluten-free
4. Kishibori Shoyu Premium Imported Soy Sauce – Best When Used in its Raw Form

This premium soy sauce is generally imported from Japan. What makes it unique and different from others is the process of fermentation. The fermentation takes place in a 100-year-old barrel, which, in turn, makes it flavorful.
Compared to other sauces, it is well-balanced, mild, and smooth in taste and proves to be a great addition to various recipes. It only uses high-quality soybeans and contains no preservatives or additives of any kind. While you can also cook it, this particular soy sauce is best when used raw.
Pros:
Made in Japan with a unique fermentation process
Artisan product
No preservatives or additives
Cons:
5. ABC Kecap Manis – Sweet Soy Sauce

If you're looking for a sweet soy sauce, your search is over. This popular soy sauce is from Indonesia. It has a much thicker consistency compared to other soy sauce options, so it works best for marinating meats.
The sweetness here comes from the addition of cane sugar; however, it does not leave a strong presence on the pallet like some other brands.
Overall, if you want a sweet soy sauce with a thicker consistency, this is the right choice.
Pros:
Thick consistency
Great value
Perfect for marinades
Cons:
Uses sodium benzoate as a preservative
6. Best of Thailand Premium Lite Soy Sauce Low Sodium – Best Kosher-Friendly Soy Sauce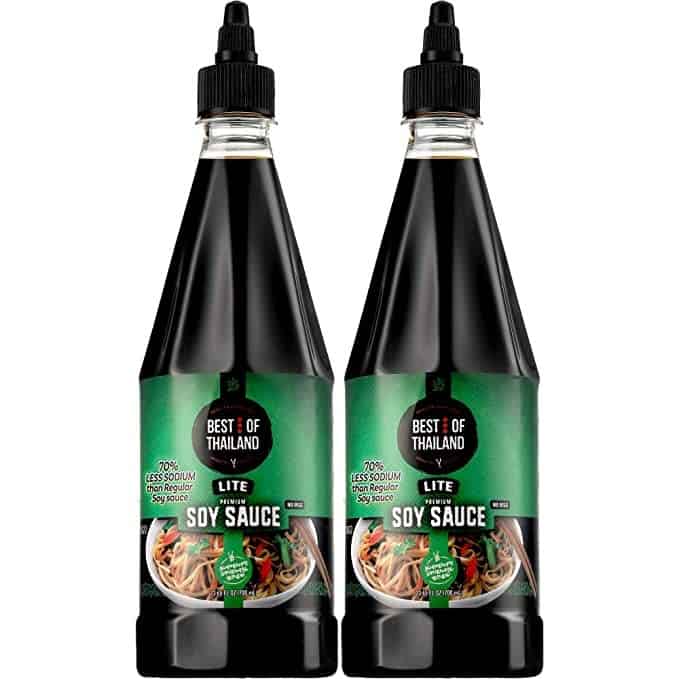 Made with no-MSG, this soy sauce is by far the best choice for kosher-friendly people. Just squeeze some into your meal, and the low sodium (which is around 70% less than regular soy sauce available on the market) will do the magic.
This soy sauce is an award-winning product and comes in a pack of two bottles. Like many other soy sauces, it contains sodium benzoate, which is used as a preservative. However, its versatility works best in making a variety of recipes, including meat, sushi, grilled fish, Pad Thai, and Tom Yum.
Pros:
Award-winning product
70% less sodium content as compared to other soy sauces
User-friendly bottle
Cons:
Uses sodium benzoate as a preservative
7. Bluegrass Soy Sauce – Best Small Batch Soy Sauce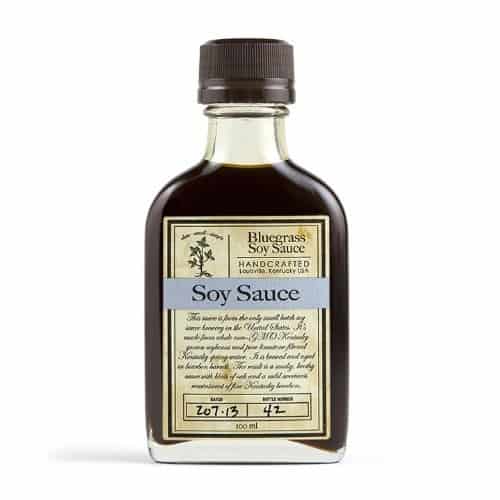 Made with different ingredients like Kentucky grown non-GMO soybeans, soft red winter wheat, pure limestone, and spring water, Bluegrass is the only micro-brewed soy sauce.
It has a smoky flavor as it is fermented in bourbon barrels. Additionally, you will also experience a broth-like taste with a mild sweetness.
You can get enhanced flavors with a strong aroma by fermenting the barrel for one whole year. This clearly states that the taste is best, but considering the quantity, it is a bit on the expensive side.
Pros:
Non-GMO
Micro-brewed soy sauce
Great smoky flavor
Cons:
8. Pearl River Bridge Superior Dark Soy Sauce – Best for Commercial Use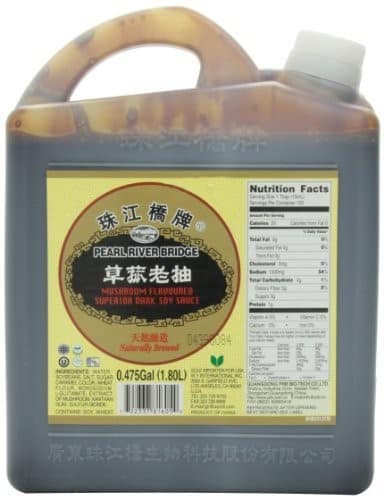 Need a soy sauce that lasts? Pearl River Bridge is a great option. It is from a reputable brand known for delivering quality products. This soy sauce comes with a thicker consistency, making it ideal to be used as a dipping sauce. The mushroom extract makes it all the more flavorful, another reason why chefs should consider buying it.
Pros:
Comes in a large container making it ideal for commercial use
Makes a great dip and marinade
Cons:
The large container can make it a little awkward to pour
What Is Soy Sauce?
Soy sauce looks like a simple ingredient, but the flavor it infuses takes the recipe to another level. So, what exactly is soy sauce?
Originated in China, soy sauce is a liquid condiment that is brewed by fermenting soybeans, grains (usually wheat), and yeast. The brewing process can take months and, in some cases, even years.
What to Look for in Soy Sauce
It's best to take into account the following factors while purchasing your soy sauce:
No-MSG
Check if the soy sauce you're planning to buy has this flavor enhancer or not. Some people consider it safe, but there's also a debate going on stating that it can pose a health risk, including headaches, weakness, and heart palpitations.
Many brands don't add MSG to their recipe, mainly because of the potential health risks and issues associated with it. So, if possible, it's best to get one without MSG to avoid any health issues.
Gluten-Free
This may only be important for people who are allergic to gluten. Various soy sauces do not contain wheat. So, it's best to do a bit of research and check the label before buying any soy sauce.
No Additives or Artificial Flavors
Many brands produce soy sauces by using artificial flavors or additives. However, the ingredients used may not be safe to consume. To avoid this, it's best to use soy sauces that include no additives or artificial flavoring.
Packaging
Soy sauces that come in glass bottles can result in breakage when not handled properly. There is less risk associated with plastic containers.
They are ideal for squeezing and can easily be carried in large quantities. Packaging may not seem important for taste and quality, but it definitely helps when it comes to efficient handling and storing.
Versatility
Not every soy sauce is all-purpose. Some are good for marinating and dipping, while others prove to be a great addition to dishes like stir fry and Pad Thai. So, identify your need and then decide on which type of soy sauce will best serve that need.
What Are the Different Types of Soy Sauce?
There are three main types of soy sauce:
Light Soy Sauce – light soy sauce is salty and has a thinner consistency, the reason why it is used commonly as a dipping sauce. It is best for cooking Chinese dishes or when the recipe needs just a little soy sauce.
Dark Soy Sauce – dark soy sauce is less salty and contains added sugar. Its consistency is thick. As it is brewed for a longer time, the resulting soy sauce proves best for marinating veggies and meats.
Soy Sauce (Normal, standard, or all-purpose soy sauce) – These soy sauce bottles are simply labeled 'soy sauce' without any additional words like light, dark, sweet, or mushroom. It is a light sauce, but at the same time, it has a slightly more soy flavor. However, adding it won't stain your noodles with the color.
Does Soy Sauce Go Bad?
It takes a lot for the soy sauce to spoil because of the sodium. However, if the bottle remains open for a long time or is not stored in a cool, dark place, it can spoil. It does not spoil like any other perishable product, but the flavor can be impacted when not stored properly.
What Are the Health Benefits of Soy Sauce?
Many health benefits of soy sauce are being studied, out of which it is said to play a role in enhancing gut health while being rich in antioxidants.
Does Soy Sauce Contain a Lot of Salt?
A lot of people are reluctant to try soy sauce because of the sodium content. If this is stopping you from using soy sauce, go with the light soy sauce type.
However, the sodium content in soy sauce is a lot less when compared to salt. Play it safe by consulting your doctor, especially if you suffer from high blood pressure or any heart-related health issue.
Conclusion
Whether you want to use soy sauce as a dip, baste, marinade or want to apply it directly to your recipes like soups and stir-fry, soy sauce will do its magic by adding a special flavor while taking your recipe to the next level.
If you want a healthy soy sauce, our best pick is Best of Thailand as it has a low sodium content. If you are looking for a more conventional taste, go with Yamaroku Soy Sauce. It is one of the most authentic soy sauces you can get on the market.