A buttery tart shell filled with delectable homemade caramel and covered in a luxurious chocolate ganache. Once you try this chocolate caramel tart, you'll want to come back for more!
Why You'll Love This Recipe
Luxurious- This tart is quick and easy to prepare. Yet, the rich flavors and gorgeous chocolate ganache give it a sophisticated appearance.
Ooey, gooey, and delicious – If there is anything better than chocolate and caramel, it's eating them together!
Crowd-pleaser– A chocolate tart makes the perfect dessert to bring to potlucks. They're delectable and loved by everyone who takes a bite.
What Is A Chocolate Caramel Tart?
A chocolate caramel tart is a type of pastry that combines the sweet flavor of caramel with the rich, creamy taste of chocolate. It is made in a tart pan with a buttery chocolate crust and a homemade caramel filling. The caramel tart is then finished by covering it in a layer of chocolate ganache, creating a rich dessert that will surely impress!
Equipment
Large Bowl
Fork
Food Processor (Optional)
Parchment Paper
Tart Pan or Pie Pan
Medium Saucepan
Stirring Spoon
Knife
Measuring Cups and Spoons

Ingredients
For The Crust:
Flour- Serves as a binder.
Sugar- Combines the butter and flour to create a sweet crust for the tart.
Cacao Powder- Helps to hold the crust together and adds a chocolatey flavor.
Hazelnuts- Adds a deeper, richer flavor to the crust.
Butter- Creates a rich and buttery taste in the crust.
Vanilla Extract- Takes the shell to a new level.
Egg- Binds all the ingredients together.
Water- Used to blend the crust ingredients.
For The Caramel Filling:
Sugar- For sweetness.
Water- Helps to melt the granulated sugar.
Heavy Cream- Adds a creamy texture to the caramel.
Salted Butter- For a buttery caramel with a smooth texture.
For The Rich Chocolate Ganache:
Chocolate-

When combined with heavy cream, your favorite type of chocolate becomes the rich chocolatey topping for your tart.

Heavy Cream- Creates a silky chocolate ganache.

How To Make A Chocolate Caramel Tart
Begin by making the crust. Grab a large mixing bowl and add flour, sugar, hazelnuts, cacao, melted butter, vanilla, egg, and water. Once the crust mixture forms a dough, refrigerate the dough until cold. Roll between two pieces of parchment paper, transfer to a tart pan or pie pan and put into the oven to bake.
While the tart shell is cooking, prepare the homemade caramel filling. To a small saucepan, add sugar and water over medium heat. Cook until it reaches that deep caramel color, then stir in heavy cream; remove from heat. Stir in the butter. Let the hot caramel cool, pour it into the chocolate crust, and place it in the fridge to allow the caramel layer to set.
The final step is the chocolate ganache. Heat heavy cream in a medium saucepan, add chopped chocolate, and stir until completely melted. Pour the chocolate ganache over the caramel filling evenly once melted. Allow the tart to rest in the refrigerator until cool and firm before serving. Serve chilled or topped with flaky sea salt, a scoop of vanilla ice cream, or whipped cream.

Popular Substitutions & Additions
Salt- The most popular addition to this recipe is a sprinkling of flaky sea salt to the top of the chocolate ganache. This will give you an amazing salted chocolate caramel tart! If you are topping it with flaky sea salt, use unsalted butter in the recipe instead.
Chocolate- This recipe doesn't require a certain kind of chocolate. Dark chocolate, milk chocolate, bittersweet chocolate, and white chocolate all have distinct tastes. Use your favorite type of chocolate, whether it be chopped chocolate, chocolate chips, or chocolate candy melts. Creme fraiche makes a great substitute for heavy cream when making the chocolate ganache layer.
Cacao Powder-

Cocoa powder can be used instead of cacao powder in this recipe if you have cacao powder.

Tart Pans- Switch things up and use mini tart pans or mini muffin tins for individual mini tarts!
Caramel- Instead of using granulated sugar and warm water to make the caramel filling, substitute them with corn syrup or another sugar syrup for an even smoother caramel. You can also ass some kosher salt to the caramel mixture to create an even more salted caramel chocolate tart flavor.
Can I Freeze A Chocolate Caramel Tart?
Yes, you can freeze a caramel chocolate tart. However, it is best to freeze the tart before adding the ganache topping. To freeze, wrap it in plastic wrap first, then place it into a freezer bag or airtight container. The tart can be frozen for up to 3 months. When ready to eat, let the tart thaw in the refrigerator overnight, and then add your ganache before serving.

FAQ      
Can I use a store-bought pie crust for this tart recipe?
Yes. If you're in a rush, you can buy a pre-made pie crust or make one using graham cracker crumbs and melted butter. However, it's important to note that the texture of a tart's crust is smoother than a pie crust. While a pie crust is typically light, flaky, and delicate, a tart crust has a richer taste and a crisp, crumbly texture.
If I overcook the caramel sauce a bit, will I have to start over?
No, if the caramel is slightly overcooked, it may still be used. The texture of the caramel filling will be a little more firm, which is fine! Caramel that isn't cooked long enough will also have a different texture but may still be used. The filling will be gooier than usual.
How should homemade chocolate caramel tarts be stored?
You'll want to keep this chocolate caramel tart in the refrigerator until ready to serve. It will last 5-6 days in an airtight container or tightly covered with plastic wrap in the fridge.
Can I still make this chocolate caramel tart recipe without a food processor?
Of course! The food processor speeds the mixing process up and is easier on the elbows, but hand mixing with a fork will work just as well to mix your ingredients for a chocolate caramel tart.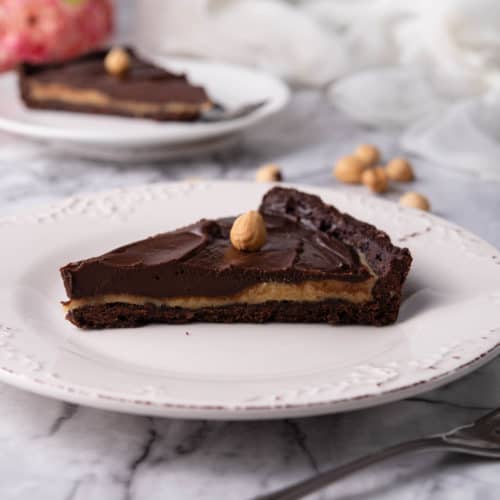 Homemade Chocolate Caramel Tart
This homemade chocolate caramel tart is a rich and luxurious dessert. Buttery tart crust filled with homemade caramel and chocolate ganache you can't go wrong!
Print
Pin
Rate
Ingredients
For the crust
1 ¼

cup

flour

¼

cup

sugar

¼

cup

cacao powder

¼

cup

ground hazelnuts

toasted

½

cup

cold butter

1

tsp

vanilla extract

1

egg

2

tbsp

ice-cold water
For the caramel
1 ½

cup

sugar

½

cup

water

½

cup

heavy cream

5

tbsp

salted butter
Instructions
Make the crust
In a large bowl, combine flour, sugar, hazelnuts, and cacao.

Add butter and work it in with a fork, or just process in a food processor.

Add vanilla, egg, and water.

Stir until the dough comes together. Wrap the dough in plastic foil and refrigerate for 30 minutes.

Roll out the dough between two pieces of parchment paper.

Transfer the dough to a 9-inch pie plate or tart pan and press in the dough. Bake the dough for 12 minutes at 350F.
Make the caramel
In a saucepot, combine sugar and water. Set the saucepot over medium heat.

Let the sugar dissolve without stirring. Once the sugar dissolves, let it cook until it reaches that well-known caramel color.

Pour in the heavy cream, gradually as it may splatter.

Once you have a smooth mixture, remove it from the heat. Stir in butter until melted.

Let the caramel cools down.

Once the caramel is cooled, pour it into the tart shell. Distribute the caramel evenly. Place the tart in a fridge for 15 minutes.
Make the ganache
Heat heavy cream over medium heat. Do not boil it. Add in chopped chocolate and let it stand for 2 minutes.

Start stirring until the chocolate is completely melted.

Pour the ganache over the caramel and distribute evenly.

Let the tart rest in a fridge for 1 hour before slicing and serving.
Nutrition
Calories:
617
kcal
|
Carbohydrates:
70
g
|
Protein:
5
g
|
Fat:
38
g
|
Saturated Fat:
22
g
|
Polyunsaturated Fat:
1
g
|
Monounsaturated Fat:
10
g
|
Trans Fat:
1
g
|
Cholesterol:
111
mg
|
Sodium:
188
mg
|
Potassium:
140
mg
|
Fiber:
3
g
|
Sugar:
51
g
|
Vitamin A:
1040
IU
|
Vitamin C:
1
mg
|
Calcium:
44
mg
|
Iron:
2
mg