Pumpkin Dinner Rolls- A vibrant orange dough is made with pumpkin puree, flour, and brown sugar that is formed into miniature pumpkins using kitchen twine and baked. The dinner roll is completed with cashew nut stems for a festive addition to any fall meal.
Dinner rolls are one of those things that can make or break a meal. They can be simple and plain or add something special to the table. These pumpkin dinner rolls are definitely the special kind! They are soft, fluffy, and have a delicious pumpkin flavor that is perfect for fall.
Have you been looking for a fun and easy way to add some autumn flavor to your dinner table? Try these pumpkin dinner rolls! They're perfect for a Thanksgiving feast or any other fall celebration. Plus, they're simple enough that even novice bakers can make them. So get ready to roll up your sleeves and enjoy some delicious homemade pumpkin dinner rolls!
Why You'll Love This Pumpkin Dinner Roll Recipe
Eye Catching- The orange hue of these delicious dinner rolls and the faux stem made of cashew nuts make these beauties stand out in a crowd.
Easy to Make- This recipe is simple to follow and doesn't require any special baking skills.
Kid-Friendly- Dinner rolls are a great recipe to make with your kids. They'll love getting their hands dirty and helping you in the kitchen.
Great for Parties- These delicious pumpkin dinner rolls are perfect for Halloween parties, Thanksgiving family get-togethers, or other fall-themed events.
Delicious- Pumpkin dinner rolls are simply amazing! They can be paired with various fall dishes and will be a hit with everyone who tries them.
Equipment Needed To Make These Dinner Rolls
Mixing Bowls

Whisk

Kitchen Scale

Kitchen Twine

Pastry Brush

Baking Sheet

Wire Cooling Rack

Measuring Cups and Spoons

Plastic Wrap

Ingredients For Pumpkin Dinner Rolls
Eggs

Milk

Butter

Brown Sugar

All-Purpose Flour

Instant Yeast

Salt

Cashew Nuts
How To Make Dinner Rolls With Pumpkin Puree
To make these delectable pumpkin dinner rolls, first beat one egg and divide it into two parts. Mix half of the egg, milk, pumpkin, and butter until thoroughly combined in a mixing bowl. Slowly whisk in the dry ingredients before kneading the dough until smooth. Cover the mixing bowl with plastic wrap and set aside for a couple of hours to allow the dough to rise.
Punch down the dough and divide it into 12 equal portions. To measure out the dough, use a kitchen scale. Each should be around 2 ounces in weight. Using kitchen twine, form 8 pieces out of the dough. Allow the dough to rise again before baking.
While the dough rises for a second time, preheat the oven to 375°F. Brush the remaining half of the beaten egg over the pumpkin rolls and bake for approximately 20 minutes, or until golden brown on top.
When the pumpkin rolls come out of the oven, transfer them to a wire rack to cool before removing the twine. To make a pumpkin's stem, insert cashew into each roll and serve.

What to Serve/Pair with Your Pumpkin Puree Rolls
These pumpkin dinner rolls are perfect for cooler weather and fall get-togethers! There are so many amazing things you could serve with your rolls. We've listed some of our favorites below.
Pumpkin soup

Roasted turkey

Mashed potatoes

Green beans

Cranberry sauce

Gravy
You can also simply serve these rolls with some butter as an appetizer. We know you'll love these homemade pumpkin dinner rolls no matter how you enjoy them!
Popular Substitutions & Additions
While we love this recipe just as it is, we know that sometimes you might want to mix things up a bit. Here are some of our favorite substitutions and additions for these pumpkin dinner rolls.
Add some spice: If you like a little more flavor, try adding a teaspoon or two of pumpkin pie spice to the dough. Adding pumpkin pie spice will give the rolls a warm, flavorful kick.
Use different nuts: cashews are delicious in these rolls and make the perfect pumpkin "stem," but feel free to use whatever type of nut you prefer. Pecans or walnuts would also work in this recipe.
Make them sweeter: if you have a sweet tooth, consider adding an extra tablespoon or two of brown sugar to the dough.

How To Reheat & Store Dinner Rolls With Pumpkin Puree
What Is The Best Way To Store Pumpkin Dinner Rolls?
These pumpkin dinner rolls are best served fresh but can be stored in an airtight container in the refrigerator.
How Long Will Dinner Rolls Last In the Fridge?
When properly stored, pumpkin puree dinner rolls will keep in the refrigerator for up to 2 days.
Can I Freeze Dinner Rolls Made With Pumpkin Puree?
Yes. You can store these pumpkin dinner rolls in the freezer for 2 months. Before freezing, wrap each roll tightly in plastic wrap and place them in a freezer-safe bag. Thaw the rolls at room temperature and reheat as directed when ready to enjoy them.
How To Reheat Pumpkin Dinner Rolls?
To reheat dinner rolls made with pumpkin puree, simply preheat the oven to 350 degrees, arrange rolls on a baking sheet, and heat them for about 5 minutes or until heated.

Pumpkin Dinner Roll FAQs
I don't have instant yeast. Can I use active dry yeast instead?
Yes. If you are using active dry yeast, you will need to proof it before adding it to the dough. To proof yeast, simply combine it with a bit of warm water and a pinch of sugar. Let it sit for 5-10 minutes or until foamy. Then, you can add it to the rest of the ingredients as directed.
I don't have brown sugar. Can I use white sugar instead?
Yes, you can substitute white sugar for brown sugar in this recipe. The rolls will be a little less sweet if made with white sugar.
Do I need to use fresh pumpkin puree for this recipe?
You can use either fresh or canned pumpkin puree for this recipe. If you are using canned, make sure to get 100% pumpkin puree and not pumpkin pie filling.
Is there a reason why my rolls didn't rise?
Yes. There are a few things that could cause your rolls not to rise. Make sure you use active, instant yeast and that your dough is not too dry. If you're still having trouble, try letting the dough rise in a warm place for a longer amount of time.
Can I make these dinner rolls ahead of time?
Yes. You can prepare the dough for these dinner rolls up to 2 days in advance. Store the dough tightly covered in the refrigerator until you are ready to use it.

Don't Forget To Come Back And Let Me Know How Your Pumpkin Dinner Rolls Turned Out!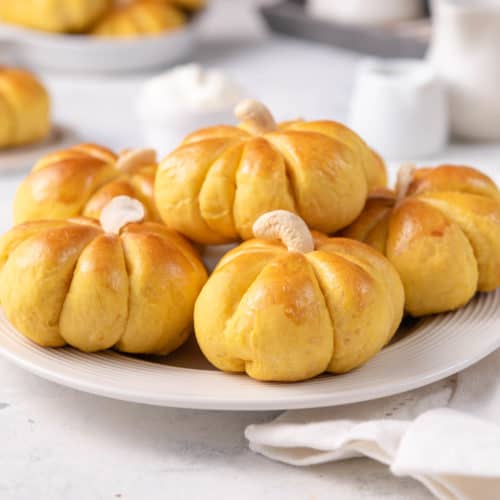 Pumpkin Dinner Rolls
An orange dough made with pumpkin puree, flour, and brown sugar, formed into pumpkins then baked. Add a cashew nut stem for a festive addition to any fall meal.
Print
Pin
Rate
Ingredients
1

egg

divided (beat egg and divide in half)

½

cup

milk

½

cup

pumpkin puree

3

tbsp

melted butter

¼

cup

brown sugar

2 ½

cups

all-purpose flour

1

tsp

instant yeast

1

tsp

salt

12

cashew nuts
Instructions
In a mixing bowl, beat half the egg, milk, pumpkin puree, and butter.

Whisk in brown sugar, flour, yeast, and salt.

Start stirring dough until it comes together.

Knead the dough until smooth. Cover it and allow to rise up, for 2 hours.

Once the dough is raised, punch it down and divide into 12 parts.

Use kitchen scale to weight each part of the dough. It should be approx. 2oz. Shape the dough into balls

Tie with a kitchen twine, creating eight sections.

Allow the dough to rise for the second time, for 15 minutes.

Brush the rolls with remaining egg and bake for 20 minutes.

Cool on a wire rack before removing the kitchen twine.

Insert one cashew into each bun to mimic the pumpkin stem.
Nutrition
Calories:
161
kcal
|
Carbohydrates:
27
g
|
Protein:
4
g
|
Fat:
4
g
|
Saturated Fat:
2
g
|
Polyunsaturated Fat:
0.4
g
|
Monounsaturated Fat:
1
g
|
Trans Fat:
0.1
g
|
Cholesterol:
21
mg
|
Sodium:
229
mg
|
Potassium:
97
mg
|
Fiber:
1
g
|
Sugar:
5
g
|
Vitamin A:
1717
IU
|
Vitamin C:
0.4
mg
|
Calcium:
28
mg
|
Iron:
2
mg