Oven mitts are essential pieces of cooking gear. While you might not think of them as the first tools you'd reach for while you're making dinner, you really can't use your stove top, grill, or oven without them.
Oven mitts tend to be elaborately designed, with manufacturers frequently using protective, durable materials like nylon and silicone oven mitts with gentler and softer materials like try cloth and cotton.
Therefore, cleaning your oven mitts can be a bit of a quandary. Can you toss them right into the washing machine, or do you need to clean them by hand? What do you do when the silicone oven mitt fabric becomes stained when you're pulling a casserole dish out of the oven? 
From grease to smoke, oil to flour, there are all kinds of ingredients that can dirty an oven mitt. While most are tough enough to handle the rigors of a washing machine, others will fade or fall apart when exposed to water.
Knowing how to wash your gloves for oven use often comes down to what kind of oven gloves you own. You'll want to pay close attention to the instructions provided by the manufacturer - but otherwise, you can follow these simple tips.
Washing Oven Mitts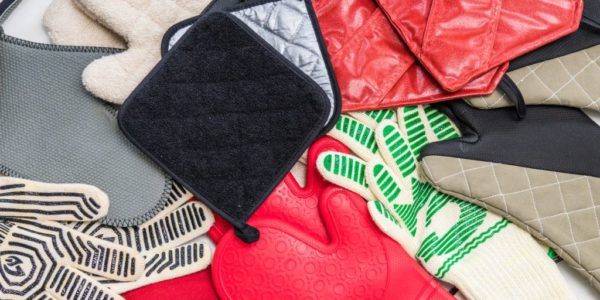 First, thoroughly examine the product care label on your set of oven mitts. You will need to follow the cleaning instructions to a T, so if it says "hand wash only" or "remove trim decorations" on your set of oven mitts, don't ignore these steps.
To find the label, look near the opening or cuff of the mitt. You might need to turn it inside out to find the label. Sometimes the label will be imprinted directly on the inside of the mitt, but sometimes it might not be there at all. Textile manufacturers don't have to include this label like clothing manufacturers do, so if you can't find the care instructions on your oven mitts, feel free to do a quick search online. You should be able to find the manual for your set of oven mitts. 
Next, prepare a gallon of warm water in a large bucket. Add half a cup of mild laundry detergent, then combine the detergent and warm water. You might want to use a bit less detergent if it is a concentrated dish soap or laundry detergent. 
Soak a washcloth in the water and laundry detergent solution, then carefully wring it out, allowing only a small bit of soap and moisture to remain on the fabric. Avoid using a colored wash cloth, as this can discolor your oven mitt when heat is applied (particularly if it's the first time you are cleaning it in any kind of heat).
Then, gently dab the wash cloth on the oven mitt. You may want to try this out on an inconspicuous part of the mitt first, to make sure that it does not stain or discolor the fabric.
Let the wet spots dry for half an hour so that you can make sure no discoloration has occurred. If all is clear, you can then move on to machine wash or hand wash your mitt. 
If it does not - meaning, if the mitt has any kind of fading or damage - you will want to skip these next steps.
Otherwise, place the dirty oven mitt into your detergent solution. Let the oven mitts soak up the solution for about half an hour, then wring them out. You can then rinse the mitt under cold or lukewarm water in your sink. Wring it out carefully, getting rid of all traces of suds and detergent. You don't want any soap to remain on the oven mitt. Not only can this cause stiff sections that make the oven mitts uncomfortable to wear, but they could make the oven mitts slippery, causing you to drop hot pans when you go to use your mitts. 
If your mitt seems perfectly clean now, you can go ahead and hang it up to dry. Let it dry for 24 hours before you use it. 
How to Wash Oven Mitts in the Washing Machine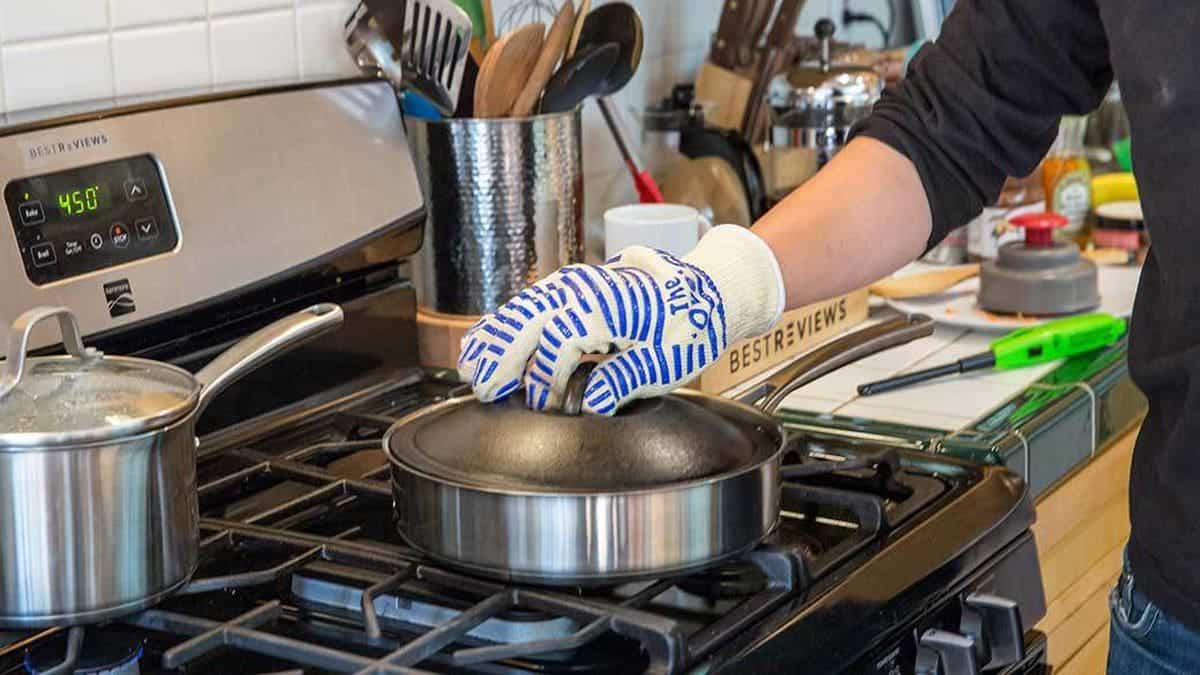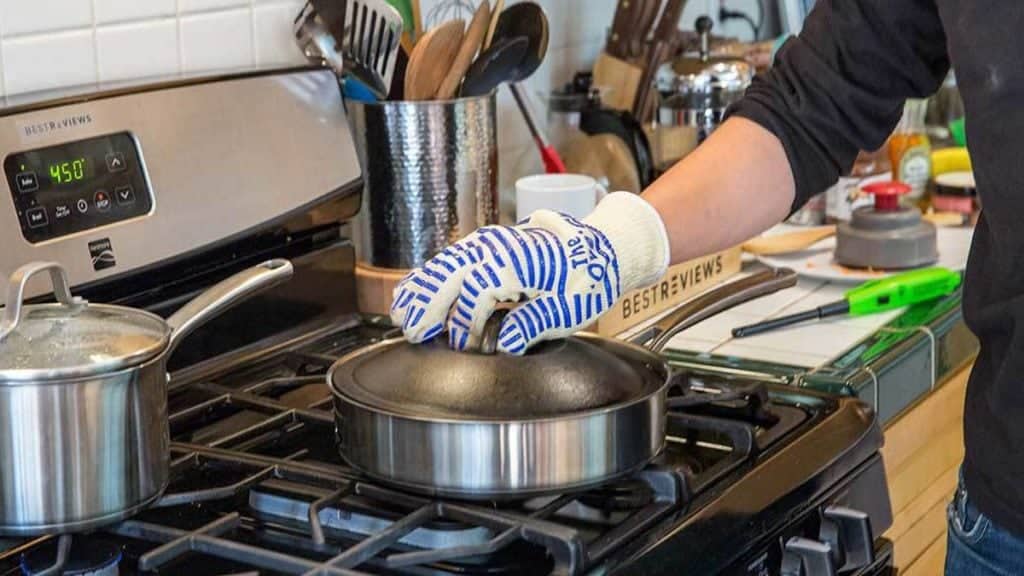 When additional washing is necessary, you will want to put it in the washing machine and wash it according to the manufacturer's instructions as per the washing cycle and amount of laundry detergent you should use. Use cold water and the gentle cycle for the first wash, even if the manufacturer specifies that warm water and additional heat is acceptable.
You may be able to tumble dry your gloves after they've been cleaned, but be sure to check the instructions from the manufacturer before doing so. Generally, you do not need to use any fabric softener during this washing cycle, either, although you may want to use a stain remover to get some of the extra grease stains out. 
Some people use home remedies to clean their gloves, such as baking soda. Baking soda is a good solution if you want to get some nasty grease stains out of your oven mitts. Baking soda helps lift stains even without a regular washing cycle or having to use an dish soap. However, it's important that you do a spot test first to make sure the baking soda doesn't create additional stains when water or heat are added.
These instructions and tips can be followed for just about any kind of oven mitt - but if you're trying to wash handmade oven mitts, you'll want to do so with a bit of extra caution. Take your time and work slowly to make sure they hold up to the pressure.
Now that your oven mitts are clean, they are ready to use for any kind of cooking experience in your kitchen. What will you make next?