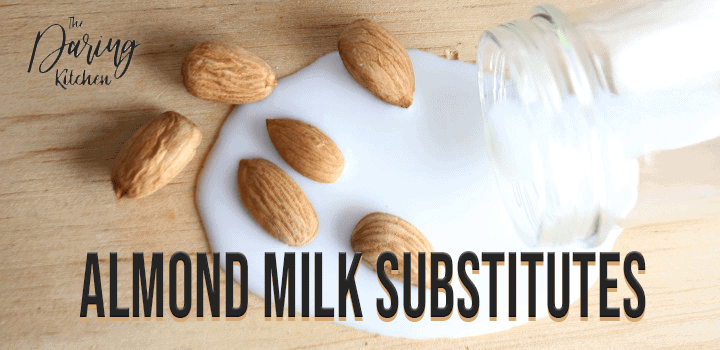 Almond milk is the most popular plant milk in the US. This comes as no surprise considering that it contains 53% more calcium than dairy cow milk, zero cholesterol, zero lactose, and no sugar. So, why are people looking for an almond milk substitute anyway?
It's partly human nature - they want to try something different- or they may be intolerant to almonds. But there's more to it. Among plant milk options, almond milk is the least sustainable product. Consider this: one glass of almond milk takes about 74 L of water to make, which is substantially higher than other choices such as rice, oat, or soy milk.
Environmental factors such as persistent droughts have also made almond sustainability more challenging. So, if you are looking for a good substitute for almond milk to use for baking or consume in any other way you like, read on!
What Is Almond Milk?
Almond milk is a type of plant-based milk made from almonds. It is creamy in texture and has a nutty flavor but some types of commercial products are flavored with vanilla or chocolate. Almond is often the choice of those who have lactose intolerance as well as vegans who abstain from dairy product consumption.
It is rich in calcium and contains no sugars, cholesterol or unsaturated fat but has a relatively high amount of sodium (186 mg per 243 g of milk). It naturally contains vitamins A and D, but because of its low protein content, it doesn't make a good alternative for cow's milk, breast milk, or other formulas for kids under 2 years of age.
However, certain brands come enhanced with protein and other micronutrients such as vitamins and minerals. Commercially, it comes in sweetened and unsweetened variations. It is easy to make almond milk at home using your blender, almonds, and some water.
Besides, it has plenty of uses and can replace dairy milk in several recipes including soups, puree, salad dressings, sauces, and baked foods. You can mix it into milkshakes or smoothies, pour it over your cereal or add it to your tea or coffee. Dairy-free ice cream, French toast, rice, or bread puddings are also great with this milk.
Almond Milk Alternatives
Coconut Milk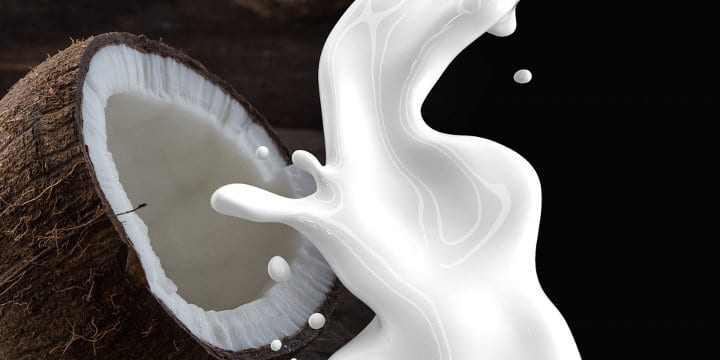 Coconut milk has a milky-white color and αvery distinct sweet coconut taste. It is extracted from the ground flesh of ripe coconuts. Its rich taste is due to the high-fat content - mostly saturated.
Compared to almond milk, it has a much higher content in fat and calories. Although it comes in a light coconut milk version, the calorie value is still more than almond. Similarly to almond, coconut milk is good for those who are dairy-allergic, lactose-intolerant, or vegans.
You can drink it raw but due to its strong flavor, it can't replace almond milk in coffee or tea as successfully. However, it's a good alternative for baking and cooking. The light version is used in curries and soups while the thick one is preferred in coconut desserts.
Coconut is a key ingredient in Indian, Polynesian, Thai, and Nepali cookery.
Soy Milk
Soy milk is created from a mixture of water, oil, and soybeans. Both soy and almond milk are lactose-free, vegan, and low cholesterol but there are some differences in terms of nutrition, health benefits, and environmental effect.
Soy milk contains more protein than almond but it's lower in calcium. When it comes to carbohydrates, fiber, and vitamins B12, A and D, soy is the winner. It also has a lot less sodium than almond.
Many people find the taste of soy milk difficult to get used to, but there are flavored versions in the market such as chocolate or vanilla to make your switch from dairy milk to soy more enjoyable.
Both almond and soy contain low amounts of fat so they can be used to lighten any cake recipe or dessert. The ways to use them in cooking are very similar, so it all depends on which flavor is best for you.
Rice Milk
Rice milk is typically made from brown rice and its production requires less water than almond milk. Among other plant kinds of milk, it's the least allergenic. Its protein content is negligible and contains only 20 mg of calcium per serving although some products are fortified with calcium.
It is also free of lactose or cholesterol. Commercial rice milk may be sweetened with sugar or other substitutes and flavored with vanilla. However, even unsweetened, rice milk should not be considered as a good option for diabetics because of its high starch content.
Using rice milk to make muffins will result in a sweeter taste when compared to almond milk so it may be a good idea to reduce the amount of sugar by a couple of tablespoons. Due to the low-fat content, the texture of your muffins will be slightly on the dry side especially after one day. Fix this by adding some juicy ingredients such as berries or under-baking the cakes.
Oat Milk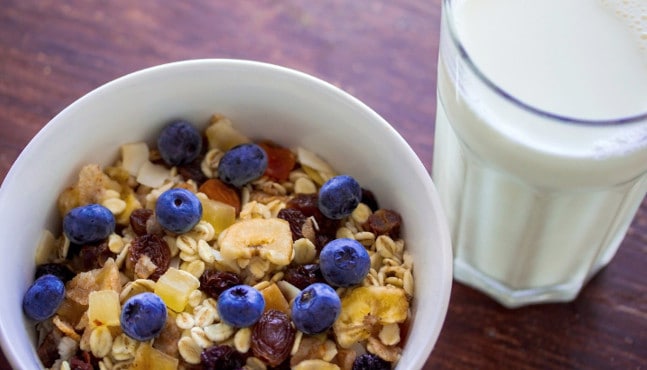 Oat milk derives from whole oat grains. Compared to almond milk, its production is said to require eight times less water and has a low impact on the environment.
Due to its higher calorie and carb content, it has a creamy texture that almond doesn't have. When compared to other plant-based milk varieties, it's the only one -together with hemp milk- whose texture can be compared to cow's milk.
It's also free of artificial thickeners and the fact that it froths makes it a great non-dairy alternative for your coffee. It can also be successfully used as an almond milk replacement in baking.
If you are strictly monitoring your calories or carb intake (as in the case of keto), keep an eye on the serving sizes.
Hemp Milk
Another popular alternative to animal milk, hemp or hemp seed milk is very low in calories and carbohydrates. This makes it an excellent choice for those who want to minimize their carb intake.
Hemp milk is made from hemp seeds soaked in water and is safe for people with soy intolerance or milk allergies. It's also great for vegans and vegetarians because it contains high-quality protein, essential fatty acids, and minerals.
It has a slightly sweet and nutty taste. Its texture is very similar to cow's milk and that's why it is said to be better than soy for latte art. Commercial products may come in sweetened or flavored versions.
Flaxseed Milk
Flaxseeds, these tiny, brownish seeds contain a high amount of omega-3 fatty acids, important nutrients for good heart health, diabetes, and more. Flax milk contains vitamins A, B12, and D and is free of lactose, gluten, and cholesterol. It's also high in fiber but low in protein.
It is a little thin in texture, and its flavor is a bit sweet. It has a low calorie and low sugar content which makes it a good alternative for those watching their calories.
Flavored options come heavily sweetened, so check the label for sugar amount.
Cashew Milk
Loaded with minerals, vitamins, and healthy fatty acids, cashew milk is highly nutritious. It is naturally lactose-free and healthy for anyone who's looking to replace almond milk with a product that has a similar taste.
Compared to almond, it is a bit more creamy and rich. Its nutty flavor is light and sweet. This is a great alternative for hot chocolate, coffee, or tea.
It's also quite versatile. It can be used in most recipes including sauces, baked goods, homemade ice cream, smoothies, and cereals. Making homemade cashew milk is super easy. Plus, it may contain more nutrients than commercial products.
Looking For More Ideas?
Here are some more options:
Cereal based: Spelt milk, corn milk
Legume based: Cowpea milk, lupin milk
Nut based: Walnut milk, pistachio milk, hazelnut milk
Seed based: Sesame milk, sunflower milk