Sound the alarm! We've got a hot one on our hands this time.
Chili paste is one ingredient which seems to be cropping up everywhere these days, and your recipe collection is certainly not exempt from this spicy stuff which is currently taking the world by storm. The problem is, chili paste is not exactly a common household ingredient for most folks, meaning you may not have it on hand when you find yourself cooking a recipe that calls for it.
Therefore, we've compiled a list of the best chili paste substitutes, each of which will deliver a similar punchy flavor to your recipes while still saving you from an extra trip to the store!
What is Chili Paste?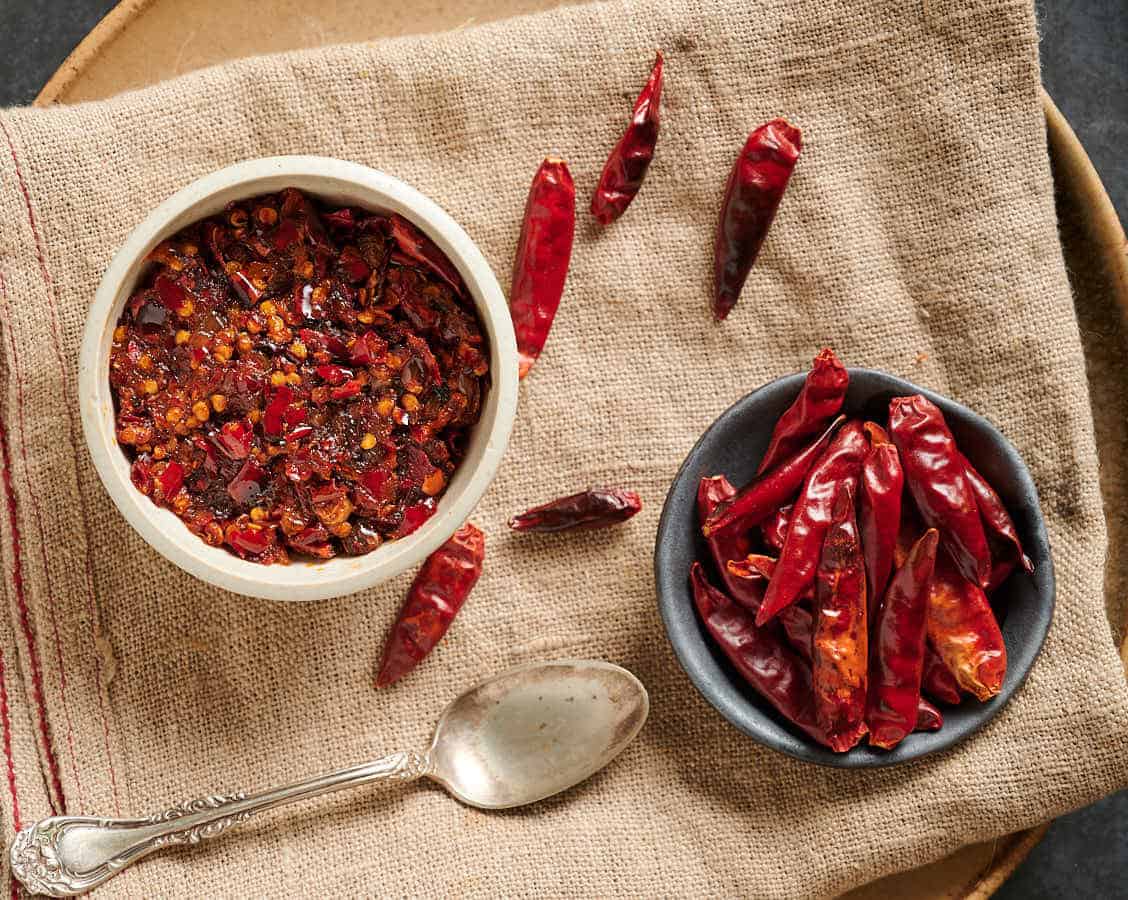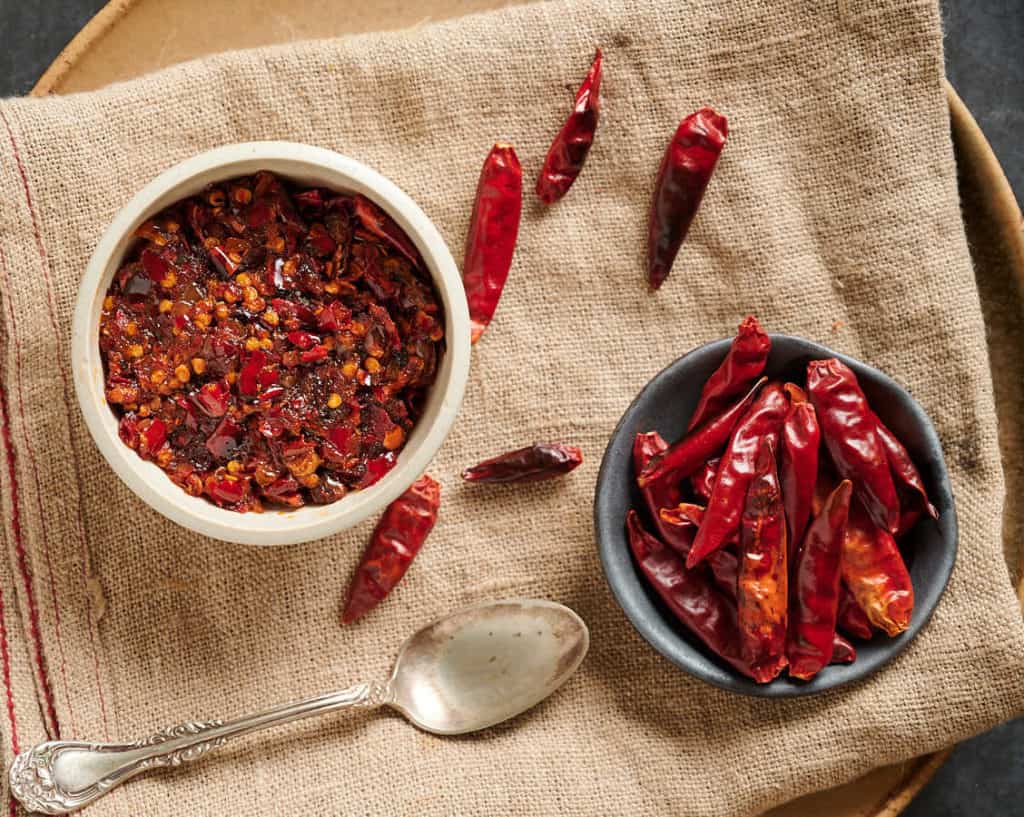 Chili paste is just as described–a paste made from hot chilis. The apparent simplicity ends here though, as from there, chili paste can vary widely in terms of ingredients and preparation. Part of this is due to regionality, as chili pastes tend to be made with whatever chilis and seasonings are native to any given area or cuisine, but also, chili pastes may be tailored to personal tastes as well.
Most chili pastes are made from dried chili peppers which may be either toasted and rehydrated before being blended. Some chili pastes are blended with oil, while others are mixed into a tomato base. Some chili pastes are pure heat, while others are plenty sweet! Still, some chili pastes are heavy on complementary flavors such as additional spices, soy sauce, herbs, and seasonings while others are heavy on smoky or fermented flavors.
Note: chili paste is not to be confused with chili sauce, which, as far as most brands go, is typically not as spicy as your average chili paste--but still plenty flavorful and tasty!
What is Chili Paste Used For?
Regardless of the specific ingredients or preparation of a chili paste variety, the intent remains the same: to deliver spicy flavor to any dish! It is also generally agreed upon that chili paste differs from hot sauce in one important way: viscosity. Hot sauce is very thin and liquidy and is typically dispensed in a dasher bottle, drop by drop to control the flow. Chili paste, on the other hand, is thick and definitely not so pourable. Rather than being able to squeeze or shake a few drops out, chili paste requires some spooning and stirring to disperse the chili pepper flavor throughout your dish.
Types of Chili Paste
Upon hearing the word chili paste, many folks picture the small pile of red-hot stuff you often see topping a bowl of ramen or served alongside it. The truth is, there are many types of chili pastes out there! The following are a few of the most popular chili pastes used worldwide and the regions they hail from.
It goes without saying that the list below is your first plan of attack when it comes to seeking a chili paste substitute. If your recipe calls for one type of chili paste and you happen to have one of these, or another one we didn't include, go ahead and use it in its place! Just bear in mind the heat level and go easy until you know how spicy you would like your recipe to be.
Gochujang: an amazingly complex Korean chili paste. Gochujang is as funky as it is pungent, thanks to the inclusion of fermented soybeans, as well as the unique addition of sticky rice blended in for texture. And of course, don't forget the load of spicy red pepper flakes that form the main flavor profile of this stuff.
Harissa: popular in North African and Middle Eastern cuisines, this red chili paste contains plenty of complementary flavors thanks to the inclusion of garlic, olive oil, and toasty spices like cumin and coriander.
Sambal Oelek: this vinegar-forward chili paste hails from Indonesia and is likely to be what you imagine when you think of traditional chili paste. Sambal Oelek is most often the stuff you see gracing the top ramen bowls and other spicy soups.
Ancho Paste: made from Mexican hot chilies called dried ancho peppers, this type of chili paste is ubiquitous in the spicy foods of Mexican cuisine and has a sweet, spicy, and smoky flavor.
Thai Chili Paste: there is actually a huge range of Thai chili pastes out there to choose from. The most popular version is Thai red chili paste, which often includes unique ingredients such as tamarind, fish sauce, and sugar to balance out the heat.
Green Chili Paste: many chili pastes are made from red chilis, but in the case of Indian cuisine, you'll often find green chili paste! Many green chili pastes are quite simple, consisting of just spicy green chilis and salt, but some recipes may include garlic, fresh herbs, or even a bit of oil.
Things to Consider When Substituting for Chili Paste
When evaluating which might be your best bet from this list of chili paste substitutes, there are several factors you might want to consider in order to achieve the best match, or make a substitute which will impart some different, yet equally complementary flavors and textures into your recipe.
1. The Heat Level
This is going to be a tough one to manage, as the heat level of different chili pastes and the spicy substitutions can vary from product to product. In fact, the difference in heat level between two individual peppers of the very same species can be quite dramatic as well!
Chili pastes and chili paste substitutes are also tough to fully taste as you cook (unless you want to roast your taste buds) but it is worth your pain to taste just a little and ensure it will have the effect you hope for in your recipe. In addition, you can also rely on other details to see if the result may be comparable. You can compare a lot between two ingredients simply by smelling them or by examining their textures. Trust your instincts!
2. Tomato or not To-mato?
As you're about to see, many of the chili paste substitute options we've listed here contain tomato ingredients. It's important to think carefully about this as you don't want to be adding tomato ingredients into any recipe where their acid content and reactivity may cause an issue, such as those dishes which are to be cooked or mixed in an aluminum or copper vessel. Tomato reacts with these metals and can cause your final dish to taste metallic, so avoid these ingredients or swap out the pots and pans if need be.
3. Texture and Moisture
One of the most important characteristics about chili paste is its texture. It is not dry like pepper flakes and seasonings, yet also not as runny as your standard hot pepper sauce. Chili paste has a perfect, well, paste-like, texture which makes it ideal for forming the base of sauces, stirring into soups, using as a spread, rubbing onto meats and poultry, and so many more applications. Therefore, when seeking a substitute for chili paste, keep texture and moisture level in mind and adjust as needed.
6 Top Chili Paste Substitutes
Choosing the best chili paste substitute will depend on what ingredients you already have on hand, which ones are available to you at your local market or specialty store, and perhaps most importantly--just how hot you like it!
Ketchup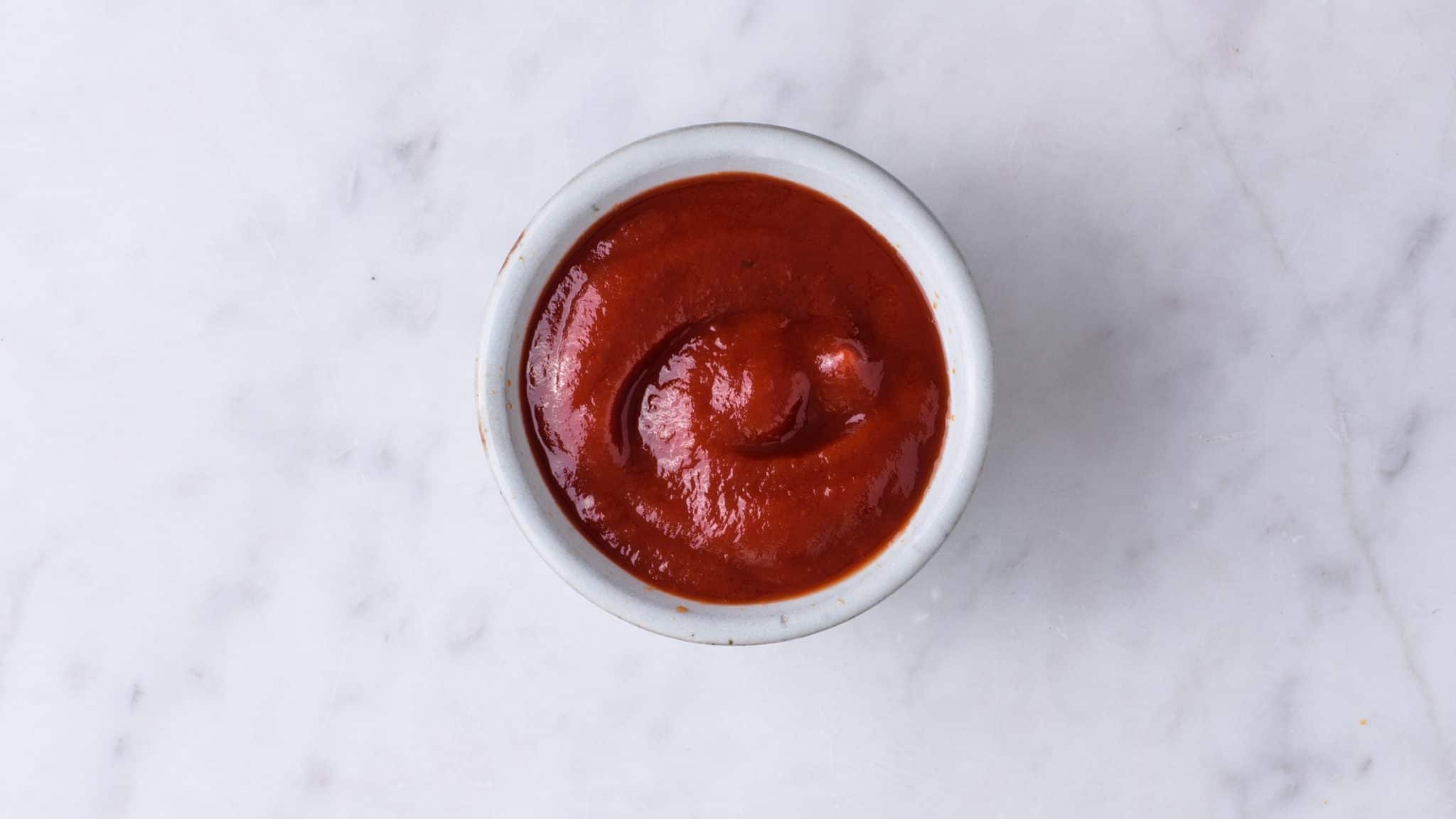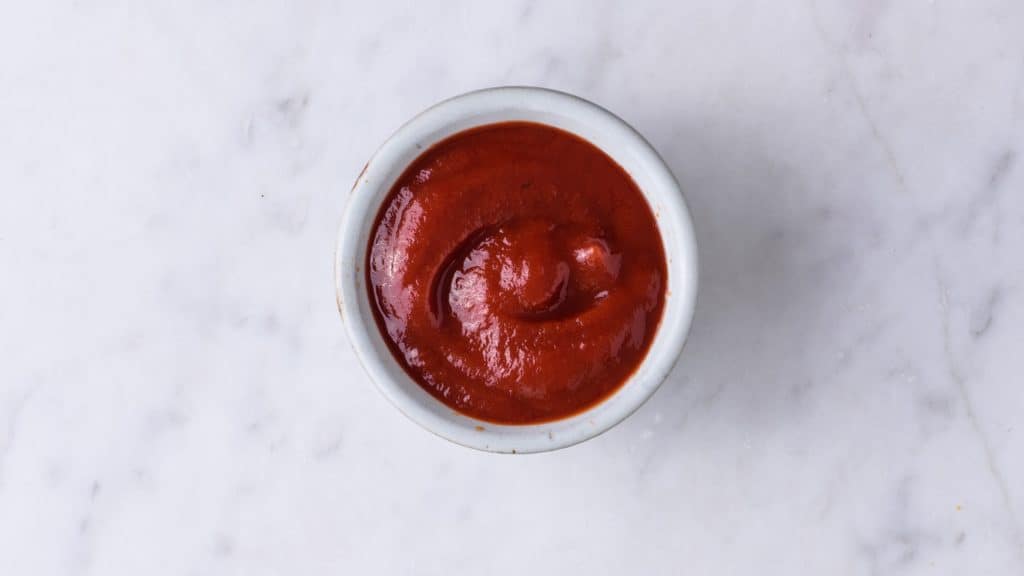 After all this talk of spicy hot peppers, if you think that using ketchup as a chili pepper substitute seems a little lame, you're not wrong! While ketchup is most certainly not spicy, it does have a thick texture which is comparable to chili paste, and a tomato-y base of flavor that many chili pastes possess as well.
The trick here is that you must bring the heat yourself! It's more work for you, yes, but on the plus side, you get to customize this substitute for chili paste to your very own tastes. To every half-cup of ketchup, try adding about 1 tablespoon of any of the following spicy seasonings: ground cayenne pepper, chili powder, crushed red pepper flakes, or chipotle seasoning. You can also crush any type of dried chili peppers you may have to make your own pepper flakes and use these as well, just be sure to chop or grind them as much as possible. Add a few pinches of smoked or sweet paprika to round out the heat.
If you let this mixture sit in the refrigerator for an hour or so, the flavors will meld, and you'll have one of the best chili paste substitutes around. Congratulations! You've essentially just made a quick, homemade chili paste of your own!
How Much to Use
1:1 ratio! For any quantity of chili paste called for in a recipe, you can substitute with an equal amount of your spicy ketchup concoction.
Tomato Paste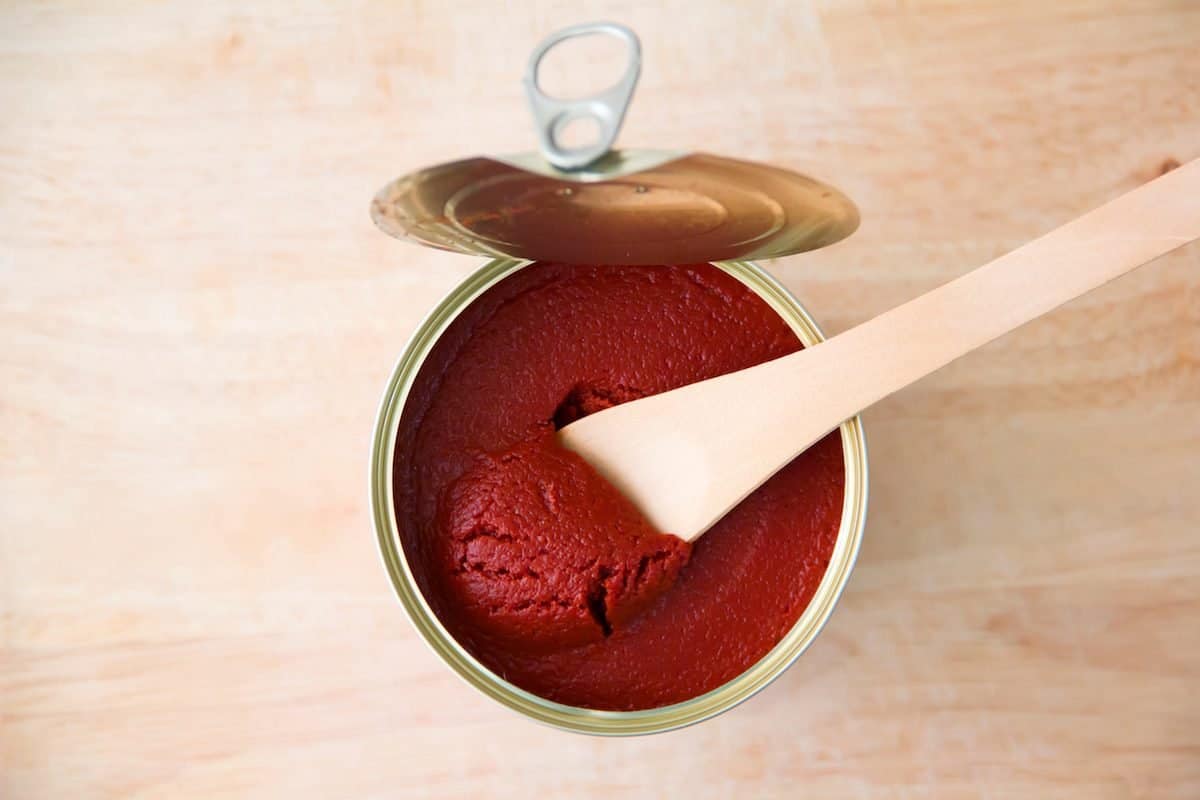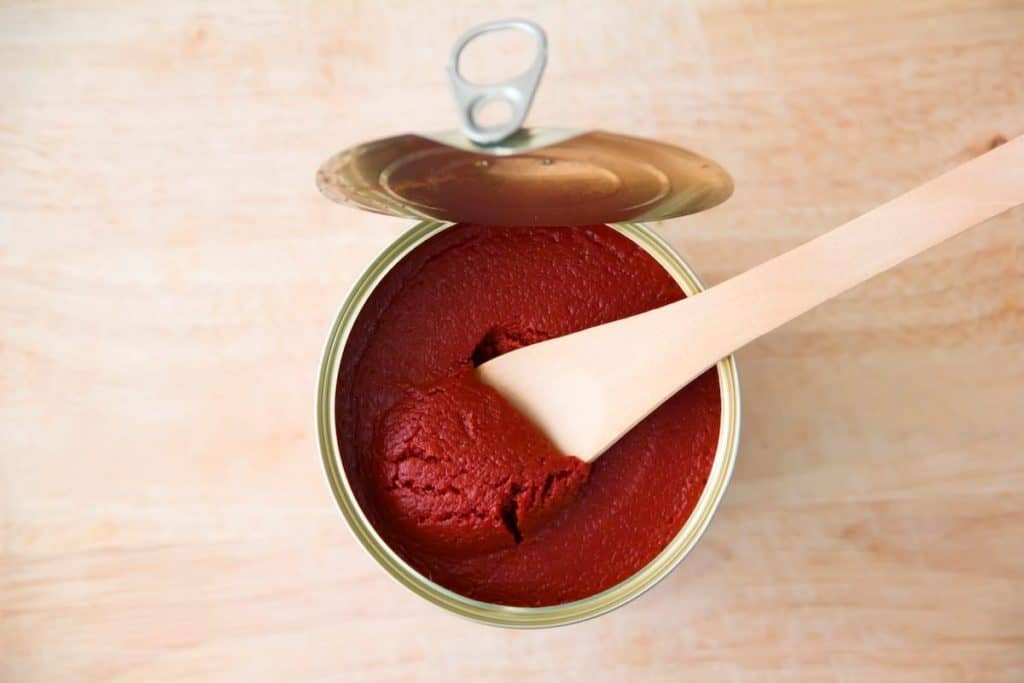 The idea behind using tomato paste as a chili paste substitute is essentially the same as ketchup, except with the added benefit that the texture is even more like that of true chili paste. However, the downside is that tomato paste brings a very intense tomato flavor to dishes, and therefore could potentially take over.
Nevertheless, tomato paste makes for a great option as a chili paste replacement. Simply season it with any of the same things you would use for seasoning the ketchup in option 1: ground cayenne pepper, chili powder, crushed red pepper flakes, or chipotle seasoning. The difference here though is that with tomato paste's strong flavor, you won't need to use as much of the overall mixture in your recipe. Therefore, for a quarter-cup of tomato paste, we recommend adding just 1 tablespoon of spices.
The resultant spicy tomato paste will be much spicier than an equal amount of the ketchup option, but you'll need to use less of it. This spicy tomato paste option has a great texture, spicy flavor, and will behave in a manner much like that of chili paste in your recipe.
How Much to Use:
Due to the strength of tomato flavor and concentrated addition of spices, we recommend a 2:1 ratio here. If your recipe calls for 1 tablespoon of chili paste, start with just ½ of a tablespoon and see if you need to add more of it.
Hot Sauce

As you might expect, you can easily substitute chili paste with hot sauce! There are plenty of hot sauces to choose from--from the strong pepper flavor of tabasco sauce to the vinegary and spicy simplicity of Louisiana style hot sauce. Most hot sauce varieties will deliver a punch of spice and a kick of heat which is somewhere along the lines of chili paste.
You are more than welcome to use your favorite hot sauce as a substitute for chili paste, but our favorite replacement option is sriracha hot sauce. Some people actually consider sriracha to be a type of chili paste, while others believe it is too runny to meet the criteria of a true chili paste. Whichever the case, its thicker consistency as opposed to other types of hot sauce make it perfect for filling in as a chili paste substitute. In addition to its heat, sriracha also contains plenty of garlic and sugar, giving it a spicy-sweet-savory taste all in one.
If you opt to use a more vinegar and pepper forward type of hot sauce as a substitute, you may want to add a touch of sugar and/or minced garlic in order to round out the sharpness.
How Much to Use:
Honestly, this one really depends. Some hot sauces, like sriracha sauce, are mellow and sweet. Other hot sauces are scald-worthy with just a drop! The best thing to do here is start small and keep tasting your recipe until you are satisfied with the heat level.
Chili Crisp or Chili Oil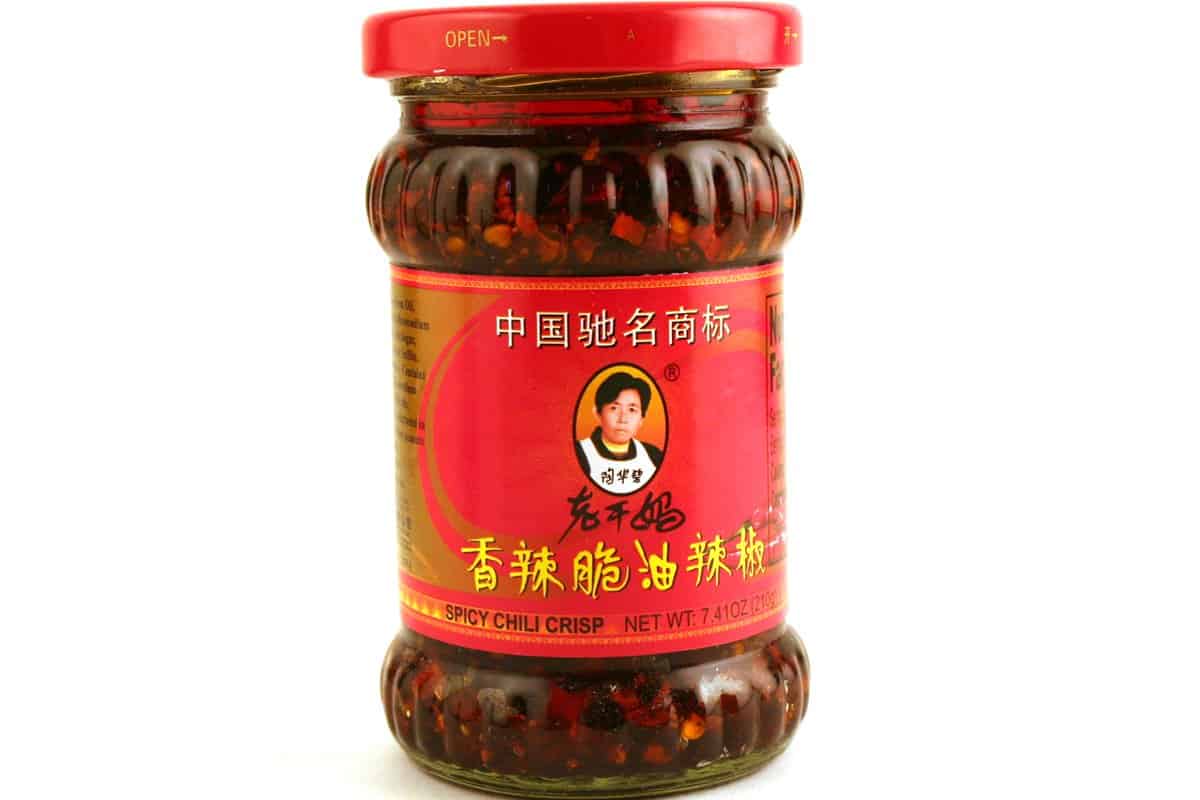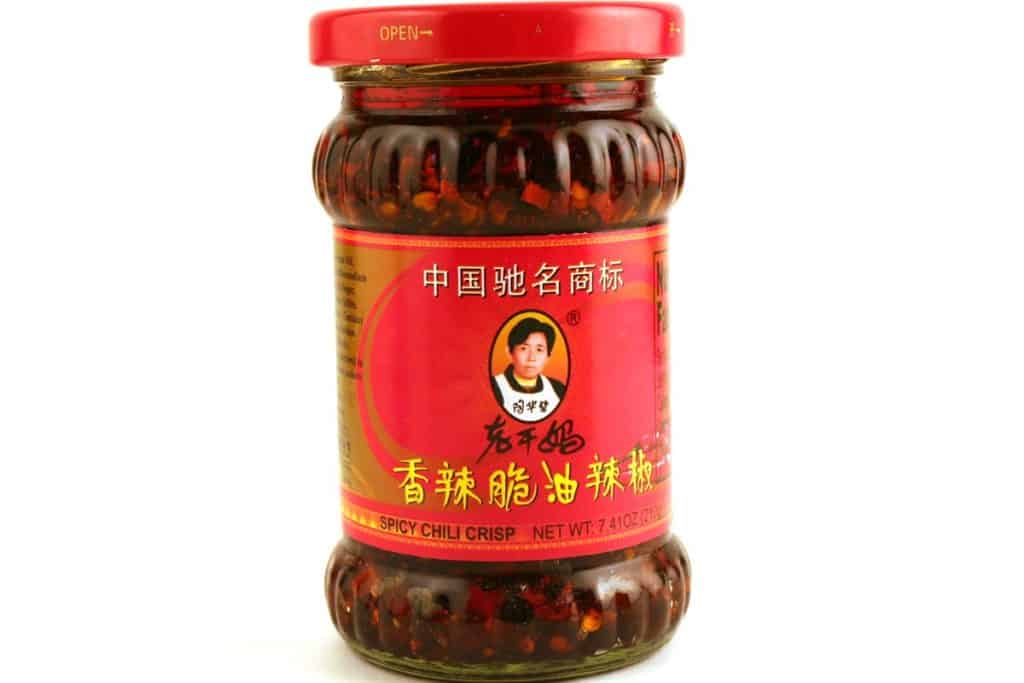 Though chili crisp and chili oil are two different items, their similarity (and oftentimes, presence in the very same jar!) leads us to consider them one and the same for the purposes of a chili paste substitute. Just like hot sauce, there are many different types and brands of chili crisp, but the main idea is that it is a mixture of toasted dried peppers or crushed red pepper flakes and oil. Many chili crisps also include other pungent ingredients such as fried garlic or fermented soybeans. The term chili crisp refers to the entire mixture, while if you were to scoop out the solids from a jar of chili crisp, you'd be left with plenty of flavor-rich, super-spicy, crystal-clear chili oil.
This oil content is precisely what sets these types of products apart from other spicy ingredients we've discussed thus far such as hot sauce and chili paste itself, which are vinegar forward and pepper forward respectively. If you use chili crisp that has plenty of solids in it, your result will be more like that of chili paste. If using pure chili oil, it may take you quite a bit more to achieve the level of heat you would like in a chili paste substitute, and you will be doing so without the addition of any textural elements whatsoever.
How Much to Use:
If using chili crisp, use a 1:1 ratio to replace chili paste in any recipe. If you only have chili oil (or the oil leftover in a jar of chili crisp), use a 2:1 ratio of chili paste to chili oil to avoid excess oily flavor and texture in your recipe.
Salsa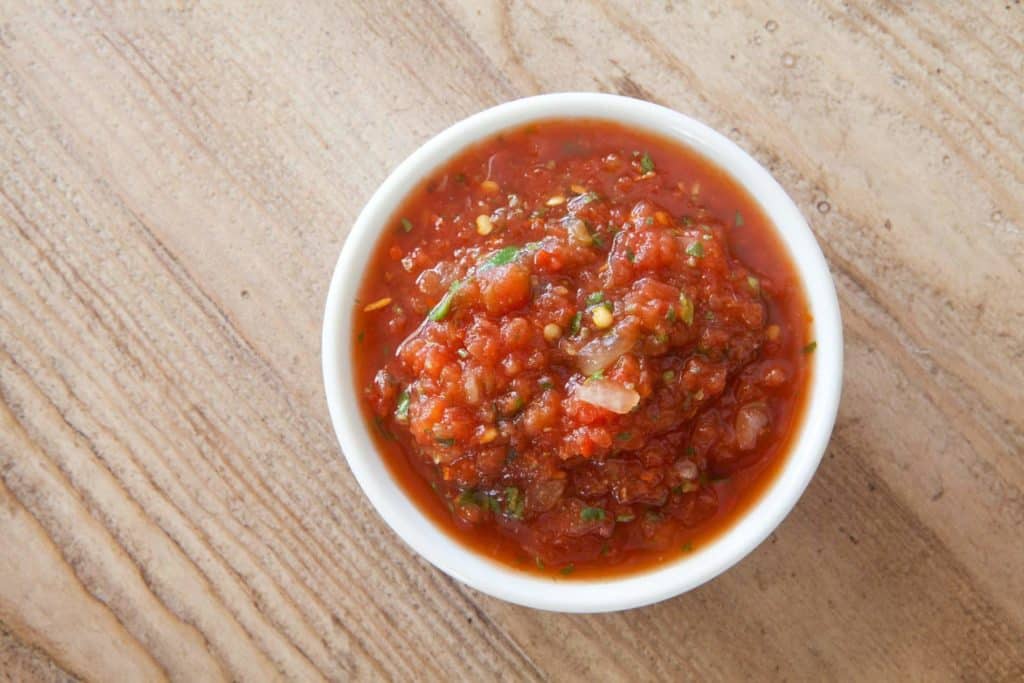 That's right, salsa can make for a good chili paste substitute, as it is often packed with spicy, fresh peppers! This is great news, because who doesn't have a jar or two of this stuff kicking around the fridge or pantry? In order to replace chili paste in a recipe, we recommend opting for any hot n' spicy type of salsa when possible, and the trick here is to cook the salsa to remove excess moisture. Make sure to simmer it in a nonreactive pot or saucepan and stir often as the sticky nature of salsa as it cooks down may have a tendency to burn. With a bit of time, your salsa will take on a thick, paste-like texture.
As if you were substituting chili paste with ketchup or tomato paste, going the salsa route will also impart some tomato flavor into your recipe, so keep that in mind as you are considering your options. If your salsa is on the milder side and you really want to bring the heat, try mixing in some additional seasonings such as minced dried cayenne peppers, pepper flakes, or chili powder.
How Much to Use:
It's a little tough to say as the heat level between salsas can vary so widely, and it also depends on how long you are able to simmer your salsa and what type of consistency you end up with. Our best advice is to start with a 1:1 ratio, then add more as needed in order to achieve a comparable heat and flavor level.
Other Spicy Pastes--Such as Curry Paste or Wasabi Paste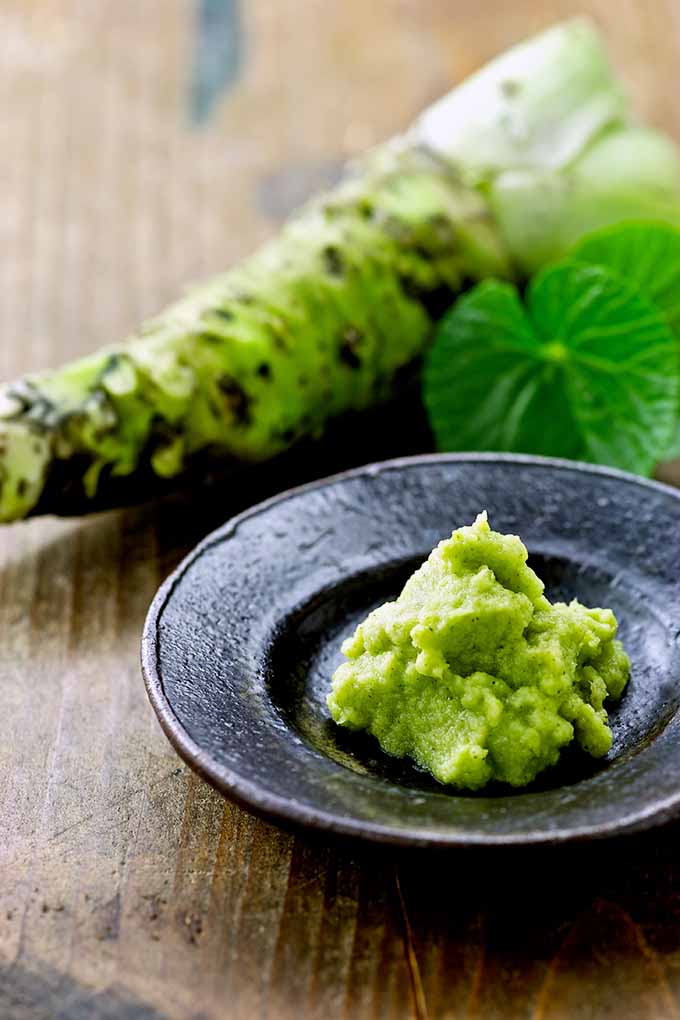 Chili pastes are not the only spicy pastes out there! Two other pastes which actually make great substitutes for chili paste are curry paste and wasabi paste. Curry paste is a great choice as it owes its fiery kick to the very same chili peppers which make chili paste so spicy.
Wasabi on the other hand, does not contain chili peppers nor the chemical compound capsaicin, but it does impart a similar "hot" feeling on the tongue and in the sinuses. Chances are, your tube of wasabi paste is actually made from horseradish and therefore is plenty spicy, but if you happen to have a container of the real stuff, count your lucky stars, as its flavor is unmatched.
If using either of these pastes, or other less common hot pastes like ginger paste, keep in mind that the level of peppery flavor your recipe will wind up with will be far lower than using a chili-based substitute. Nevertheless, the result might just taste great!
How Much to Use:
Since the heat factor of these alternative pastes is quite different from that of chili paste, start with a 2:1 ratio of chili paste to other paste, in other words, use half the amount called for in the recipe.
Choosing the Best Chili Paste Substitute: The Bottom Line
As you can see, you have a number of different options when it comes to selecting a chili paste substitute! From tomato-based options like ketchup and spicy tomato sauce or paste, to out-of-the-box solutions like wasabi paste or salsa, there is definitely more than one way to bring the heat into any recipe you cook.
When evaluating your choices for a chili paste substitute, be sure to consider if your recipe and cooking vessels can handle the addition of tomato flavor and acidity level, or if you should opt for a tomato-less option. In addition, you can always tailor these substitutes to suit your taste level, which is one of the best parts of making a substitution! If you're not a fan of much spice, just add a small amount of your substitute, or stick with more mild options such as paprika or ginger.