Second only to water, tea is the most commonly consumed beverage in the world. It only makes sense that there would be so many types of tea to choose from--almost more than one could possibly imagine!
Jasmine tea is one type which is so popular, it has come to be enjoyed worldwide. The global reach of this irresistibly floral beverage means that it's quite likely you have some jasmine tea at home in the cupboard. But as you put the kettle on to brew your ritualistic cup of bedtime tea, you may be wondering, "does jasmine tea have caffeine?".
Caffeine and Jasmine Tea
Not only is caffeine an issue for those who are simply seeking a good night's rest (yes, literally everyone, everywhere), but caffeine content is of special concern for people with certain medical conditions which caffeine is known to exacerbate. Therefore, it's always important to know if your beverage contains this stimulant or not!
In most cases, drinking jasmine tea will expose you to some caffeine. However, some types of jasmine tea contain far lower amounts of caffeine than others. In fact, there is one type which doesn't have any caffeine at all! Read on to find out more about jasmine tea and how to determine the caffeine content within your cup.
What is Jasmine?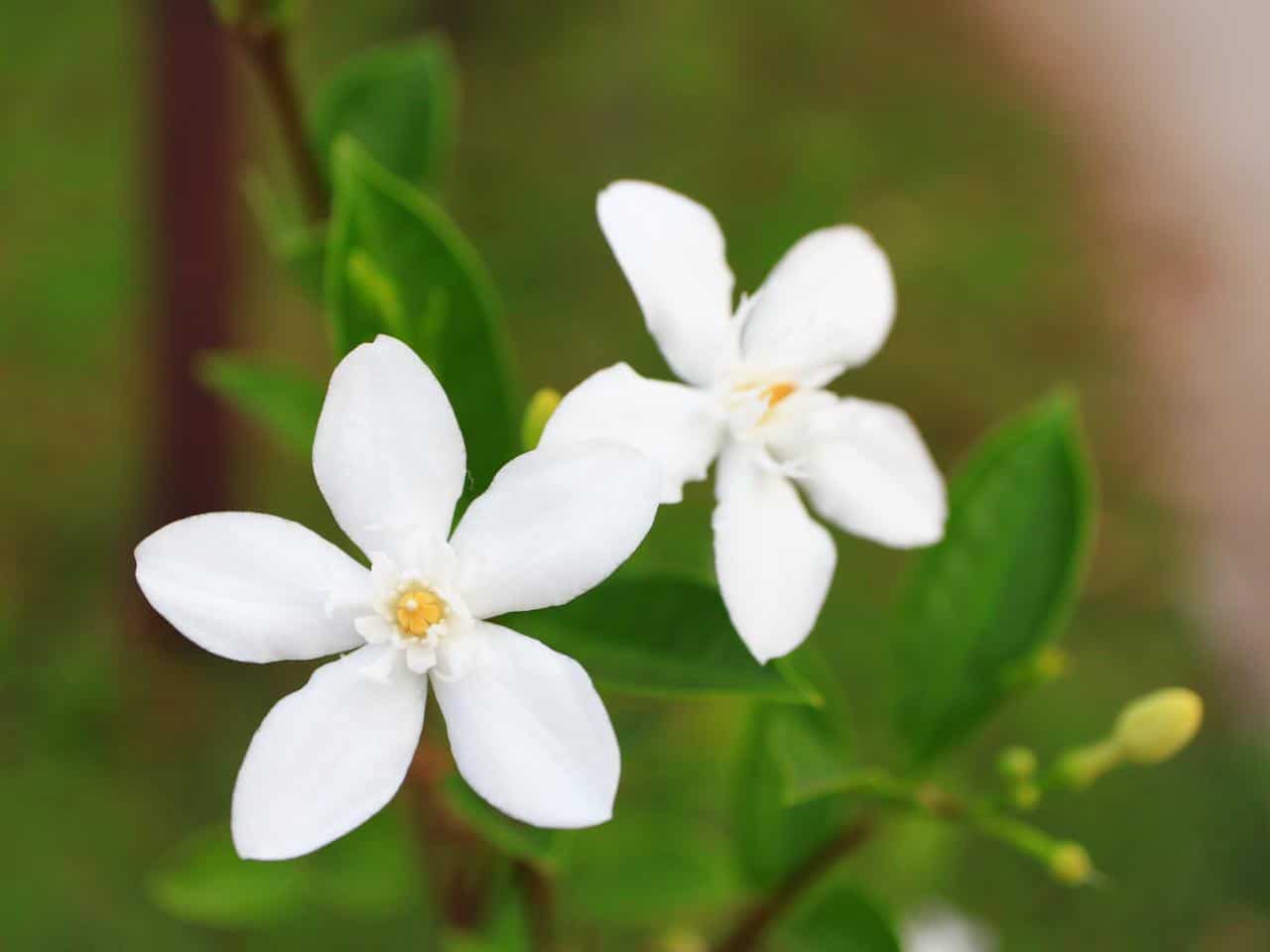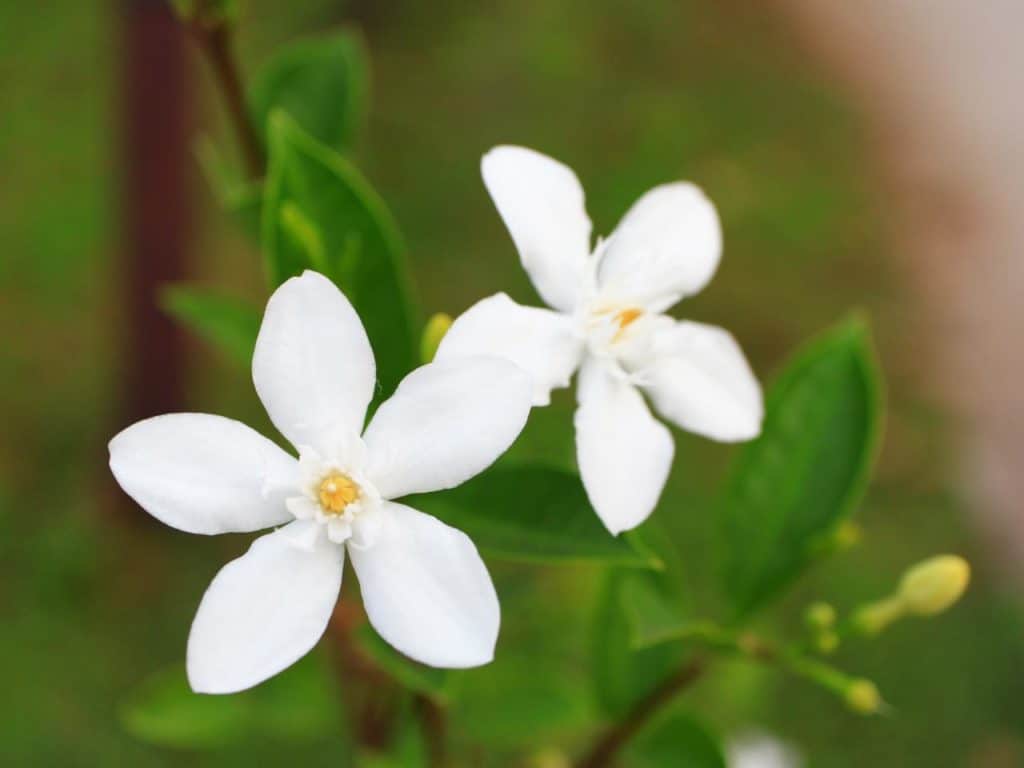 Jasmine is a group of plants within the olive family, Oleaceae. Plants within the jasmine genus are either shrub-like, keeping a low profile as ground cover, or vine-like, climbing up and along other plants and nearby structures. While it remains most prevalent in Asian and Middle Eastern countries, it is difficult to say exactly where and when jasmine originated in the world. It grows widely (and wildly!) across many areas of the Middle East, India, and the Himalayas. In fact, jasmine is the national flower of several different countries, from Pakistan to the Philippines!
There are over 200 individual species of jasmine, and while most of them do produce flowers, there are only a couple of species that are typically used in the production of jasmine tea: Common Jasmine (Jasminum officinale) and Sampaguita (Jasminum sambac).
Why is jasmine in such high esteem when it comes to tea? Just take a whiff of a few fresh jasmine flowers and you'll understand. Jasmine blossoms are sweetly scented and intensely aromatic. When used to flavor tea as has been done for over a thousand years, an intoxicatingly scented tea is produced.
The usefulness of jasmine doesn't stop at tea though! The aroma of jasmine flower is ubiquitous in the perfume industry and jasmine scents are also commonly used in soaps, cleansers, and as essential oils.
How is Jasmine Tea Made?
The process of infusing the flavor from jasmine flowers into tea leaves is a time consuming one, which is perhaps in part responsible for the specialness of this fragrant beverage. Green tea varieties are most often chosen as the base tea that is to be infused with jasmine flavor, but other teas are readily used as well: black, green, oolong, and herbal blends to name a few.
Once the tea is harvested and processed, the dried leaves are spread out on a flat surface and plenty of fresh jasmine flowers are placed amongst them. As this mixture sits together, the aroma and moisture from the blossoms are absorbed into tea leaves, slowly drying out the flowers in the process. When making jasmine tea, it may take several hours for the flavor to fully infuse, after which the jasmine flowers have no more scent or moisture left to offer.
Many tea makers opt to remove the dried flowers and repeat the process again with a new batch of fresh jasmine blooms in order to continue intensifying the jasmine flavor. After the desired level of jasmine tea taste has been achieved, the tea leaves are fully dried so as to lock in the flavor and make them shelf stable. Sometimes, a few dried jasmine flowers are left in the tea blend, as they will give a beautiful appearance when the tea is later brewed.
How Much Caffeine Does Jasmine Tea Have?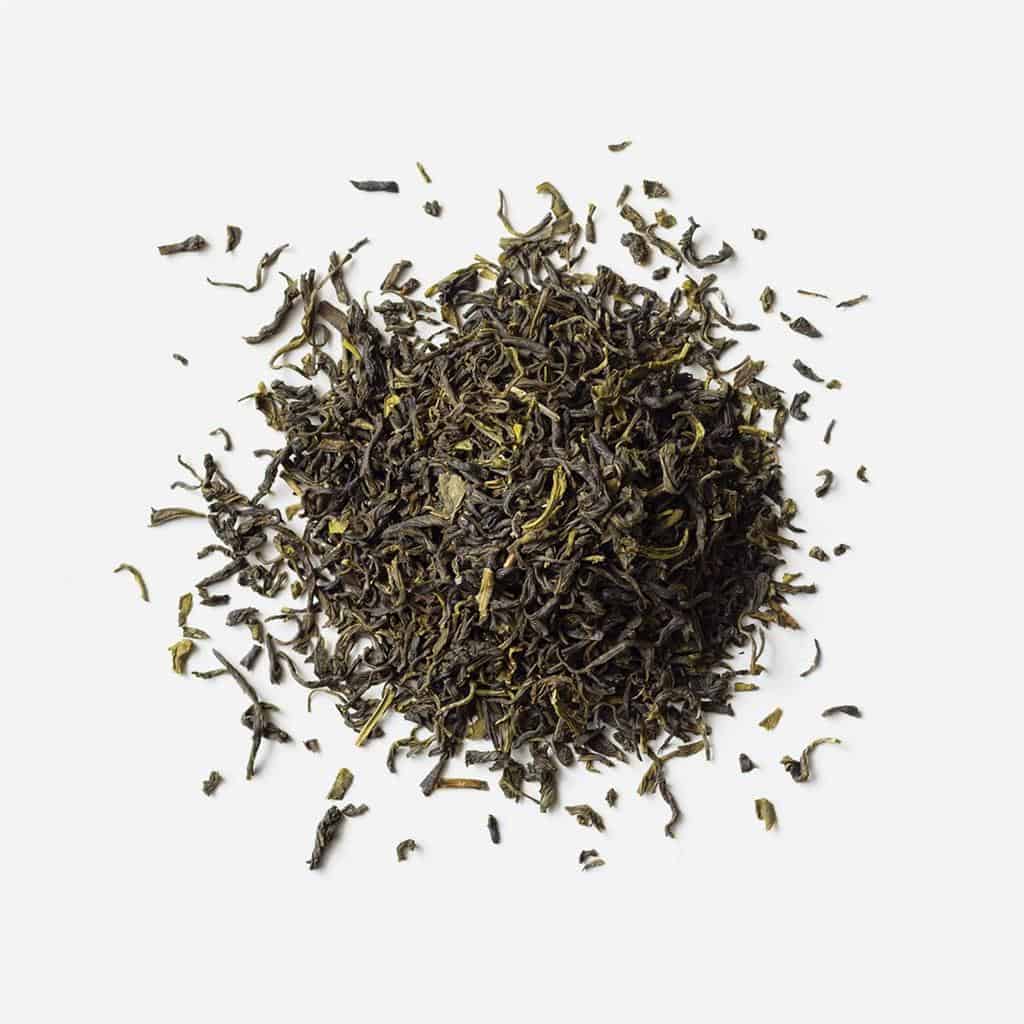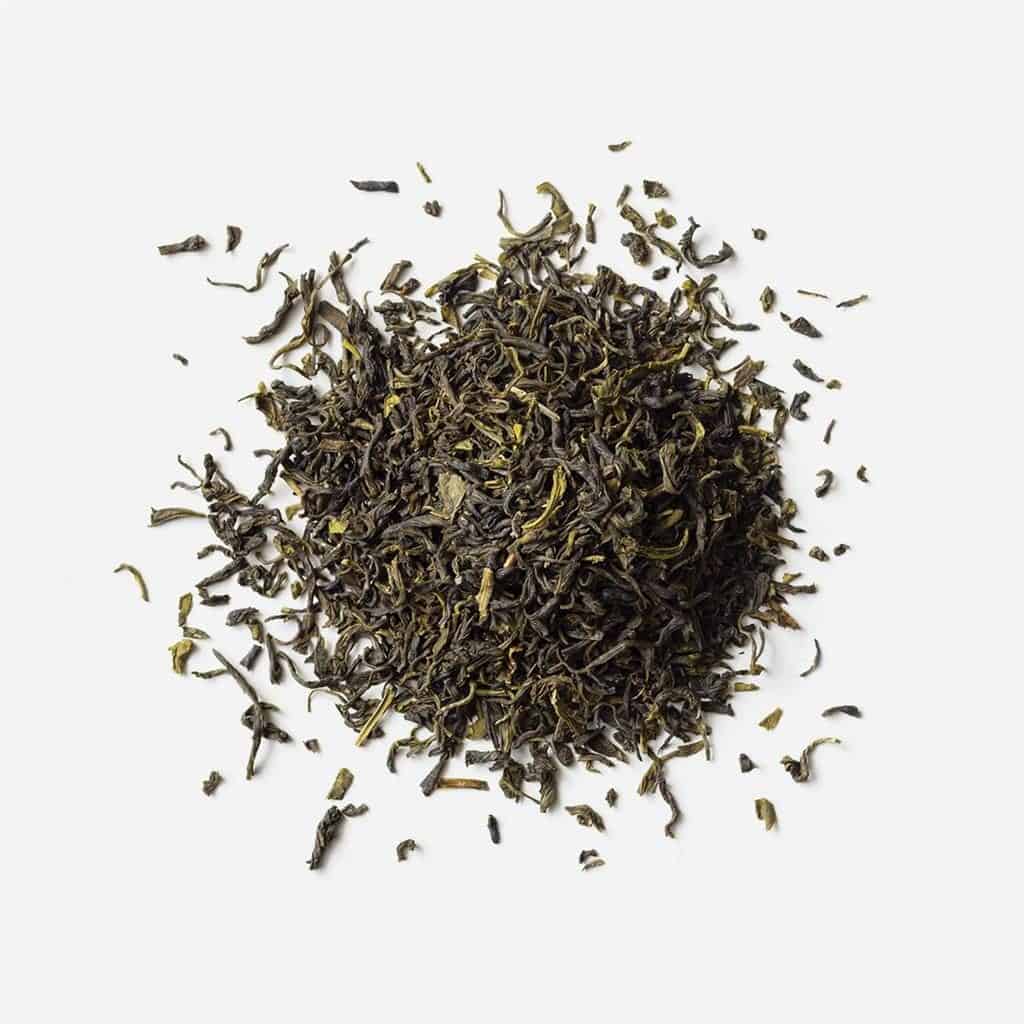 As we know by now, the answer to the question "does jasmine tea have caffeine?" is yes (with one exception!), but exactly how much caffeine is in that cup will depend on which jasmine tea type is in question.
Here we have the most common jasmine tea blends and the estimated caffeine content of each variety. Keep in mind that these figures are generalizations and that the caffeine content can certainly vary depending on brand, processing, brewing, and even how young or old the tea is at harvest time.
Jasmine Black Tea: About 50 mg/cup
Black teas are made by allowing the tea leaves to dry and oxidize after harvest, thereby producing enzymes which alter the flavor and appearance of the leaves. Due to the unique process by which it is made, black tea takes on a much bolder flavor than other varieties. After being scented, jasmine black tea maintains this strong, earthy taste while also imparting the floral taste of sweet jasmine into the mix.
Containing the most caffeine of all varieties, black jasmine tea will typically contain somewhere around 50 mg per cup.
Jasmine Oolong Tea: About 40 mg/cup
Oolong tea is considered to be the most complex of all the tea types, as it can have characteristics of black tea, green tea, and every tea in between. Where black teas are oxidized to their fullest extent, oolong teas are only partially oxidized. Tea makers carefully control the oxidation process of oolong tea so as to coax out the desired flavor, bringing it to a halt at just the right moment. One type of oolong may have a deep, woodsy flavor while yet another may be light, grassy, and refreshing.
While jasmine oolong tea has less caffeine than black jasmine tea, it still has a considerable amount, averaging around 40 mg/cup.
Jasmine Green Tea: About 30 mg/cup
Green tea is minimally oxidized, giving it a fresh, vegetal flavor. This freshness pairs especially nicely with floral aromas, explaining why green tea is the top choice as a base for jasmine tea. Before being perfumed by jasmine, green tea leaves are harvested and then air dried away from bright sunlight in order to preserve as much of their verdant coloring as possible. The leaves are then lightly cooked, either by pan frying or steaming. Pan frying tends to yield more muted green leaves, while steaming will produce tea leaves which are the most vibrantly green of all.
Whichever cooking method is chosen, the fact green tea leaves remain green also means that those added health benefits we find in all things green are preserved too-–from chlorophyll to polyphenols! Jasmine green tea will typically have less caffeine than either black or oolong varieties, at around 30 mg/cup.
Jasmine White Tea: About 20 mg/cup
White teas undergo the least amount of processing of all the tea varieties. After they are harvested, white tea leaves are not cooked at all, rather are air dried in the sun so as to stop the oxidation process as soon as possible. This drying process can be rather difficult to get just right, as the temperature and humidity must be carefully controlled in order to dry the tea quickly without browning it.
After it is dried, white tea leaves have a much lighter color due to the sun exposure, and they can then go on to be scented with jasmine blossoms just like any other tea varieties. Generally speaking, white tea has the lowest levels of caffeine in any of the true teas, coming in at about 20 mg/cup.
Jasmine Herbal Tea: No Caffeine!
Herbal jasmine tea is a bit harder to come by than any of the true teas, but it's out there! Specialty tea stores or online shops routinely stock "pure jasmine flower tea" which is nothing more than 100% dried jasmine blossoms. Many places also offer carefully crafted herbal blends that include jasmine flowers as an ingredient among other complementary herbal ingredients.
Herbal teas are not actually tea, as they do not contain any parts of the true tea plant, Camellia sinensis. Since herbal teas are actually just infusions made from herbs, spices, roots, leaves, flowers, or other plant matter, these types of tea are naturally caffeine free. Some other common herbal teas are orange spice, mint, chamomile, and licorice root.
Health Benefits of Jasmine Tea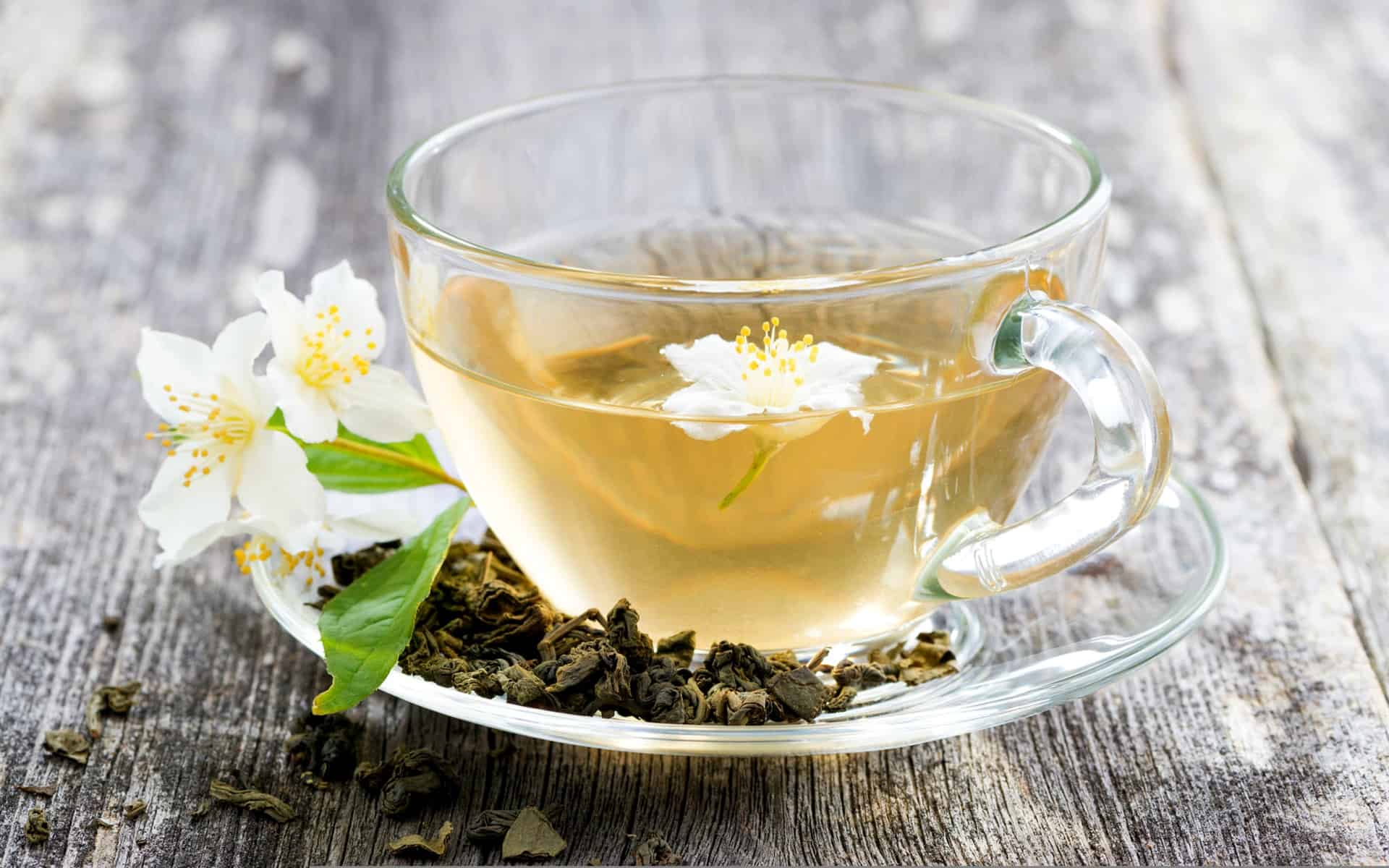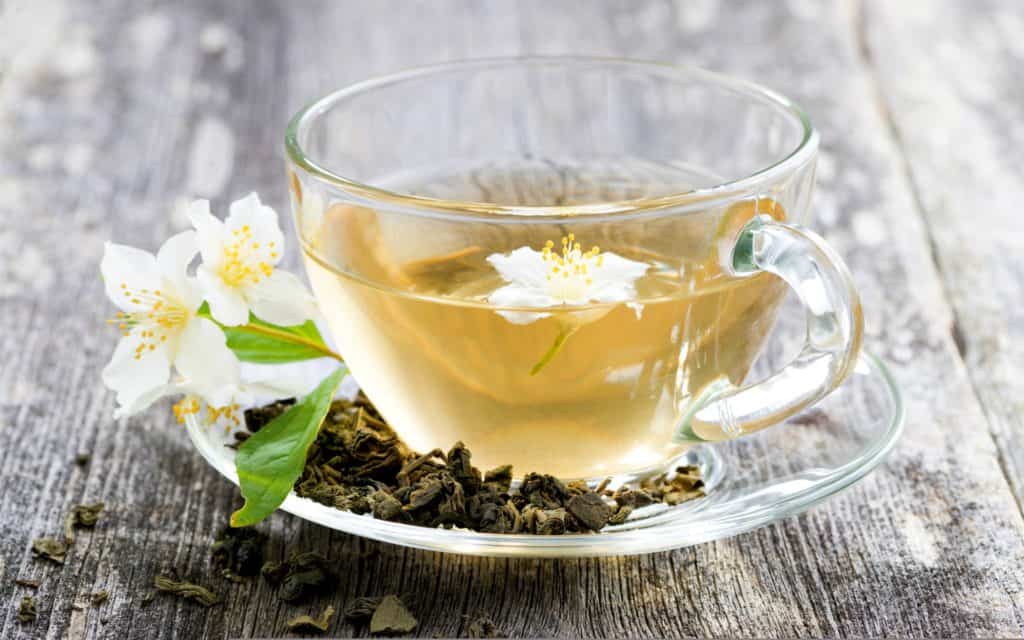 Jasmine tea, and actually any type of tea for that matter, is widely considered to be a part of a healthy lifestyle--and for good reason! There are many positives that come from enjoying a cup of jasmine tea, as the properties of the flowers, as well as the tea itself, offer many health benefits:
Relaxing Properties
Considering the topic of this article is all about caffeine, it's a rather ironic twist that jasmine itself is a well-known relaxant. Inhaling the scent of jasmine or consuming tea made from it are both effective methods of promoting restfulness and calming nerves. With a cup of steaming hot tea, you can get both of these soothing effects in one enjoyable step! In order to reap the most of jasmine's relaxing powers, you may want to opt for decaf or caffeine free versions of jasmine tea.
Antioxidants
All types of tea (black tea, green tea, white tea, and oolong tea) are absolutely packed with antioxidants. Antioxidants work to neutralize free radicals in the body, which are unstable particles which, over time, can cause damage to the cells and tissues they come into contact with. Since antioxidants counteract these microscopic enemies, they act as anti-inflammatories, aging-fighters, and cancer preventers, as studies indicate.
May Help Protect Against Heart Disease
There are also indications that consuming tea regularly, and drinking green tea in particular, is an effective measure to lower the risk of heart disease. The compounds within tea can help to maintain healthy cholesterol balance, as well as improve blood vessel functionality.
As a Weight Loss Aid
Drinking jasmine tea can even help to aid weight loss! Not only do the compounds within tea potentially help to boost metabolism and burn fat, but the choice of tea as a beverage often takes the place of other choices which may be high in sugar or calories. Teas such as jasmine tea are inherently flavorful and may help to satisfy that sweet tooth instead of turning to other less healthy choices.
Shopping Tips for Jasmine Tea
When buying jasmine tea, you'll likely find a range of different formats, from loose leaf tea to tea sachets, even already brewed tea that you can enjoy straight from the bottle! You can select typical loose leaf tea, which you can place directly in a teapot, cup, or use in a tea infuser. Or for an extra treat, look for "pearled" tea, which consists of tea leaves that have been rolled into small spheres that unfold beautifully when steeped in hot water.
Purchasing ready-to-steep tea bags or sachets makes the task of brewing jasmine tea the most straightforward and convenient. On the other hand, opting for loose leaf tea tends to be more economical and versatile, as it allows you to easily adjust the strength or quantity of tea you'd like to brew.
Brewing Tips for Jasmine Tea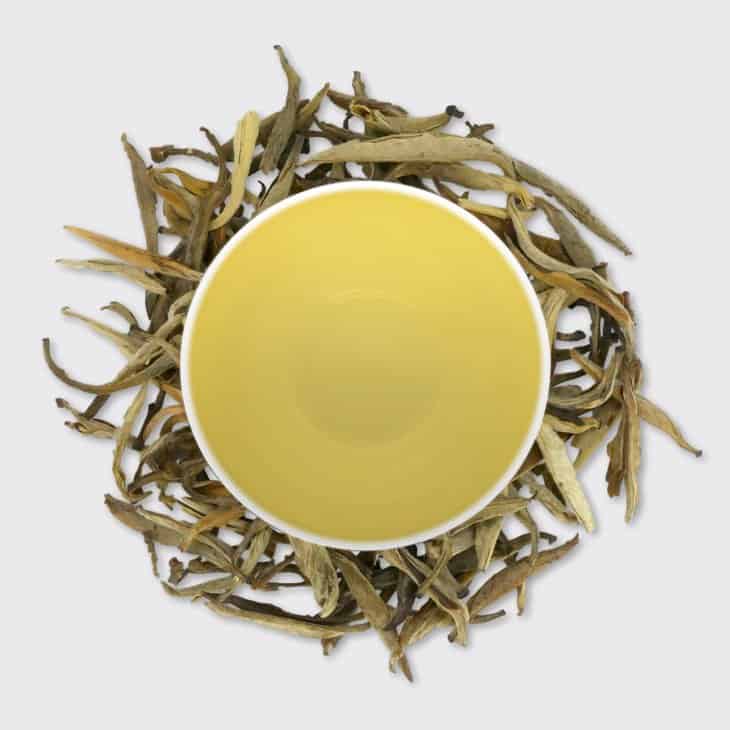 When brewing jasmine tea, it's important to take care with several key factors to achieve the best brew possible. Tea makers take care to ensure that the flavors of tea blends are balanced, and it would be a shame to disrupt this with easily avoided steeping mistakes!
First things first, the water you use should be simmering not boiling, ideally around 190℉-195℉. Keep an eye on the clock as you steep your loose leaf tea or tea bag, as any longer than a few minutes in the hot water can cause the flavor to take a turn for the worse.
If upon sipping the jasmine tea, you detect unpleasant bitterness or too much astringency, try adjusting some of these brewing technique aspects. It's possible that the water may have been too hot, or the tea steeped for too long, drawing some less ideal qualities out of the dried tea as a result. If neither of these corrections work to fix the taste, go ahead and give a different jasmine tea a shot! Each tea is unique, and after a few taste tests you're sure to find one that perfectly suits your palate.
What's the Deal with Caffeine Anyway? Is Caffeine Safe?
Why do we even put so much effort and awareness into caffeine consumption--is the stuff really that bad for you? While it doesn't have harmful effects in the same way as a substance like alcohol, caffeine can have some less than ideal effects on the body, especially when consumed regularly in high quantities.
Over time, it's believed that caffeine can contribute to mood disturbances like anxiety and sleeplessness, and it's possible it may even contribute towards cardiovascular issues. In the same way that caffeine gives you a helpful (and at times deeply necessary) "jolt" of energy and awareness, it also raises blood pressure and heart rate. This can cause a strain on the circulatory system which could possibly have long term consequences.
On top of this, there is some evidence that consuming caffeine during pregnancy may lead to lower birth weights, therefore pregnant people should carefully watch their caffeine intake and check with their doctor about what a safe level of caffeine consumption may be.
Despite these concerns, a certain amount of caffeine intake per day is perfectly healthy. According to the Mayo Clinic, this threshold is around 400 mg of caffeine per day. Considering the fact that jasmine tea maxes out around 50 mg/cup or so, you'd have your work cut out to ever get that much caffeine into your system by way of tea intake!
Caffeine Content of Jasmine Tea: Final Thoughts
As you can see, there are actually many types of jasmine teas to choose from, each of which has a different flavor and amount of caffeine. Any type of jasmine tea which is made from "true tea" leaves will certainly contain caffeine--yes, even decaf, albeit a very small amount! The only jasmine tea which does not contain any caffeine is herbal jasmine tea. Rather than containing actual tea leaves, this type of beverage is simply a mixture of other herbs and spices which have been perfumed by sweet jasmine petals.
You can generally count on black jasmine tea to contain the most caffeine while white jasmine tea contains the least, with oolong and green teas lying somewhere in between. However, despite the guidelines, it is possible for teas to break outside of these generalizations as there are several factors at play when it comes to caffeine content in tea.
If you're someone who finds that caffeine affects you, or you're simply trying to watch your intake, you might choose to think twice before steeping that cup of jasmine tea in the evening! Save those black teas and oolong blends for the morning, and instead try an herbal jasmine tea or white jasmine tea at night. Sweet dreams!