Cast irons are a staple kitchen appliance for home cooks. It has been for thousands of years. We are not joking -  cast iron cookware dates back to the 5th century BC. That is because cast iron gets hot and stays hot, helping to cook foods thoroughly and properly. Also, cast irons lost a very long time.
Today, cast iron cookware is everywhere. You find it in all shapes and sizes. Most commonly, people often use cast iron skillets. I mean, they cook a seriously amazing steak! But, that can only continue to happen if you make cleaning your cast iron properly a priority.
Cast iron cookware cannot be cleaned like stainless steel or non stick cookware. Cast irons cannot be simply washed with soap and water or, worse, thrown in the dishwasher.  Despite their heavy-duty nature, cast iron pans need to be handled delicately. This ensures that they continue to cook food well and last for a very long time. 
Cleaning your cast iron efficiently is a super wallet-friendly thing to do too. If you do not maintain your cast iron, you will have to go buy another one. Let's try to avoid the unnecessary!
So, how exactly do you clean cast iron cookware? It is pretty simple. A couple of minutes and a few everyday kitchen supplies are enough to get rid of any stuck on food or gunk in your skillet. By using these simple steps, you will have a perfectly clean cast iron pan, ready for your next delicious recipe.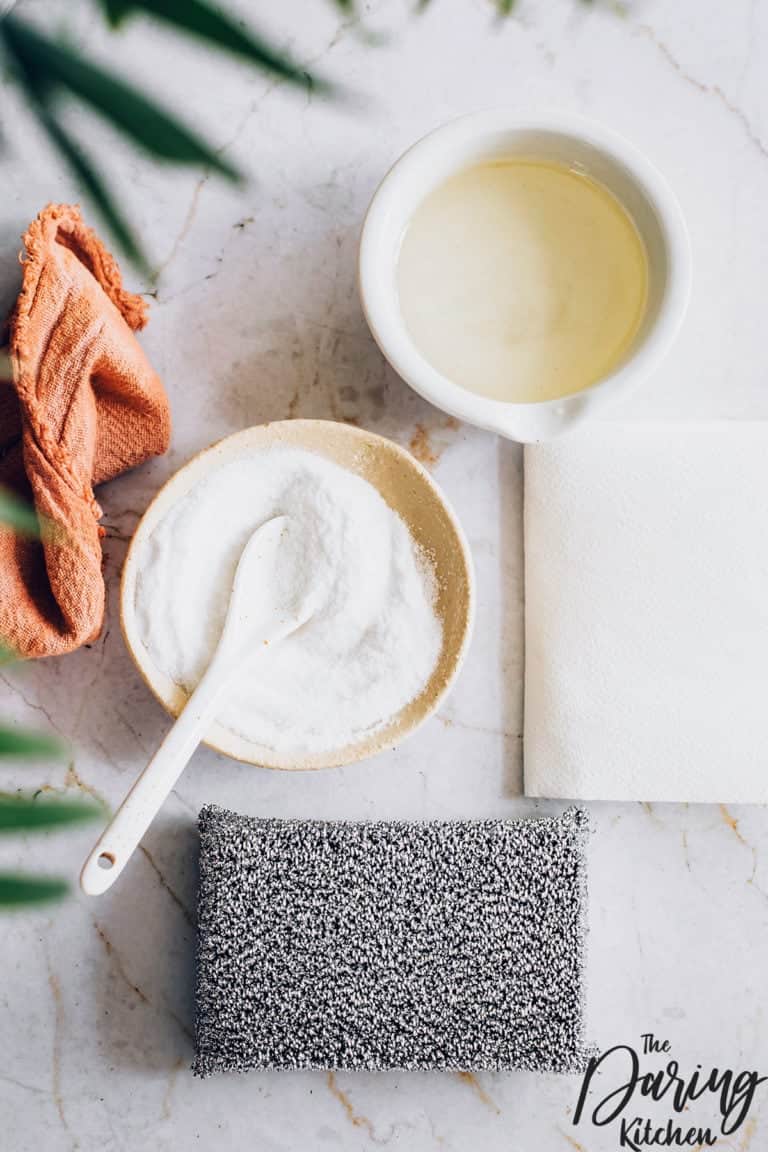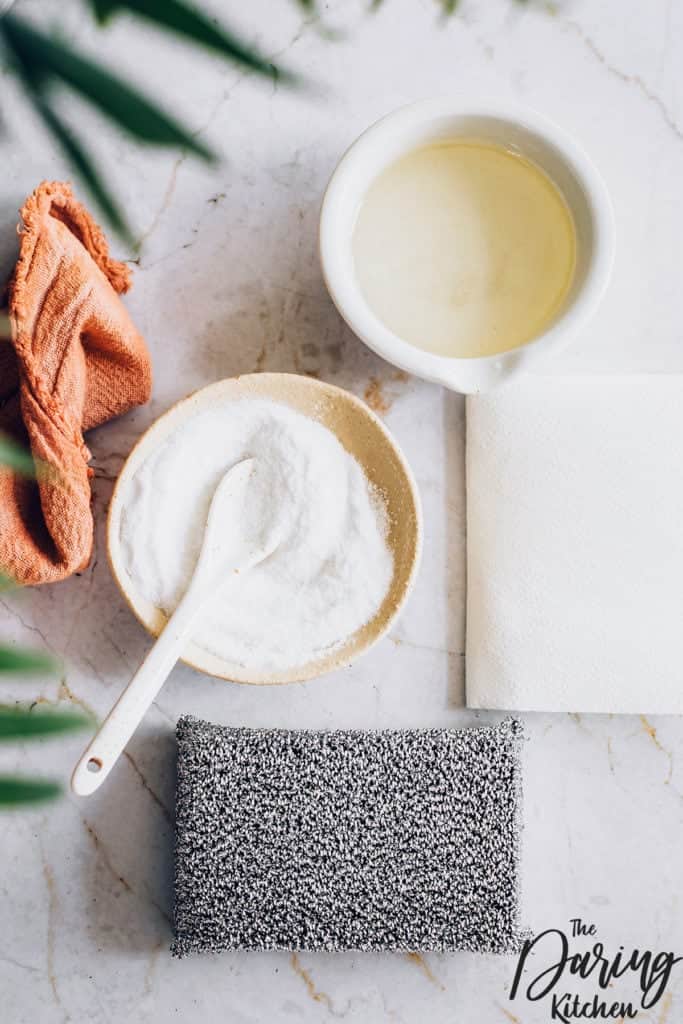 What you will need when cleaning a cast iron skillet:
Kosher Salt

Non-scratch Scouring Pad (or steel wool)

Cooking oil (vegetable oil blends or olive oil are reliable choices)

Cloth or Paper towel
What you will NOT need when cleaning a cast iron skillet:
Soap! When it comes to cleaning cast irons, you do not use soap. It is too abrasive for regular cast iron cleaning. Stuck on food and other residues can be easily removed from a cast iron with a scouring pad (or steel wool) and salt.
Remember, soap removes the seasoning on cast irons. Seasoning is the baked-in oil layer that gives your cast iron its flavor potential and non stick qualities. Trust me, you do not want to lose those! However, if a small amount of soap somehow sneaks onto your pan, do not freak out! Just rinse your pan generously with hot water and make sure all the soap is gone.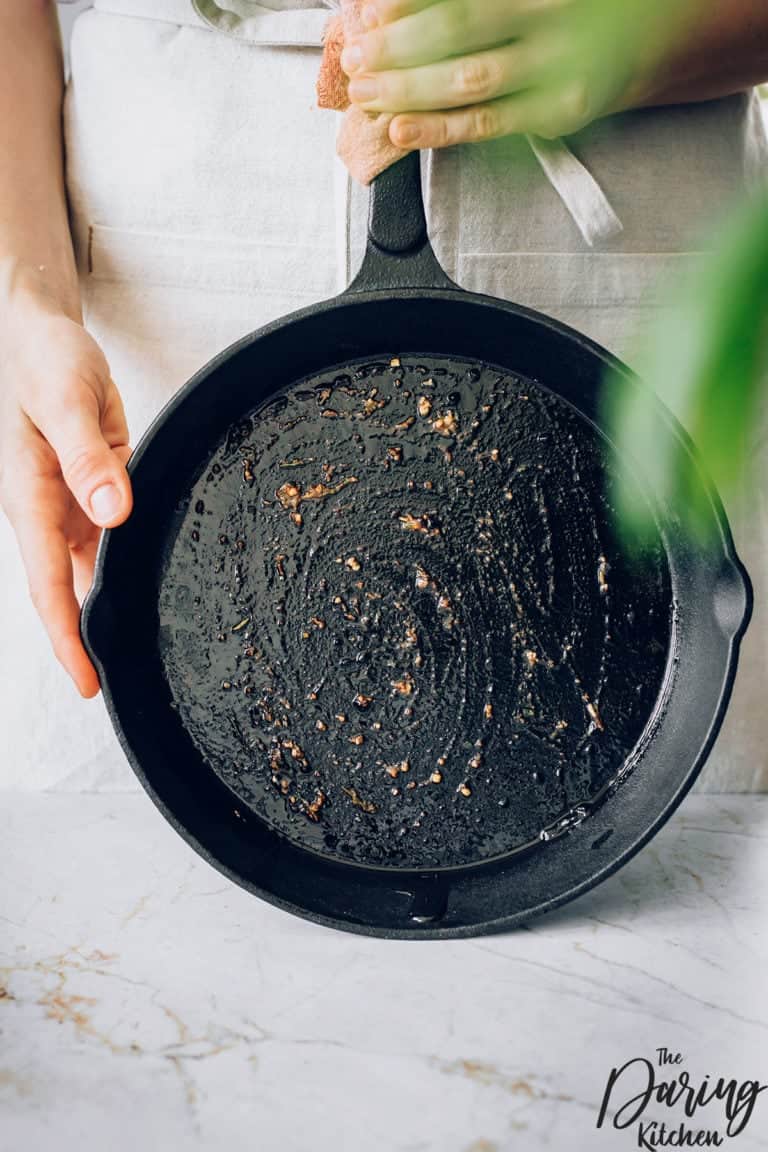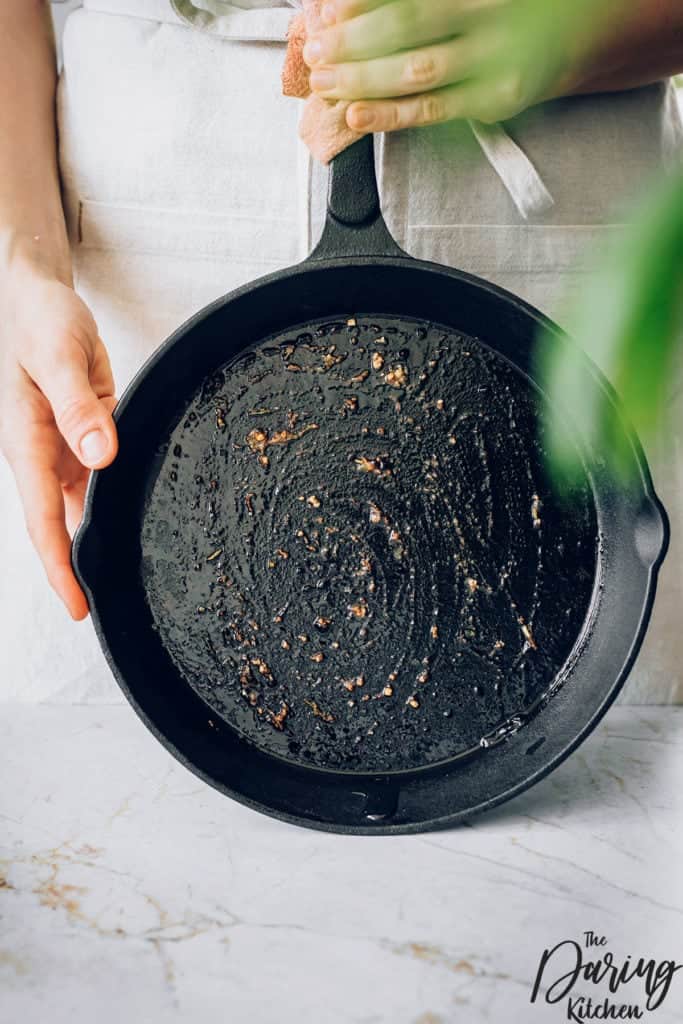 How to Clean a Cast Iron Skillet Step by Step
Rinse the skillet with hot water
Placing hot water in the pan is especially important to do after cooking. The pan will still be hot and you do not want to throw cold water right on it. Try to rinse out whatever you can that does not require scrubbing. Do not use soap. Do feel free to use a sponge in this step, but make sure it is not soapy either. Soap will remove your pan's seasoning.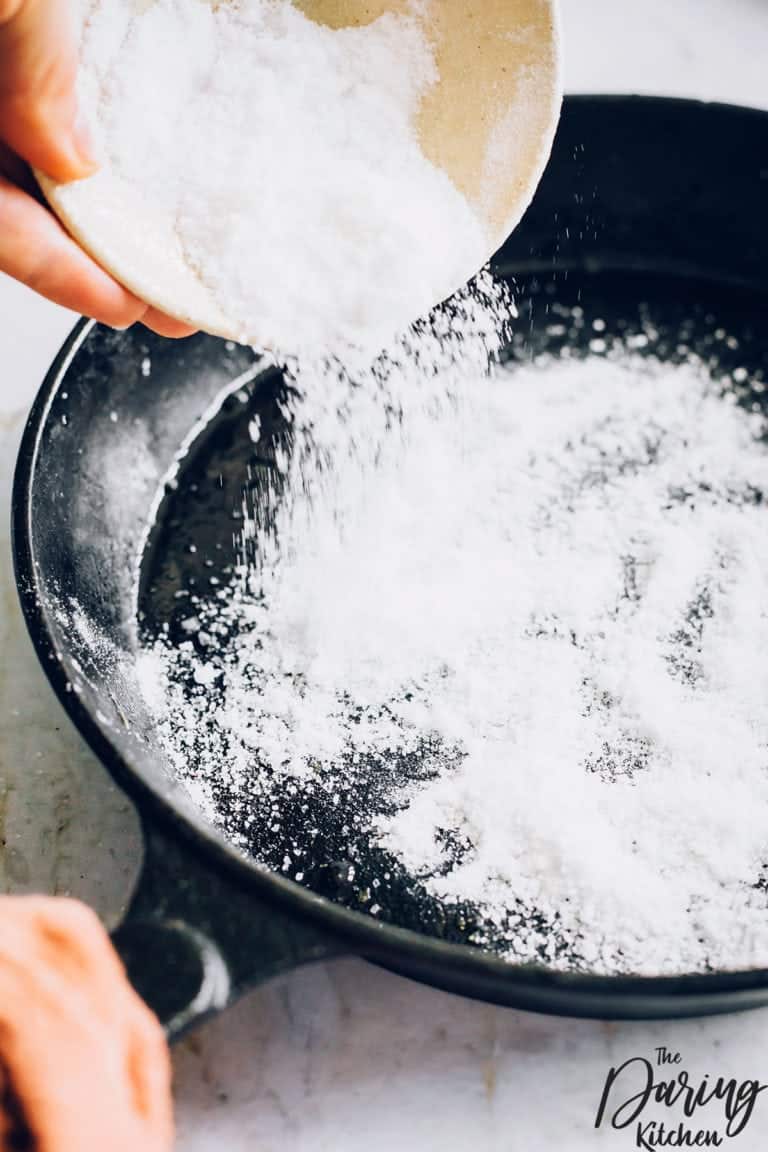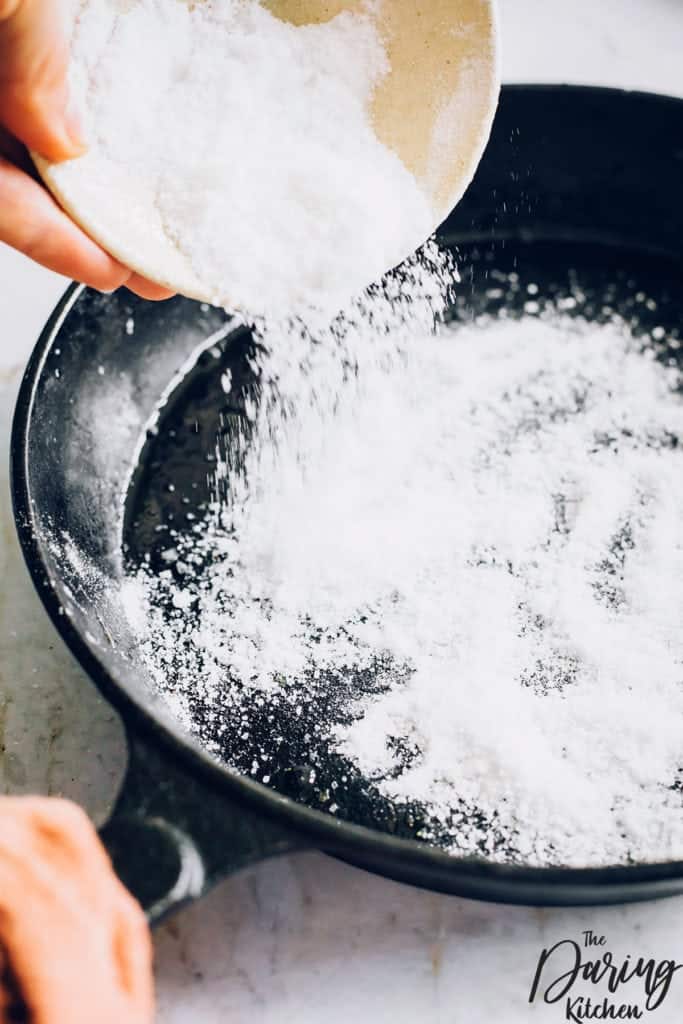 Add salt into the skillet
You will need enough salt to scrub the entire skillet. I suggest using coarse kosher salt. Larger salt crystals help provide a deeper scrub to the pan.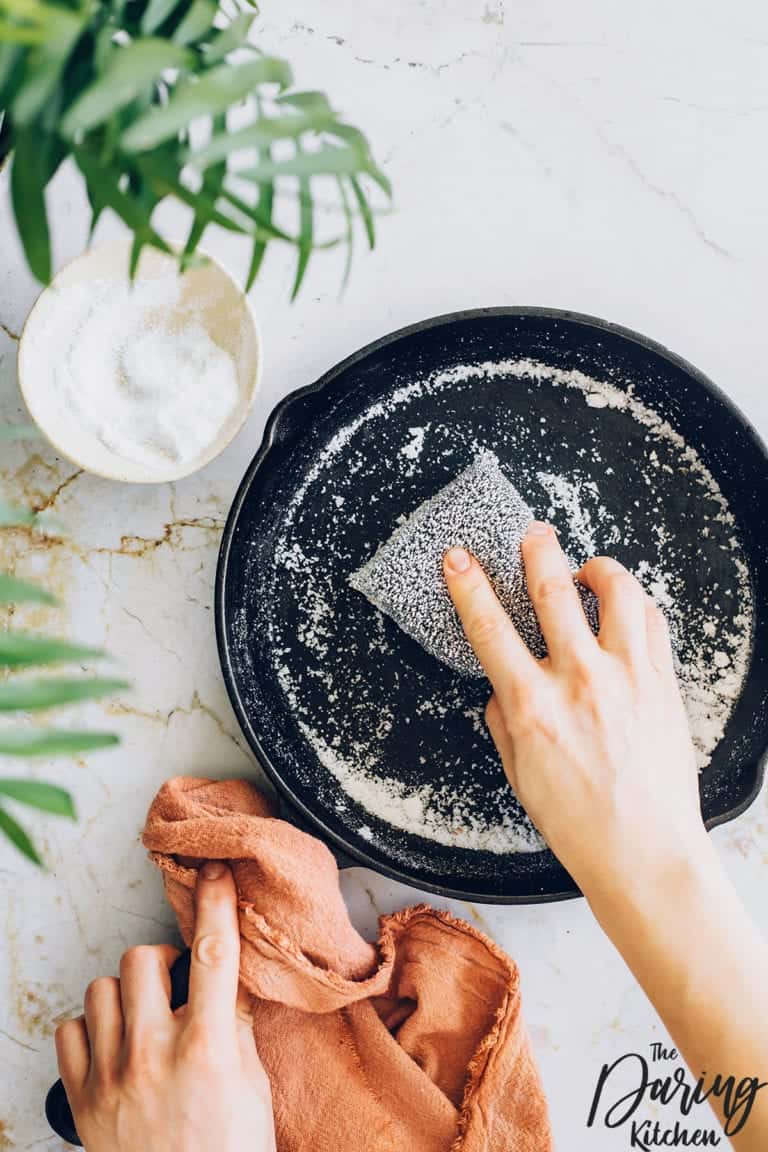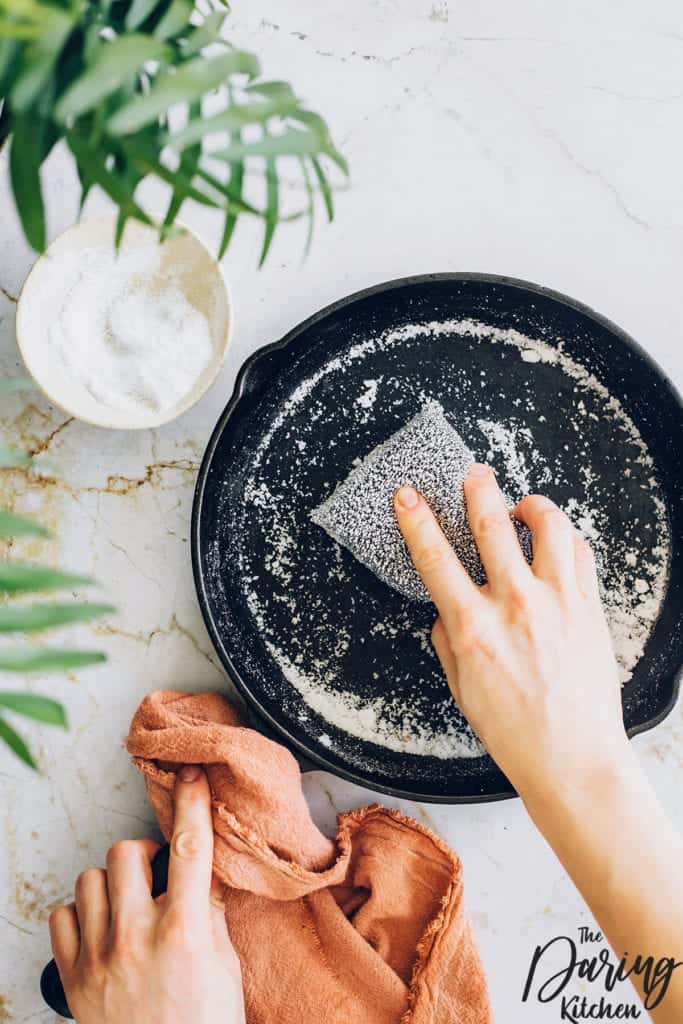 Scrub with the scouring pad
With your scouring pad, scrub the interior of your pan to remove any food residue or stuck on food. You can also use steel wool for this step as well. Make sure to also look out for any little bits of rust that may be around. You can remove those with the salt scrub too. Once your interior is cleaned out, scrub the exterior of your pan as well. This is where you may find more rust. 
To clean a really rusty skillet, follow these steps. These will assure you get all the rust away, especially if you use steel wool.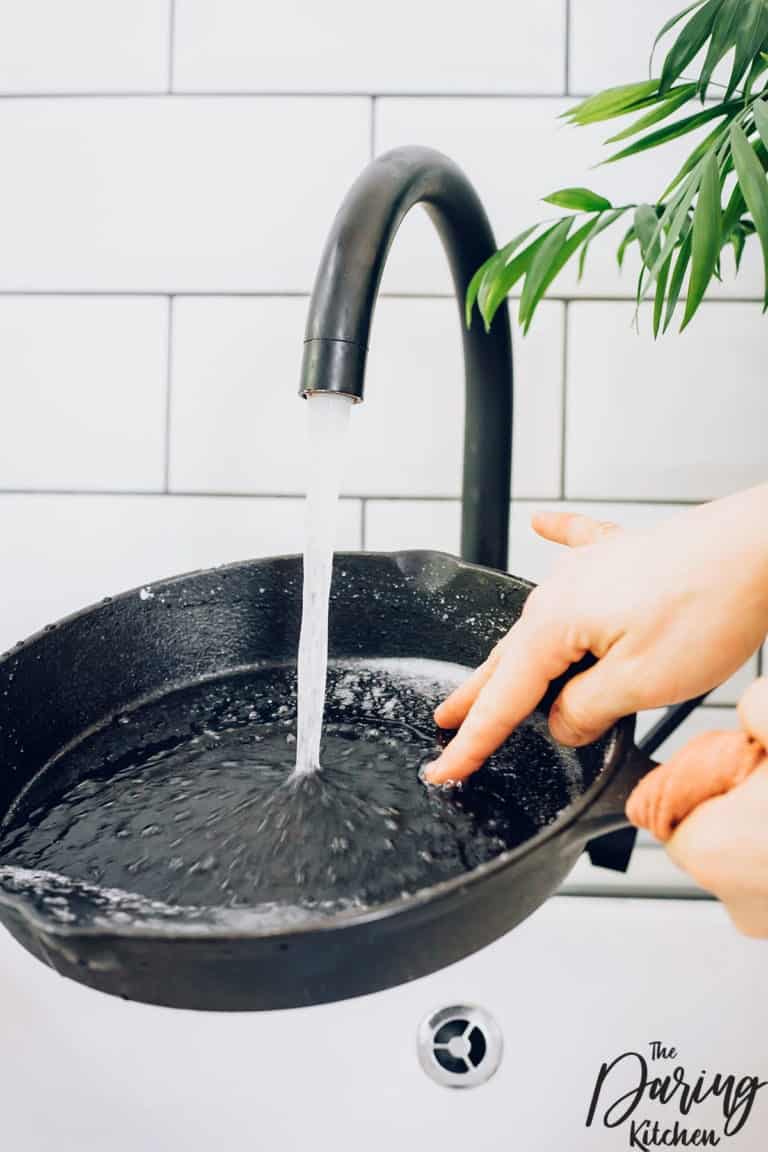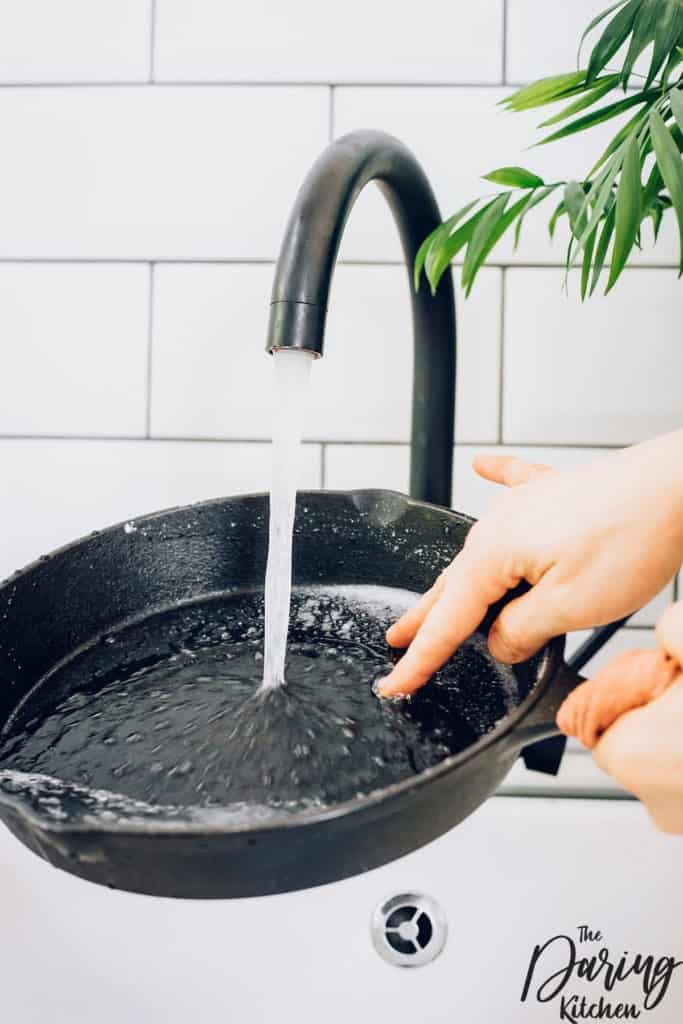 Rinse with warm water
Once all the food residue is gone, rinse your pan with warm water. Make sure that you remove all the leftover salt.
Pat dry with a paper towel
This step is simple but very important. With a paper towel or dish towel, dry your entire pan. You do not want any leftover moisture on your pan. This can only lead to more rust, which is definitely not needed for cooking. Also, more rust means more future cleaning!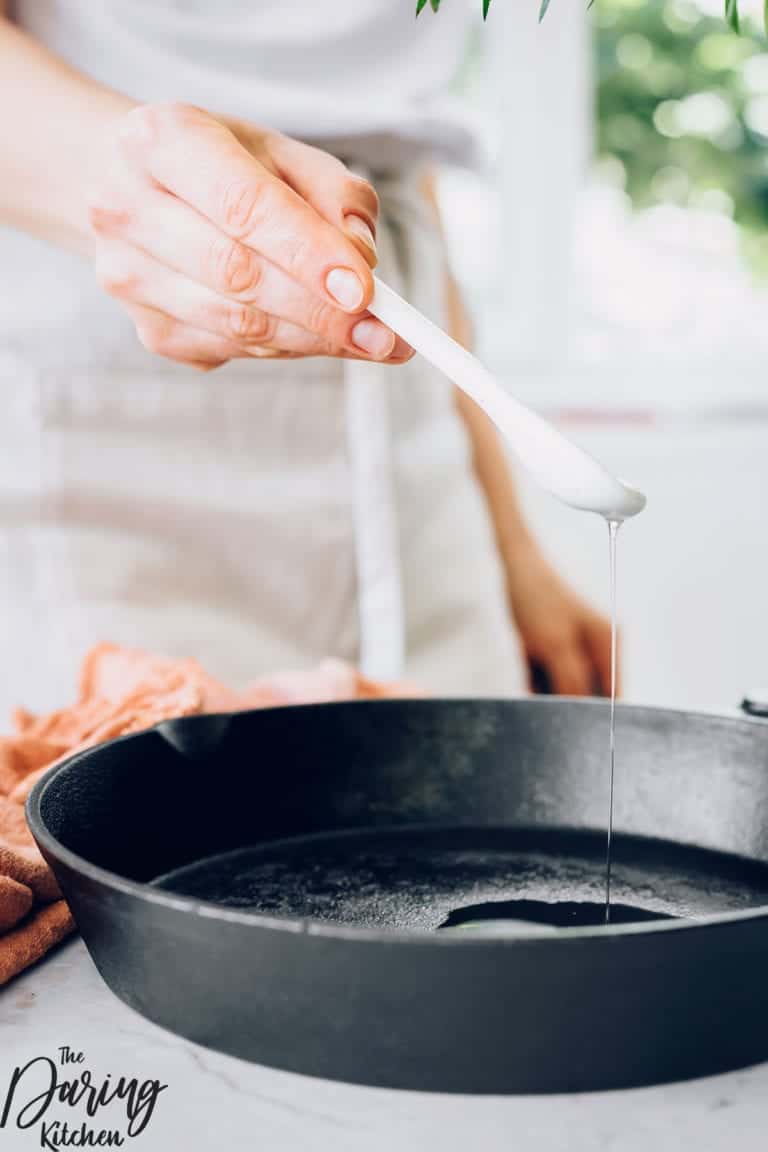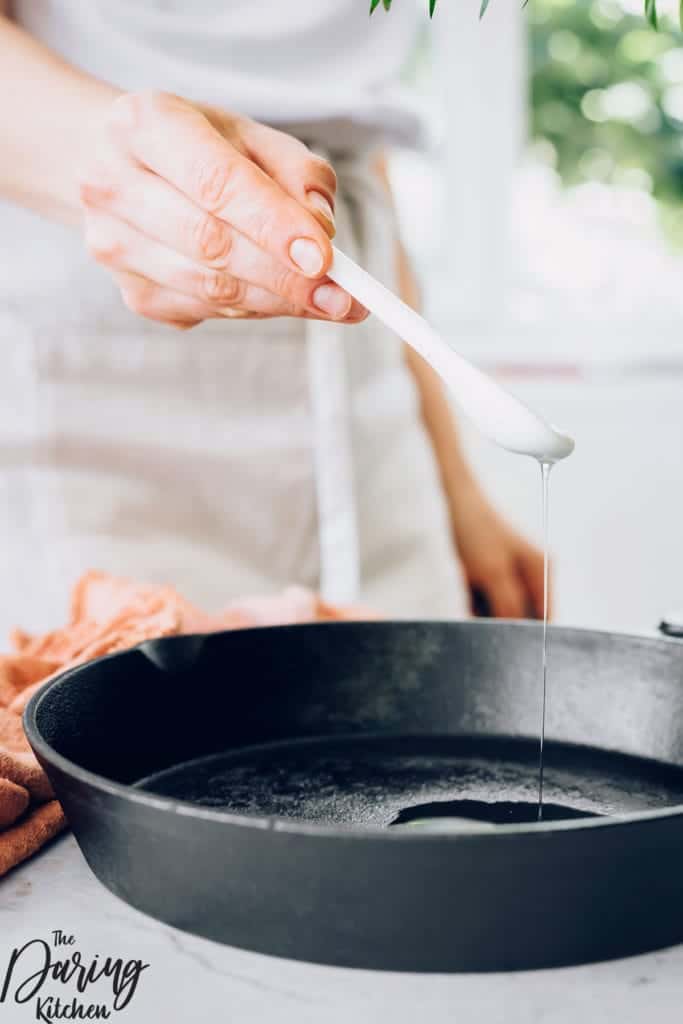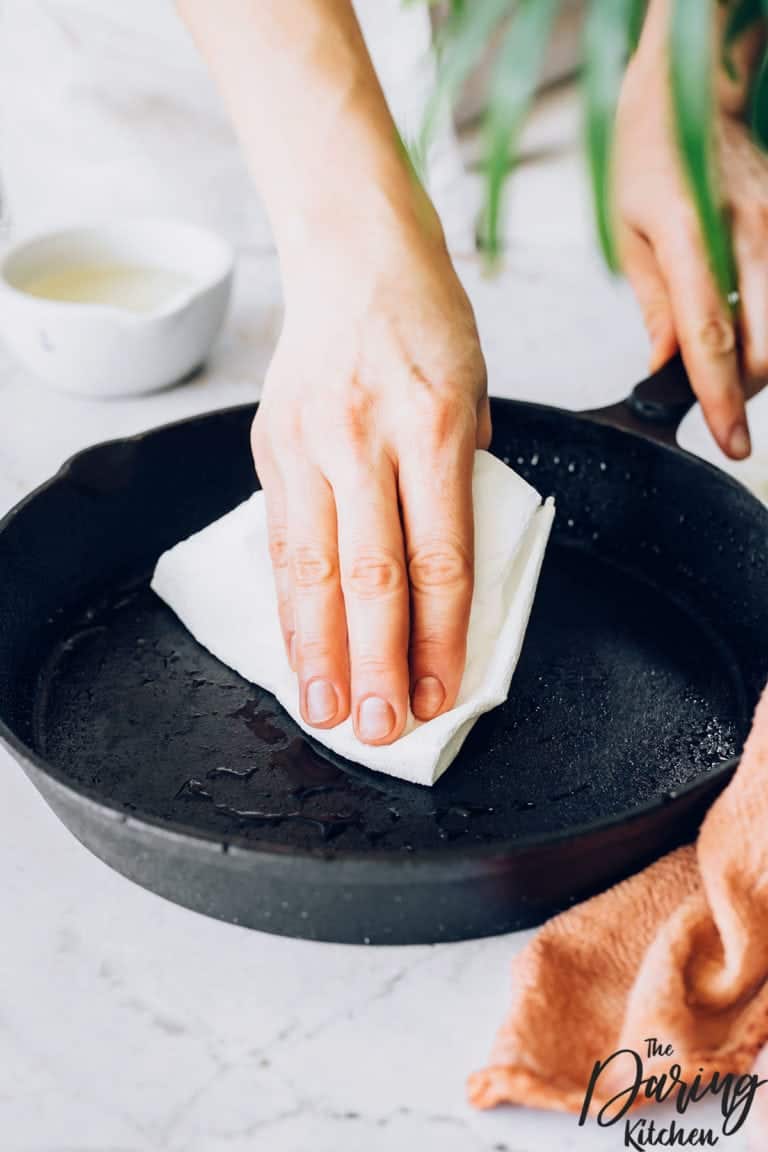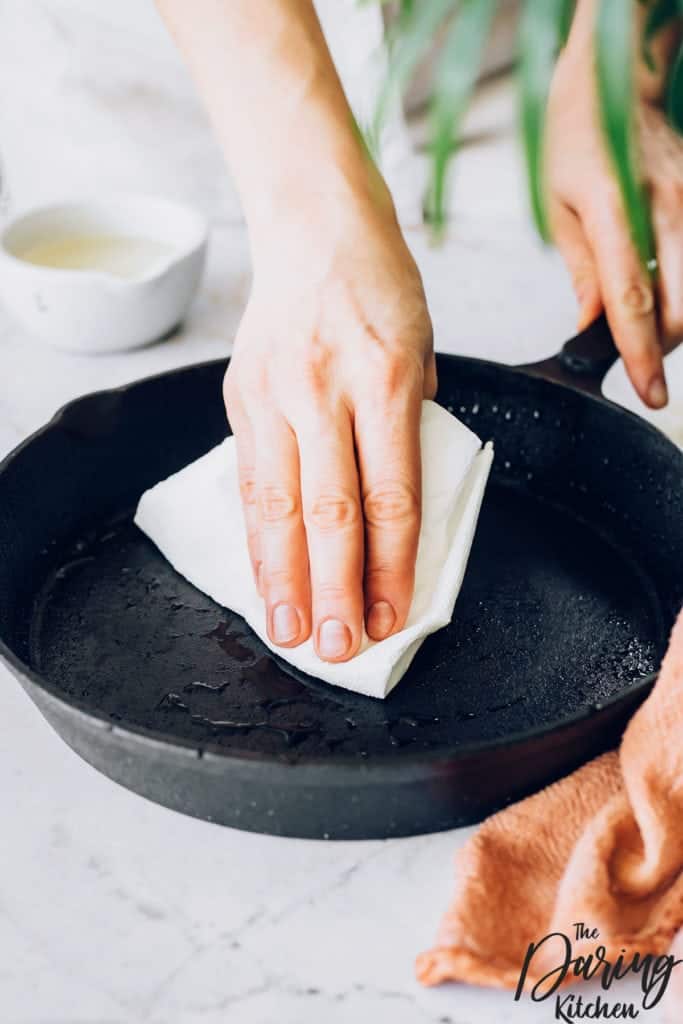 Coat the cast iron with oil 
Add 1-2 tablespoons of vegetable oil to your skillet. Make sure the oil you are using has a high smoking point, especially if you plan to season your pan after this step. Using a paper towel, coat the interior of your pan with oil. Once your pan is evenly coated, you now have a clean cast iron ready to be cooked with!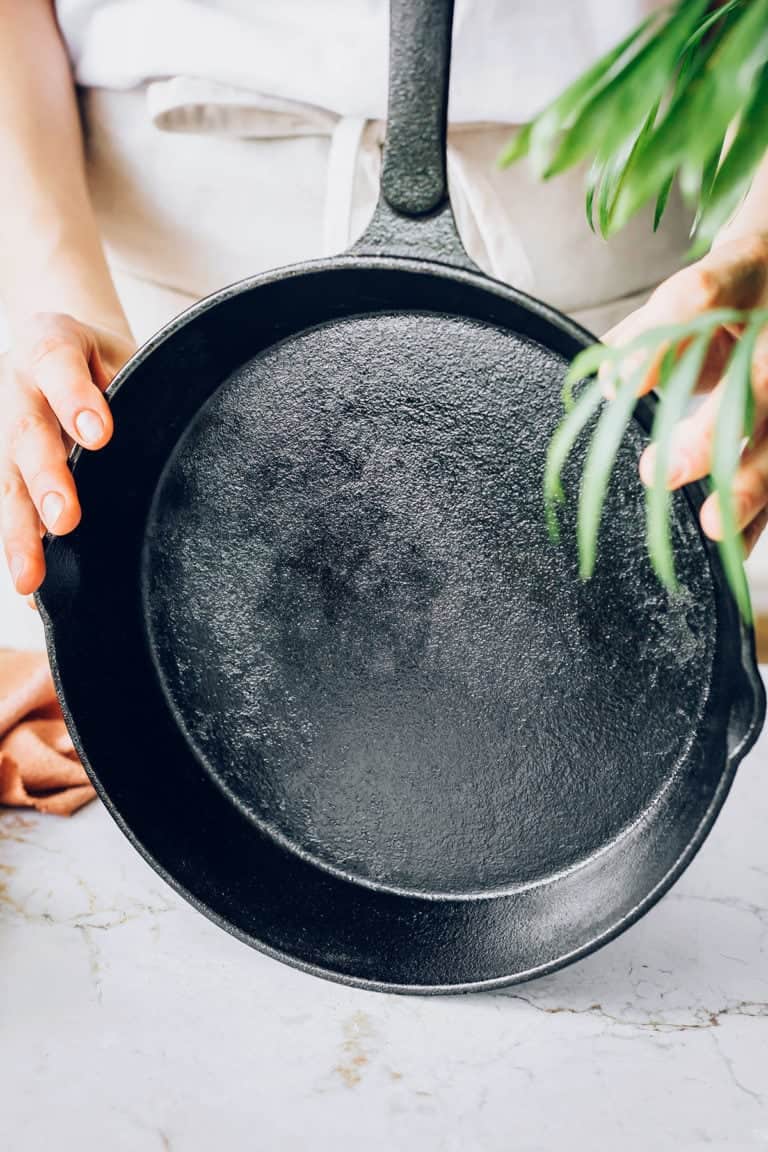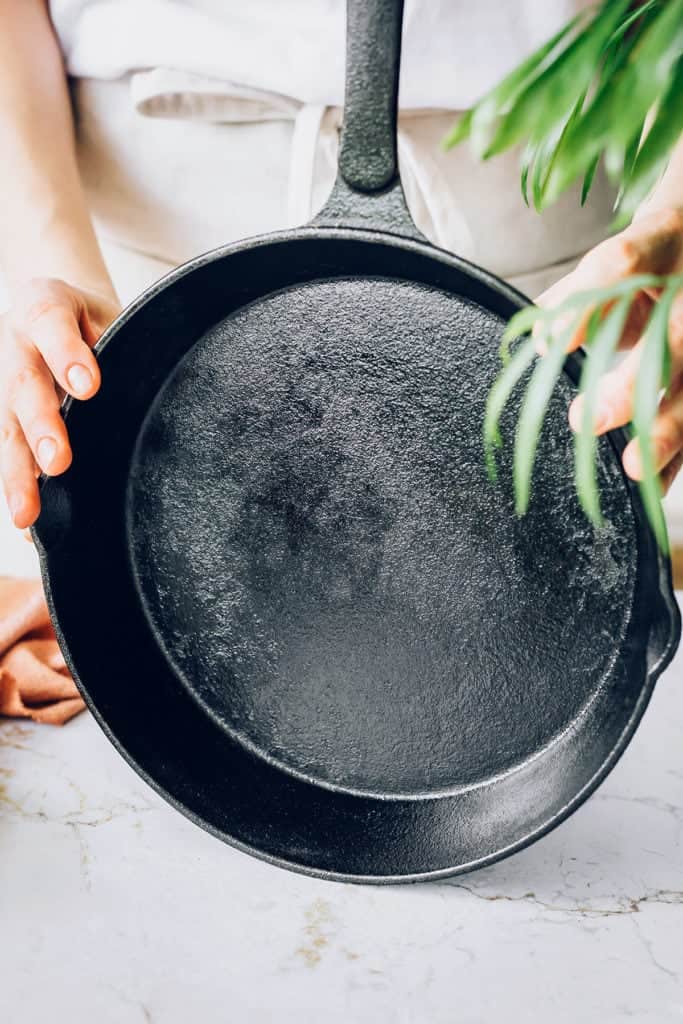 If You Are Looking to Season your Cast Iron...
For a seasoned cast iron skillet, you will need to follow one more step. First, preheat your oven to 375 degrees Fahrenheit. Place your oil-coated pan face down on the bottom oven rack. It will need to stay in the oven for about an hour. This will let the oil form a new layer of 'seasoning' in the pan. Once an hour is up, you will have a well seasoned cast iron. 
You do not need to season cast iron skillets often, though. Only a few times a year is necessary!
If you're in the market, check out article on Best Cast Iron Skillets.