Cleaning stainless steel pans can be tricky. Despite being tough and hard-wearing, stainless steel can be stained, discolored, tarnished, and scratched! That's why regular cleaning and maintenance is essential if you want your stainless cookware to last as long as possible.
We've put together a handy video with an easy step-by-step walk-through to take you through the process of cleaning your stainless steel cookware.
Tools And Ingredients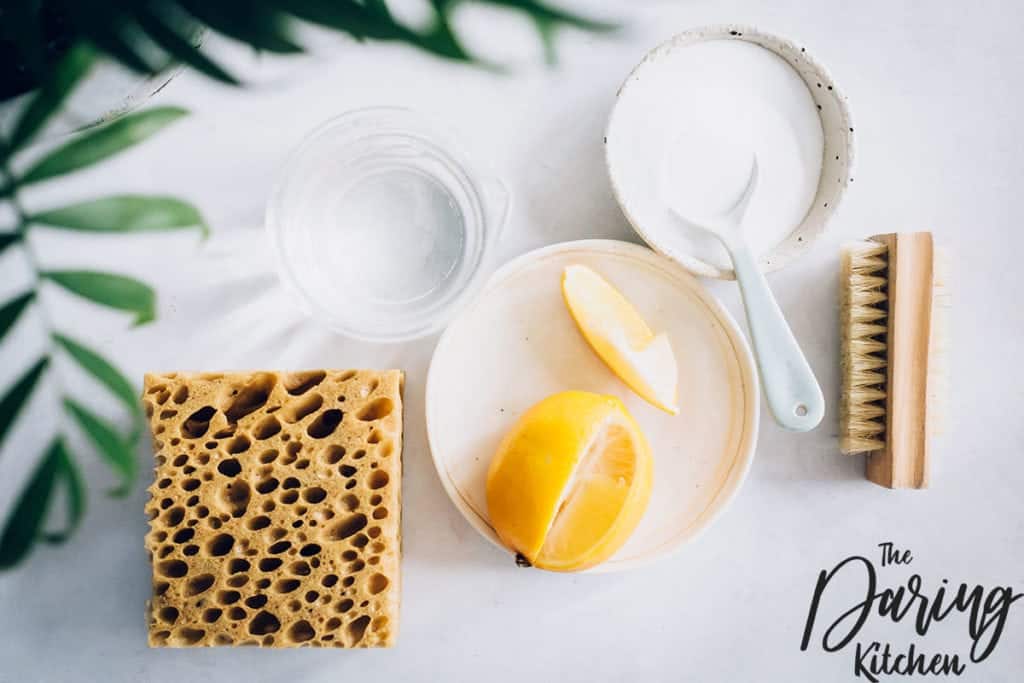 Vinegar
Wooden Brush
Sponge
Baking Soda
Fresh Lemon Juice
Optional: Dish Soap
Step 1
Pour 1 cup vinegar and 2 cups water into the pot and place over low heat.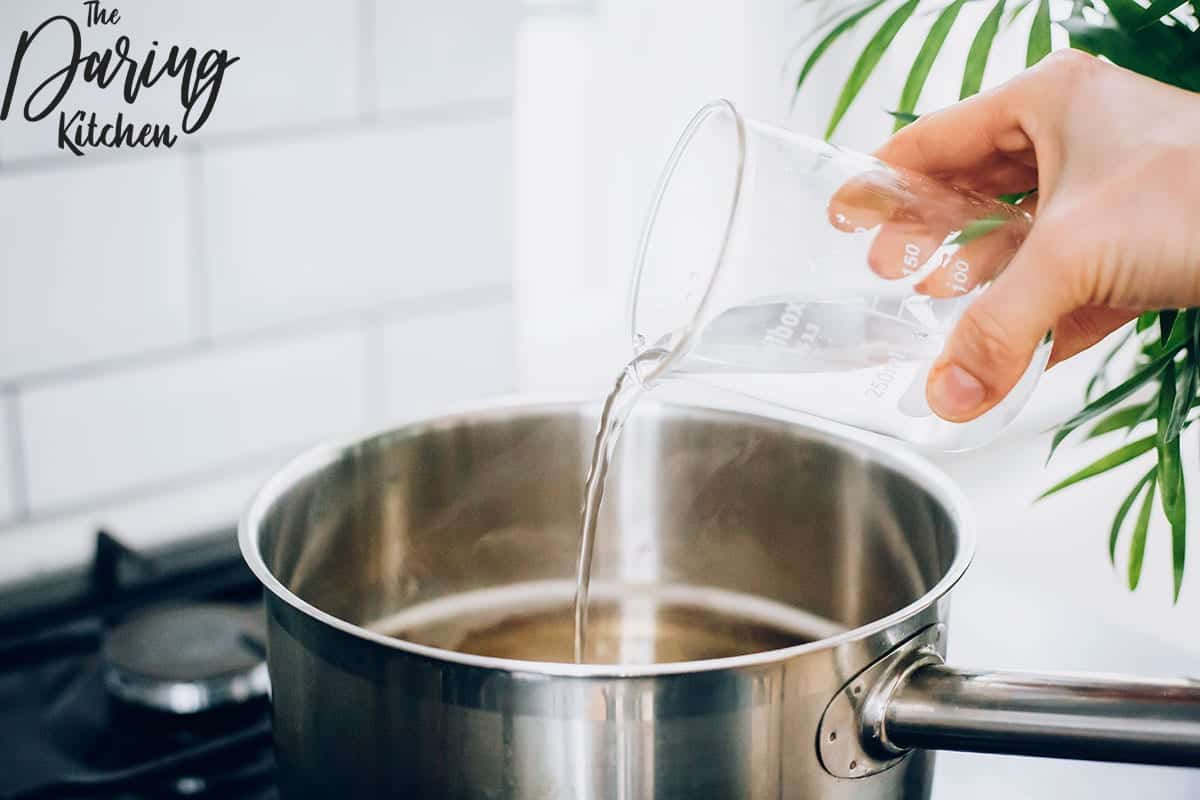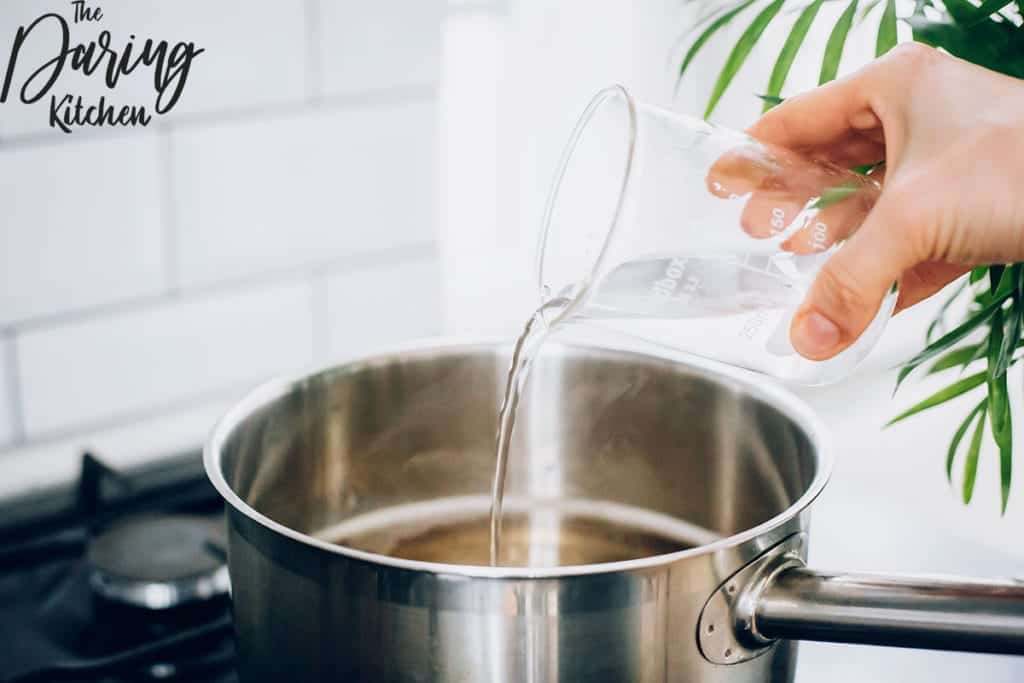 Step 2
Bring to boil and simmer for 5 minutes.
Step 3
Remove from the heat and add 1 tbsp baking soda – the reaction with vinegar will make the liquid really fizzy!

Step 4
Use the sponge (and dish soap if necessary) to wash and rinse with warm water.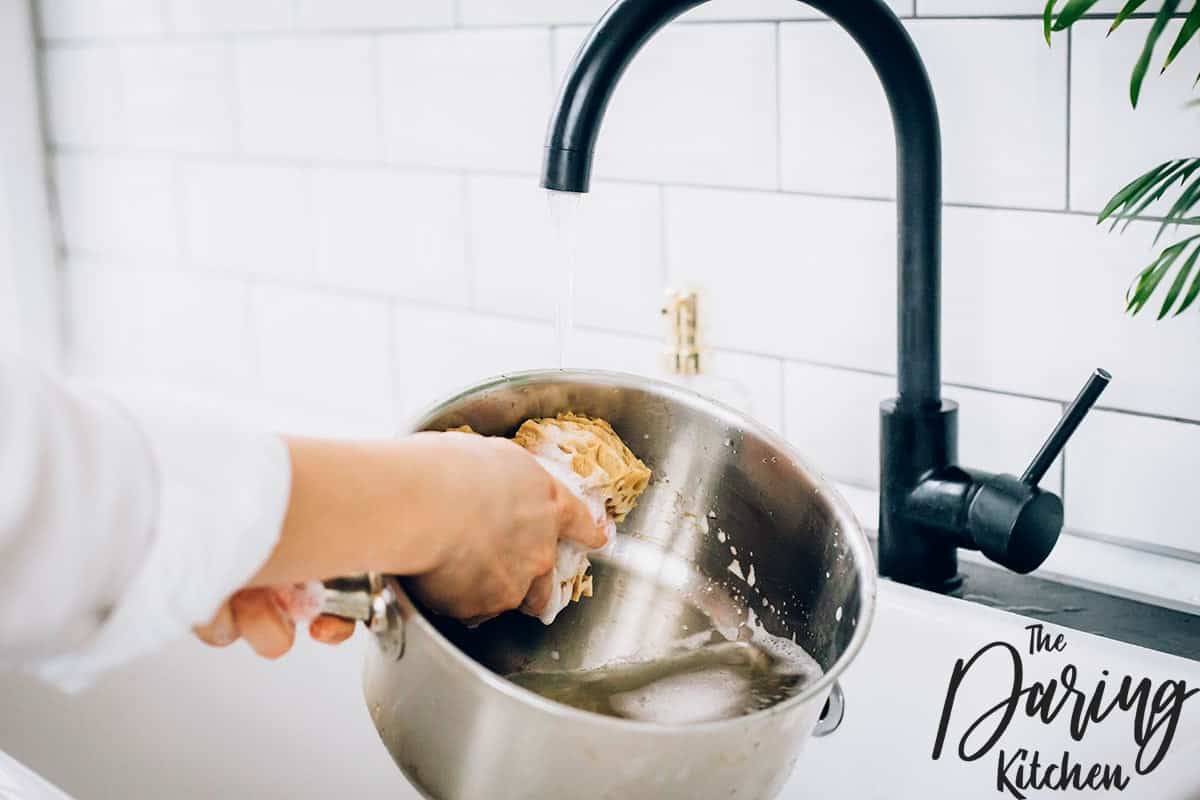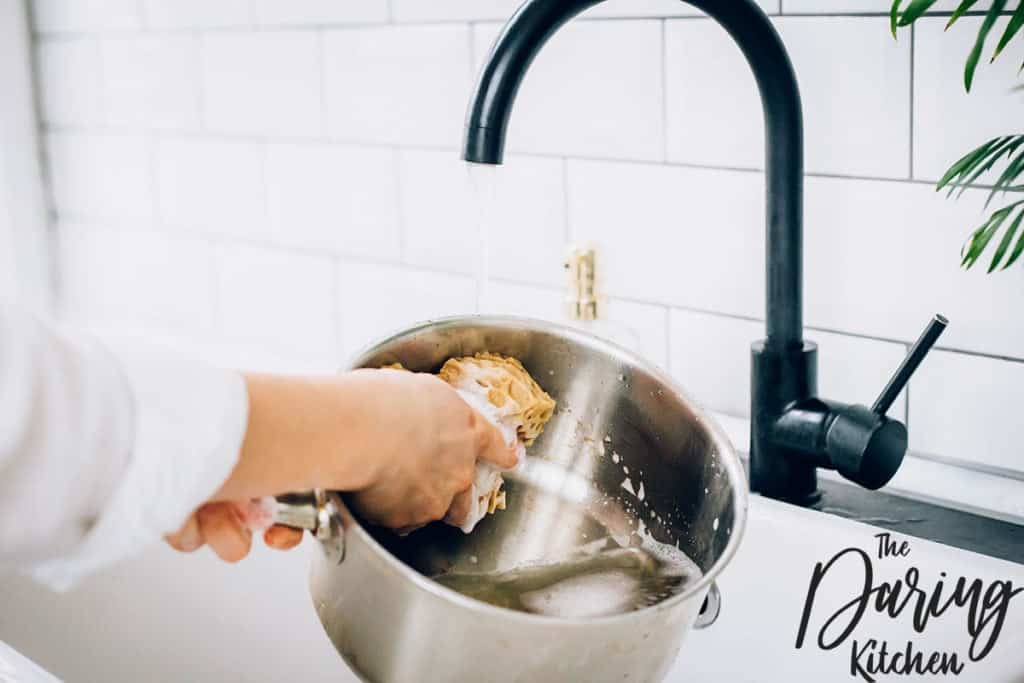 Step 5
If there are still stubborn stains left, add more baking soda and use the brush to scrub gently.

Step 6
Rinse again with warm water.

Step 7
Add a few drops of fresh lemon juice for extra shine, and pat dry with a clean towel or paper towel.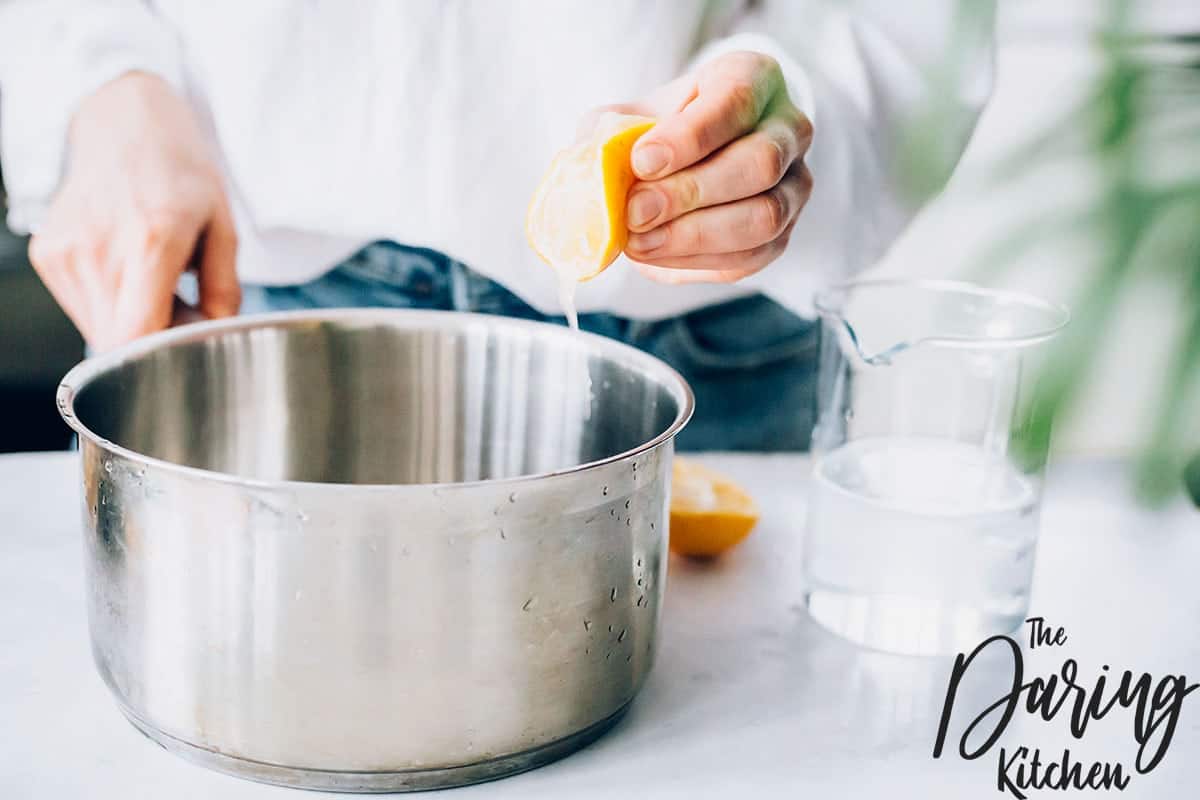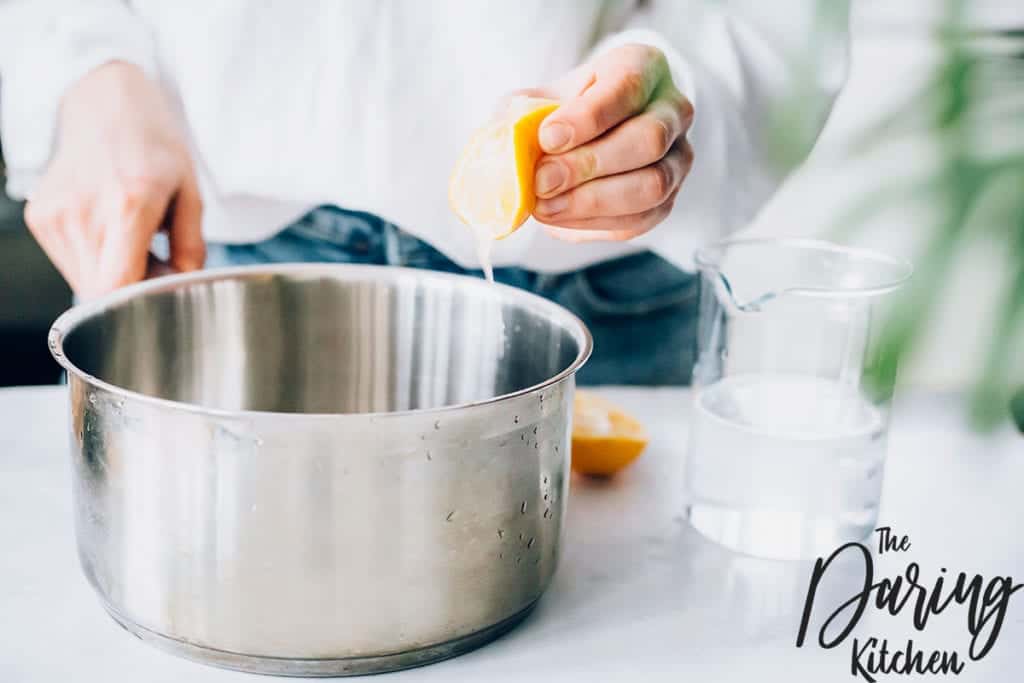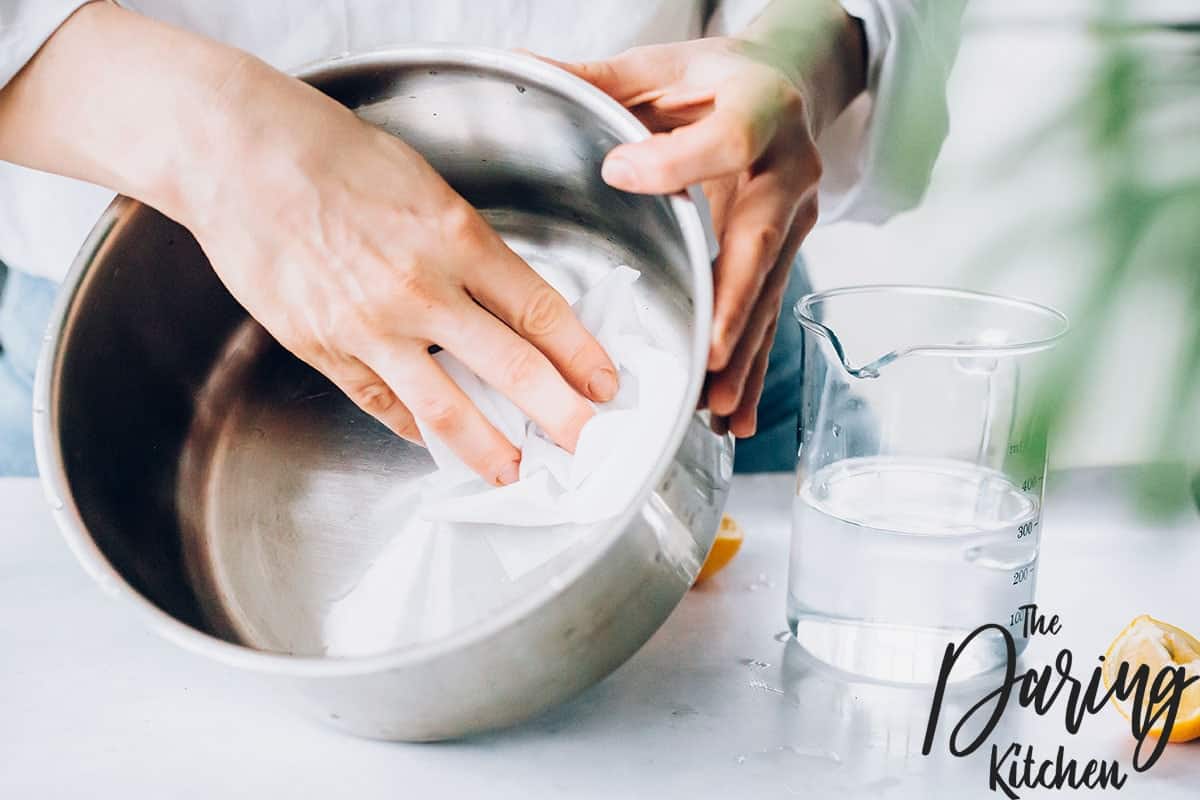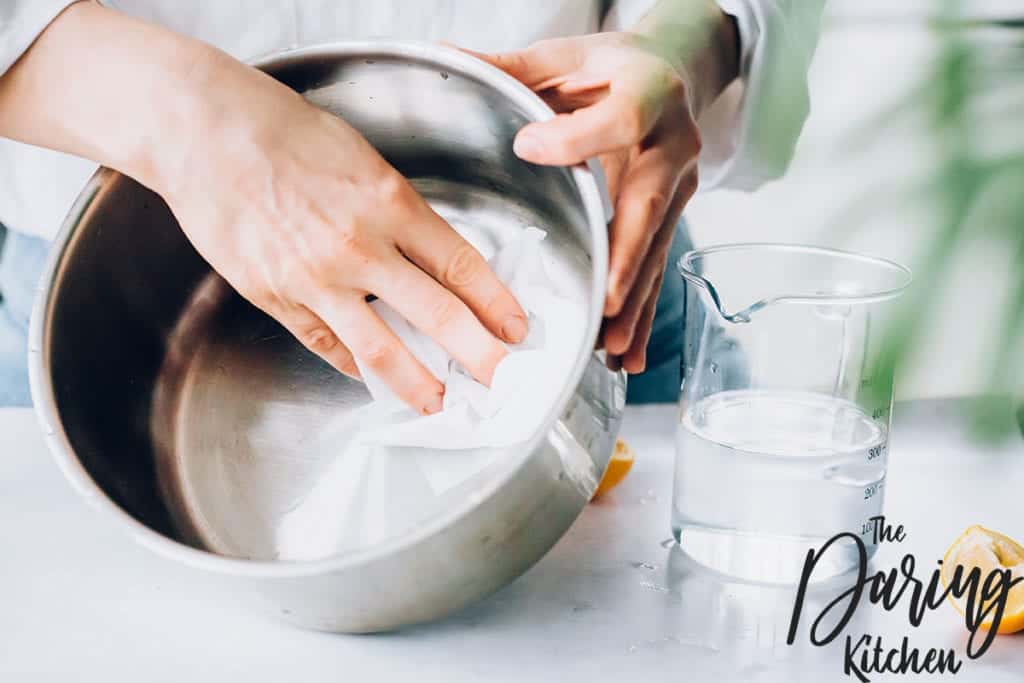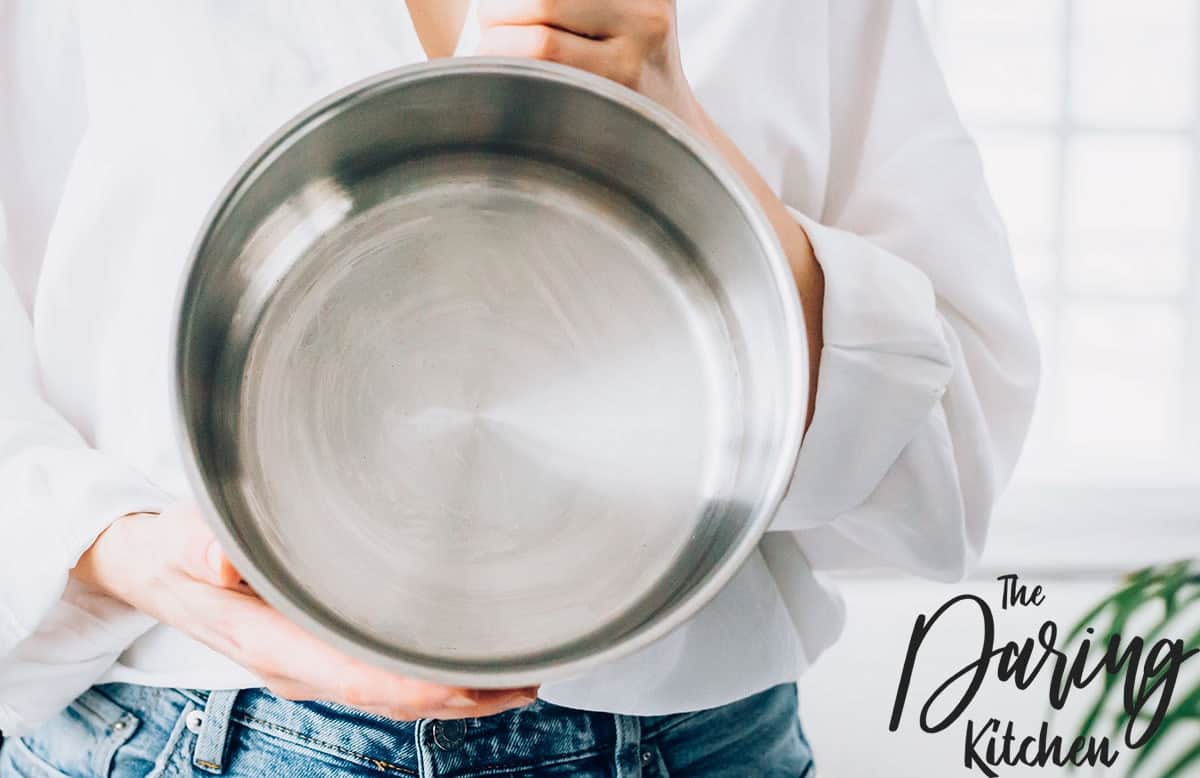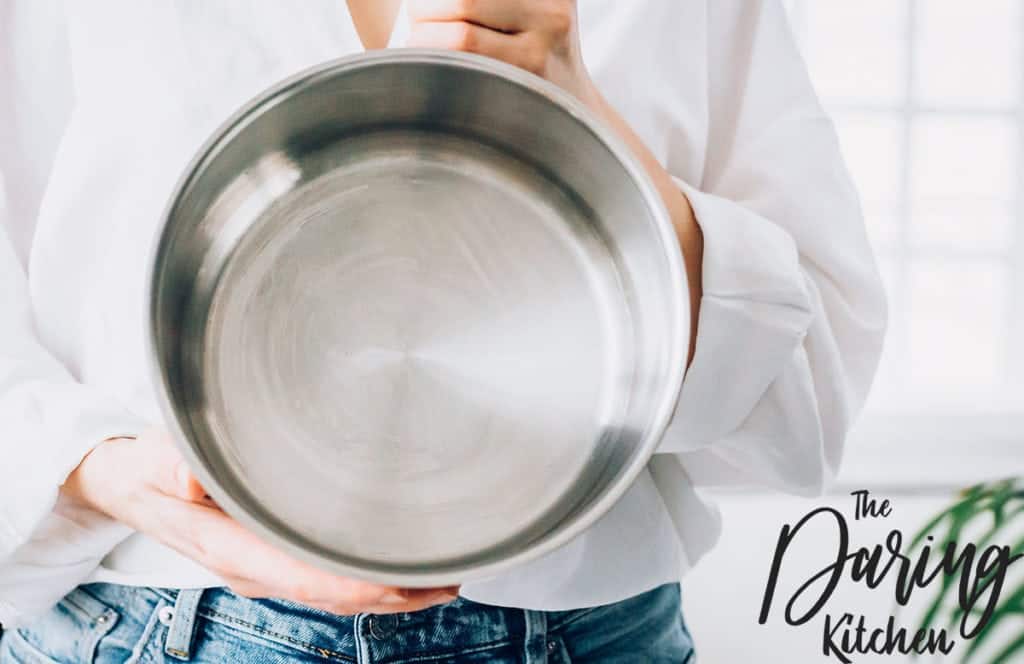 The above mentioned method is great for refreshing your stainless steel cookware when stubborn stains and excessive hard water stains appear, but using a combination of vinegar and baking powder isn't exactly ideal for everyday washing.
When it comes to everyday cleaning, when you're only dealing with mild cooking mess, you can hand-wash your stainless steel utensils with hot soapy water with a sponge, thoroughly drying it afterwards with a soft cloth.
It's possible to use a dishwasher, and some people do. However, the jury is out on the effect of dishwasher detergents on your stainless cookware's lifespan. Some detergents can cause spotting, and the dishwasher process can harm the stainless steel finish. If you do want to use your dishwasher, we recommend that you remove your stainless steel cookware as soon as possible, drying it by hand with a soft cloth before putting it away.
If you want to know more about the properties of stainless steel, we've put together an article of reviews and a buying guide for anyone looking to purchase a new set of stainless steel cookware.
Additional Cleaning Tips
How Do I Deal With Hard Water Stains?
Hard water stains are caused by water with a high calcium content. Chalky water can leave white residue on your stainless steel cooking utensils, making your cookware look dirty and older than it is. The best way to get rid of these hard water stains is to use the vinegar and water trick shown in the instructions above. Boil on part vinegar with three parts water and bring to the boil. Allow it to simmer. Afterwards, rinse the pan with warm water and dish soap, and your stainless pans should be residue free!
How Do I Get Rid Of Burned-On Food?
Burned-on food can be tricky to remove. You could use hard abrasive cleaners and brushes but they will end up damaging your stainless finish. Instead, fill your pans with warm soapy water—enough to cover the dirty area—and leave it to soak for an hour. After an hour, re-heat the water-filled pan over a burner. Once it's cool enough to touch, scrub the stubborn areas of the pan with a nylon scouring pad or brush. If the stains don't shift, repeat the process again until the stain has gone. When the stain has gone, rinse the pan with hot soapy water, dry it thoroughly, and the job is done.
How Do I Restore The Shine On My Pans?
The best way to restore the shine on your stainless steel pots and pans requires water, baking soda, and synthetic scouring pad. Simply wet the dulled surface with water and sprinkle the area with baking soda. Gently rub the baking soda into the pan's surface using a synthetic scouring pad. Once you've worked the powder in, give the pan a rinse and dry it thoroughly with a soft towel. The shine should have returned to your pans.
Other Things To Consider
Stainless steel isn't exactly as stainless as the name would leave you to believe! Luckily, keeping your stainless in good shape isn't difficult. It does require a little more elbow grease than other materials though, and stronger cleaning solutions too. For the best results, use non-abrasive cleaning compounds, with gentler synthetic scouring pads and sponges.
What other tips will keep your stainless cookware healthier for longer?
While it might be tempting to use abrasive cleaning compounds and metal scouring pads, they're best avoided. They certainly can cut through grease and grime, and remove stubborn caked-on dirt, but they will damage your cookware. Stainless steel can scratch easily, so we recommend using nylon brushes or non-abrasive synthetic pads and sponges.
Add salt to water after is has come to the boil. Many cooks salt their water too early, and this can damage their cookware. If you had salt to pre-boiled water, it can lead to irreparable corrosion, with small pit-marks forming.
Add oil once the pan is heated, not before. It's always best to add oil once the pan has already heated up. Adding oil later creates a better non-stick surface to cook on. Also, make sure that your oil is nice and hot before adding the food too!
To ensure that your pan is hot enough to add oil to, simply drop a small amount of water onto the surface of the pan. If the water droplets form together and glide across the pan in a single bead, then you're good to add you oil. If the water just sits in place, then it isn't hot enough yet.
While it's tempting to rush the pre-heating process by turning the heat up to maximum, it's best to take your time with stainless steel pans. Quality stainless steel will hold on to heat, and by exposing it to too much heat early on you can actually over heat your pans and possibly burn your food.
Similarly, you don't want to rush prematurely cooking your food too. Food that's fresh from the refrigerator should be given time to warm up to room temperature and acclimatize for about 15 minutes before being put on the pan. Since steel contracts when exposed to colder temperature, the sudden application of cold food can cause it to stick to the pan.
While we're on the subject of cleaning stainless steel cookware: always allow your pans to cool completely before cleaning them in water. A hot pan and cooler water is the perfect recipe for a warped pan. Always let your pans cool before submerging them in water.
Follow this advice, and your stainless cookware will look bright, shiny, and as good as new in no time at all.