Every year more than 265 million American households eat chocolate. Now, while that might seem like a lot, it's not surprising. After all, it's hard to imagine a world without chocolate in it.
What you might not be aware of is that chocolate not only tastes great, but it's also good for you. Consuming dark chocolate regularly has been shown to lower hypertension, reducing the risk of heart disease.
We're pretty sure you don't need us to sell you on the benefits of eating chocolate. That being said, we've reviewed the best chocolate bars in the US that will leave your taste buds craving more.
1. Best Chocolate Overall – Dove Promises Candy Bars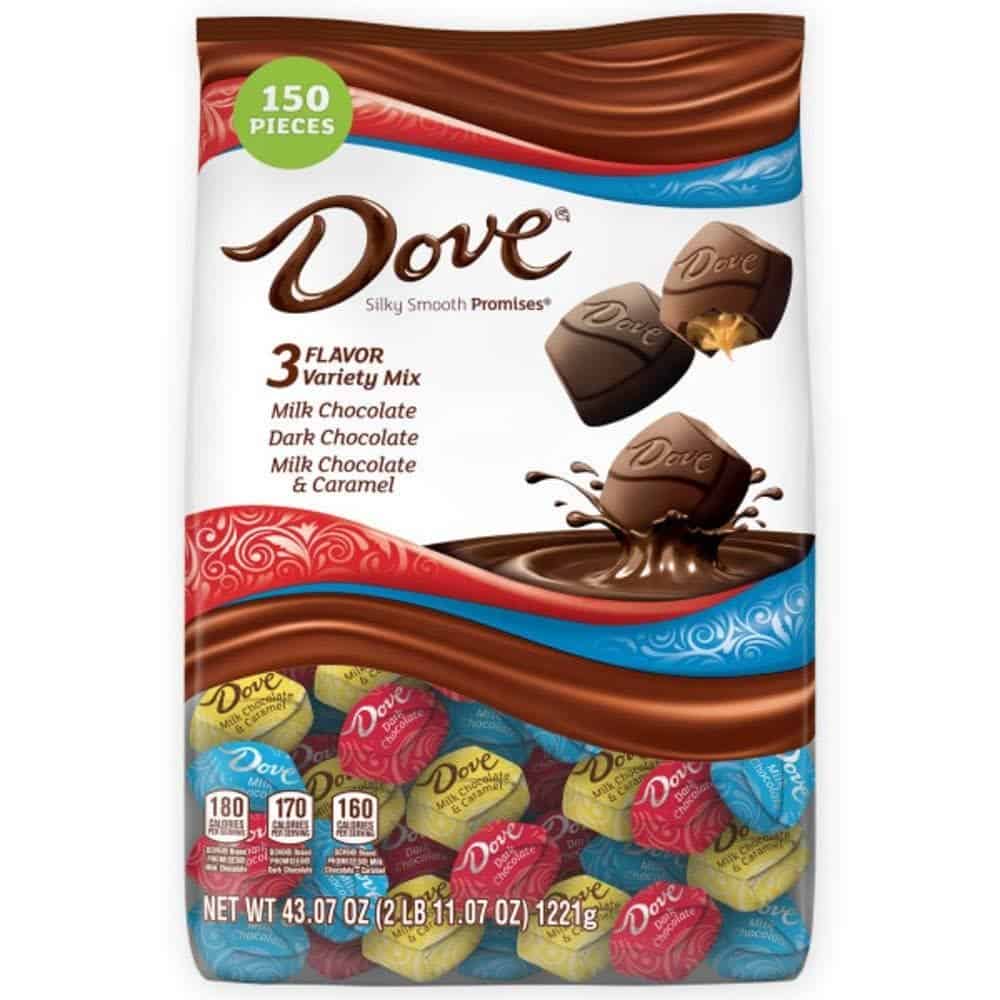 Check Latest Price
Top on our list is the Dove Promises Chocolate Bars. This variety pack contains 150 pieces of milk, dark, and caramel chocolates whose flavors are out of this world. Each piece is foil-wrapped and has an inspirational message written on it that's guaranteed to put a smile on your face.
Dove Promises are made from the highest quality cacao and deliver a uniquely silky-smooth flavor and lingering taste for a truly rich chocolate experience. If you're looking to impress your guests at your dinner party, these tasty treats make the perfect gourmet desserts. They'll have your guests raving about your shindig for months to come.
Want to share some Halloween, Christmas, Valentine's, or Easter joy? Dove Promises chocolates will do just that.
Pros 
Smooth, silky taste
Great for candy buffets at parties
Contains several pieces of candy in the bag
Cons
May not hold up well in warm weather
2. Best Budget Choice – Hershey's Nuggets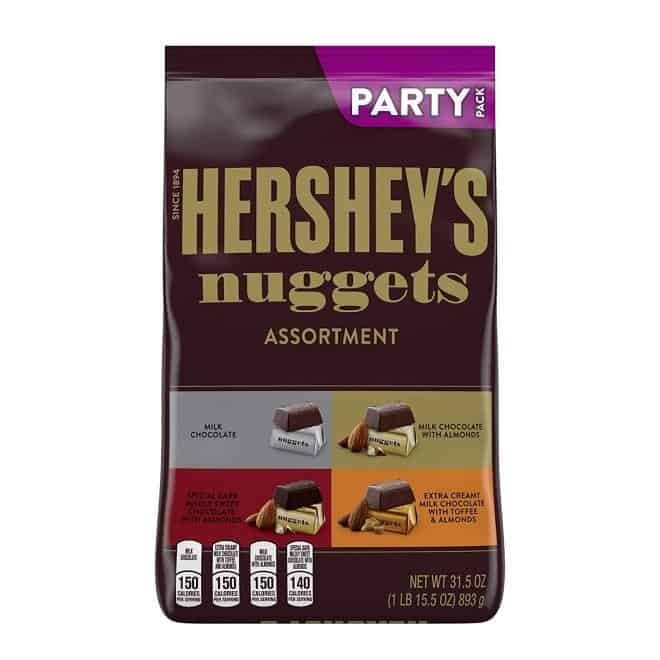 Check Latest Price
They are perfect for snacking on when you're running a little low on energy or just want a quick pick-me-up if you're having a crappy day. Besides, do you need a reason to munch on chocolate?More of anything is always a great thing, right? This is especially true for chocolate.
Hershey's Nuggets are the perfect treats for budget-conscious chocoholics. This pack of candy comes with four mouth-watering varieties, including Milk Chocolate, Toffee, and Almonds Creamy Milk Chocolate, Milk Chocolate with Almonds, and Mildly Sweet Chocolate with Almonds.
The best part about it is that it comes with more than 30 pieces of assorted chocolates, which is a pretty sweet deal for a bag that costs less than 10 bucks. Talk about great value for the money. Each chocolate bar is individually wrapped for easy storage and snacking on the go.
Pros 
Perfect for any-time snacking at home, on the go, or at parties
The delicious smooth, creamy flavor
Great value for the money
Cons
Don't get these if you're allergic to almonds or any other tree nuts
3. Best Premium Choice – Godiva Chocolate Truffles

Check Latest Price
Imagine what vanilla dulce de leche, strawberry crème tart, crème brûlée, black forest cake, chocolate lava cake, or tiramisu would taste like as these little chocolate spheres give way to all that moist, cakey goodness inside. You'll be hard-pressed to stop at just one bite. Fair warning, though – they are seriously addictive.
Godiva truly outdid themselves this time around.As far as premium chocolates go, it doesn't get any better than the Godiva Chocolatier box of assorted chocolate truffles. This exquisite gift pack has 24 pieces of irresistible, smooth, rich-tasting chocolate candies that come in a wide variety of delicious mouth-watering flavors.
Each chocolate truffle is individually wrapped and innovatively packaged to ensure that your gourmet box of assorted treats arrives in perfect condition. Is it worth the price? We certainly think so.
Pros 
Outstanding flavor and texture
It's the perfect gift for special occasions like anniversaries or birthdays
Temperature-controlled shipping process
Cons
Since it is made from entirely fresh ingredients, it may have a shorter shelf-life than most
4. Best Cooking Chocolate – Ghirardelli Premium Baking Bar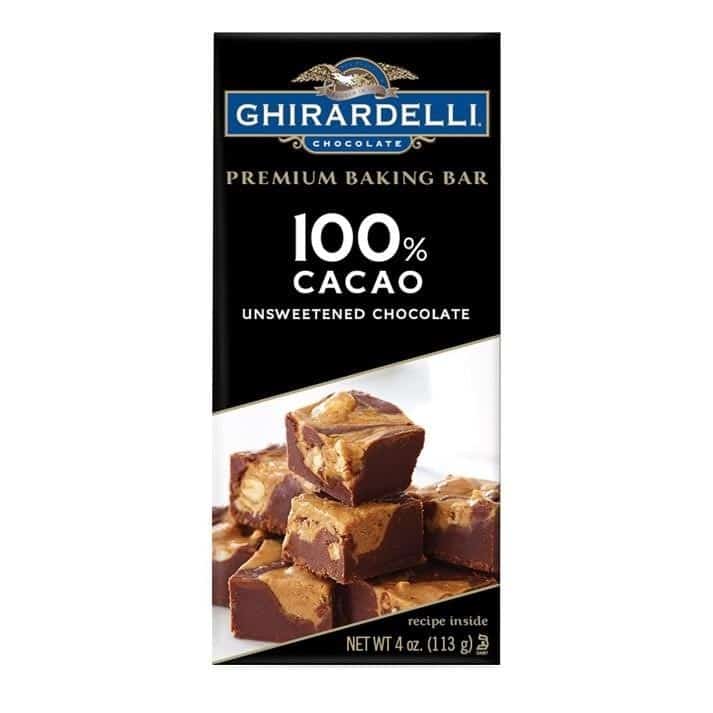 Check Latest Price
The next time you're baking classic fudge, a rich chocolate cake, or moist chocolate brownies, Ghirardelli Premium Bar is guaranteed to give it an intensely-rich chocolaty flavor that you just can't get enough of. If you have diabetes but still want to indulge in a little chocolate now and then, this cacao bar is your best option – in moderation, of course.
When you're whipping up a storm in the kitchen and the recipe calls for chocolate, you need to get the unsweetened kind made from 100% cocoa. Ghirardelli Premium Bar is made specifically for baking. It contains 100% cacao with no other added ingredients.
It is made from high-quality cacao beans that are sustainably-sourced and roasted to perfection to create truly spectacular chocolate experiences.
Pros
Ideal for diabetics
Creates rich, delicious chocolate recipes
It is made from 100% cacao with no additional ingredients
Cons
If you have a bit of a sweet tooth, this may not be the ideal snack for you
5. Best Gluten-Free Chocolate – Lindt Excellence Bar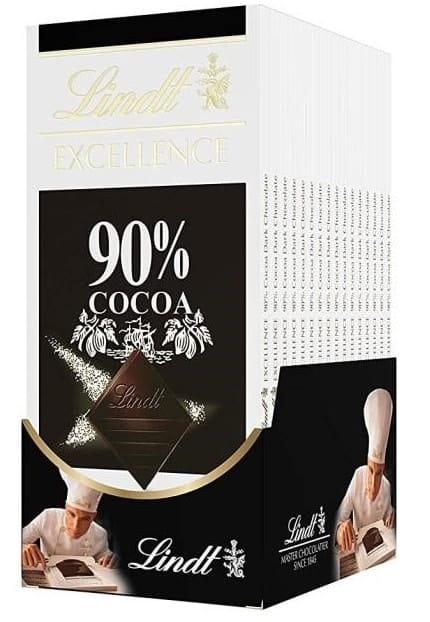 Check Latest Price
If you're on a gluten-free diet, your food choices extend to candy as well. Lindt Excellence is a delicious chocolate bar that comes in a wide variety of rich flavors. The best thing about it is that it is 100% gluten-free. Therefore, you don't have to worry about triggering those unpleasant symptoms that come from having a gluten-intolerance.
This full-bodied chocolate is masterfully crafted to produce a profoundly rich cocoa taste with well-balanced flavors. It is made using the finest high-quality ingredients sourced from world-renowned regions.
Lindt Excellence is available in several different variants, including 70, 78, 90, and 95 percent Cocoa Dark Chocolate, Chili, Dark Coconut, Extra Creamy, Intense Mint, Sea Salt, Orange, and White Coconut. It is the perfect dinner party treat, office snack, or celebratory gift. You can even use it for baking delicious, decadent chocolate brownies.
Pros
Ideal for eating and baking
Available in a wide variety of unique flavors
High cacao content makes it extremely healthy
Cons
Not ideal if you're allergic to tree nuts, peanuts, soy, or milk
6. Best Chocolate Chips – Choc Zero

Check Latest Price
Choc Zero Chocolate Chips are the perfect keto-friendly, low-carb, and low-sugar ingredients for your baking recipes. They're made from superior quality cocoa liquor, cocoa butter, and monk fruit that all blend exquisitely to create a subtle sweetness with no aftertaste whatsoever.
What would chocolate chip cookies be without the actual chocolate chips? Just plain odd, is what they would be! Using baking chocolate is a great substitute if you don't have chips. Still, for some unbeknownst reason, the latter has the uncanny ability to remain firm and intact in oven temperatures of up to 350°F.
They contain 55% cacao and deliver a surprising amount of rich flavor and texture, making these particular chips one of the best-tasting ones we've come across.
Pros
They hold up well in high oven temperatures when baked into cookies
They're perfect for anyone on a low-carb, low-sugar, or keto diet
They deliver a well-balanced combination of richness, subtle sweetness, and texture
Cons
They're not 100% sugar-free
7. Best Chocolate for Fountain – ChocoMaker Dipping Candy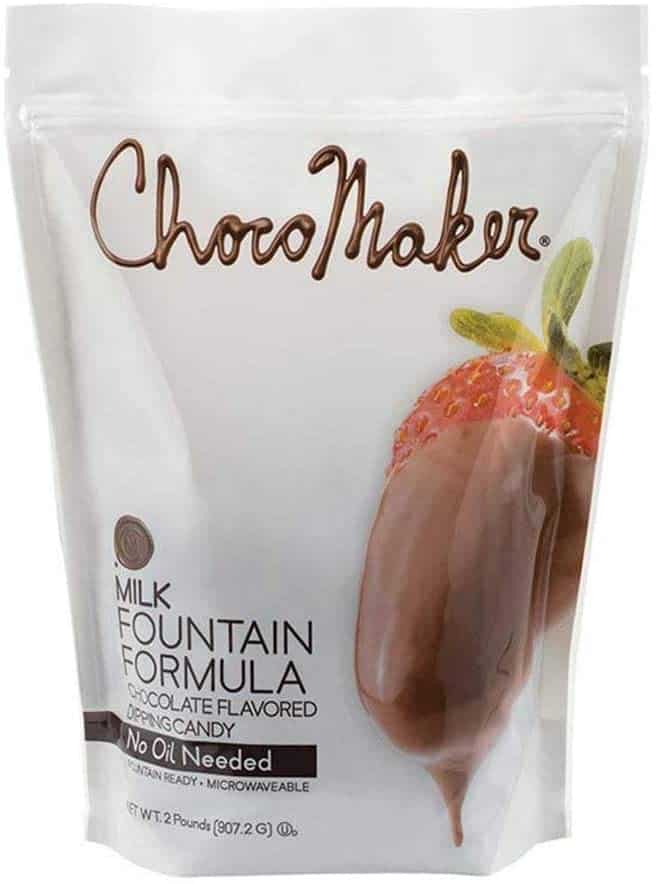 Check Latest Price
Let's face it. No party would be complete without a chocolate fountain. It adds instant pizzazz to what would have otherwise been a boring dessert buffet set up. ChocoMaker Dipping Candy is just the thing you need to express your sweeter side and impress your guests.
Unlike regular chocolate, this particular brand is specially-formulated to melt quickly and remain liquid while it's in the fountain and solidify quickly on fruit or snacks shortly after you dip them. The best part about it is that you don't need to add any oil to it.
ChocoMaker's proprietary recipe also makes it the number one choice for making chocolate fondue. All you have to do is pop it in the microwave for a few seconds, and you're good to go. Its rich flavor makes it the perfect ingredient for tasty desserts.
Pros
No oil required
It is 100% microwavable
Perfect for dinner parties
Cons
Not ideal for lactose-intolerant individuals or anyone with a soy allergy
8. Best White Chocolate – Barry Callebaut Chocolate Chunks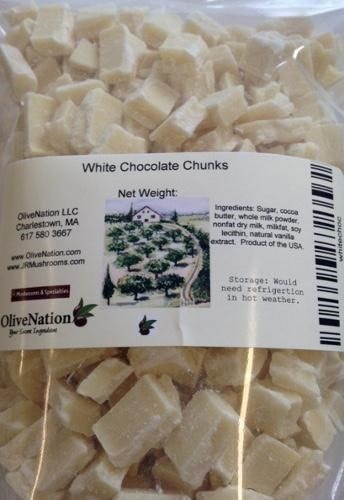 Check Latest Price
The Barry Callebaut White Chocolate Chunks from OliveNation are undoubtedly the best-tasting white chocolates in the market right now. Their flavor is a hundred times better than the conventional store-bought varieties you'll come across. They have a rich, silky, decadent flavor that will have you eating them straight out of the bag.
These chunks are made from high-quality ingredients, including natural vanilla extract, whole milk, sugar, and 24.5% cocoa butter, resulting in premium-quality white chocolate. The best thing about it is just how versatile it is. You can use Callebaut chunks in any recipe that calls for white chocolate.
It blends perfectly in dessert bars, frosting, icing, cookies, fondue, candy, and so much more. You can even melt them in the microwave to create a delicious bowl of dipping candy. If you thought regular white chocolate tastes great, Callebaut chunks will simply blow your mind.
Pros 
Rich, decadent flavor
Can be used for baking, snacking, or as dipping candy
They're microwavable
Cons
They're not individually wrapped
9. Best Organic Dark Chocolate – Green & Black's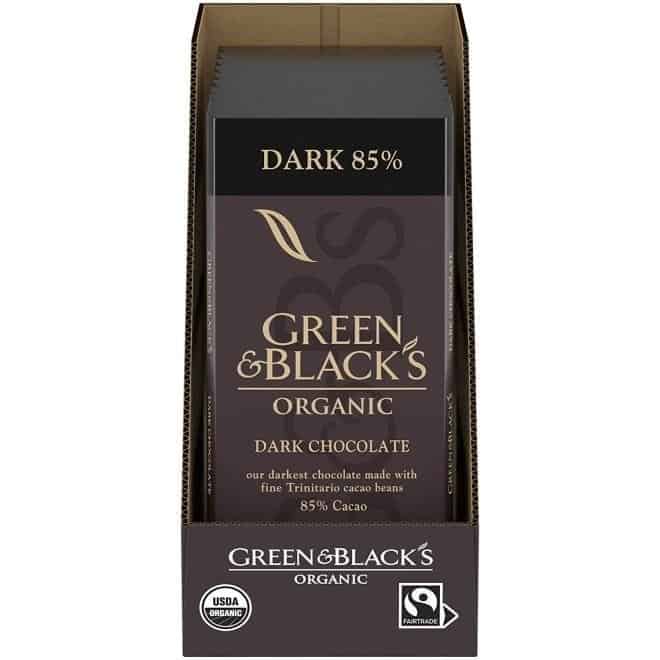 Check Latest Price
If you're looking for a great-tasting organic dark chocolate, you need to check out Green & Black's Organic Chocolate Bar. It is made using 85% cacao solids for that rich, intense hit of chocolaty goodness.
It delivers just the right amount of sweetness to separate the acidity and the bitterness of pure cocoa, resulting in predominantly savory notes. We particularly like the fact that it integrates organic vanilla that softens the intense taste of roasted cocoa and naturally infuses a uniquely delicious flavor to it.
Green & Black's dark chocolate is made from Trinitario cacao beans that are well-known for their rich taste and their ability to deliver a smooth, intense, dark chocolate experience like no other. The best part is – it is 100% organic. It pairs well with dried fruit and nuts and can also be used in baked goods.
Pros
It is made from high-quality organic ingredients
Perfect for snacking and baking
It contains no GMO
Cons
May cause digestive upset in individuals with sensitivity to high concentrations of cocoa
10. Best Swiss Chocolate – Toblerone Milk Chocolate Bars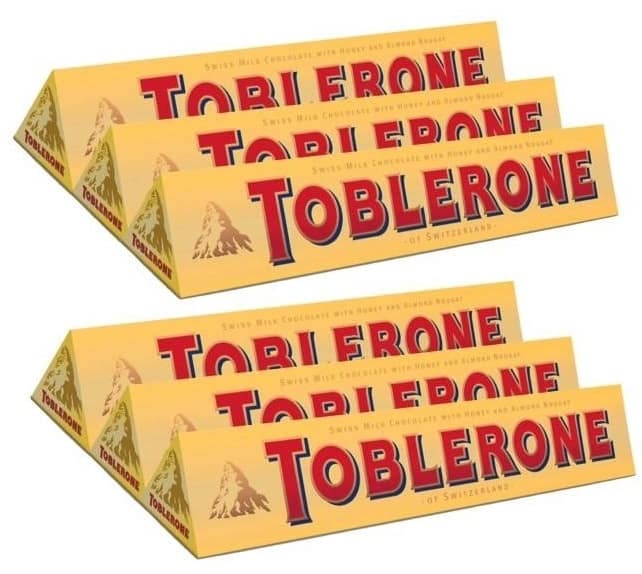 Check Latest Price
Nothing says "Swiss chocolate" quite like Toblerone. The Swiss milk chocolate bars with honey and almond nougat pieces are simply divine. Every bite delivers melt-in-your-mouth goodness that fits every occasion. They come individually-wrapped, making it easy and convenient to have them on-the-go or share with others.
Toblerone has been in the chocolate-making business since 1868, and the unique recipe used in these triangular-shaped chocolates was formulated in 1908. Every bite you take is packed with a century's worth of history and heritage.
If you're looking for an authentic, finely-crafted Swiss chocolate that offers a new twist to an old favorite, Toblerone with honey and almond nougat bars will do just that.
Pros 
It makes for a great celebratory gift
Rich, indulgent, chocolaty flavor
The honey and almond add a nice twist to it, resulting in the most delightful taste
Cons
It might be too sweet for some
11. Best Gourmet Chocolate – Lindt Swiss Luxury Selection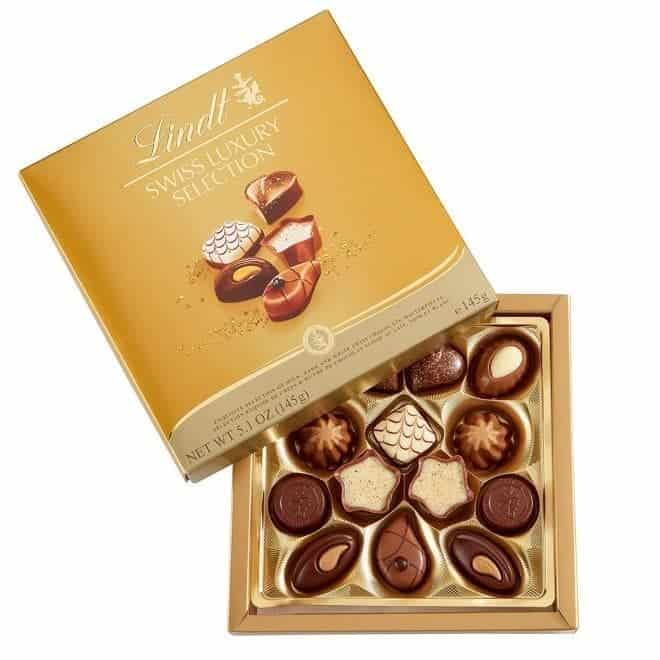 Check Latest Price
When it comes to gourmet chocolates, the Swiss Luxury Selection of Lindt Chocolates is hard to beat. First impressions – its gold packaging is simply stunning. It exudes an aura of style, sophistication, and timeless elegance. We would expect nothing less from chocolate of its caliber.
They perfectly embody the passion, charisma, and expert-craftsmanship of Lindt's master chocolatiers. Each piece of melt-in-your-mouth goodness is made using premium ingredients sourced from renowned regions of the world to deliver a distinctly velvety taste, rich aroma, and smooth texture.
The gourmet experience you get from these chocolates is like no other. You would have to taste it to believe it.
Pros 
Smooth texture and rich aroma
Made using premium ingredients
It looks exquisite
Cons
It may not be ideal for individuals with milk, nut, gluten, and/or egg allergies
Benefits of Eating the Best Chocolate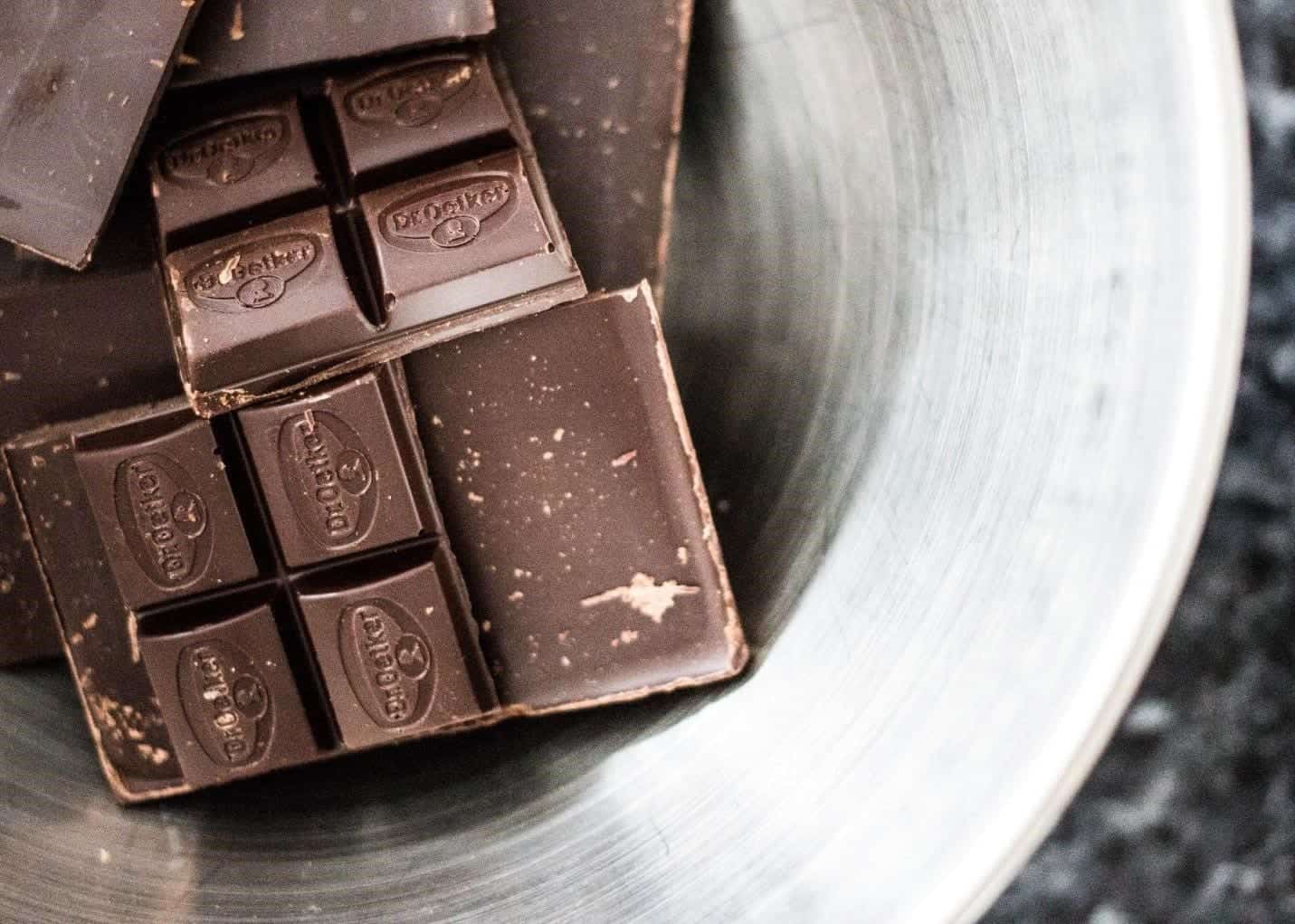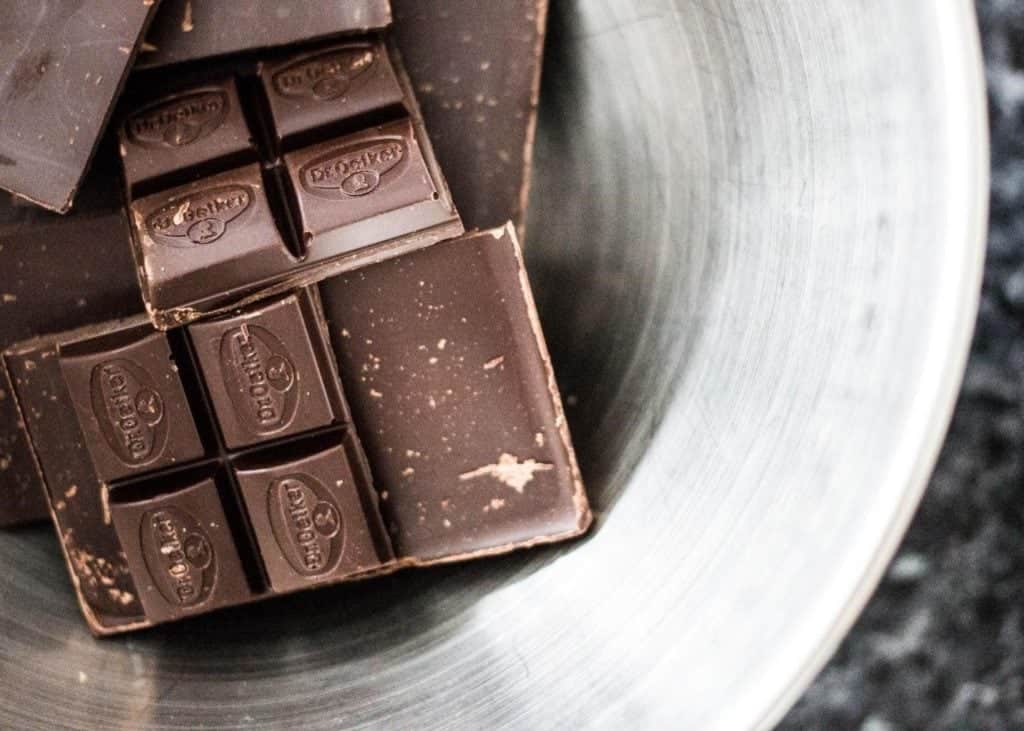 Chocolate Bars
There's an adage that goes, "A chocolate a day keeps the doctor away"… or was it an apple…? The point is – there's scientific evidence that points to the wide range of health benefits that come from eating dark chocolate regularly. Here are the top 5 advantages. Number 3 might surprise you.
1. Reduces the Risk of Heart Disease and Stroke
In a 2012 study published in the American Journal for Clinical Nutrition, researchers found that individuals, who ate dark chocolate at least five times a week, reduced their risk of heart disease by up to 57 percent.
Scientists have found that the flavonoids in dark chocolate help the body produce nitric oxide, which helps to lower blood pressure by causing the blood vessels to relax.
2. Lowers Blood Sugar and Reduces the Risk of Diabetes
While this may sound counterintuitive, several studies have found that the flavonoids in dark chocolate play a critical role in reducing the effects of oxidative stress, which researchers have found to be the primary cause of insulin resistance.
It subsequently increases your body's sensitivity to insulin, which in turn drastically reduces the risk of diabetes.
3. Can Help You Lose Weight
Now before you go gobbling up that entire pack of chocolate treats, it's important to mention that too much of a good thing can be bad for your health. That being said, eating a little chocolate every day can help you control your appetite, which in turn could help you shed a few pounds.
It triggers the release of hormones that send signals to your brain, indicating that you're full. On the other hand, eating too much chocolate will likely counteract any potential gains you might get.
4. Reduces the Risk of Cancer
Free radicals in the body are essentially unstable oxygen molecules that attack cells, causing widespread damage as a result. This, in turn, leads to low-grade inflammation and the onset of diseases like Alzheimer's, cancer, and heart disease.
Dark chocolate is rich in several different types of flavonoids. Scientists believe that two, in particular, quercetin and epicatechin, have powerful cancer-fighting properties that protect the body from the damaging effects of free radicals.
5. Lowers "Bad" Cholesterol Levels
Low-density lipoproteins (LDL) or "bad" cholesterol as it is often called clogs arteries when it is present in high amounts. Consuming dark chocolate regularly has been shown to lower LDL levels in the body, subsequently promoting good heart health.
The cocoa butter present in chocolate contains oleic acid, which plays a major role in raising the amount of high-density lipoproteins (HDL) or "good" cholesterol in the short term. Eating too much chocolate, however, can be detrimental to your heart health.
A Little Chocolate Makes the World Go Round
There you have it – the best chocolate brands. Go on… Indulge in some decadent chocolate treats today and reap all the health benefits they have to offer. You deserve it.