The cereal aisle at most grocery stores is not that healthy. Even the "healthy" cereal gets coated in all kinds of added sugars and fats. You may be trying to adopt healthy habits, but choosing the wrong breakfast cereal could be undermining you.
Yet it is possible to have a healthy, hearty, wholesome bowl in the morning. In this article, we'll go over the best healthy cereal options out there and their nutrition label so you don't have to spend time looking at the back of the boxes.
1) Best Everyday Breakfast: Uncle Sam Original Flavor Wheat Berry Flakes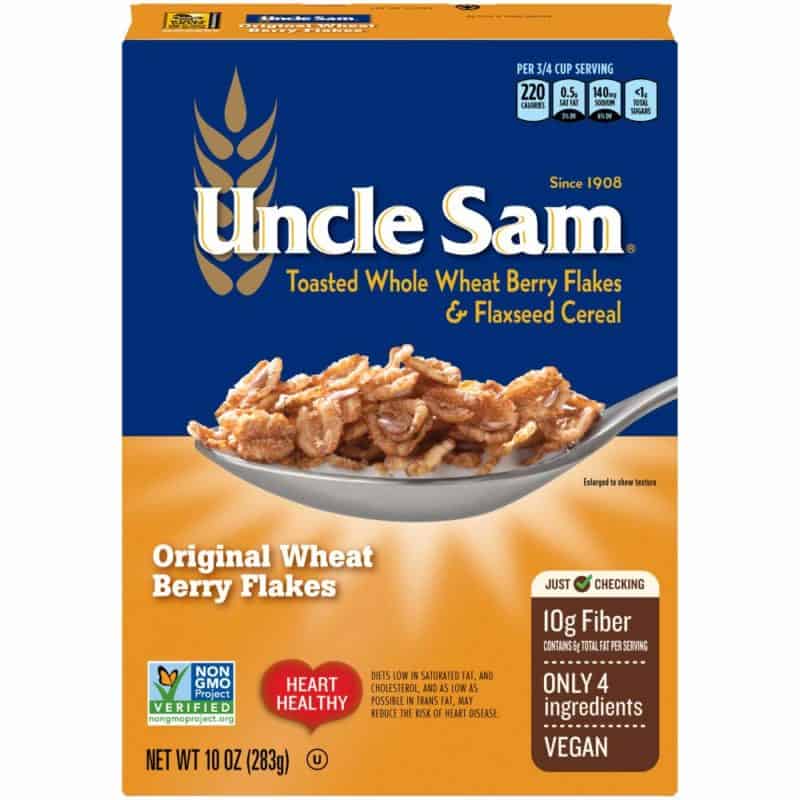 The Uncle Sam Original Wheat Berry Flakes make for a perfect cold or hot breakfast—just add milk. The simple list and no-nonsense approach landed this cereal at the top of our list.
The four ingredients that go into making Uncle Sam cereal are all good for you. The carbs come from 100% whole grain wheat flour with a hint of added flax seeds for extra fiber content.
But don't think this cereal has no flavor. The added malt barley is lightly sweetened and gives the cereal a delicious taste. You'd be forgiven to think there is sugar in the ingredient list, but rest assured there are zero grams of that sweet stuff here.
If you're watching your sodium intake, however, you may want to approach the Uncle Sam cereal with a bit of caution. While the amount of added salt is nothing out of this world (just 140 mg), it may be something to consider.
Nutrition Facts
Per ¾ cup serving:
220 calories
6 g fat
43 g carbohydrates
10 g fiber
0 g added sugar
8 g protein
2) Best Indulgent Option: KIND Healthy Whole Grains Vanilla Blueberry Granola Clusters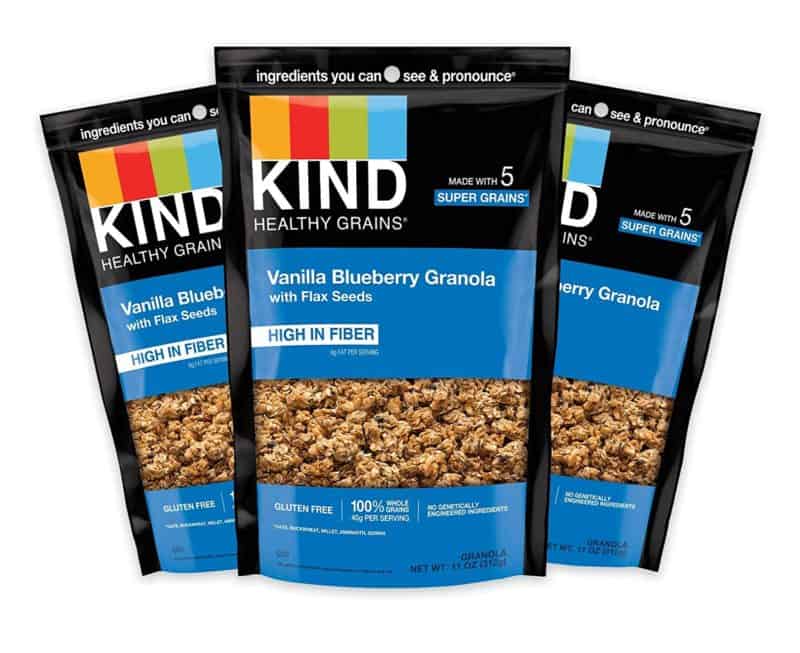 If you're looking for something more tasty and decadent, why not try the KIND Vanilla Blueberry Granola? While it's not as healthy as other cereals on this list, it makes for a delicious breakfast, perfect for those days when you need a little pick-me-up.
This specific granola is made with a bunch of different cereals, from the traditional wheat and barley to the slightly more modern quinoa. As a result, you get a bowl that's rich in fiber and keeps you full for a long time. Plus, the dried blueberries and vanilla extract give the granola an extra flavor boost like no other.
The only downside to this cereal is that it is high in sugar (at least when compared to other healthy cereals). If you're trying to cut down on sugar, this decadent breakfast might not be the right one for you.
Nutrition Facts
Per ¾ cup serving:
240 calories
6 g fat
43 g carbohydrates
8 g fiber
10 g added sugar
5 g protein
3) Best Sugar-Free Option: Food for Life Ezekiel 4:9 Organic Sprouted Grains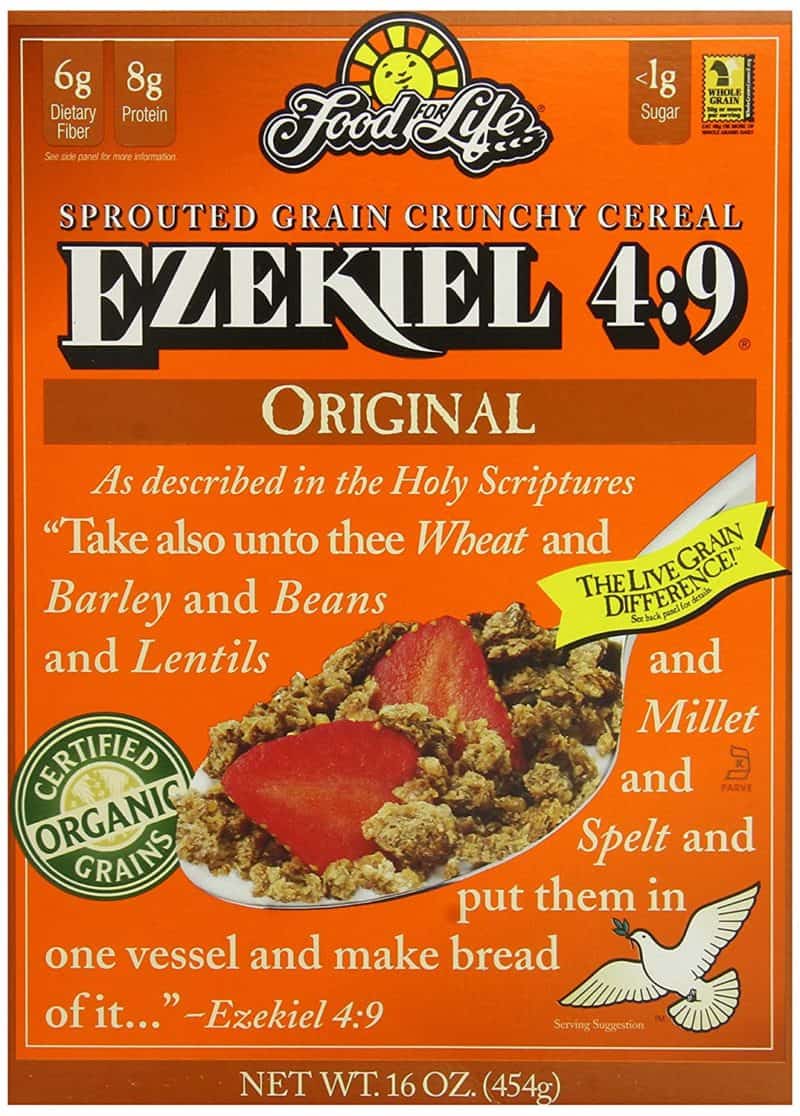 Maybe sweet cereal really isn't for you. But what do you do when you still want some flavor in your morning bowl? Easy, you switch over to this Ezekiel Sprouted Cereal.
There isn't a hint of sugar in the box. Instead, all the flavor comes from the 100% whole grain cereal. Between the wheat, malted barley, barley, millet, lentils, soybeans, and spelt, you're getting a great serving of fiber (24% of your daily fiber needs) that will keep you full and healthy in the long run.
The only virtual downside of Ezekiel cereal is that it contains soy. If you're allergic to it, stay away from this box. Otherwise, a serving a day of these organic ingredients could help you pursue healthy habits in a sustainable way.
Nutrition Facts
Per ½ cup serving:
190 calories
1 g fat
40 g carbohydrates
6 g fiber
0 g added sugar
8 g protein
4) Best Muesli: Bob's Red Mill Gluten-Free Muesli Cereal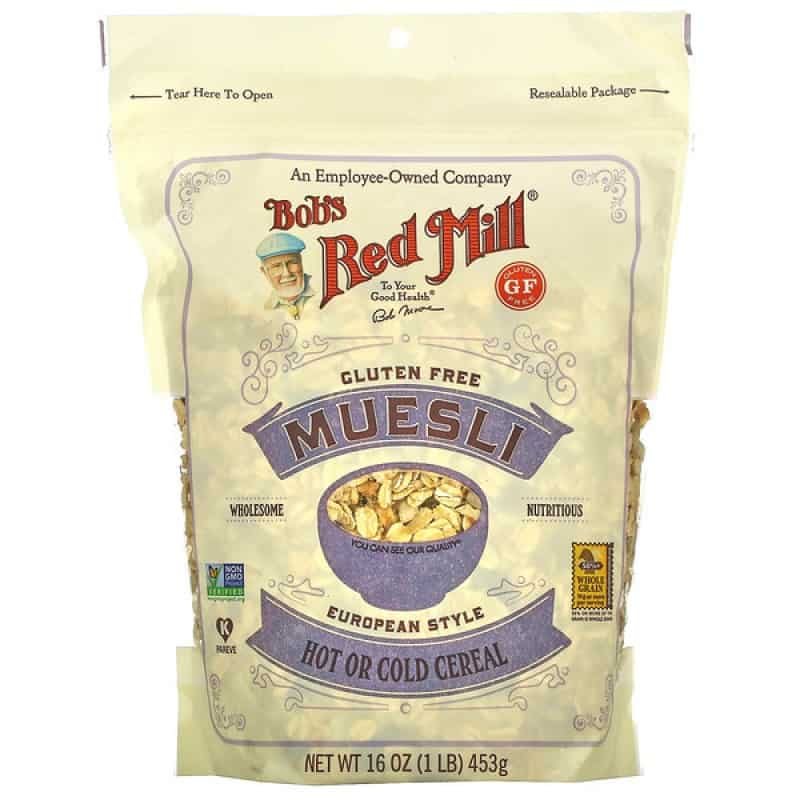 Bob's Red Mill Muesli is another great healthy cereal option. Its wholesome ingredients give it an incredible taste without making you feel bloated or heavy afterward.
The main ingredient in this bag of muesli is whole grain oats. But this is far from being a boring breakfast. The honey and dried fruit bring sweetness to your bowl and the chopped nuts and sunflower seeds add texture and healthy fats to your diet. And, since this muesli has a fair amount of soluble and insoluble fiber, you won't get a sugar crash in the middle of your morning.
Of course, there's one obvious downside to this muesli. Because it does have a bit of sweet stuff, the recommended portion size is just one-fourth of a cup. To stave off hunger, it's best if you eat some fresh fruit, cold milk, or high-protein Greek yogurt with the muesli.
Nutrition Facts
Per ¼ cup serving:
120 calories
3.5 g fat
19 g carbohydrates
3 g fiber
1 g added sugar
3 g protein
5) Best Enhanced Recipe: Post Grape-Nuts Whole Grain Cereal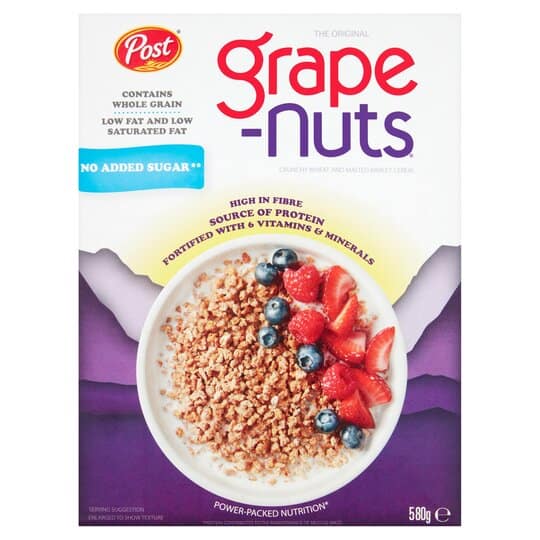 Grape-nuts are popular healthy cereals, and for a great reason: they're good for you. The 100% wholegrain cereals protect against heart disease and, because they're rich in fiber, keep you full and satiated all morning.
The best part, though? Grape-nuts are enriched with vitamins and minerals we should all be getting more of. From vitamins B6 and B12 to calcium, iron, folate acid, and more, this is a great addition to your diet (even if you're vegan).
We can only see one fault this cereal could have for some people. Because it doesn't have added sugar, there may be some complaints about the blander taste. Yet, with such a loyal customer base, that can be hard to believe.
Nutrition Facts
Per ½ cup serving:
210 calories
1 g fat
47 g carbohydrates
7 g fiber
0 g added sugar
6 g protein
6) Seven Sundays Wild & Free Blueberry Chia Seeds Buckwheat Muesli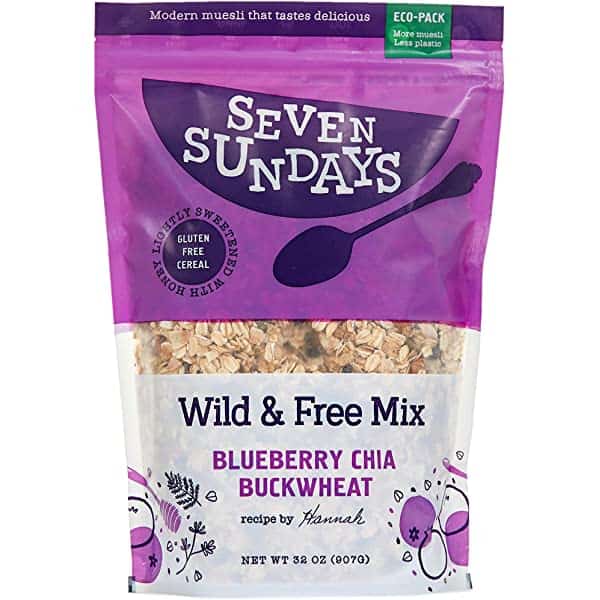 Another great muesli pick is the Seven Sundays one. It's naturally gluten-free, so it's a good choice for celiacs, but not at all bland. The oats, sorghum, and buckwheat give the muesli body and lots of fiber to stave off that mid-morning hunger.
You will also find coconut chips, pumpkin seeds, and chia seeds in the mix. They're great additions, as they bring protein and healthy fats into your diet to regulate digestion. The dehydrated apples, blueberries, honey, and lemon extract are what take the flavor profile to a whole other level.
Before buying this muesli, you might want to know that one serving has 3 grams of saturated fat, or 14% of the daily recommended amount. Sure, that's much less than bacon, for example, but it's still something to keep in mind if you're trying to lose weight. Pair the cereal with low-fat milk for a healthier breakfast.
Nutrition Facts
Per ½ cup serving:
240 calories
6 g fat
40 g carbohydrates
7 g fiber
4 g added sugar
8 g protein
7) Cascadian Farm Organic Purely O's Cereal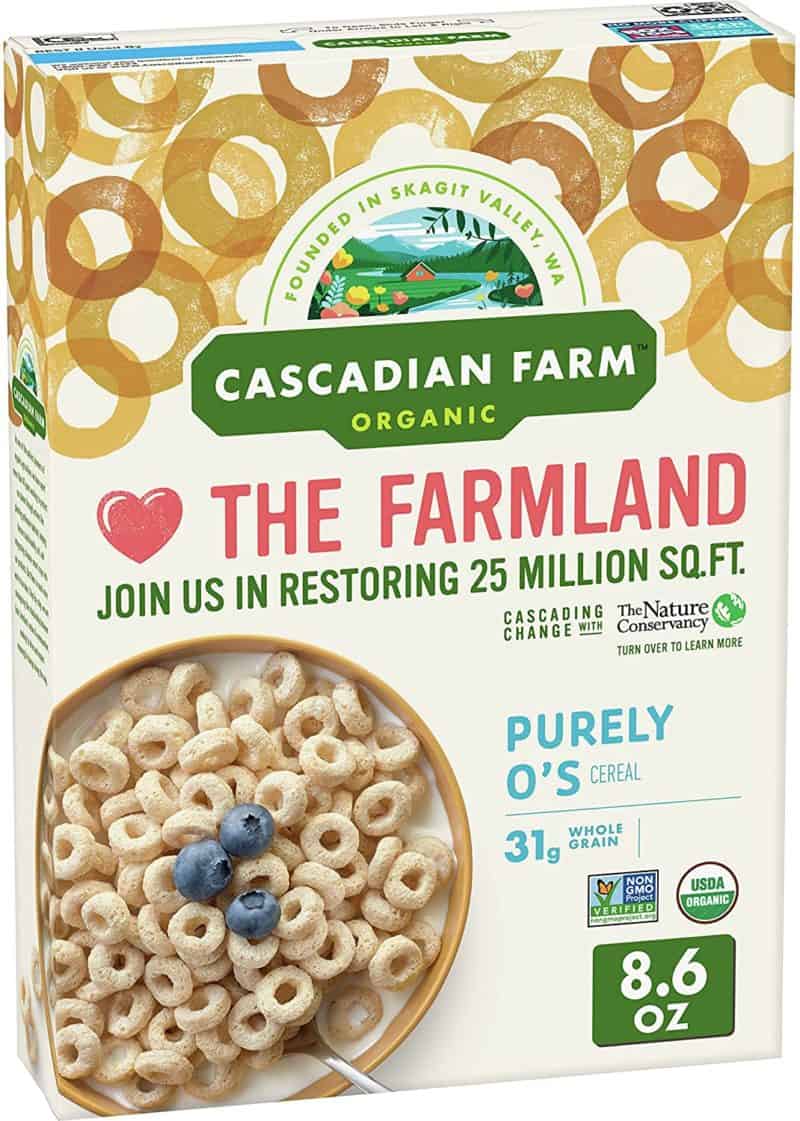 You probably recognize this O-shaped cereal, but they're not Cheerios (though you can find those further down the list). Rather, they're a reassuringly healthy and wholesome breakfast.
You're getting half of your recommended daily dose of whole grains per bowl, which is great news for your heart health. The 4 grams of fiber per bowl go a long way in ensuring you feel full for hours after breakfast. And, because this cereal is lower in calories, the recommended serving size is one-and-a-half cups, so you're bound to feel satisfied instead of like you're restricting.
As there is no added sugar in this cereal, they don't taste anything like the classic Cheerios. If that bothers you, you can always add some fresh fruit as a side to your morning bowl.
Nutrition Facts
Per 1 ½ cup serving:
140 calories
1.5 g fat
29 g carbohydrates
4 g fiber
<1 g added sugar
4 g protein
8) Kashi GO Rise Original Breakfast

The Kashi GO cereal may seem like an odd choice for this list. After all, it does have quite a bit of added sugars (7 grams of sugar per serving, in total), which isn't the healthiest thing. However, it has some benefits we believe outweigh the downsides.
For starters, there are no processed carbs in this cereal. The oats, red wheat, barley, and brown rice are all whole grains, which have been shown to boost your heart health and lower your risk for diabetes. Secondly, the 13 grams of fiber per bowl is unbeatable and will keep you full and not craving any bad-for-you foods for more than a few hours. Lastly, the 13 grams of plant-based protein are a spectacular addition.
All that said, if you're trying to make healthier choices and leave behind the sugary cereal, the Kashi GO could be the right choice.
Nutrition Facts
Per 1 ¼ cup serving:
180 calories
2 g fat
40 g carbohydrates
13 g fiber
7 g added sugar
12 g protein
9) General Mills Cheerios 100% Whole Wheat Cereal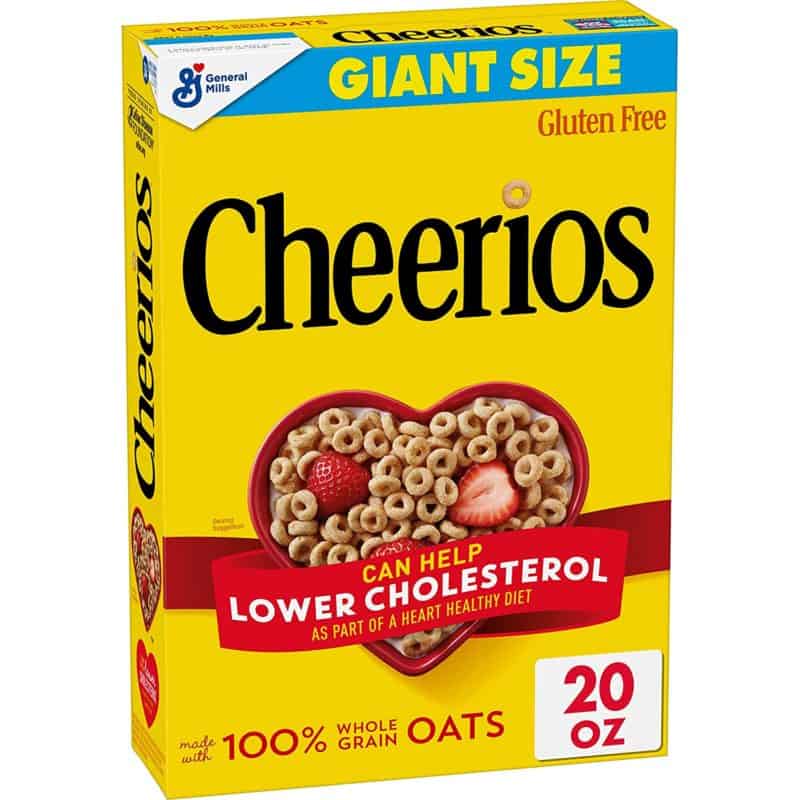 The last item on our list has a place in most American families' hearts. Yes, Cheerios can be a healthy cereal—if you don't choose the sugary (and most popular) version.
These whole-wheat Cheerios stay true to the name. They're made from 100% whole grain oats and are completely gluten-free (which is a plus if you have celiac disease). There's a good chance they'll become your favorite cereal.
While the fiber content does leave a bit to be desired (this cereal offers 4 grams per serving), Cheerios does score a point in its favor by offering substantial quantities of vitamins and minerals we all need. Plus, its low sugar content makes this a healthy option.
Nutrition Facts
Per 1 ½ cup serving:
140 calories
2.5 g fat
29 g carbohydrates
4 g fiber
2 g added sugar
5 g protein
How to Choose the Best Healthy Cereal
We spent hours researching what all healthier cereal options have in common. What makes cereal healthy? And what ingredients should be avoided? Turns out there are five boxes that the best healthy cereals check off. Let's review them.
Whole Grain Cereals
Carbohydrates are often vilified, but they are a crucial part of our diets. We should all be eating whole wheat and whole grains, even if we're on a weight-loss diet. (It's the refined grains we should leave behind). Whole grains are packed with fiber and protein (more on that later), vitamins and minerals, and antioxidants.
High Fiber Content
We should all be eating more fiber. Soluble fiber helps prevent heart disease and cardiovascular disease, while insoluble fiber keeps you full for several hours and regulates your digestive system.
You want to reap all those health benefits, so choosing cereals that offer around 5 grams of fiber or more is a good idea.
Low in Sugar
It's best to stay away from cereals that have more than ten grams of sugar in total. A few grams won't hurt, but you don't want your blood sugar levels to spike first thing in the morning.
Unfortunately, sugar can be hard to avoid. Cereals that have some type of sugar (including maple syrup, honey, high-fructose corn syrup, apple juice, and so on) at the top of their ingredient list aren't all that healthy.
Don't worry about missing out on flavor. You can add fresh fruit (such as fresh berries or a sliced banana) and your favorite toppings (like nut butter, peanut butter, coconut flakes, or hemp seeds) to your plain cereal to make it delicious.
Source of Protein
Sure, you won't get the bulk of your daily protein from a bowl of cereal. But one that has around 5 grams of protein per serving is a great choice.
Few Additives
A simple list of ingredients is almost always better than a long list of ingredients. Bonus points if you recognize all the ingredients on the list. Thus, it's wise to stay away from cereal boxes that contain lots of preservatives and food dyes.
On the flip side, some additives are pretty nutritious. Bowls that contain added vitamins and minerals are healthy and help you meet your daily needs, thus ensuring you stay healthy.