With myriad direct-to-consumer, high-quality cookware brands available, it's sometimes hard to know which one is worth the investment. There have been a lot of newcomers to the cookware space over the past few years, which has been a good thing for consumers everywhere.
While there are great examples of stainless steel, black steel, and cast iron cookware available from D2C brands like Made-In, Abbio, and Goldilocks, if you're looking for Ceramic Nonstick Cookware, then you need to check out Caraway.
After weeks of regular use, these Caraway pans continue to be the go-to choice in our kitchen because they are both incredibly functional and attractive pieces of cookware. I'd never spent much time using ceramic cookware outside of my trusty dutch oven, but after this review, I'm a ceramic cookware convert, and it's all thanks to Caraway Cookware!
Caraway Cookware: Incredible Ceramic Nonstick Pans!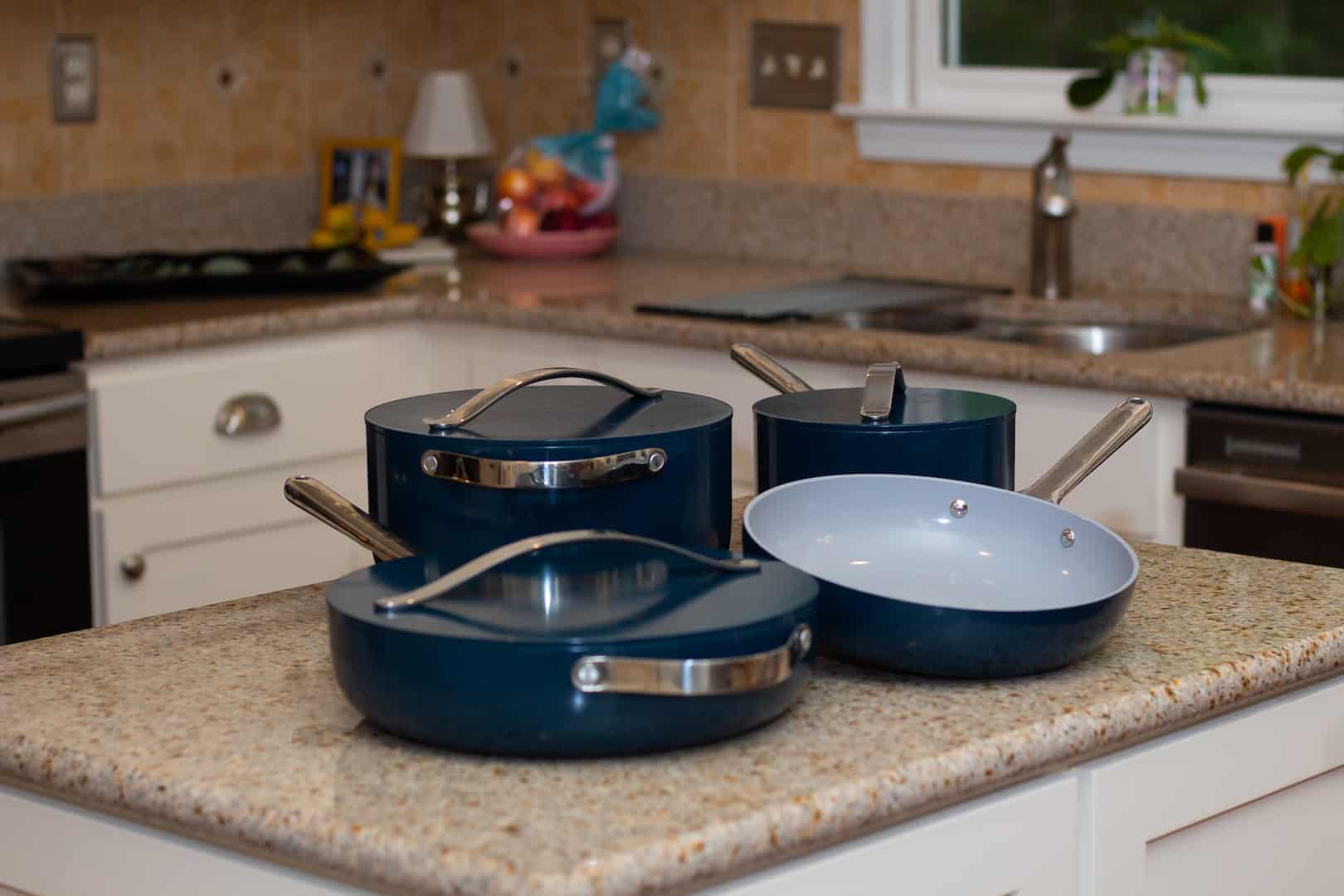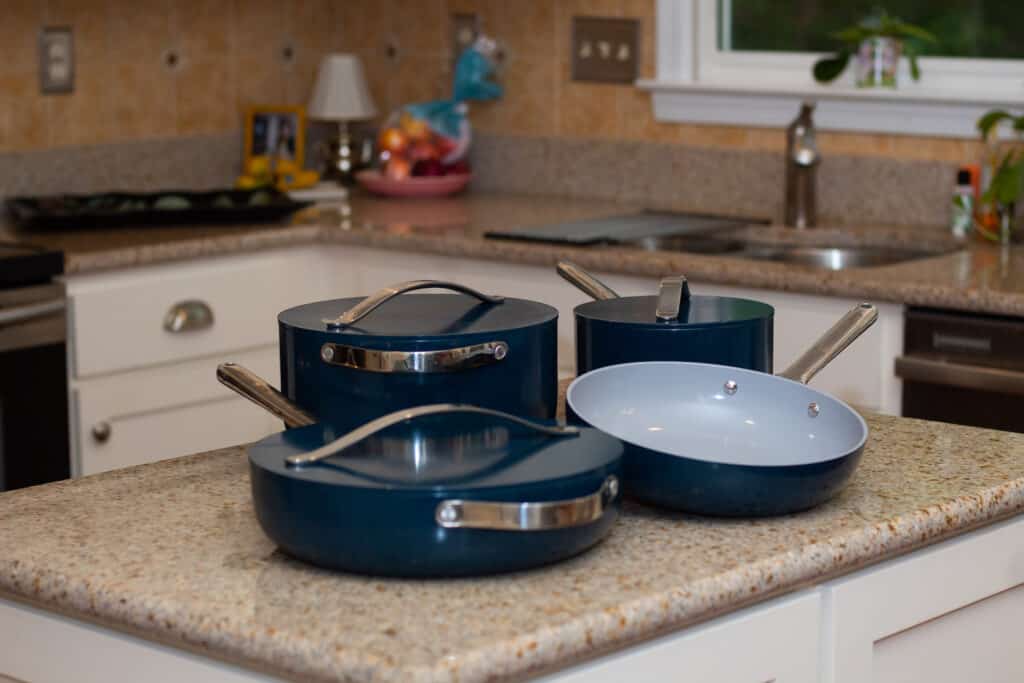 What's included in the Caraway Cookware set?
10.5" fry pan
3-quart saucepan with lid
4.5 quart sauté pan with lid (lid fits fry pan as well!)
6.5-quart dutch oven with lid
Canvas lid holder
Four magnetic pan organizers
What we liked:
Incredible, fit, finish, and construction.
Beautiful colors
Excellent size selection, enough pans to cook any meal
Magnetic pan racks and lid holders make it easy to store your pans
Easy to clean
What needs improvement:
Lids bolts were slightly loose.
Pricey
Look and Feel.
Caraway cookware is some of the best-looking pans I've ever seen. Out of the box, they are just beautiful to behold, and the packaging is both innovative and attractive.
For our set, I chose to go with the deep blue colorway, and the glazing is particularly nice and reminiscent of Le Creuset ceramic cookware or dutch oven at a fraction of the weight.
These pans are not heavy at all, but they feel pretty sturdy. While you won't strain yourself moving these about your cooking space, they don't feel flimsy or thin. The only issue I found with their overall construction was the handles were slightly loose when I picked them up.
It was simple enough to tighten the handle screws, but given the price of the Caraway cookware set, I didn't expect to have to.
Hanging Lid organizer
There are several really cool accessories included with the Caraway cookware set, but the first that stood out to me was the hanging lid organizer.
Designed to hang from inside a cabinet door, the lid organizer makes it easy to store and access the lids without taking up a ton of space. It also leaves your proofing/broiler drawer in your oven free for its intended use!
The white canvas lid holder is thick and well constructed with tight seems designed for each specific lid, the smallest at the top and the largest at the bottom. The sleeves are tight and well sewn, which helps to keep the lids secure and tight against the cabinet door.
Magnetic Drawer/Cabinet Organizer Inserts
Beyond the hanging pot lid organizer, Caraway includes 3 drawer organizer inserts that help arrange your cookware, keeping your pots and pans organized. The gray, high-density plastic organizers are attractive and built specifically for your caraway pots and pans.
You can use the organizers in a cabinet or, if you're lucky enough to have ample drawer storage, in a drawer. The organizers elevate and organize the pots and pans, reducing their footprint and saving precious cabinet or drawer space for other pans or appliances.
The four magnetic pan racks hold the pans in place securely on their side and can handle a decent amount of jostling or the movement of a drawer opening without failing.
Pan Size & Design
Included in the Caraway cookware set, you'll find a 10.5" fry pan, 3-quart sauce pot, 4.5-quart saute pan and a 10-quart dutch oven/stock pot along with 3 lids.
The lid for the saute pan and fry pan are interchangeable, so no matter which pan you're using, you've got a cover to fit.
The only real difference between the saute pan and the frying pan is the slope of the pan walls. The saute pan has straight-sided walls, while the fry pan's walls slope gently, giving it a shape reminiscent of a wok.
To me, the saute pan feels like a braising pan, searing, or simmering pan, while the frying pan is what I turn to when I want to saute some veggies or whip up some fried rice!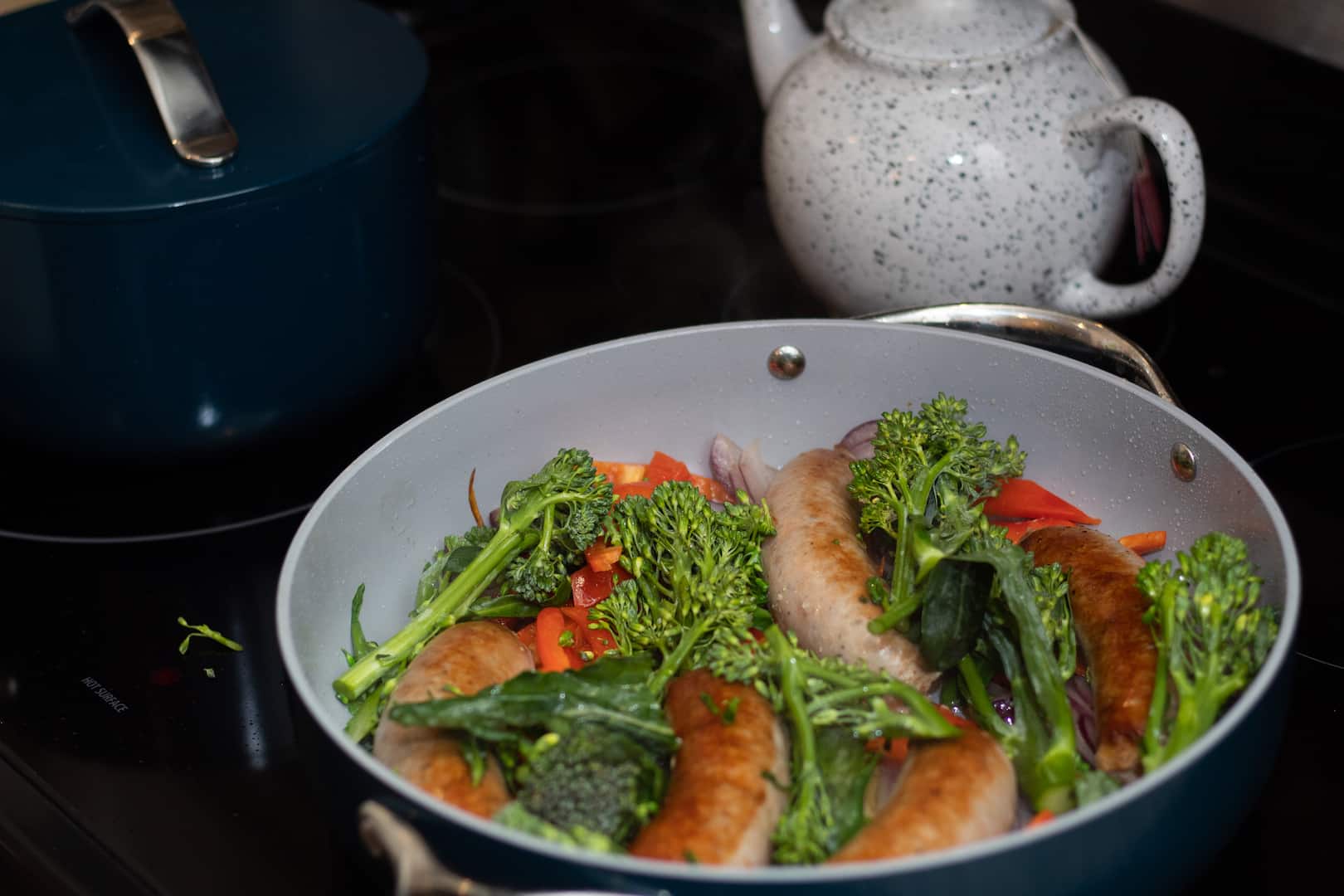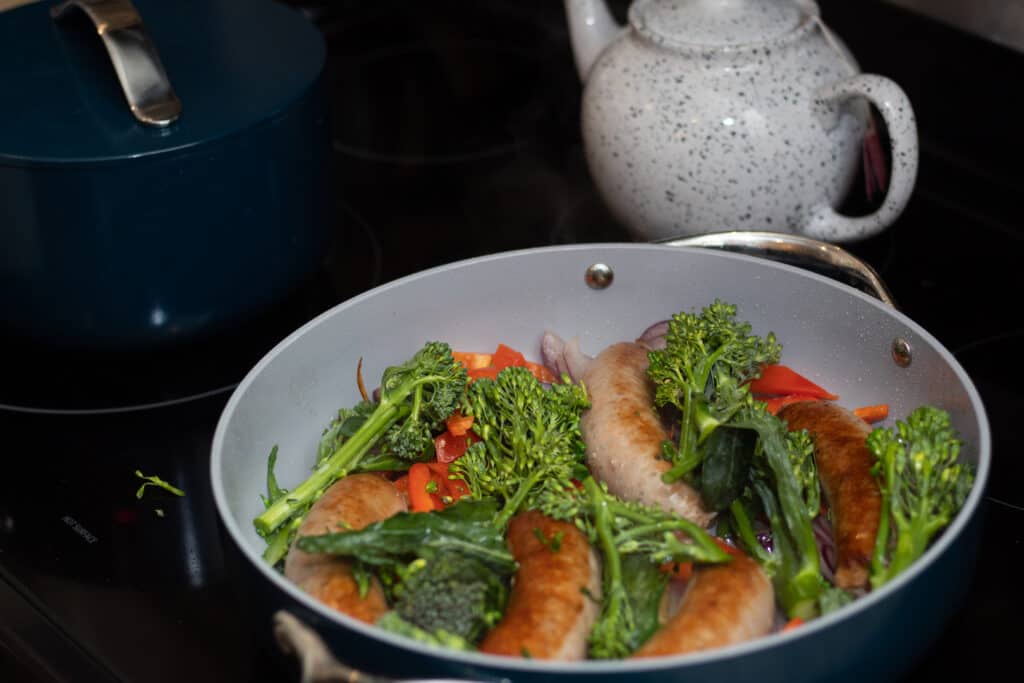 The saucepan is straightforward and excellent for everything from making mac and cheese, a delicious puree, or a small batch of soup.
On the other hand, the dutch oven is a real workhorse of a pan, capable of everything from blanching veggies, boiling potatoes or pasta, braising large cuts of meat, or building a perfect pot pie.
Thanks to the ceramic nonstick coating on all the pans and their aluminum core construction, you can put them into the oven with zero issues, making them perfect for slow cooking, braising, roasting, or baking!
Cooking with Caraway Pans
After years of building my cooking arsenal, it's safe to say that I've accumulated quite the number of pans, pots, and cookware in general. While I love the variety in my kitchen, one of the more frustrating elements about building a piecemeal cookware set is that nothing really matches or goes together.
The Caraway cookware set is lightweight and matches perfectly. Thanks to the included lid holder and cabinet organizers, it's easy to keep these pans arranged and ready to cook at a moment's notice. But more than just their looks, these pan's functionality is incredible.
These pans are attractive, lightweight, and cook evenly, whether on gas or electric. They feel like a classic ceramic glazed cast iron pan at half the weight and all of the incredible construction.
Ceramic Nonstick Coating FTW
Throughout the weeks of testing these pans, I used them for tons of everyday tasks, from omelets to bacon, seared salmon, to pasta sauces; I really ran these pans through their paces.
What I found time and time again was the ability to reach for one of four options and get exactly what I needed out of that pan.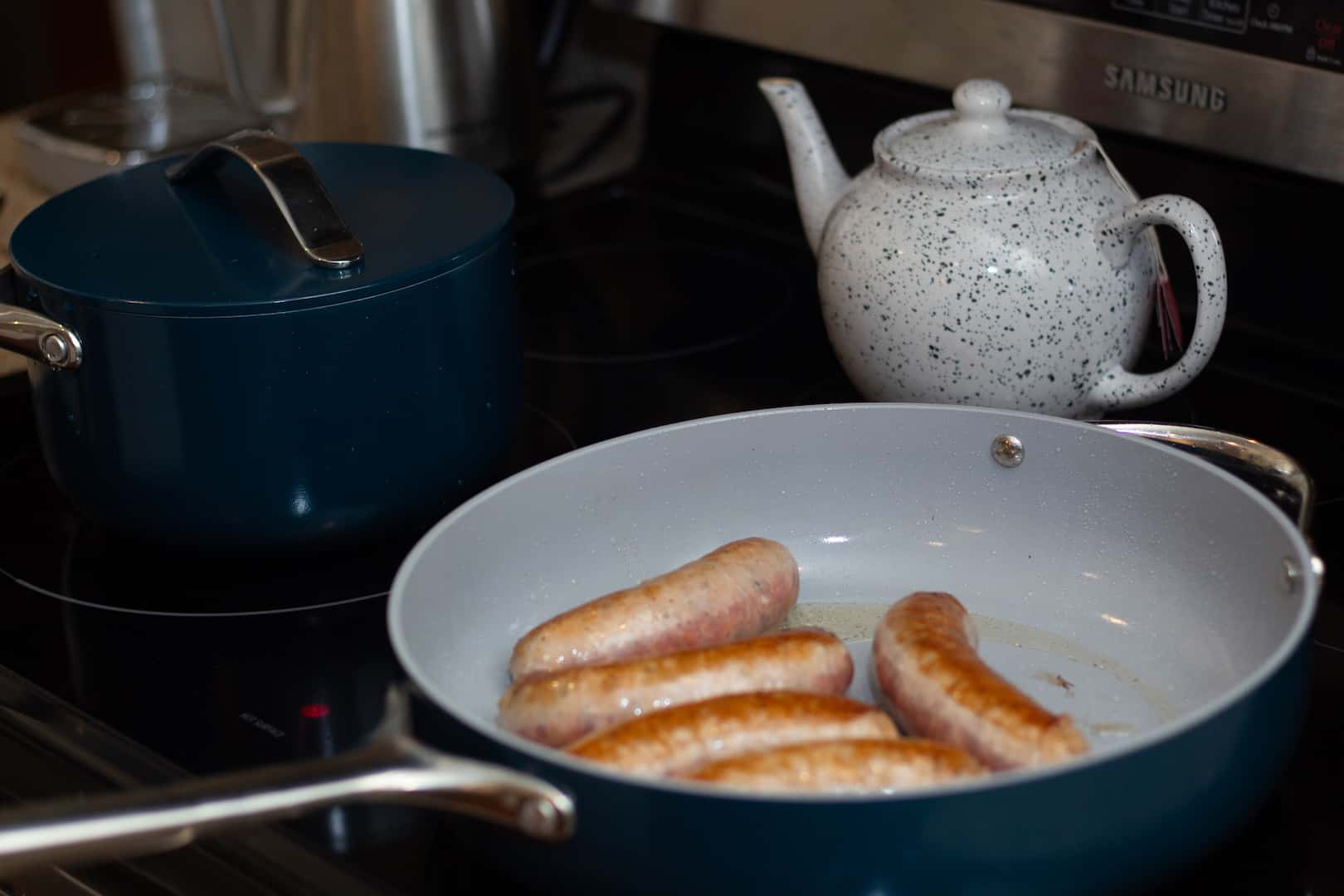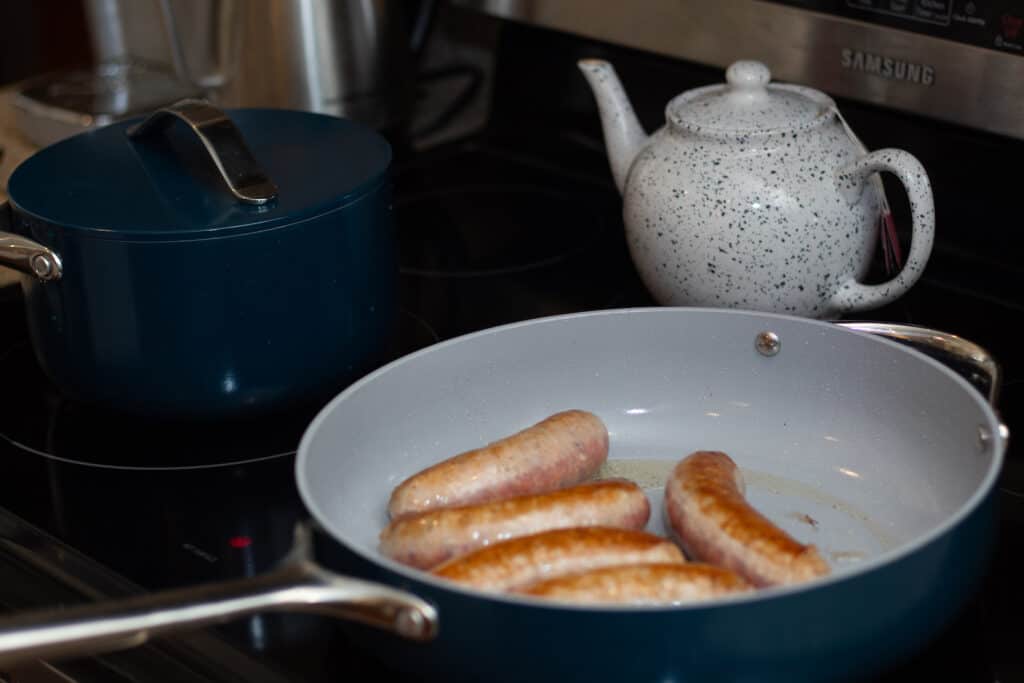 Whether I was boiling pasta or pan-searing a steak, Caraway cookware made it extremely simple and looked great doing the job. The nonstick coating might be one of the slickest cooking surfaces I've ever used; even compared to well-seasoned cast iron or black steel pans, these Caraway pans are head and shoulders above the competition.
Though the non-stick coating is very nice, the one downfall of nonstick pans is the need to use soft utensils, like silicone or high temp rubber options. While you can be a little more aggressive with your Caraway pans as opposed to traditional nonstick cookware, thanks to the ceramic coating, you should still use non-abrasive utensils when possible.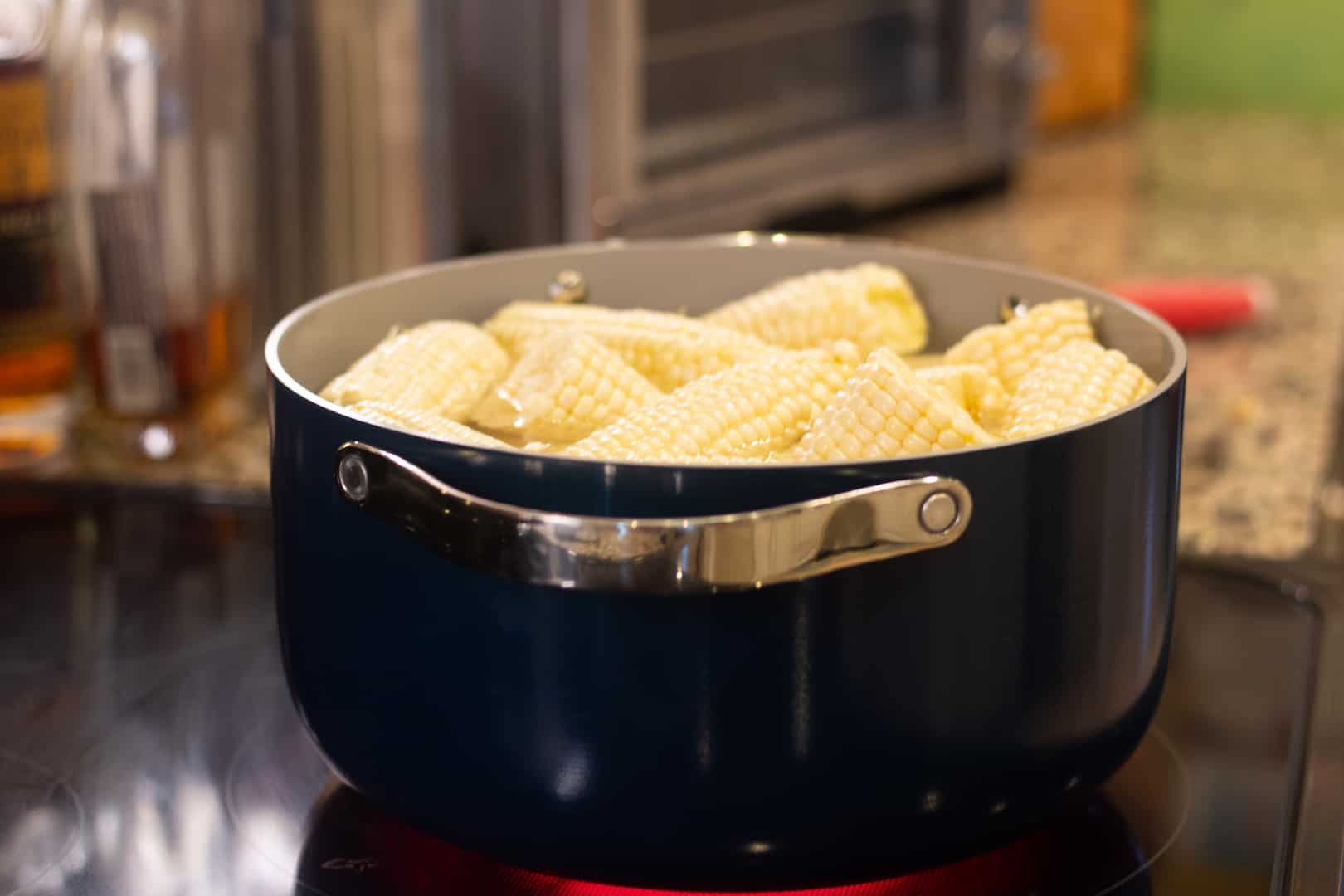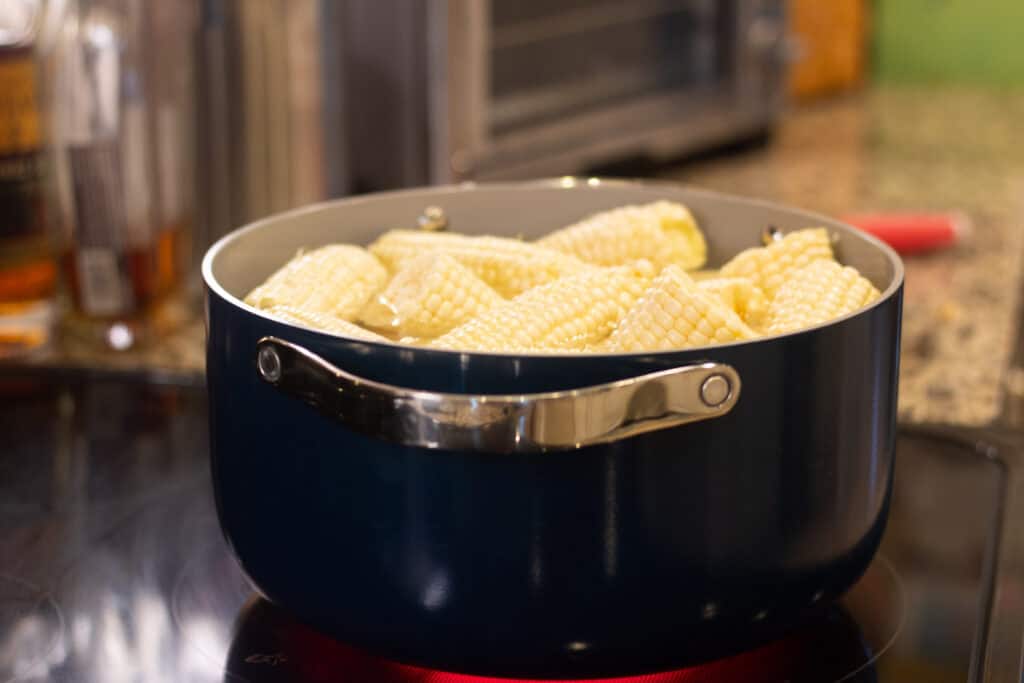 This usually is not an issue, especially when making saucy dishes or things like omelets; however, you'll need to make sure you have silicone-coated tongs if you're searing steaks or veggies in your fry pan. Sadly they don't make a silicone/rubber meat fork, but tongs or a spatula should do fine for most meat-related tasks.
Caring for your Caraway Cookware.
Off the bat, it's important to mention that a general rule of thumb for nonstick pans and cookware is to avoid the dishwasher at all costs. Most folks know that steel or abrasive utensils can scratch their nonstick pans and render their coating useless over time, but many don't stop to think about the abrasive nature of their dishwasher.
Washing nonstick cookware in the dishwasher is a bad idea, and this definitely remains true for the Caraway Cookware set.
The recommended cleaning procedure for your caraway pans is pretty straightforward:
Always use a non-abrasive cleaner and cleaning pads/sponges
Soak your pans in warm, soapy water to remove grease or stuck-on food.
Scrub your pans with non-abrasive utensils to remove grease and char.
Rinse your pans with warm water
Air dry
One thing to be aware of with ceramic cookware is always to handle it carefully and avoid dropping, bumping, or scraping the bottoms, sides, or lids. While the Caraway ceramic glaze is solid, it can chip, exposing the core of the pan. This makes the area surrounding the chip brittle and can lead to more cracking, shortening the lifespan of your new pans.
As long as you keep to these simple steps, you'll have little to no issue with your pans in the long run. Just make sure to handle them with care, and they'll continue to produce incredible food for you for years to come.
Are Caraway Pans Right For You?
Let's start by saying there is no single pan or cookware set that will satisfy every need or everyone's personal tastes. Some of us love cast iron cookware, some stainless steel, while others like a mix of the two.
As someone who cooks a lot, I recognize the need for different pans for different jobs, but even with all the time I spend in my kitchen, I still find myself relying on 1-2 pans more than others.
Caraway Cookware is both incredible to use and well built. It looks beautiful, and thanks to some of the included accessories, it's easy to store and organize. While I love my cast iron and stainless steel cookware, there is something to be said for the convenience offered by a non-stick ceramic pan or pot like those from Caraway.
While these pans are not by any means inexpensive, they are well built and come with a very generous limited one-year warranty in case anything goes wrong. They are built to last and are truly a joy to use.
If you're in the market for a new cookware set and enjoy the convenience of nonstick ceramic pots and pans, then Caraway Cookware needs to be at the top of your list!